Speed Trap: Laying Down the Law at One Lap
4 years ago Events
The Durango SRT® Pursuit Concept nicknamed "Speed Trap" is laying down the law at this year's One Lap of America event and it's not even halfway over. These past two days, we've bent corners at the historic Road America in Elkhart Lake, Wisconsin, and turned in some mind-numbing laps at Brainerd International Raceway in Brainerd, Minnesota. With that SRT® Hellcat Redeye HEMI® engine purring away under that long hood of the Dodge Durango, we're passing the competition while eating up hundreds of miles between locations. Remember, we'll be covering almost 4,000 miles, going through seven states and competing at eight tracks. For my co-driver and SRT engineering techie, David Carr, we're just looking to shock the troops and show these die-hard "sporty car" types just what a Durango SRT is capable of doing. Pay no attention to the lightbar and in-your-face "Durango Pursuit" decals plastered on this white knuckle painted machine, that's just part of the One Lap festivities. But when we get on the track, no more Mr. Nice Guy. The current shift in "Speed Trap"'s overall standings from 21 down to 19 is evidence of that. By the way, we've also extended our lead in the Truck/SUV class by a bunch.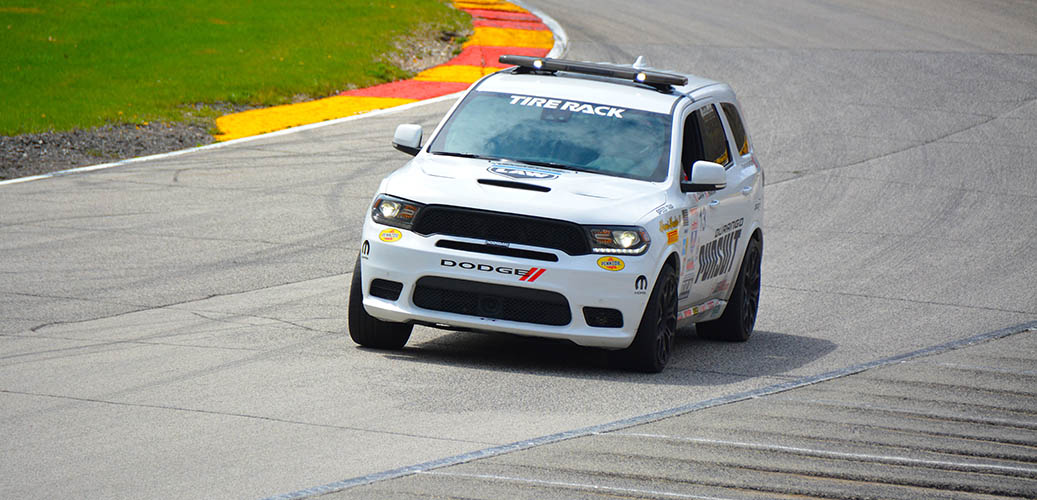 David Carr had never raced at this iconic track prior to Monday's event at Road America. In preparing for what to expect, Carr watched numerous videos that other drivers had posted while running the circuit. This gives him an understanding of the track layout, which is key in preparing for his lap. The videos will also help him set up the Durango for the specific dynamics of the corners and straightaways, and that will be applied when he's wheeling the "Speed Trap" Durango at these One Lap events. At Road America, Carr's biggest concern was managing brake and tire wear abuse due to the nature of the track layout.
"Racing at Road America went really well despite amassing some brake and tire wear. The earlier session was challenging due to the wet surface conditions; it was as if I was driving on ice at 150 mile per hour. Numerous cars wrecked because of this, but the Durango's AWD system kept this 797-horsepower beast firmly planted on the track," said Carr.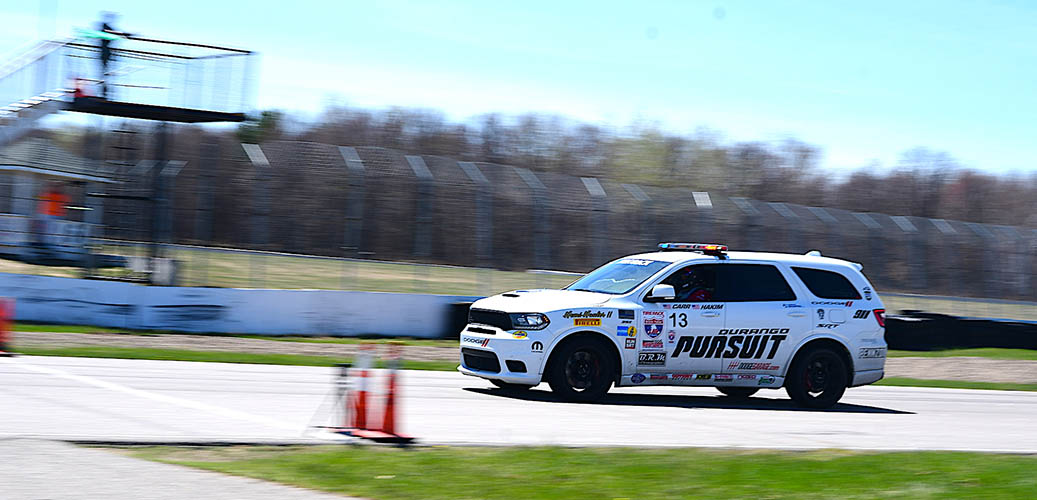 We left Wisconsin and boogied to Minnesota for some laps and drag strip runs at Brainerd International Raceway (BIR). Once again, Carr was the "track whisperer" and studied every crack and corner of BIR and put the Durango SRT Pursuit concept through its paces, much to the delight of the fans and even our competition.
"Like Road America, I never raced at Brainerd International Raceway and studied the track by watching videos. We ran on two courses and one has a really long straightaway that was over a mile. It's a deceptively fast course, but it still has a really nice flow and this track allowed us to showcase our HEMI [engine]'s power," commented Carr.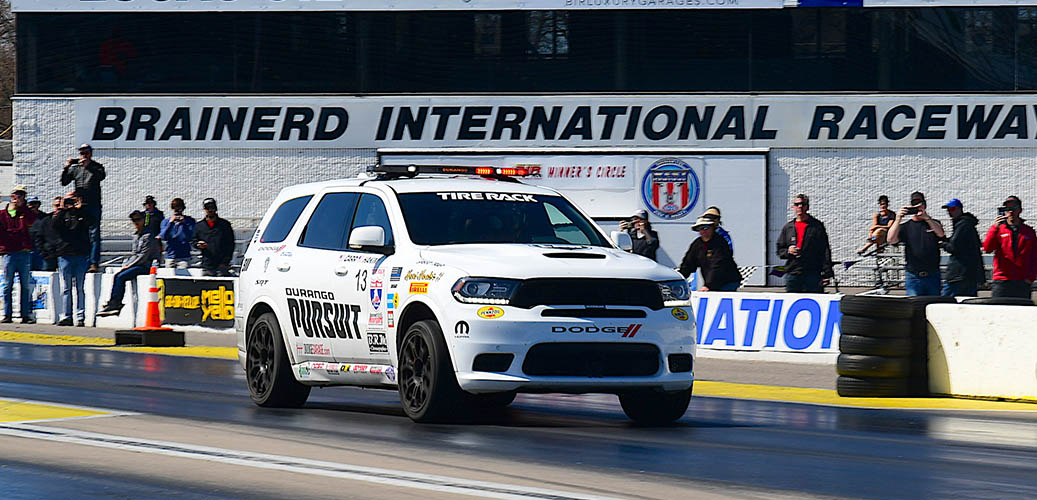 The One Lap event organizers always have a bracket race at one of the stops, and this year, it was at Brainerd International Raceway. With only time-trial allotted among the competitors, "Speed Trap" left the line and felt as if it was going to rotate the earth on its axis. We got the time slip and it was 11.74, so we had a baseline but we knew there was more in it. We put an 11.60 on the side window and headed to the staging lanes. In the first round, I had to wait five seconds for my side of the Christmas tree to come down as the competitor in the next lane dialed a 16.60 elapse-time to my 11.60. It felt like an eternity as I sat and watched the other car that was almost at half track before I could leave. The Durango quickly caught him and I coasted to an easy victory as I was starting to get the hang of driving this 797-horsepower machine.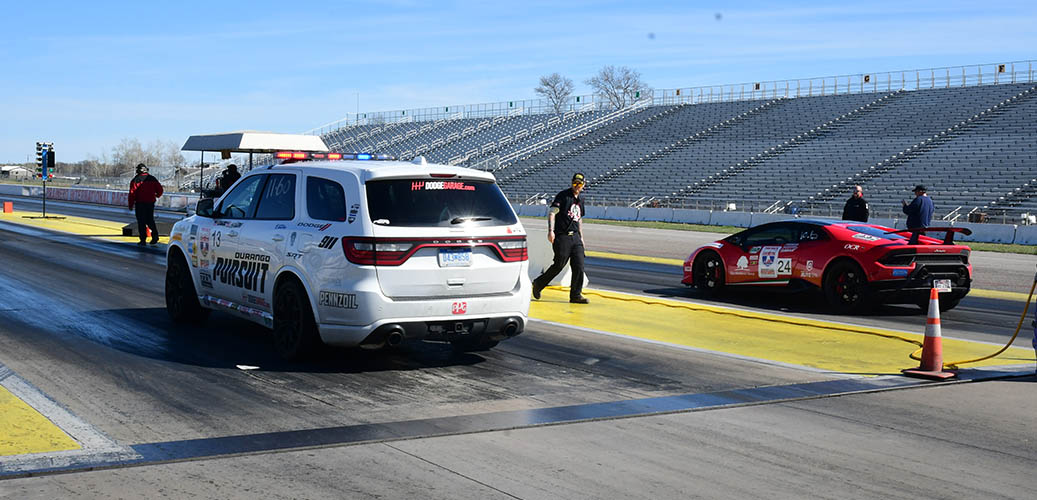 When it came to round two, I would be getting chased by a $200,000 Lamborghini that was dialed-in with a 10.60 to my 11.60. At the first hint of green, I mashed the throttle and it felt like "Speed Trap" leapt off all four of its Pirelli P-Zero tires. I was out on the Lambo and realizing this is bracket racing and knew I might "breakout" by going too fast and lose the race. I began to squeeze the brake pedal with my left foot while watching the Italian supercar approach very quickly in my rearview mirror while trying to gauge the finish line. Unfortunately, I "broke out" and ran an 11.53 on an 11.60 dial-in. It was the best pass "Speed Trap" has ever made and, trust me, if you run it flat out at the drag strip, there's a lot left. But on the long 9-1/2-hour drive to Hastings, Nebraska, the next stop for the One Lap, I replayed that race in my mind over and over.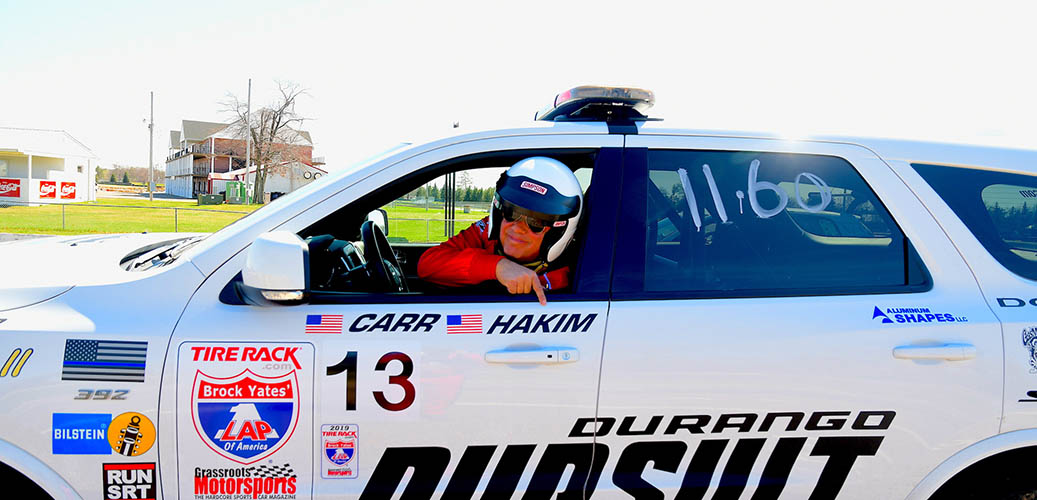 Life is a marathon and not a sprint, and our Durango SRT Pursuit Concept "Speed Trap" is in it all the way. That's a nice feeling when you're a long way from home and out in the middle of nowhere, but not to worry, we can get anywhere in a hurry!
Comments
Comments