Early Morning at Military Island
3 years ago Events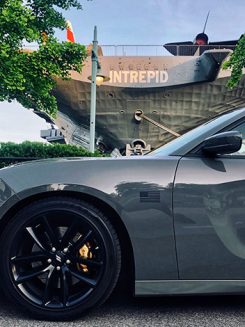 Day 5 saw us wake up at 5 a.m. in the name of photography. That's my normal get-up-for-work time, but on a trip like this, that's early even for me! Darla called ahead to the porters to make sure the Stars and Stripes Dodge Charger was pulled out of their real-life automotive Tetris game of a parking garage and ready for a pre-dawn adventure.
We nosed up onto Pearl Street and headed uptown back towards the Intrepid, just to see if we could get a pic of the Destroyer Grey Charger with a ship painted the color that inspired it. With secured areas, trees and light posts in the way, it was challenging to get a clean shot, but we made it happen.
NYC is pretty much always under construction, it seems like most of the buildings are surrounded and sidewalks covered by scaffolding. Driving through Times Square on an early Saturday morning was cool, but scenes of the iconic buildings were obstructed by "work in progress." Even at 5:30 a.m. on a Saturday, it wasn't easy to park and pose for photos, but Darla was determined.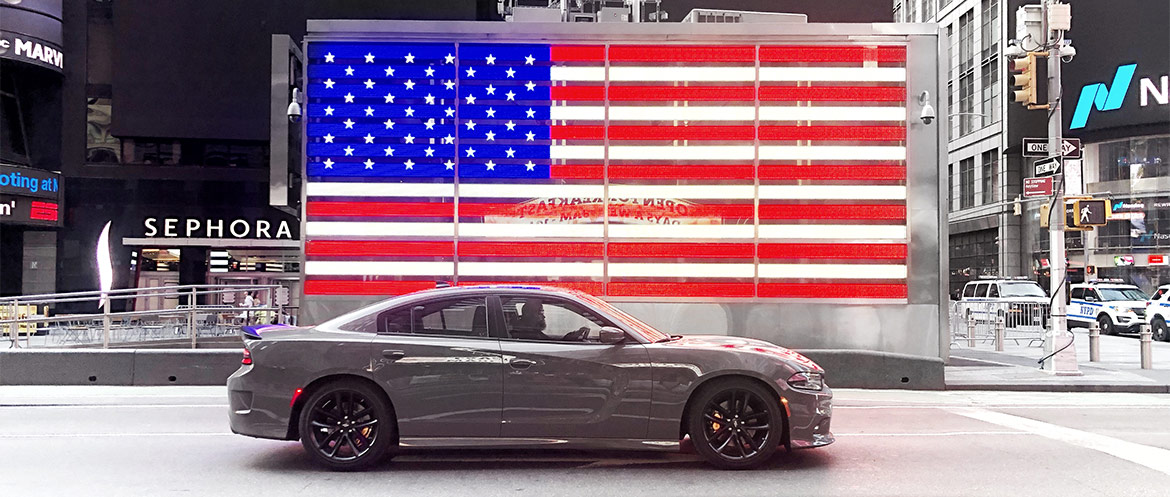 While I drove around the block a few times, Darla situated herself in a construction zone to capture a few shots of the Stars and Stripes Charger glowing under the LED American flag on Military Island.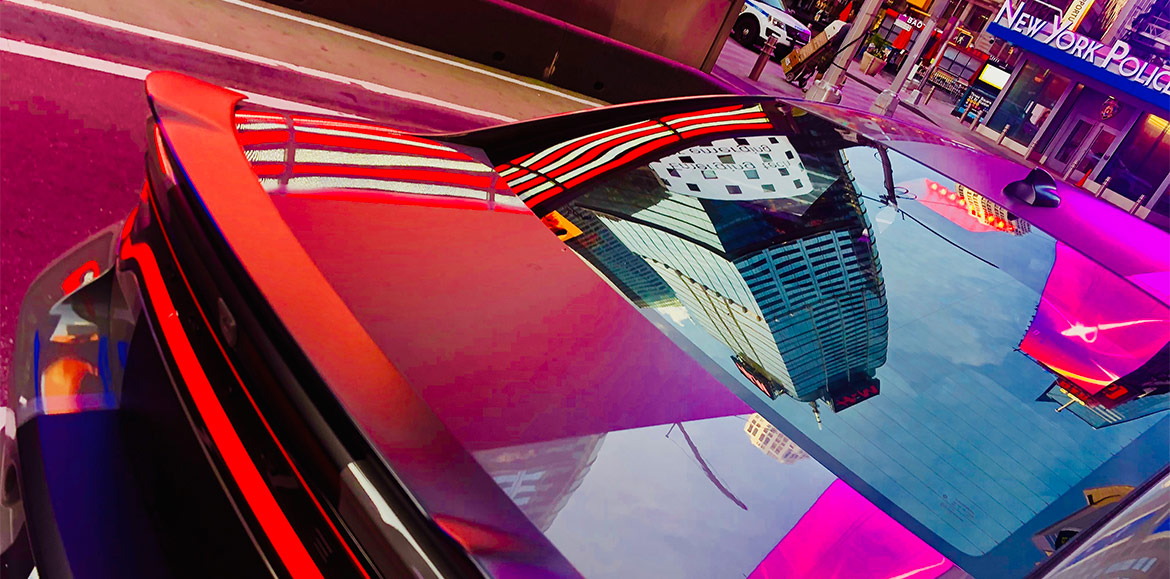 We drove back down to the hotel and had it parked before the streets jammed up. The rest of the day, we rode Ubers or taxis, or walked to our destinations.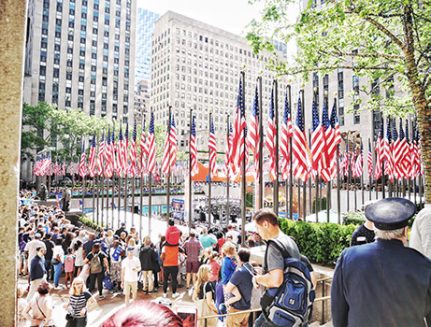 Rockefeller Plaza was lit that afternoon. Boyz II Men took the stage in front of the Prometheus (my favorite god) statue and the crowd went wild! Civilians could watch from about the sunken theater while the prime viewing area next to the stage was military only; all groups were loving it. I stayed up above the fray while Darla snuck down for a closer look and sing-a-long.
There was also a World War I reenactment band playing and handing out Remembrance Poppy packets to promote the private funding of a WWI memorial in Washington D.C. Looking at the seed packet, we quickly learned that "every major conflict America has fought in has a National Memorial in our nation's capital except one . . . World War One." Definitely a worthy cause being shared by this talented group of musicians.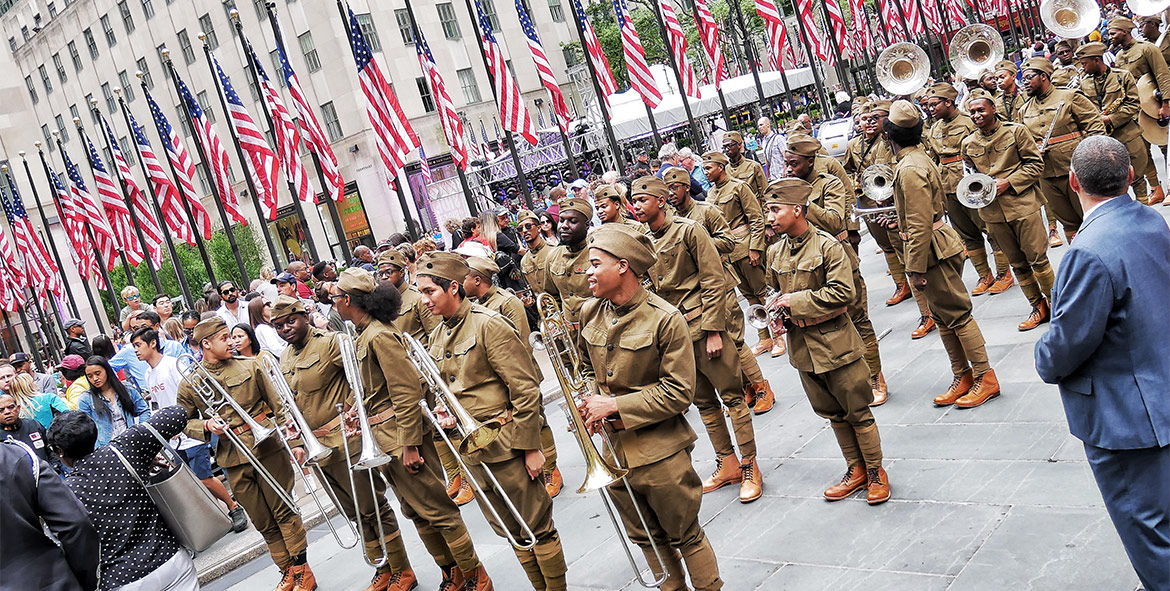 We then found ourselves in the right place at the right time to meet some military men to talk with a little about cars, and mostly about life. These dudes were all cool.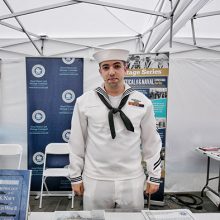 Rafael Toledo calls Harrisburg, Pennsylvania, home, but was born in Havana, Cuba. He's a US Navy Submarine Sailor, 10 years in, currently stationed at the US Naval Submarine base in New London, Connecticut. Rafael works on ballistic missile subs, and depending on the mission, he can be out on National Security objectives ranging from weeks to months. He said his wife drives a Jeep® Brand vehicle. I asked him what model. "Wrangler…is there any other kind?"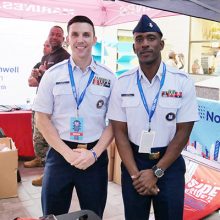 Tom Young hailsfrom Seneca, South Carolina. Right now, he's in the Coast Guard and has been for 11 years. Before that, it was the Navy for six. Side note: None of these soldiers look like they've been in the military for 10-20 years. Maybe exercising is good for you? Tom works at the US Coast Guard Station in Manhattan, New York.
From Palm Springs, California, was Coast Guard member Jason Black. Jason has served for almost 19 years and has run more unique missions than I have fingers to count. Right now, he's out of TGIF Coast Guard Recruiting Station in Manhattan, Battery Park, New York. His dream car is a Porsche 911. I don't care what your brand affiliation is, at some point, you've wanted a 911. It's just a given.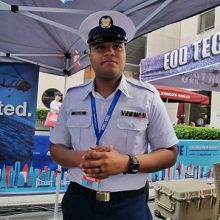 Jay McCloud's energy was infectious! Originally hailing from Washington Heights in the Bronx, NYC, Jay is currently stationed out of Manhattan. However, it turns out he was familiar with my home base of Detroit! He put in much of his eight years of service for the Coast Guard at Selfridge Air National Guard Base about 30 miles north of the city. Darla's uncle worked out of Selfridge on a C130 for many years, only recently retiring. Jay said that the base is one of the top two busiest "and craziest" Coast Guard posts anywhere, as it serves the eastern Great Lakes, Lake St. Clair, Michigan, Ohio and Canada. He has deployed on countless search-and-rescue and relief missions during hurricanes and major oil spills. The work was extremely challenging, so when the opportunity arose, he gladly took on a recruiting position back home in NYC. It's funny that a guy would go to NYC for some peace and quiet. However, Jay has the perfect amount of passion and personality to rock his job as a recruiter.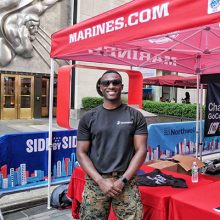 "My Name is McDavid. Yes, that's my first name. Last name is Charleston. So either I have two first names or two last names, I'm not sure which!"
McDavid has been a Marine for the better part of a decade. He's from Spring Valley, New York, but like the other guys, has taken every opportunity of his military life as a way to travel the world! Before coming to the Bronx to recruit, McDavid was stationed out at Camp Pendleton around San Diego in Southern California. He used to have a HEMI® Shaker Challenger, but right before he left SoCal, another driver T-boned the car and pushed him into a guardrail. If the car hadn't hung up on the railing, he would have had a long fall! Now he's putting away money while walking to work as a recruiter in the Bronx. I asked him what he was saving for. "Aw man, I'd like to keep it in the Dodge family!" I think a Dodge Challenger SRT® Hellcat might be in McDavid's future.
After our conversation with the boys, we walked. Midtown was humming with human energy, and there were multiple streets shut off to automobiles for a street festival! The people watching was fantastic and Darla was able to find her requisite odd-ball cuisine.
I'm not really a "sneakerhead", but I dig shoes and unique stores. From midtown, we took a taxi south to SoHo and visited Kith and Flight Club. Flight Club had more of a typical shoe store vibe, although the kicks they had were vacuum packed or behind glass. Featured was a collection of un-released designs that cost well into the five-figure range! Kith had more of a boutique feel with three levels (each reached by elevator) and cool sneaker art installations that reached vertically from floor to floor. We were definitely not cool enough to fit in there, but I do have a beard so I can blend in as a hipster without anyone taking notice. By some miracle of god, I left them both without making a purchase, but we did find Darla a dope pair of all white low top Nike Air Force Ones.
In what is becoming a major theme of this trip, I wanted pizza again for dinner. Right around the corner from Flight Club was Ribalta, known for their real-deal Neapolitan pies. I think Darla got a salad and I was going to share a piece or two of my pizza. There was no sharing, however, because again, I enjoyed one of the best pizzas I've had. This was the second "best pizza" on this trip, and not the last, although all three were totally different from each other. New York just knows pizza.
Saturday night, we set our alarms for 4:50 a.m. in preparation for early rising once again. This time, we were heading out of Manhattan and into Long Island for some Sunday morning Cars & Coffee!
Wanna catch up on past installments of our adventure?
First Fleet Week Stop Is In The Books
Comments
Comments