Lost in the '70s
3 years ago Events
Steve Juliano wasn't a collector, he didn't "own" his cars, and he laid claim to nothing. He was, as his daughter Nicole referred to him, "a keeper of time, for a moment in history". Like many, he was a man fascinated with the heyday of the muscle car era; but like few, he had the passion, dedication and means to obtain and preserve the rarest of rare and the obscurest of obscure.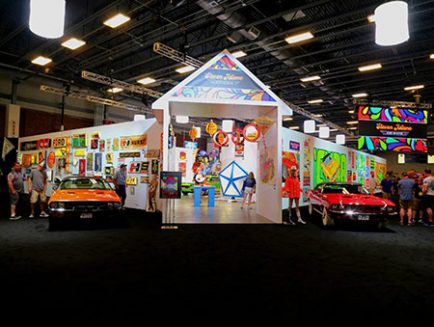 From a huge highway billboard 'Cuda sign to little Scat Pack cuff-links, Juliano collected anything classic Chrysler big and small. With an abundance of original Dodge dealership advertisements and a rare plethora of oddball muscle cars, Juliano amassed a detailed collection that truly was second to none. Those whp knew him well have told me that he never put himself into the spotlight, he wasn't in the car scene to achieve distinction or recognition; like all of us, he just found a simple joy in chasing old Mopar® vehicles. By doing his part to preserve the cars and memorabilia that made up a generation, Juliano's legacy brought that same joy to the thousands of people who attended Mecum's Indianapolis auction.
Stepping into the makeshift showroom, you were surrounded by everything classic Dodge and Mopar. From old-school dealership advertisements covering every inch of wall space to the NOS parts strewn about the room, the collection of memorabilia perfectly complemented the custom caravan cars which occupied the center stage. If you read my two-part series on Plymouth's Rapid Transit caravan, you understand that the cars were quite literally built for the people. Touring Chrysler dealerships, dragways and car shows all summer long, the cars' purpose was solely to be seen in the public eye. They were built to inspire, to impress and to amuse anyone who walked by, but until I arrived at Mecum's Indy auction, I was unsure they would ever get to live up to that purpose again. Lined up in a neat little row, the three Plymouths sat surrounded by swarms of fans all weekend who oohhed and ahhhed over their bizarre stylings. I couldn't help but smile as I stood back and observed the stunned reactions of others to these one-of-a-kind show cars! Not a soul walked past without stopping to stare and snap a picture.

The 1971 Rapid Transit Roadrunner, fondly nicknamed "Chicken Head", never ceases to make me smile. The car was estimated to sell between $250,000 and $500,000, but rolled off the block for an absolute steal at $236,500! Tension grew as the auctioneer yelled, "going once, going twice…". Flashing sad doe eyes at my husband, I tried to remind him, "You can live in a car but you can't drive a house." He just shook his head at me and laughed. Despite my inability to afford buying the car, Mecum's staff appreciated my love for the Chicken Head Roadrunner and let me ride around in the passenger seat while they moved around cars. I even got to jump behind the wheel for a few pictures, an opportunity I will never forget!

Likewise to Chicken Head, the HEMI® engine-powered 1970 Rapid Transit Roadrunner went home below its peak estimated price of $500,000 and reached a bid of only $341,000. Contrary to its B-body counterparts, the Rapid Transit Duster surprised the audience as bidding reached above its anticipated value and sold for $264,000. Witnessing the near complete collection be separated to new homes was definitely a downer, but I have faith that the newfound owners of the custom caravan cars will understand, appreciate and adore them as much as any other fan. Someday, I hope to see the trio reunite for a car show so they can wow the world again, just like they were built to do.

While Juliano's original Rapid Transit caravan cars are one-of-a-kind, the rest of his collection was equally interesting with every car being unique in its own way. Aside from a smattering of ultra-rare Shelby Cobras and an obscure little Opel, Juliano kept it mostly Mopar Or No Car with his 1-of-1 1970 HEMI Challenger equipped with the coveted sunroof feature, a 1969 Mod-Top Barracuda, and the real chopped top '69 Dart concept car. All of his Mopar vehicles fared quite well at auction, with the HEMI Challenger selling for over $660,000, the Dart fetching $110,000 and the Mod-Top bringing a shocking $440,000 dollars! The floral fish quickly became the hot topic of the weekend as it was originally only expected to bring $50-$70k, meaning it sold for over 5 times its estimated value!

Equally as popular as Juliano's assortment of oddball cars was his collection of original dealership displays. Neon signs lit up the exhibit, bright colors popped right off the posters and nostalgic slogans like "Dodge Fever" and "Plymouth Makes It" came to life. From the giant wall hangings originally displayed in showrooms at Dodge dealerships to the little trinkets, matchbooks and hats that were handed out to salesmen, Juliano hunted down only the most pristine pieces of original memorabilia. Seeing all these old-school ads was especially nostalgic for me as my family ran a Dodge dealership throughout the prime time of the muscle car era. While I recognized some of the items in Juliano's collection from my Grandpa's days with Dodge, in the 1970s, nobody could predict the value that these advertisements would bring. Pasted to the front glass window or passed around at parades, hundreds of these disposable flyers, posters and displays came and went through my family's dealership, Steeb Dodge. My understanding of the memorabilia's original purpose and average life expectancy made it all the more impressive to witness the mint quality of Juliano's collection.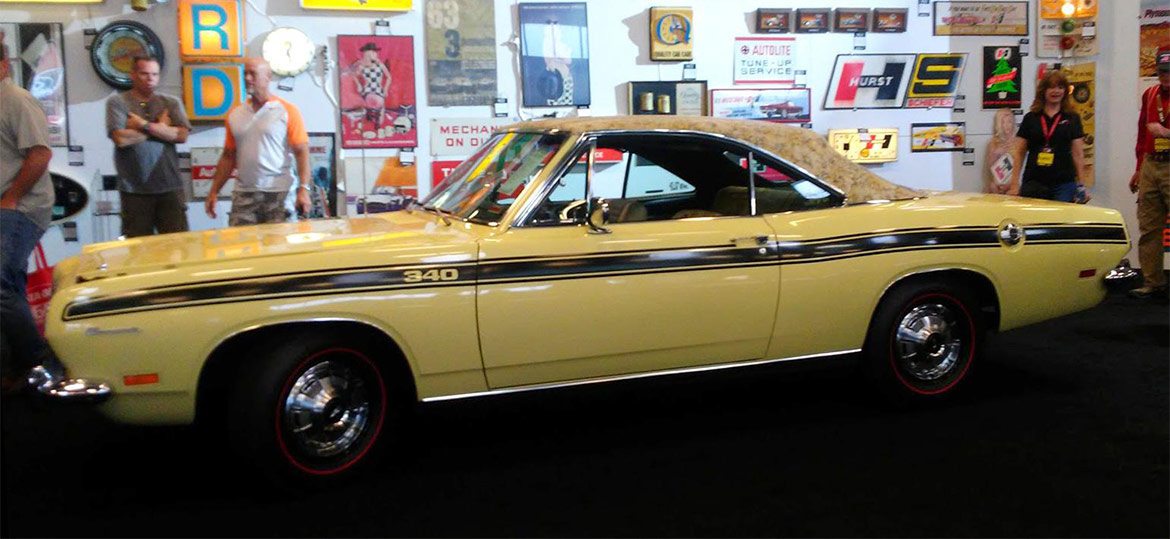 In my final walk-through of the Juliano display, I watched as the paper posters and plastic promotions were carefully peeled off the walls. While witnessing a collection of this caliber split up left a bitter sadness, it was heartwarming to watch hundreds of happy faces light up as they proudly went home with a new addition to a collection of their own.
Mecum's detailed level of care in the construction of the Steve Juliano display was nothing short of awe-inspiring. The thorough recreation of Juliano's personal collection not only honored Juliano but spread his passion for automotive heritage with thousands of people. With Led Zeppelin blasting over the speakers, groovy graphics and funky logos covering the walls, and cheerful faces of every kind stopping to reminisce over the glory days of the muscle car era, it truly felt like you just stepped back in time to the 1970s. Feast your eyes on this plethora of vintage Dodge, Plymouth and Mopar memorabilia and you'll see what I mean.
Comments
Comments