New Beginnings
4 years ago Events Video
The biggest all-Mopar® vehicle show in the Midwest, Mopars in the Park, just completed its 35th annual event at a brand-new location. Changing locations of a show this large is always challenging, yet Midwest Mopars pulled it off with record attendance. There were more spectators on Saturday than all three days combined at last year's event (yes, the weather wasn't the best, but still). I'm sure there will be a bit of reorganizing for next year's show, as you always learn something and apply that to future shows, but the new location at the Washington County Fairgrounds is a great new home.
Midwest Mopars always seems to have cool displays of curated collections, and this year was no different. They had the 1969 Road Runner Color Run; one Road Runner in every factory color produced for that year! While this may not sound like a big deal, this was the first time (prove me wrong) that every color was together in one room. Now, you may be thinking "Bud, what about when they were being built at the factory?" Yes, that would be a good argument, except Road Runners were built at different facilities and some of the colors were regional and others were introduced halfway through the model run. This collection of cars was corralled by Wes Eisenschenk, a 1969 Plymouth Road Runner owner and author. Over a year of planning and plotting went into making sure every color for the 50th anniversary of the car would be on display.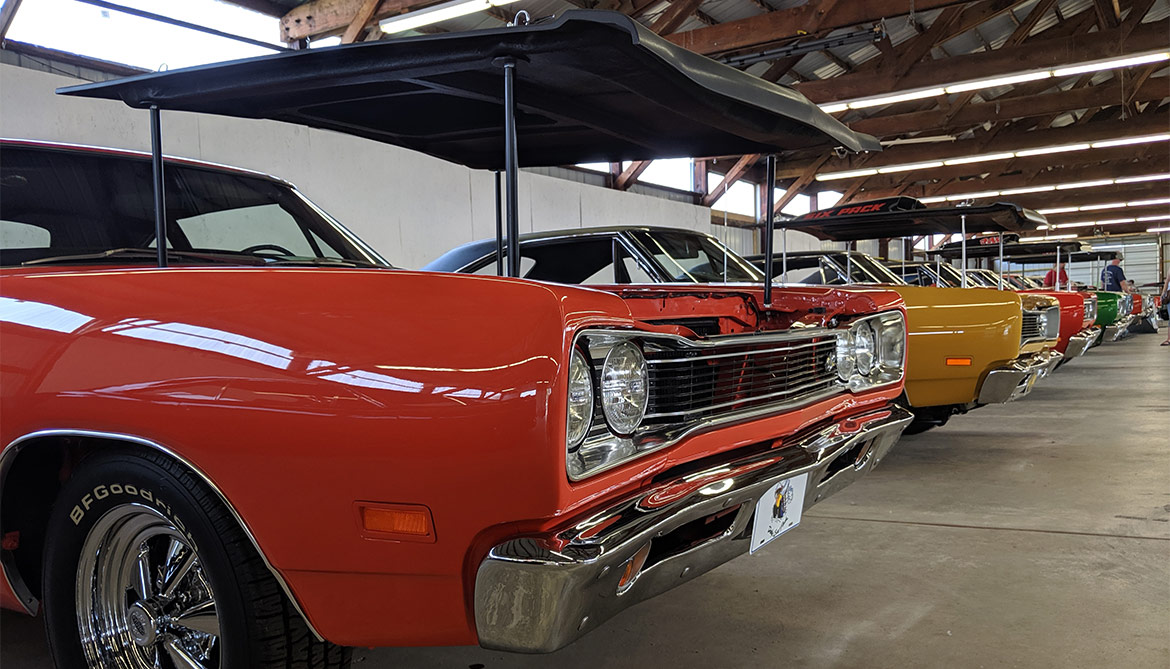 The next building with a unique display was the race display, which also housed a dozen or so A12 cars. You don't know what those are? The Plymouth and Dodge Brands made a very capable and affordable street/strip car in the 1969½ Road Runner and Super Bee. These cars were powered by a 440ci V8 with three two-barrel carbs, better known as the "Six Pack". They all had a fiberglass lift-off hood, so when you're at the track, you can make adjustments to anything on the engine quickly. Plus, it just looks amazing. Can you think of any other affordable street/strip car? Yeah, the 1320 Scat Pack! Look for a story about how these two cars compare in the not-so-distant future.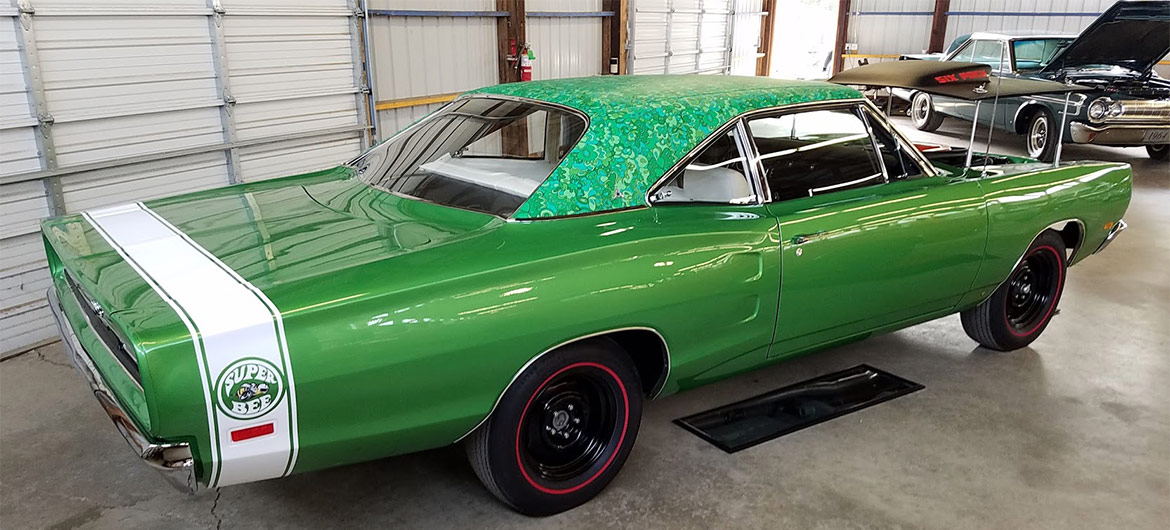 One of the most stunning of the A12 cars was this amazing Floral Top car (it's not a Mod Top, I was corrected). Yes, that's a factory option, not an aftermarket add-on. This particular car wasn't ordered by a customer; it was spec'd out by the factory and sent to a dealer as an inventory car. The theory is people weren't taking to the Floral/Mod Top cars like Chrysler thought they would, so they wanted to get some out into dealerships for people to see. Well, people must not have liked what they saw as this car sat at the dealership for a long time before being sent to auction! After bouncing around for several more years, it ended up in Canada before making its way back to the States to be lovingly restored.
I have never seen so many A12 cars in one place before, and if you haven't either, you're not out of luck. The group of owners from the Lift-Off Hood Registry are taking their show on the road for the 50th anniversary of the car. Their next stop is at Carlisle Chrysler Nats (July 12-14), then Moparfest (August 17-18), then their final stop of the tour, MCACN (November 23-24). If you're near any of those shows, it's worth the admission cost just to see so many of these beautiful A12 cars!

Out in the show field, I found some gems as well, like this 1962 Fargo truck! Wait, that's not Mopar, is it? It was! It was a Dodge truck for the Chrysler dealers in Canada. The name was a play on Go Far, or Far to Go, not after the city in North Dakota (it's not in Minnesota, despite what you saw in the movie). This particular example is a one-owner truck with less than 11,000 miles on the clock. The owner purchased it when he was 16 years old and doing lawn work for the summer. School called, so the truck was parked (in three different pieces) and sat forgotten in his father's barn for 50 years. That's when Mike, the owner, decided it was time to piece it back together. A fresh coat of paint (on all original bodywork), a 383ci V8 from a '68 Super Bee, with a 4-speed transmission and some seats from a Dart rounded out this build. There wasn't a single thing I'd change about this truck if it were mine.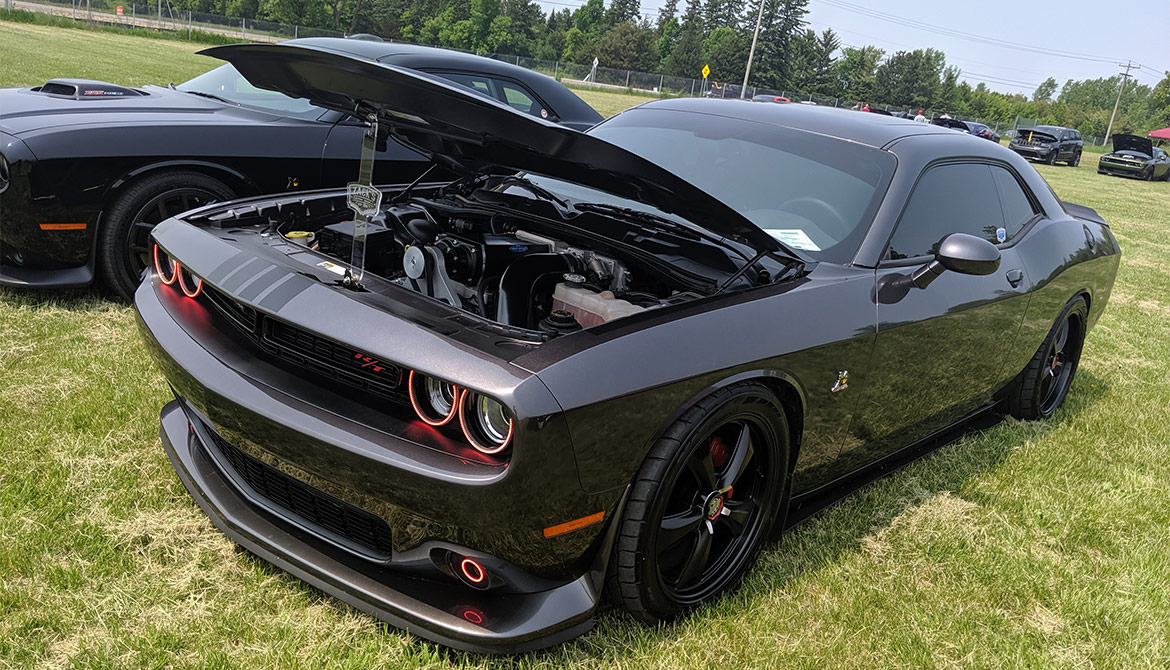 Being the Scat Pack aficionado that I am, it didn't take me long to spot this 2016 Scat Pack Challenger, sporting a Kenne Bell supercharger. Besides the extra motivation under the hood, the car was perfect with custom wheels and suspension.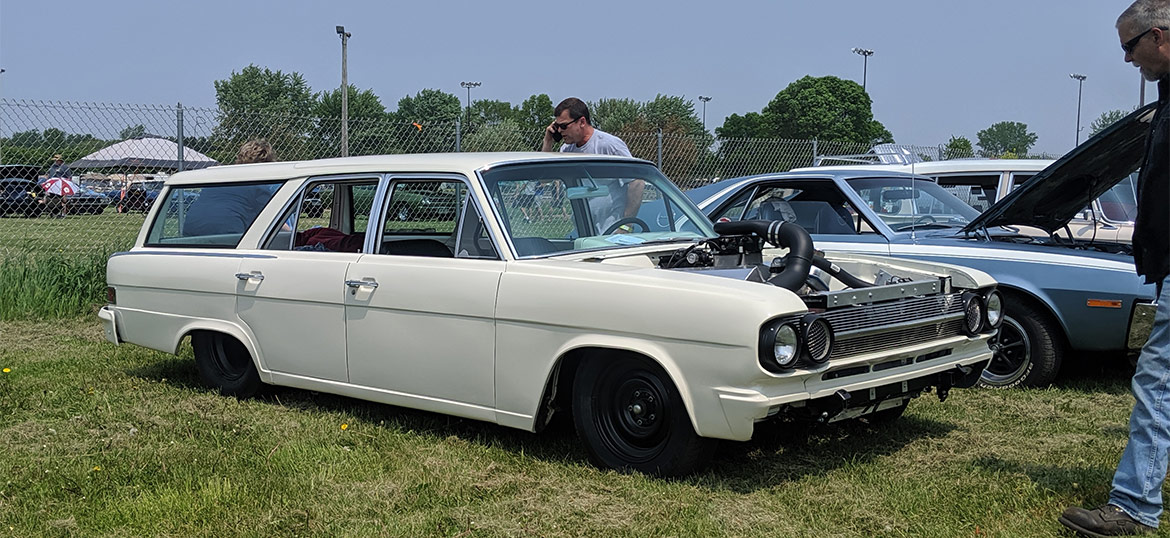 My wife, the Magnum R/T owner, spotted this AMC Rambler Cross Country from nearly the opposite side of the show field and we had to go in for a closer look. I didn't get the details on this badass wagon, but I could see my wife hauling the kids around in this beast. Add this to the growing list of wanted project cars…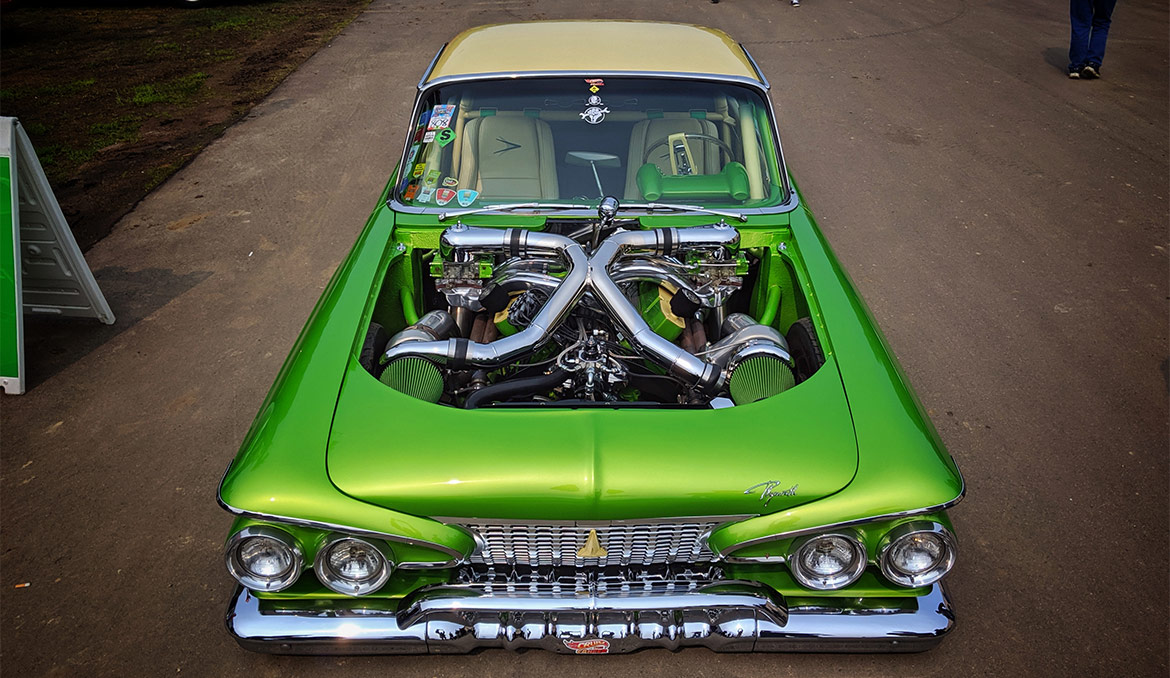 Another crowd favorite is also my favorite … the Belvedere. This is no trailer queen though; this badass machine drives across the country to shows and events. And it even sees track time at events like Powercruise USA and the Drag Nights at BIR, not to mention whipping some drifts and donuts in the snow (yes, really!) when the mood strikes.
Below are some of the other pics I took at the show. What's your favorite?
Comments
Comments