New York Shows Dodge Love
4 years ago Events
One of the things that is super cool about traveling, even just state to state, is exploring different cultures and how different people live and think. Or, in some cases, you find out how similar you are! The Detroit Cars & Coffee scene is epic, but since we were in New York, we wanted to taste some of their car culture. Darla and I connected with some gearheads who told us that the Oak Beach Cars & Coffee would be insane and one of the biggest in the tri-state area…they were right.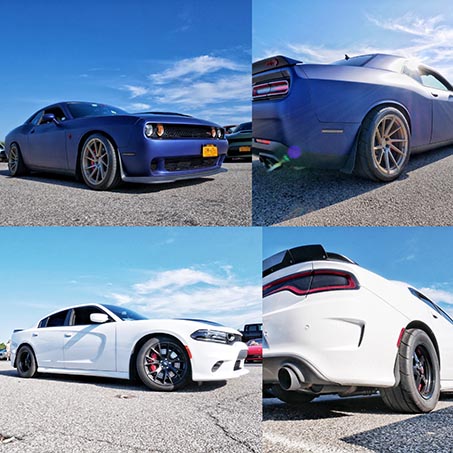 "Get there around 7 a.m. on Sunday or you'll be waiting in a long line to get in," John Tsontos told me. He and his beautiful Coronet R/T weren't gonna be able to make it to Long Island for the gathering, but he convinced us to go. "I want you to get the full experience from the start. No waiting in lines."
We set our alarms for 5 a.m. We needed to allow enough time to get ready, wake up the Stars & Stripes Scat Pack Charger from its underground parking, and make our way from Manhattan to Long Island by 7 a.m. The drive through the city was easy-peezy, but I was surprised at how out-of-the-way the show is! It's not one of those things where you just kind of stop by or swing in; your purpose has to be to attend the show. Deep in Jones Beach State Park, along the Ocean Parkway, sits an empty parking lot once belonging to a popular inn that is now long gone. On Sunday mornings, this desolate parking lot turns into a show lot just yards from the Atlantic Ocean.
The lot was hoppin' but we found a spot on the grass to back into. John sent us a text message: "You just wait. Give it another half hour and the true insanity will show itself. It gets so packed that state troopers close the entrance."
He was right. As more and more early-rising enthusiasts arrived, the state park's road backed up farther and farther. Grass, dirt or asphalt, cars were parking wherever they could. And there were some killer Dodge Brand vehicles in the mix!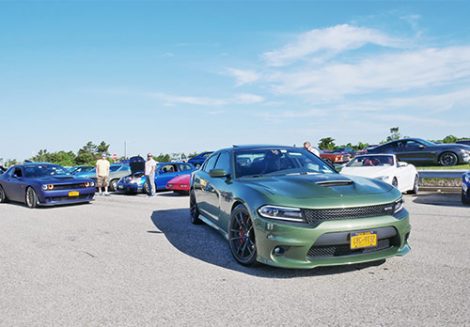 Shiva (@392goblin) and Pete (@cruzzinlow) of @nyc_headturners rolled in with their F8 Dodge Charger Daytona and a wrapped matte metallic "night blue" Dodge Challenger, respectively.
"Absolutely amazed at how well tuned this car is from the factory. It's hard to think of mods to do to it," Shiva explained. Although he did add wider tires for more grip and went with ceramic coating to keep that F8 finish looking fresh. "The amount of compliments I get is insane! Photographers and videographers are always reaching out to add this beast as a part of their portfolio. It's truly an honor to be the owner of such a beautiful machine."
Pete's Challenger caught my eye with that matte metallic wrap. The titanium gold forged 20s really made the blue pop. It's a pretty serious Dodge Challenger SRT® Hellcat with a nice list of mods that put him at 750rwhp: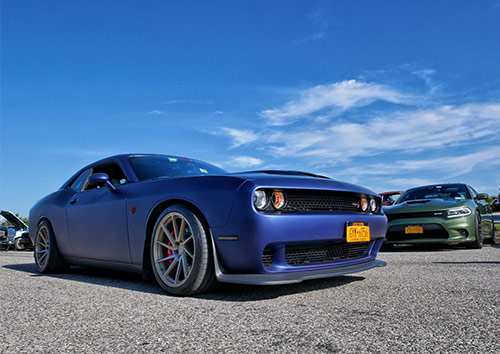 20″ BC Forged EH171 wheels custom powder coated
315 Nitto NT05R tires
Mopar® lowering springs
ATI 10% pinned lower pulley
Truestreet Performance/Hemituner Performance dyno tune
Corsa Extreme cat back
QA1 carbon fiber driveshaft
P4D rear differential brace
3.09 rear gears
Legmaker cold air intake
Billet rear tension arms and sway bar end links
Speedlogix bumpsteer kit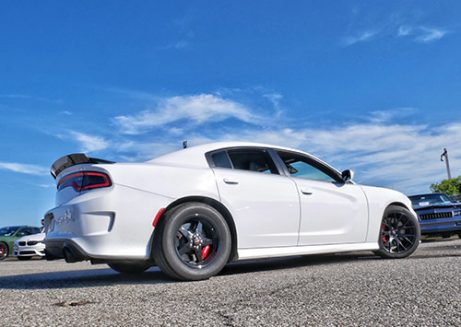 It wasn't just SRT Hellcats showing off extra performance. @michael_santooo had a MEAN 2018 Dodge Charger Scat Pack set up for the ¼-mile, built by New York's Extreme Muscle Performance (EMP). It has an extensive list of mods with 550rwhp and 560 lb.-ft. of torque!
SRT Hellcat Lifters
Head gaskets/bolts
SRT Hellcat Pushrods
PSI valves
270 cam
Legmaker cold air intake
SRT Hellcat throttle body
Ported and polished heads
2" ARH headers
Custom welded 5" tips
HP Tuner tune
17" Race Star wheels with Mickey Thompson drag radials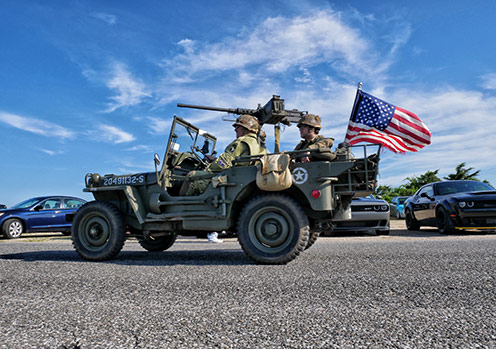 At the other extreme, we had a 1942 Willys Jeep® built by Richard and Connor Amato, armed and ready for battle, a perfect tribute to Memorial Day weekend. They're members of the Museum of American Armor, a place in Bethpage, New York, that I need to visit. You will too!
That's just the tip of the iceberg! Check out the gallery below for more magnificent Mopar vehicles from New York. Which one is your favorite?
Comments
Comments
Previous