Aroma of Burnt Rubber
4 years ago Events
The aroma of burnt rubber wafting through the air, the constant screech of Hellcats howling in the distance, and the streets of Woodward packed with iconic hot-rods; no I'm not talking about Muscleville, this all went down at the fifth annual Roadkill Nights Powered by Dodge! Imagine what Woodward Ave was like in the height of the horsepower wars and then pump it with steroids, you might get an evening close to as kickass as Roadkill Nights! With over 300 muscle cars rolling into M1 Concourse for the show 'n shine and another 120 lining up on the streets of Detroit for their chance to throw-down in Motown, there is no doubt this was a can't miss party for gear-heads across the globe!

If you weren't one of the 50,000 people that filed into M1 concourse for two exhilarating evenings of Roadkill style hell raising, I strongly suggest you do what it takes to get your butt in the bleachers next year! The event provided a huge purse of over $30,000 and featured automotive spectacles, such as NHRA racers Leah Prichett and Matt Hagan doing burnouts for distance in their top fuel dragsters, flame spitting exhibition passes, a Sheriff Showdown between Macomb and Oakland County Sheriffs, and even the legendary HEMI® Under Glass wheelstander! If shutting down the streets of Woodward for a night of no holds bar competition and sheer entertainment isn't enough for you, then how about a plethora of extra activities inside M1 Concourse's race track. With a massively Mopar® heavy car show, a manufacturer midway, a mobile dynamometer, freestyle motocross, and a wicked burnout contest; your head was on a constant swivel to keep up with all the action!

To sweeten the deal, Dodge even kicked in their own Mo-Powered mayhem with free high speed thrill rides and tire melting drift rides, allowing you to experience what 707 horses of muscle feels like with a professional pilot sliding into every turn. If you're looking for a more behind the wheel feel, Dodge has you covered there too with their Demon simulator. The simulator allows you and a friend to jump into the driver's seats of two real Dodge Demon Challengers and compete on a virtual drag strip, time for your buddies to set aside the talk and show off their walk! Dodge Fever spread like wildfire at Roadkill Nights with fans getting up close and personal to top performance models, earning free swag, and receiving free airbrushed Mopar tattoos!

With so many new Dodge boys and girls joining the fold, Dodge rolled out the VIP treatment for loyal Mopar vehicle owners with the first 150 registered Dodge vehicles getting in for free, premium Chrysler product only parking, and an extra $10,000 grand in total winnings to racers eligible for the Dodge only big tire and small tire shootout! Your favorite celebrities even got their own chance to tear down Woodward with Dodge dishing out brand new 1320 Scat Pack Challengers for the celebrity shootout! Splitting off into teams of two, over a dozen celebrities competed to be crowned this year's winner, ultimately team David Freiburger and Leah Prichett reigned victorious (but doesn't pairing off with a professional NHRA racer with 10 wins under her belt kinda count as cheating, we'll let you decide).

Now as much as I love to see the unmatched modern Mopar muscle cars strut their stuff on the track, everyone was waiting anxiously to see some real Roadkill racing! Freiburger, Mike Finnegan, and Steve Dulcich ran four of Roadkill's best known Dodge vehicles down the track. The four cars made it up and down the ¼ mostly unscathed with the '68 Charger known as the General Mayhem pulling a minor Richard Rawlings into the wall, not a worry she'll buff out. Aside from the track, popular TV show stars such as Chris Jacobs, Cristy Lee, and WWE's Goldberg could be seen throughout the day signing autographs at the Motor Trend booth, chatting with fans, or just walking around the car show getting inspiration for their next build!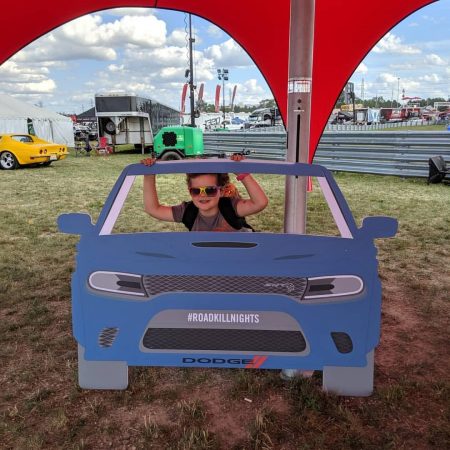 In the midst of all this hair raising excitement, my heart was warmed to see a younger crowd joining in on this family friendly celebration of american muscle car culture! Roadkill Nights allowed admission of all children 12 and under in for free, provided a kids fun zone, toy car racing, and tons of extra young-gun fun! It's clear Dodge, and our friends over at Roadkill, are dedicated to sharing their passion for performance with the next generation.
So if you want to get rowdy, you want to raise a little hell, but you don't want to get busted by the fuzz or wind up sideways into oncoming traffic, join us next year at Roadkill Nights for fun, safe, family friendly and most importantly 100% LEGAL street racing!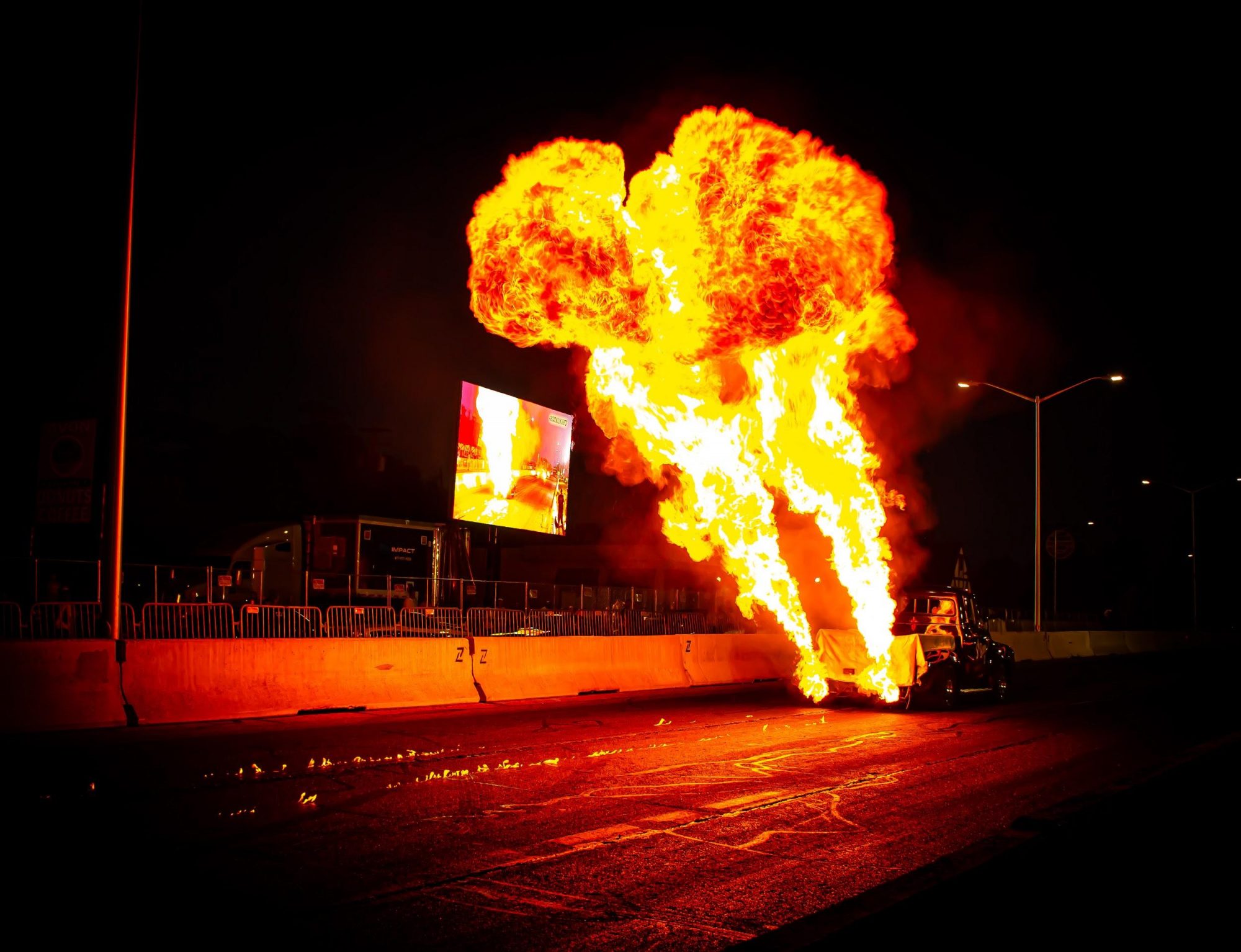 Comments
Comments