Concours d'Elegance of America
3 years ago Events
The Concours d'Elegance of America at The Inn at St. John's is held yearly in Plymouth, Michigan, a suburb that sits about 20 minutes east of downtown Detroit.
According to their site, Jay Leno once described the Concours as a place where "ordinary millionaires can compete with billionaires on an equal playing field."
The show adds to that, however:
"It is also true that the show has evolved into an event that has something for car enthusiasts of all ages and automotive interests. The show is the opposite of stuffy. It's families in shorts and T-shirts with young children riding in strollers and enjoying ice cream. It's young gearheads with telephoto lenses photographing their dream cars from the '80s, '90s and 2000s. It's senior citizens reminiscing about the cars of their youth. There's even a beer tent."
That being said, a friend of mine who shows art there, the extremely talented Dan Brown, sent me two tickets to the event via snail mail. What a gesture! If someone is willing to knock the dust off of their penmanship and break out the stamps to send me a letter via the United States Postal Service, you bet I'm going to take advantage of it.
The Concours is a relatively small show set on a well-groomed, tree-lined golf course. I did enjoy the ample shade as it was pushing 90 degrees on the sunny Sunday in late July. The show is judged by automotive luminaries from around the country, and while "families in shorts and T-shirts" are allowed to enjoy the show, I did feel for my designer friends tasked with judging while sweating it out in their button-down shirts and sports jackets! The price you pay to be a tastemaker, I suppose.
The 41st version of the Concours d' Elegance featured around 300 automobiles and motorcycles, the quality of which was something to behold. The FCA family definitely made its presence felt; including a 1954 Ferrari 375MM that was one of two Best in Show winners.

The two prancing pony cars from the country shaped like a boot that caught my eyes were a '59 250 TdF with a killer blue and red color scheme, as well as the legendary F40.

There were a couple of classic Mopar® convertibles on display as well. This very rare 1960 Imperial Crown was one.

And a '61 Plymouth Fury matched up with it nicely.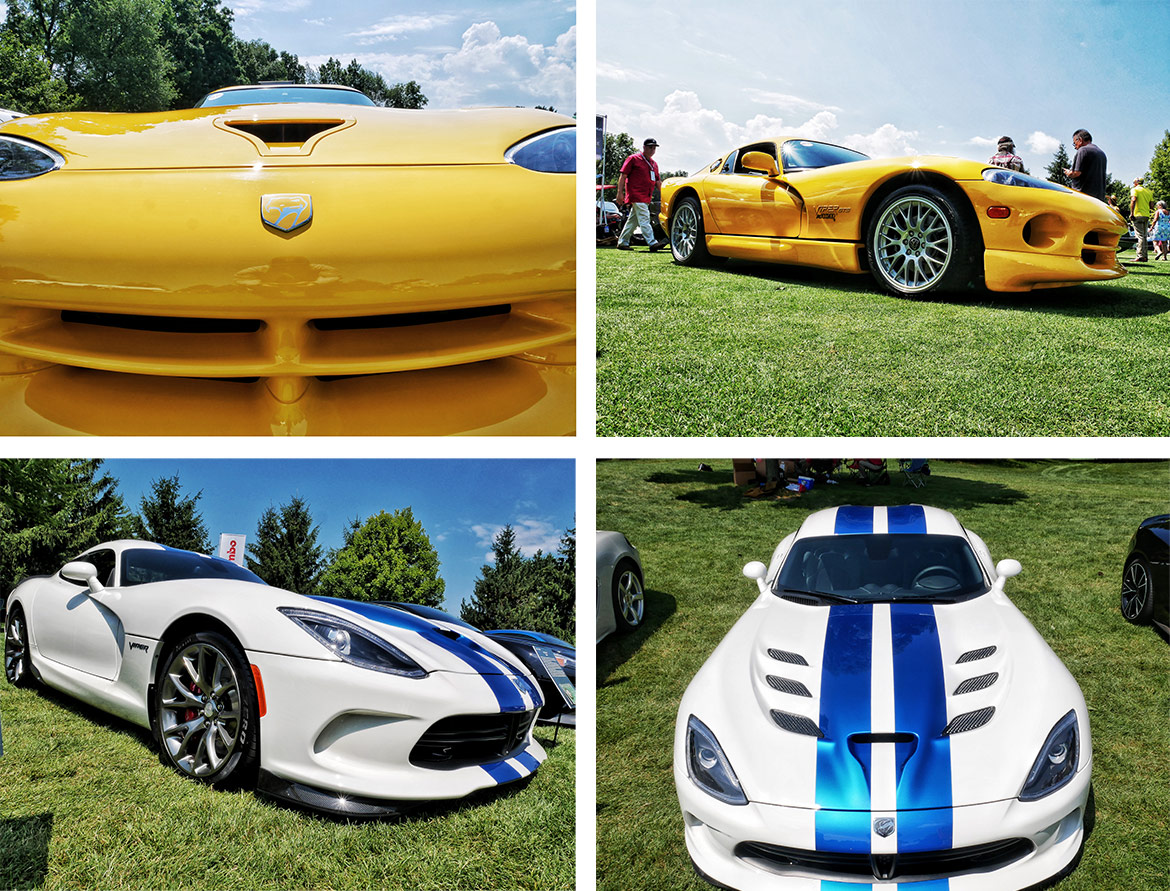 Dodge was represented on the rolling greens and fairways by thrill rides of wildly different persuasions, both old and new. A solid yellow 2001 Viper GTS ACR and my friend Zach Thompson's one-of-one stone white with blue stripes 2017 Viper GTS stood on the contemporary end…
…while a quartet of wicked muscle cars from 1969 showed of rock star examples from the original horsepower wars. Two were Plymouth vehicles, a black Road Runner and a red Barracuda.
And two were orange Dodge vehicles, both winning awards, including the 440 6-Pack Super Bee.
And the ever elusive HEMI® engine-powered Charger Daytona that literally *just* last week surfaced from its 2nd restoration. One of less than 70 built, the story is that its first owner was a notorious drug dealer who wrecked it. The car was found in a ditch and the drug dealer was found in a field nearby. Dead. Crazy!

Cars with alternative power sources also had a place on the links, and Chrysler brought along the ever-popular Turbine car it built in the early '60s. Those lines never get old!
What's your favorite out of these featured Mopar vehicles? And if you attended the show, what stood out?
Comments
Comments