Roadkill's Dodge Builds
4 years ago Events
At the end of the week, thousands of drag racers, Dodge fans and gearheads will shut down iconic Woodward Avenue in Pontiac, Michigan, for the annual celebration of Roadkill Nights. Roadkill Nights, hosted by Roadkill's own David Freiburger, Mike Finnegan, Steve Dulcich and crew, is an all-out car-enthusiast carnival. Powered by Dodge, Roadkill Nights hosts a huge car show, Dodge's official Thrill-rides and street racing right on Woodward Avenue! Come celebrate with us on August 9th through the 10th for this two-day event and you'll even get to see these badass Roadkill builds up close and personal! No they are not polished – heck some of them aren't even painted – but in the spirit of Roadkill, these Mopar® muscle cars aren't necessarily "right," but at least they're running! Which one of Roadkill's Mopar muscle builds are you most excited to see?
Vanishing Paint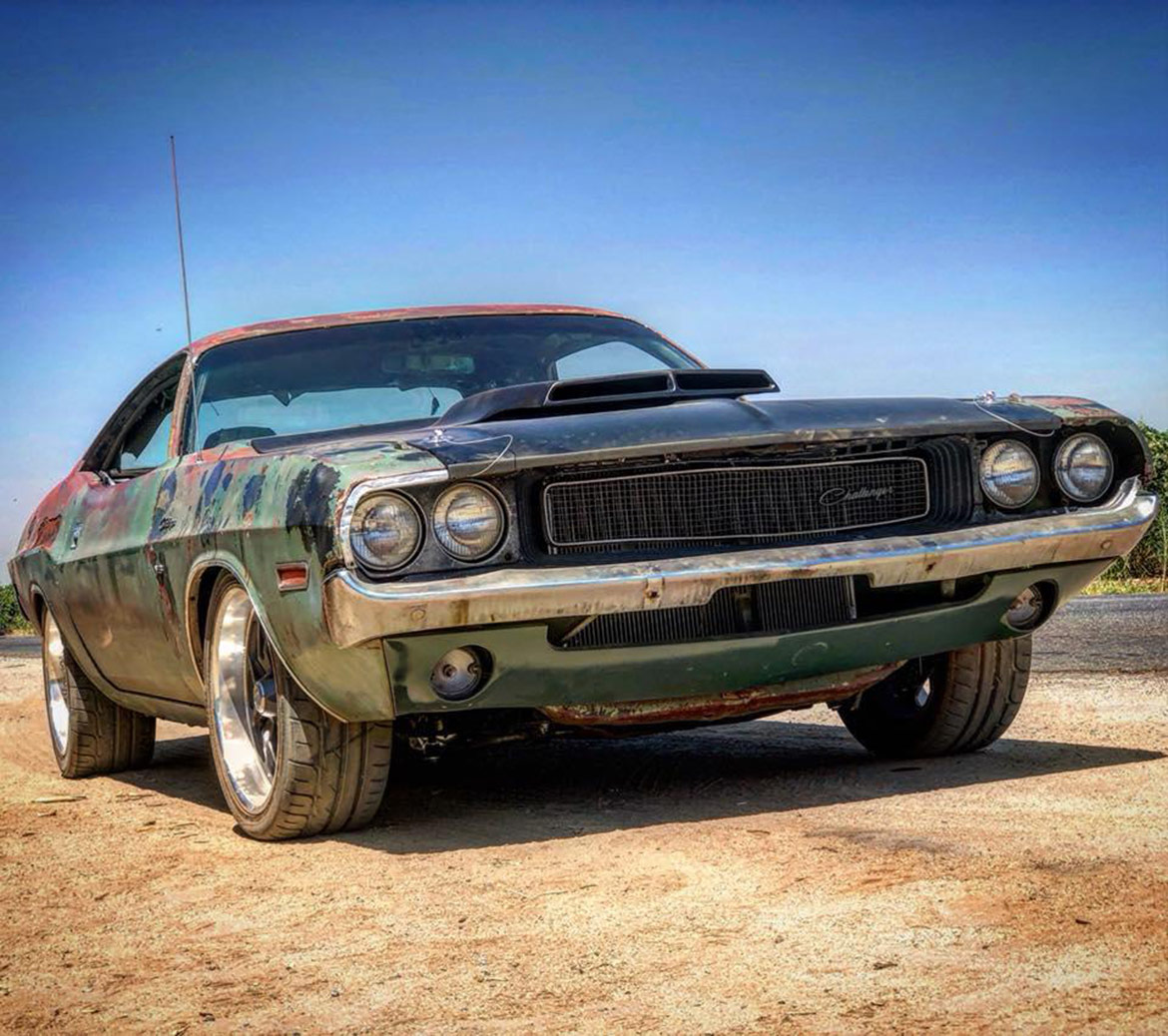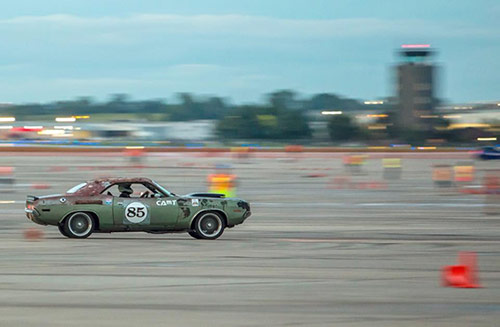 Soul music, smokey bears and sleeveless leather jackets; no I'm not talking about the cult classic Vanishing Point, but Roadkill's own adaptation, Vanishing Paint. So maybe they haven't been tailed by a never-ending stream of cops (that we can prove at least) or driven headfirst into a bulldozer in a blaze of glory, but the Roadkill guys' 1970 Dodge Challenger – fondly nicknamed after the famous car chase flick – has provided memorable adventures of their own. The car was purchased over 15 years ago by Roadkill's own Steve Dulcich for just $300 bucks, and was kept on the backburner for over a decade before it was given new life on Roadkill Garage. The E-body received an LA small block engine robbed from a donor Dodge truck, but being worn, tired and low powered, the guys decided to kick it up a notch with another rebuilt small block Chrysler motor that had been souped up on an episode of their other series, Engine Masters. With over 400 horsepower and an upgraded suspension, the VP has pretty much done it all. From road tripping to drag racing, auto cross to daily driving, there's no doubt the Roadkill guys have put this car to the test proving it to be the most versatile Roadkill build yet! Come see Vanishing Paint in action this year at Roadkill Nights to see what it's made of for yourself.
Death Metal Charger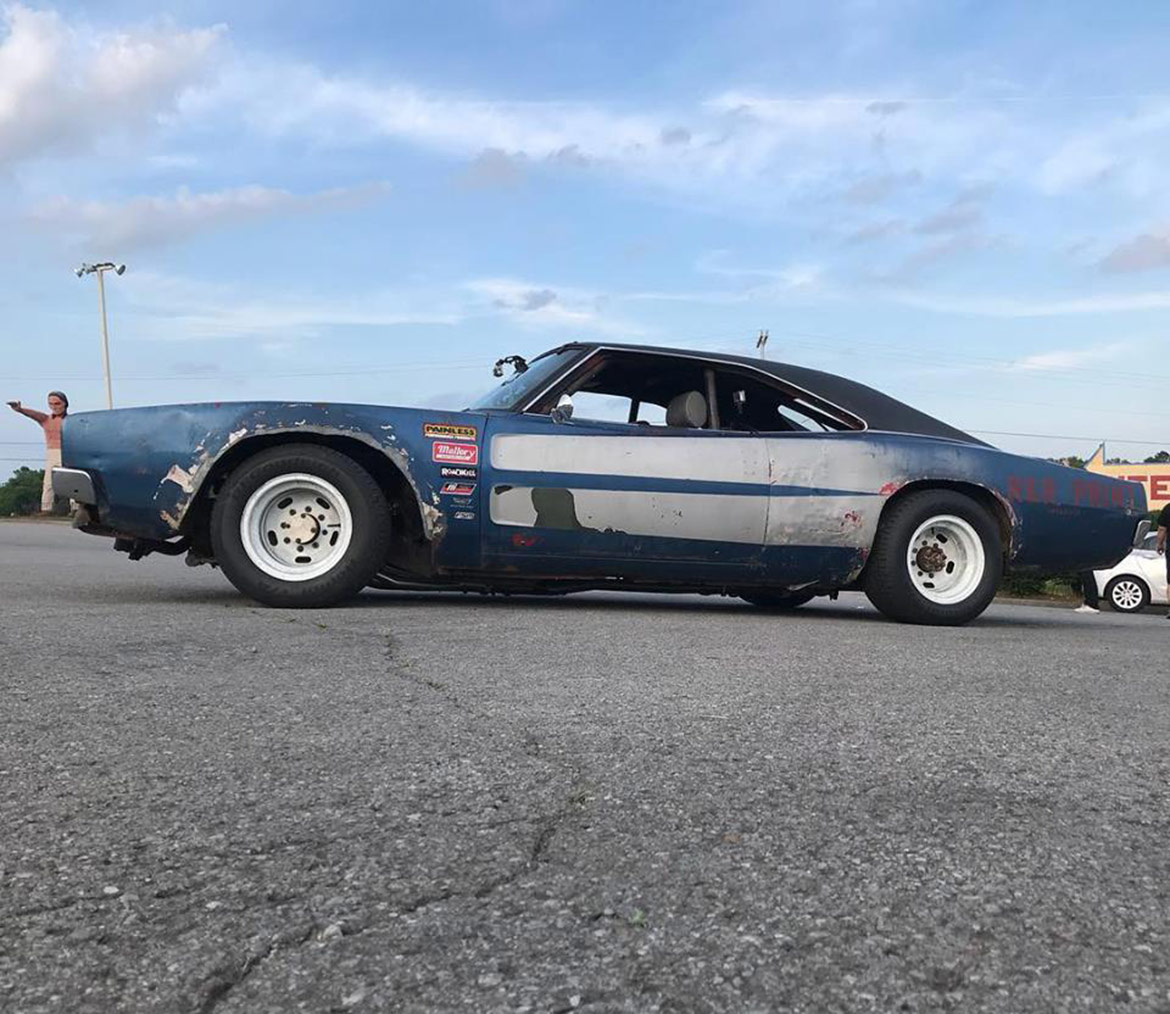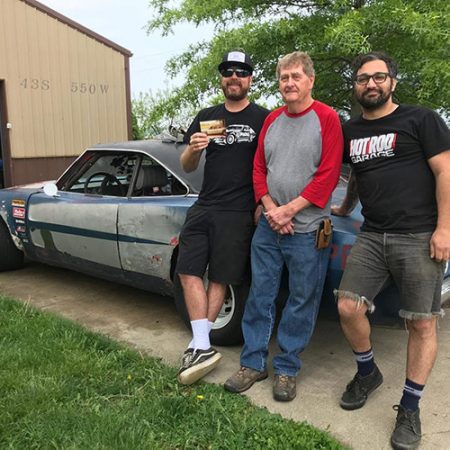 If only old iron could speak, tell the tales of their history, the places they've been and the people they've seen. The urge to chase the backstory of your car is something we can all relate to but Roadkill's Mike Finnegan took action after rescuing this barn find 1968 Dodge Charger. It doesn't take much more than a glance to realize there is something special about this car: the 8-lug axles, the roll cage and the homemade wheel flares make it glaringly obvious this is someone's old racecar. In an effort to learn more about the car's history, Finn dug up the information on the car's background and slaved away to make it run (just good enough) for a surprise road trip to visit with the original owner. Now showing up impromptu at some old racecar driver's house can go many directions, but luckily for Finn and Tony Angelo of Hot Rod Garage they weren't shot, eaten or chased away. Instead, they were reluctantly greeted by the car's original owner, Joe Barry. Joe bought the car new to drive it in the USAC stock car racing circuit, but by the time the build was nearly finished, he decided it was time to focus on his family and put hot-rodding aside. So what do you do with a racecar that's never actually been raced? Take it to the track, of course! Now this recent addition to the Roadkill car fleet hasn't been made race-ready yet, but with a repaired transmission tunnel and a fresh Dana rear-end, this Charger will be flying past Fords and shredding the tires like she was born to do! Come see it on display and decide for yourself if the Death Metal Charger truly is "a death trap."
DF Super Bee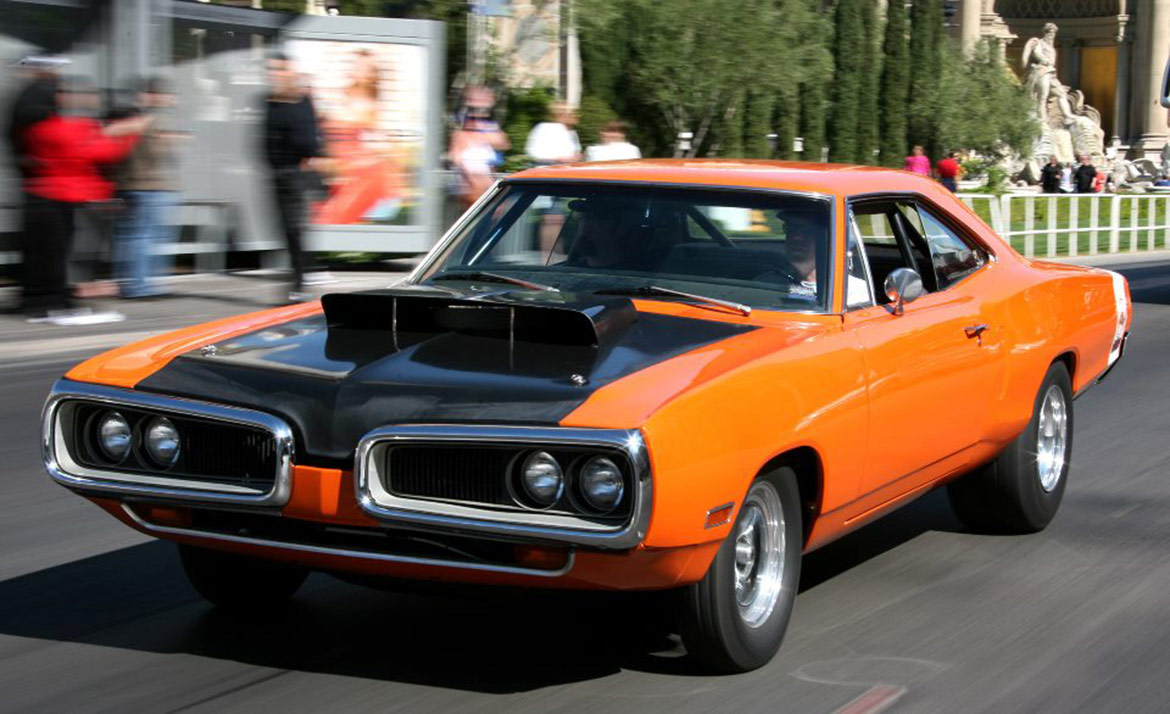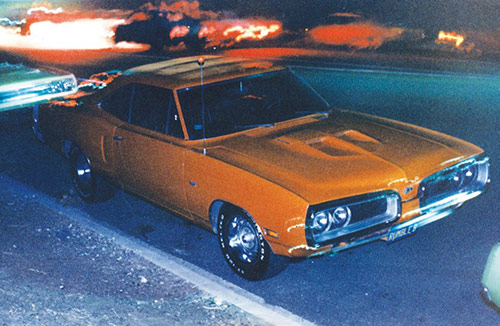 Being a young-gun in the hobby, I often hear the advice of old-timers who wish to impart their wisdom and experiences with naive youth such as myself. The tip that most commonly seems to come up in every conversation is: "no matter how tight money gets, no matter how good an offer is, no matter what happens, never sell your first car". Sure, you can buy or build another one just like it, but you just can't replace the long nights wrenching, the wide grin from winning or memories you make with your first love. After years of hearing this, I know I'll never sell my 1971 GTX clone, and luckily for David Freiburger, he had the good sense to hang onto his first car too, this 1970 Dodge Super Bee! Like any proper '80s hot rod, the car went through its fair share of big blocks, big cams and crazy gear ratios, but after over 30 years of abandonment, rescue and repeat, Freiburger has this Bee buzzin' better than ever. The roots of this car run much deeper than Roadkill, but after being featured on multiple episodes and slaying at previous Roadkill events, there is no doubt it can be considered one of the fleet. This year, it will return to Woodward, where we hope to see it continue to conquer!
Off-Road Challenger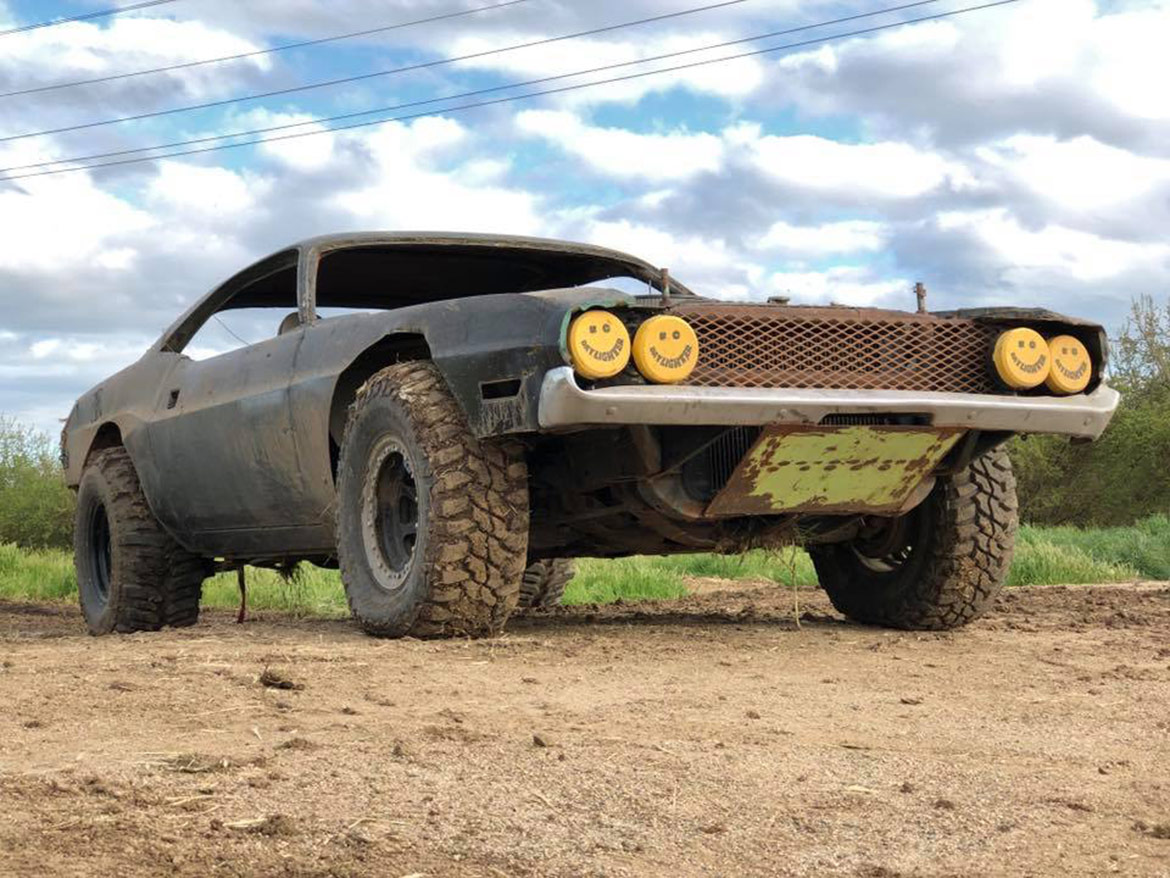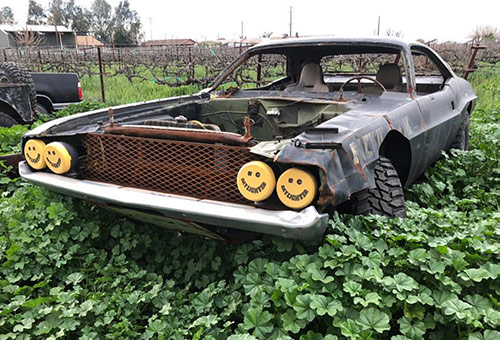 There are certain benefits to having your own television show: adoring fans, discounted parts and being offered a running '70 Challenger for just $2,800 bucks! Okay, I'll admit being a used-up dirt track car, this Challenger has seen better days, but if you're paying less than $5k for a running E-body, you can always count it as a win! The Roadkill guys got this car road trip ready (well, sorta) right in the previous owner's driveway and before you knew it, were off driving this dingy old Dodge on the street! Despite its many adventures, the O.R.C. naturally wound up derelict in Dulcich's backyard, where it awaited its next shot at life. It's received multiple revivals since, but most recently, the O.R.C. was brought back to life with a fresh 360 engine after its original 318 was killed in a hellish sandstorm (turns out sand + open carburetor doesn't end well). The O.R.C. has road tripped all across the nation, from its origins in Oregon to its debut at the 2016 Roadkill Nights. The Off-Road Challenger will make its return this year, bigger, badder and better than ever!
General Mayhem (and General Maintenance)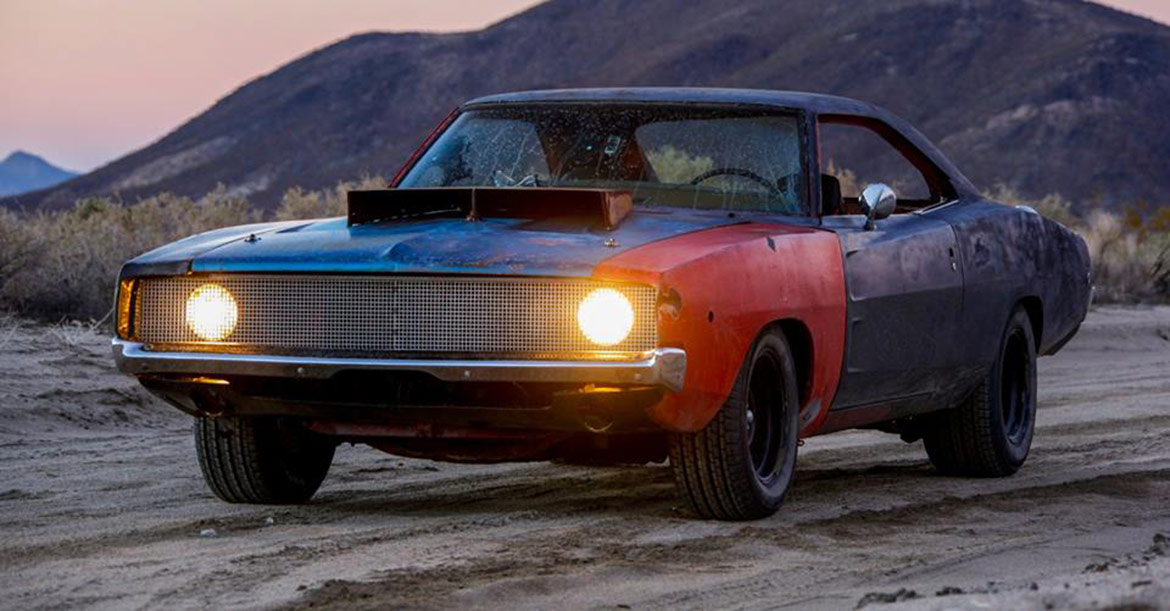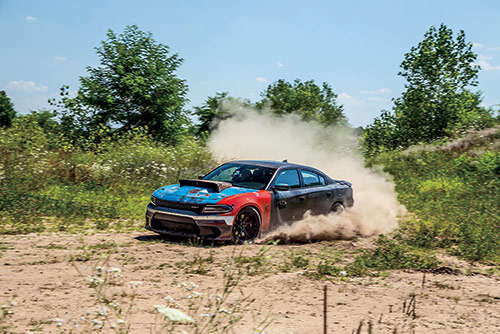 A classic love ballad between man and machine, the tale of the General Mayhem may be the most popular build Roadkill has done to date and at its core is a true embodiment of the Roadkill spirit. If you aren't familiar with the legend of this 1968 Dodge Charger (or you just need a refresher), then allow me to take you back. We're going back to a time when you could trade an old set of cylinder heads for one of the world's most desirable muscle cars, back to a time when you bought an old motorhome just to rob it of its 440 Chrysler RB engine, and back to a time when you could beat the absolute piss out of this iconic car without even a shred of guilt. You would think I'm telling you a story from the early 1980s, but in fact, this was all just a matter of the last decade. The chicken wire grille, the mismatched paint and that cruddy old big block engine, this car screams with pride "BECAUSE ROADKILL!" As the cheap Charger build evolved into a Roadkill icon, the car itself evolved as well. The guys asked and the fans begged, so Dodge pitched in a 707-horsepower Dodge Charger SRT® Hellcat engine, transforming this car into a burnout beast. Now the General Mayhem is as fast as it looks (or maybe even faster) and the guys even got another car out of the deal, the General Maintenance! General Maintenance is a 2015 Dodge Charger SRT Hellcat, all the fun of Mayhem but instead of laboring work, all it needs is basic maintenance, hence the name! The two Roadkill icons will be with us this year at Roadkill Nights; which of the two would you rather drive?
Rampage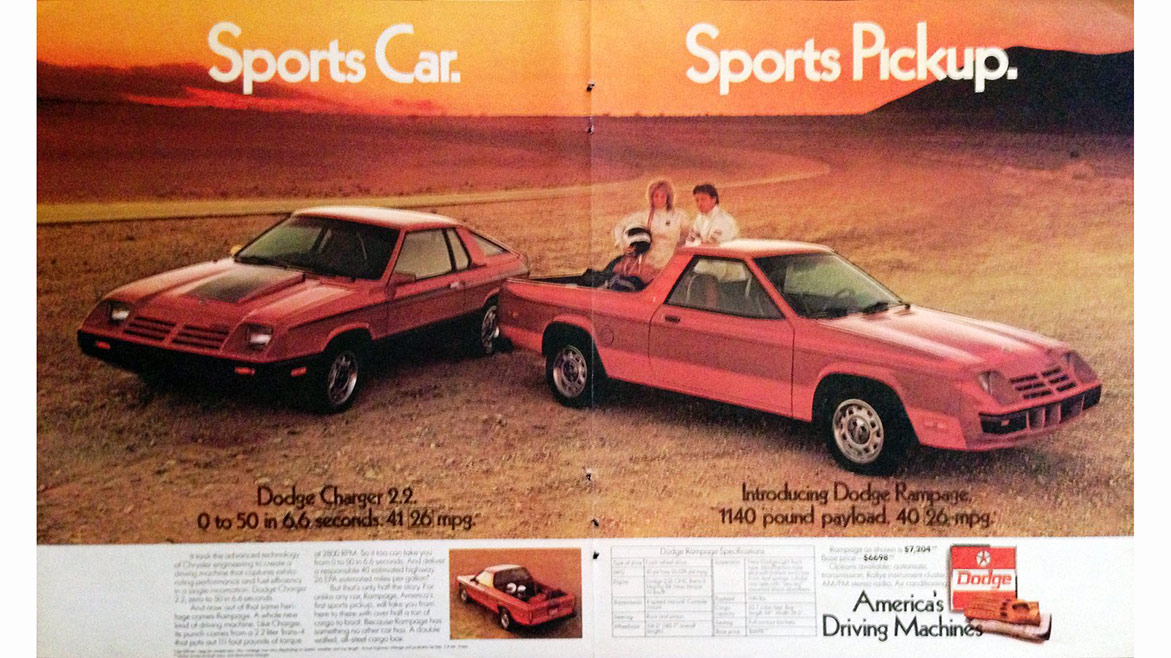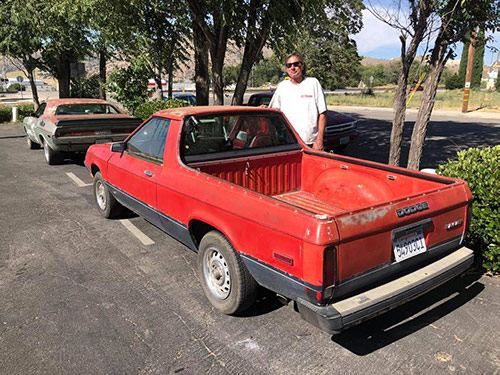 One of these things is not like the other. Okay, maybe Roadkill has had a few other FWD low-powered cars sprinkled into the mix, but I've yet to see one that has actually gotten me this excited! This 1982 Dodge Rampage is anything but rambunctious with its 2.2 motor providing a whopping 96 horsepower, yet there is something oddly charming about Dodge's last-ditch effort at a utility coupe. Maybe it's the sleek styling, the bright red paint, or that big ugly smile that just screams 1980s, but I've always had a fondness for these cheesy little bed cars. Roadkill's surprising addition prompts one simple question, "why"? While on the surface the car may not seem to have a lot of potential, I've seen others in the Mopar community do some interesting builds with Dodge Rampages. Maybe a RWD V8 swap, maybe throw a HEMI engine into the bed to replace their long-lost "Mazdarati", or maybe they'll just install a cheap turbo; whatever it is that Freiburger, Dulcich and Finnegan decide to do with this car, I'm sure it will be very fun and very Roadkill. Come see the latest addition to their fleet before the rest of the world at Roadkill Nights in Pontiac, Michigan!
Photos courtesy of David Freiburger and MotorTrend.com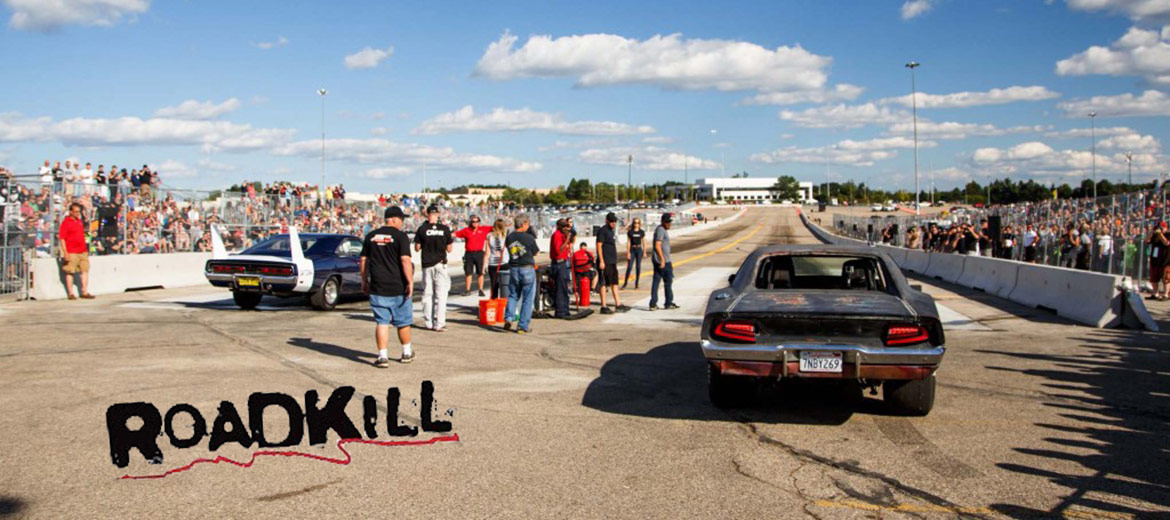 Comments
Comments