Dodge in the Desert: 2020 Barrett-Jackson Scottsdale Recap
3 years ago Events
January in Scottsdale is car enthusiast overload: What started as the original Barrett-Jackson auction all those years ago has turned into what's now referred to as "Auction Week." Literally thousands upon thousands of collector and special interest cars are for sale in the area … sometimes just on the side of the road, as local owners know that the audience for their rides will be in town.
And the city embraces it, perhaps like nothing else outside of Pebble Beach or Amelia Island's concours.
On site at Westworld, the Dodge Thrill Rides were at the top of our game. Sliding our Dodge Charger SRT® Hellcats and Dodge Challenger SRT Hellcats around always draws a crowd and this was no exception … however, we continue to raise the level of the show, and this year, we're doing competitions with our Dodge drivers. Several times a day, we had them go up against each other to see who could get closest to the center of our drift course, all while YOU rode along during the show! Our driver lineup boasts experience in NASCAR, Indycar, Sportscars and Open Wheel … and over the week, each driver took a victory; literally any of our Dodge drivers can take the win at any moment. We'll continue to do this all season, so make sure you visit us all across the country.
But let's focus on some of the cars that got us talking this week…
The legendary Dodge Viper has always had a strong following, but now that it's out of production, prices are rising quickly. But what sets one apart from another? Fame certainly helps: Let's compare two very similar cars.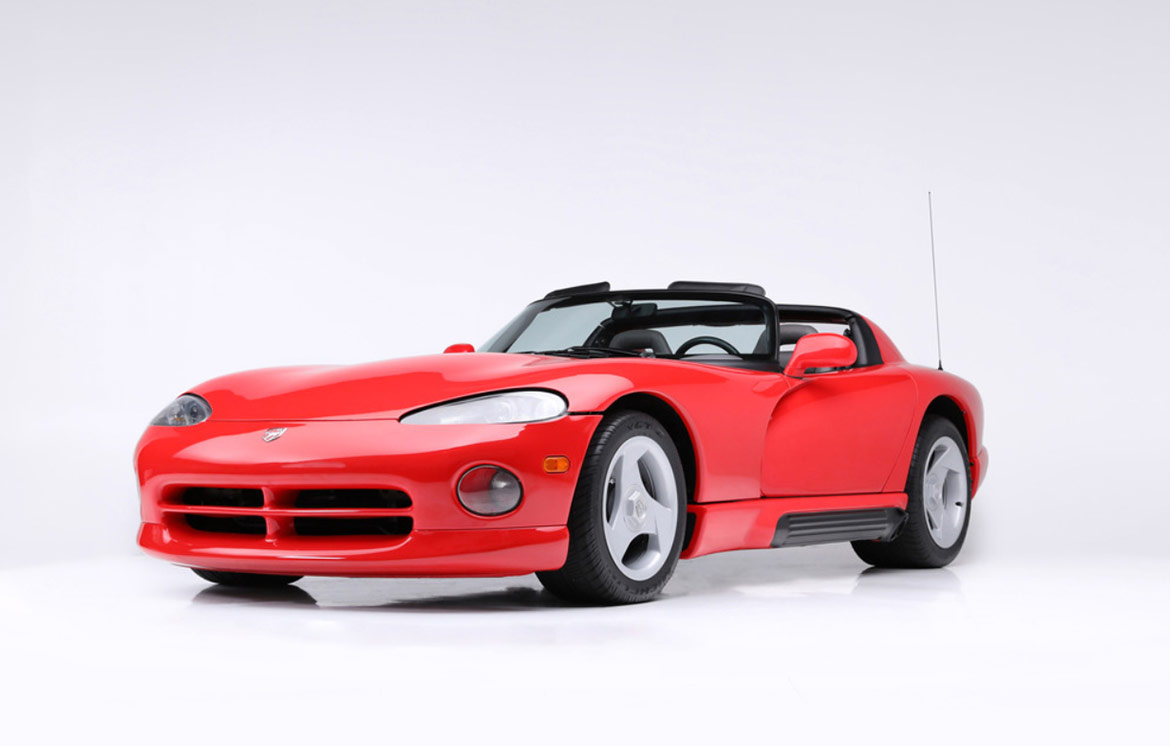 The original owner paid a $20k dealer premium over sticker price (as listed on the original and perfectly preserved window sticker), but then hardly drove it. With just over 5,600 miles on it, this car sold for $42,900.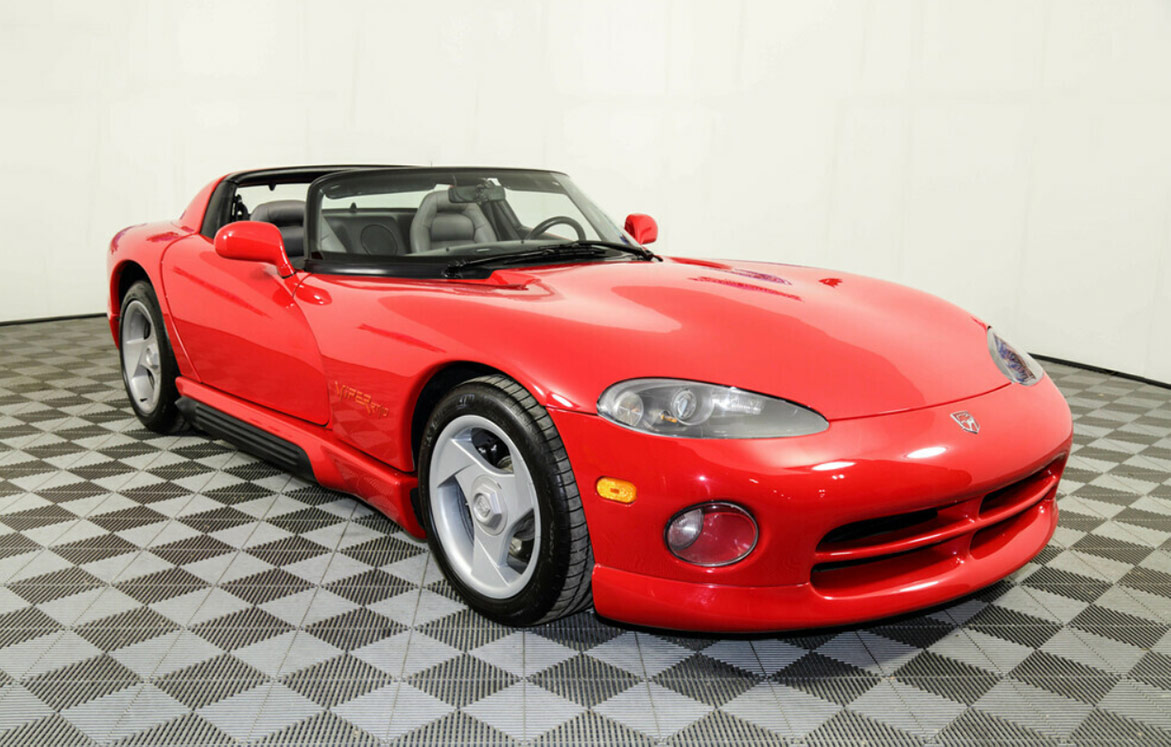 On paper, this car is very similar to the one we just mentioned: It's a Gen 1 RT/10, it's Red, it has low miles … but this one used to belong to famous football quarterback John Elway. So if all things are equal, but you throw in a celebrity owner, what does that mean? Money. A whole lot more money. This one sold for $88,000, more than double what the non-celebrity car sold for!
Speaking of celebrities, we've become good friends with Chris Jacobs over the years: He's on TV's Overhaulin with Chip Foose and is one of the commentators on Barrett-Jackson's television coverage. He's also the owner of a Dodge Challenger SRT Hellcat Redeye and stopped by our Dodge Thrill Rides to have a chat with us.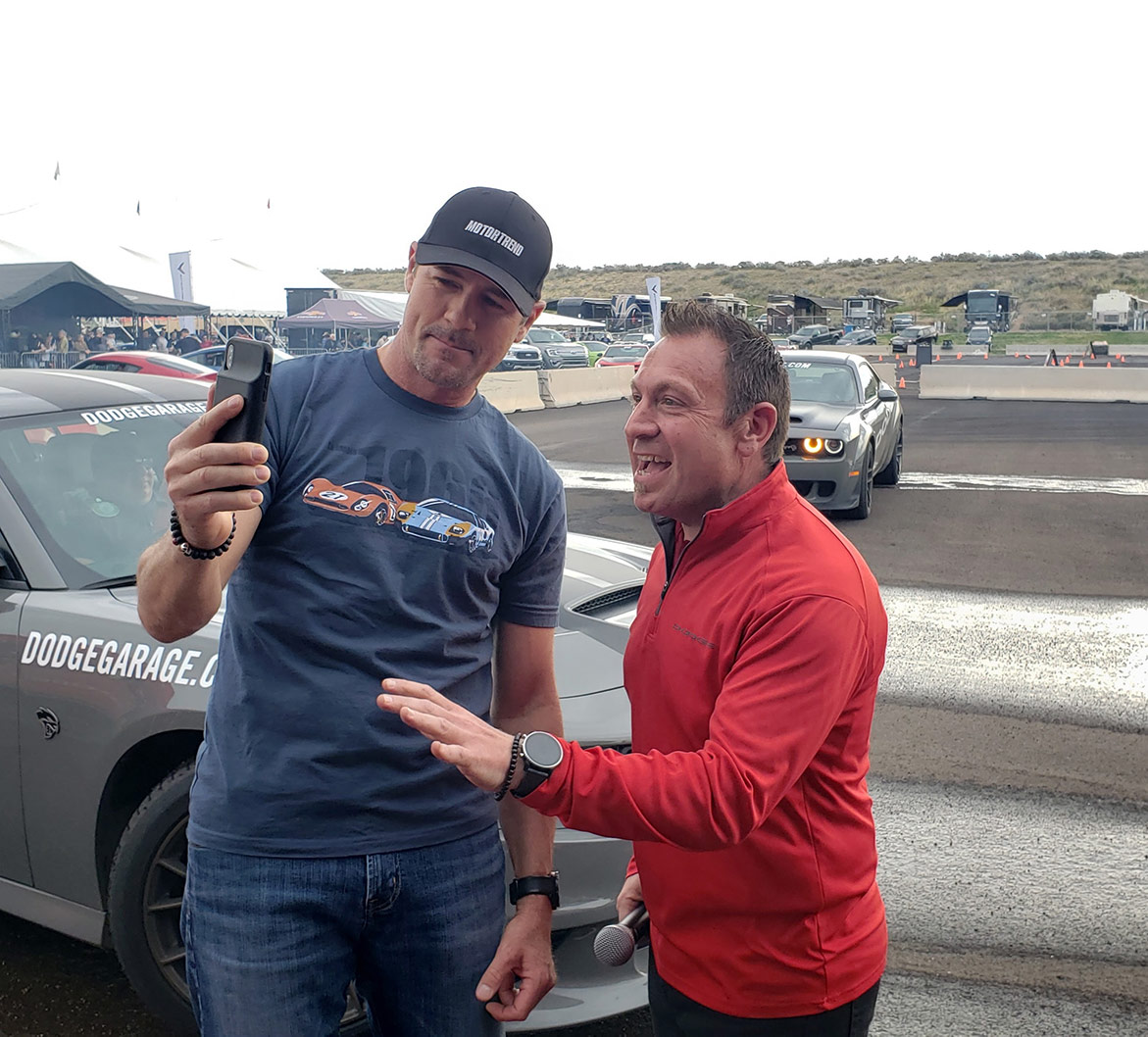 His personal 1968 Plymouth GTX restomod was auctioned off with 100% of the money going to the Driving Hope For Others charity. He admitted that with a Chip Foose paint job and a modern 392 HEMI® engine under the hood, he had about $50k in the car … it sold for $300,000! Chris describes it this way: The new owner made a contribution to a fantastic organization … and the GTX is just a keepsake. That's a pretty slick memento!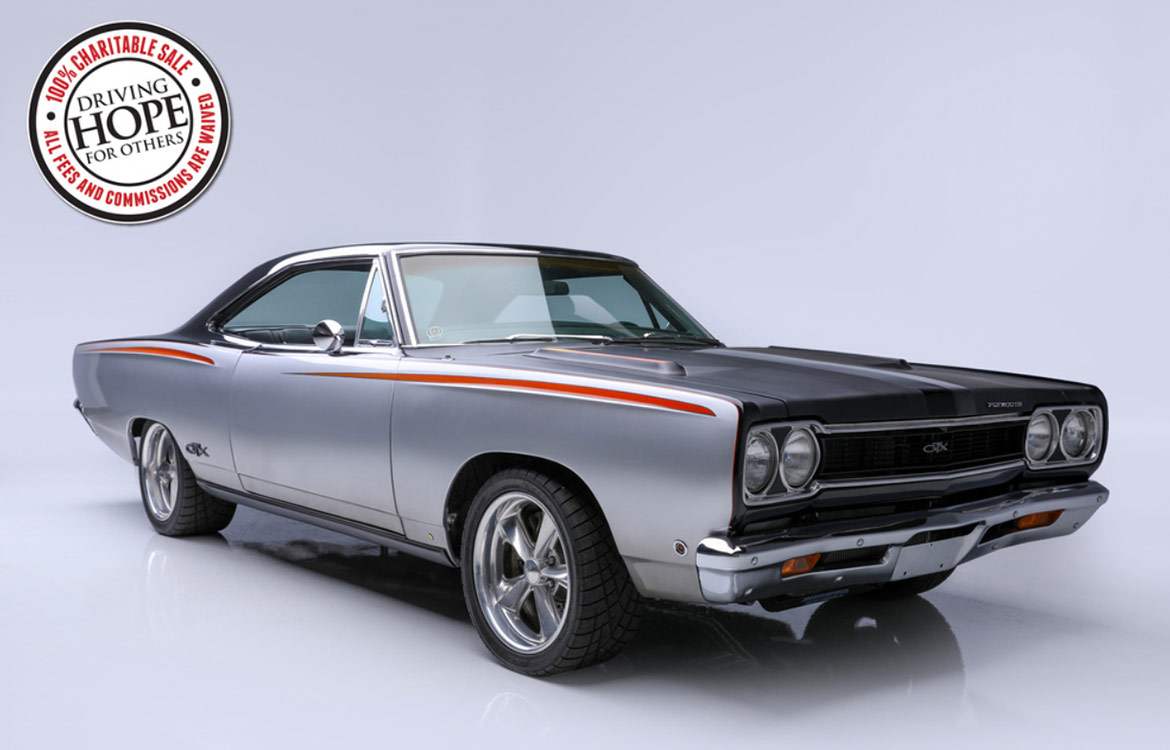 Finally, we were all shocked by what has to be the bargain of the entire Barrett-Jackson auction. There were two original, brand-new Dodge Challenger Drag Paks for sale; the cars have engines, but are designed to be finished by the owner with their choice of transmission, rear ends and such. The first car has a 6.1L HEMI engine under the hood and only sold for $9,900, while its sister car features a 360 V8 and went for just $10,450. We spent the rest of the auction saying how we would nearly have paid that for the engines, let alone the entire cars. It just goes to prove the auction adage: A car is worth what someone is willing to pay on that given day.

Up next, the Dodge Enthusiast Tour is headed to Miami to be part of the Super Bowl! We'll be teaming up with the cast of the Fast and Furious movies who will be taking over our Dodge Challenger SRT Demon drag racing simulators in a head-to-head competition. Watch for coverage of that here on DodgeGarage!
Comments
Comments