The Eddie Vannoy Collection: Mecum Auction Block Bound
2 years ago Events
Eddie Vannoy is a highly successful construction CEO who has acquired a massive collection of classic and modern cars, motorcycles and memorabilia. After 50 years of collecting, Eddie has decided to join forces with Mecum Auctions to sell off his collection. His years of meticulous collecting of rare and highly sought-after vehicles and memorabilia are now your opportunity to add one of these beautiful pieces to your collection. The Eddie Vannoy Collection will be auctioned off at Mecum June 26-30. Check out some of these beauties that caught our eye.
1969 Dodge Daytona (Lot V24)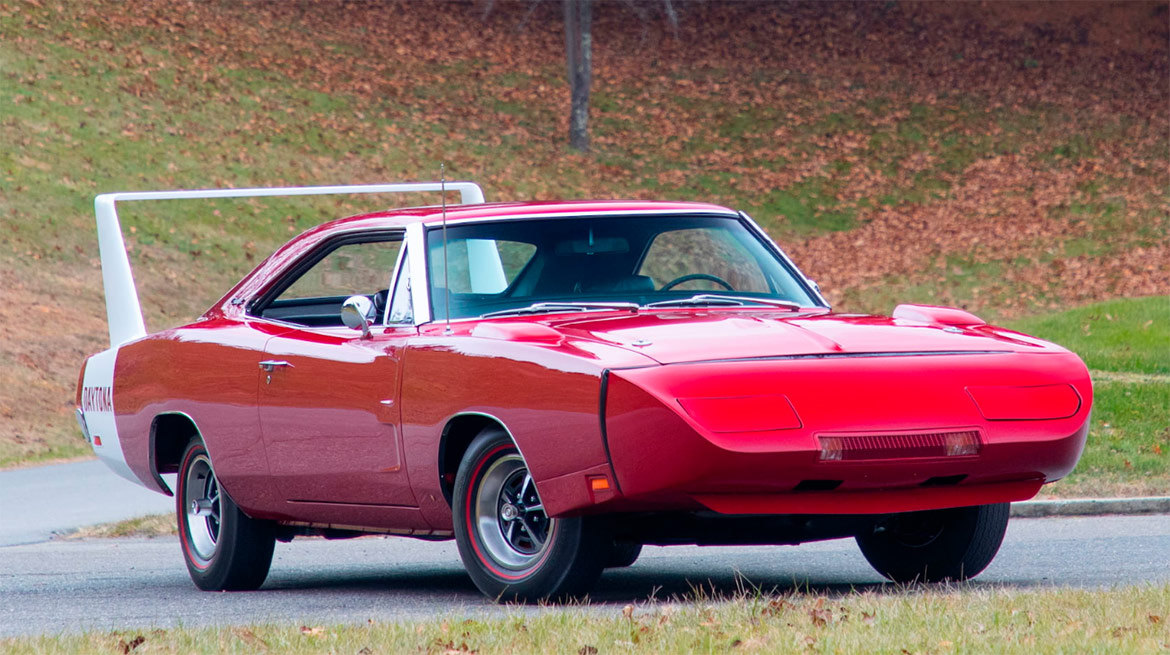 Mecum Description: They came to do one thing – win. Indeed, when Dodge boss Bob McCurry first saw it, he only asked if it could finally give Dodge that big Daytona superspeedway title. The engineering guys said yes, and cars like this spectacularly refreshed Charger Daytona showed up in late 1969, among the ultimate "win on Sunday, sell on Monday" American supercars from this era. One of 503 Daytonas produced, this car is documented with its original broadcast sheet and window sticker. Moreover, the exacting nut-and-bolt rotisserie restoration is to correct as-built specs, making this streamlined example of the upscale Charger R/T design even more attractive.
Sold new at Western Dodge Inc. in Marion, Indiana, this Charger Daytona and its kin were part of a single production run, one that Dodge would never revisit. Alas, the hoped-for Daytona win was not part of its legacy (Plymouth's similar Superbird got that honor in 1970), but the model helped Dodge win the Grand National Series championship with Bobby Isaac, and this example has faithfully continued that legacy ever since.
1970 Plymouth Superbird (Lot V25)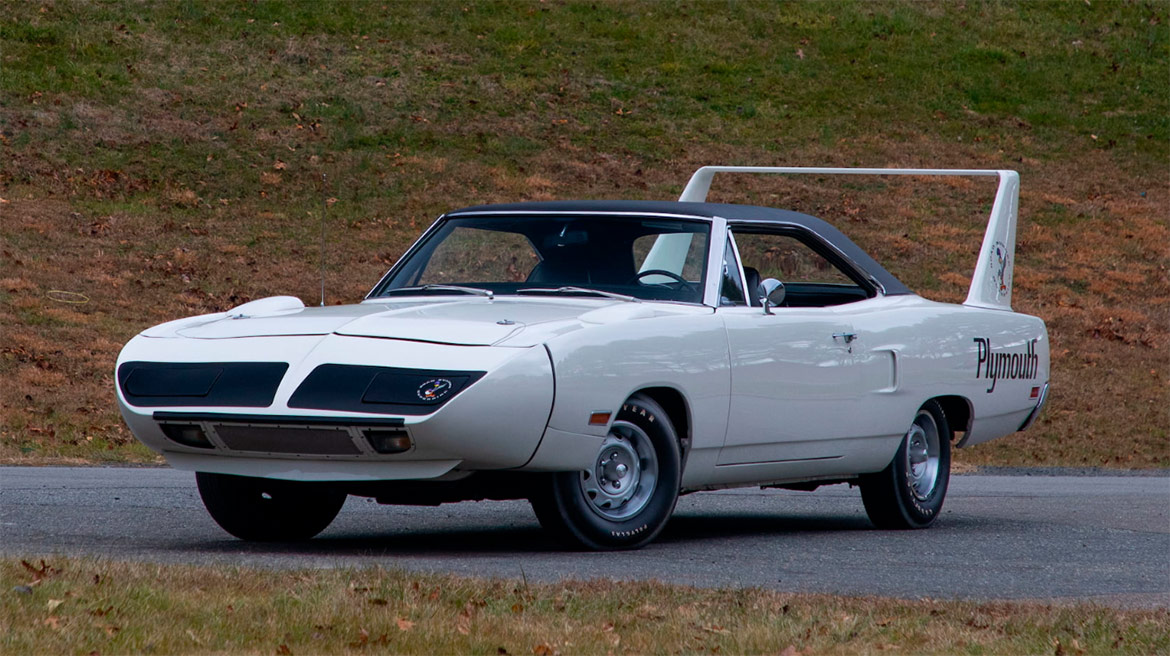 Mecum Description: A Road Runner on steroids, the Superbird was Plymouth's way of bringing a gun to a knife fight. Cars like this 21,838-mile wing car were built late in 1969 to do just one thing – get Richard Petty back home in a Chrysler product and win some superspeedway races. The Road Runner had been named the 1969 Motor Trend Car of the Year, and this version took the aspects of aero-styling learned from the Charger Daytona program and applied them to a slightly redesigned Road Runner shell for the 1970 model season.
This four-owner car still hosts its original engine, transmission and interior, making it among the select examples that have retained serious originality. Moreover, the U-code 440/375 HP V8 Super Commando engine is backed by its original 4-speed manual transmission, meaning this car also came from the factory with the Hurst Pistol Grip shifter rather than the column-style automatic handle. Painted in Alpine White, one of the six mandated exterior colors chosen to keep production simple, this car has the mandatory black vinyl top which covered factory rear window changes. Its original black interior hosts bucket seats, AM radio, podded dash design and Beep-Beep horn steering wheel center. Indeed, large Road Runner Superbird graphics are affixed to the towering rear wing, as is the word Plymouth spelled out on the quarter panels, stylized nose cone, fender-mounted air extractor scoops, hood pins and chrome exhaust tips, all from the factory. Rounding out the package are 14-inch Rallye wheels with Goodyear Polyglas raised-white-letter tires.
Benefitting from a comprehensive restoration by Randy DeLisio of Lyons, New York, this car has its original broadcast sheet, owner's manual, numerous photos, extensive receipts and paperwork for its provenance. The King came back, and the Superbird proved to be the winner before NASCAR rule changes made it uncompetitive. Today, considered the highlight of any serious collection of muscle cars, this 'Runner example retains the attitude that helped establish the legacy of the Superbird.
1970 Plymouth AAR Cuda (Lot V11)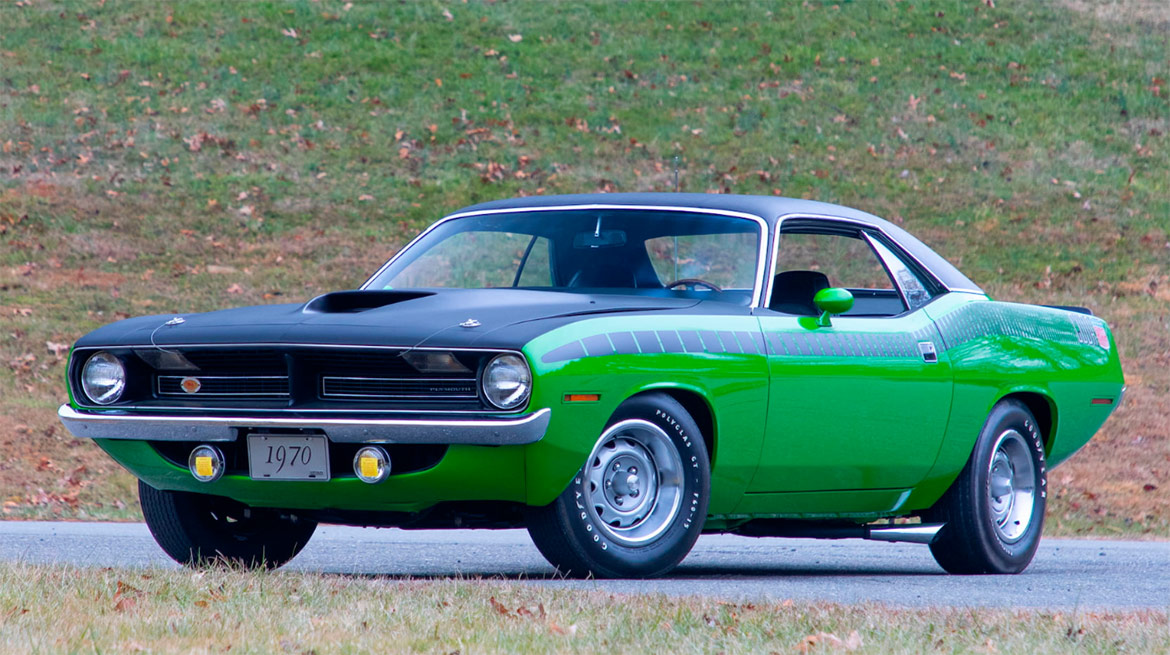 Mecum Description: A single production run was how most of the homologation specials of the supercar era worked, and for Plymouth, the single season of 1970 was when cars like this AAR 'Cuda arrived. As Ford budget cuts took hold, legend Dan Gurney and his All American Racers joined the popular Chrysler brand in late 1969, and with a new E-body Barracuda platform being offered, he became the point person for a run at the SCCA's extremely popular Trans Am series. The AAR was created for this effort as a special package of body and suspension components coupled to a now-legendary rendering of the LA-series 340 V8 engine.
Noted by the letter "J" in the VIN, this car has a 340 that features a 6-BBL carburetion setup, three 2-barrel Holleys on a special intake, which was offered only one time in Plymouth's history – the AAR. Here, it is backed by the desirable 4-speed manual transmission. Moreover, this AAR features Sassy Grass Green paint with AAR strobotic graphics, the front and rear spoilers, the black fiberglass hood with accompanying top fender blackout and centered NACA-design functional scoop, and the special exclusive-to-AAR side-exit exhaust with chrome tips, making it instantly identifiable. Coupled with the black vinyl top, the black interior was an excellent choice in this car with its bucket seats, Hurst Pistol Grip shifter, auxiliary fire extinguisher and 'Cuda floor mats. The Rallye dash features the 150 MPH and factory tachometer, while the outside hosts hood pins, a rear-mount radio antenna, dual body-color mirrors and fog lamps.
Not visually seen is the special fast-ratio steering, performance suspension and power brakes. One final special aspect of the AAR was the offset tire sizes, with Goodyear Polyglas GT white-letter F60-15s up front and wider G60-15s in the rear, all on 15-inch Rallye wheels. Furthermore, this AAR 'Cuda won AACA Senior honors in 2004 and is documented with the broadcast sheet.
1971 Dodge Challenger Resto Mod (Lot V29)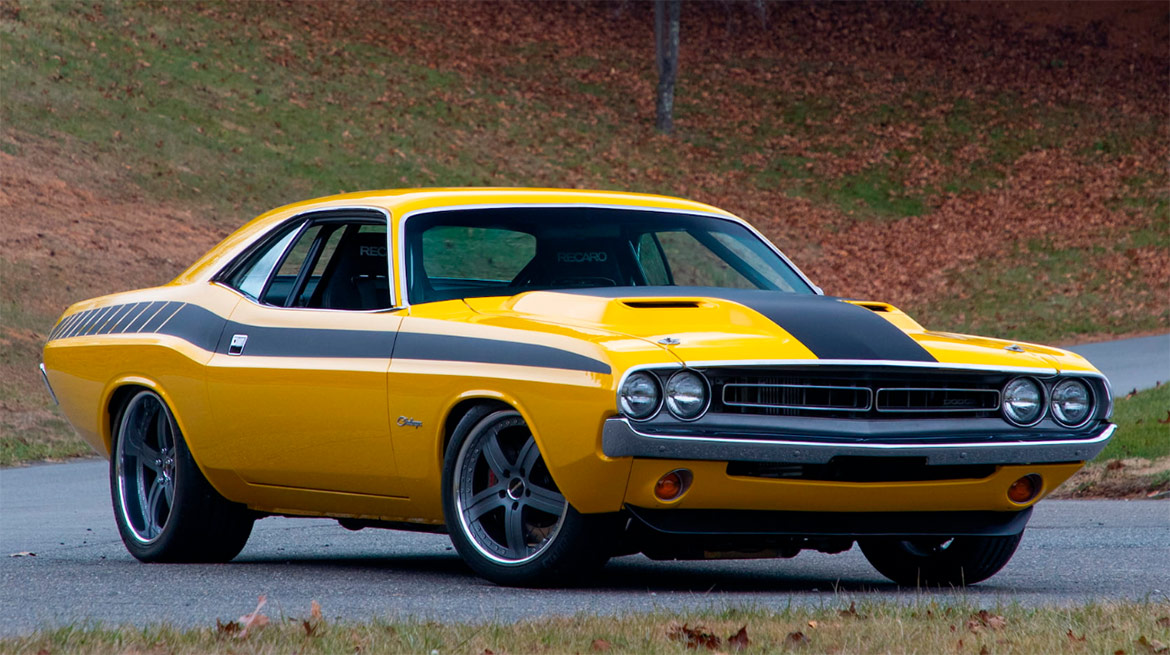 Mecum Description: This Pro Touring Dodge Challenger is built around a number of adaptations, with one of the biggest attractions being its massive Keith Black 528/760 HP HEMI® engine under the custom hood. Available only in 1970 and 1971, Dodge's original HEMI Challenger R/T release was a big part of the model's popularity, even if many buyers couldn't afford the insurance premiums to have one factory installed. The HEMI, and all big-block packages, were discontinued at the conclusion of that model year, leaving a mark on muscle car history that lives on to this day.
Indeed, this stunning example showcases many 21st century upgrades that carry forth the Dodge legacy of horsepower even now. Of course, installing a detailed Keith Black 528/760 HP stroker-type HEMI V8 engine is always a big move up the scale, and this one features aluminum heads, a big Holley carburetor, a high-rise intake, valve cover breathers and an aluminum radiator. Coupling this to a Tremec 5-speed manual transmission featuring overdrive means driving enjoyment, while suspension changes include the tubular K-member front suspension, a 4-link Dana rear end and Baer disc brakes. The exterior of this car features a custom raised-blister sport hood as its only major change, with bright yellow exterior paint, custom side stripe graphics and hood blackout treatment. Inside is an upgraded interior in black, with side-braced bucket seats, Sabelt safety harnesses, the Pistol Grip shifter, in-dash VDO gauges that include a tachometer and 220 MPH speedometer, custom pedals, modern steering wheel and more.
The outside is augmented by hood pins, chrome bumpers, Challenger emblems and the exclusive-to-1971 grille design. The overall look is then enhanced with 20-inch rear and 18-inch front matte-finish Forgeline wheels and Michelin Pilot Sport tires, letting you get your show on the road in a hurry. Dodge's Challenger nameplate remains special for those who remember the past, with this car being a true example of today's capabilities – modern upgrades that were never dreamed possible back in the day.
2015 Dodge Challenger SRT® Hellcat (Lot V13)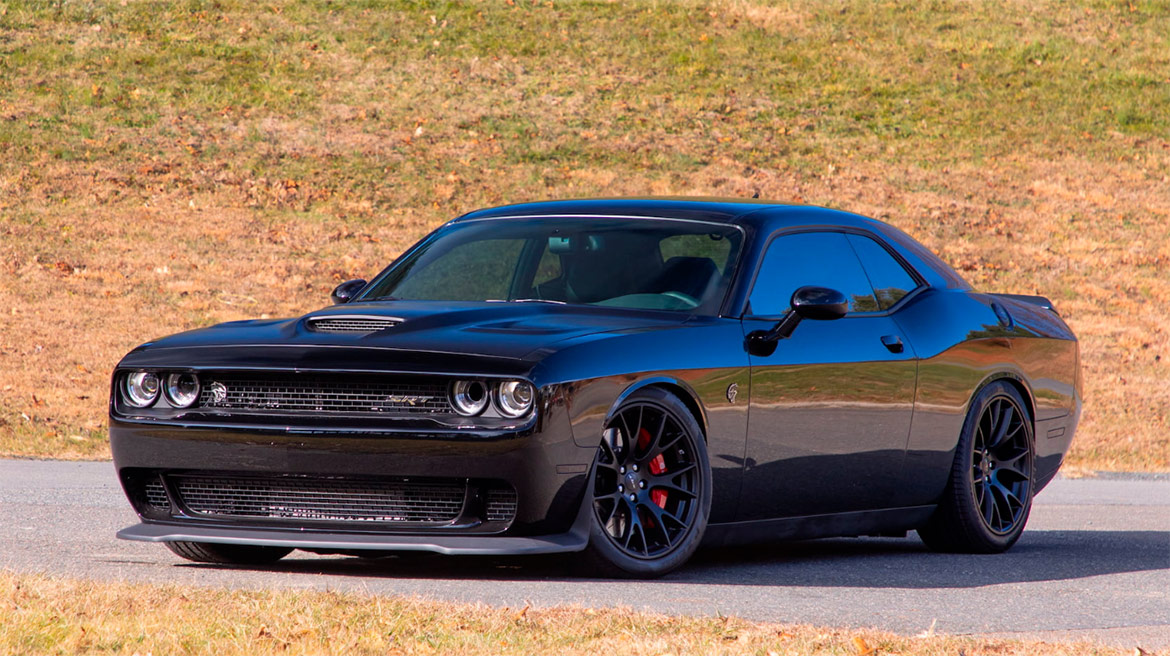 Mecum Description: A day will come when the current era will be fondly recalled as the "good old days," and we will remember it was cars like this one, the 2015 Dodge Challenger SRT® Hellcat, that made them so. And while the original Chrysler Corporation has since merged into more international conglomerates, the heritage of its great muscle cars has been reborn in a spectacular way.
This first-year SRT Hellcat from 2015 with only 56 miles is actually Serial No. 10, making it one of the earliest examples released to the public. Under the scooped factory hood was the most powerful passenger engine ever released by Chrysler to that time – the 6.2L/707 HP V8 engine. Of course, the big news here was the addition of a factory supercharger atop a very durable reciprocating assembly, and this is in turn backed by the "TorqueFlite 8HP90" high-performance 8-speed automatic. The black interior is done in high-quality material like Nappa leather and Alcantara seats, with a Uconnect-type stereo featuring GPS Navigation, a 200 MPH speedometer, heated-and-cooled ventilated front seats, dual-zone climate control, the power tilt/telescopic wheel and "Keyless Enter 'n Go" ignition technology. On-demand all-speed traction control is part of the SRT-tuned Bilstein three-mode active suspension, and, of course, there is an anti-spin differential rear axle ratio. Behind the large-diameter, matte-black, forged aluminum wheels are large-sized Brembo brakes, while a set of Pirelli P Zero tires help keep the power down on the pavement whether going straight or cornering. The car's stance is provided by a lowering kit and it growls through a Flowmaster Outlaw exhaust system.
The SRT Hellcat was an instant legend as one of the most powerful muscle cars in the history of muscle cars, and this is a truly unique opportunity to become the owner of Serial No. 10, giving a new definition to the term "back in black."
2012 Dodge Challenger SRT8 (Lot V56)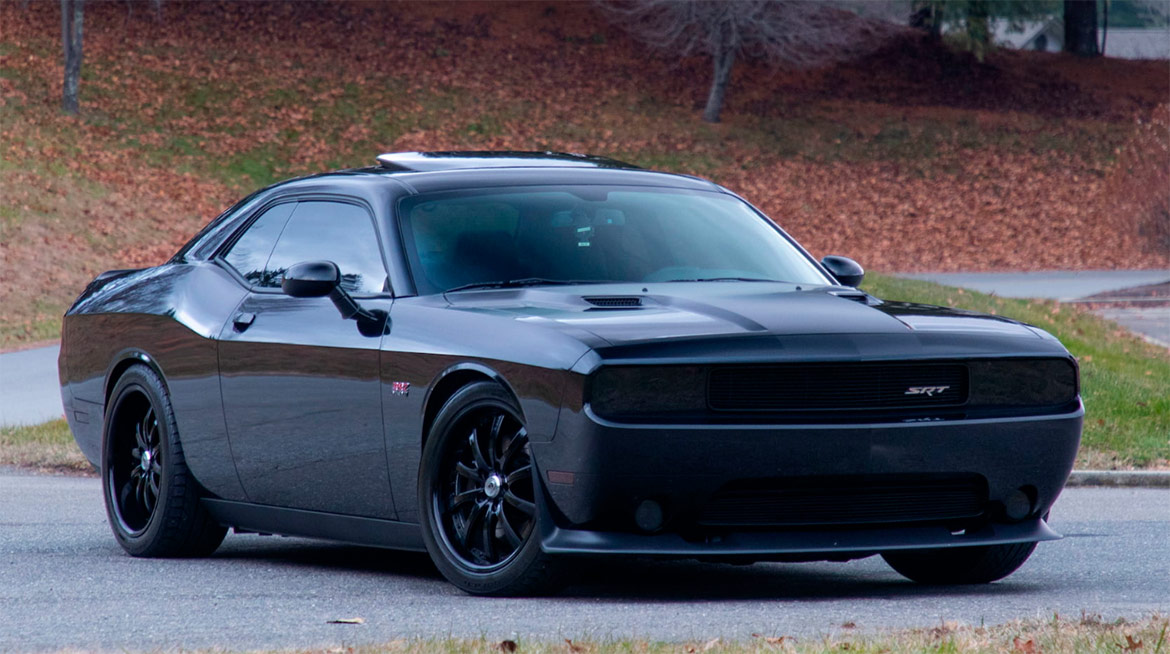 Mecum Description: The return of the pony car also meant the return of the muscle car, introducing new generations of enthusiasts to the joys of the ongoing renaissance in American horsepower and performance. Such heralded names as Mustang (and its Shelby variant), Camaro and Challenger have enjoyed a glorious resurrection since the turn of the century, but while it can be argued that the Dodge pony car's styling was the most faithful to the original, its performance lagged somewhat behind its pony car competition – until the Challenger SRT8 392 was introduced for the 2011 model year.
Moving up from 6.1L to the 6.4L 392 HEMI evoked a legendary number from the past, and its effect was real. Engineers endowed the SRT8's 392 with increased compression and a longer stroke to improve breathing and crank horsepower up from 425 to 470 HP at 6,000 RPM and bump torque to 470 lb-ft at 4,800 RPM. Behind that new 392 was the familiar choice of transmissions: the 6-speed manual and 5-speed TorqueFlite automatic, the latter packaged with the cylinder deactivation programming formerly preserved for the 5.7L non-SRT HEMI. In either case, the SRT8 392 driver is treated to an iconic pistol-grip shifter. Building on the 392's increased power, SRT engineers turned to the chassis setup, installing Brembo brakes, revising the sway bars, bushings and dampers, and adjusting static camber for improved cornering. A new heavy-duty hydraulic power steering pump offered quicker response and added more precise steering feel to complement the car's increased nimbleness.
Along with all the improvements in performance, the SRT8 392 is also differentiated from the norm by prominent "392 HEMI" badges and a revised front fascia that includes a larger front spoiler that directs air around the rolling stock. This sinister black-on-black 2012 Challenger SRT8 392 with 3,263 miles offers BF Goodrich G-Force Sport tires on black Lexani wheels, a rear spoiler, power sunroof, white accent stitching and Uconnect stereo with SiriusXM capability.
1935 Dodge Brothers Dually Flatbed (V51)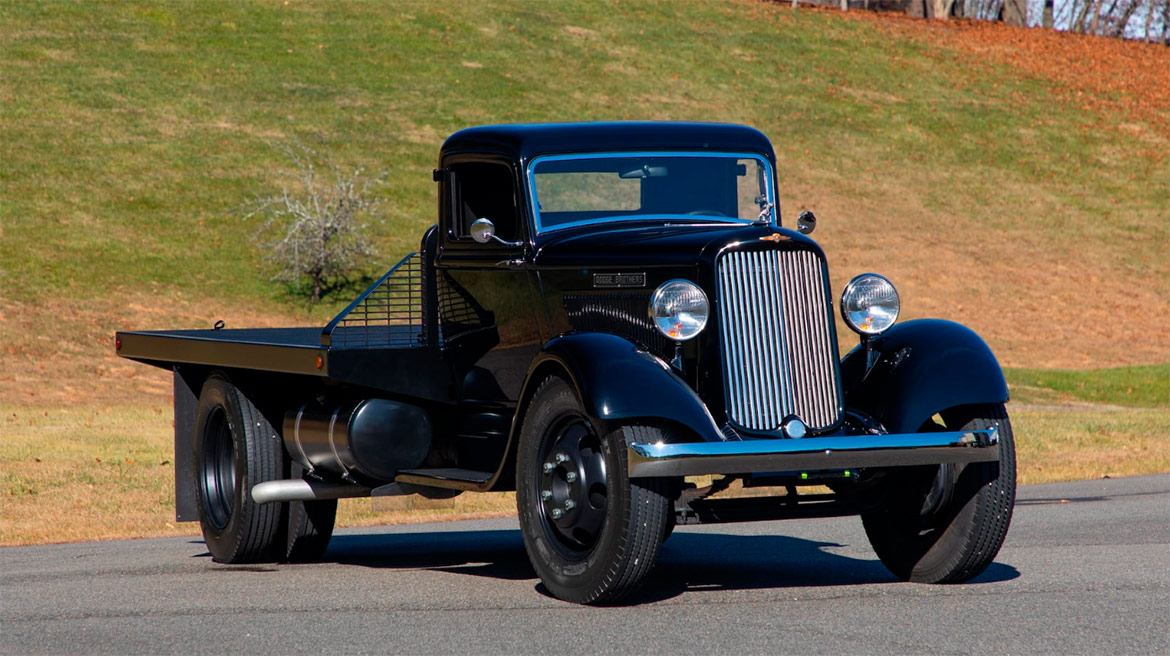 Mecum Description: Chrysler acquired the Dodge Brothers Company in 1928, and it took a few years before the company emerged from the Great Depression with an all-new truck lineup for 1933. Modern passenger car styling made its way across the entire commercial range, and this restored and modified dually flatbed carries the 1933-35 Dodge truck Glamour Era into the present day with a 350 CI small-block Chevrolet V8 and automatic transmission. An open-element air cleaner, Holley vacuum secondary 4-barrel carburetor with electric choke and high-rise Edelbrock intake manifold team up for maximum performance. GM HEI distributor and MSD spark plug wires light the fire, and an electric fan helps the hot setup keep its cool. Lokar cable linkage makes for crisp throttle response and kickdown shifts, and an underhood fuel pressure gauge keeps an eye on supply from the high-capacity fuel tank.
A Dodge ram hood ornament on the sweptback grille leads the way forward, and deep gloss black paint complements clean styling from the long hood to curvaceous fenders. Factory-issue sealed-beam headlights with integrated parking bulbs and twin tail lamps join upgraded cab-mount LED brake lights and a running light array. All business original equipment and contemporary convenience come together in the gray and black cab. Original-style door panels and a full-width bench with seat belts over rubber carpet work together for comfort and safety. The '70s-era Camaro steering wheel and column-mount sweeper-style tachometer sit over a body-color dash fitted with retro-look Stewart Warner Wings Series 160 MPH speedometer and oil pressure, coolant temperature, fuel level and voltmeter gauges. A cabin heater and an underdash AM/FM cassette player delivers year-round entertainment, and the heavy hauler is ready to roll on satin black steel wheels with Yokohama truck tires.
Check out these amazing signs that you won't want to pass up. Can't you just picture them in your garage?
Dodge Channel Letter Light-Up Dealer Sign (Lot K475)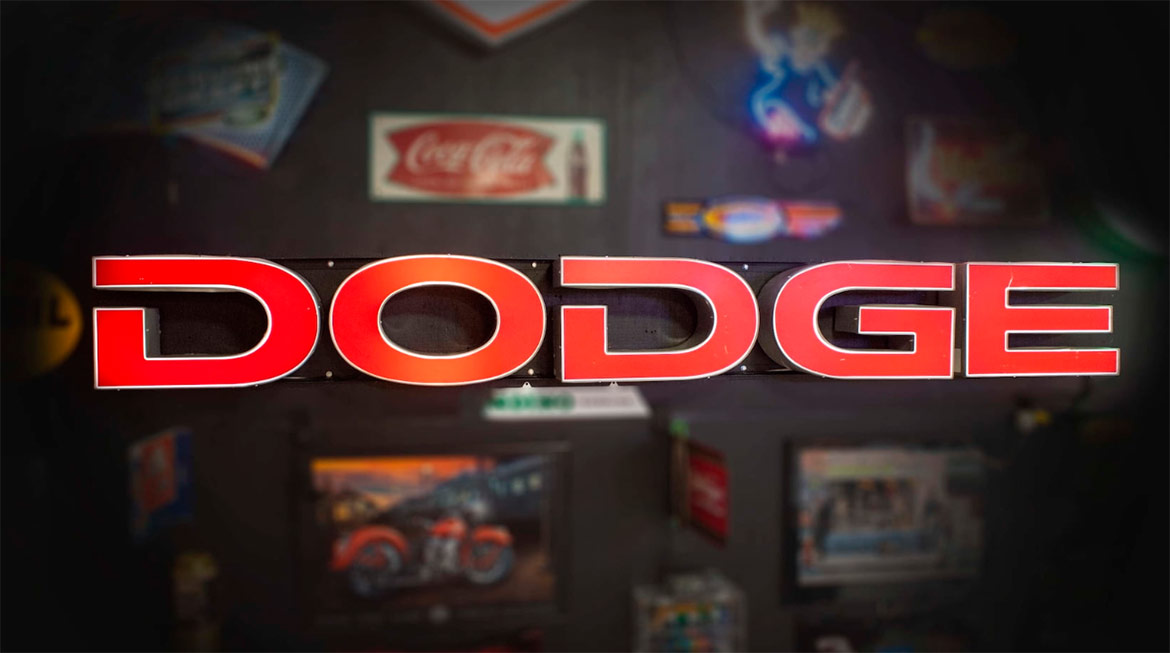 1940s/'50s Dodge Plymouth Art Deco Neon Sign (Lot K402)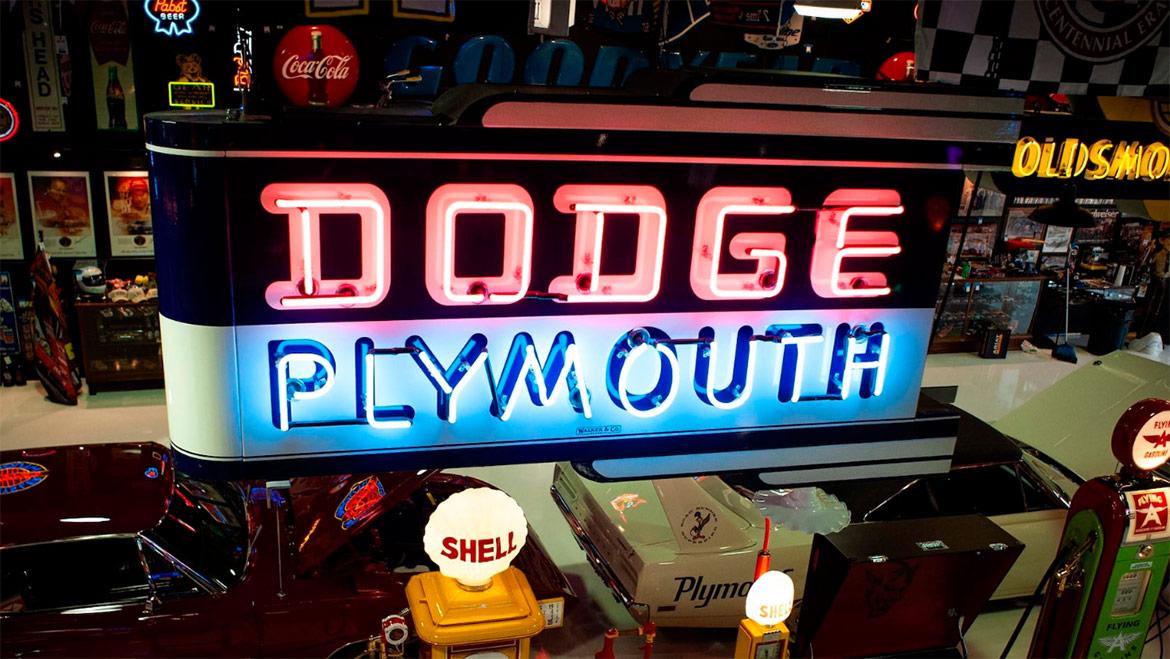 Dodge Bros. Sales and Service Porcelain Sign (Lot K608)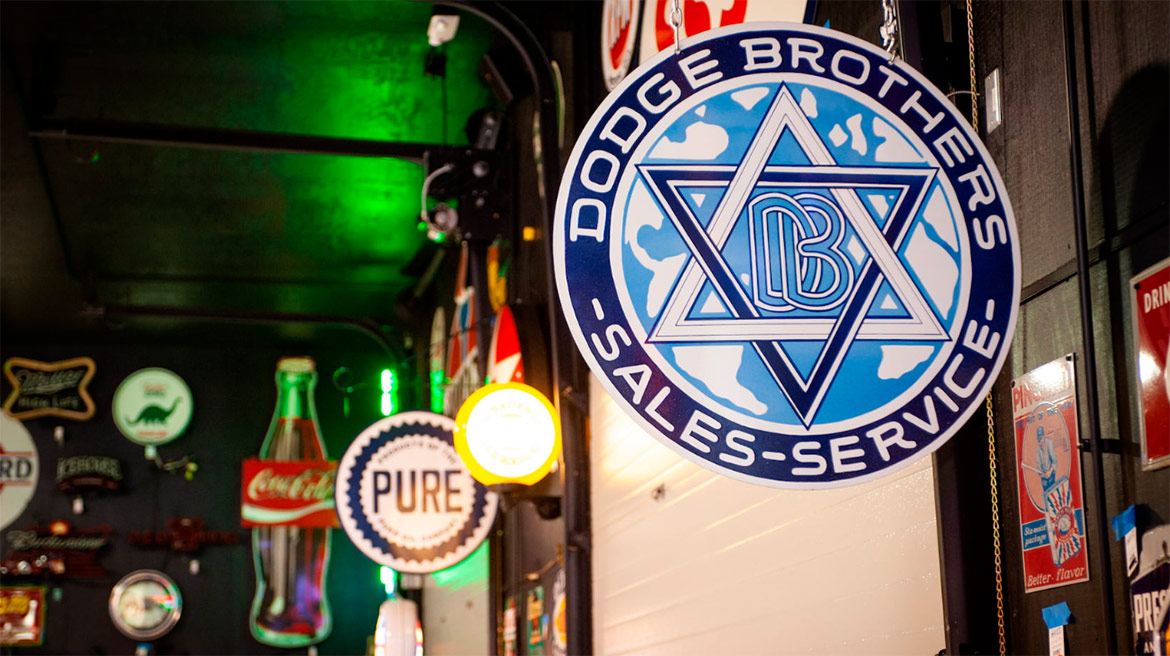 To check out more of the collection and get details of the auction taking place in Jefferson, North Carolina, June 26-30, visit the Mecum Auction site.
Comments
Comments
Previous