The Drive Doesn't Stop After Race Day
2 years ago Events
Two things I know: Racers in the Mopar® community are a scrappy, driven, and persevering bunch, and 2020 had been one wild year! I don't think anyone can argue either of those. But in a year of extreme adversity and hurdles impacting almost every person on the planet in some form or another, there are some scattered tales of success and victories.
I'm sure most of you are familiar with Mr. Dan VanHorn. Earlier this year, DodgeGarage had the opportunity to chat with Dan about his series. For those of you who are not familiar, Dan has organized and run the very successful grassroots race series dubbed Modern Street HEMI® Shootout since 2009. The MSHS is the only full-season race series dedicated strictly to us HEMI guys, and no outsiders allowed! I was personally planning on participating in the entire series this season until I, like many others, were impacted by COVID-19. My heart was breaking as news was unraveling throughout the country of all the tragic happenings related to COVID-19. While safety, health and well-being became the primary focus for most responsible adults, drag racing was up there on the list with bars, concerts and sporting events as an auxiliary activity that was a necessity in the COVID landscape.
I was bummed; I was so ready to race. There were even some new classes that I was super exited about. However, I was even more bummed to think about what Dan must be going through.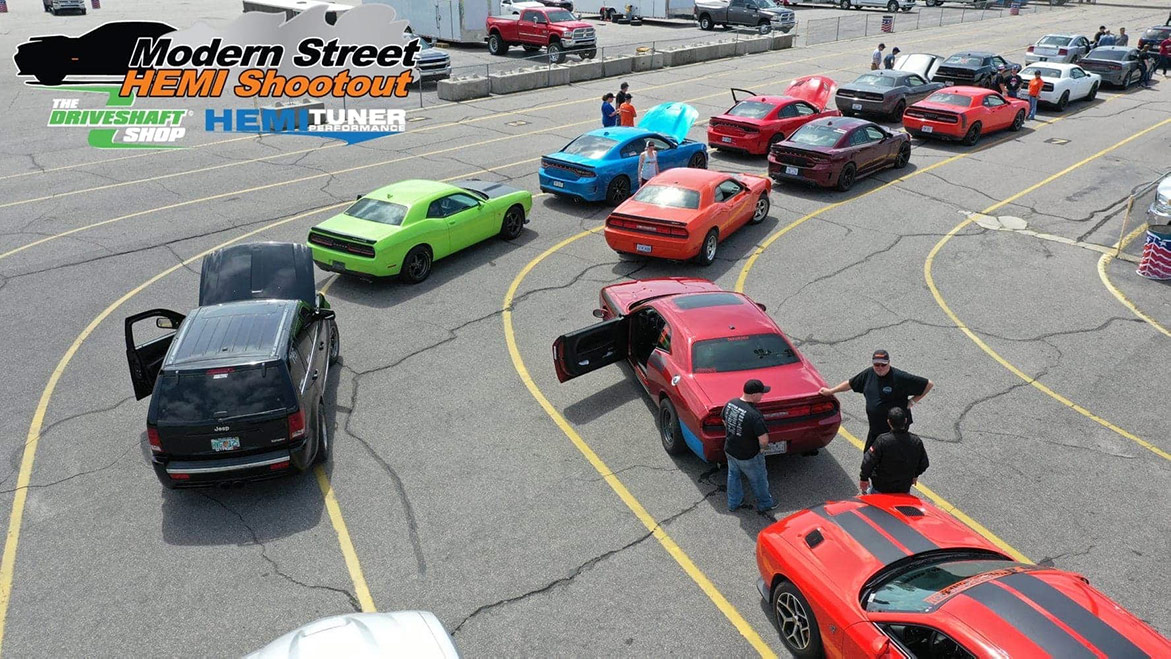 Putting on a legit racing event is no simple task, at all. Then try doing a whole series over the course of several months at different facilities across the country. It's insanely tough to orchestrate so many pieces of the puzzle. Throw COVID on top with some quarantine, curfew and Essential Business lists … surely it's impossible.
Hasn't good ole Tim Kuniskis taught you that neither Dodge nor the community take no for an answer. GAME ON.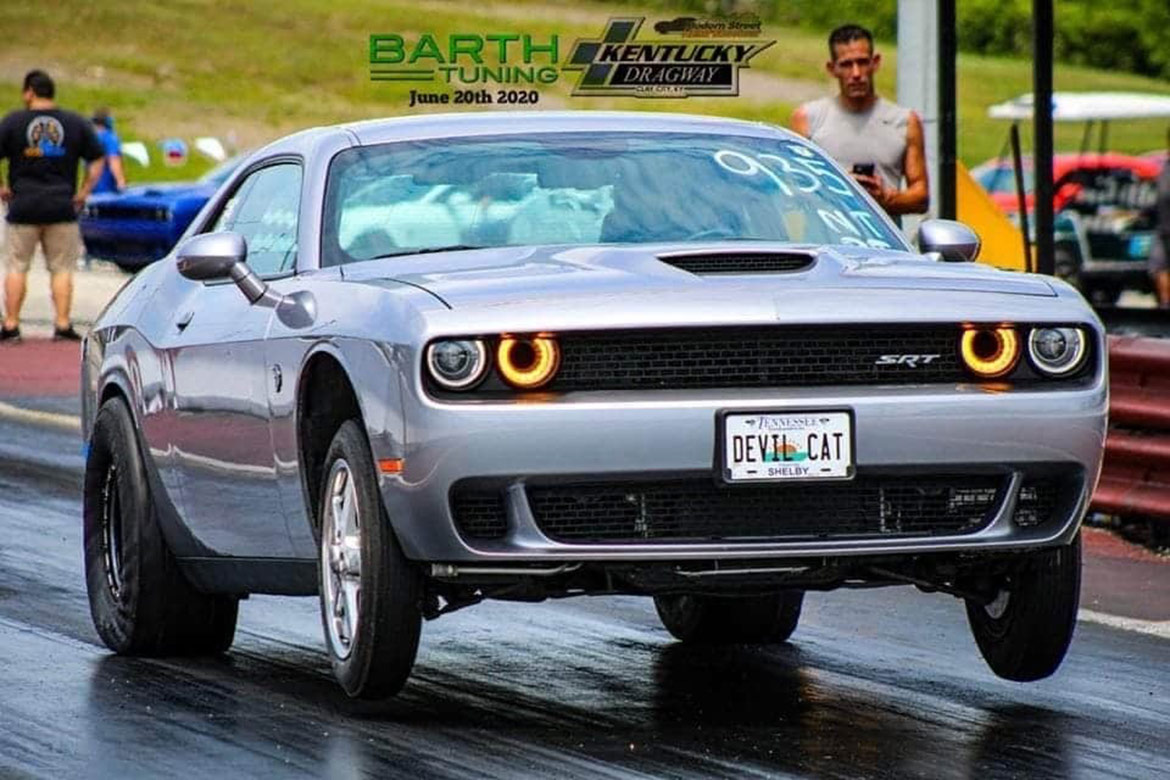 The first race of the season was able to get crammed in JUST in time before things really started shutting down. VanHorn noted that it was a great race, but it did in fact suffer from a downturn in racer registration. Despite the below-average turnout, the first race was a success. The pandemic quickly worsened and businesses started shutting their doors and people starting locking themselves in their homes. Some companies didn't make it to the end of March before closing the doors permanently. The country started to see business after business – big, small, mom-and-pops or corporate – all start to throw in the towel. Despite all of this, VanHorn was able to stay focused and driven enough to keep the MSHS series alive for 2020 through constant communication with the tracks, sponsors and racers, coupled with weekly studying of the nation's current state. Fortunately, MSHS has some amazing sponsors behind it; not a single sponsor pulled out or pulled a dime from the series. VanHorn and team were able to be fluid and flexible, move dates around, and change some formatting and kept the engines running. While the first race is the only race that was held on its originally scheduled date, the year will finish off having completed every race.
But wait, there is more! Not only did MSHS push through every blockade and jump every hurdle during this wild ride we call 2020, VanHorn also pulled another rabbit out of his hat.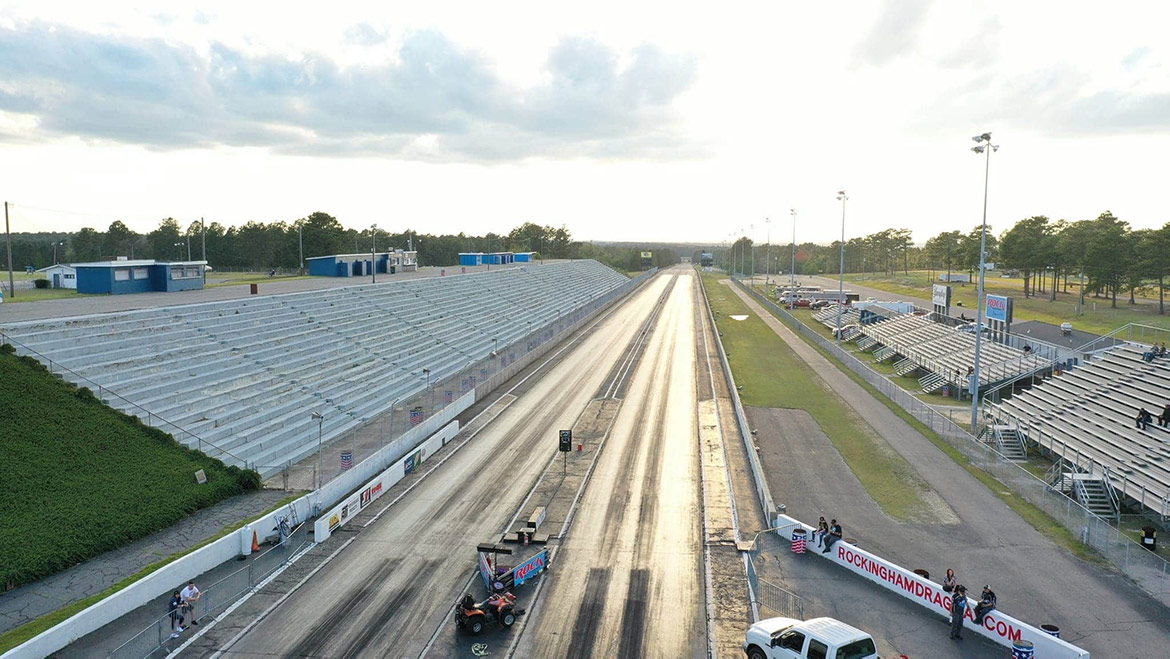 On July 7th, a press release surfaced announcing that Steve Earwood had sold Rockingham Dragway, which he has owned and run since 1992. The new head-knocker? Dan VanHorn (along with partner Al Gennarelli). What? Companies across the country crumbling while VanHorn was keeping engines running on the dragstrip AND purchasing a dragstrip?! This guy just doesn't sit around and take the punches.
Let's face it, I'm sure many think that Earwood sold the track as a fire sale during hard COVID times. It turns out, that wasn't the case at all.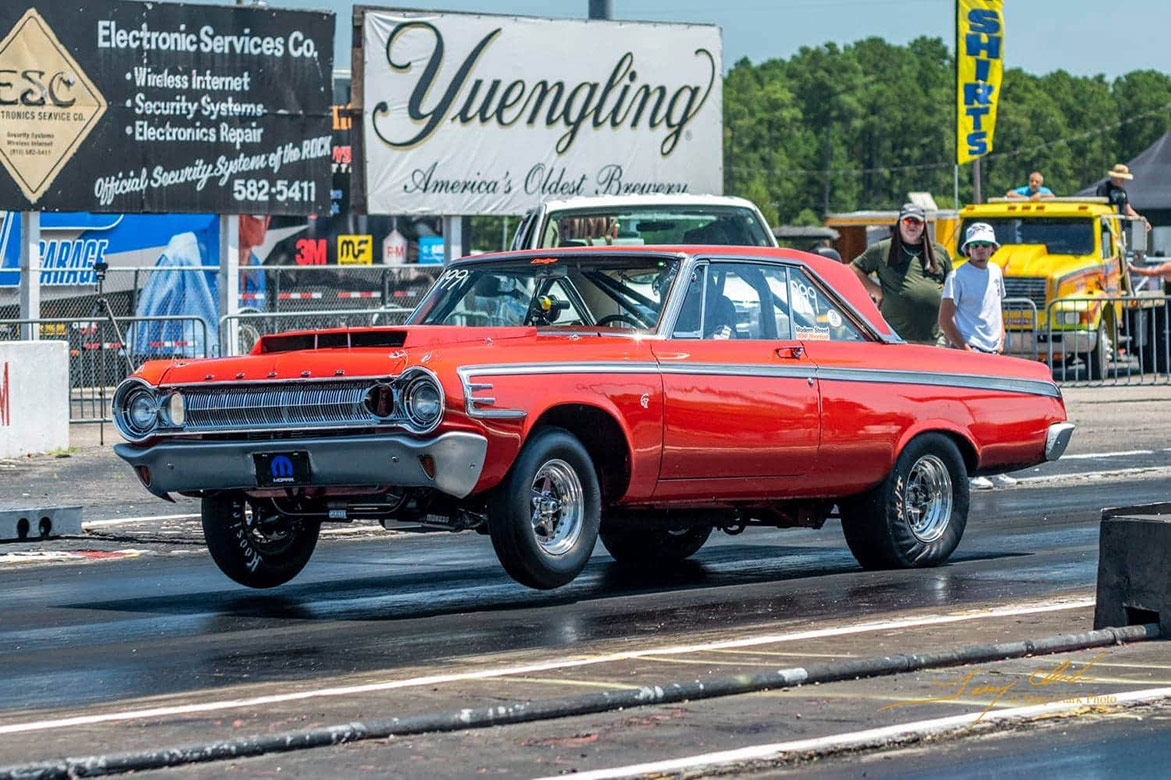 VanHorn explains that he has long had the dream to open or own a dragstrip (who wouldn't?!). About two years ago, VanHorn started researching the business from a track-owner's perspective and polling many of his contacts in the industry, including track owners. Dan recounts chatting with Steve well over a year ago asking for advice and suggestions on opening a dragstrip. Who better to ask than a guy who has run a successful operation for almost 30 years? Steve offered to sell the facility to Dan on the spot! The proposition obviously took VanHorn by surprise and definitely started the gears turning in his head. The price was certainly out of his price range. Rockingham, after all, was a much larger operation than VanHorn imagined getting his feet wet with. VanHorn set out to find a way to make this dream come true.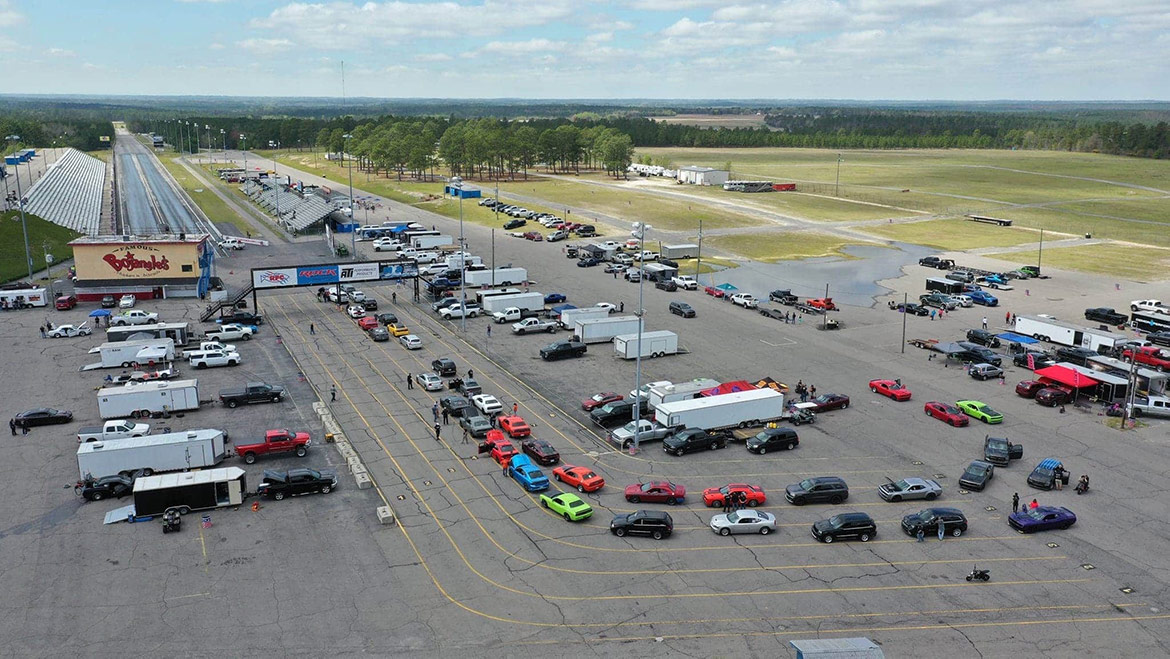 VanHorn went back to some of the industry friends and contacts he had been bouncing ideas off of to get a feel for if his peers thought this was something he could pull off. One major yet odd detail to how this started to take shape was Dan's desire to start getting involved in half-mile races. Half-mile and standing-mile racing is, you could say, its own little subculture. There is an even smaller group of crossover racers that enjoy and have a vehicle that can race in your typical quarter-mile racing, and the longer half-mile races. Dan had done some digging trying to piece together the plans to get into hosting half-mile races and quickly found out that it was no easy task. Many of those events are held at airfields and runways. Getting permits and permissions for that seemed to be getting less and less obtainable, which has ultimately lead to very few of these events existing anymore.
Well, guess what? Rockingham's dragstrip is 5,000 feet long, as it was originally designed to double as a landing strip for Nascar drivers in the early days. Drivers would fly in, land and go race NASCAR "next door". Dan mentions that there are no other dragstrips out there anywhere near this length. So hold up, not only could VanHorn use Rockingham for regular old-fashioned quarter-mile drag racing, he could also use it to get into half-mile racing? You bet!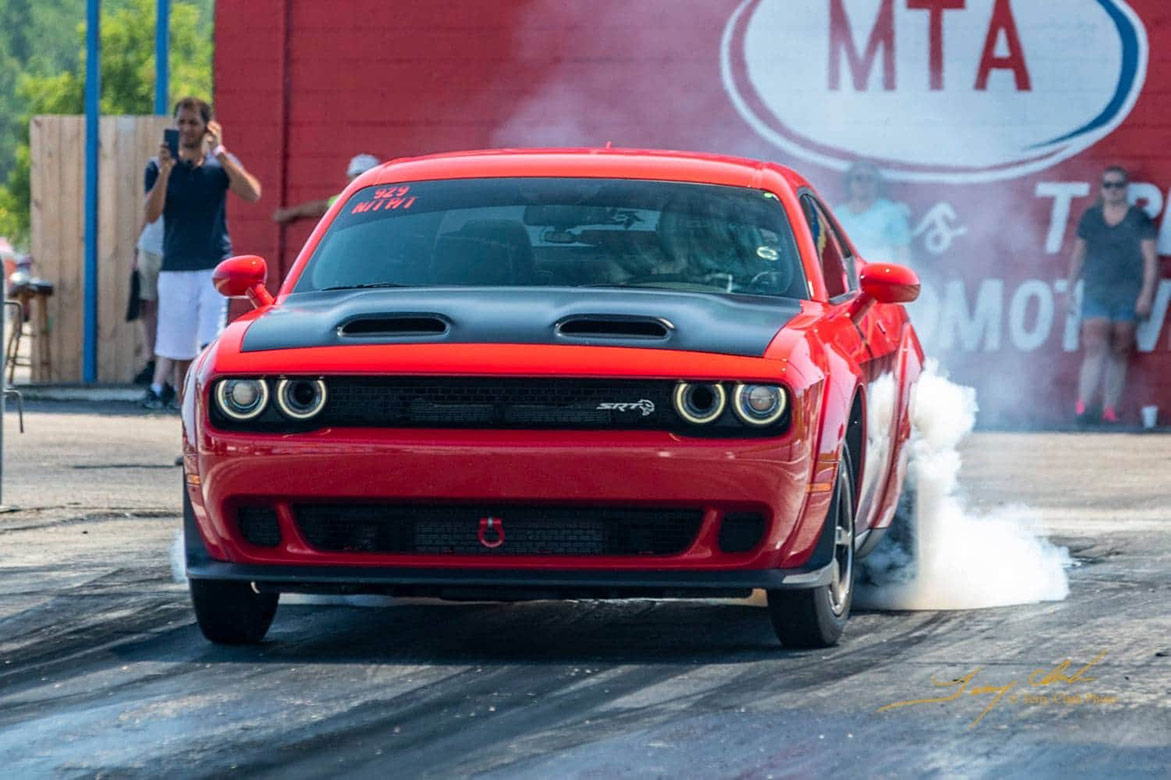 This small tidbit lead VanHorn to his friends at Van Drake racing, an outfit big into Mopar vehicles, drag racing and half-mile racing, who immediately said they were on board with partnering up to purchase Rockingham. Contracts were drawn, things were rolling and the deal was looking final. Enter COVID-19. Due to circumstances forced on the company from the COVID pandemic, Van Drake was forced to back out of purchasing the dragstrip. Thanks COVID, perfect timing. Who is going to purchase an event space, when most states won't allow groups of more than 10 people to gather together? It definitely seemed to be the most inopportune time to go out and spend large sums of money and just wish upon a star that the pandemic and economy turn around quickly. VanHorn went back to Steve with the bad news in an effort to find some sort of last-ditch effort to make the deal happen. He was not ready to hit the brakes (never lift!). Steve definitely appreciated Dan's passion for the sport and the facility and was willing to make it work from his side as much as he possibly could. VanHorn contacted his long-time friend and fellow racer Al Gennarelli and brought him up to speed on what had transpired over the past year. In the midst of (our favorite term) uncertain times, Gennarelli said, "I'm in, lets do it!" Not this time, COVID, not this time!
Dan and Al partnered up 50/50 and secured the contract and the deal was done. A slightly unorthodox plan followed, with Steve staying on board for two years to phase in and teach Dan and Al the ropes of running a facility like this. The group claims that it will be business as normal under the new ownership. All employees are staying on board and no major changes in programming will occur. While part of me wanted to hear Dan profess that no vehicle shall be allowed on the property unless it was of Mopar descent, those words never came out of his mouth.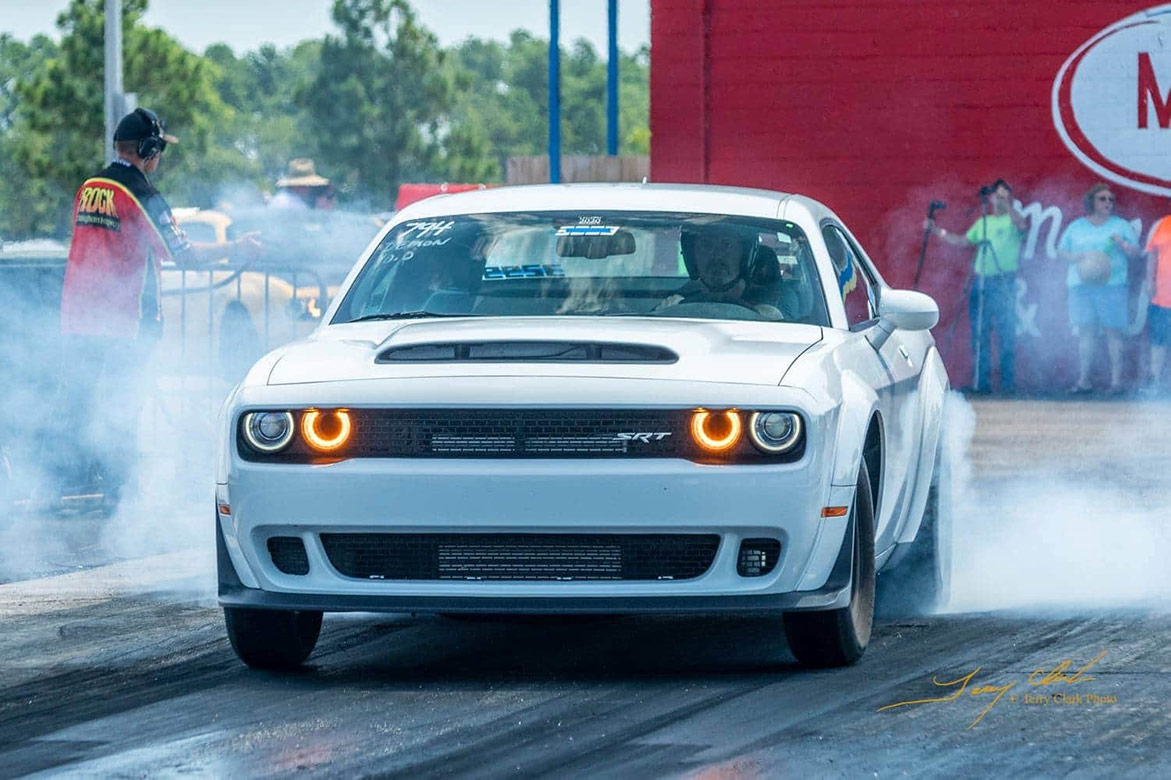 I asked Dan if us folks in the Mopar community could look forward to any additional Mopar-only festivities, to which he replied, "You better believe it." I don't want to spoil any surprises or plans, but Dan did mention that they hope to start creating some events for the community that will call Rockingham "home". Why does the West Coast get all the fun? Me, personally, if I were on the payroll up at FCA HQ, I would be sending anything that needed to be tested down to Rockingham. Half-jokingly, I asked Dan, "Would you say that FCA is welcome to use Rockingham as a test facility and event space?" Dan responded with no qualms, "Definitely!"
Taking over a large operation like this will take some time, no doubt. But I can't wait to see my fellow racer, Mopar enthusiast and friend pursue his dream encompassing everything horsepower and drag racing.
If you want to see the remaining 2020 Modern Street HEMI Shootout schedule, head over to Hemirace.com and be on the lookout for some really cool events to come from VanHorn, Gennarelli and Rockingham.
During a year of chaos, uncertainties, collapse and the worst economic downturn the world has ever seen, VanHorn showed us all that giving up just isn't an option. And us Mopar guys, we WILL fight, the underdog against the world! And you DON'T want none of THIS!
Comments
Comments