We Can't Get Enough of These Beauties
2 years ago Events Gallery
The 2021 car auction season is starting off with a bang in Kissimmee, Florida, with Mecum Auctions. Not only do they have a ton of cool Dodge Brand vehicles on the docket, the iconic Plymouth vehicles are out-of-this-world cool. Check out the ones that have us salivating.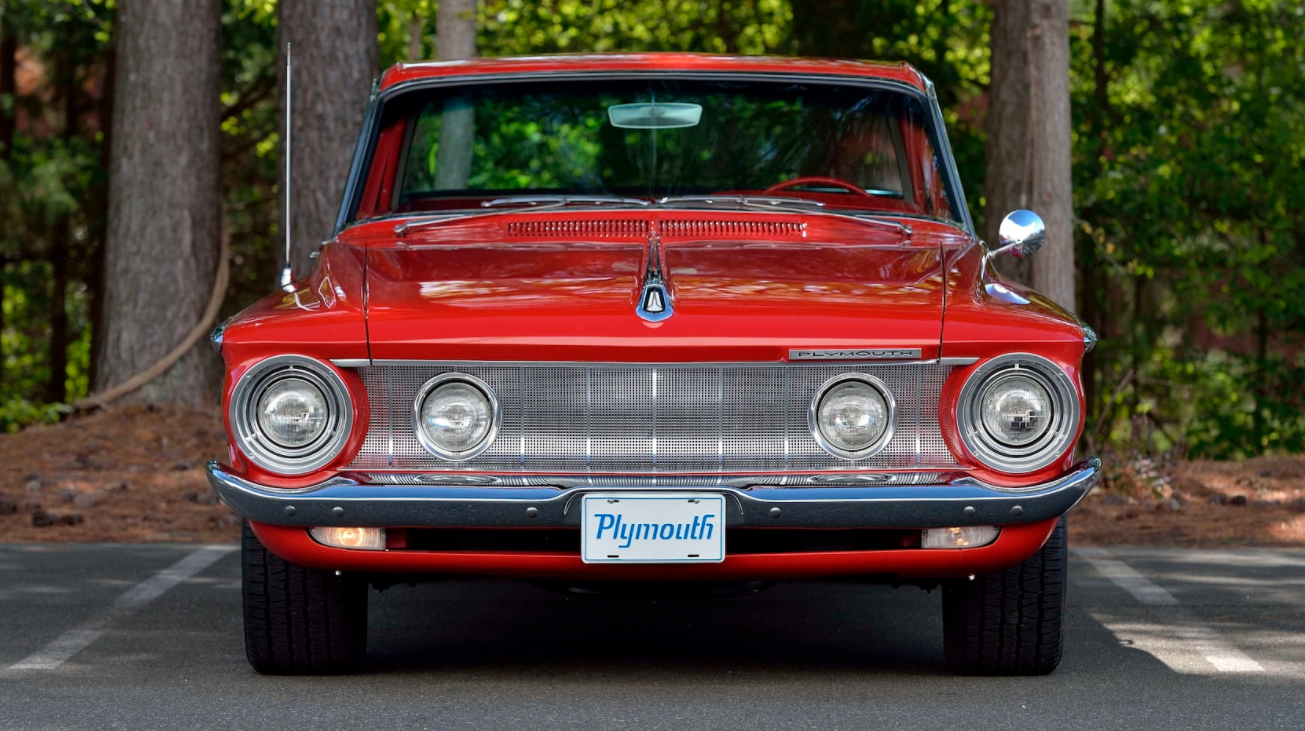 Nothing says muscle car like a red Plymouth Fury. If you are in the market for a 1962 fully restored Plymouth Fury, then you won't want to miss this one crossing the auction block at Mecum Kissimmee January 7th through January 16th. Nut-and-bolt rotisserie restoration with an upgraded 4-speed manual transmission and a high-performance 361 CI Golden Commando V8 engine make this a must-have.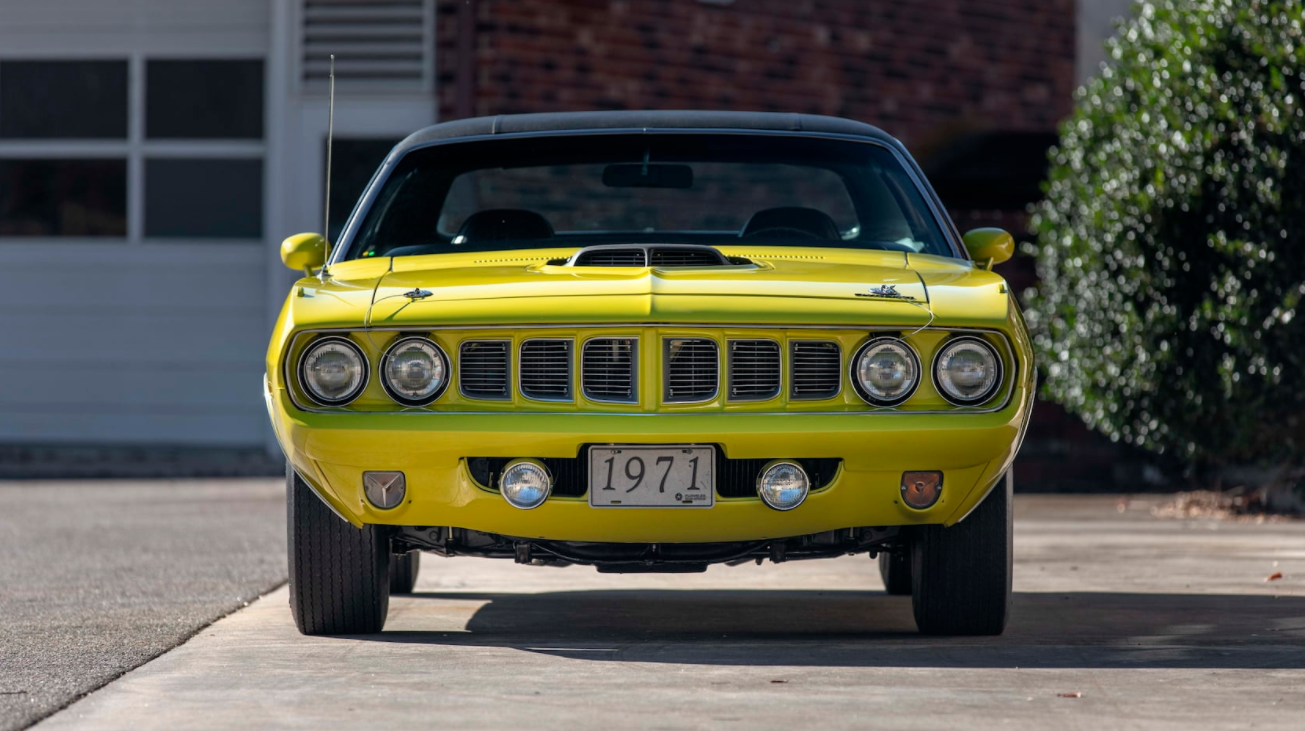 Plymouth ended 1971 with a lot of changes. The pressures of the insurance industry on performance car marketing plus refocused intent on upcoming emissions mandates meant cars like this 1971 440 6-BBL 'Cuda would no longer be available from the factory. In fact, when the model season had concluded that fall, this was one of only 129 6-BBL 'Cudas equipped with the automatic transmission that had been built for 1971, and this stunning example is documented with its original broadcast sheet.
A North Carolina car since new, what makes this Plymouth even more impressive is that it is a factory Shaker hood/billboard graphics release that has retained original sheet metal from the factory since day one. Correctly refinished in extra-cost High Impact Y3 Curious Yellow paint, this car has further benefited from an extensive rotisserie-type restoration completed some years ago. Beneath its black Shaker bubble is the 440 CI 6-BBL engine, with its three 2-barrel Holley carbs, RB-series block and factory intake and exhaust manifolds. Ordered with the Performance Axle package, its A727 TorqueFlite® driveline package was also factory-optioned with the scarce Dana 60 Sure Grip differential.
In addition to its '71 'Cuda trim like the one-year-only grille and vertical quad of front fender trim, the car has two fender tags and many options. Inside are front bucket seats, a Rallye gauge package, console with T-handle Slap-Stik shifter and a radio, while outside are front and rear body-color bumpers, through-valance exhaust exits, hood pins, road lamps, dual outside sport mirrors, interior-matching billboards and vinyl top in black, 'Cuda 440-6 Shaker trim tags and premium Rallye wheels. Goodyear Polyglas GT F60-15 tires complete the look of serious American muscle. The confidential numbers are in place and the trunk décor is complete with a space saver spare, bottle, jack and trunk mat. The provenance includes the car's second bill of sale and owner history. The 1971 440 6-BBL 'Cuda died as a high-compression street fighter and remains one of the most desirable cars from the entire era of muscle. This beautiful example is your opportunity to own some of that greatness from its final year of production.
1970 Plymouth Superbird Lot # F131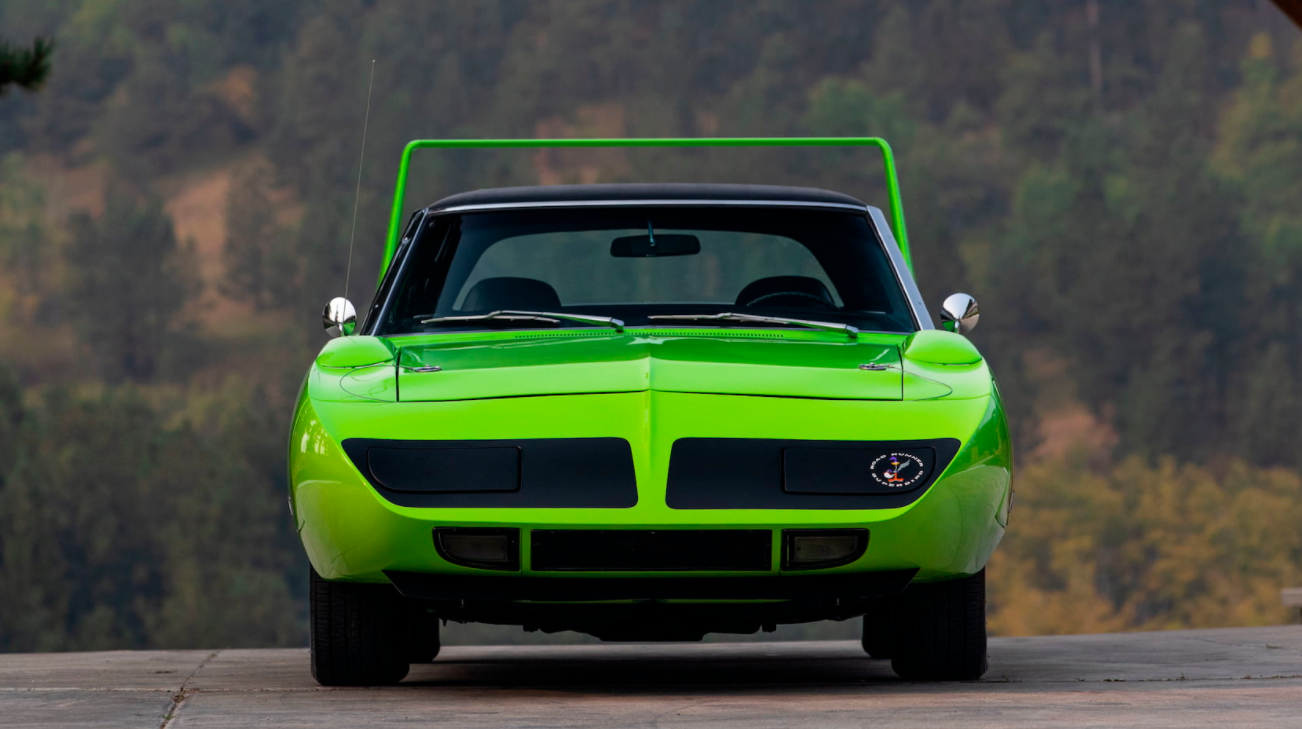 The 1970s began with one of the most important years of muscle car production, and perhaps the most outrageous 1970 model was Plymouth's Superbird, a Road Runner on steroids that was unique among production cars. This example from that one-time-only program is one of fewer than 2,000 Superbirds produced, and it has already been given a comprehensive restoration.
Designed solely to legalize parts of Chrysler's NASCAR racing efforts, the Superbird was produced only for 1970, and it was also the only time the Road Runner model received the large 440 Super Commando V8 as standard equipment. That is what is beneath the factory-modified hood today: a matching-numbers 375-horsepower, 480 lb-ft torque mill with OEM 9.7:1 compression, cast iron heads, factory intake and exhaust manifolds, Carter AVS 4-barrel carburetor, hydraulic-lifter performance camshaft and dual exhaust ending with chrome tips. That's all good, but even better is that this car hosts a very rare-for-Superbird bucket-seat interior with C16 console and A833 4-speed manual transmission. That means there's a Hurst Pistol Grip shifter and the premium Dana 60 Sure Grip differential with 3.54 gearing as part of the A33 Track Pack. Driving is assisted by both power steering and power brakes.
This wing car is finished in OEM FJ5 Limelight Green paint with the mandatory black vinyl top, and the black vinyl bucket-seat interior matches that. Of course, J45 hood hold-down pins, the simulated rear-facing front fender air extractor scoops, nose cone with hidden headlamps, special aero rear window and towering back spoiler are also part of the package. The Road Runner's Beep Beep horn was standard equipment, but this car features premium Rallye wheels mounted with fun-to-drive BFGoodrich TA Radial raised white-letter tires. Rules changes rendered the Superbird basically uncompetitive in NASCAR at the end of the 1970 season, and these unique cars retain that competition legacy, ensuring that this very special 4-speed/console model will be enjoyed by both its new owner and onlookers alike.
1970 Plymouth 'Cuda Convertible Lot # S113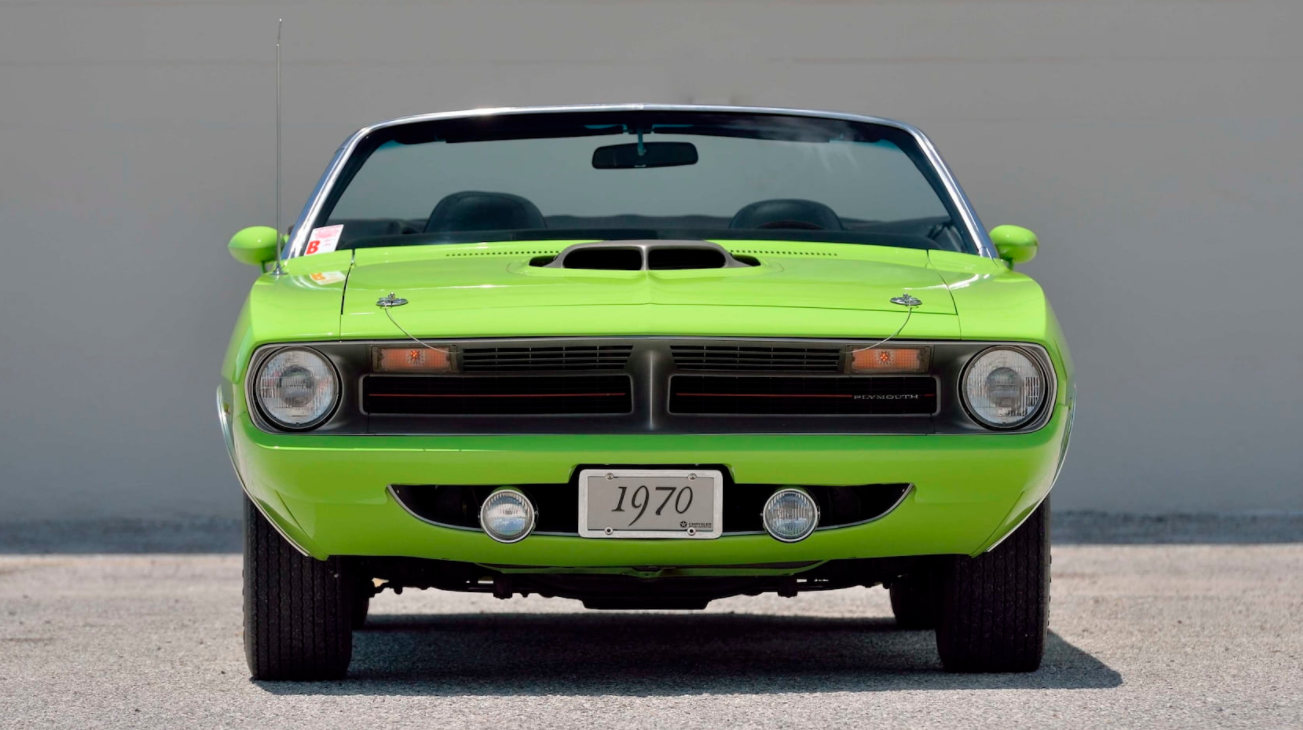 It has been noted that V stands for victory. To fans of Chrysler's muscle-car era, that letter has also come to denote the legendary 440 6-BBL engine package. As one of a mere 29 factory V-code 'Cuda convertibles constructed in the 1970 model year, this particular multi-carb vehicle offers exclusivity in ownership and a solid combination of optional equipment.
Of course, beneath the Shaker hood scoop is the 440 6-BBL engine with its trio of 2-barrel Holley carburetors feeding fuel with breathtaking rage when under acceleration. This engine uses premium fuel and is considered by many to be a better all-around driving package compared to the more exotic HEMI® option. Behind the engine is the A727 TorqueFlite automatic transmission. The exterior is painted in rich J5 Limelight Metallic — often referred to by its Dodge name, Sublime — and the car features both front and rear body-color bumpers. The black side hockey-stripe graphics end in 440 callouts on the rear quarter panels, while other exterior cues are the J45 hood pins, dual outside sport mirrors, rocker moldings, valence-exit exhaust tips, road lamps and chrome trim accents. Inside is a black interior with bucket seats, center console, Slap-Stik ball-knob shifter, AM radio, three-spoke steering wheel, woodgrain-trim Rallye dash layout and black convertible top. Wide F60-15 Goodyear Polyglas GT tires ride on Rallye wheels to complete the look of total performance.
Viewed at every angle, the 1970 'Cuda is attractively stylized, from the crisp simplistic design of the grille to the gently rising rear quarter-panel forms. The company had spent a number of years creating this answer to the competitors on the marketplace, but history would see these convertibles built for only two years, the same period that this engine combination was offered. As a result, V-code convertibles have recently climbed to new heights in value.
Comments
Comments