Searching for Gold and Curiosities At the Carlisle Chrysler Nationals Swap Meet!
6 months ago Events Gallery
They say one man's junk is another man's treasure or, as the Grateful Dead once sang, "One man gathers what another man spills." If you're looking for that elusive Mopar® part or piece of Chrysler memorabilia, the massive swap meet area at the Carlisle Chrysler Nationals is the place to be.
Here, you can seek out and hunt down those rare treasures and oddities many folks simply discarded "back in the day." Muscle cars generally led a hard life in the hands of their first, second or third owners. Everything from the wheel covers to exhaust manifolds got pitched in the trashcan and taken out to the curb – only to be replaced with headers, mag wheels and other go-fast non-production components. As these rare machines increased in value, the restoration business was born over three decades ago to provide items to get these cars back to showroom condition. Despite the best efforts of many companies specializing in reproduction vintage parts, many enthusiasts or shops who've taken on the task of doing a complete "ground-up" restoration still prefer NOS (New Old Stock) or good used parts for their projects. The reason is simple, using the right parts increases the vehicle's value exponentially. After seeing the recent prices of Dodge and Plymouth muscle cars at Barrett-Jackson and Mecum, this trend will only continue and drive the price of original parts still wrapped in their brown paper and in genuine boxes through the roof. For those needing sheet metal, clean "southwest" take-offs that are rust free are still commanding premium prices but, in some cases, you need to go the reproduction route.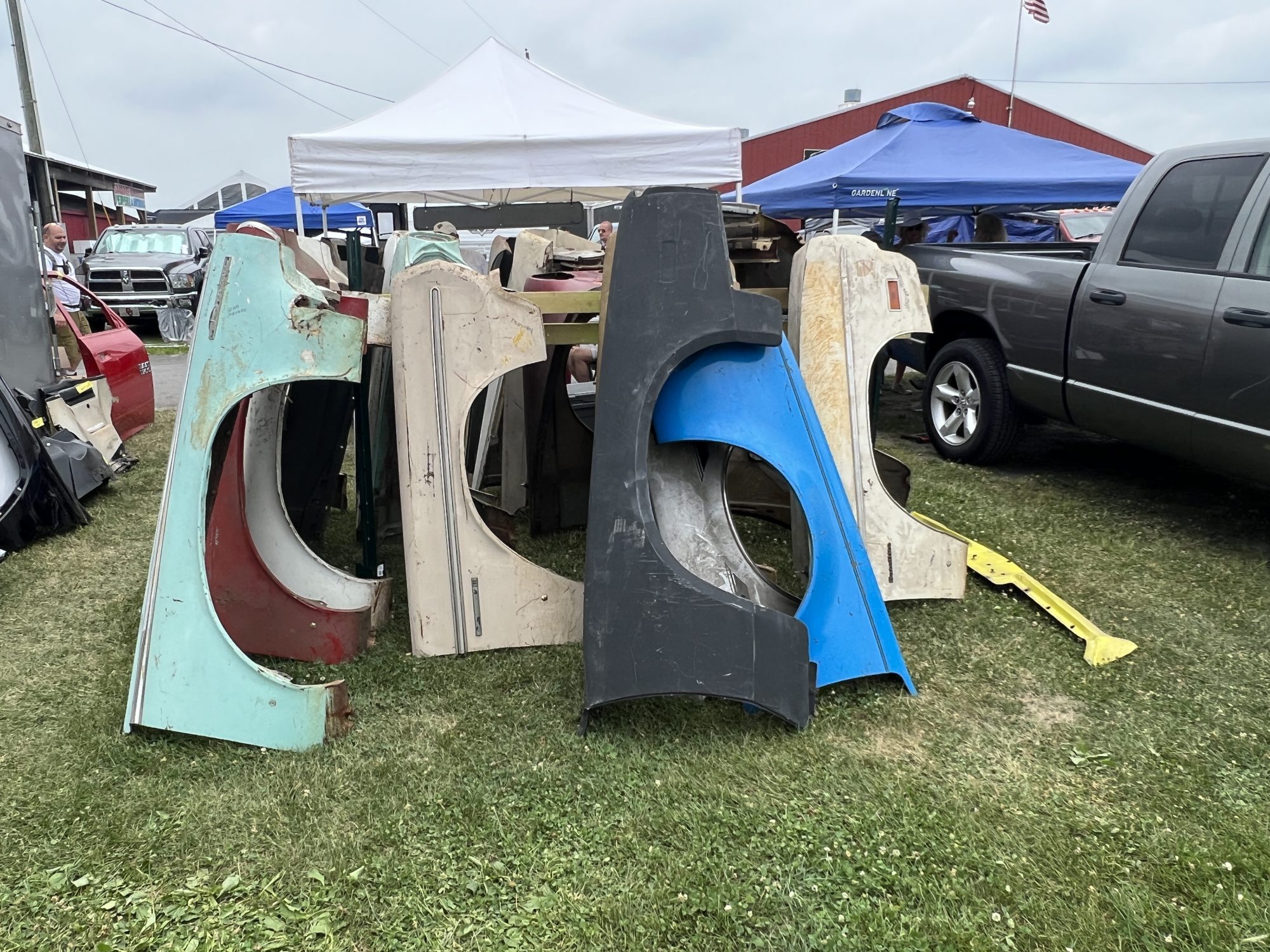 Walking through the endless aisles of the Carlisle Fairgrounds swap meet area takes determination and stamina, especially when the temps are hovering in the high 80-degree range and the humidity is that of a swamp. Thousands of hardcore Mopar enthusiast stop and check out the hundreds of vendors that bring everything from parts, models and T-shirts to even old cars in need of a new owner and some TLC. It's like a massive garage sale but with vintage (and some current) automotive items. The smart participants have a list of parts they need and use the Carlisle App to find specific vendor locations to save time and heat exhaustion. "This is our third trip through the Carlisle Swap Meet this weekend," said Kevin Mairabito, who came from Long Island, New York. "We found some sheet metal for my 1970 Challenger T/A project and many other items we'll need for the car."
Accompanying Kevin at Carlisle was his young nephew, Ryan Becker, who's also helping his uncle resto the rare Challenger T/A. "I've been into cars my whole life. So was my grandfather and uncle. That's where I probably got it from," noted Ryan, who's only 33 years old. "In my neighborhood, there's a lot of guys restoring muscle cars, and many are not that old. The younger generation is stepping up."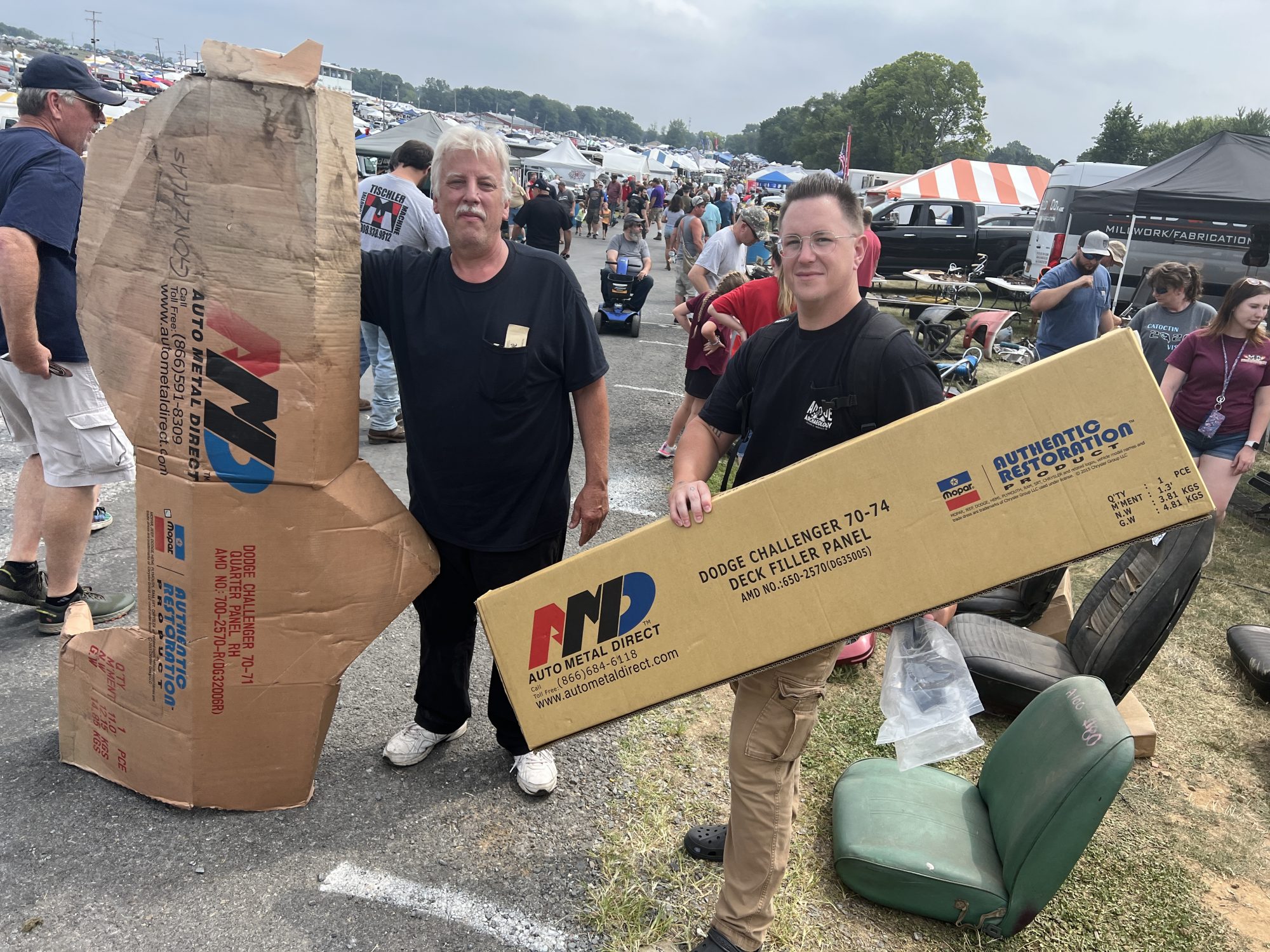 Some of the items we saw folks buying in the swap meet were not always automotive related. As a matter of fact, some objects were never bolted on car. One such oddity was an early 1980s Chrysler outboard engine for a boat. It harkened back to the days when the Chrysler Marine Division ruled the waves, or at least the lakes. Yes, the mighty HEMI® engine, along with small and big-block wedge engines, could be found in many sport boats and pleasure crafts. But what would possess someone to buy this relic of an engine? Apparently, Jonathon McCandless from Burlington, North Carolina, who's only 27, has a use for it and he's not trolling for catfish. "I saw this thing in the swap meet and had to have it. Me and my brother are going to clean it up, get it running and bolt it to the back of our goofy 1980s Plymouth Arrow conversion truck," laughed Jonathon. "Since the color of the outboard matches the truck, we're going for shock value and seeing people's facial expressions at car shows and cruise nights when we go rolling in with the outboard engine running while attached to the back of the truck."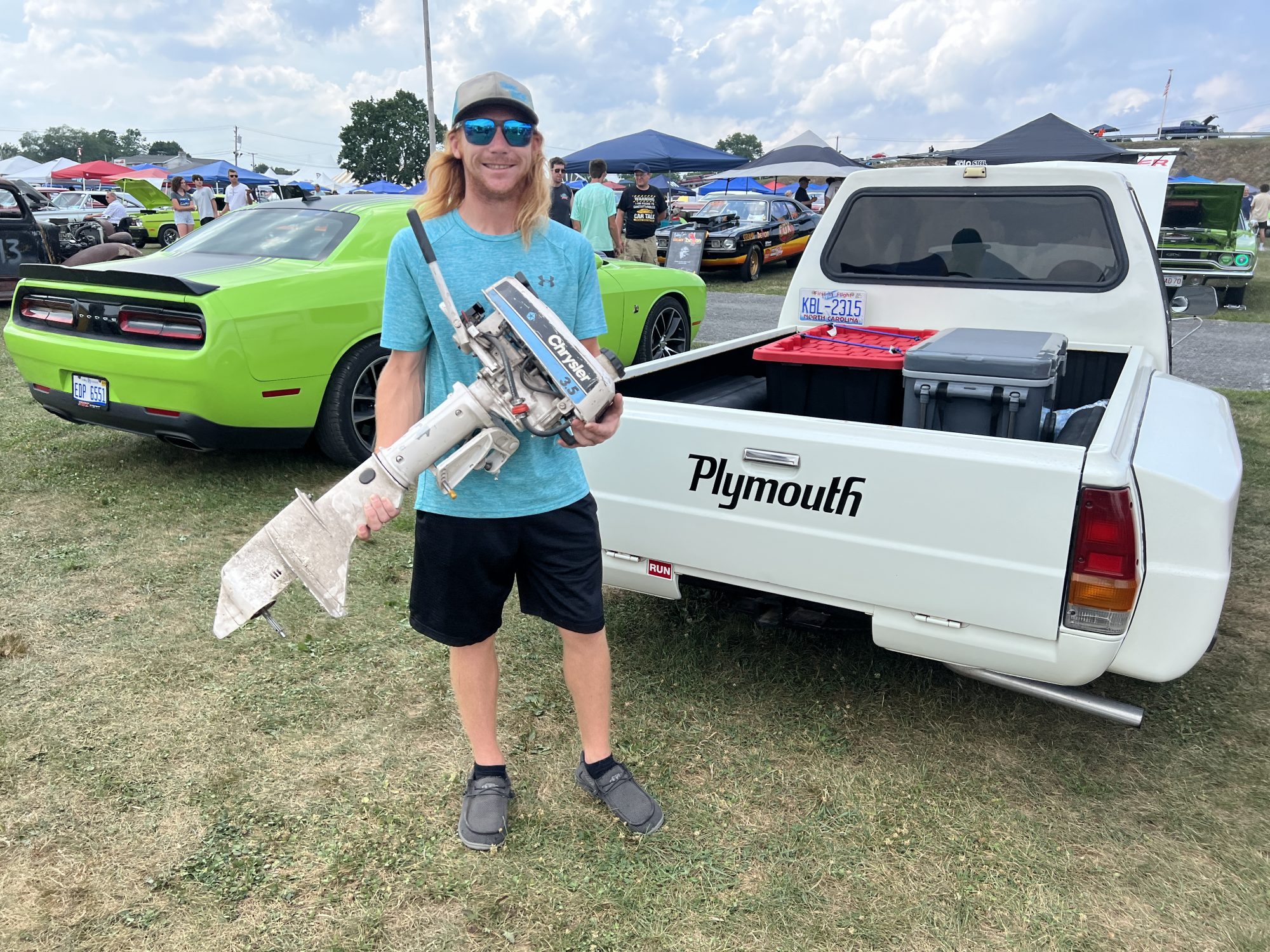 Other quirky items found in the swap meet included a pair of Sno Runners. These things were built by Chrysler Marine and Industrial back in the late 1970s for the growing winter recreation market and supposedly for the military. Picture a snowmobile for one that you ride like a motorcycle or a moped. Its single-piston, 34cc two-stroke engine made only 7 horsepower and sent all that modest power to a single track. Jason McCandless, who also shares his brother Jonathon's love for odd Mopar items, found two Sno Runners at Carlisle. "My girlfriend and I saw the Sno Runners in the swap meet and we just had to have them. It doesn't really snow where we're from in North Carolina, but they're just so cool," smiled Jason.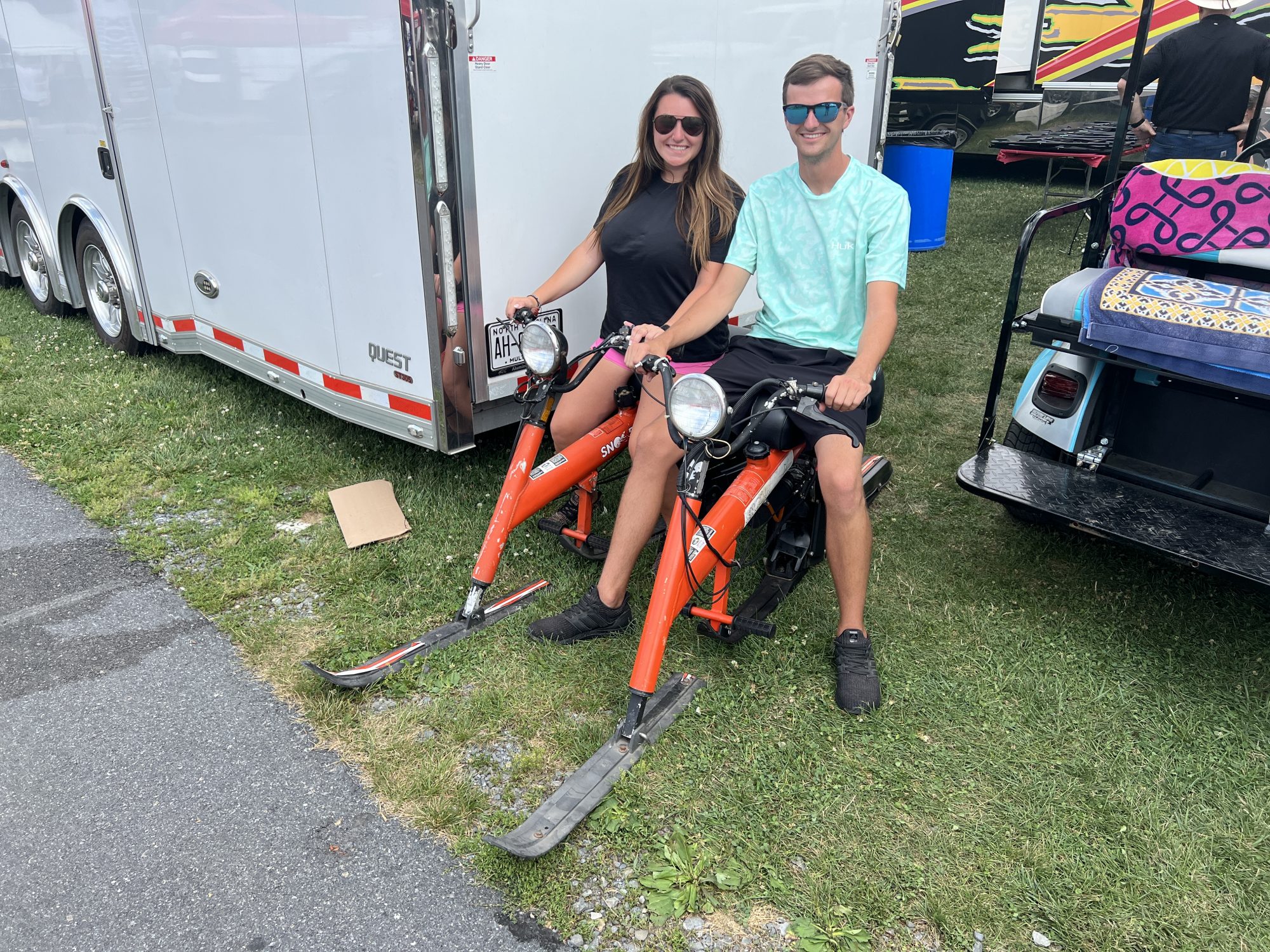 From a vendor standpoint, selling parts and other auto-related "stuff" at Carlisle takes patience and knowledge of what you have and the current market value. There is, of course, the art of haggling, but that's part of swap meet etiquette. "It's pretty cool having people coming in and out of my booth and talking about their cars. It's 50-percent selling parts, 50-percent socializing, but I enjoy meeting new people in the hobby," smiled Bill Atwood, who trailered a bunch of cool and even rare parts from his garage in Connecticut. "There's a lot of foot traffic in the swap meet this year and people are buying, just not as much as in prior years. Not sure if it's the economy or other factors. I will tell you this, you always come to a swap meet pricing your parts a little higher as you know the guy's not leaving paying retail."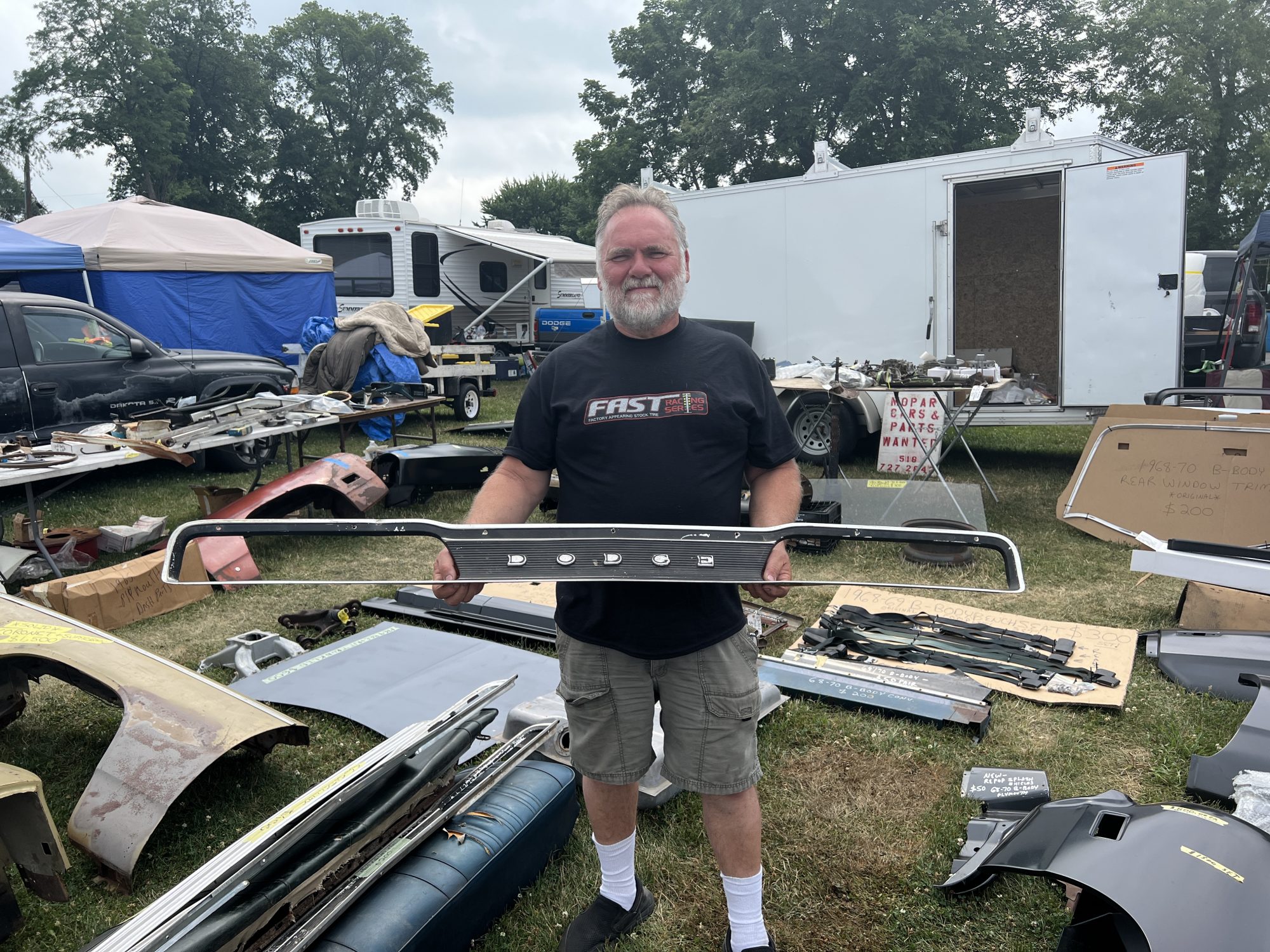 A few aisles over, Jim Rhinehart was selling his collection of Mopar big-block Dart parts along with other items and doing quite well. "It's been awesome as I've sold a lot of my heavy stuff. I have seen a lot of traffic this year and it's been great," said Jim. "The weather has been awesome and among the 15 or so swap meets I do a year, the Chryslers at Carlisle is still the best!"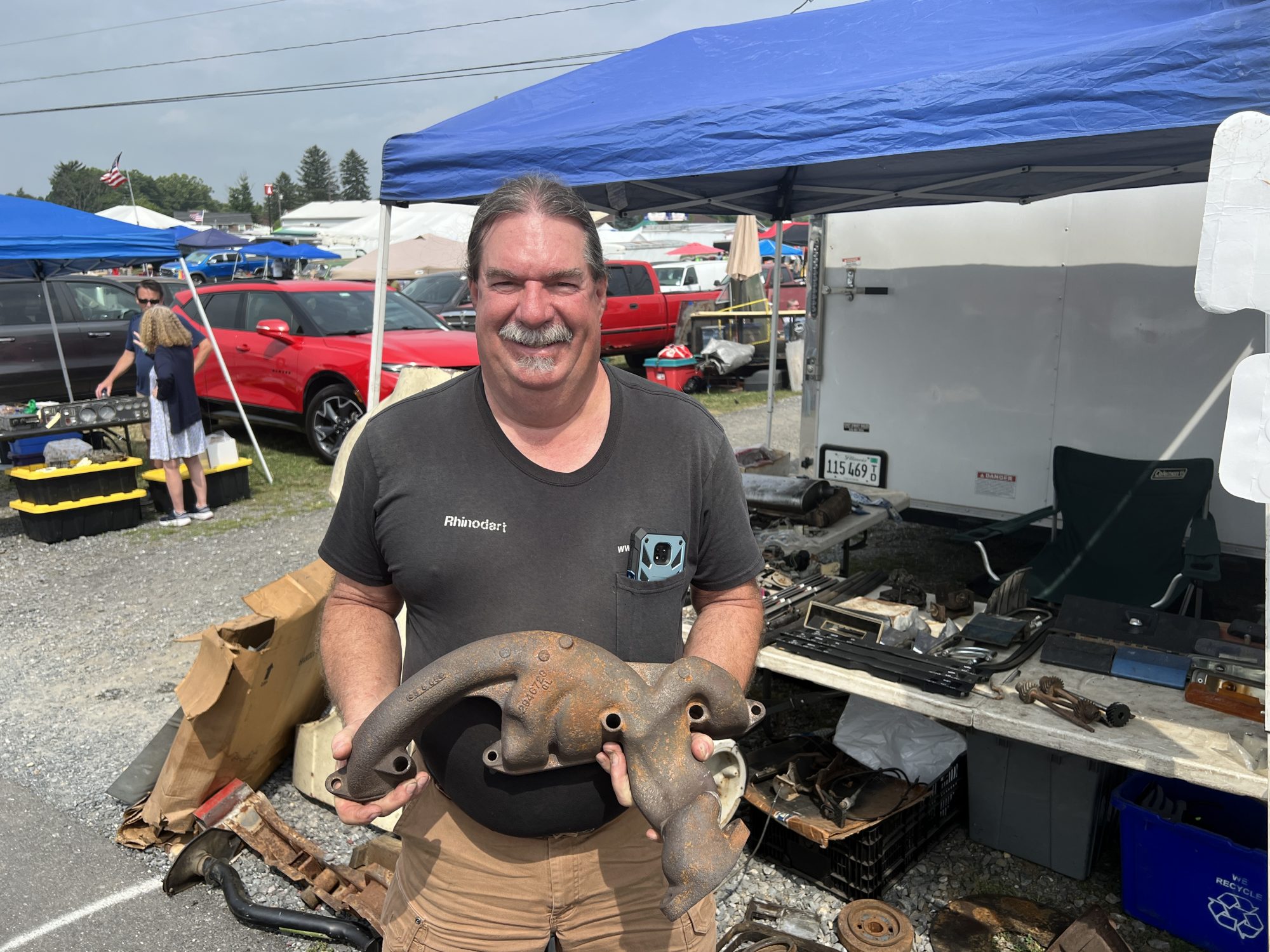 Check out the Carlisle Chrysler Nationals Swap Meet photo gallery and see if there are any parts you need for your vintage Mopar restoration project or maybe some cool memorabilia items for the Man Cave!
(008-042-image gallery)
Comments
Comments
Previous