ALL IN THE DETAILS
2 years ago Gallery Owners + Clubs
The Carlisle Chrysler Nationals is one of the biggest Mopar® shows in the country, and if your ride gets invited to be a part of the prestigious display inside the "T" building, it's a big deal. With this being the 50th anniversary of Dodge and Plymouth muscle cars from the 1970 model year, Carlisle put the call out to owners of these rare and unique machines. These cars may have hit the showrooms 50 years ago, but their appeal among Mopar lovers has never waned. Being five decades old, many of the machines have been fully restored with a fresh coat of paint, a reupholstered interior, and rebuilt powertrain pumping out more horsepower than when new. On the other side of the spectrum, a small number of these muscle cars survived the ravages of time with only minor nicks, dents and scratches. Regardless, fans flock to Carlisle every year to see these rare specimens up close. The owners who put their cars on display at Carlisle want their rare machines to be squeaky clean and standing tall when thousands of enthusiasts come marching into the Carlisle Fairgrounds to admire and sometimes scrutinize their work. From proper date-coded spark plug wires, voltage regulators, and carburetor tags, to the correct finish on suspension and brake components, everyone has an opinion on what was or should be correct on these vintage cars that were mass produced in the thousands down assembly lines spread out across the country.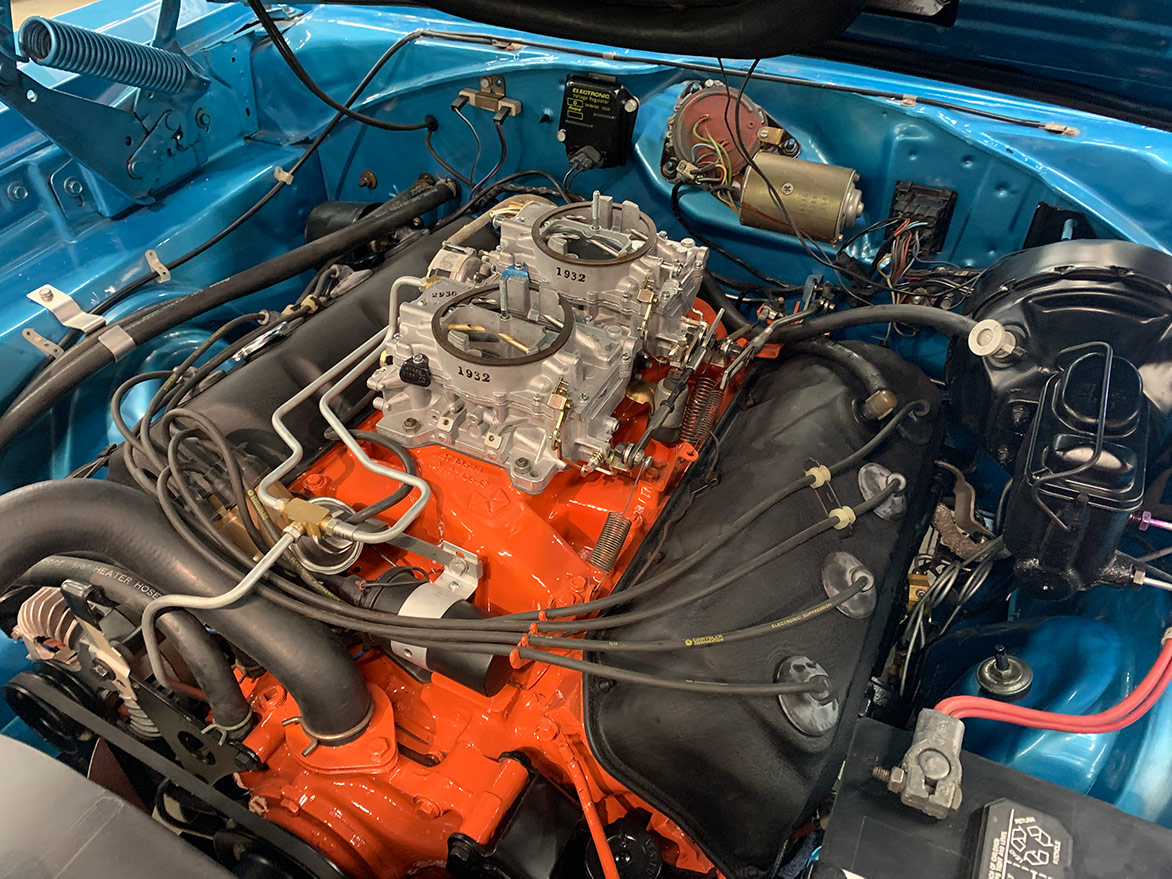 For Joe Jordan of Wausau, Wisconsin, his 1970 Plymouth HEMI® Road Runner Convertible can stand on its own when he shows it off. It's one rare bird, as Chrysler only built four examples (three automatics, one four speed) in 1970. It's not a mystery why Chrysler built so few of this combination that you can count them on your hand. A migration of buyers to more sedate and cheaper muscle cars had begun just as convertible sales were declining. The gale force wind of change can also be attributed to the insane insurance premiums blowing in the face of new performance car buyers under the age of 35. Suddenly, sales of big-block V8 engines and multi-carb vehicles began to slow down while smaller displacement powered cars with affordable price tags like the Dart Swinger 340 and Duster 340 became very popular among performance-minded consumers. We'd love to meet the original owner of this particular 1970 Plymouth HEMI® Road Runner Convertible. With a sticker price well over $4,500, it wasn't cheap, especially back in the day. The buyer obviously wanted to go fast with the top down. Trying to track down the Road Runner's previous owners has been tough, as Joe was only able to trace it to 1982 when this Road Runner ragtop was sitting on a used car lot in Sacramento minus the engine. Under the Air Grabber, a 383 was occupying the space formerly taken by the 426 HEMI® engine, which probably suffered a horrific fate. It wasn't until 2002 when Joe and his friend Darrell flew out to California to purchase this one-of-a-kind Bird, and the deal got sideways really quick with the two leaving the coast empty handed. Later, Darrell would purchase the Road Runner and the two would restore the car together. The restoration process began with rounding up all the hard-to-find parts, including a proper date-coded 426 HEMI® engine. Both Joe and Darrell would display the Road Runner at many of the big Mopar car shows. It wasn't until 2017 that Joe became the sole owner of the HEMI® Road Runner Convertible, and it is now one of his most valuable rides among his collection of 30 vintage cars.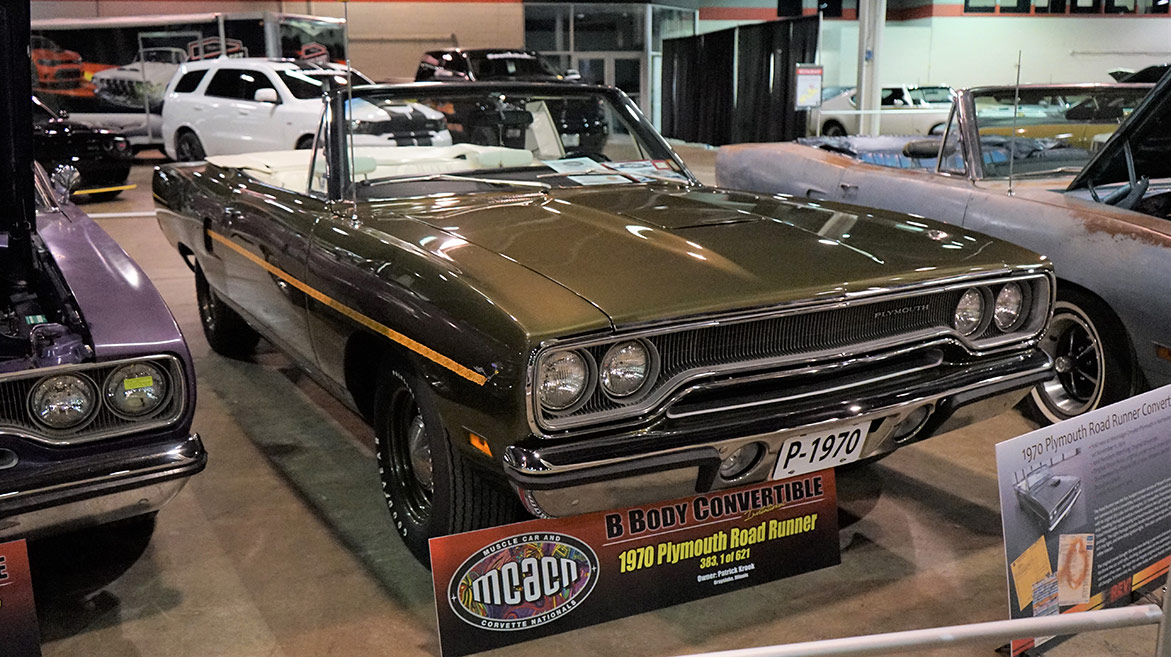 How Joe ended up with the Road Runner Convertible is an interesting tale, but it was during last year's Muscle Car and Corvette Nationals (MCACN) show that he and Dave Belcarz met for the first time. Dave might only be 36 years old, but he has a wealth of knowledge in restoring vintage Mopar vehicles. This Millennial who lives in Flat Rock, Michigan owns a 1969 Dodge HEMI® Super Bee, a 1969 Dodge Charger Daytona replica, and a 1980 Dodge Mirada. "At the MCACN show, I just restored a 1970 383 Plymouth Road Runner convertible that caught the attention of Joe," said Belcarz. "He and I talked about the detail work I had done to the 383 Road Runner while going over some of the inaccuracies in his HEMI® car that was also on display. With Joe's blessing, I went over his car with a fine tooth comb. He offered to bring the car from his home in Wisconsin to a shop in Michigan for me to prepare his Road Runner Convertible for the upcoming 50th anniversary of the 1970 model year at Carlisle Chrysler Nationals." After having done a number of full and partial restorations, Belcarz knows what works and (more importantly) what doesn't. He's done minor restoration projects, so he was ready to sink his teeth into this endeavor.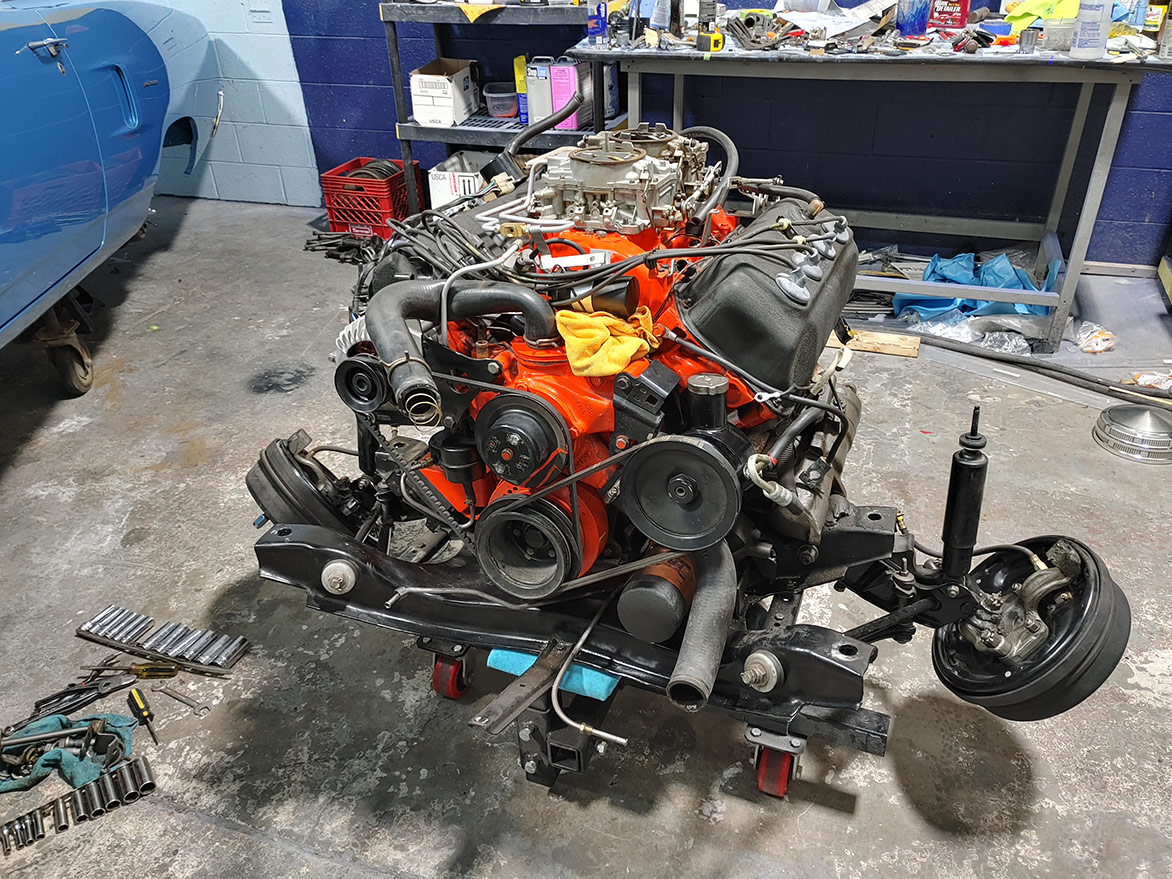 Work on the Road Runner began in June 1, 2020 in a shop owned by Dave's longtime friend Tony Moore. These two began the long and tedious process to make the Road Runner as accurate as possible on the inside, under the hood and underneath the body. "We faced many challenges freshening this rare Road Runner for the Carlisle show," declared Belcarz. "These included locating a nice set of original plastic 'A' pillar interior trim pieces for the inner windshield frame, finding a nice set of tail light wiring covers that mount inside the trunk to hide the bulb sockets and other things like that." As with most projects, especially ones that have tight deadline, things go wrong. "We had a date-coded starter that bench tested fine but wouldn't start the car when it was installed. Then there were brake fluid leaks we had despite rebuilding the whole system. Finally, the exhaust manifold flange gasket leaked so bad it made the car sound terrible," and a bunch of other things that had us constantly trouble shooting while bolting and unbolting parts." For Belcarz, these restoration projects are a labor of love, as he has a full-time job and a young son at home. It's during what little spare time he has that he tackles these monumental tasks. With the project completed on July 8th, the HEMI® Road Runner Convertible was on its way to Carlisle.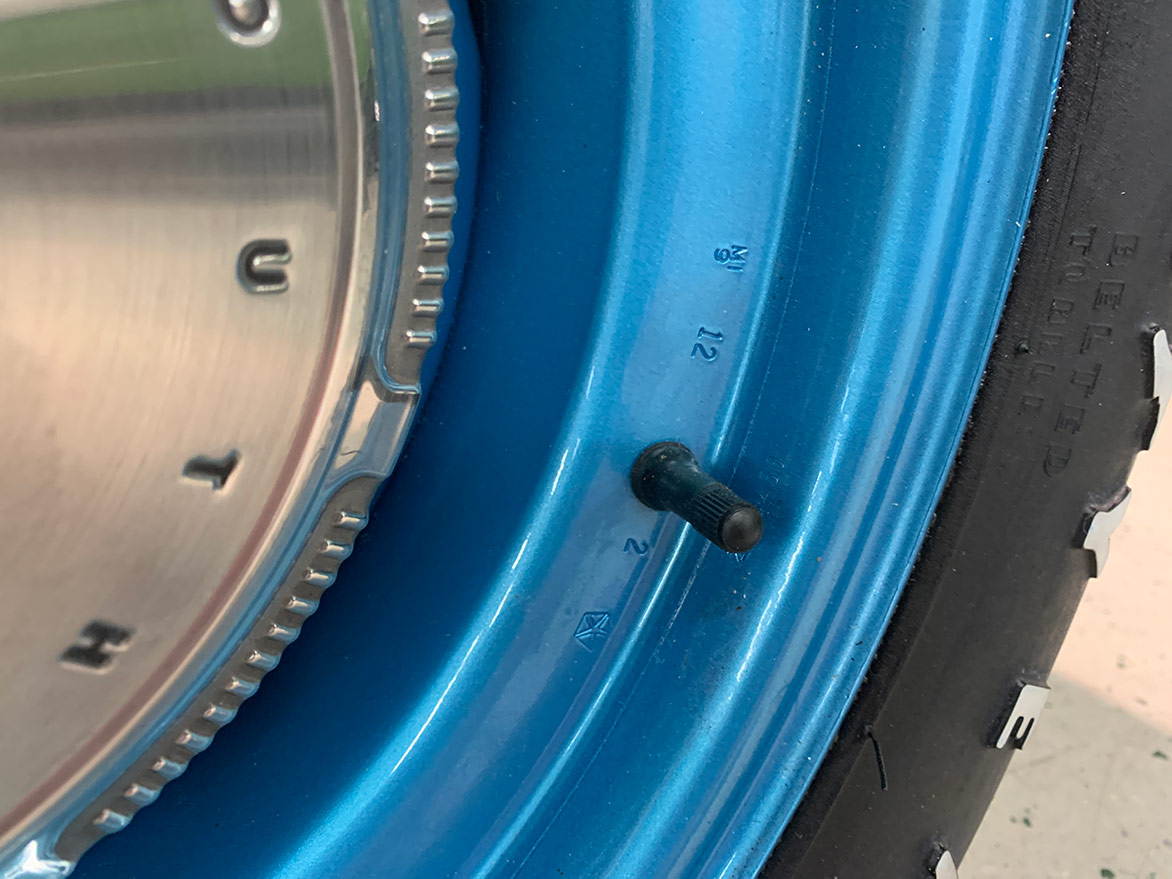 It's very clear why Joe Jordan took his Road Runner to Dave Belcarz for the update and refresh. The level of detail Belcarz went to is amazing. "Some of the major items that needed attention were: The upper door frames, dash frame and interior trim as they were all various incorrect shades and finishes of blue. The car had 4 wheel drum brakes on it when it was delivered to me, so I had to locate all of the correct power disc brakes," said Belcarz. "The wheels and hub caps were incorrect later model pieces so we located the correct "450" part number wheels, along with 'PLYMOUTH DIVISION' hub caps."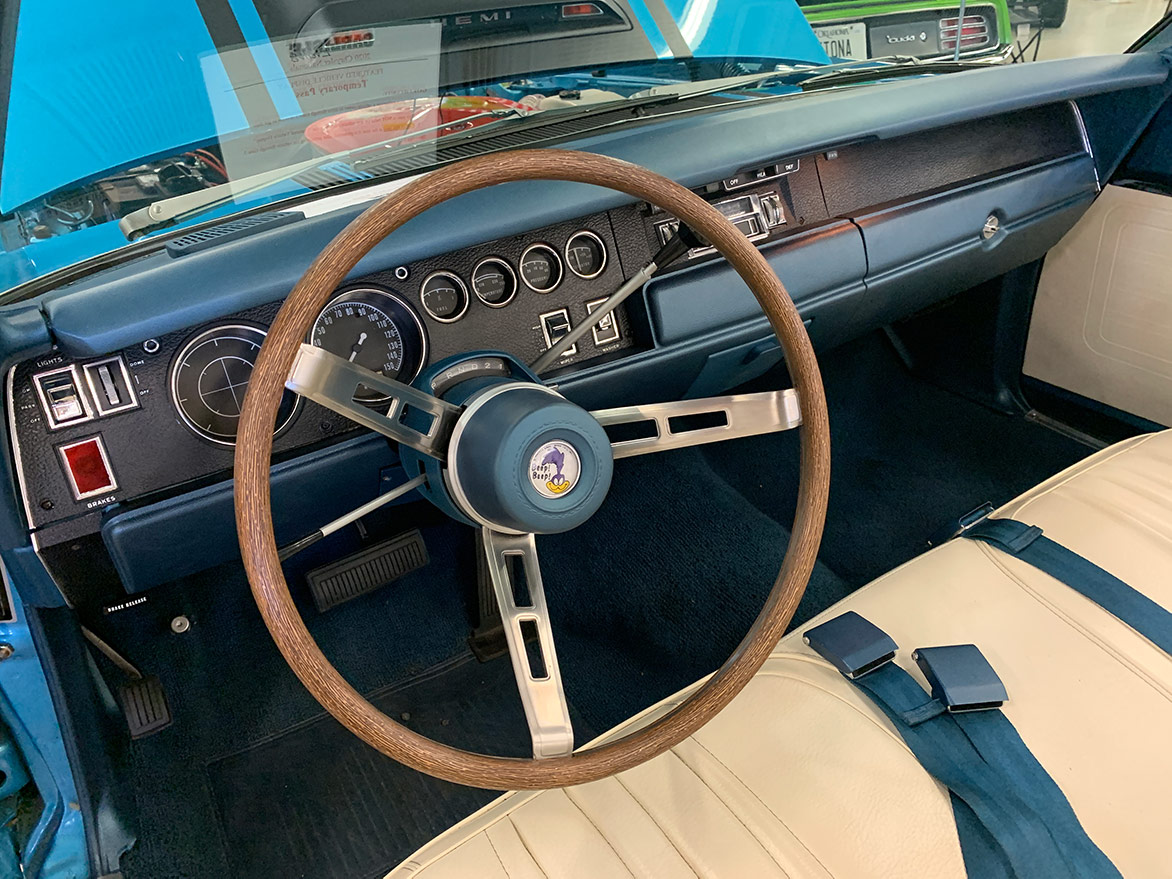 On the interior and under the hood, Belcarz applied his skills and knowledge, while using his parts connections to make improvements to the Road Runner. "A correctly restored woodgrain sport steering wheel was added since the previous owner installed an incorrect Belvedere base model steering wheel. The carburetors were mis-matched, and neither were the correct date. We sourced an original set and had them correctly rebuilt and restored. Beyond that, a lot of components were rebuilt and restored to their correct O.E. style finishes. Having done a number of full restorations and partial restorations, you know what works and more importantly, what doesn't. On a project like this, some parts were stripped to bare metal, treated to an RPM coating and reinstalled with correctly re-plated hardware. I even used real cosmoline on the lower control arms. On a driver quality car, I usually will use a paint that resembles cosmoline, but this one had to be right," exclaimed Belcarz.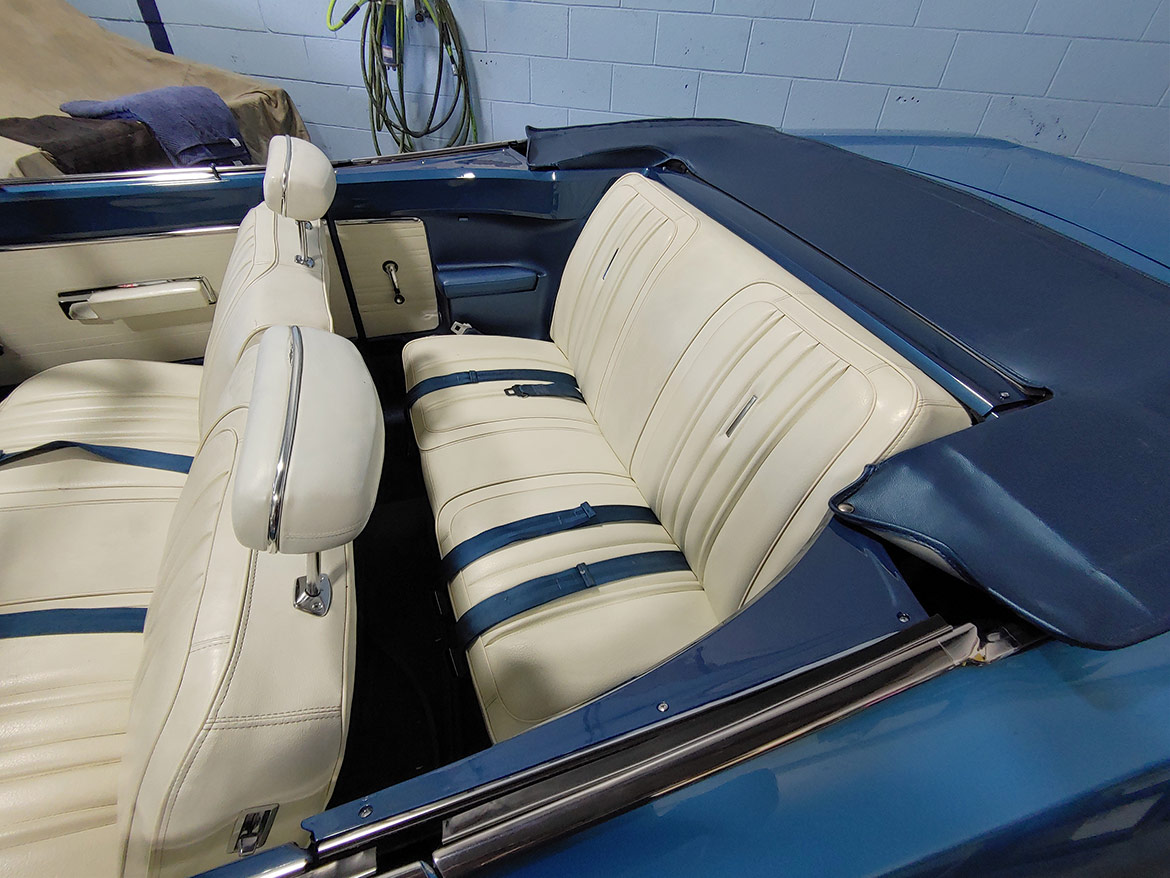 With the clock ticking to have the Road Runner Convertible done in time for the Carlisle Chrysler Nationals, Dave Belcarz relied on many folks and parts suppliers in the Mopar community that came through for him. "I couldn't have completed this project in such a short amount of time if it wasn't for the help and support of many people such as my dad and brother, Dave Dudek, and of course Tony Moore," said a very thankful Belcarz. He also used group of dedicated Mopar® Parts suppliers that stock many of the hard-to-find items to keep these cars that are a half century old looking sharp and running fast. "It's nice to have dedicated sources like Roseville Moparts, Mancini Racing, Inline tube, Harms Auto, Tony's Parts, and many others. I rely on these guys for their knowledgeable sales and tech people who understand the Chrysler hobby."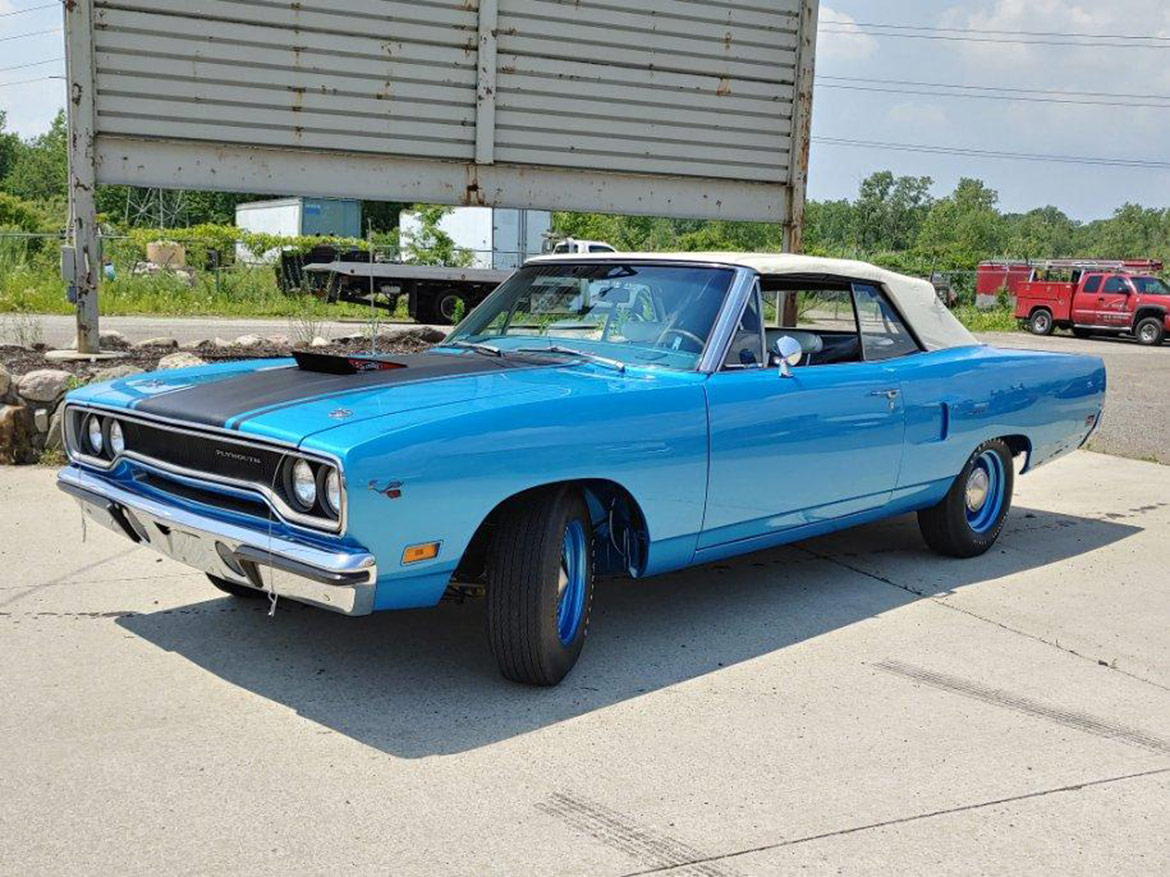 With the 1970 HEMI® Road Runner Convertible project complete and back with its very happy owner, Dave Belcarz is ready to tackle his next endeavor; a partial restoration of a 1968 Dodge Charger R/T. With no signs of slowing down, this Mopar millennial will be busy putting his detailed touch on vintage muscle cars for decades to come. In the meantime, check out these pics showing the work Dave Belcarz put into this project!
Comments
Comments
Previous