Giveaway Challenger R/T
2 years ago Gallery Owners + Clubs
The owner stories we feature on DodgeGarage are all unique in so many different ways. No two are alike, and the history around each car can provide enough material to fuel a miniseries on Netflix. Last month, while attending the Carlisle Chrysler Nationals, we came upon a 1970 Dodge Challenger R/T with such an inimitable background. We literally stopped in our tracks for a closer look, and while it might appear as just another highly optioned 1970 Challenger R/T emblazoned in HEMI® Orange, it was the background of the original owner that made it so much cooler.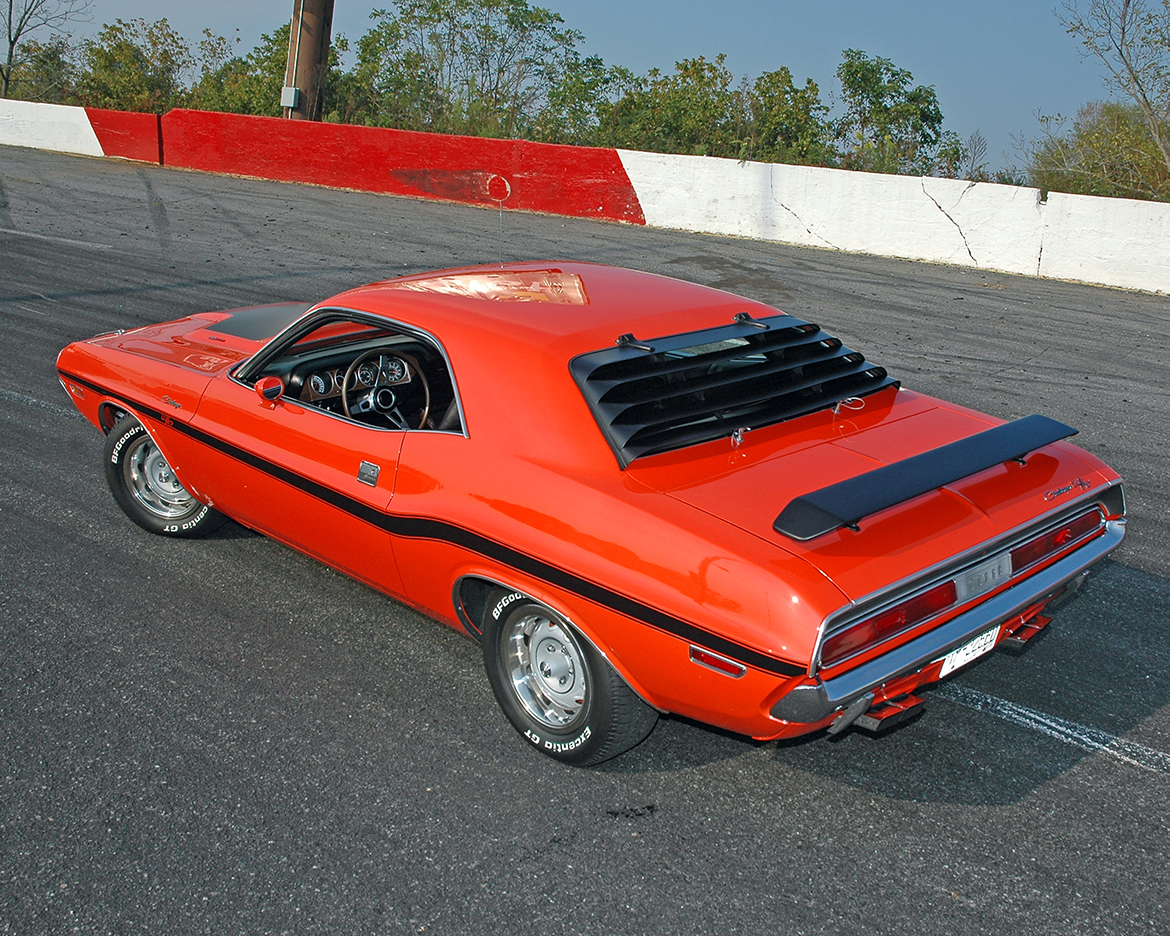 To learn more, we need to go back to 1969 when Dodge, Plymouth, Ford and Mercury were engaged in an all-out war for NASCAR supremacy. One of the leading drivers campaigning under the Dodge Scat Pack umbrella that year was Bobby Isaac. This tough charging, no-nonsense racer who hailed from North Carolina drove the number 71 Charger Daytona for Nord Krauskopf, who owned the K&K Insurance company. With crew chief Harry Hyde calling the shots on the engine and chassis setup, Isaac was a force to be reckoned with on the NASCAR super speedways. Isaac's HEMI engine-powered wing wonder hugged the high-banks and flew past the competition at speeds averaging anywhere from 144 to 180 mph. Coming off a great season that saw Isaac claim 17 wins and 20 poles, he wrapped up 1969 by winning the inaugural Texas 500 on December 7 of that year. For his efforts and stellar performance that catapulted the Charger Daytona to even more legendary status, the Dodge PR department, led by Frank Wylie and Moon Mullins, awarded Bobby Isaac with a free, brand-new Challenger R/T that he could order however he liked. Being the consummate racer known for drafting the competition, Isaac ordered his Challenger R/T with a 383 Magnum V8, four-speed transmission. But he also wanted creature comforts such as A/C, power steering and brakes, power windows, leather seats, deluxe seat belts, rear window Louvers, rear decklid spoiler, black longitudinal R/T tape stripe and an eight-track tape player. Isaac also ordered his new Challenger R/T in HEMI Orange, same color as his Charger Daytona racecar.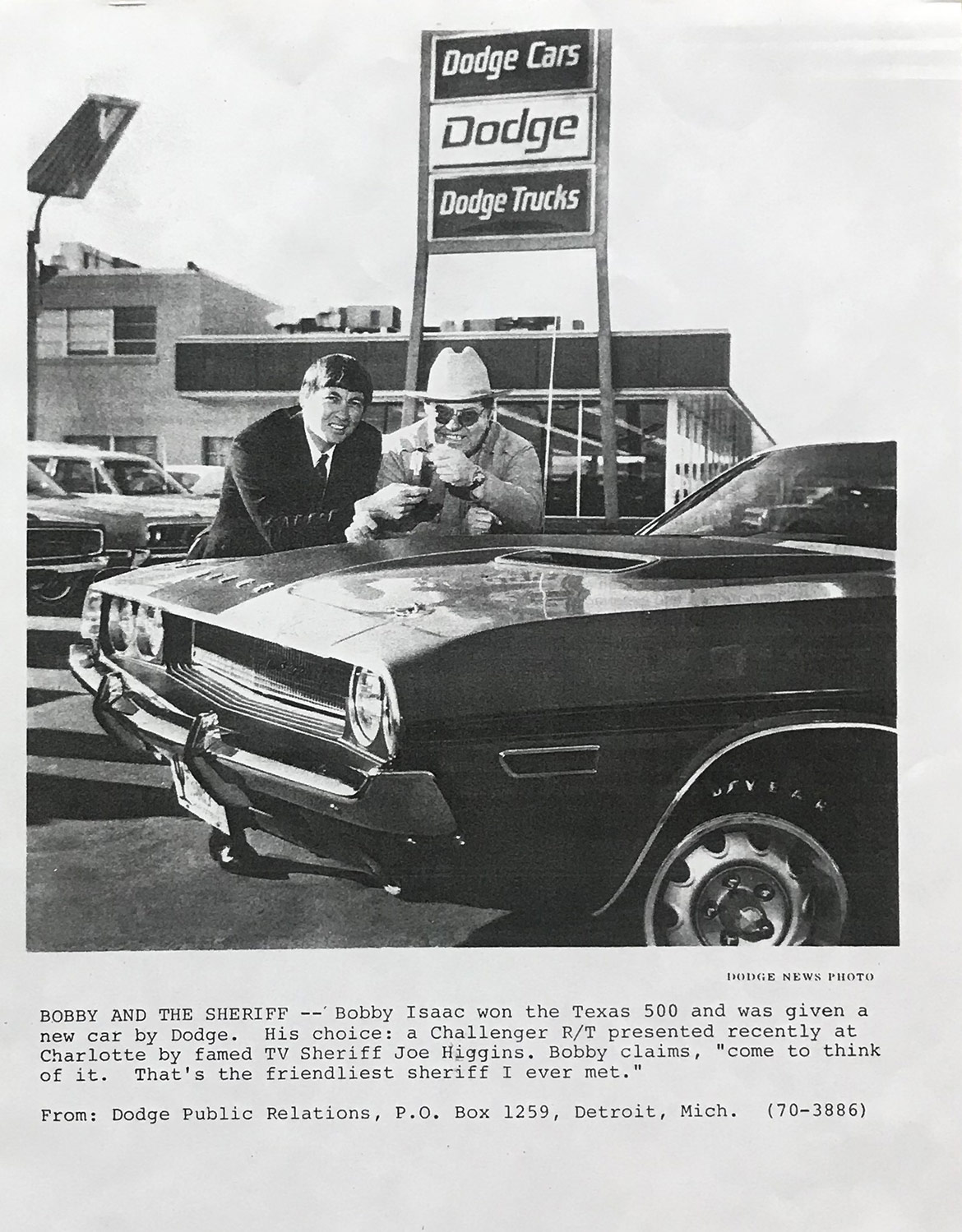 It was March of 1970 when Isaac took delivery of his Challenger R/T at Dodge City in Charlotte, North Carolina. The Dodge PR Department arranged to have their famed TV spokesman, Sheriff Joe Higgins, onsite to present the keys to Isaac during a photo opportunity. Soon after, Isaac drove the Challenger R/T around Hickory, North Carolina, when he wasn't setting records and competing on NASCAR tracks all over the country. By August of 1971, Isaac transferred the title of the Challenger R/T to his 17-year-old son Randy, who drove it to high school. Unfortunately, Randy constantly hammered on the Challenger R/T and ended up driving it through a fence and into a ditch. By May of 1974, the Challenger got sold and passed around to different owners and it eventually ended up in a junkyard. Ironically, throughout all this abuse, the Challenger R/T always lived within 20 miles of Hickory Speedway in North Carolina, where Bobby Isaac ran his first and last race before he passed away in 1977.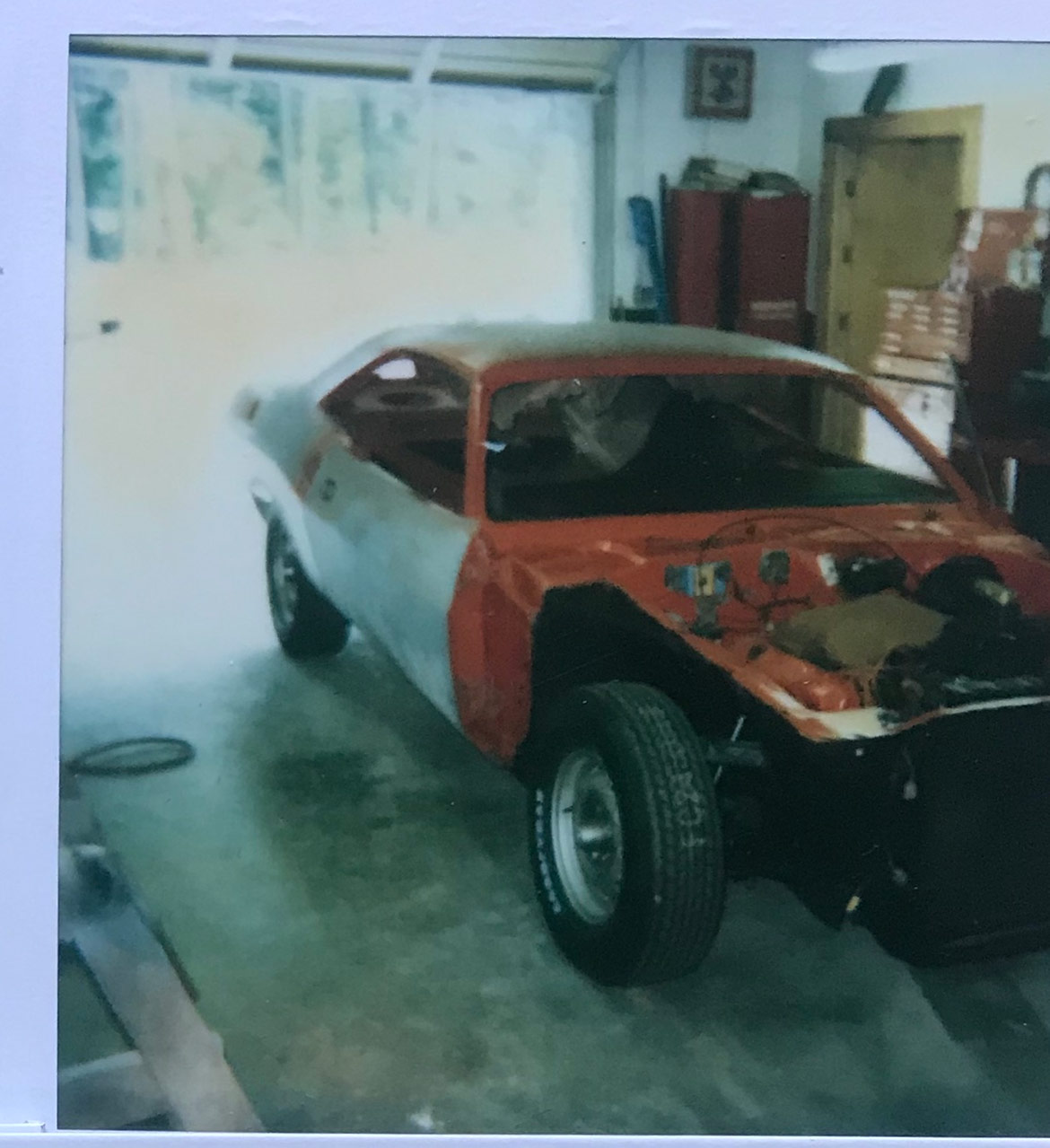 By the 1980s, the poor Challenger R/T once owned by NASCAR champ Bobby Isaac was looking rough. Remember, Isaac was a NASCAR superstar and even set 28 world speed records at the Bonneville Salt Flats; many still stand today. Petty might have been Plymouth's star, but it was Isaac that made Dodge such a huge force in NASCAR. Luckily, it was the keen eye of longtime Mopar® drag racer Dwight Arrowood that saved Isaac's Challenger. Arrowood knew the history of this Challenger R/T, bought it, and began the restoration process in the late 1980s. He painted the unique Challenger with Imron® paint and painstakingly tried to make the car as correct as possible. It was interesting that despite the Challenger being wrecked and spending time in a salvage yard, it still retained the rare and highly sought-after rear window louvers and trunk spoiler. Those two original factory parts go for thousands of dollars among enthusiast collectors but somehow, they avoided being pried off by dubious part dealers scouring boneyards at night.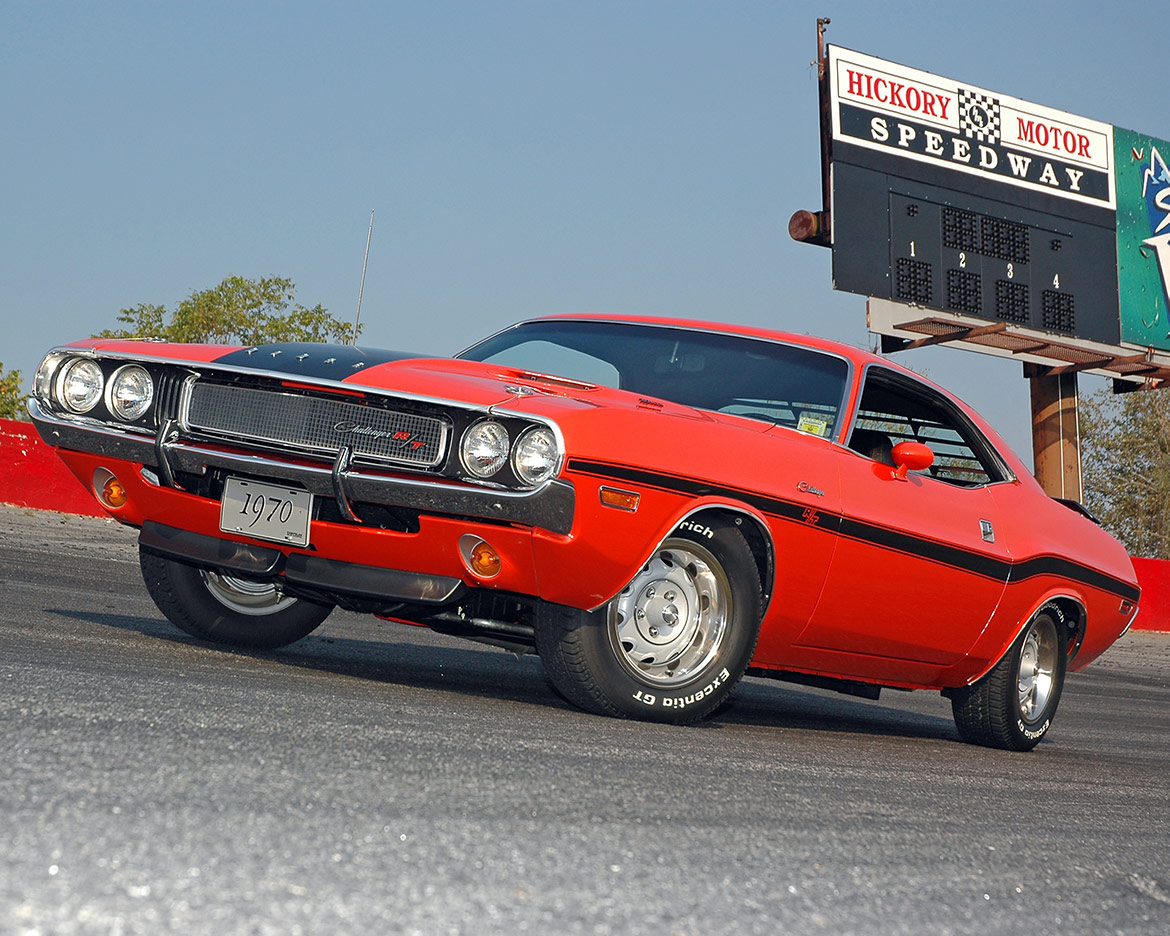 Eventually, Arrowood sold the Challenger R/T to a friend in the early '90s who had it for 18 years, but it was the persistence of the car's current owner, Dale Mathews, that preserved this rare piece of Dodge history. Mathews made some minor corrections, making the Challenger R/T more faithful to its original configuration, as ordered by Isaac. "The car was restored in the late '80s and the paint is about 33 years old. When it was restored then, the damaged doors were changed to manual crank window doors and the leather interior was replaced with vinyl. I recently corrected it so now it has the power windows and leather seats as it was built with," said Mathews.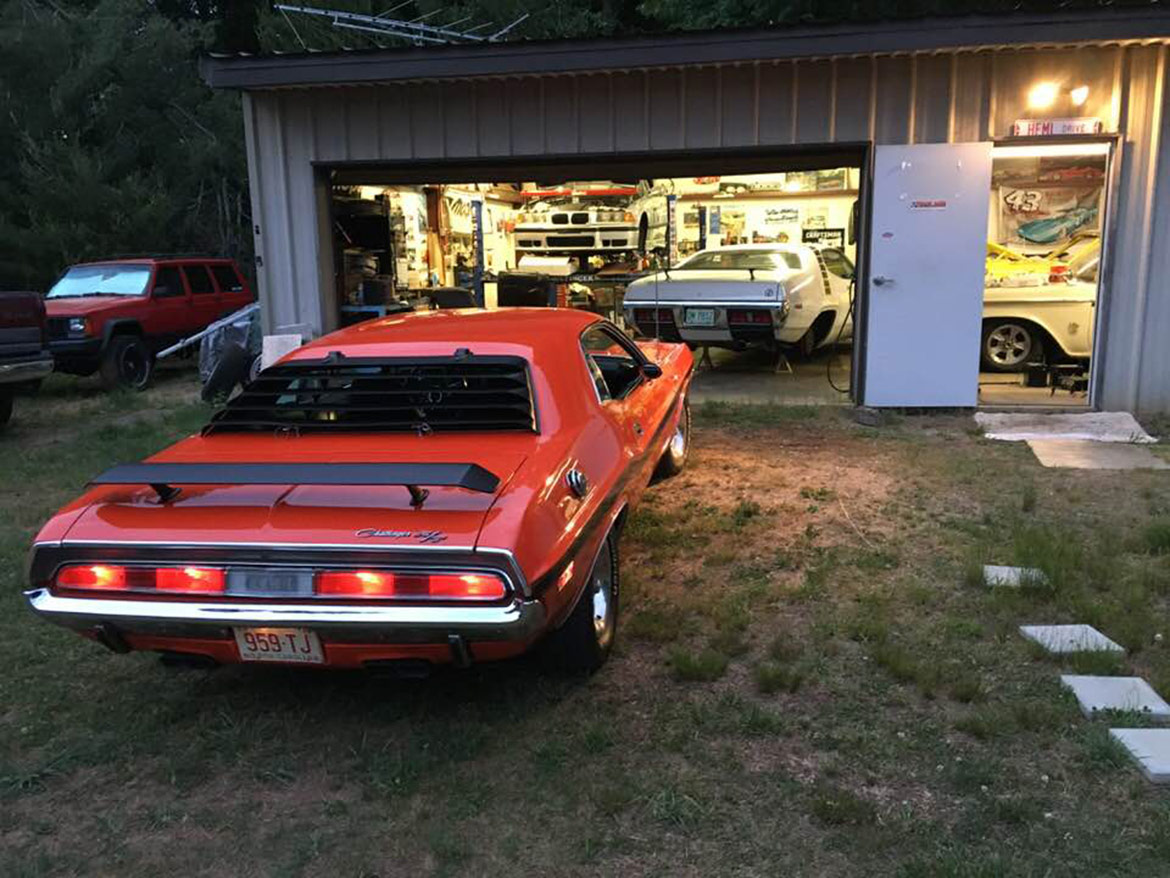 Restoring and collecting rare and vintage Mopar vehicles is nothing new for this 59-year-old mechanical engineer from Lenoir, North Carolina. Mathews happens to also live in the same part of the Carolinas where Isaac drove his prized Challenger back in the day. "I still own a 1970 Plymouth Superbird with a 440 Six Barrel engine that I've had for 28 years now. I just recently restored it and I've been driving the big Superbird as much as possible," smiled Mathews. "I also have a 1971 Plymouth Road Runner that I've owned for 27 years. It's a nice companion for my 1971 Plymouth GTX," laughed Mathews. Not one to sell his cool rides, Mathews has also diversified his collection over the years. "There's also some odd stuff in my garage, like a 1961 Plymouth Suburban station wagon that has a 413 long ram big block. A 1970 Plymouth HEMI Road Runner four-speed pre-production 'pilot car', and my 1973 Dodge Challenger that I've had for 41 years. My father bought it for me in 1979 and it's a one owner car with 28,000 miles that has the original Goodyear Polyglas tires that are still holding air. I've bought and sold a lot of Mopars to be able to get the ones I have today. I've also drugged a lot of vintage Dodge and Plymouth muscle cars out of people's backyards through the years," reminisced Mathews.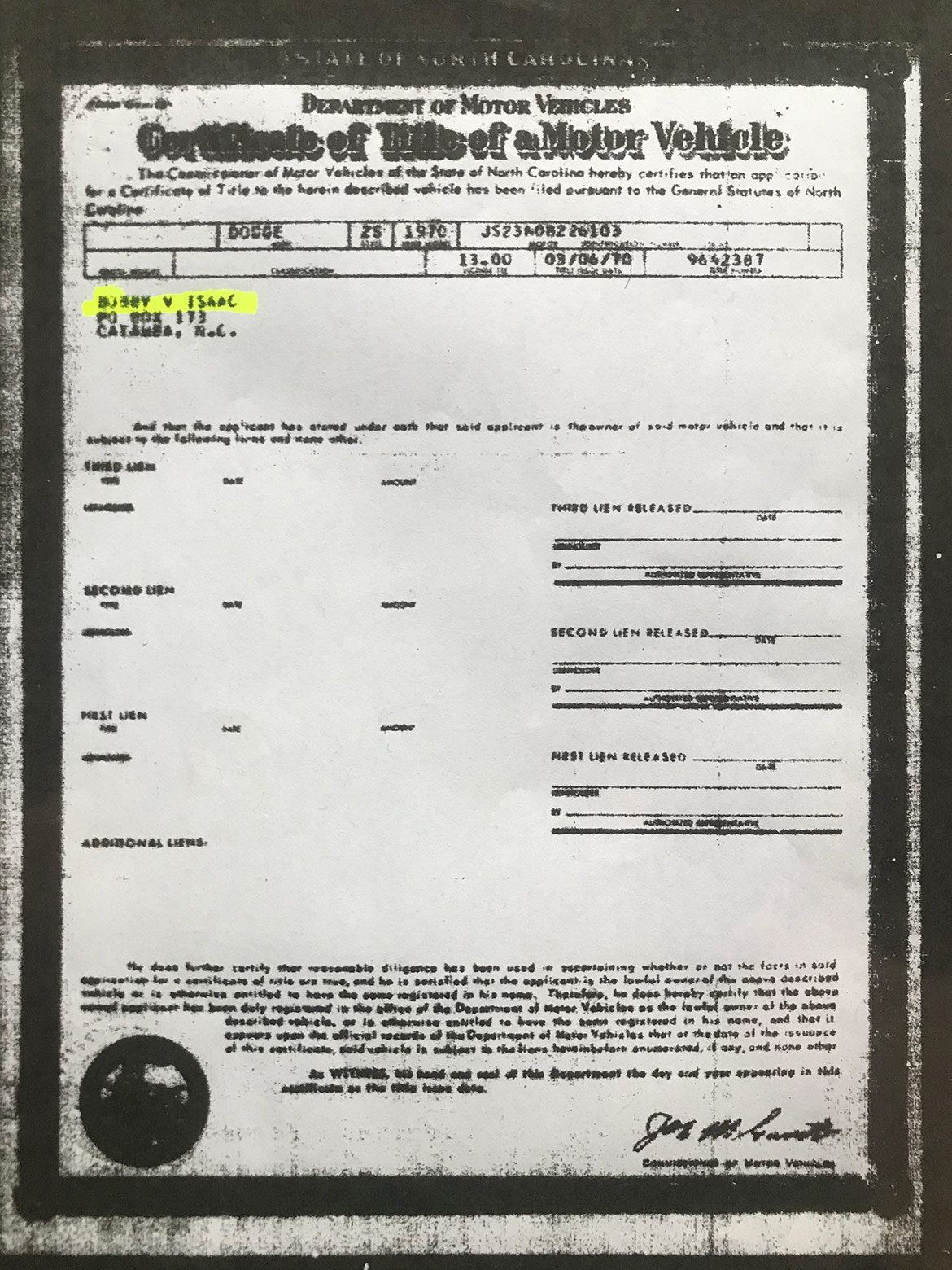 When it came to confirming the special background on this Challenger R/T, Mathews put his detective hat on and went about obtaining all the paperwork to remove any doubt from those irritating naysayers one runs into at car shows and on the internet. "Luckily, the North Carolina DMV records are accessible and very detailed, and they have on record and sent me copies of the original window sticker, Manufacturer's Statement of Origin dated January 12, 1970, the original application for title by Bobby Isaac on February 7, 1970, and the transfer of title to Isaac's son Randy on 8-26-1971," said Mathews. Not only did Mathews track down these rare documents, he also has the Challenger's window sticker that shows the codes such as "Y28 Company Car, Y21 Special Header," as well as a special line saying, "BOBBY ISAAC NASCAR GIVEAWAY CAR." The window sticker is even signed by the lady at the dealership that delivered the Challenger R/T to Isaac confirming the options.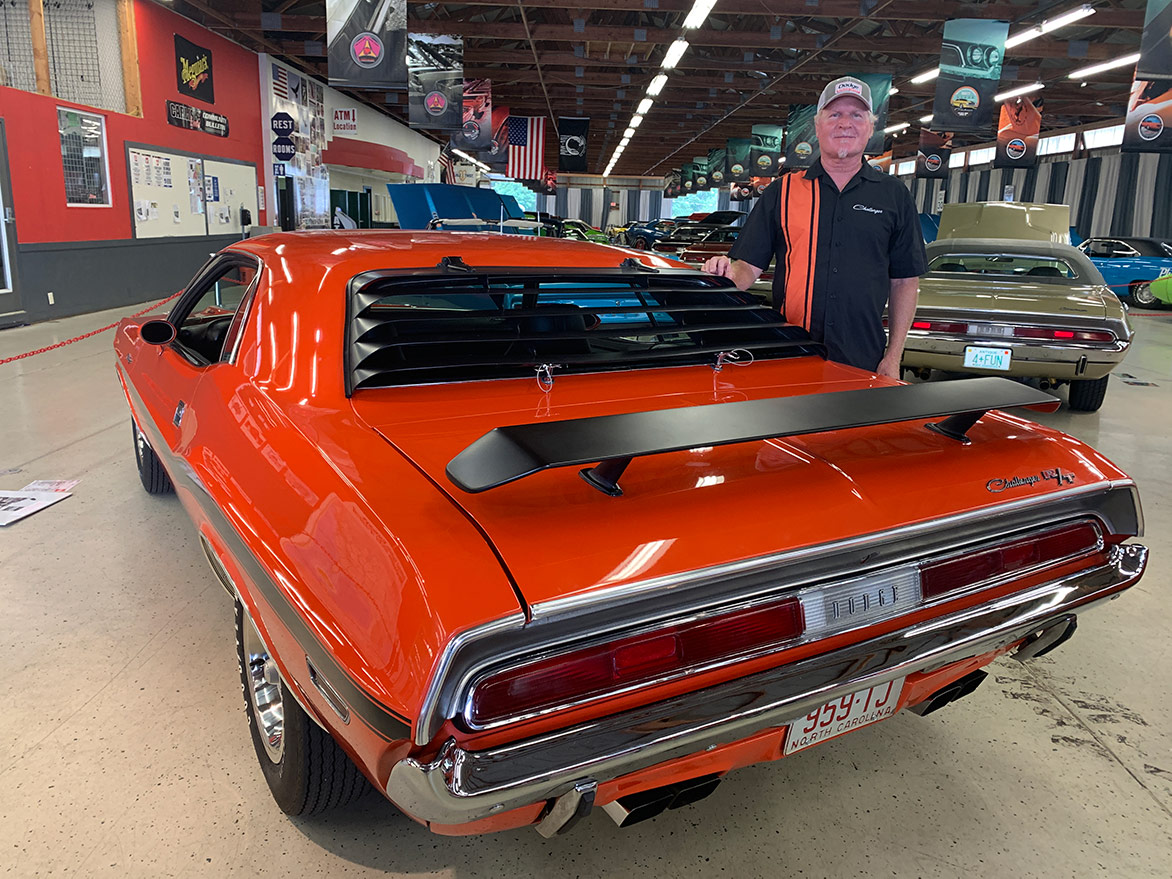 Not one to just stare at his collection of rare and valuable Mopar vehicles, Mathews makes it a point to drive and show his cars at any opportunity. "I was just at Carlisle Chrysler Nationals with the Challenger R/T for the 50th reunion of the 1970 Dodge and Plymouth model year," said Mathews. "The Isaac Challenger R/T is also scheduled to be at Muscle Car and Corvette Nationals in November." One of Mathews' fondest car show memories was five years ago at the Wellborn Wing Car reunion where his Challenger R/T was reunited with the Bobby Isaac race Daytona.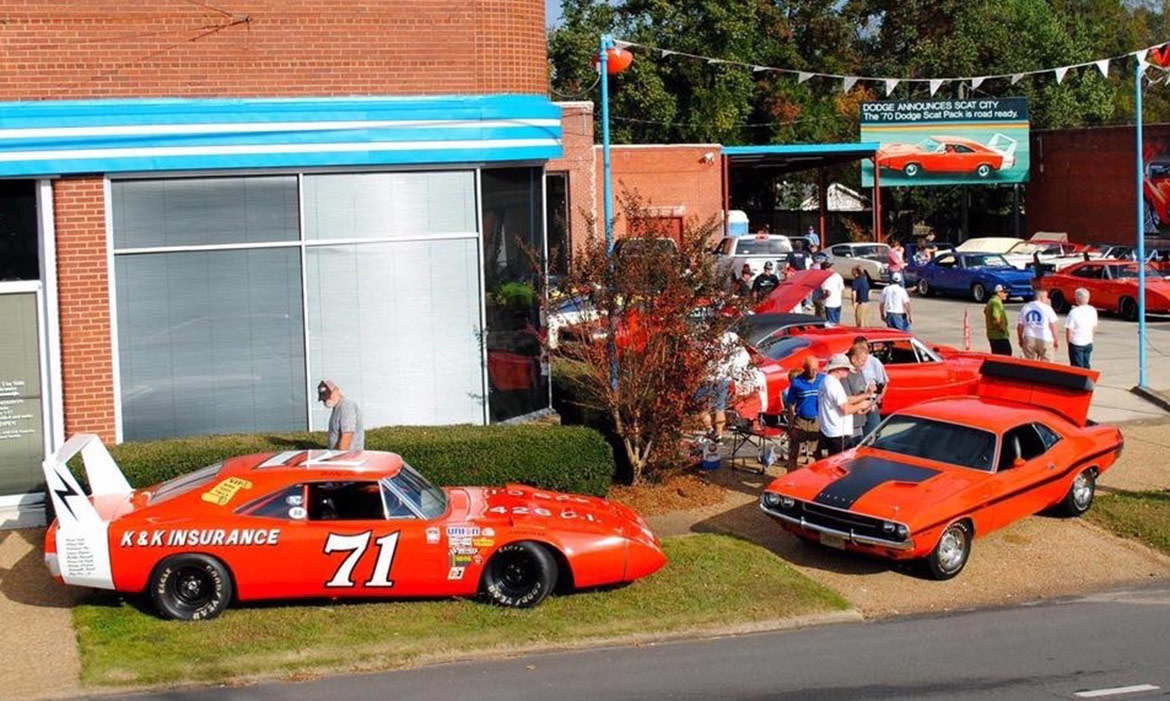 But it's more than car shows that Mathews enjoys; he just wants to drive his cars. He's got the right attitude when it comes to what these machines are all about. Living 10 miles from the nearest town, Mathews uses many of his vintage Mopar muscle cars to run errands. Bobby Isaac may have driven his Challenger R/T for only a year, but Mathews plans on racking up as many miles as he can. According to Mathews, "I just tell fellow enthusiasts to drive them as much as possible and get it out for others to enjoy."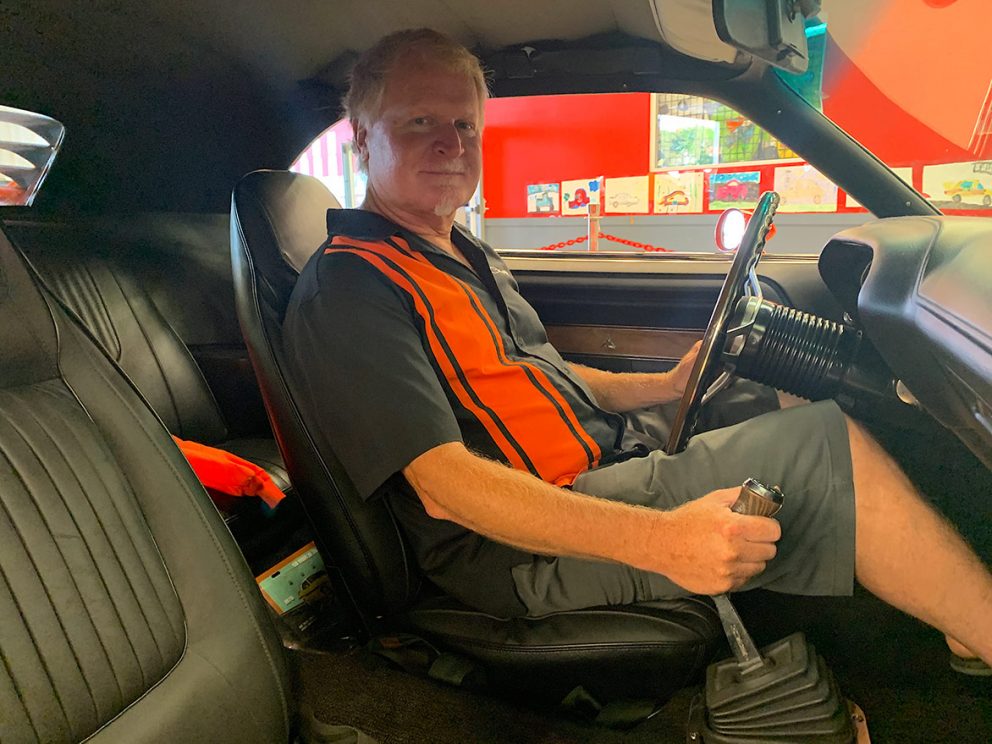 Check out these additional images of Dale Mathews' awesome 1970 Challenger R/T, it might just motivate you.
Comments
Comments