Powershifting Through the Years with Mopar® Living Legend Herb McCandless – Part 2
2 years ago Gallery Heritage
Mopar® Living Legends who thrashed on brand-new HEMI® engine-powered racecars are getting fewer in numbers. They went to war not on some muddy battlefield strewn with barbed wire and shell craters, but on drag strips all across the USA. Like soldiers getting ready to attack an enemy pillbox, these factory-backed racers felt the same intensity and pressure on race day as they nervously paced up and down the staging lanes sizing up their competition. Herb McCandless is one of the few remaining Mopar Living Legends.
He's a veteran of the brutal factory Super Stock and Pro Stock wars when "Win on Sunday, Sell on Monday" was the credo. In Part One of Powershifting Through the Years, Herb took us from his humble roots at the dawn of the sixties and up to late 1969. We was a hired gun for some of the biggest Chrysler-backed drag racing teams. In Part Two, we'll get into the 1970s, so buckle up and get ready to hear Herb's account of dumping the clutch and banging gears.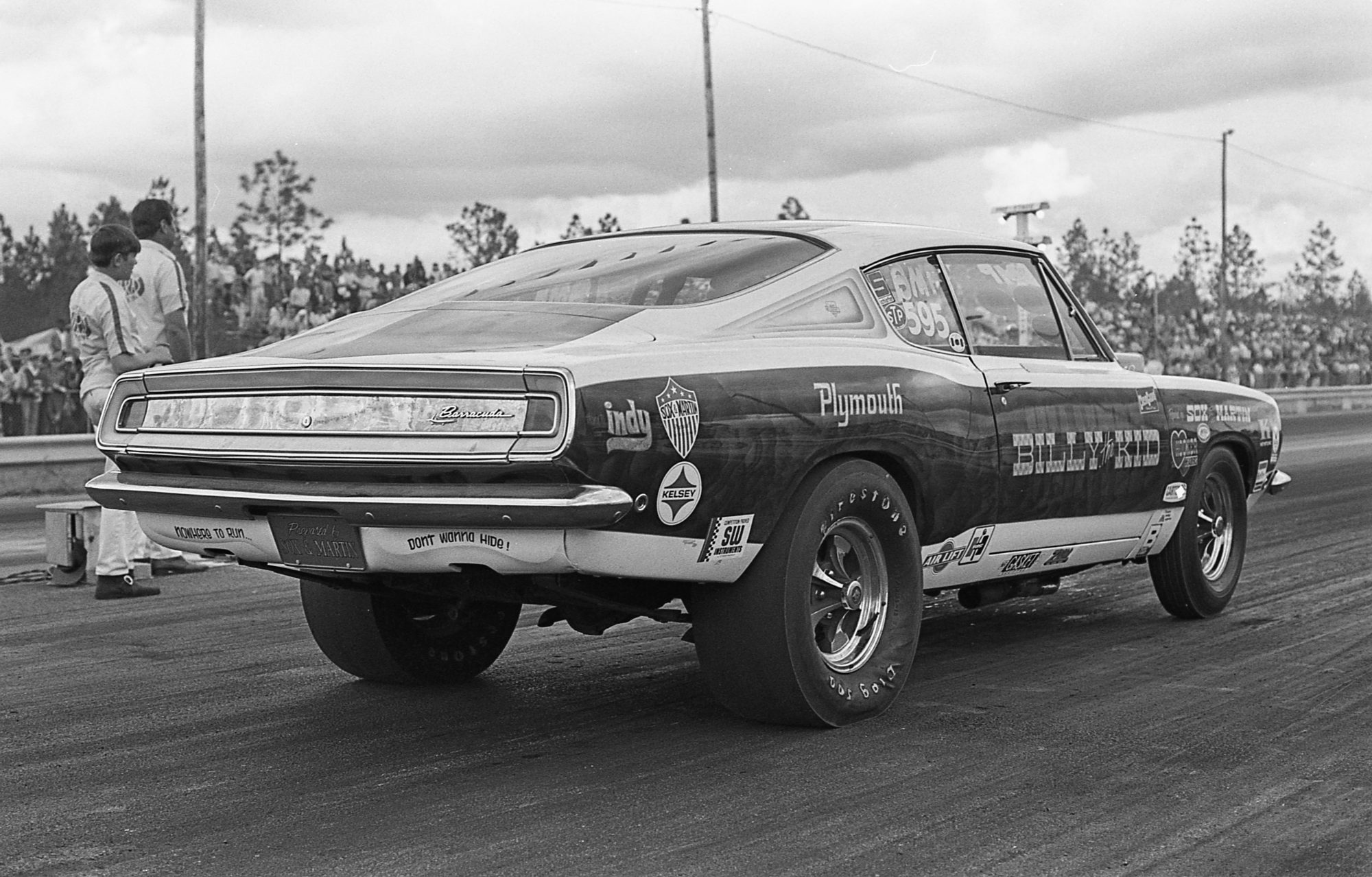 Early 1970 began like the prior year for Herb, he was recruited for his awesome driving skills and uncanny ability in knowing how to make the racecar work as a whole and not fight itself down the strip. With the introduction of the NHRA's new heads-up Pro Stock class, Herb loaded up his HEMI Dart and headed to Gainesville, Florida, for the inaugural NHRA Gatornationals. He entered his trusty Dodge in Pro Stock, but was also recruited to run Billy Stepp's 1968 HEMI Barracuda in Street Eliminator at the previous race, the NHRA Winternationals. With the urging of Chrysler race boss Dick Maxwell, McCandless and Stepp joined forces, albeit for only two events.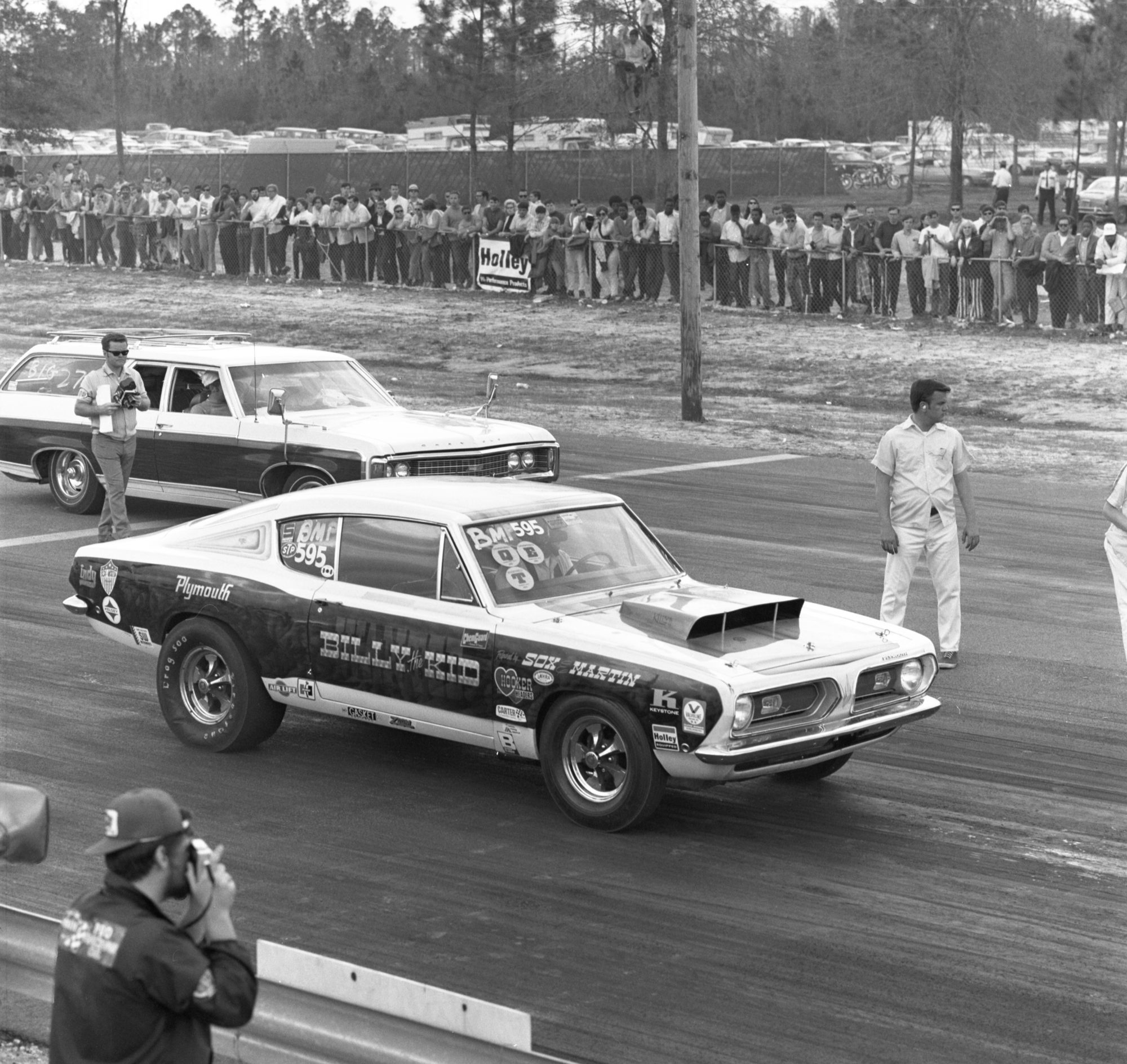 "I was at the AHRA Winternationals at Beeline Dragway where I wrecked my '68 HEMI Dart. Billy Stepp's car had blown a motor right before the NHRA Winternationals in Pomona. Maxwell came to me and asked if I'd put my motor in Stepp's Barracuda and drive it. We ran A/Modified Production and were 200-pounds too heavy and got killed in the class," said Herb. "I asked Billy if I could take the car back to Memphis with me and set it up to run B/Modified Production. After thrashing for a few weeks on both cars, I headed to Gainesville for the Gatornationals. I had a spare HEMI engine so I threw it in my '68 Dart and enter it in Pro Stock and Stepp's '68 Barracuda in B/Modified Production." Once again, Herb was a hired gun, but this time he would be wheeling two very fast and powerful A-bodies at one of the biggest NHRA events of 1970.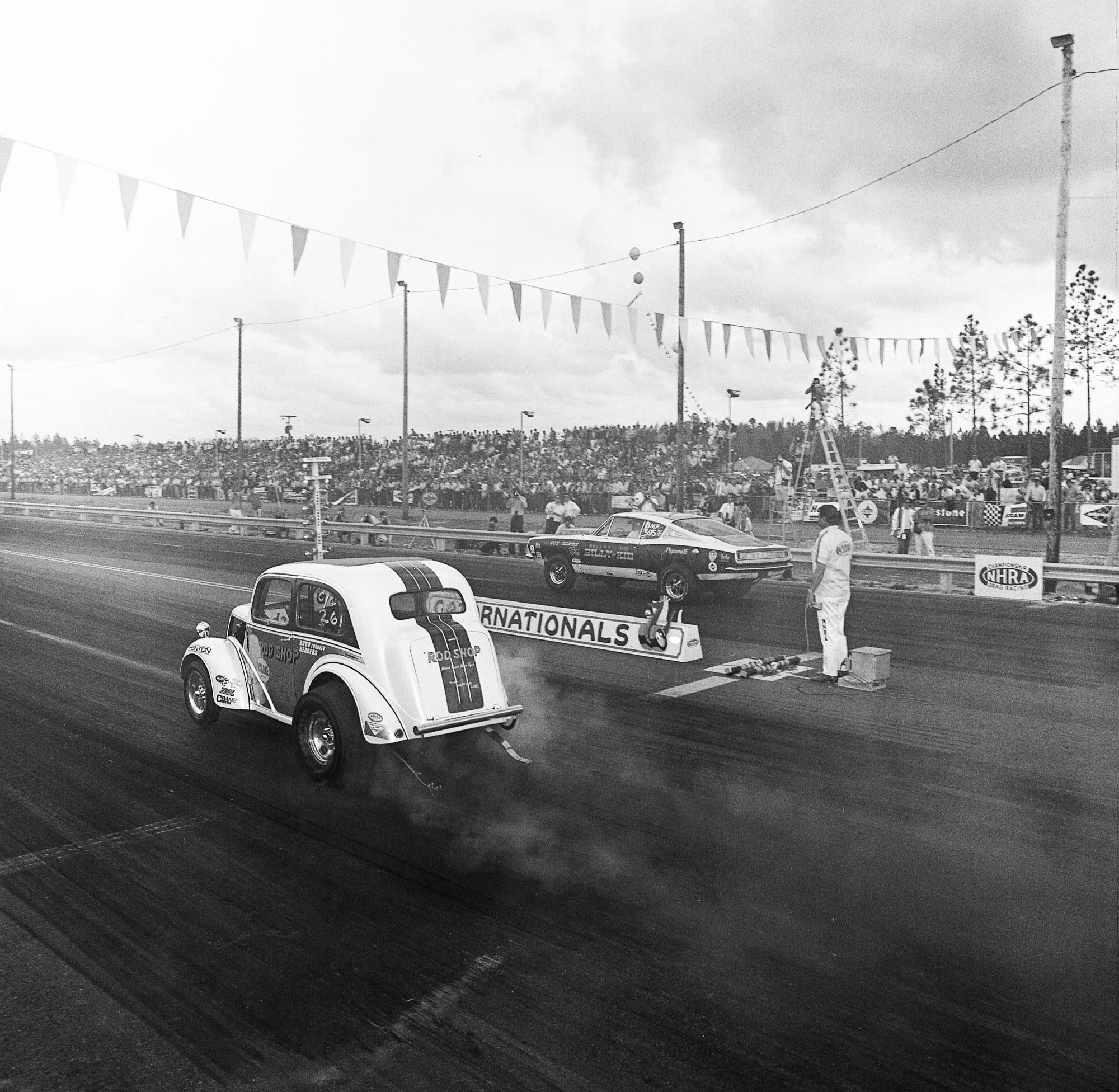 For most drivers, having to race two cars in different classes can be stressful, but for Herb, it was just another race weekend. "I went a few rounds in Pro Stock with my '68 HEMI Dart. Because of where I ended up on eliminations ladder, I had to face Ronnie (Sox) in round three or four. I was out in front, but Ronnie drove past at the finish line," reflected Herb. "I was running around like a wild man at that race trying to get back and forth between the two cars. You have to understand the situation; the Pro Stock staging lanes were behind the tower and Modified Production entries were pitted near the finish line. I swear I didn't take my helmet off all day and lived on a pit bike bouncing around from car to car," laughed Herb. "My good friend and fellow Mopar racer Danny Byrd was shuttling me all over the pits. The HEMI Barracuda I was driving for Stepp had the field covered in B/Modified Production. I won Modified Production and set the record in the class. I need to give a personal thanks here to Billy Stepp, through the grace of him and his family, we now have the Wally from that race. It means a lot to me and I'll always be thankful for that," reflected Herb.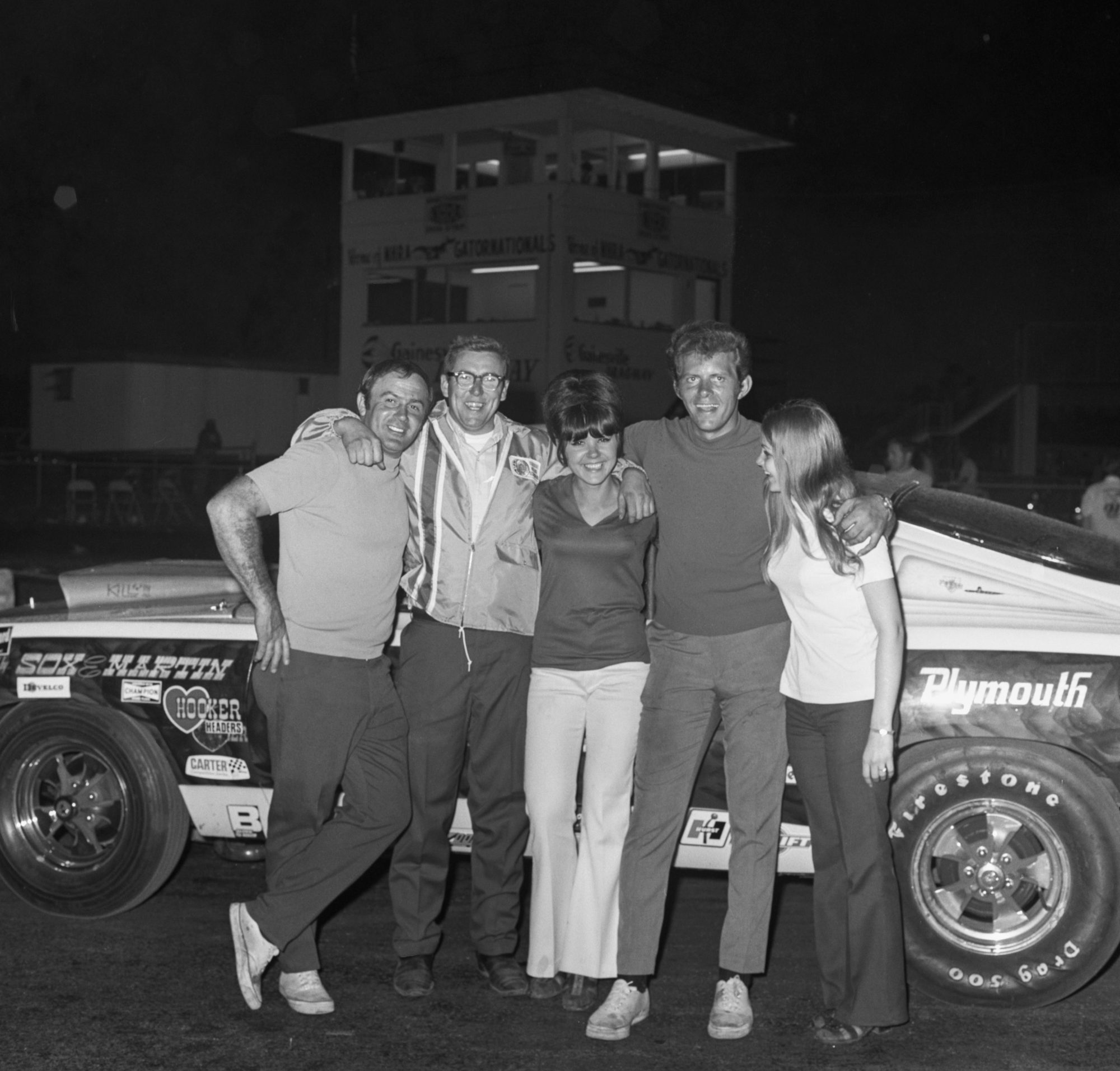 As 1970 trucked along, Herb would get a call from his former employer, Buddy Martin of Sox & Martin. Skilled drag racers that could cut a good light and row a four-speed without missing a gear were in high demand in the early 1970s. Loyalty lasted as long as the checks cashed. And with drivers hopping from team to team, an opening became available with Sox & Martin. "I had driven a few times for Buddy (Martin) in the past, so we were always friendly at the track. Don Carlton had originally been driving the second Sox & Martin Barracuda Pro Stocker, but left to race for Billy Stepp, so eventually Buddy offered me the job," said Herb. "They (Sox & Martin) had so many match racing opportunities, they couldn't keep up, even with two full-time racecars. At that time, Tom Hoover and Dick Maxwell were also going to war with Chevy and Ford. It wasn't just racing for them. They not only wanted to win, but dominate. They wanted to expand their primary Plymouth Pro Stock team, plus Hoover and Maxwell's mentality was to win at all costs and they did!"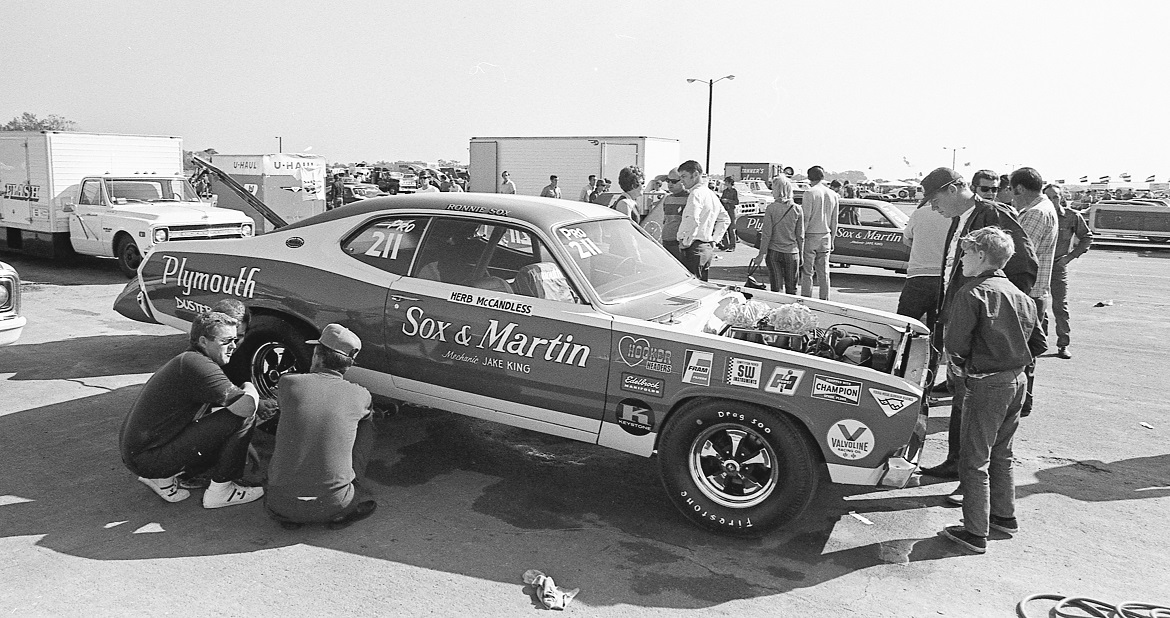 Back with Sox & Martin, Herb began racing the team's freshly built Pro Stock HEMI Plymouth Duster in early May of 1970, during a series of match race events against some pretty big names in drag racing, most notably Bill Jenkins. Here, McCandless handed the Chevy Superstar and his Rat-motored Camaro their first big defeat of 1970 in front of thousands of fans. It's a small victory for Herb, but it's a huge win emotionally for Sox & Martin. This was sweet revenge against Jenkins for putting Ronnie Sox on the trailer in both Pro Stock finals during the NHRA Winternationals and Gatornationals early that year.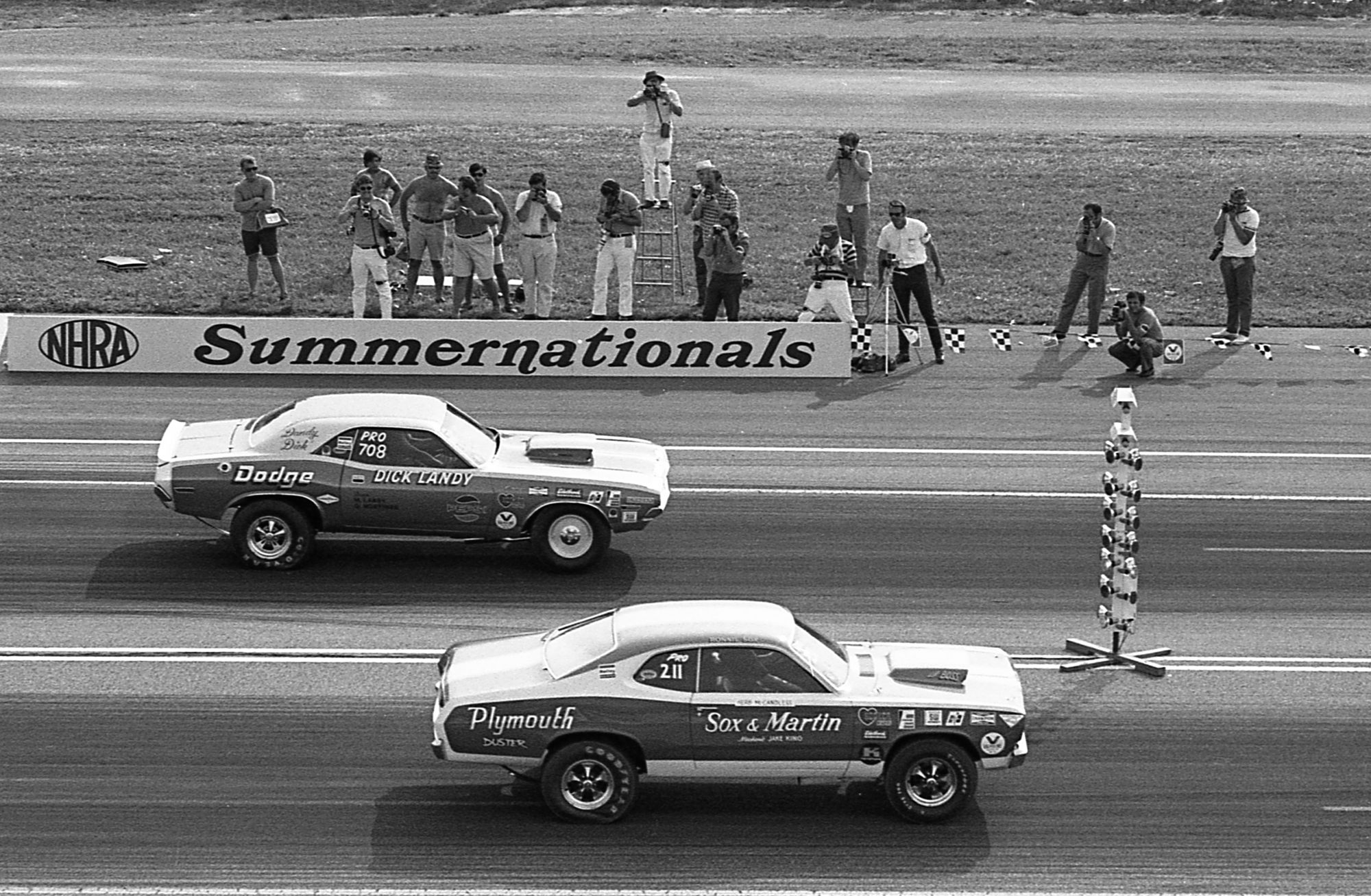 Herb would repeatedly prove himself an excellent driver and smart mechanic as he got back in the groove working with Sox & Martin. When he first got behind the wheel of the Pro Stock Duster, it would have a tendency to break transmissions. Since the car was already built in the Sox & Martin shop, team manager Buddy Martin knew the Duster had some bugs that needed to be worked out. Buddy Martin felt Herb would be the logical choice in sorting out the car while winning races. "I had never broken a transmission in my life! I tore the car apart in my garage next to my '68 HEMI Dart and eventually found out the six cylinder clutch linkage is different than a V8! I added 5/8 of an inch to the arm on the pedal and the world changed. Never broke the transmission again," exclaimed Herb.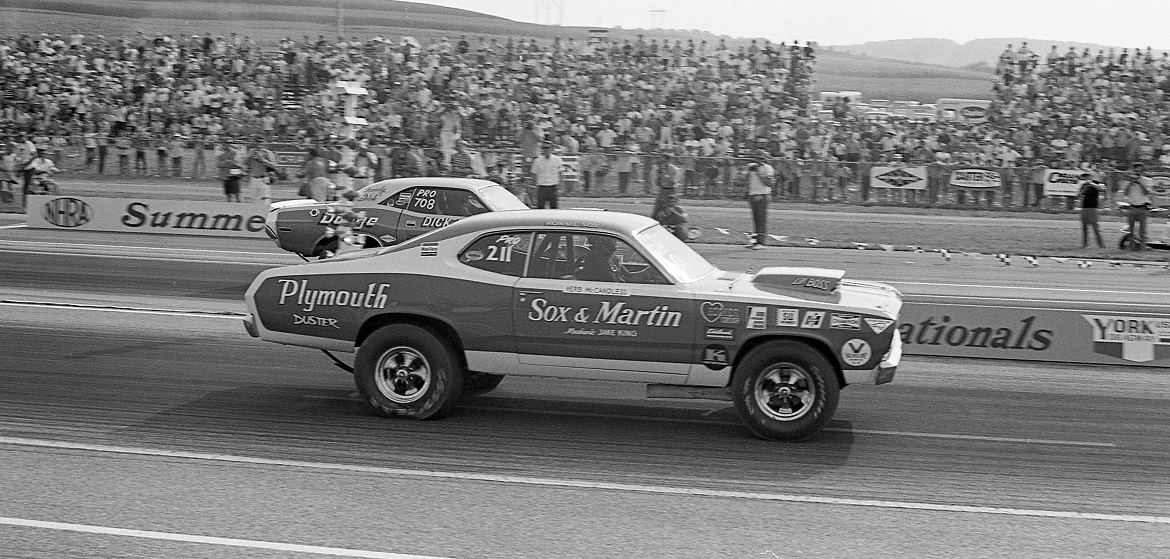 The next big event for Herb and the HEMI Duster came at York, Pennsylvania, during the 1970 NHRA Summernationals. He was once again racing the Sox & Martin HEMI Duster in Pro Stock. Marching through the field of over 30 entries, Herb would end up in the final against another former employer and fellow factory-backed Chrysler racer, Dick Landy. "I'll never forget that race," remembered Herb. "I red lit to Landy at the first NHRA national event in York. It was the finals and I had him covered, I should have my butt kicked even today for doing that. Had I not gone red, I would have won my first major event in Pro Stock. What really made me mad, Landy missed a gear on that run." While they may have acted like gunslingers at the OK Corral when they lined up next to each other, the racers were totally different to one another outside of their cars. As Herb pointed out, "All of the racers were like family. However, when the door shut, we were all fierce competitors. That's what people don't understand, we all helped each other, as it was in the best interest for all of us to put on a good show, especially when it came to match racing." This was even true with Herb's teammate and Plymouth's golden boy, Ronnie Sox. They ran each other many times, some were victories for Herb, and sometimes he headed back to the trailer and packed up.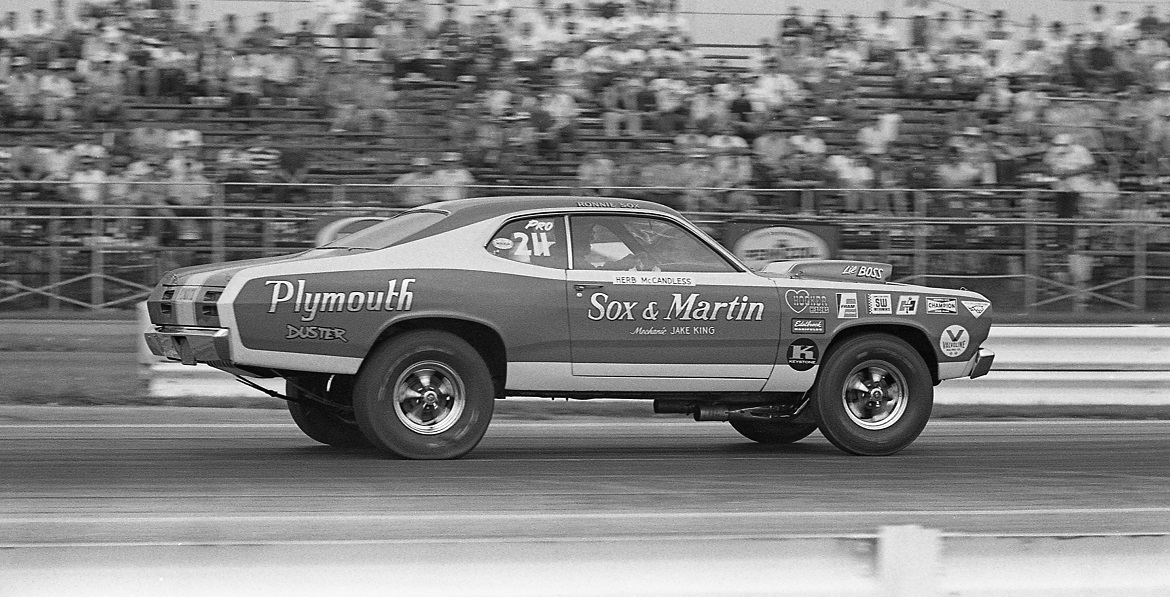 As the summer of 1970 started to wind down, the biggest and most prestigious drag race of the season was rapidly approaching, the NHRA US Nationals. This was to be a defining moment in Herb's already illustrious racing career. With one of the toughest Pro Stock fields competing at "The Big Go," all the racers were focused on making history. On race day, Herb power shifted his way through a fierce bunch of racers to meet up with another Chrysler-backed driver also wheeling a HEMI Duster, Arlen Vanke. "Arlen and I were great friends. He was an amazing guy and someone I truly respected," noted Herb "We were both nervous, it was the first time Pro Stock was part of the NHRA US Nationals. We were running not for the money, but the honor of being the first to ever win Pro Stock at the biggest race in the world. When we shut that door, we were in our comfort zone. We both ran our best runs of the weekend. I knew when I put it in high gear, I had it. We both ran identical 9.81 ETs but I left on him a little bit. That race changed my life forever!"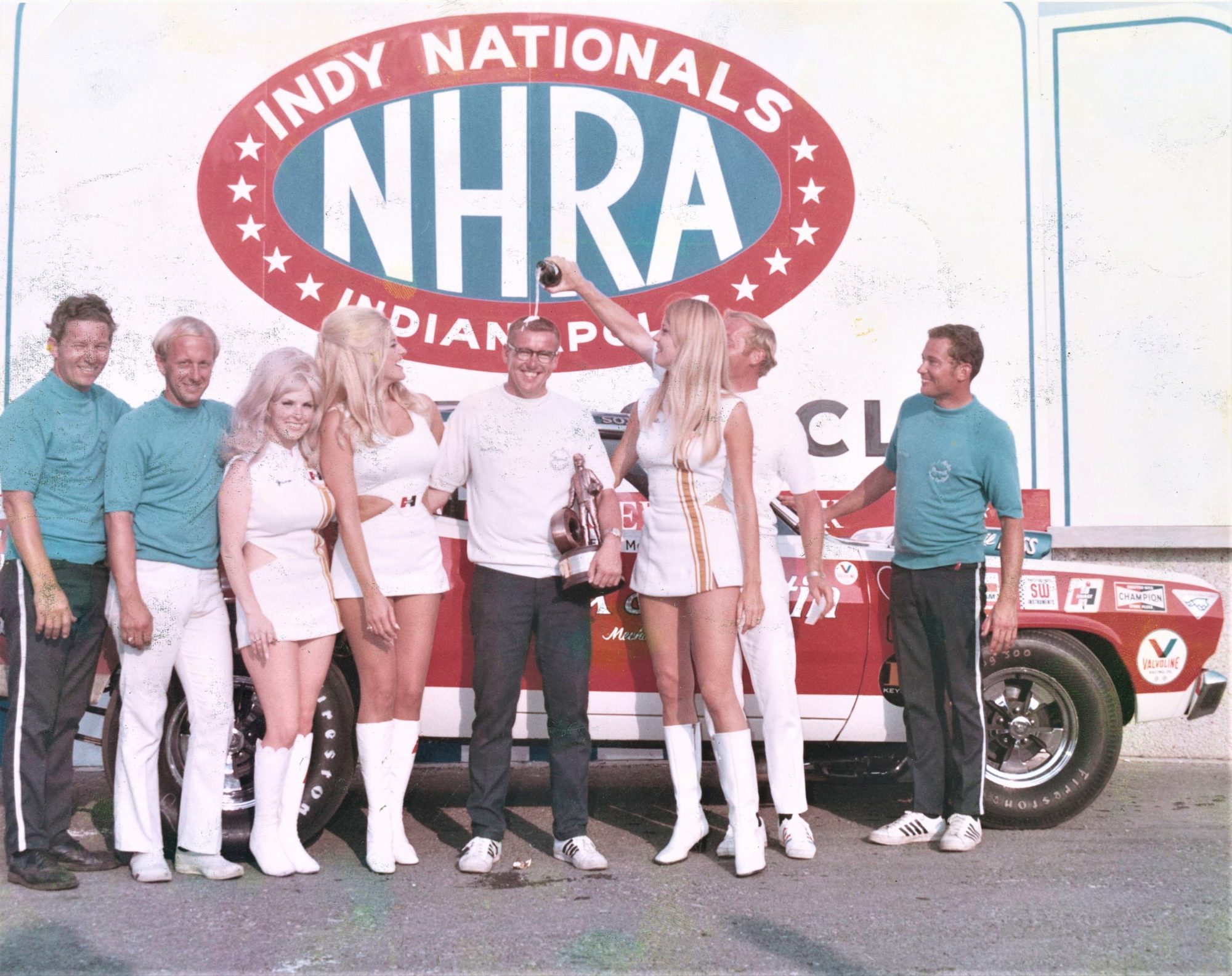 While the Wally, time slips and other 1970 NHRA US Nationals memories still survive with Herb, the HEMI Duster that got it done was unfortunately involved in a towing accident later that season and was too far gone to repair. "I didn't have a car and had to run whatever Sox & Martin had in the shop. I ended taking Ronnie (Sox's) '70 Barracuda and updating the grille and taillights to a 1971 model. It was tough and challenging running an older car against the new breed of Pro Stockers. Since Ronnie's new car was purpose-built and began life as a Body-In-White and was acid dipped, it was very trick. That car dominated everything during the '71 season."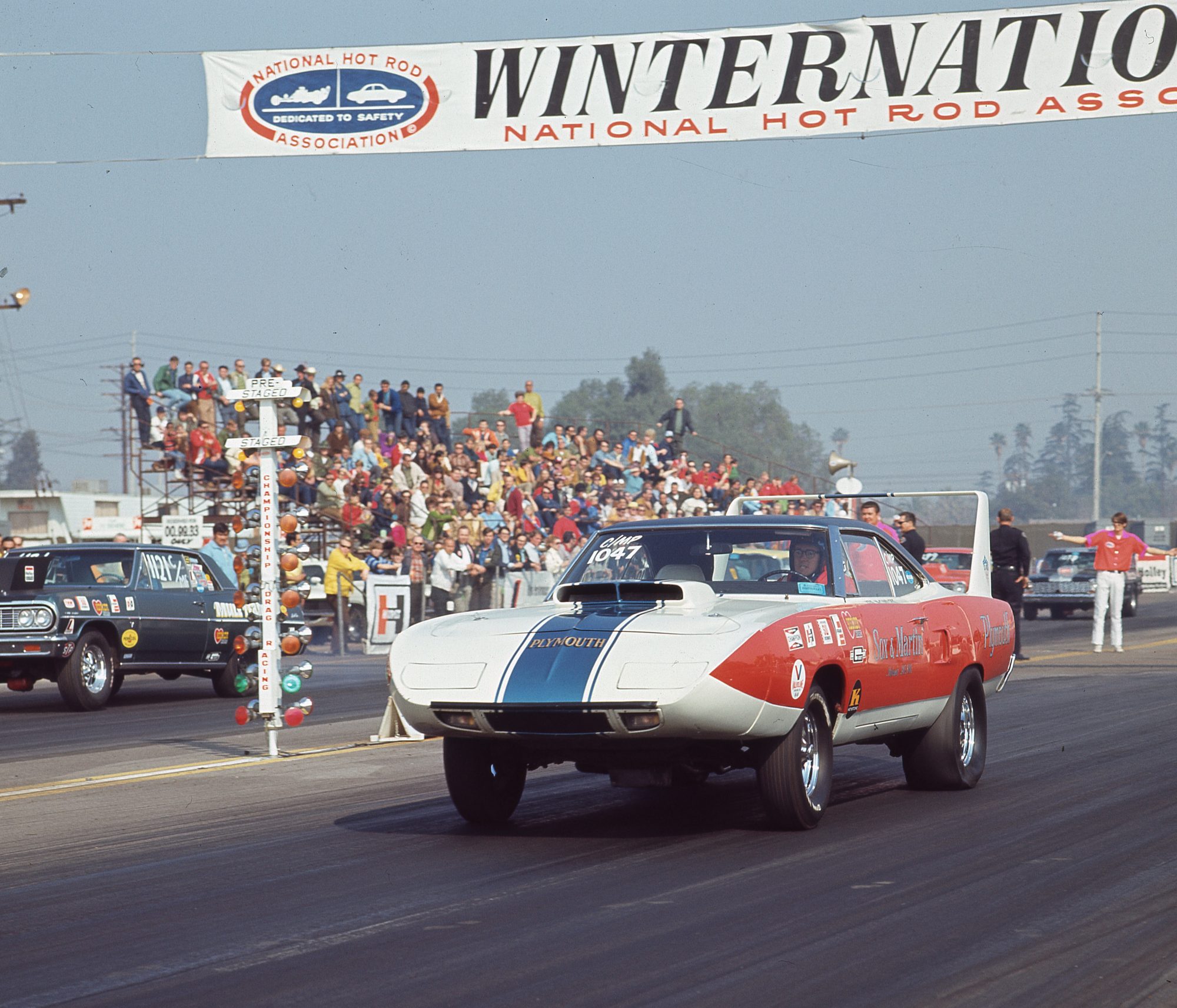 Along with the HEMI 'Cuda Pro Stocker, Herb occasionally drove the Sox & Martin Plymouth Superbird in the Modified Production class. "I was going rounds at the '71 Winternationals with the Superbird until a miscommunication between the tower and staging control occurred. When I came back up to the lanes for the next round of eliminations, the NHRA official standing there said I had lost in the previous round, but in reality, I had won. They (NHRA) were confused and by the time it got sorted out, it was too late. NHRA told me to go find the guy I beat, but he had already packed up and left the track," commented Herb. To this day, it bugs him, but it's just a minor speedbump in his storied racing career. It was Herb's affection for match racing and "running it out the back door" that he really enjoyed. It was more fun and profitable for both Herb and the Sox & Martin team as track promoters guaranteed a healthy cash payout to racers. "We really made our money match racing vs. the national events. We were racing every weekend across the country. The national events were great, but when it's about making money, match racing is where it was at," observed Herb. 1971 would also be a great year for Herb as another son was born and the Sox & Martin team was on top of the drag racing world.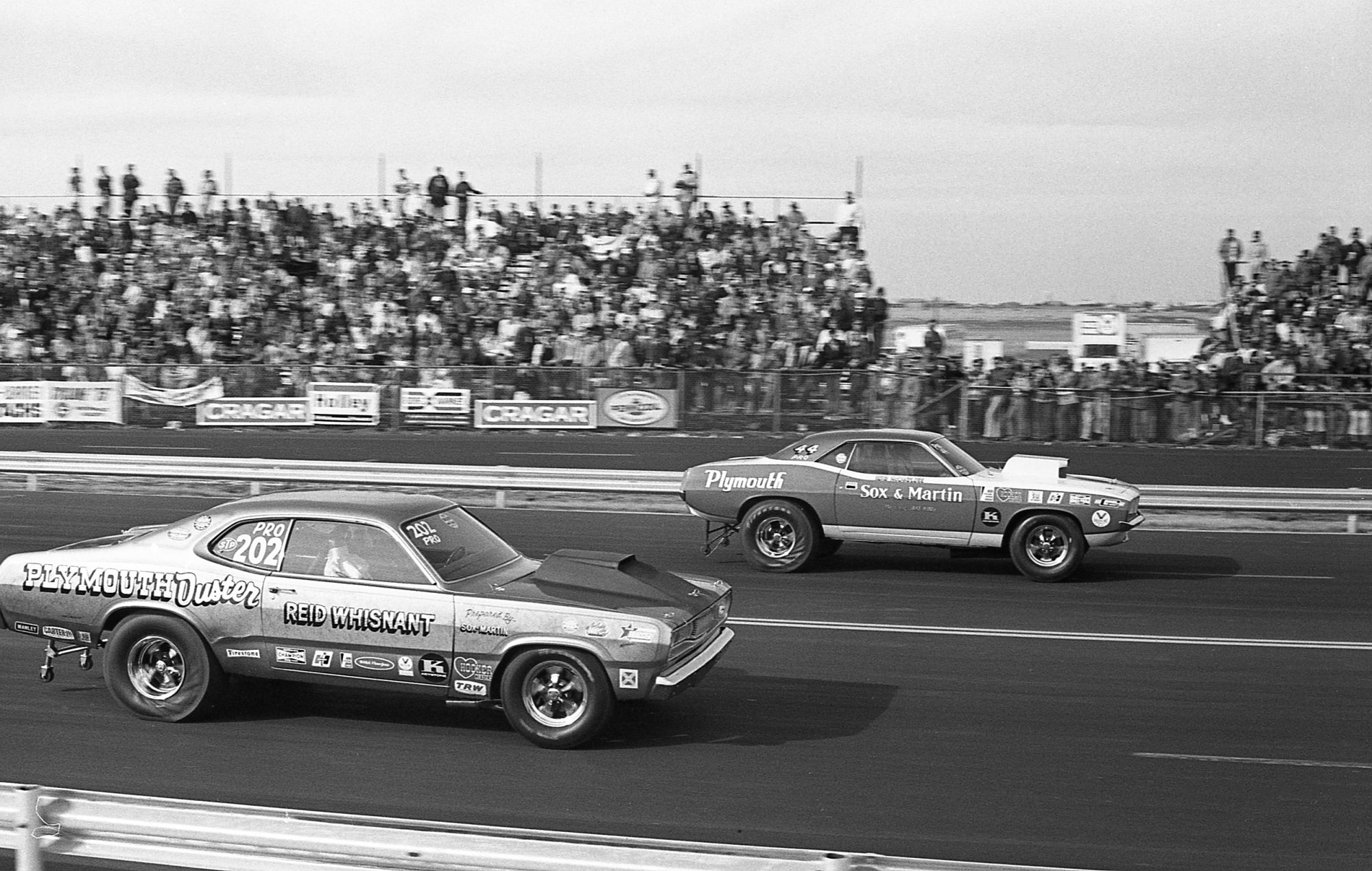 The successes of 1971 didn't last for long. NHRA was tired of seeing the red, white and blue Sox & Martin 'Cuda in almost every winner's circle. NHRA needed to handicap the HEMI engine-powered Mopar Pro Stockers to level the playing field for 1972. NHRA was adamant in their decision and made no bones about it. They (NHRA) felt fans wanted to see more Chevys and Fords winning and would do whatever to bend the rule book in making these brands more competitive while hurting the Mopar vehicles. Herb just went about his work constructing a new Dodge Demon Pro Stocker for the upcoming race season.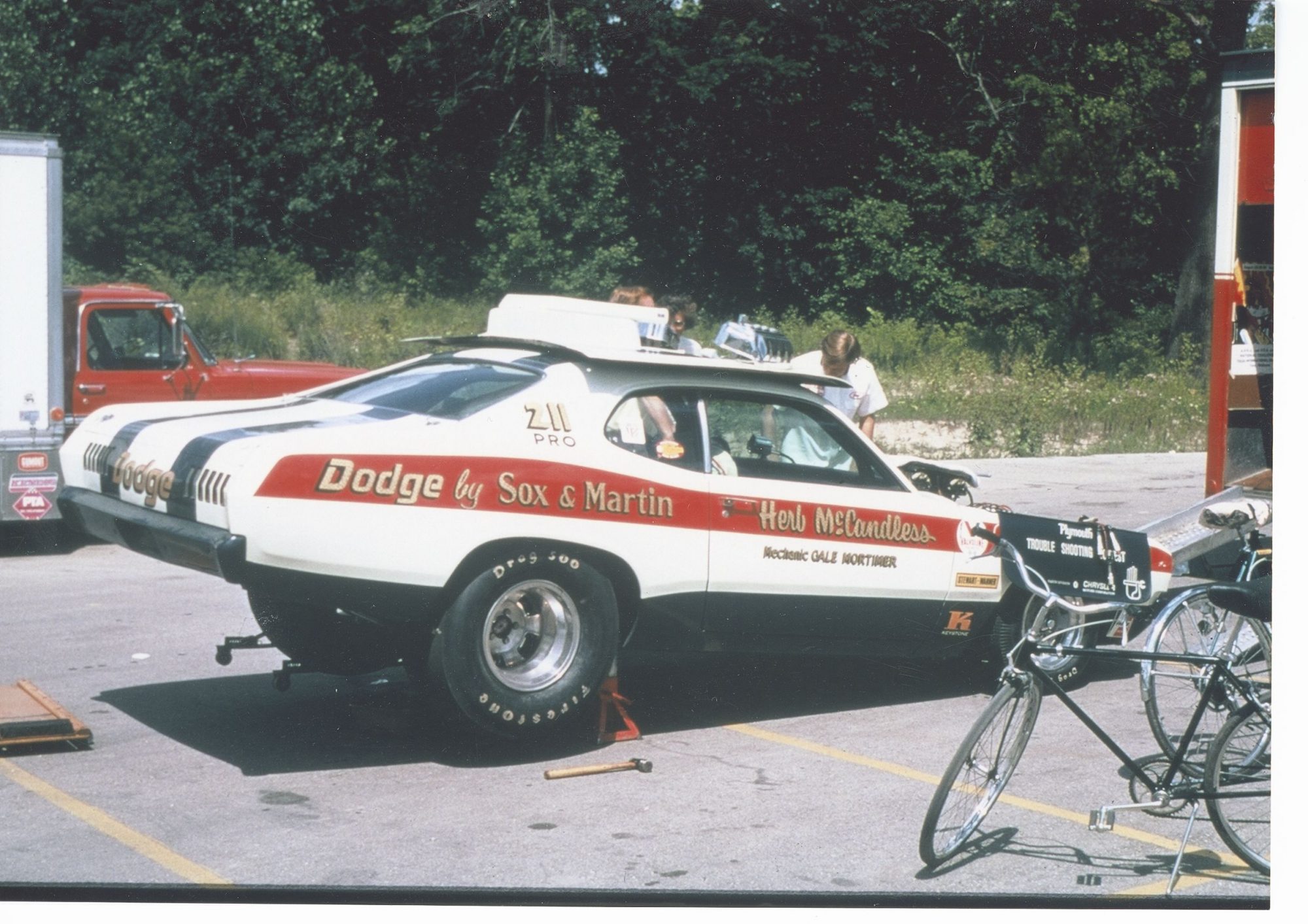 "The Demon was our baby. Gale (Mortimer) and I put our heart and soul into that car. I can't even tell you the amount of hours that went into that car. No way I could have done it without Gale. We rifle-drilled every bolt that went into that car. There is nothing lighter than a hole, if we could put a hole somewhere, we did. If we could acid dip something, we did," smiled Herb. "We even acid dipped some things you shouldn't, like a rear end, but we found out that wasn't a good idea. We drilled the drums on the brakes, we drilled holes in the brake shoes, acid dipped the backing plates. We raised the floor two inches, allowing the body to sit lower in the wind. I interpreted the rule book on wheelbase measurements. Sawed the car into three pieces, added two inches to the front fenders and took two inches out of the quarters. Everything measured right per the rule book, but we shifted everything back two inches. I dominated the United States Racing Team Pro Stock circuit when we got the car finished. I would have won five races in a row, but I broke a clutch against Don Nicholson, and I was the only person to win four races in a row. I was on cloud 9 in 1972."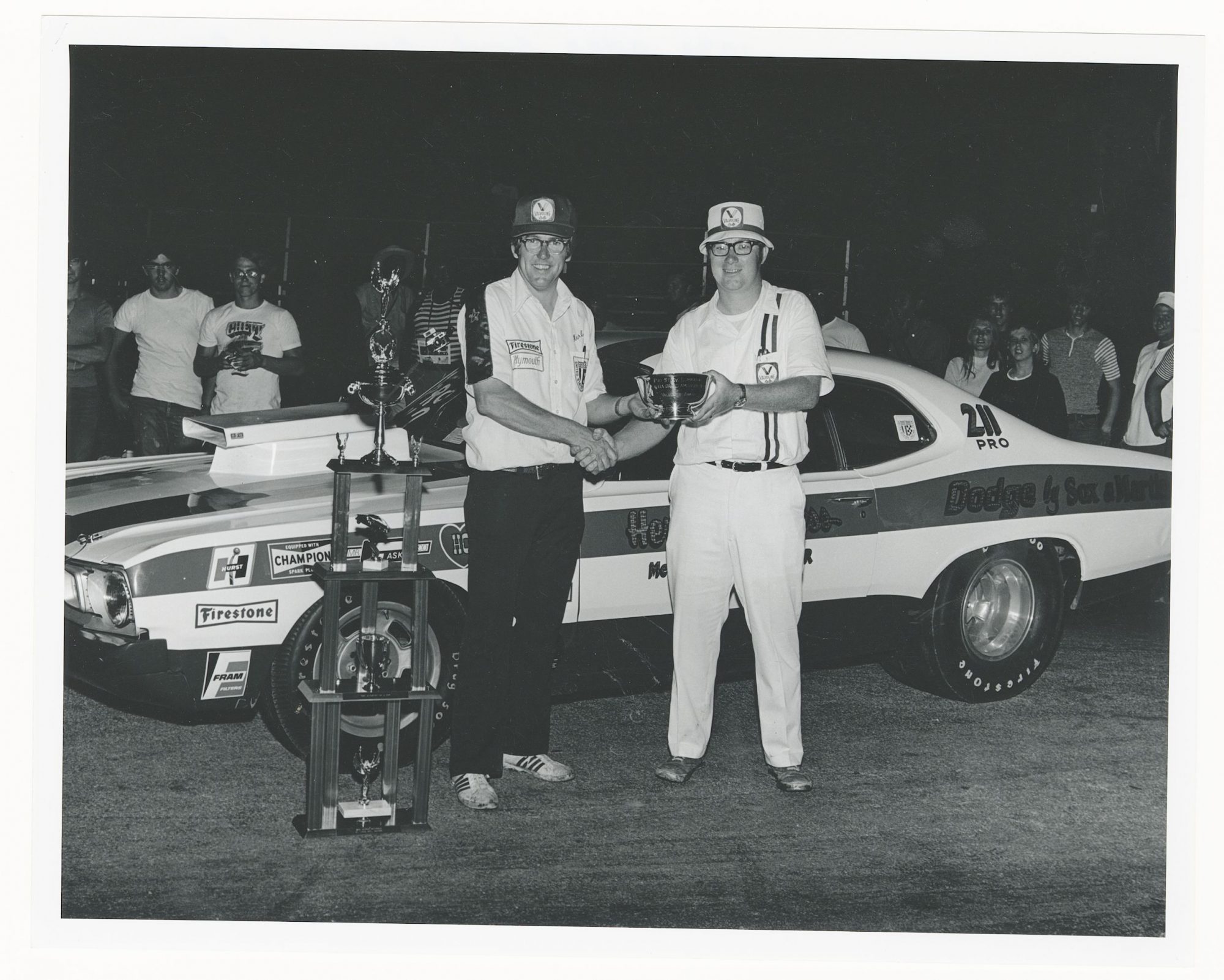 While Herb's Demon was very trick and fast, it still had to do battle with one arm tied behind its back when competing at NHRA events because of their Pro Stock rules. At the 1972 Summernationals, Herb was in the Pro Stock final against his old nemesis, Bill Jenkins. Jenkins' small-block Chevy Vega had been dominating the 1972 season, but Herb was ready for him. Unfortunately, fate had other plans.
"I broke a wheelie bar coming out of the water box and the car went north. I went across the starting line and thankfully Buster Couch (NHRA Starter) still allowed me to make the run. Going across the starting line during a burnout was not allowed in many classes, including Pro Stock, and could get you disqualified," said Herb.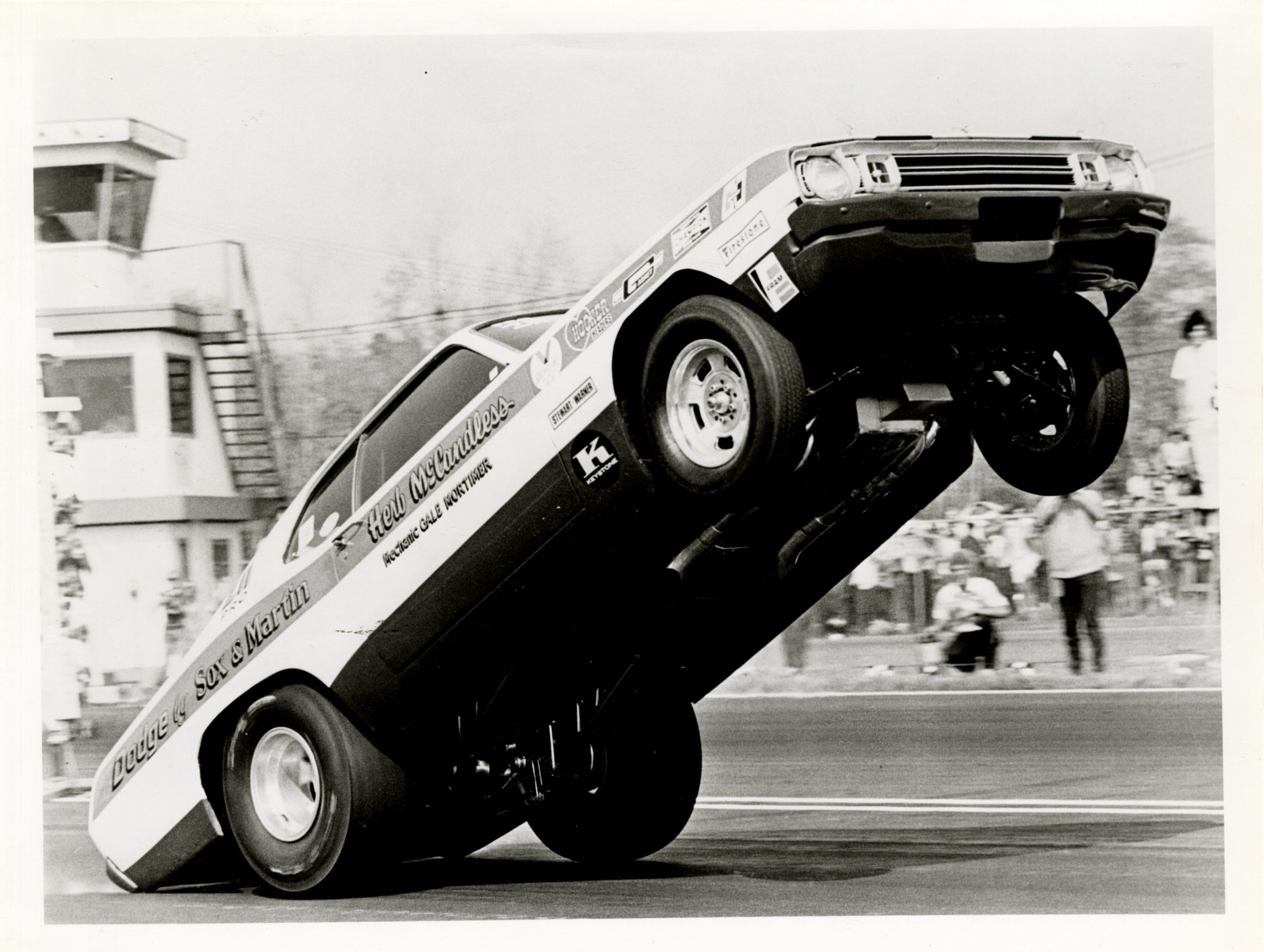 "We ended up removing the wheelie bars completely and I could only do one thing, raise the engine RPMs in hopes I'd blow the tires off. Instead, I went to the moon! As the car went up, I pulled 2nd gear at the peak of the wheel stand and went about 300 feet, but the car came down just as smooth as it went up. I didn't hurt anything on the run, other than Jenkins' feelings. He may have won the race, but I got all the ink," laughed Herb.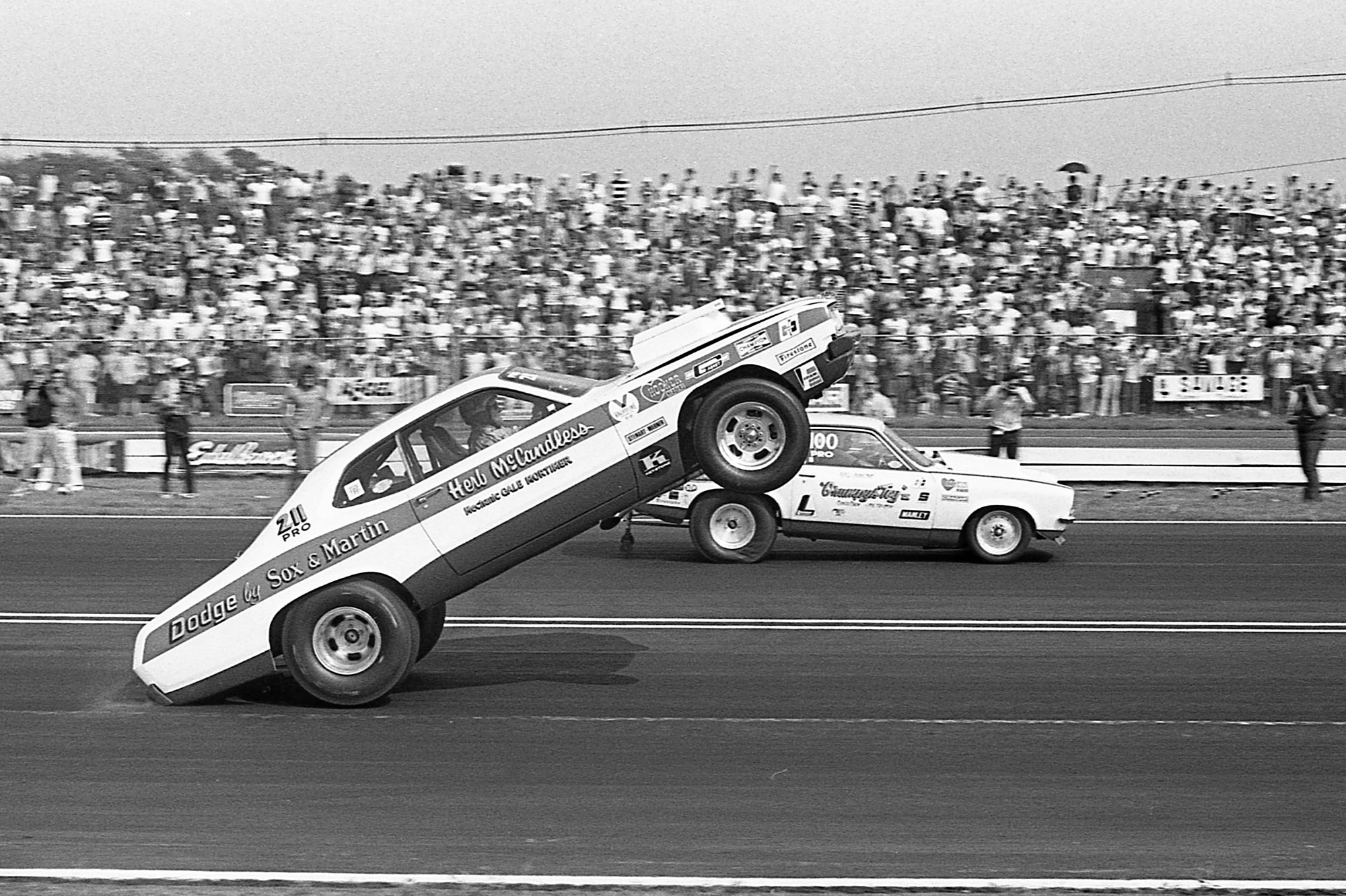 By the mid-1970s, the world was changing, but NHRA still wasn't budging on their weight penalties imposed on Mopar HEMI Pro Stockers. With corporate funding for racing sponsorships just a mere trickle, the spigot was slowly being turned off by Detroit's automakers as they shifted their focus to smaller, more fuel-efficient cars. Unlike other factory-funded racers who had real professions to fall back on when the corporate bucks stopped flowing, Herb had to once again go back to earning a living by selling his proven driving and wrenching skills to whoever was willing to pay.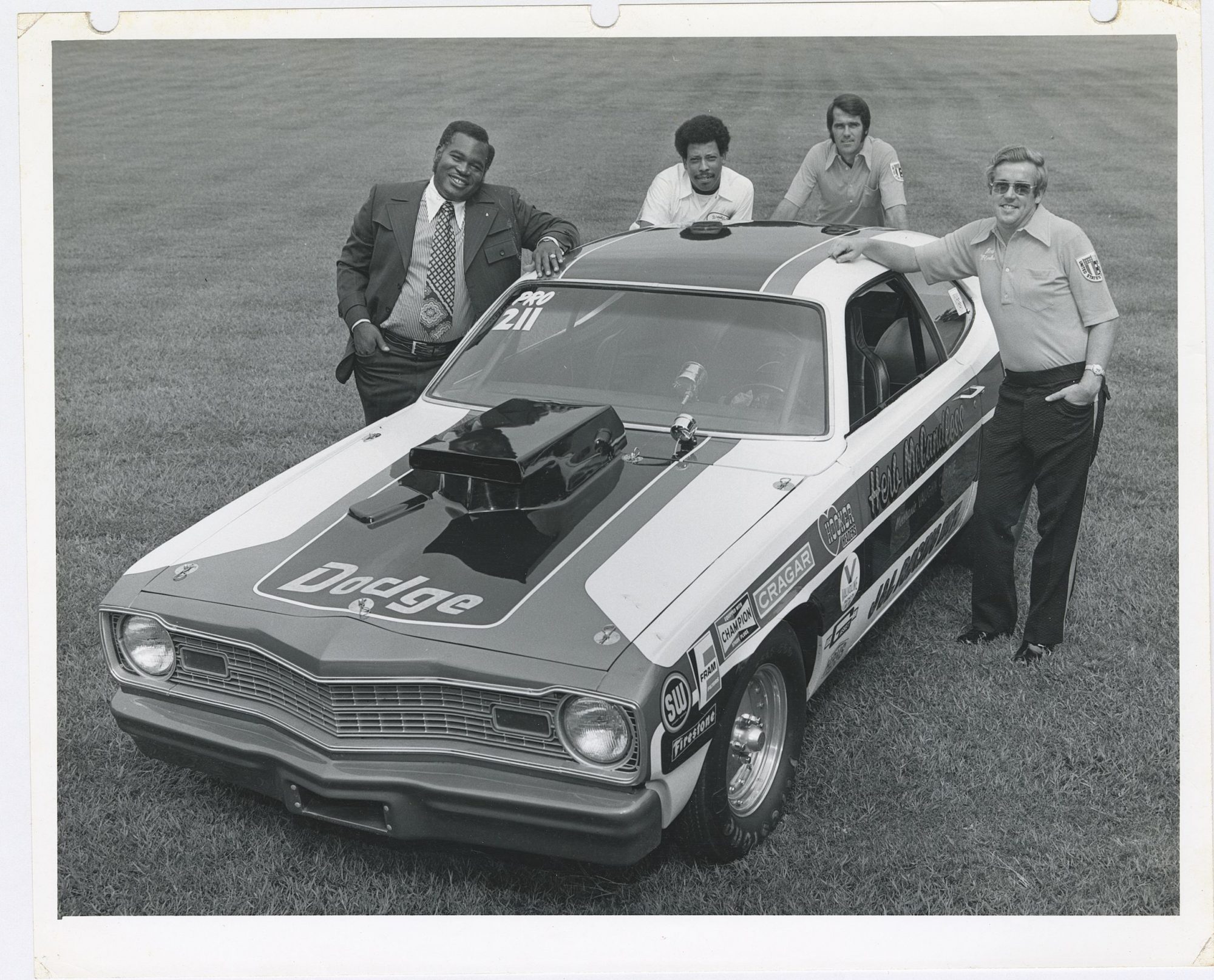 "I drove the Brooklyn Heavy car in '73 and part of '74. We match raced a lot and were very successful in that area. I briefly drove a Ford Mustang II for Jack Roush. We worked and worked on that car and it was fast, but just wouldn't stay together. Roush eventually figured things out and Glidden went on to that car after me," mentioned Herb. Regardless, Herb was a Chrysler guy and after his short stint in a blue oval, has raced nothing but Mopar vehicles.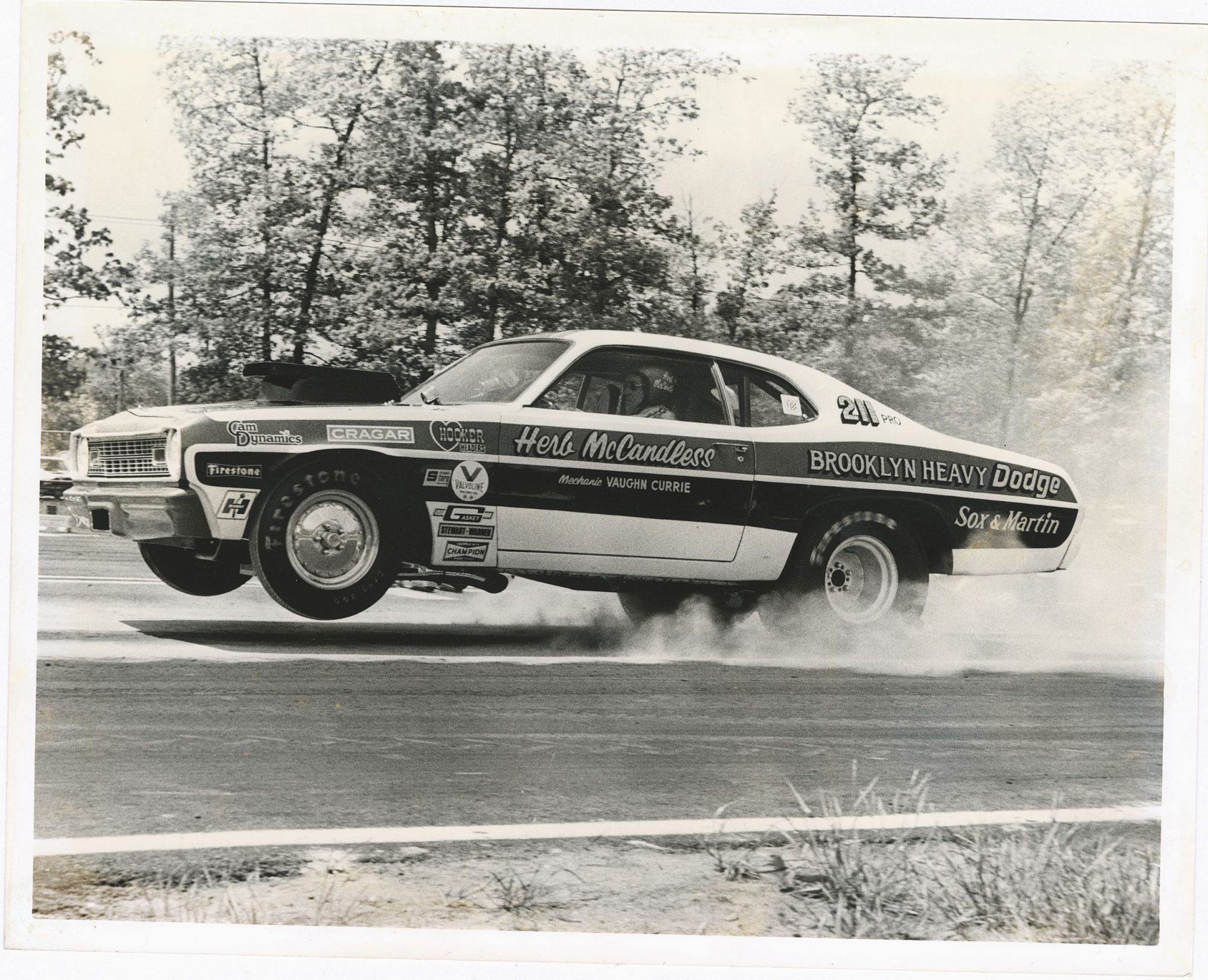 The mid-1970s was packed with many uncertainties. Fueled by runaway inflation, job losses and the Arab Oil Embargo, the future for drag racing wasn't looking too prosperous. Many racers who had innumerable success a decade earlier were packing it in and moving on, but not Herb. This era brought him new opportunities as part of a factory driven performance parts program that would revolutionize the industry and reinforce Herb's legendary status in the Mopar community for decades to come.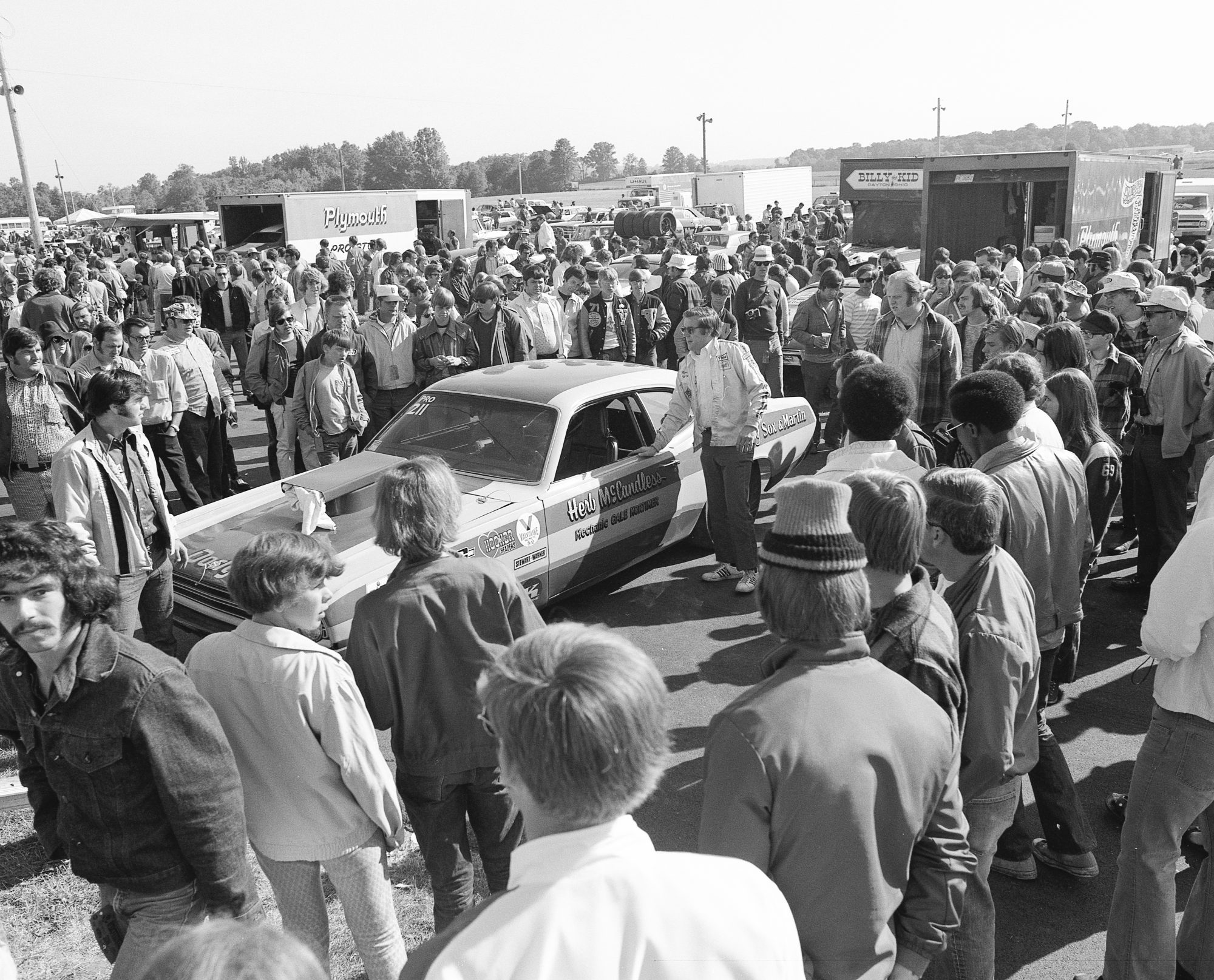 More on that in Part Three of Powershifting Through the Years with Mopar Living Legend Herb McCandless!
Comments
Comments
Previous