King of the Hill
1 year ago Gallery Owners + Clubs
Longtime Mopar® Stock Eliminator racer Larry Hill knows it's an uphill climb to reach the top the class. This veteran driver has had his fill of being put on the trailer in heads-up competition in the NHRA's oldest and toughest class, Stock Eliminator. While the 1970 Plymouth 'Cuda he's raced for decades was built when Nixon was president and the Beatles were releasing their twelfth and final studio album, Hill has climbed the mountain to be one the toughest competitors in the class. While many racers today would be hesitant to fiddle with the three Holley carburetors perched on top of the Edelbrock Six Pack intake manifold, Larry has no problem making them sing in harmony when he plants his size 16 shoe on the accelerator.
The nine-inch-wide Goodyear slicks bite the starting line while the torque from the massive 440-cubic-inch V8 points the 'Cuda's nose skyward like a Nike missile when DEFCON 1 is imminent. They say hard work and dedication pay off, and Larry's living proof of that. His Moulin Rouge (Panther Pink for Dodge) painted Plymouth has become a class-killer and has racked up numerous NHRA class wins for this six-foot, eight-inch Kentucky giant that hails from the hamlet of Hickory in the Bluegrass State.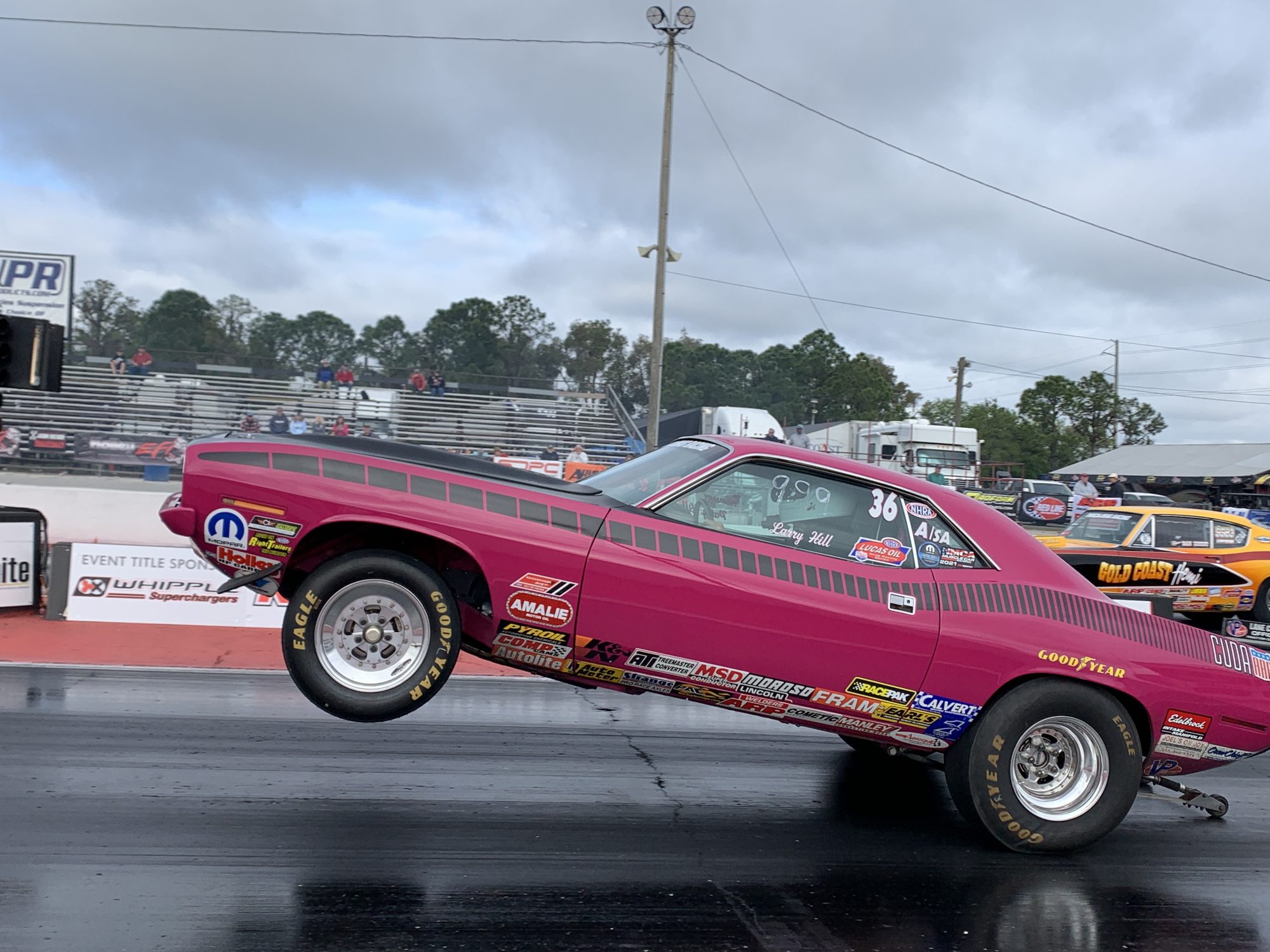 Larry Hill didn't set out to build an NHRA Stocker, he sort of fell into it. Like many of his peers, he played around on the street with muscle cars during the 1960s and '70s. These machines had no value back then and were subject to abuse by their over-enthusiastic owners bolting on go-fast parts to beat the kid from the next block, or town, at the stoplight drags. "I grew up in the 1960s and it seemed everyone had a cool car. Living out in the country, there were many mornings we would street race before school. I was on the high school basketball team and many of my teammates had fast cars like a 1966 Chevy II with a 350-horse 327, a 1968 Chevy II 396 375-horsepower big block, '67 Chevelle SS396 and a 1966 Pontiac GTO with a 389," reminisced Larry. But Larry always had a thing for Mopar vehicles and despite driving Chevy products, it was a chance encounter that would change him forever. "In college, I drove a '57 Chevy with a hopped-up 327 with 275 horsepower and bolted to a four-speed trans. I raced a 1969 Dart GT one night and he cleaned my clock. That is when Mopar vehicles caught my interest," smiled Larry.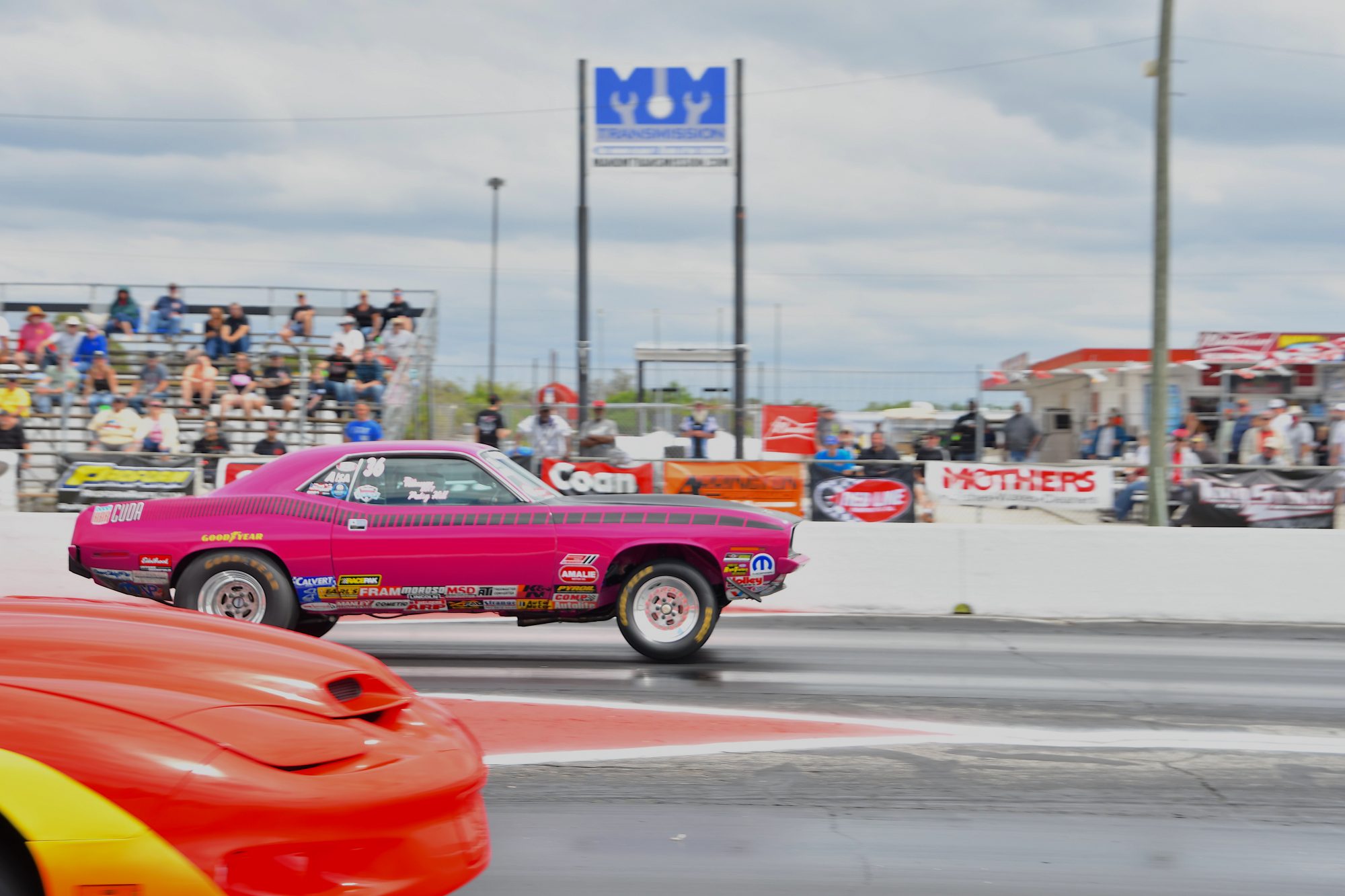 When it came time to get serious, Larry started going to the track and began reading many performance car magazines. "A drag strip was built 18 miles from where I grew up and I got to see how fast a properly prepared car would go and I thought that would be a fun pastime," noted Larry. "I wrote my college term paper on Marv Ripes and his '57 Chevrolet Sedan and Corvette fuel-injected racecars. He dominated in the NHRA Jr. Stock class in the late 1960s. In researching this subject matter, I realized that attention to detail made a car fast. And being able to stay within the rules and maximize performance is what got me hooked on running Stock Eliminator and still motivates me to compete in this class."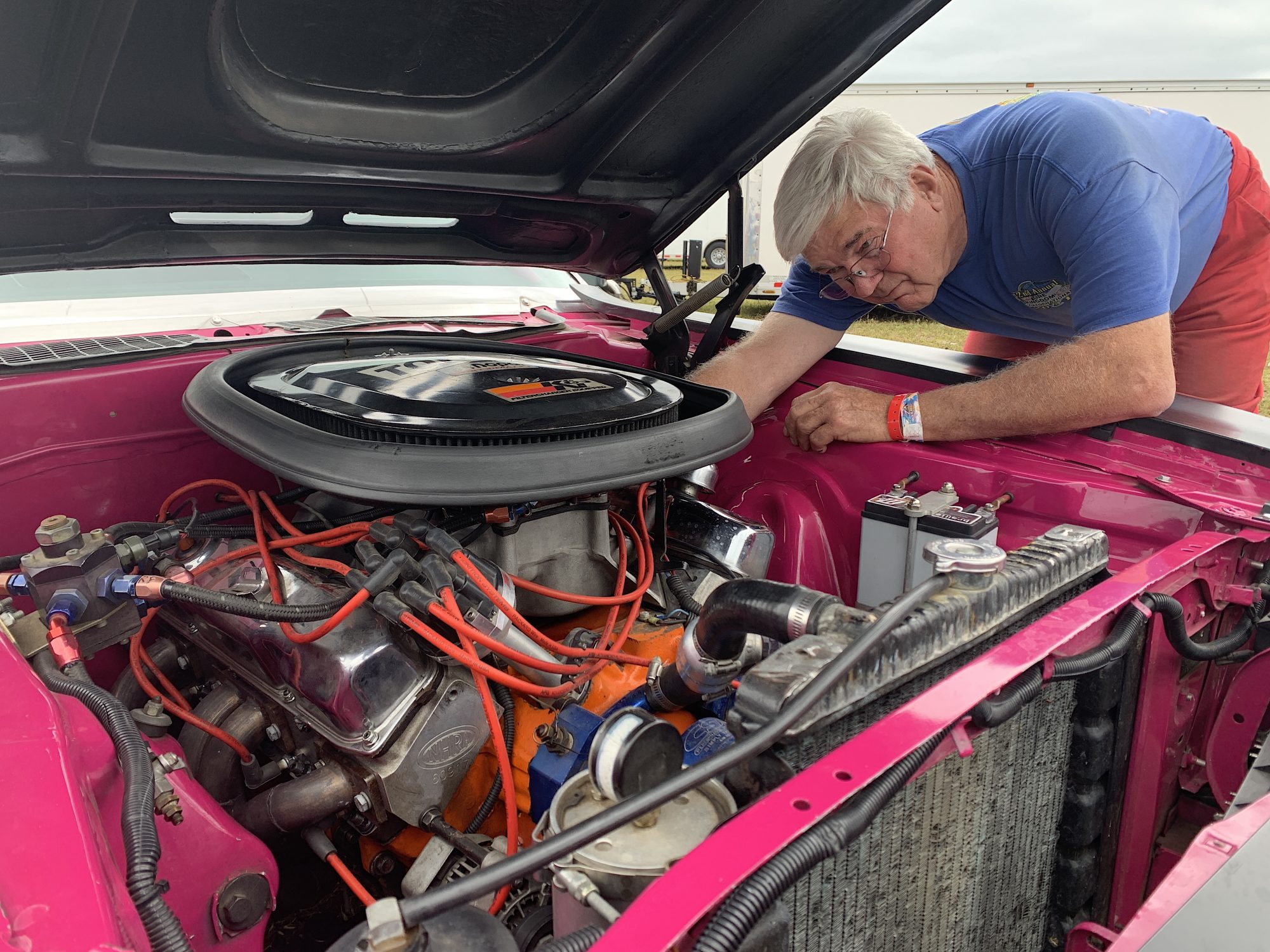 Next, it was time for Larry to build his first fast Mopar Stocker racecar and he didn't have to look any further than his neighbor's driveway for a potential candidate. Originally a 1971 model, the Plymouth 'Cuda Larry acquired just a few doors down was equipped with a 383 Super Commando V8 advertised at 300 horsepower. It had many options, including air conditioning, and was a very solid car. Today, we would question one's logic for turning a clean, numbers-matching, rare Mopar muscle car into a racer, but Larry gets a pass, as it was way back in 1980. These used performance machines were cheap and plentiful. Larry yanked out the 383 and installed a 440 Six Barrel powerplant and hit the strip. "We started racing it at Union Hill in Nashville shortly after that. The 'Cuda has been updated numerous times over the decades to achieve the performance levels it has now," stated Larry. As with any racing project, there's a lot of trial and error in seeing what works and what doesn't. "Over the years, my 'Cuda has remained competitive by hard work and a large supply parts that may or may not work. Sort of a buy it, try it and put it on the shelf," laughed Larry.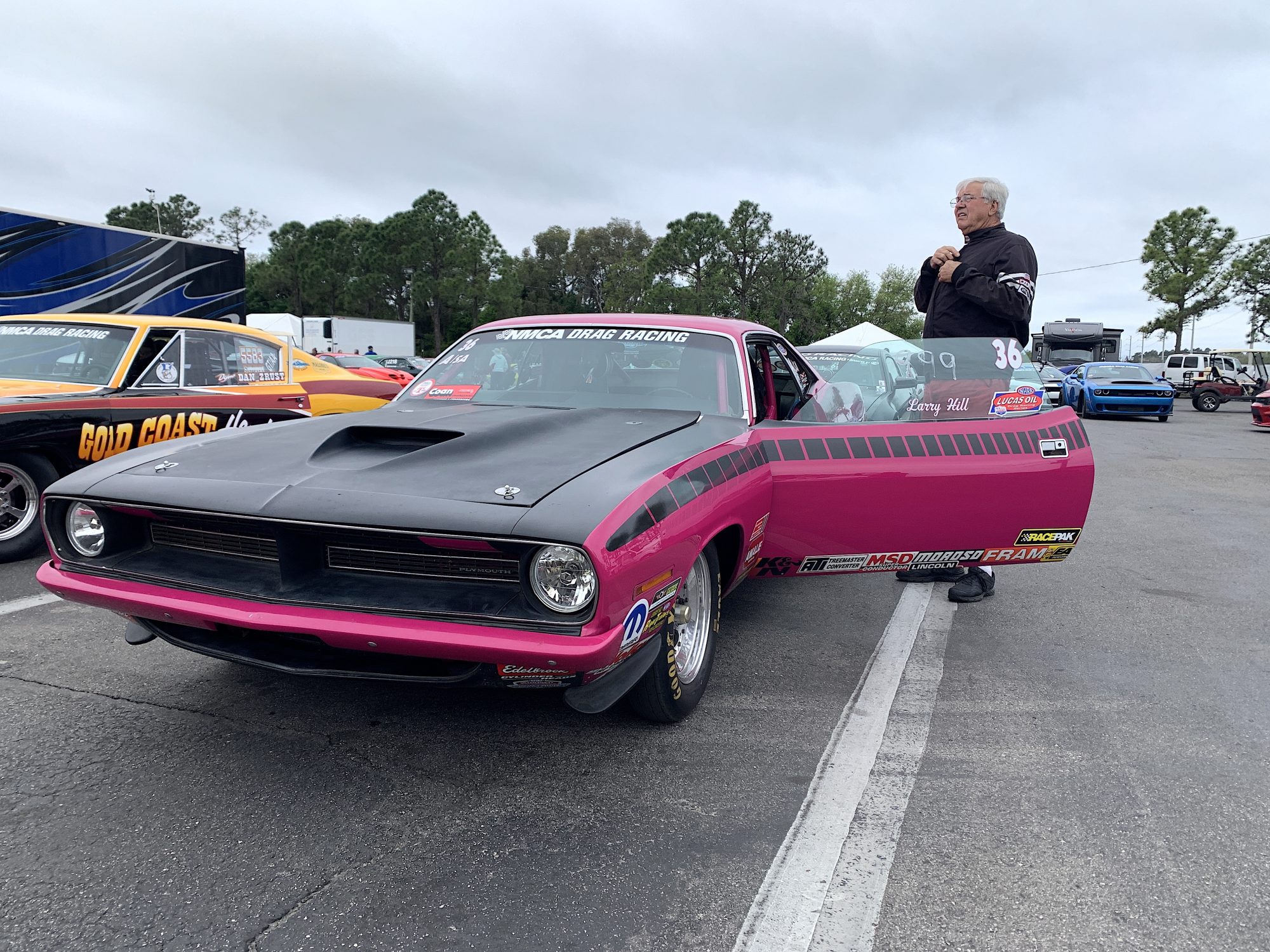 A few years ago, Larry converted his 1971 'Cuda to a 1970 model by changing the front grille and rear taillights. Because of the NHRA Stock Eliminator rules and classification guide, there can be different horsepower ratings for the same engine, even if they're within one model year of each other. There are also the factory options that can impact the vehicle's overall minimum race weight that includes the driver. With Larry's massive frame, he had to get his big-block 'Cuda below 3,200 pounds with him in it to meet the A/SA minimum weight. "We changed the car to a 1970 model to run the lighter AAR fiberglass hood. In doing so, we lost lift at the valve as the '71 440 Six Barrel engine has .467 inch lift on the intake, .483 inch lift on the exhaust, while the 1970 440 Six Barrel engine combination has .445 of an inch lift on the intake side and .470 lift at the exhaust," noted Larry. While these specs might seem minuscule to the average racer and engine builder, they can have a big impact in the massively blueprinted world of NHRA Stock Eliminator racing. In any racecar, bulk and mass are the enemies and every spare ounce has been removed to get the 'Cuda down to its fighting weight of 3,185 pounds.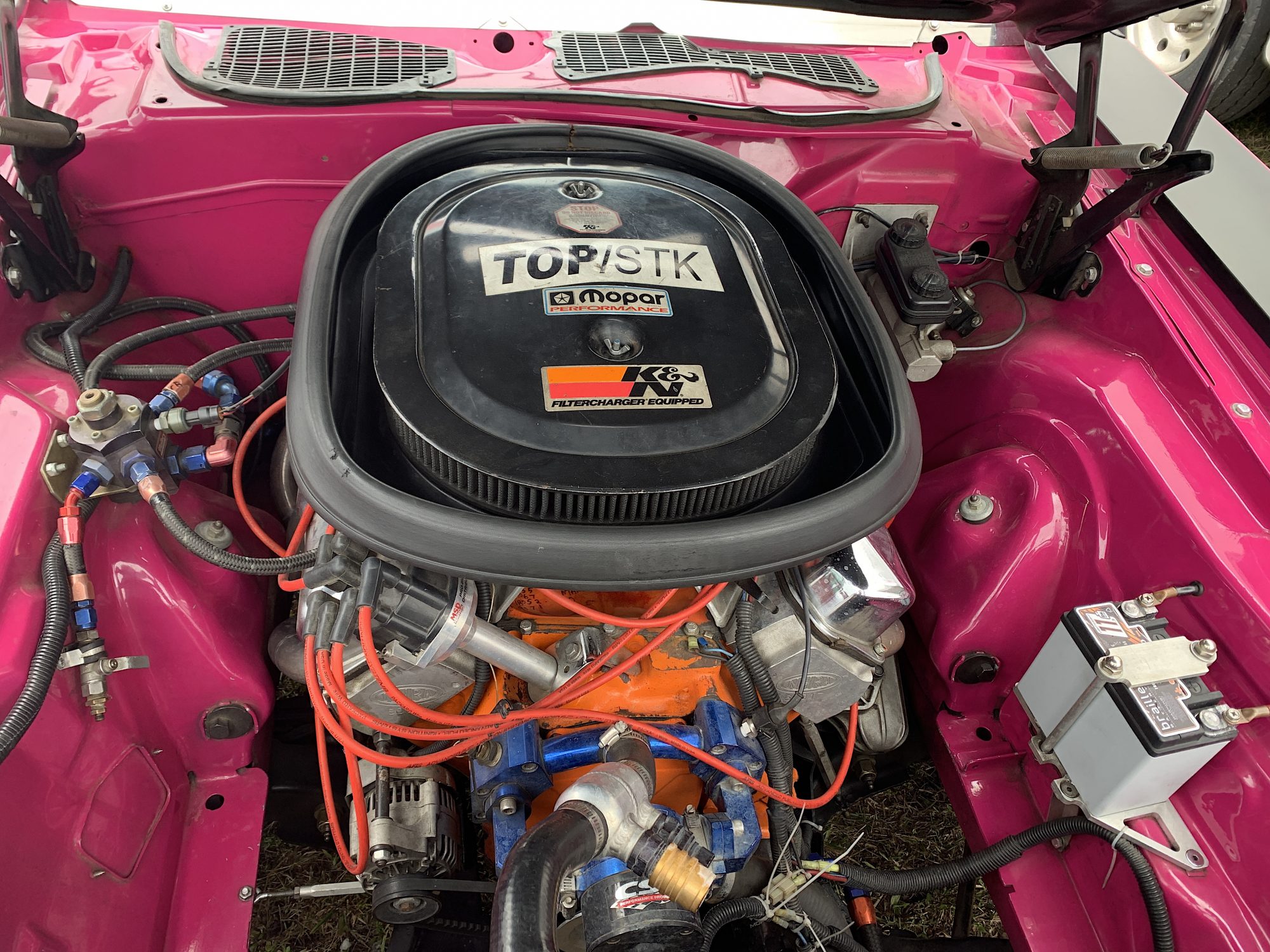 Along with its tricked-out 440, Larry's 'Cuda uses a 727 TorqueFlite® special built by Pro Trans that sends all that Mopar power to the Dana 60 rear axle. For Larry's attention to detail and hard work, his 'Cuda has put down a mind-numbing 9.79-second ET at over 132 mph at Maple Grove Raceway. That's at NHRA legal weight for the class and with an engine that has passed NHRA's stringent and intense postrace teardown inspection with flying colors. But with the ever-changing rules in NHRA Stock Eliminator, Larry's 1970 440 Six Barrel 'Cuda 440 is still competitive, but it isn't at the top of the list when it comes to the fastest NHRA A/SA class cars out there. "In my opinion, the two fastest A Stock Automatic cars now are the 1962 Plymouth with the 413 Max Wedge, and the '65 Dodge with the 426 HEMI®. I have a new car that is a 2015 Challenger Drag Pak and with any luck, I will have it out racing later this year," declared Larry. For now, fans in the stands will still be treated to the amazing wheelies Larry's 'Cuda pulls every time he launches off the starting line.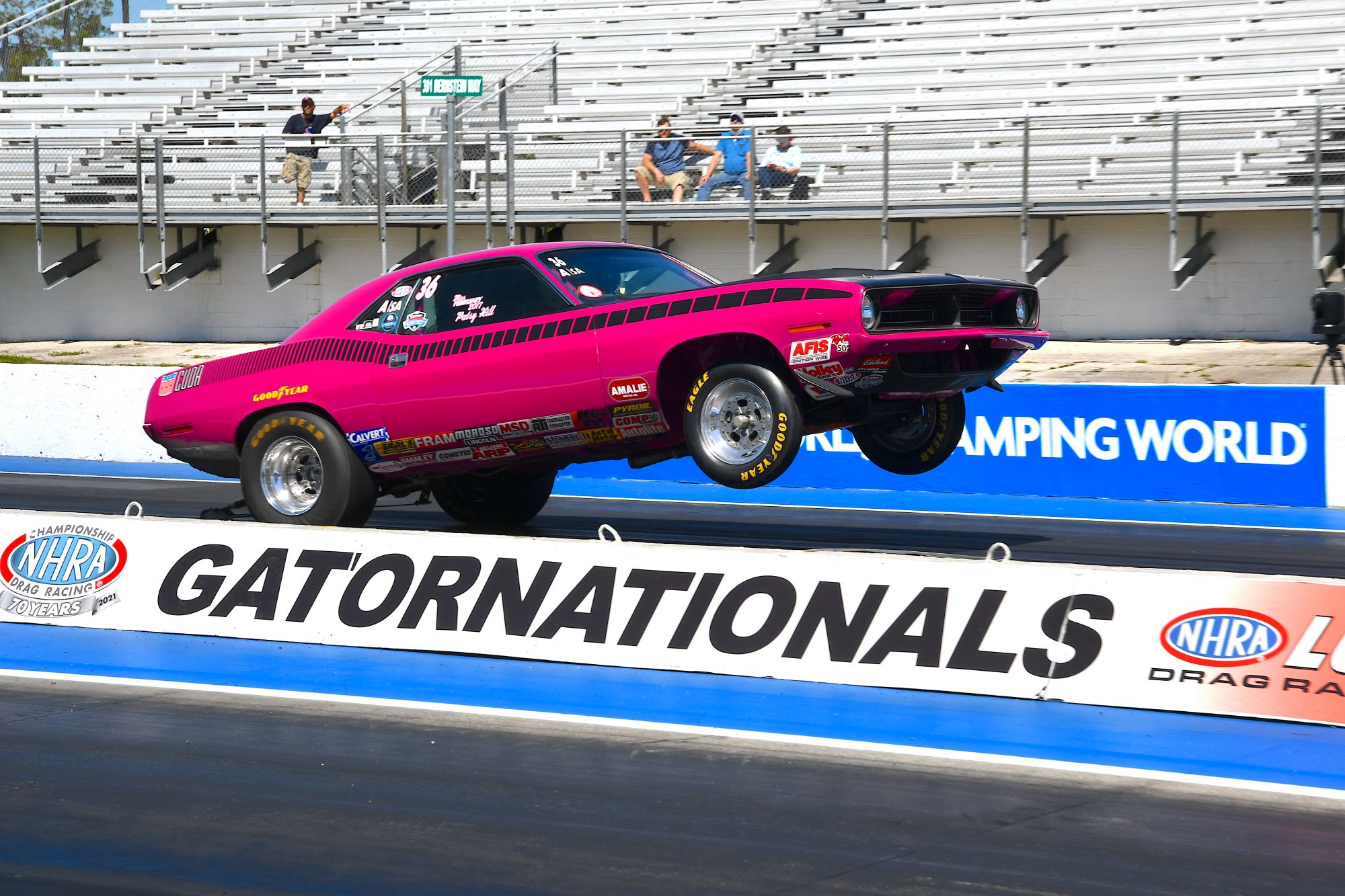 As with many Sportsman racers, it's a family effort. With a grueling yearly schedule of running six NHRA National Events, eight Divisional races, and other combo drag races, including the NMCA and the Class Racer Revival venues, Larry relies on his partner and wife of 51 years, Patsy. While their son, Chris, runs the family business, Larry and Patsy travel the country in their motorhome towing their badass Moulin Rouge 440 'Cuda. As Larry likes to point out while chuckling, "With Chris running the family business, we can enjoy our retirement and spend his inheritance."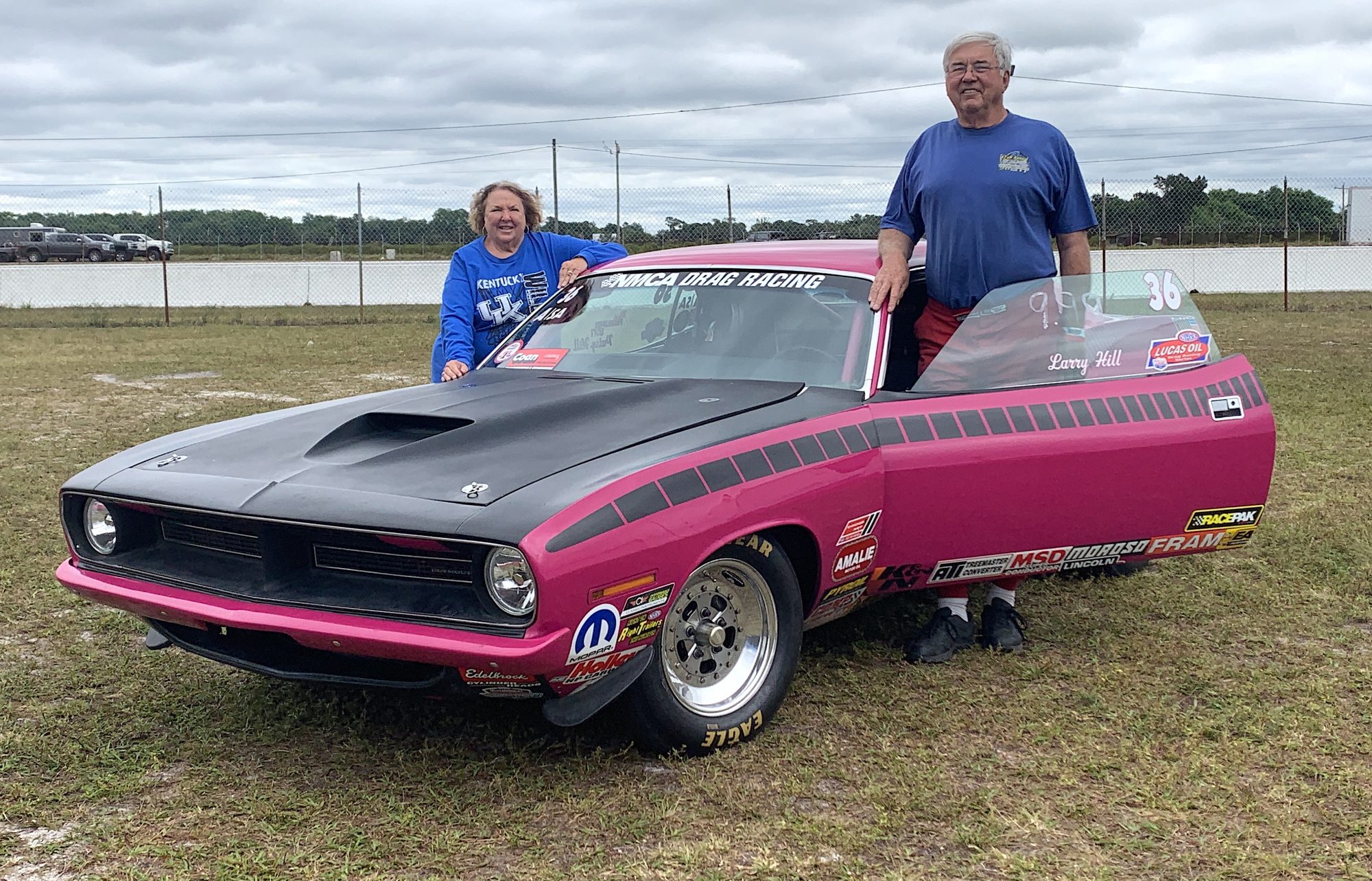 Larry probably wouldn't have made it this far racing his 'Cuda if it wasn't for the help and support of the Sportsman Racer community. He acknowledges a long list of individuals, including Kevin Helms, Herb McCandless, Geoff Turk, Jeff Teuton/Southland Dodge, Craig Maddox, Gary Jennings, George Widuch, Brad VanLant, Harold Bettis, Jeff Taylor, Goodyear Tires, John McLeod's Classic Instruments and all the great employees at IHM Used Parts.
Remember, it takes an army of loyal and dedicated folks to be King of the Hill!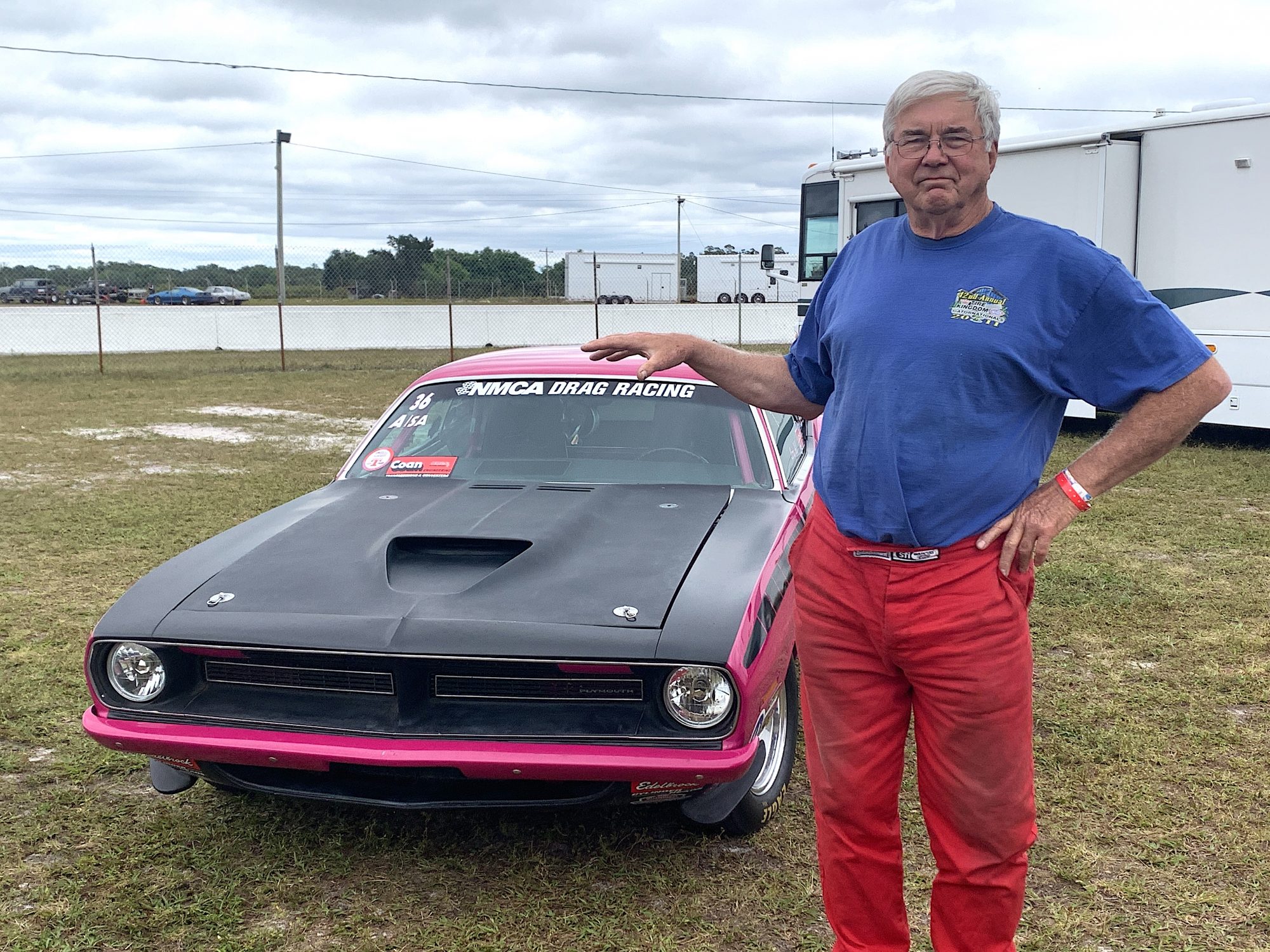 We have more pics for you to check out of Larry Hill's awesome 'Cuda!
Comments
Comments