Late to the Party, but First to the Finish: Kevin Helmick
2 years ago Gallery Owners + Clubs
For those who are not aware, there are only a few SRT® Hellcats that run the quarter-mile in under 8 seconds. We're talking about actual production cars with no major modifications to the production Hellcat engine. One is the long-time leader, Leon Epling, with his car "007". We have covered the Epling family and their journey to "World's Fastest Hellcat" many times on the site. It turns out there was a certain fella lurking in the dark waiting to come and shake him down.
Kevin Helmick, the lurker, got into the "Game of Cat Thrones" a little bit later than most of us. As a young man, in a decade we won't mention, Kevin was heavily into hot rods and racing. However, he was forced to put his race passion on the back burner due to his choice to become a career military man. As all of you know, you can take the man out of the hot rod, but you can't take the hot rod out of the man. Residing in New Bern, North Carolina, where he runs his own defense contracting business, Kevin wasn't really paying much attention to the latest domestic hot rod world and hadn't in many years.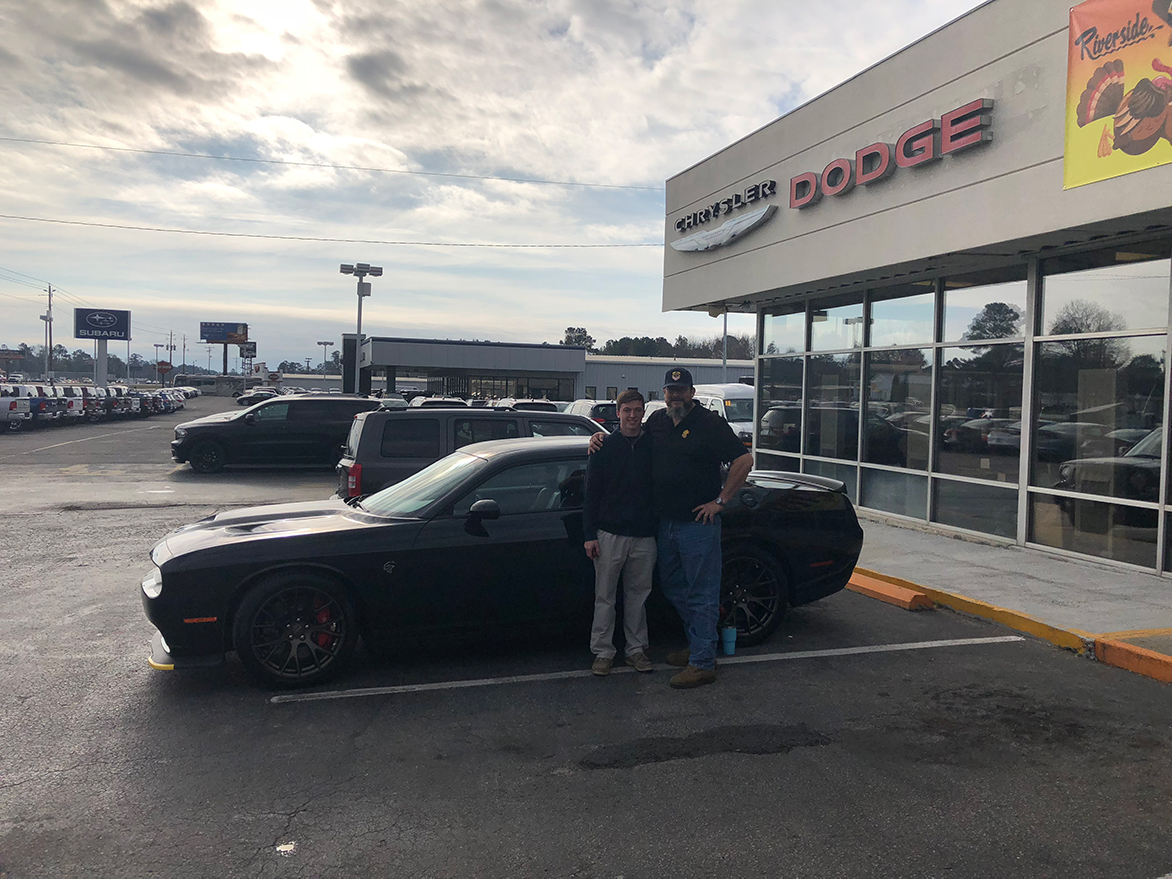 Fast-forward to 2018 and a simple conversation set a new stage for Kevin. Keep in mind: this is three years after the SRT Hellcat was released. The Epling gang was already running 8s in their SRT Hellcat with several others on their heels and there were plenty of SRT Hellcats running low 9s. Kevin's son, Tanner, had just started Naval Academy. Tanner approached his father, I must assume somewhat jokingly, and said, "Since you don't have to pay for college, maybe you can help me get a new car." I picture Tanner sort of shrugging his shoulders with a slight wince with anticipation of possibly being smacked in the back of the head for asking something so absurd. I'm happy to report that no slaps across the back of the head happened and with that, the father/son duo headed down to the local Dodge dealership and started browsing the inventory of Dodge Challenger Scat Pack and R/T models. An all-black, somewhat-meaner-looking Challenger tucked away in the corner caught Kevin's eye. It was an unsold 2016 Challenger SRT Hellcat with a 6-speed manual transmission. Tanner explained to his father that this car was an SRT Hellcat, and much more expensive and out of their price range.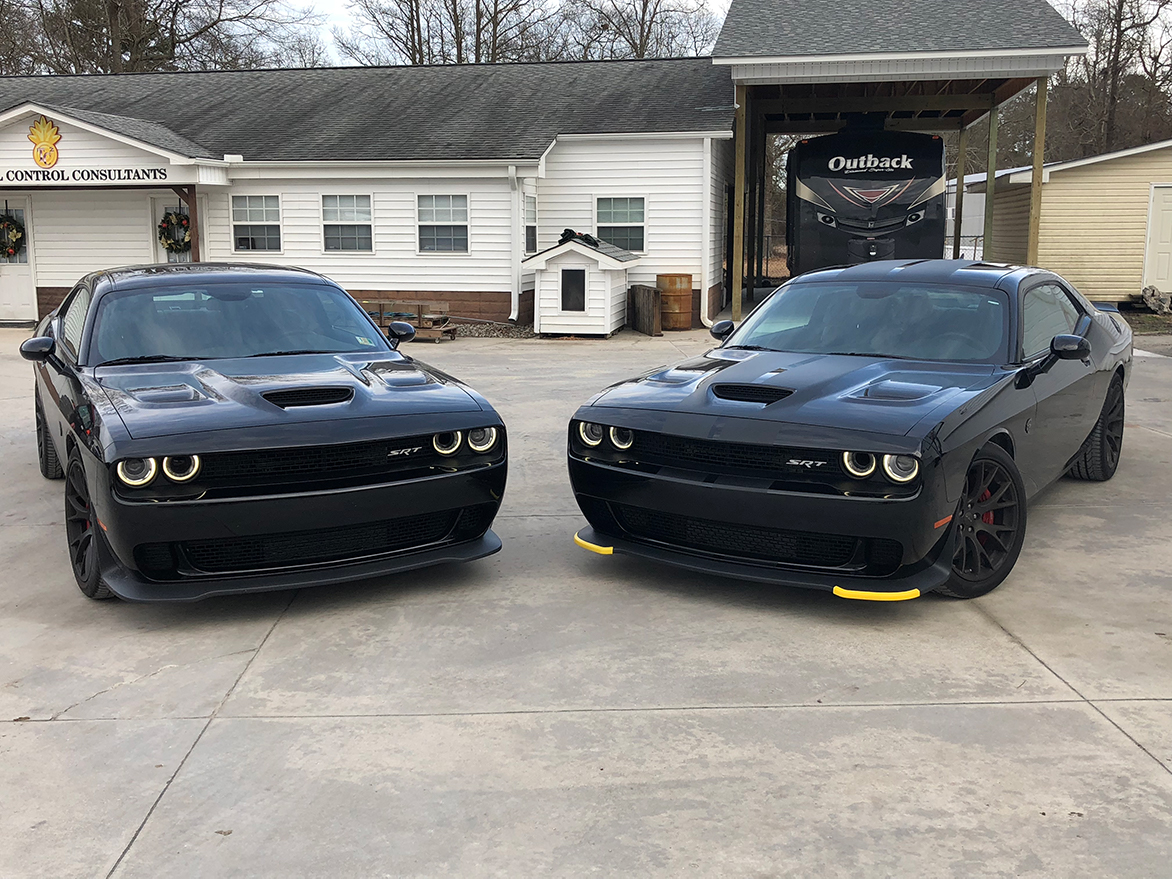 Kevin called the Mrs., "Well we have a problem. I bought Tanner a car." Obviously, not aware of what the boys were getting into, his wife asks, "So what exactly is the problem with that?"
"We have to go buy one for me, as well."
As luck would have it, Kevin was able to find another 2016 Black Challenger SRT Hellcat, but this time with an automatic transmission and instantly fell in love. The HEMI® fever struck and Kevin immediately decided to get back into racing. At that moment he knew he wanted to build the fastest SRT Hellcat in the world. This would be no easy task being over 3 years behind the curve.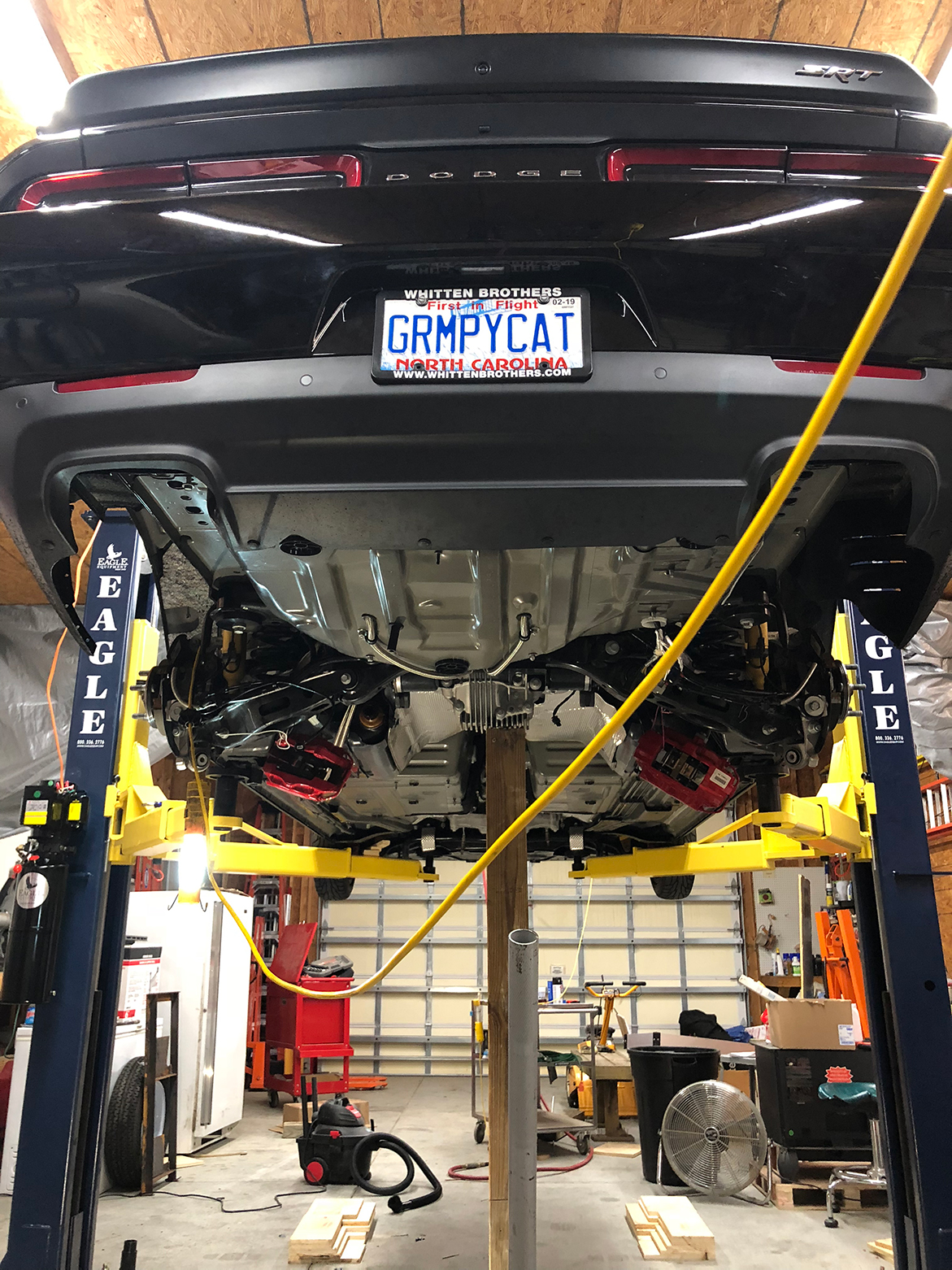 Kevin started calling fabricators around the region asking anyone who would listen to hack up his brand-new SRT Hellcat. He was ready to build a racecar. Most of us don't and can't go buy a brand-new $60- to $80-thousand-dollar car with hopes to hack it to pieces right away. Kevin was surprised by how many people turned him down, refusing to "destroy" a brand-new hot rod. His search led him to a local fabricator named Jason Brazzel of Brazzel Peformance Fabrication. The conversation went much better this time as Kevin heard exactly what he needed to hear from a fabricator.
Kevin: "I have a brand-new Hellcat, I need someone to chop it up and build a custom chassis and get rid of some weight, is that a problem?"
Jason: "Problem? I'll chop up anything."
Kevin: "You're hired!"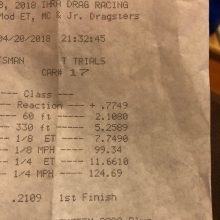 Kevin decided to get familiar with the car for a bit, racing it in more of a streetcar-build as most of the community does. Running your typical bolt-on parts such as smaller supercharger pulley, injectors, alternate fuels, exhaust work, etc. His goal was to get into the 9s with minimal bolt-ons and that goal proved to be no problem. In January 2019, after racing roughly a year in this modest bolt-on setup, Kevin decided the time had come to really get started on making his car a full-blown racecar.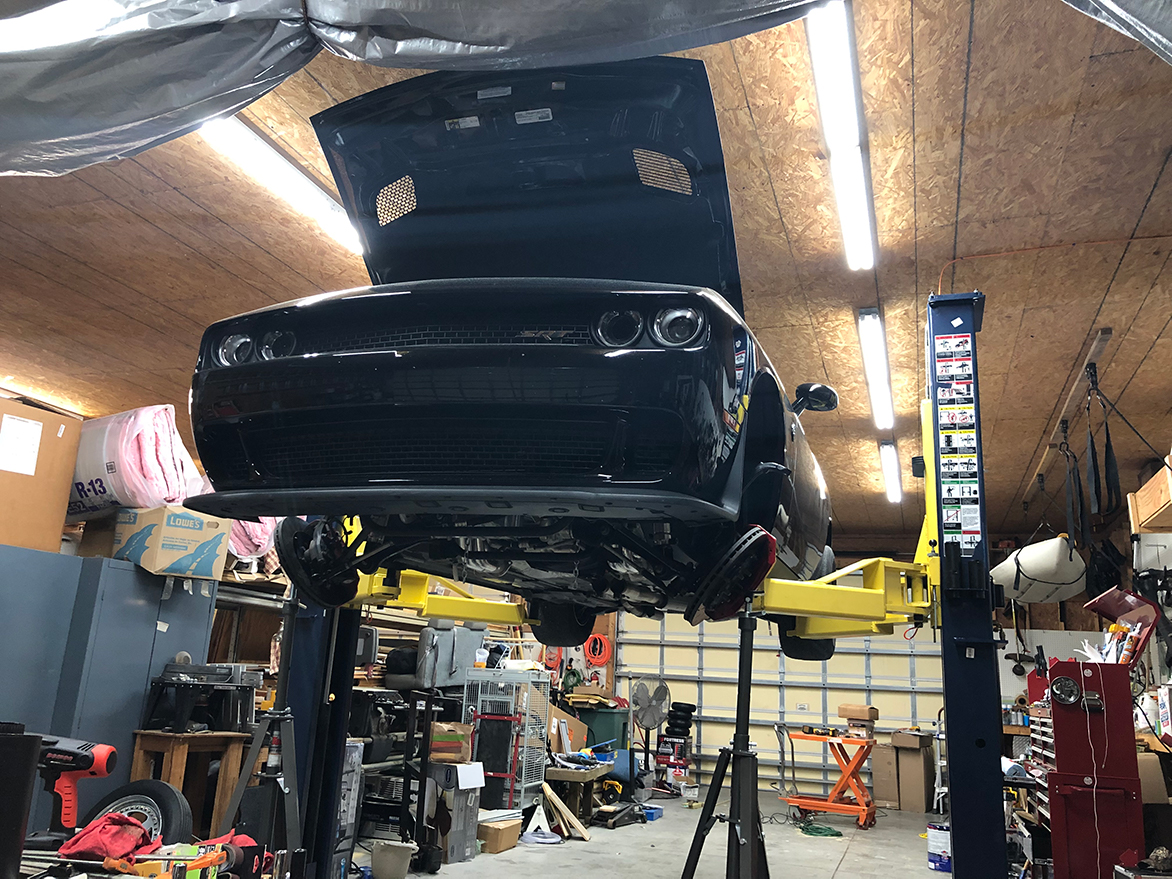 Kevin outfitted the shop at his house with all the tools and equipment Brazzel needed to build the car how Kevin wanted. The team custom built an all-new rear and front chassis and outfitted the car with a full, certified cage, and pulled out as much weight and extras that they could in order to reduce weight. The goal was to build the chassis to be able to handle more power than they would likely ever make. With the new chassis and cage meeting safety regulations and all the extra weight being removed, they were able to drop about 400 lbs. off the car.
They dropped the motor back in it and set out to see what it would do. The team wanted to come up with a name for the car. All good racecars have a name! One of his employees jokingly said, "Well, you are always grumpy, so call it 'Grumpycat'." With a slight spelling change, the name GRMPYCAT stuck. The car was outfitted with custom suspension and the custom chassis and an old trusty stock SRT Hellcat block and SRT Hellcat supercharger with a custom TH400 transmission. Kevin signed up to make as many of the Modern Street HEMI Shootout races as he could. Motors were blown, superchargers were destroyed, and blood, sweat and tears (of joy and sadness) were all felt.
After a few tweaks and changes and shedding more weight off the car, they were able to get the car down to just over 3,000 lbs. without a driver. With the new setup and reduction in weight, Kevin managed to set some new records at Kentucky Dragway in June of 2020. He managed to pull off an 8.3 quarter-mile slip on a factory supercharger, followed up by an 8.1 slip with some nitrous added. They ended up losing the motor and decided to drop in a new motor in the pits (is this NHRA??). With a fresh motor tossed in, Kevin was able to get back in before the day was over and line up against – DUN DUN DUN – Leon Epling in his 007, worlds fastest hellcat. Although he has yet to take the overall title of worlds fastest Hellcat away from the Epling team, he does hold the record for Worlds Fastest Automatic Hellcat by a long shot. For Kevin, that is great and all, but his goal since day one is to be the worlds Fastest Hellcat…PERIOD.
Well, that was fun, but it's on to the next stage of this build … you know, the part where 1,000-1,200 hp is for wimps. It was time to really crank it up. Kevin's car is currently set up with an SRT Demon Performance/TKM-built motor sporting a BGE 426 block and a massive 98mm turbo with Kevin Mullins from TKM tuning the beast. MMMMMMM turbo!
They were able to shed a little bit more weight and the car currently sits around 2,800 lbs. without a driver. That's about 1,600 lbs. worth of weight reduction for anyone who wasn't paying attention. That's with a factory car/chassis (obviously with custom fabricated sub frames on both the front and back) so call me impressed. They set back out to hit some blacktop and melt some rubber. On May 15, 2021, Kevin pulled out his best slip yet: an amazing 7.584 @ 172.89mph! Even though Epling is still slightly ahead of him with a 7.39 slip, Kevin is pretty excited about his accomplishments so far. We should also point out that there is only ONE other production SRT Hellcat in the 7s range, a Charger SRT Hellcat raced by Zdung Ho out of Texas running a 7.90.
So starting 3 years behind, and going from stock to worlds second fastest in just over 2 years, Kevin has proven that he wasn't messing around when he said he wasn't going to stop until he takes that number one spot. He mentioned that at one point, I was on his list, but thank God I'm no longer in his line of sight! Currently, his car is estimated to make close to 2,200 hp. Kevin has a few more races and events to make this year. Surely, there can't be a "what's next", can there? Ummm … yea, there is. As you can imagine, it's under wraps still, but we will just say there is a certain GEN III HEMI (not an SRT Hellcat) running 6s and it has a target on its back. It's crazy to think that we are now in the "Battle to the 6s" in the HEMI racing community.
If you are coming out to Roadkill Nights Powered by Dodge, you can get an up-close look at this beast of a car because Kevin will have his prized racecar at the event. If you can't make it to the event, check it out on the livestream right here on DodgeGarage and maybe you'll catch a glimpse of Kevin in all his glory.
Best of luck to Kevin and his team the remainder of the year, and everyone stay safe out there! Check out the photos below documenting the transformation of the build over time.
First wheelie
New trans, new wrap, new phase, Holley Dominator time!
Chassis build
Great Lakes Configuration
Wired by Devin Vanderhoof and a trip to the A2 wind tunnel
More build pics
Comments
Comments