A Discreet and Deceptive Dodge Dart
2 years ago Gallery Owners + Clubs
Things aren't always as they appear. I learned that life lesson first-hand from hanging out at drag strips across the country and on the mean streets of my hometown, Detroit. While fast cars come in all shapes and sizes, there are some that look innocent and sound tame, but don't let that fool you. They can rip down the drag strip and light up the top-end scoreboards with an amazing ET that's more fitting for a racecar with a gutted interior, open headers and slicks. Not some stock-looking machine that looks factory fresh and rolling on skinny redline tires. These rides are more suited for cruise nights and trips to the local ice cream shop with the family, not stomping down the drag strip in a fit of rage. While the reign of the new muscle car rolling off the assembly lines may have been short-lived and the numbers reduced by owner abuse when these cars had no value, the past 30-40 years have seen consistent growth in the vintage Mopar® hobby that's been saving these rare and unique vehicles for new owners to enjoy the thrills of driving a car with numb steering, sketchy brakes and handing characteristics of a rudderless offshore boat.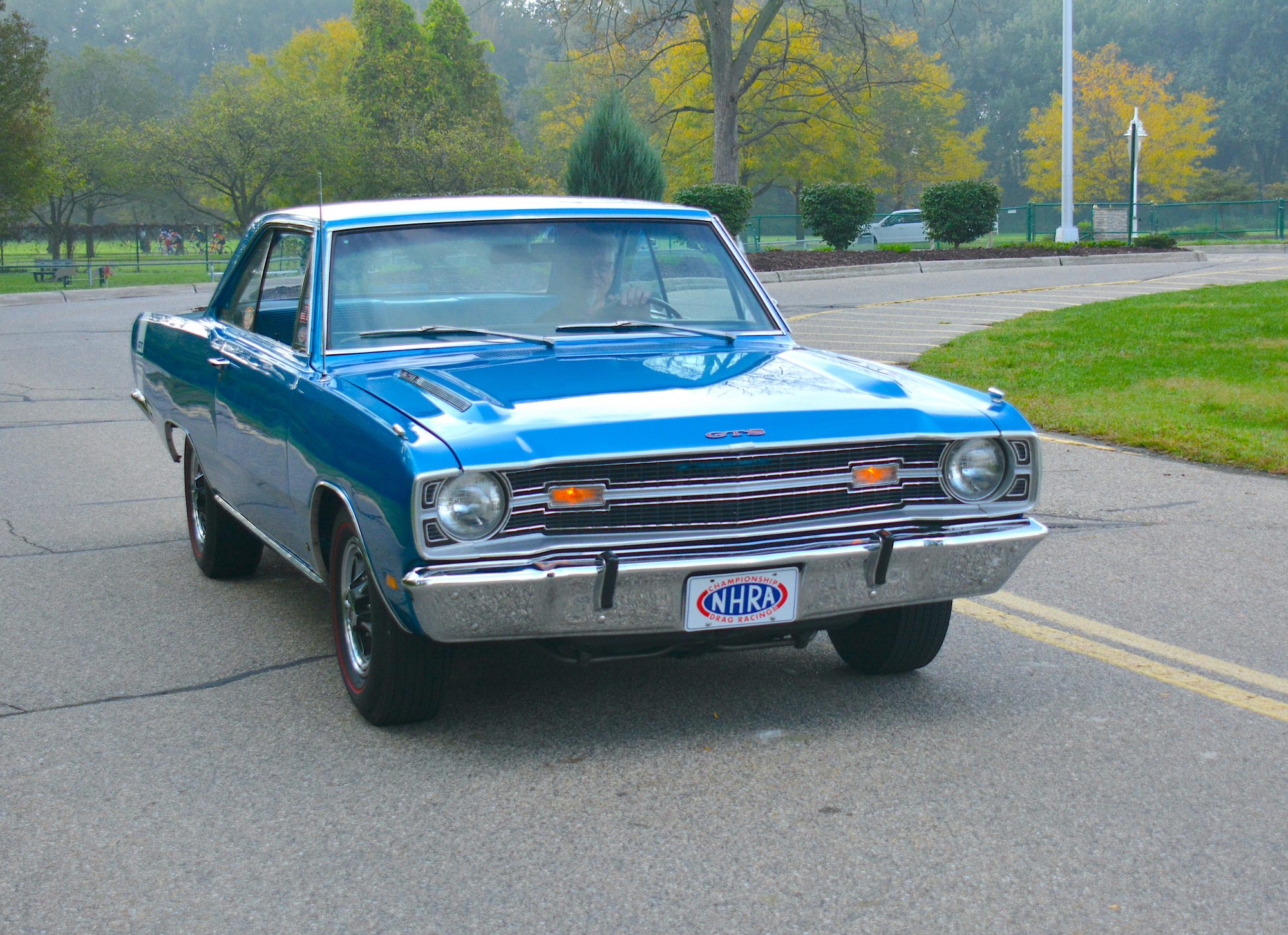 Despite these odd and less than favorable attributes old cars tend to have, it didn't dissuade Frank Remlinger for his love of vintage iron. He may have grown up a "Chevy Guy" owning a slew of Bowtie machinery that included Novas, Chevelles and even a Stingray, but it was the brute torque of a 440-powered 1968 Plymouth GTX that made him come over to our side. It was at a car show in 1996 when Frank spotted a clean 1969 Dodge Dart GTS.
"My wife Karen and I went to a cruise night at a local bowling alley held every Friday evening. Karen had known that I was looking for a project and she had asked over dinner what I would be looking for," said Frank. "I didn't want the usual Firebird/Camaro, plus I needed something that would fit in our small garage. I used to take a tape measure with me when I went to look at cars for sale. I told Karen that a Malibu SS or even a Dart GTS would be of interest. Karen spotted this GTS at the cruise night with a 'For Sale' sign in the window. A guy had brought it up from Tennessee and it was a good '20-footer'. It had a dent in the front fender where it looked like a soccer ball had hit it. The car was painted a dark midnight blue with black interior. It was riding on Mopar Rallye rims and there was a 360 small-block under the hood, but with the correct 340 intake manifold and other pieces. I bought it the next day for $5,000.
"The 360 was garbage. The 727 had come out of a 1969 340 Swinger with column shift and all the linkage attachments were there. It did have all the hard-to-find Dart GTS pieces both interior and exterior. They all need refurbishing. After discovering that only 2,623 of these '69 Darts GTSs were built, I decided to restore instead of hot rod it. That process took four years to complete. The exterior was in rough shape as previous owners attempted to paint the car a dark blue color over the original B5 Bright Blue enamel. The interior was also rough. Someone had taken a rattle can of black spray paint over the factory B3 Light Blue upper door panels. The trunk was also sprayed with GM-style spatter paint. It turned out to have all original sheet metal under this mess except for one right-rear quarter panel trunk extension!"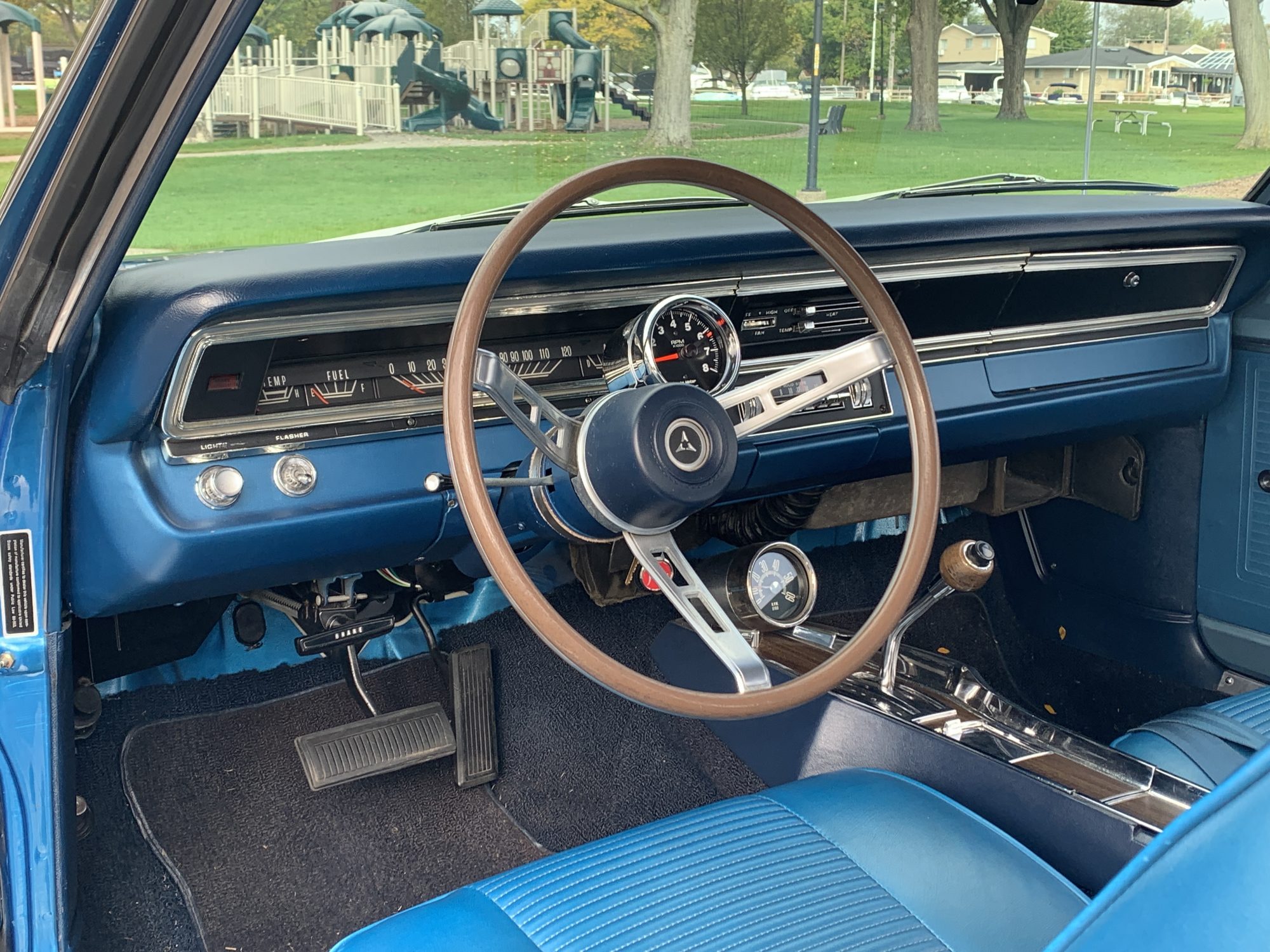 After completing a four-year O.E.-style restoration, Frank did the Mopar car show scene with his Dart GTS. He received numerous wins and accolades from the show judges and attendees when they looked over his Dart. But something was missing, and Frank felt his "Econo Muscle Car" with its giant-killing and high-winding 340 small block should be much more than a static show piece. "After attending a few shows, including the Mopar Nationals and local lawn shows, I became bored. Even though my Dart GTS won 'Best Restored A-body' at a Chrysler Classic event, it was just dull sitting next to the car on a lawn chair," noted Frank. "I had heard from my friend Casey Marks about something called the Pure Stock Muscle Car Drag Races (PSMCDR) held every fall at the Mid-Michigan Motorplex near Stanton, Michigan. We borrowed a Ram pickup from my brother-in-law and an open trailer from a Mopar buddy and headed to the drag strip. Our first time at PSMCDR was in 2001 and I was getting my feet wet in this type of racing which limits the modifications you can do the car. That year, I ripped off some impressive 15.30s (sarcasm) with a mild 340 with cast pistons, 9:1 compression, a RV camshaft, 3.55 gears, had a great time."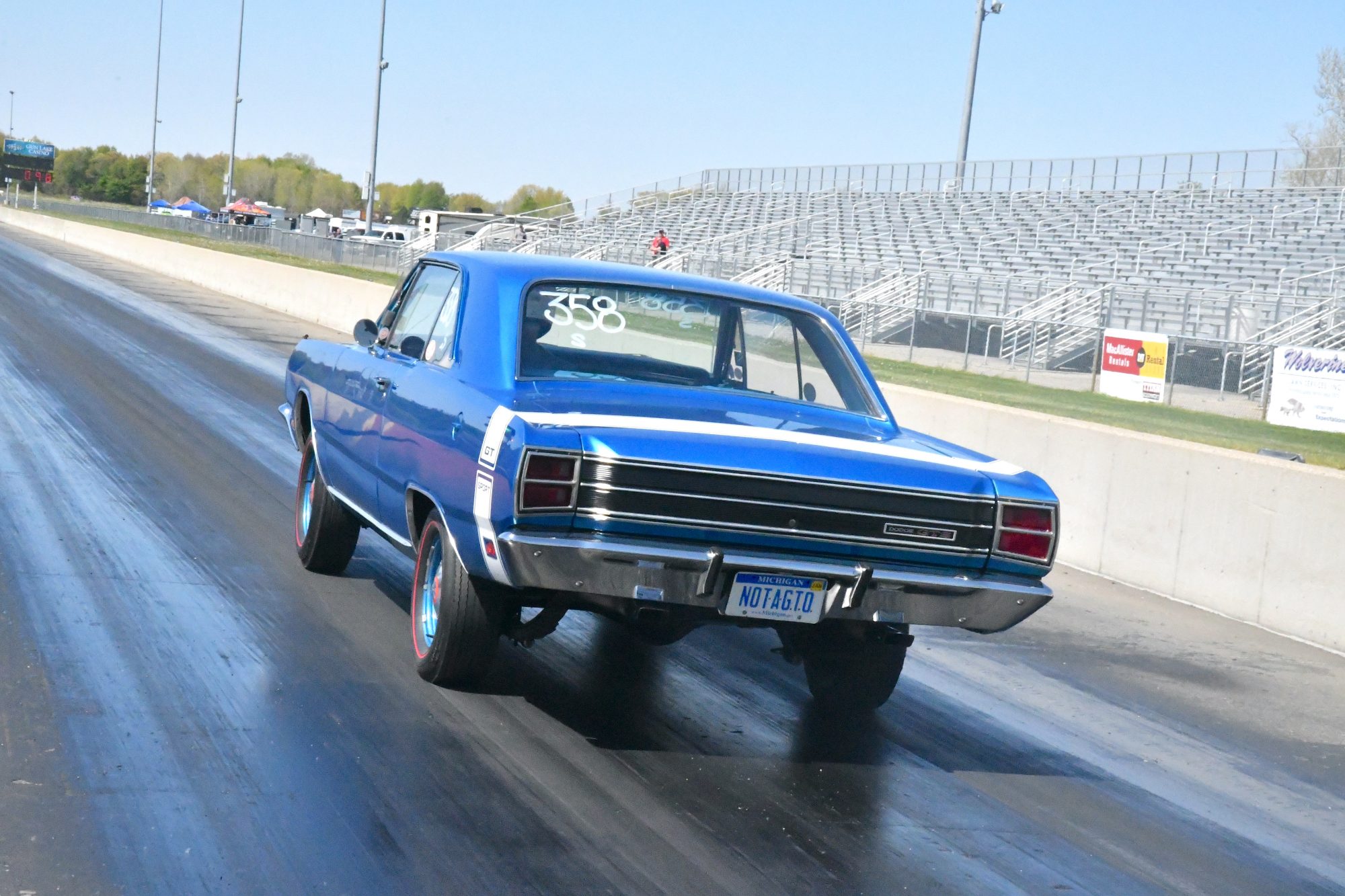 Even though the times Frank ran back then were not earth-shattering, it was way better than sitting at a car show listening to oldies music being blasted all day on crappy loud speakers. The hook was now set for Frank and the evolution of making his 340 Dart GTS quicker and faster had begun. "What we liked best was the comradery of this event. The multi-makes from other manufacturers really spices things up as they're all show-quality rides. Watching fellow competitors beating the daylights out of their cars down the strip regardless of the rarity is really cool, especially seeing a Paxton Supercharged Studebaker, being raced," exclaimed Frank. The rarity of muscle cars Frank lines up with at the Pure Stock Drags would create a bidding war among buyers at any Barrett-Jackson or Mecum auction. "There's been many times we've had ZL-1 427 COPO Camaros at these events along with numerous 440 Six Pack Super Bees and 440 Six Barrel Road Runners. Heck, we've even had Plymouth Superbirds and Charger Daytonas come and play at the Pure Stocks!" What keeps Frank and other racers coming back is the rules as they really keep it close among participants. The matchups are, for the most part, fender-to-fender all the way down the quarter-mile. The driver is the biggest influence in this type of racing as cars must run on the stock size tires they came with originally. If you're aggressive off the line, the skinny six-inch Bia-Ply tires go up in a blaze of smoking rubber.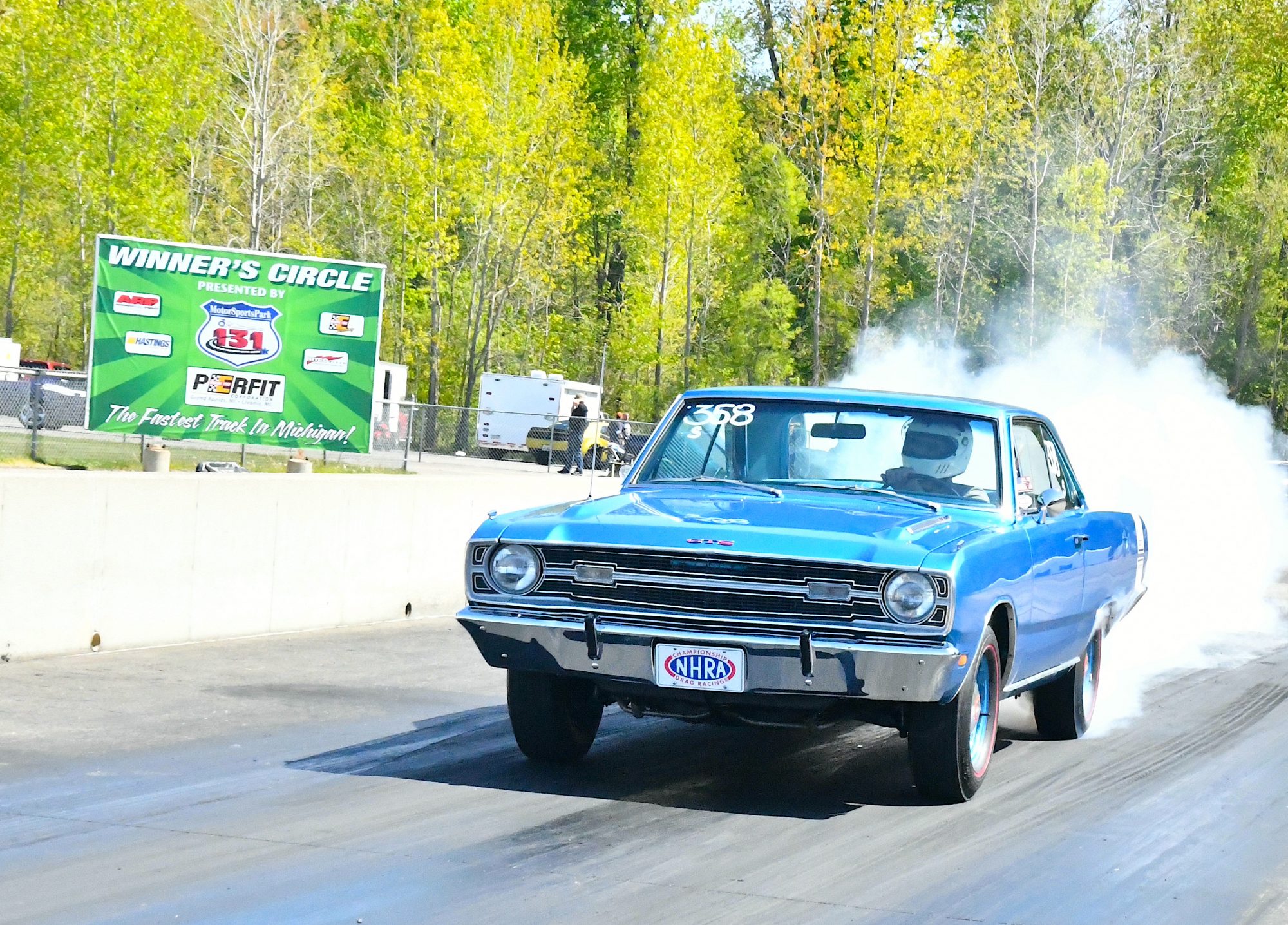 To step up the performance of his Dart, Frank began with the 340 small block V8 sitting under the hood. He knew if he was to run heads-up with some of the serious players at the Pure Stock Drags, he'd need more power. "I took a methodical approach of improving my Dart's overall performance. A careful selection of and assembly of parts from fan blades to rear gear in the differential," said a cautious Frank, careful not to reveal his speed secrets too much. "Automotive Machine in Fraser, Michigan, built the 340 using Diamond forged pistons, Eagle S.I.R rods from Mancini Racing. A Bob Karakashian Mr. 6 Pak camshaft increased the power band while maintaining great idle characteristics. The rotating assembly was balanced. The intake and exhaust ports have been gasket matched (which is all that is allowed by Pure Stock rules) and the heads CC'd. Compression is 11:1 with the stock iron "X" cylinder heads. The 727 TorqueFlite® is a TCI Street Fighter 727 that I manually shift it at 6,200 rpm at the track. The Ring and Pinion Shop in Clinton Township, Michigan, set up my 489 case with 4.30 gears for the factory 8-3/4 axle. Helping the little 340 breathe is a mandrel bent TTI 2-½" exhaust system with a X-pipe system and Dyno-Max Ultra Flo mufflers. Once again, it is a package you are putting together, not pieces." Frank also has this advice for fellow Mopar small block racers. "Exhaust and gearing will be your two biggest performance gain as the 340 likes to rev. Match your tire height with optimum RPM range to your gear ratio. There is no torque with the 340, so you have to rely upon horsepower. I also found that using a chassis dyno will help you tune your car. Air/fuel ratio is critical, as well as ignition timing."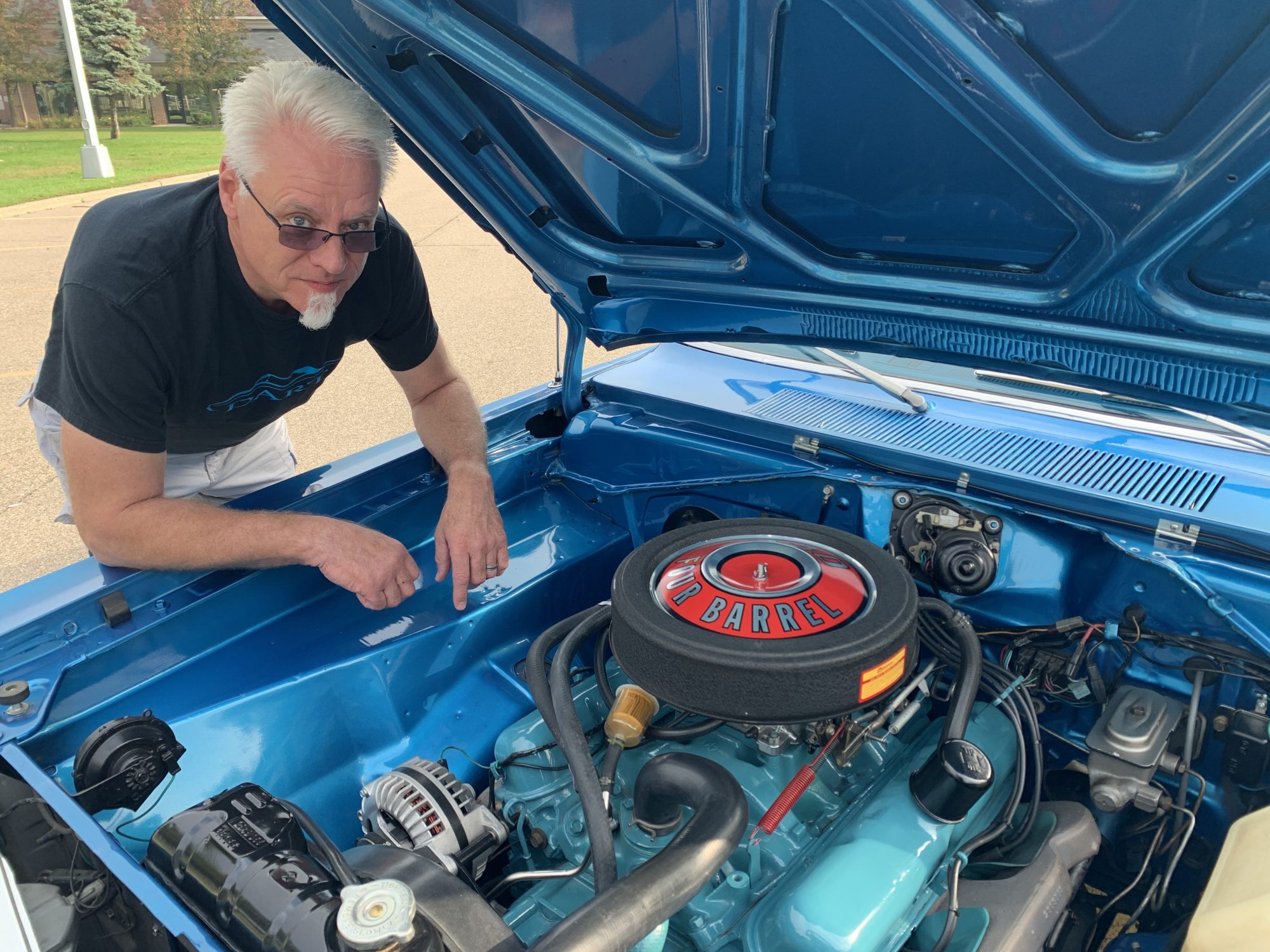 For Frank's efforts and his relentless attention to details, his little Dart GTS consistently clicks off 12.80- to 12.90-second times at the drags. A mass improvement from the low 15-second passes he made 20 years ago. Now he's putting the hurt to cars with more than 100 cubic inches over his Dart's little 340 V8. As Frank preaches, "Develop an entire package and you'll see performance improvements immediately." Frank also keeps a log book with all the car's runs and records the data. This includes ET and MPH, launch rpm, tire pressure, weather conditions and other factors such engine tuning that would have an impact on how the car runs at the track. Frank also offered up this tidbit. "Another reason I keep a log book, other than my wife Karen telling me I have focus issues, is because it's easy to get sidetracked from what you're doing under the hood at the races. I somehow ended with four different jets in all four-corners the Carter AVS carb because I was talking to some friends during the jet change. The next weekend, I discovered my errors, so the log book helps me focus and track the changes."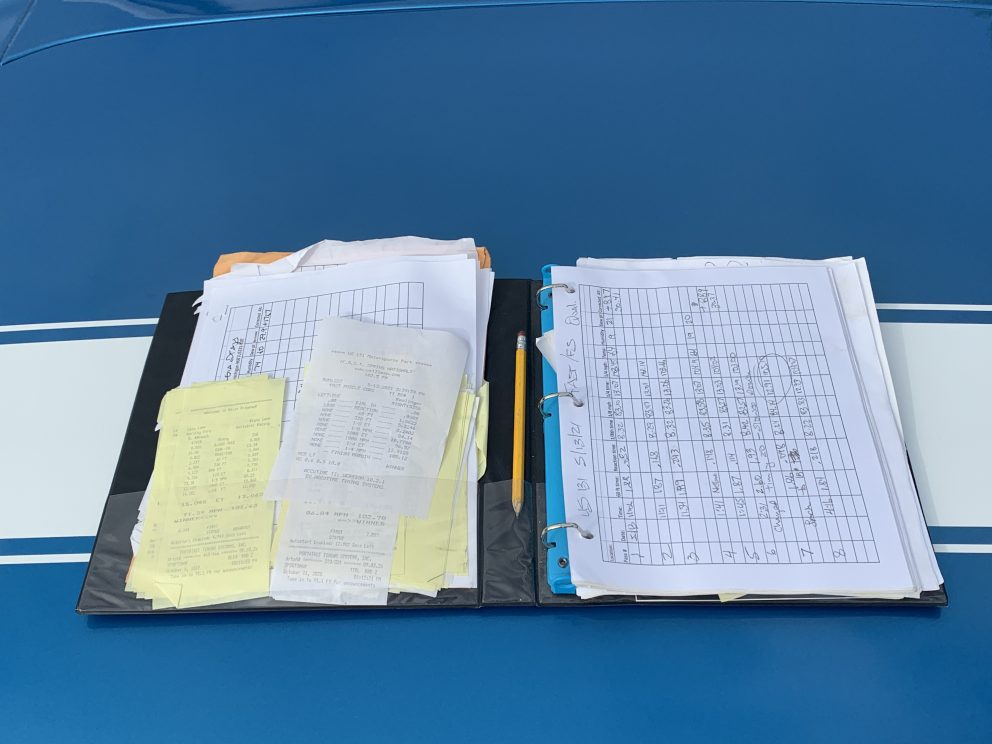 Another funny tale Frank shared with us is how many "car enthusiasts" somehow mistake his Dart GTS for a Pontiac GTO. "Since day one of me owning this Dodge GTS, people think it's a GTO," laughed Frank. "I think folks see the 'GT' on the Bumble Bee tail stripe and their mind skips a beat and think 'GTO' before realizing it says 'GT Sport' or 'Dodge GTS' on the trunk finish panel." Even though his Dart doesn't have stacked headlights or Pontiac GTO badges, it doesn't matter. As Frank pointed out, "The only place it says 'Dart' is in the faceplate of the AM radio!"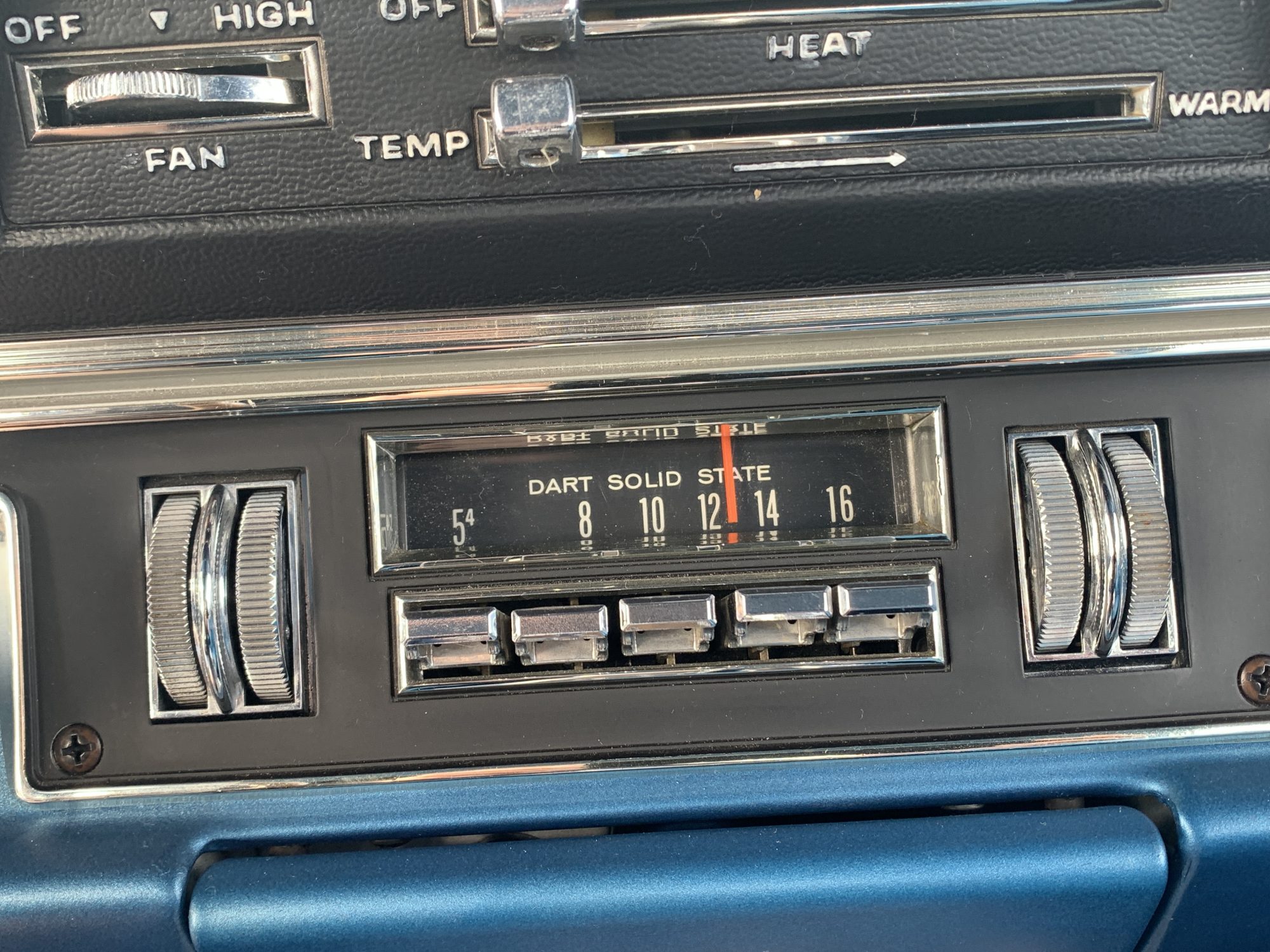 "I can't tell you how many times I have heard stories of their cousin's car 'just like this but with a 389 Tri-Power,' or their dad used to own a GTO Judge 'just like yours.' The best is when they sing the song 'Little GTO' to me, that just makes me cringe!" Frank is convinced his Dart GTS bares a slight resemblance to the 1965 GTO in size and C-pillar configuration. Regardless, the Dart's vanity license plate should remove any notions that it's a Pontiac!
When asked if there are more mods or another performance level he'd like to take his 340 Dart GTS to, Frank thought about it for a while and had this to say. "At this time, I think I have run the course with making mods to the GTS for the Pure Stock Muscle Car Drag Races. The next step would be to build a total new stroker engine package for the Factory Appearing Stock Tire (FAST) class, but I don't have the desire to chase that. I also like to bracket race my GTS 'as is' because it makes me work on consistency as a driver and tuner instead of just going faster." Despite what Frank says, we have a sneaking suspicion he'll be looking to build another car for the Pure Stock Muscle Car Drag Races if he gets his way. He may claim his current Dart GTS will be his only one, but if another Dart GTS came along but with a 383 big block, he might be a player. But for now, we'll just let the wheels in his head keep turning while you check out more pics of Frank's sedate but very fast 1969 Dart GTS.
Comments
Comments