Aero Warrior – Plymouth Superbird and Its Owner Take Flight
2 years ago Gallery Owners + Clubs
The motorist, in his nondescript SUV, did a double take as we rolled past him on Gratiot Avenue on Detroit's eastside. With its long, pointed nose cone and four-foot wing mounted on top of the rear quarters, the car I was riding shotgun in was hard to miss. Especially since it's painted Limelight green with massive black "PLYMOUTH" decals stuck on the side. With gaping facial expressions, other shocked drivers pointed at this one-year wonder, a 1970 Plymouth Superbird. I'm not a lip reader, but I made out "WTH is that?" coming out of their mouths despite their voices being muffled through rolled-up windows and the "thumpity thump" idle from the 440 Super Commando V8 under the Superbird's long hood.
Why did Chrysler build such a wild-looking car back then? It's simple – to dominate the NASCAR superspeedways while leaving competitors in its wake.
To be eligible for competition, NASCAR's Bill France and his tech department required Chrysler to build street versions of the Superbird in order to homologate (approve) it for competition. While the Dodge Charger Daytona "Wing Thing" attacked the high-banked ovals in mid-1969 with great success, it was just a matter of time until their sibling rival over at Plymouth wanted to build their own flying machine. Unlike the 1969 Charger Daytona, in which NASCAR only required 500 street units, Bill France told Plymouth they'd need to up the ante for the 1970 Superbird and produce at least one for every Chrysler/Plymouth dealer in the country. It was NASCAR's way of discouraging automakers from building one-off package cars that would have a distinct advantage over regular showroom models. The Superbird's production number was around 1,920 units and they had to be assembled and shipped to dealers before December 31, 1969, to make it legal for the 1970 Daytona 500, which was scheduled for February 22 of that year. While the initial batch of street versions of the "Birds" sold, many lingered on dealer lots for months and even years as consumer tastes rapidly changed for these over-the-top, wild and crazy muscle cars. While Richard Petty and his team driver, Pete Hamilton, may have thundered around NASCAR race tracks claiming numerous victories with their Superbirds, sales of the showroom production models stalled as dealers struggled to find buyers despite marking the price of these cars way down. It got to a point that by the middle of 1970, Chrysler had some of their Parts and Service District Mangers and Reps calling on dealers while driving Superbirds as company cars.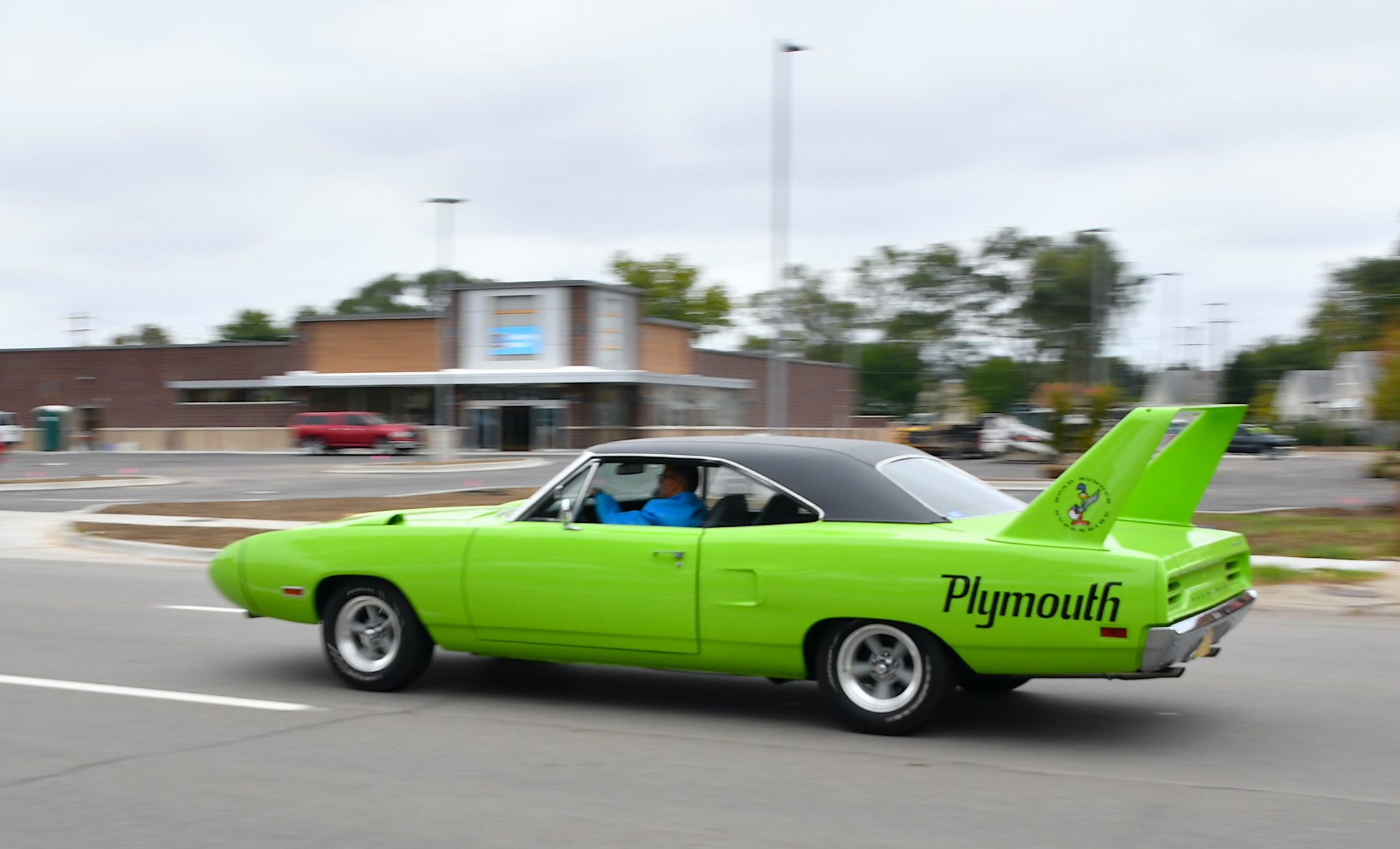 Today, the Plymouth Superbird still gets glances and stares, just like it did 51 years ago. Many did survive the abuse of snow, salt, and other road hazards and physical abuse from owners who treated them as a disposable commodity. But some became extinct, rotting away in junkyards or backyards, never to fly again.
For one passionate individual, he's reconnected with a Superbird, albeit not the exact one he owned in the 1980s. Enter Mark Marougi, a 57-year-old, semi-retired business owner who's been into Mopar® muscle cars since he was 15. Mark grew up watching shows like the Dukes of Hazzard and catching the cult classic movie Bullitt when TV stations would air it as their late-night movie feature. His dreams of owning not one but seven of the original Dukes of Hazzard Chargers from both the TV show and movies came to fruition as he got older and began collecting these unique cars. He also developed a friendship with the late, great George Barris, known for creating iconic custom automobiles for popular movies TV shows like Batman, The Munsters, The Beverly Hillbillies, Fireball 500, Mannix, Knight Rider and many more.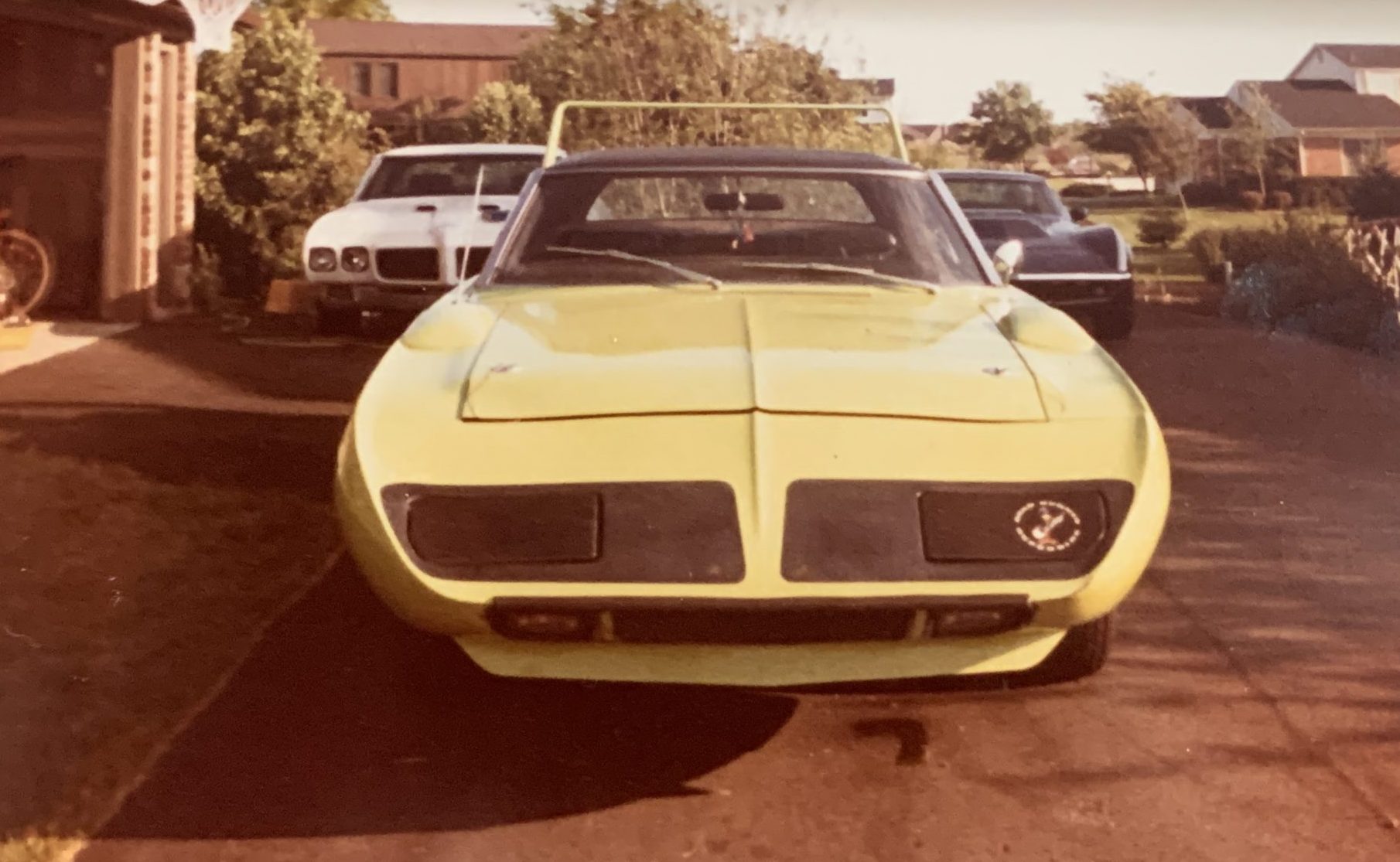 However, it was another Green Superbird Mark owned in the 1980s that really left a memorable impression. "About 35 years ago, I owned a lime green Superbird similar to one I have now," said Mark. "Right when I sold my green Bird car to a friend, I looked at a yellow Superbird. It was in Dearborn, Michigan, and had a 440 four-barrel V8 engine for power. It was an original paint 17,000-mile Bird and really clean. I had $10,000 from the sale of my other Bird, but the owner of this one I wanted was asking $12,000. I tried to get the other $2,000 from my father, but he said no dice." If you're wondering why Mark sold his first Superbird years ago, he really wanted a four-speed and the car he had at the time was a column-shift automatic. "When I approached my father about the buying the yellow Superbird, he asked me if it was a four-speed. I told him no and he said 'Why did you sell the green one?' I proceeded to tell him that this is an automatic on the floor, but it's an original paint 17,000-mile car. That didn't matter to him, so I kept looking. They were always more expensive than I could afford. I was playing catch-up for many years. Finally, I just said I'm going to spend what I need to and get one. I tried to get my original car back as the owner passed away not to long after I sold it to him, but the family was not ready to sell it at the time."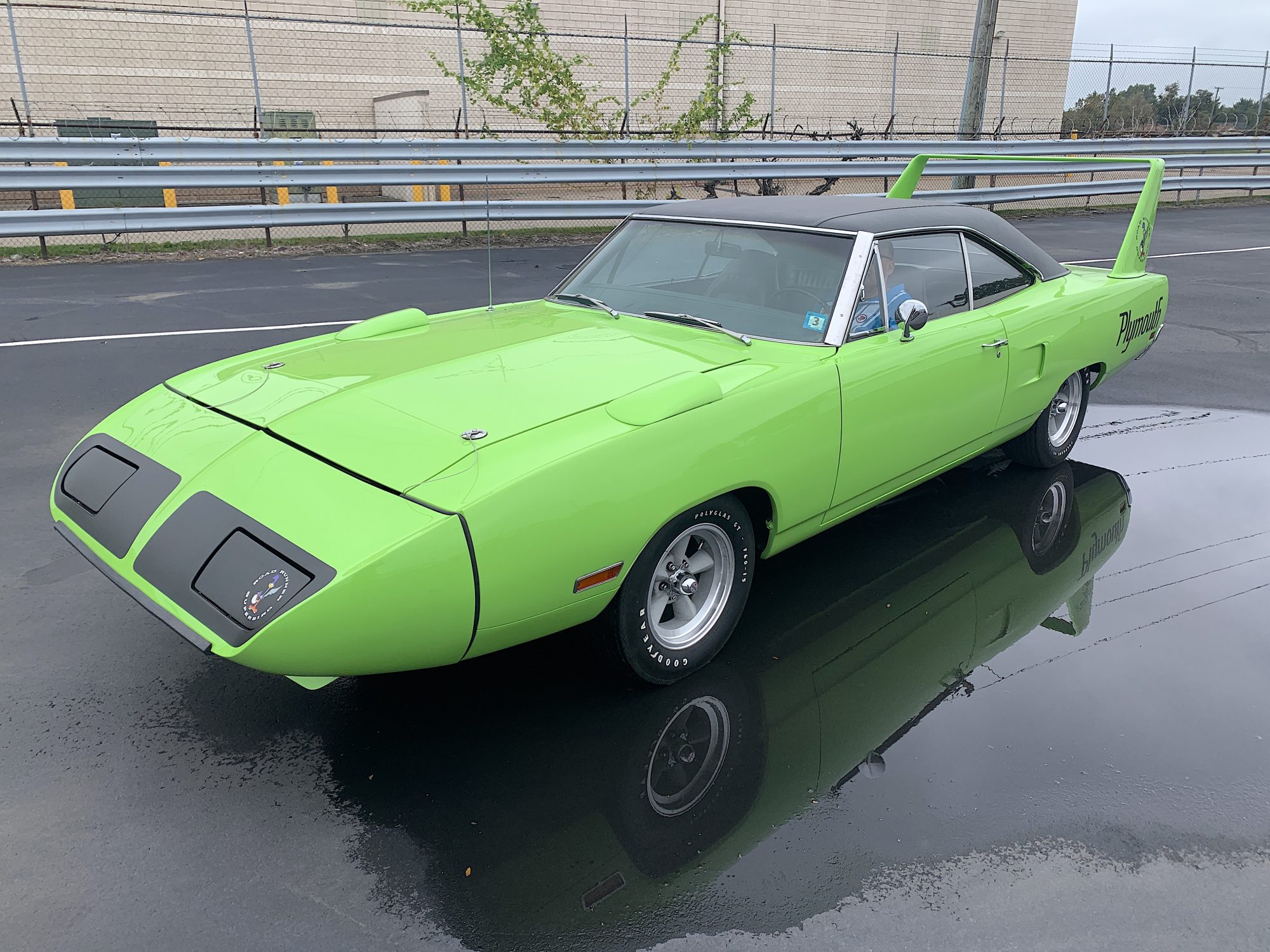 Eventually, Mark's search led to him purchasing this great-looking Limelight Superbird with an interesting story. The second owner lived in Utah and bought the rare Bird back in 1975. Unfortunately, the owner also passed away in the 1980s and the car sat dormant for decades collecting dust. The kids decided it was time to sell their late father's car and placed an ad on Craigslist in Utah. It was a friend of Mark's, Steve Liabenow, that spotted the ad and immediately called Mark. Being that it was a real deal Limelight, numbers-matching 440 four-barrel, four-speed transmission, 3.54 Dana rear axle, with a bucket seat interior, Mark was extremely interested in buying this Superbird. "When I contacted the Superbird's owner, he said they had so many phone calls on the car. I told him that if it wasn't for the Bird being lime green, I would not bother him. I also told him I'd been looking for over 35 years for another lime green Superbird to replace the one I sold decades ago," noted Mark. "The owner said call him tomorrow because he had someone coming to look at it. I was reluctant to call because I didn't want to waste our time and the guy looking at the car was probably going to buy it. My brother said just call him back, so I did. When he answered the phone, he said 'Oh I was just thinking about you and what you said so I've decided to sell the car to you.' I was floored when I heard that," smiled Mark.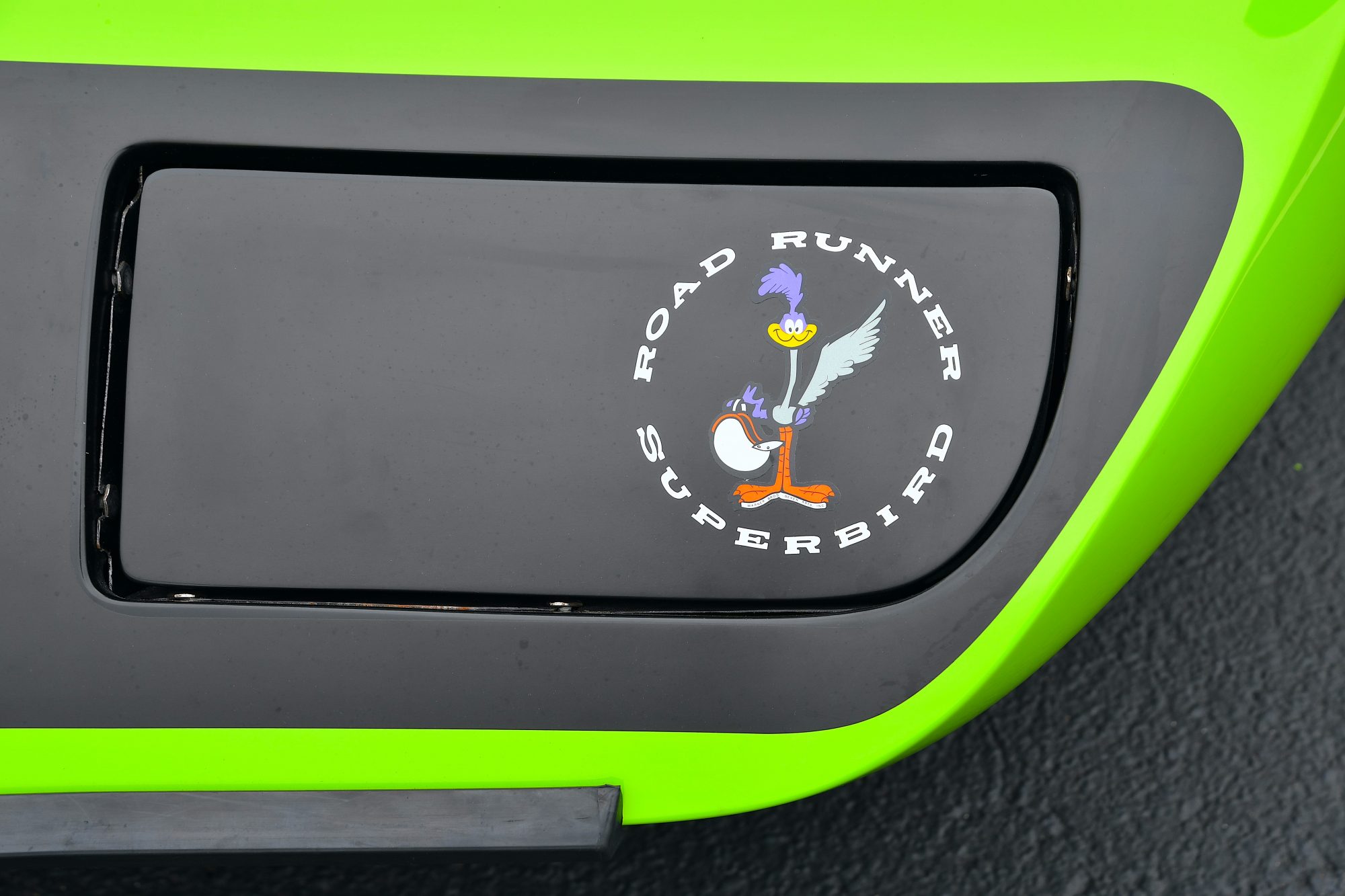 To get a closer look at the Superbird without the expense and hassle of flying to Utah, Mark and the owner used FaceTime to make sure the car was numbers-matching and otherwise true to the way it was depicted in the ad. "He wanted me to come see it and could not believe that I was going to buy it and send the money sight unseen. I know it's kind of risky, but I had a good vibe. When the car arrived, it was pretty much what he described. It was in pretty good shape other than surface rust and a tired motor. I had the car completely restored bumper to bumper and sent the 440 four-barrel engine off to Bob Kardashian, aka 'Mr. 6Pack' to be rebuilt," mentioned Mark.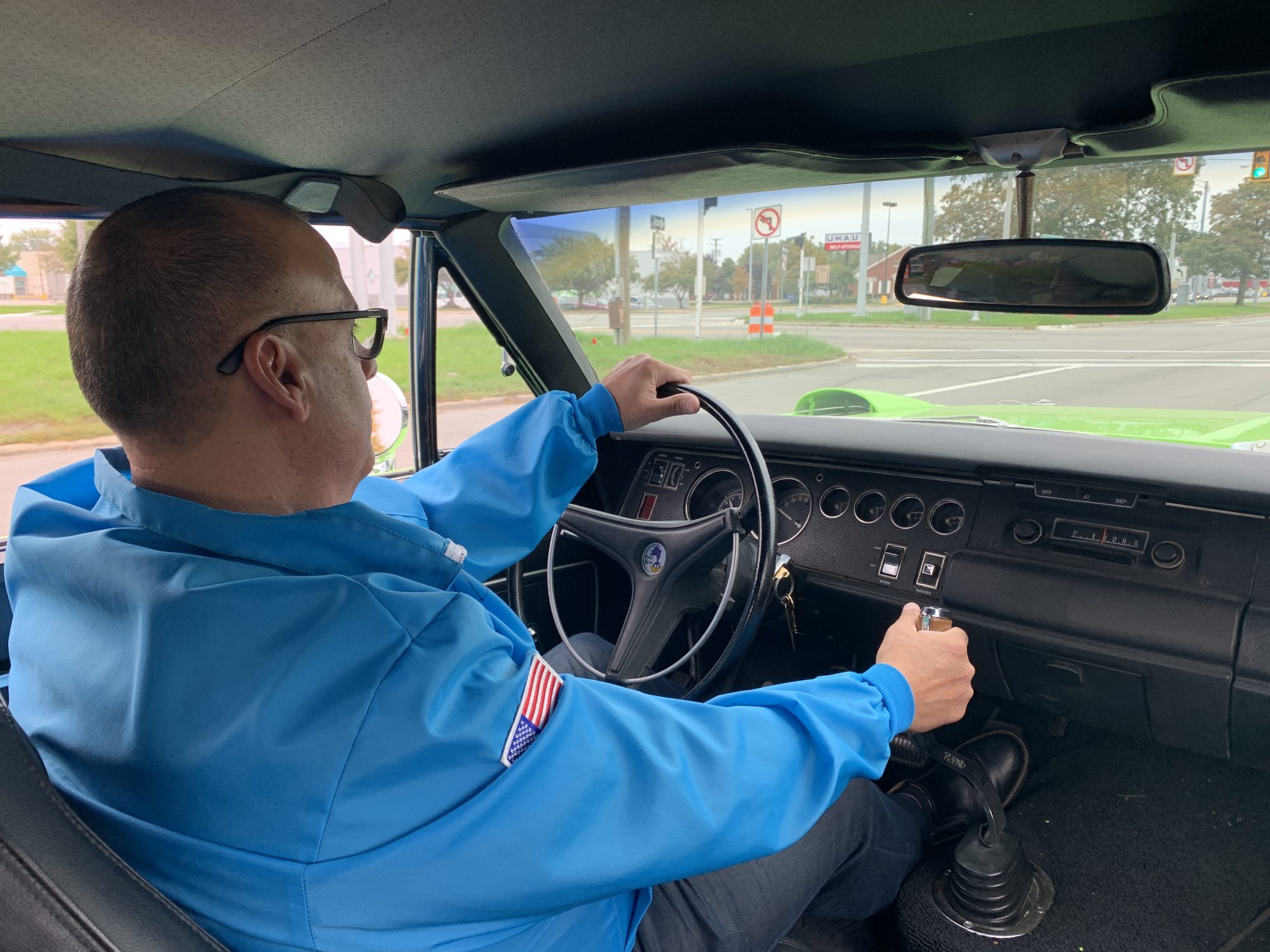 In the past five decades, this Superbird has roamed this earth. Mark is the third owner and unlike the Bird he let fly away in the 1980s, he's hanging on to this one. "Driving a Superbird is like no other car. I have had many crazy vehicles that draw attention, but for some reason, the Superbird towers over everything, there's nothing like it. The lime green color makes it even more outstanding," declared Mark. "When I bought this car and brought it home, it occupied the same garage space where my first Superbird sat over 35 years ago. Even my mom commented and said 'Oh, you brought your Superbird home' and that was pretty cool. I know I won't be turning this Bird loose anytime soon."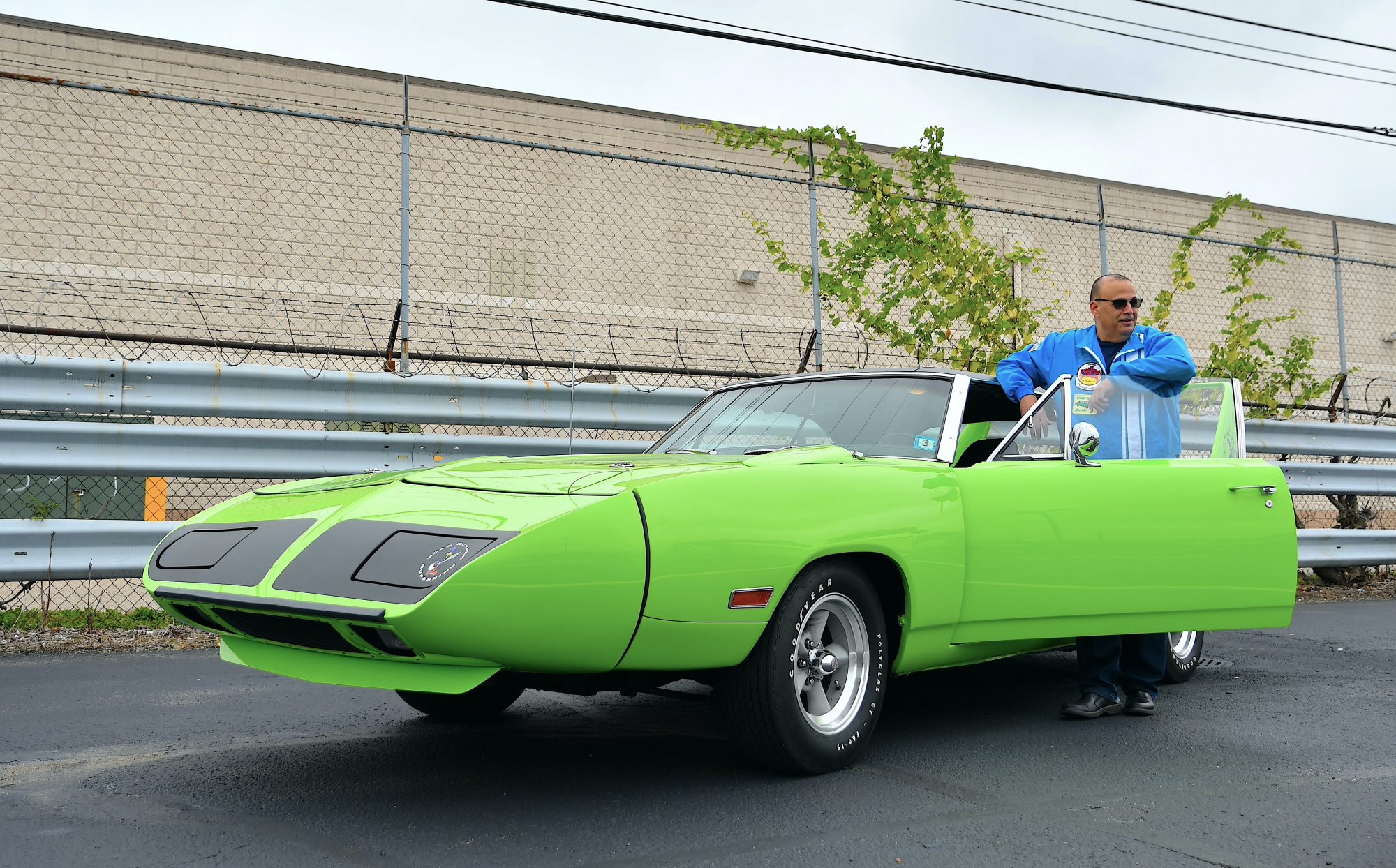 Check out this image gallery of Mark's current Superbird that also include some cool shots of his original ride from back in the day!
Comments
Comments