Little Big Man
2 years ago Gallery Owners + Clubs
Longtime Mopar drag racer Don Little has been applying his craft for so long, it's hard for him to keep count. This unassuming, 70-year-old Northern California native has been modifying Mopar cylinder heads, intake manifolds, and experimenting with various engine combinations in his little shop near Modesto for decades. He's also an intimidating competitor with his high-flying Challenger R/T NHRA Stock race car. This former NHRA Stock Eliminator World Champion claimed the crown in 1999, can also send his competition packing when he lines up next them during eliminations. In a class that limits what can be modified to the engine, Little has figured out ways to make production parts be more efficient. He's been the go-to guy for many Mopar racers looking to step up their engine combination for more power. For the number of championships he's won, and the horsepower gains his parts have provided the loyal customers he has managed to amass over the years, Don Little is still very quiet and humble. A former auto parts store counterman and mechanic, Little has made his passion for fast Mopars his livelihood. Little doesn't really have any hobbies other than drag racing and extracting the last ounce of horsepower from the engine. Little began his craft by working with Mopar Super Stock HEMI legend, Harry Holton, whose cars were aptly named "HEMI COUNTDOWN" and dominated the drag strips throughout California during the late 1960s and early 70s. Little was a quick study as Holton took him under his wing and showed him all the nuances of HEMI engines, chassis modifications, and other details needed to make a car run fast and hard while being legal under the constant scrutiny of the NHRA Tech Department. "When I was a kid, I went down to the gas station Harry owned to check out his HEMI race car, he asked if I'd like to go racing and I said sure," said Little. Those skills still carry on today when Little's HEMI powered 1970 Dodge Challenger R/T comes to do battle with the Bowties and Blue Ovals in the contentious Stock Eliminator wars where engine combinations are scienced out while the production body panels go on a weight reduction plan. Skills behind the wheel and under the hood are needed to go rounds and win races.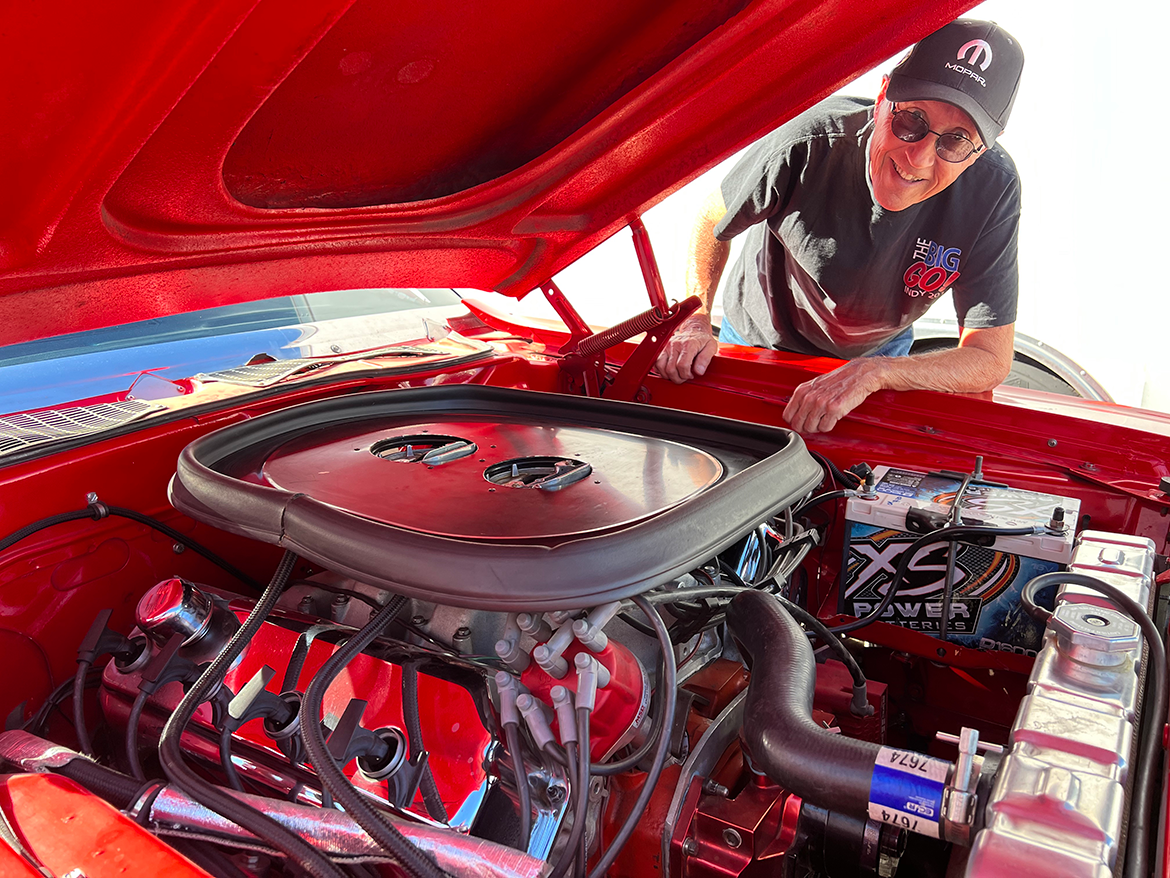 Little is one of those rare individuals. He can make more power by turning a wrench and pilot his car down the track while sidelining his competition. He's raced numerous Mopars to event championships and class wins over the past few decades. Little looks at every Dodge and Plymouth body/engine combination to find an advantage over the Camaros and Mustangs. "After running a 1969 Plymouth Road Runner, I switched it up to 1970 'Cuda with a 440 Six Pack engine. We eventually went with a HEMI in the 'Cuda and it was a very successful package. Unfortunately, my 'Cuda was an original V-code Six Pack car and it got to a point it was becoming too valuable to race," noted Little. "So, a friend of mine found me clean 1970 Challenger body to build another Stock Eliminator race car back in 2003. We added a few new tricks but within the NHRA rule book. The Challenger has a longer wheelbase than the 'Cuda, but the class allows the use of the factory T/A style fiberglass hood not just on the 340 Six Pack engine, but on all on 383, 440, and 426 HEMI engines. That allows to save some weight off the front end."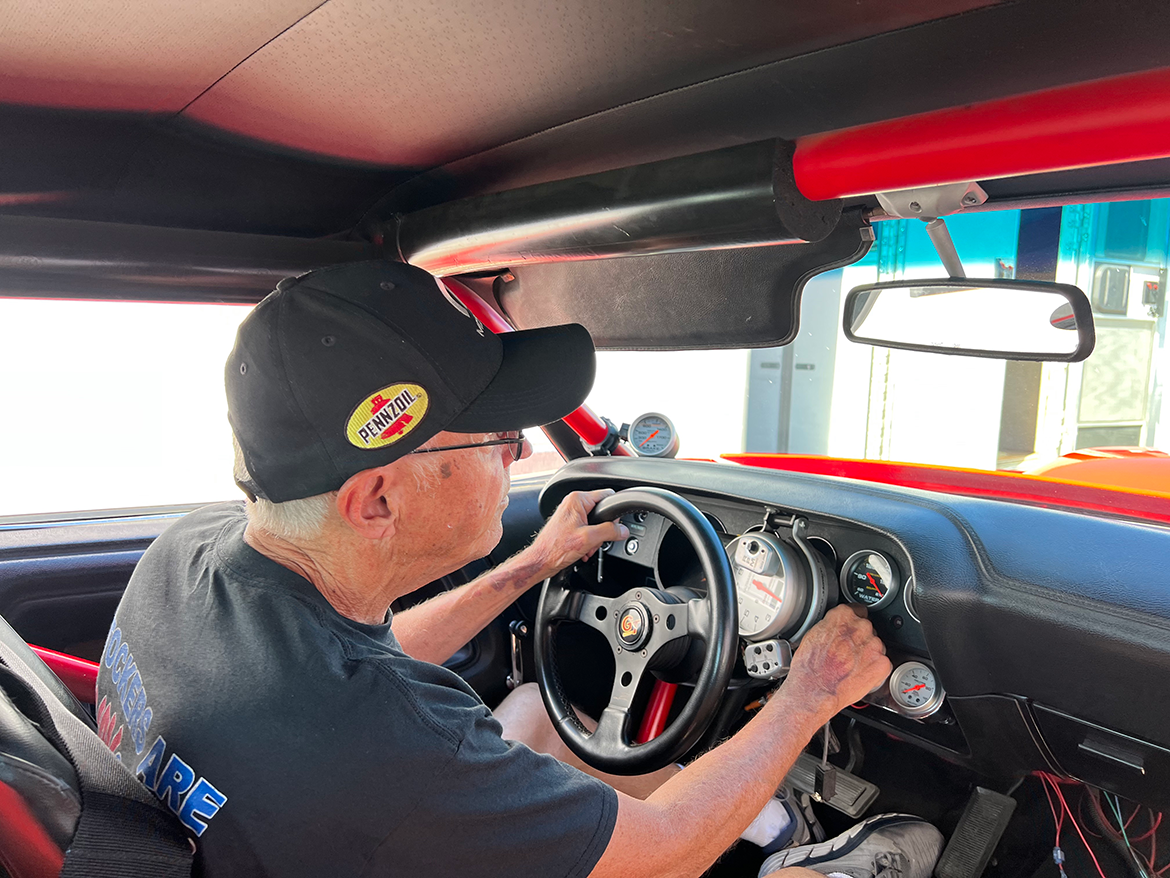 Powering the Challenger is an engine that Little is very intimate with, the venerable 426 Street HEMI. With its massive cylinder heads covered by chrome valve covers a dual four-barrel carburetors, it packs a punch. But the NHRA Tech Department constantly tries to balance out the performance among the competitors so no one brand or engine has a big advantage over another manufacturer. "We started out with the HEMI, but the Challenger has had a multitude on engines under the hood to include a 383 cubic-inch Super Stock motor and 440 Six Pack. My Challenger has run in nine different classes and has won many races," smiled Little. Along with fitting in many classes, Little also loves the look and feel of the Challenger and 'Cuda over his Road Runner. "The Challenger looks sportier, and I like the way I sit lower in the car over the bigger Road Runner that feels like I'm riding on a bench seat," noted Little.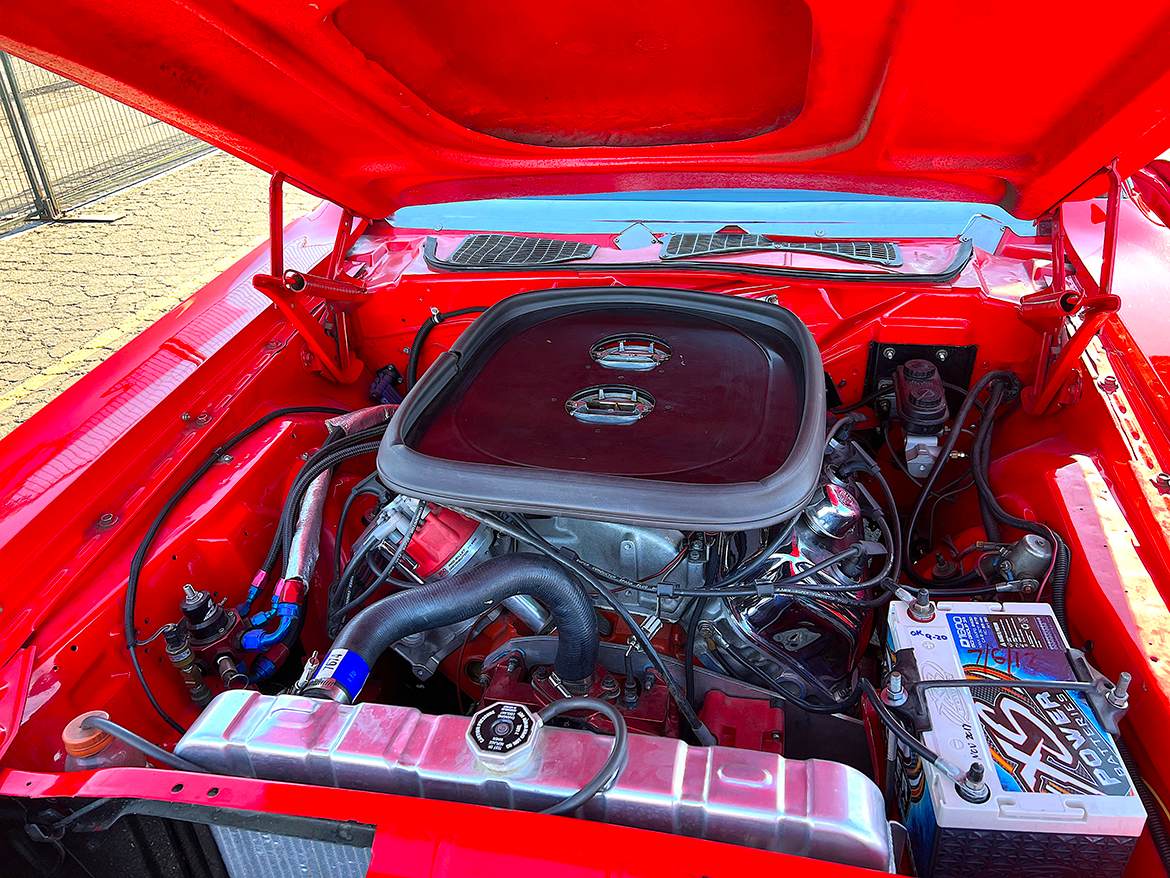 The Challenger started right off the bat on a winning streak and has been a great little race car. "I won the A-stock automatic class at the 2004 NHRA U.S. Nationals and I was really proud of that. Then I brought the car to a drag strip in Woodburn, Oregon, for a NHRA Divisional Race and was victorious at that event. The following year, I entered the 2005 NHRA Winternationals and won the event," said Little. For the past few years, he's backed off slightly from racing as his business has been going full gangbusters. His phone has been ringing off the hook in his shop. He's been self-employed for 30 years as engine builder/machinist but still finds time to run his HEMI powered Challenger R/T at select NHRA events throughout the year. Little loves pushing his machine as fast as it can go which is in high-nine second range at legal weight for the A-Stock Automatic Class.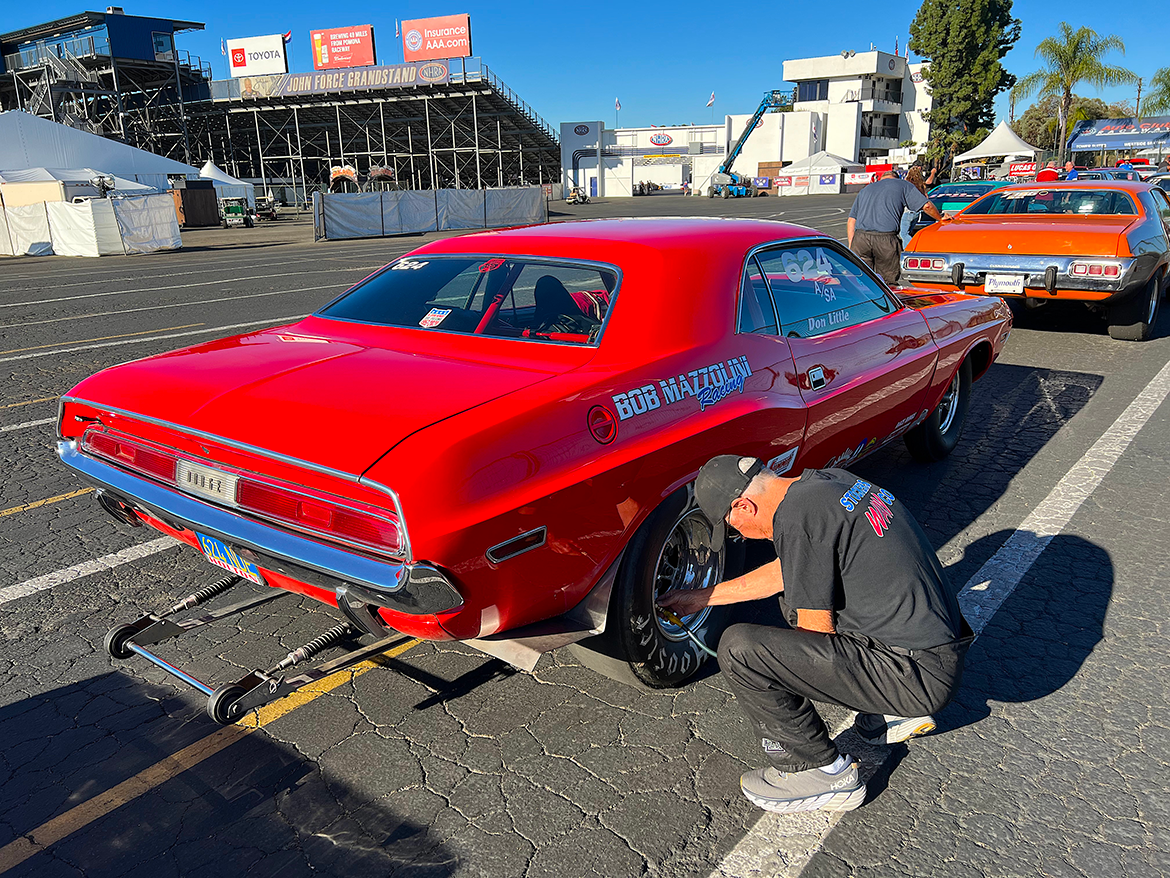 Don Little might be up there in years, but he's not slowing down anytime soon. His network of fast friends that bounce ideas off each other in making more power. It keeps his mind fresh and always pondering ways of getting vintage Mopars with 50-year-old engine architecture to keep moving faster than the competition a quarter mile at a time.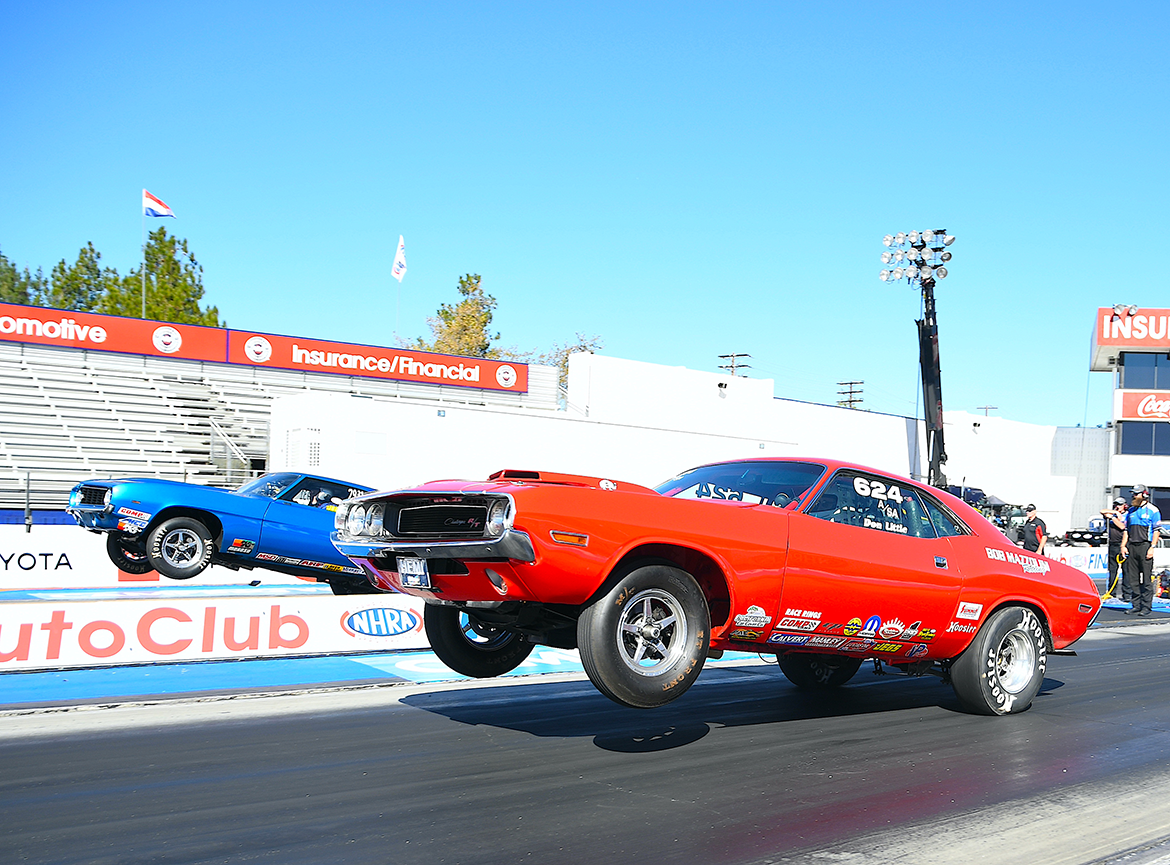 Here's other images of Little's big bad HEMI Challenger R/T to check out.
Comments
Comments
Previous