Long-Term Love Affair
2 years ago Gallery Owners + Clubs
Doug Reed stands proudly next to his 1970 Plymouth Road Runner. This six-foot, five-inch New Jersey native towers over his restored machine that is rare among the rare. With hundreds of high-performance cars from the 1960s and 1970s assembled for the annual Muscle Car and Corvette Nationals (MCACN), Doug's stunning B5 Blue Road Runner, with its contrasting white interior, stood out among the high-performance cars that defined the muscle car era. With its optional 440 Six Barrel engine and four-speed transmission, it whittled down the overall production numbers for that specific body/trans/engine combination to just 20 units produced for 1970. Yet Doug's Road Runner has been in his possession for 50 years, longer than many marriages. Like many matrimonies, there are bumps and scrapes along the way, and Doug's Road Runner has seen its share. After all, he was only 18 when he purchased this fast and rare Bird on November 22, 1971. He drove the car hard and fast, after all, these were just cars back then and not delicate vintage automobiles commanding insane amounts of money at auctions. Now 68, Doug looks back at his five-decade relationship with a machine he's always loved and had the foresight to hang on to. When many of his muscle car buddies settled down and sold their muscle cars for more practical family haulers, Doug didn't let his first love that gave him thrills and chills get away to another owner looking to get their kicks.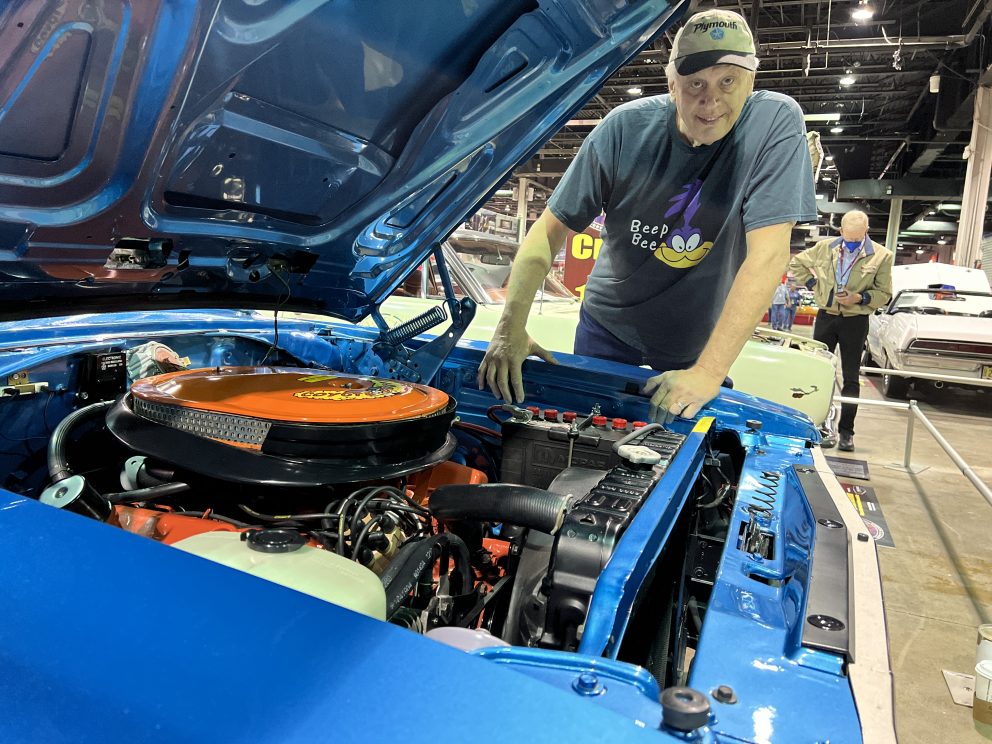 Back then, Doug didn't know much about cars, but he knew he wanted to go fast. His pals hung out at the local bowling alley talking about muscle cars and which one was the quickest. Doug was fresh out of high school, working full-time and had cash burning a hole in his pocket. Doug had a friend whose sister was a secretary at Willingboro Chrysler/Plymouth in Edgewater Park, New Jersey. She mentioned to Doug there was a 1970 Plymouth Road Runner convertible sitting on the lot. She wasn't sure if the car came in on a trade-in or was purchased at an auction, but she encouraged Doug to come in and check it out. It didn't take Doug long to realize he had to have the Road Runner. Maybe it was the angry sound the 440 Six Barrel made when the three Holley carburetors opened up and swallowed mass quantities or air and gas, or when Doug wrapped his right hand around the Hurst Pistol Grip handle on the long chrome shifter and banged through the gears like a hot knife going through butter. It just took one drive and Doug was hooked on the Road Runner. Doug asked what it would take to hold the car until his parents could give it their blessing and the dealer said a $10.00 cash deposit would hold the car. When asked "how much," the salesman fired back with a low price of $1,950 as the Road Runner was approaching the two-year-old mark and the dealer wanted it off their lot.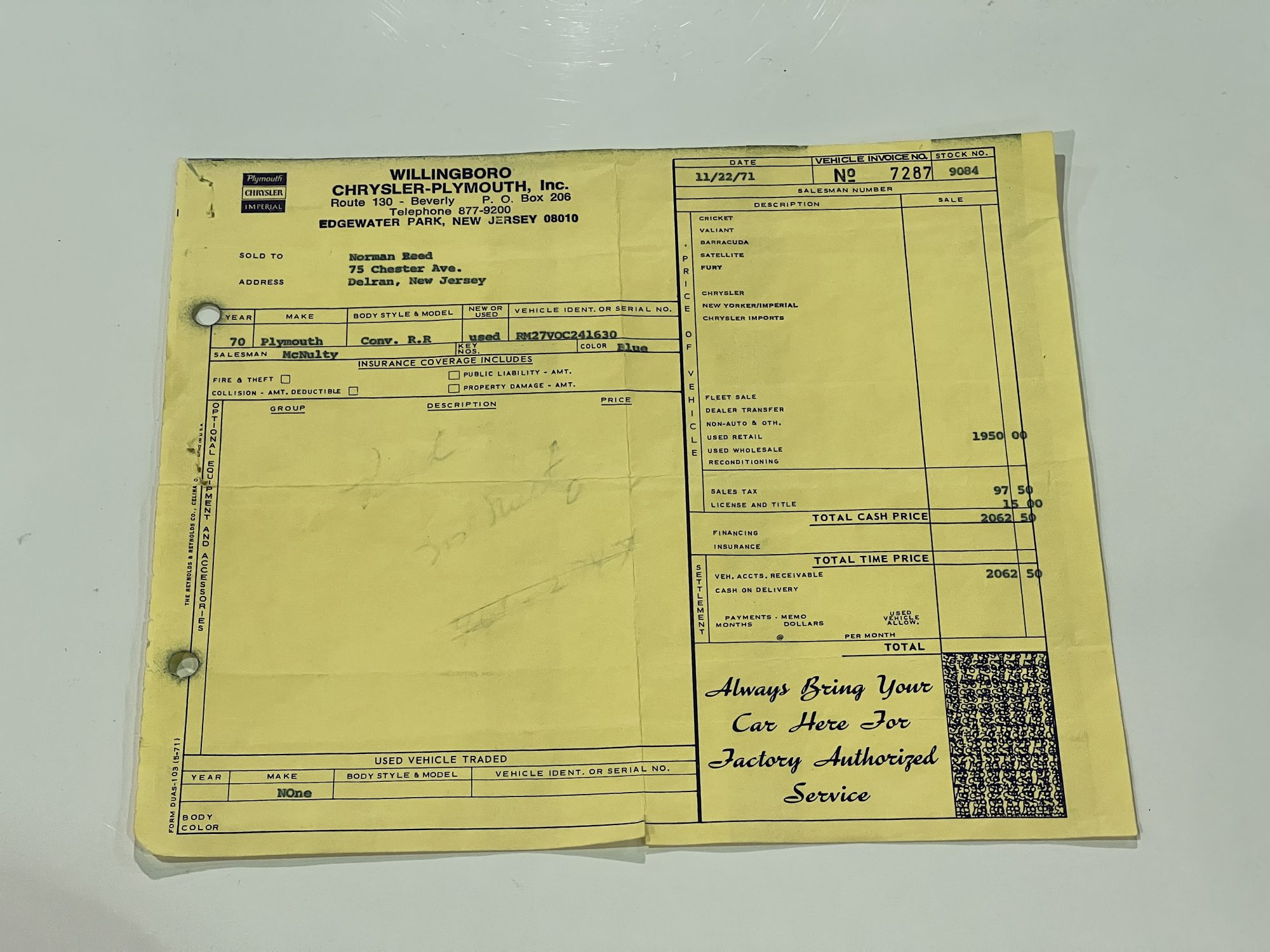 Doug had the cash to purchase this B5 Blue 1970 440 Six Barrel Road Runner convertible. The strong work ethic his parents instilled in Doug provided him the savings to pay cash for this car. But, due to the strict insurance regulations in the state of New Jersey, young buyers of high-performance cars could not be under the age of 21. Since Doug was only 18 at the time, he had to reach out to his mother and father to see if they would co-sign for him. His mom was opposed to it as she felt her son would wrap his big-block machine around a telephone pole the first opportunity he stabbed the throttle, especially during winter. But his dad, being a bit of a hot rodder in his youth, suggested he and Doug go for a ride in the Road Runner. Doug made sure not to punch the accelerator that would open the end carbs and send his father catapulting into the rear seat. Instead, Doug drove very conservative and didn't "jump on it" as he knew that would be the deal-breaker. His dad liked the car as it had mild street manners and was not loud, obnoxious or smelly. The Road Runner also didn't have typical "hopped-up" aftermarket engine parts bolted on it. These tend to make the idle choppy and give poor low-speed drivability. Something dads with teenage sons would not approve of. With his father co-signing, Doug brought the Road Runner home from the dealership on that cold November day in 1971. His mother was upset with both him and his father. "My mother was so mad with me and my dad, she wouldn't even let me park in the driveway," laughed Doug. "I ended up parking my new Road Runner in front of the neighbor's house, out of sight from my mother as she didn't want to even see the car, that's how mad she was!"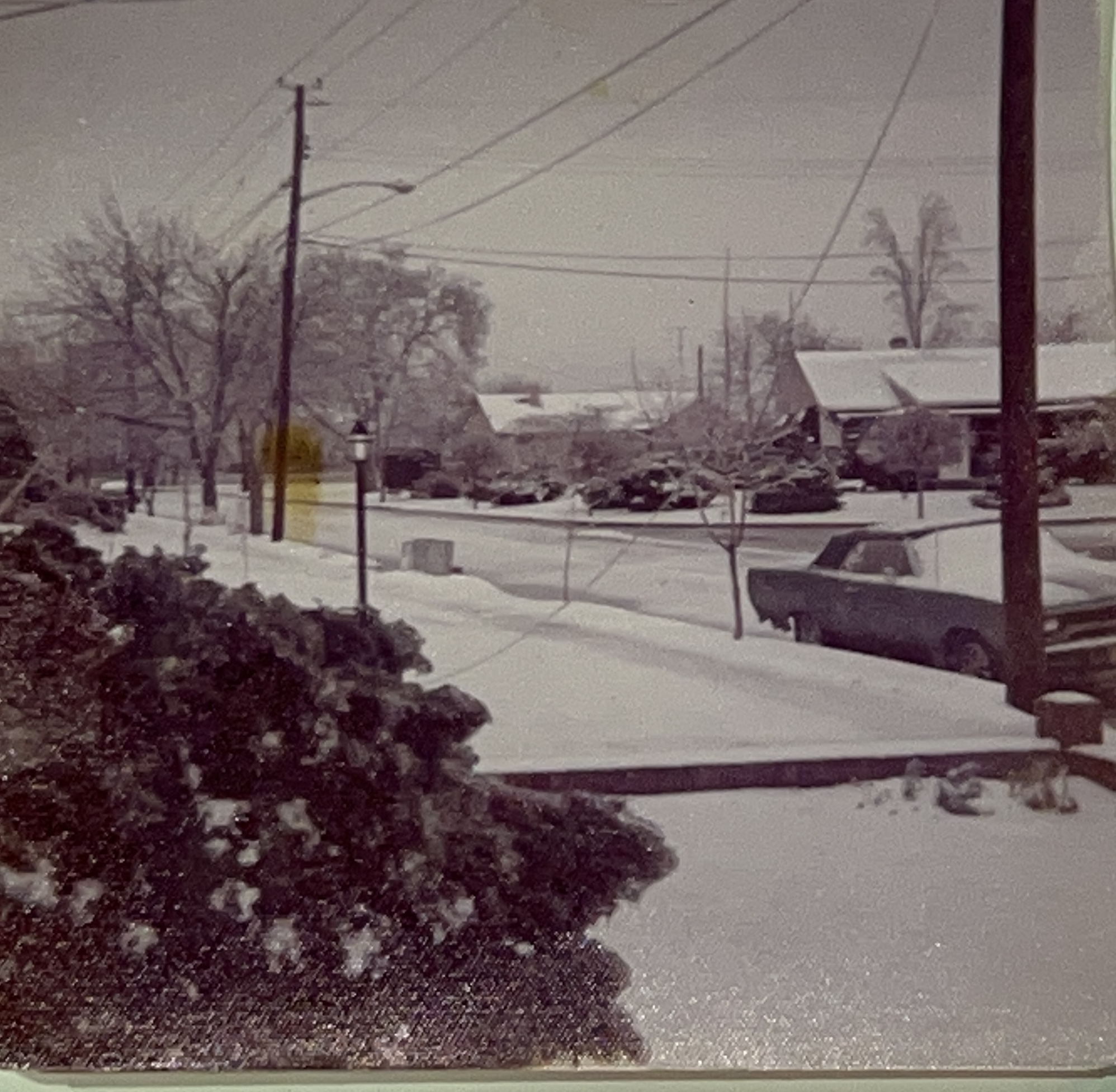 Now, Doug finally had a cool car that could give his friends he hung out with a run for their money. The local competition was filled with iconic fast nameplates like the Plymouth GTX, Chevelle SS396, Pontiac GTO, Camaro SS, Mustang Mach 1 and other machines that are rare today. But the scarce Road Runner convertible, one of only 34 units built for 1970, served as Doug's daily driver from November of 1971 until the summer of 1976. It would take buying a second car to get the Road Runner off the streets of New Jersey. Because these muscle cars were "just cars" back then, Doug added mag wheels and began to change the interior from white to black before he parked it. During the interior transformation, the rear seats and panels were out of the car, but Doug still needed to drive the Road Runner to get around town. He just had the front seats in at the time but forgot to bolt down the passenger side bucket seat, the one his girlfriend and future wife was riding in. At a stoplight, an impromptu street race occurred and when Doug whacked the throttle, his girlfriend went flying in the back of the car. While she scrambling to grab something and hang on for dear life, Doug powershifted second and third gear and beat his opponent. Apparently, this little incident didn't dissuade her from eventually marrying Doug and continues to be at his side today.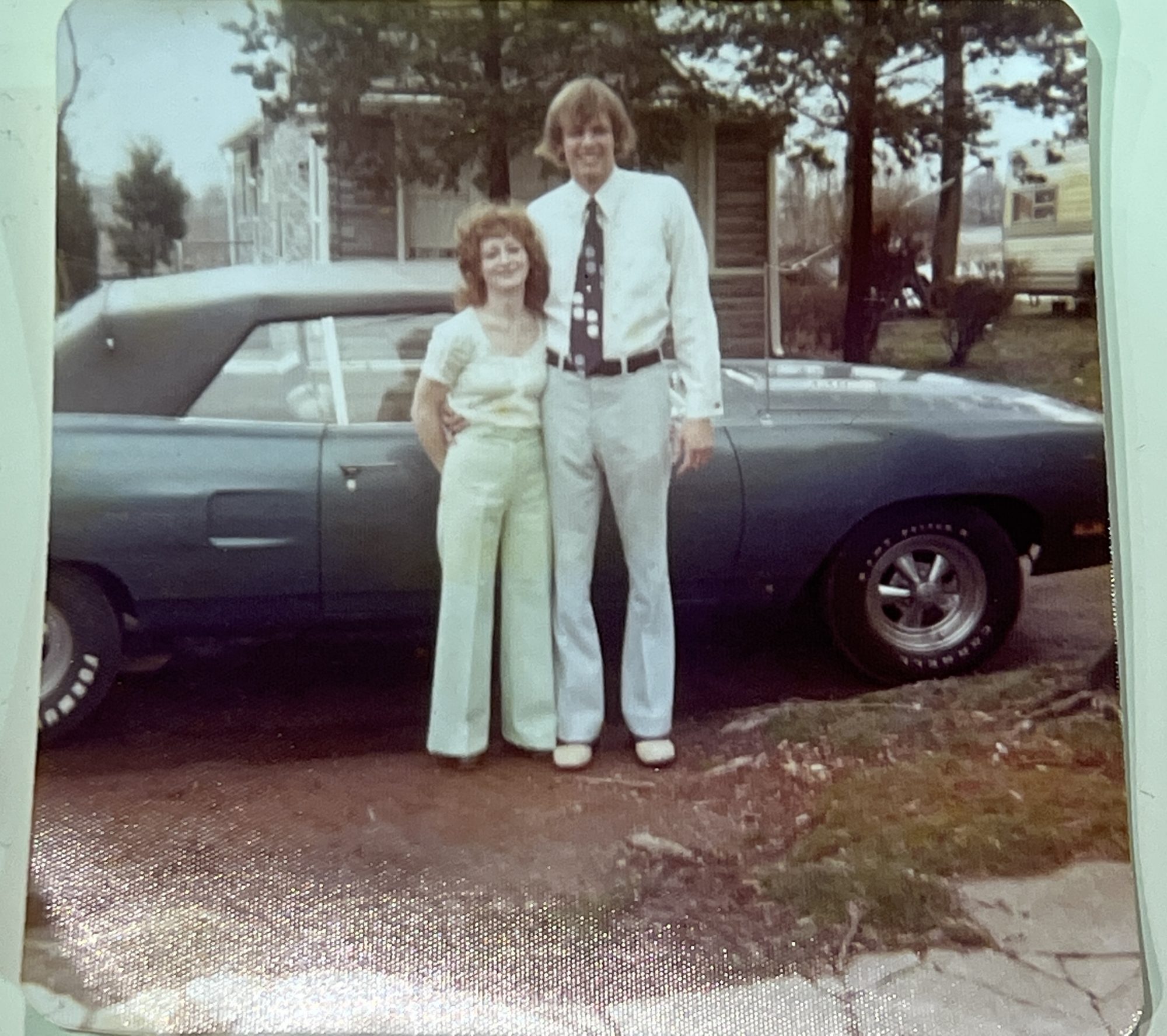 Throughout the late 1970s, the Road Runner survived some scrapes and bruises that included Doug bouncing his car off a curb and an engine mishap that consisted of a carb fire due to a backfire. The backfire incident was scary as it sent Doug running to extinguish flames before his prized muscle car became a towering inferno fed by high-octane fuel and oil. Luckily, the quick-thinking Doug doused the flames with dirt rather than water to minimize the damage. Even though the car was saved to fight another day, the venerable 440-cubic-inch V8 sitting under the hood was hurt. The mishap prompted Doug to have the engine and trans rebuilt. During the 1980s and into the 1990s, the Road Runner was tucked away in a barn. Family and career took precedence in Doug's life as he worked in the maintenance department of a chemical plant. After he retired, Doug and his wife traveled all over the country, but his rare Bird was always in the back of his mind. During this period in his life, Doug began to focus on restoring the Road Runner as muscle car prices began to skyrocket.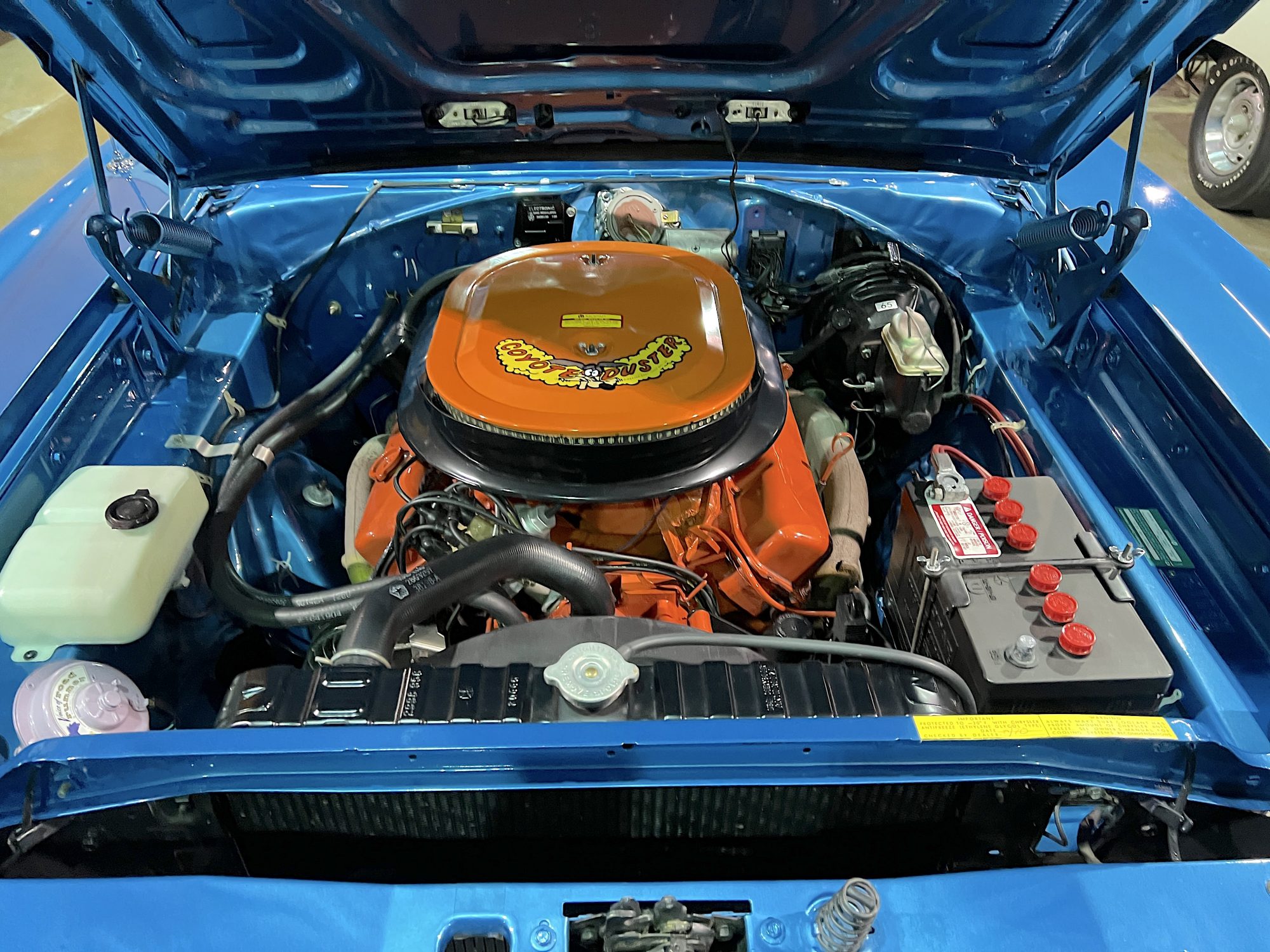 The full-blown restoration process for the exotic Road Runner began to take place around August of 2010. Totally Auto, a premier Mopar® restoration facility led by Dave Ferro, was chosen to make this rare and highly valuable muscle car better than new. Doug also had to contend with the fact he wouldn't have his beloved Road Runner for three years. But since Totally Auto was close by, Doug would pay his car a visit and check on its progress. By November of 2012, the Road Runner was 98% done and unveiled at the MCACN event, but things still had to be tweaked and massaged a bit after the show. It would be the 2013 Carlisle Chrysler Nationals in which Doug's Road Runner was 100% complete and ready to take anywhere. One of the first stops for the car after its rebirth was a visit to the cemetery to visit his parent's gravesite. Doug reflected for a moment, said a prayer, then headed off to take his grandkids for a ride. Doug's goals are to pass his passion for the Road Runner onto his family, something we hope will make his parents smile down on him.
Here's more pictures of Doug's rare and valuable 1970 Plymouth Road Runner Convertible.
Comments
Comments
Previous