Young Dodge Racer Follows the Family Tradition of Going Fast!
1 year ago Gallery Owners + Clubs
The apple didn't fall too far from the tree in the Irving family. This father-and-son duo have been drag racing their fleet of fast Mopar® Stock Eliminator and Super Stock machines all over the country for many years. John Irving, the patriarch and seasoned veteran, began passing his passion, skills and experience to his two sons, Jon and Robbie, many years ago. And while Robbie has stepped back from driving his 1973 Plymouth Road Runner Stocker and the family's drag racing operations to pursue auto crossing, drifting, off-roading and other car-related interests, his younger sibling, Jon, who's only 32 years old, has gone full throttle in his drag racing adventures with his dad. The passion the younger Irvings have for going fast goes back to their grandfather, who raced Mopar vehicles for many years at numerous tracks in Southern California in the early and mid-1960s. He, in turn, passed on that obsession of tuning cars so they run a little quicker and hook a little harder onto Jon and Robbie's dad, John Irving.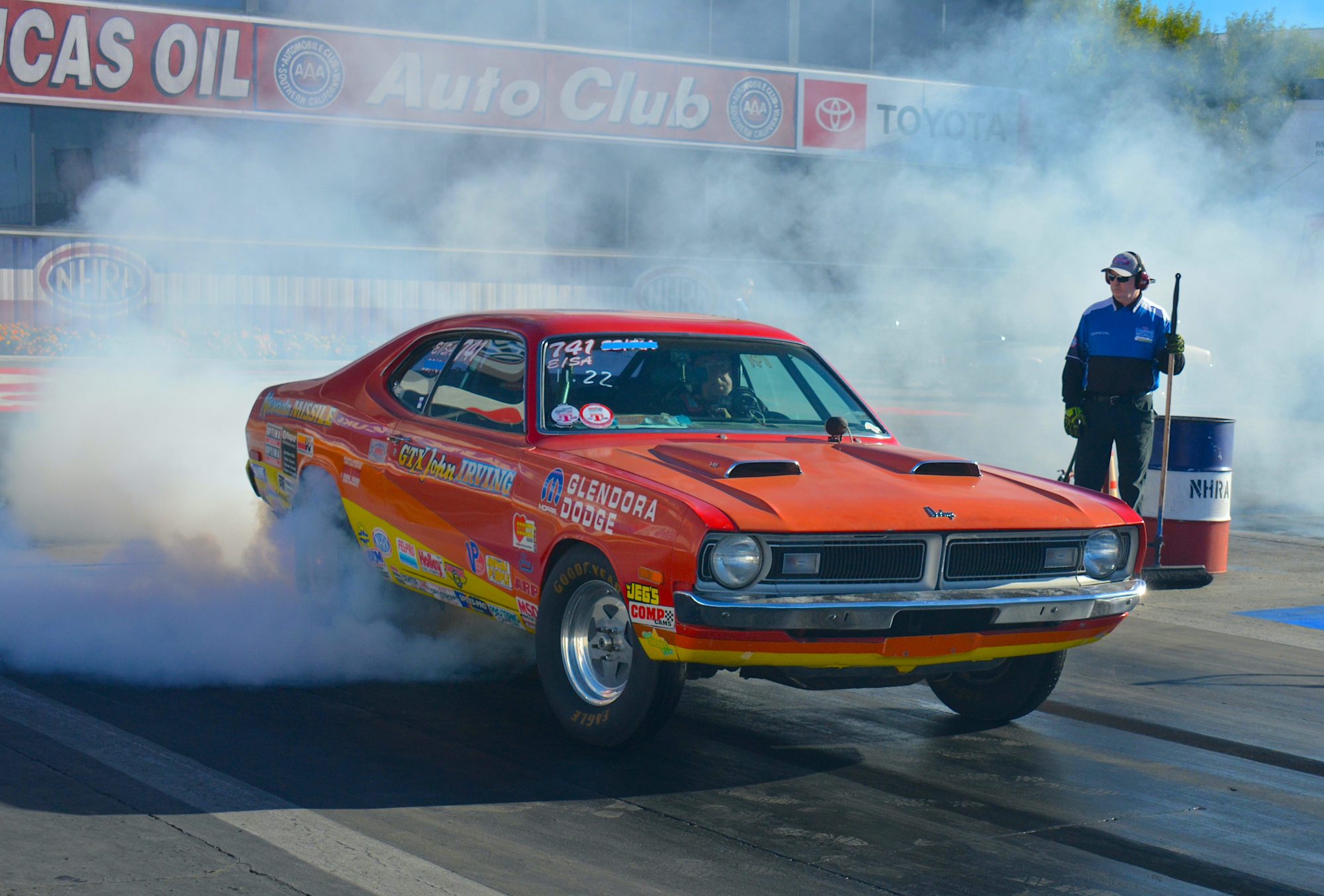 Jon Irving began his drag racing career in a 1978 Dodge Aspen Station Wagon. "Dad had asked me what I wanted for my first racecar and I wanted to be different since he already had a Demon 340," said Jon. "While we were at Tucson Dragway in 2003, there was an Aspen Wagon Stock Eliminator racecar for sale in the pits. I said 'Dad, that's the car I want," so he made the deal and bought the wagon." The lowly wagon was powered by a "smogger" low-compression 360 four-barrel, and it wasn't blazing fast. But the former family hauler was deadly consistent, an important factor in the world of both Stock Eliminator and Bracket Racing when races are won or lost by one-thousandth of a second. It was in this car that Jon began to hone his driving skills with input from his father. This included the knack of cutting a good light and gauging the finishing line stripe so as not to run too fast and "break-out" during eliminations when racers have to "dial-in" their number on the window. "My dad taught me to be consistent in every aspect of racing. From vehicle prep, to staging, and many other factors. He's helped me stay focused on top end and how to gauge the finish line when I'm running down a slower car or being chased by a faster one," noted Jon. With advice from his dad, Jon was a quick learner as he was victorious at four races within the first few years of running the wagon. Eventually, Jon had amassed enough points to represent NHRA's Division Seven at the exclusive JEGS Allstars race back in 2010. The Aspen Station Wagon is such a blast to drive that Jon's father will get behind the wheel and compete with it at various NHRA events.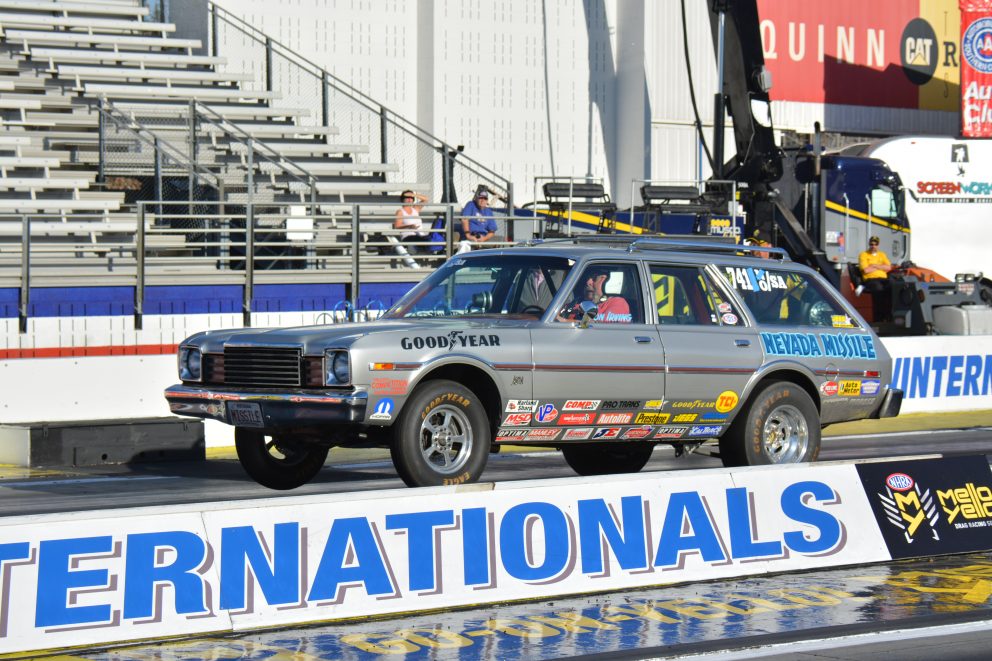 Soon, Jon was ready to go faster, and since he grew up watching his dad race a 1971 Demon 340, Jon fell in love with Dodge's "Econo-Muscle Car" that was a hit among budget-conscious consumers in the early 1970s. "I grew up around drag racing and when my dad got his Demon way back when, I just cherished that car. I basically have a fondness for all the cars from the Mopar family, but it's the Demon 340 that I hold dear to my heart," said Jon. A few years back, Jon picked up his 1971 Demon 340 and went to work making it a competitive piece. He went through the high-compression small block and freshened it up with his engine builder, Brad Van Lant, to make this one fast Mopar. While at the track, Jon and his dad work together making minor adjustments in preparing their Demon 340 to take on whoever is in the next lane.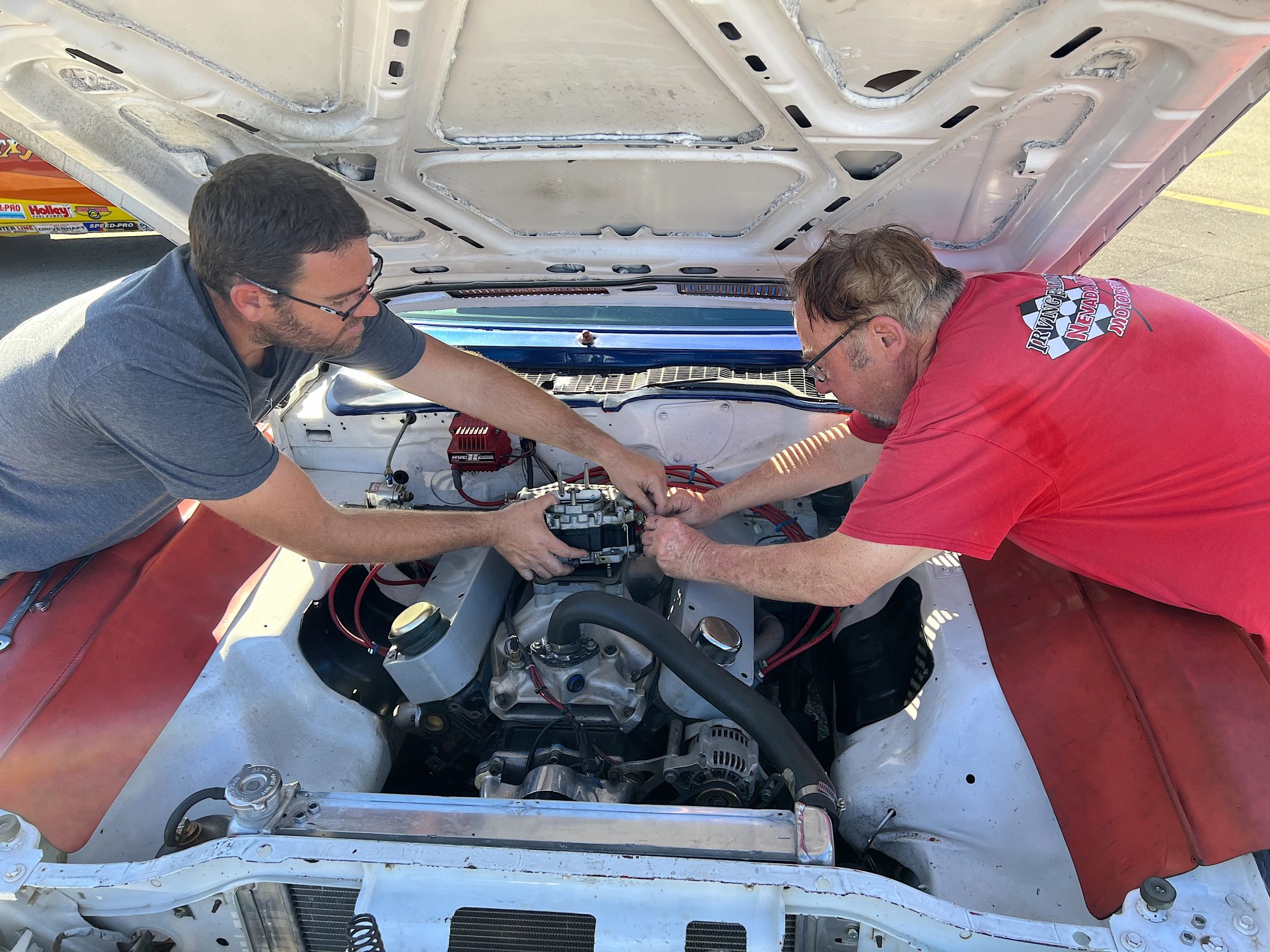 Jon also does double duty at the NHRA drags between his Demon 340 Stocker and Duster 340 Super Stocker. To most observers, these cars may look similar and run the same high-winding Mopar 340 small-block, yet are set up differently for the class rules. "My Super Stocker uses a Trans Brake and Air Shifter but, in the Demon Stocker, I go off a two-step and shift the auto trans manually. When I'm going rounds in both cars during competition, I have to make a mental note as to which one I'm in," laughed Jon. With father and son racing in the same class, they'll sometimes face each other during eliminations. "I've raced against my dad numerous times. We've lined up together and gone head-to-head, but it's different when I'm racing my dad as we're a team. We look at who's leading in points and 'adjust' if needed so one of us moves up in the standings. Again, we're a team and help each other," noted Jon.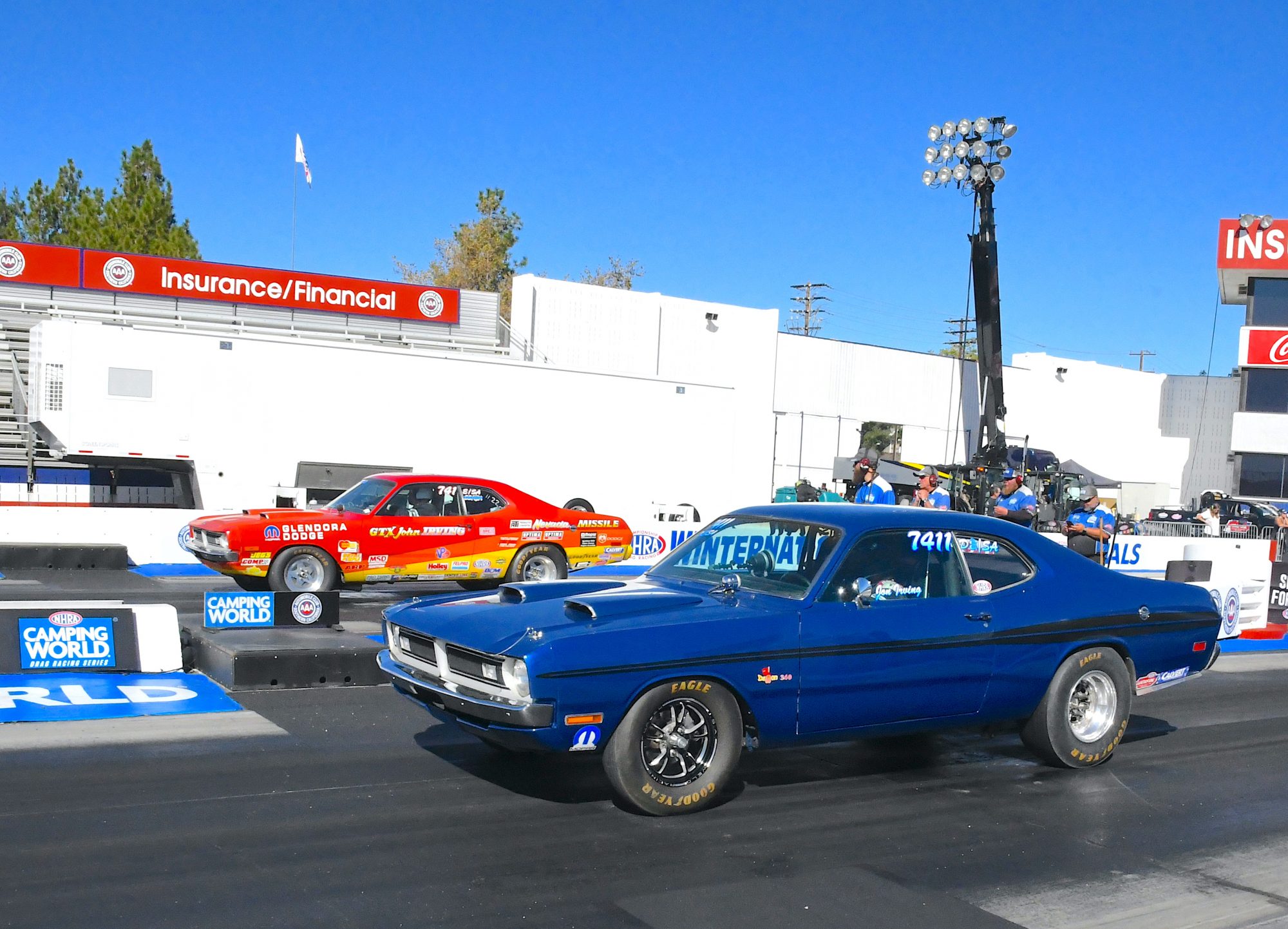 Last year, Jon has finished third in Stock and fifth in Super Stock in the highly competitive NHRA points battle. With help from great sponsors like Glendora Dodge, Goodyear Racing Tires and Brad Van Lant Racing Engines, Jon and his father have some fine folks helping their humble but stout racing operations that has also wielded some strong results. But for now, Jon plans to continue with drag racing for many decades. He works tirelessly Monday through Friday on his custom trailer business, but it's the support from his loving wife and kids that encourage him and there are many race weekends that Jon brings his family to the racetrack. "My wife, Rachel, is awesome and supports me in pursuing my drag racing interest and my two boys, Logan and Wesley, just love the racecars. They'll be carrying on the Irving family tradition of racing fast Mopars year's from now," smiled Jon.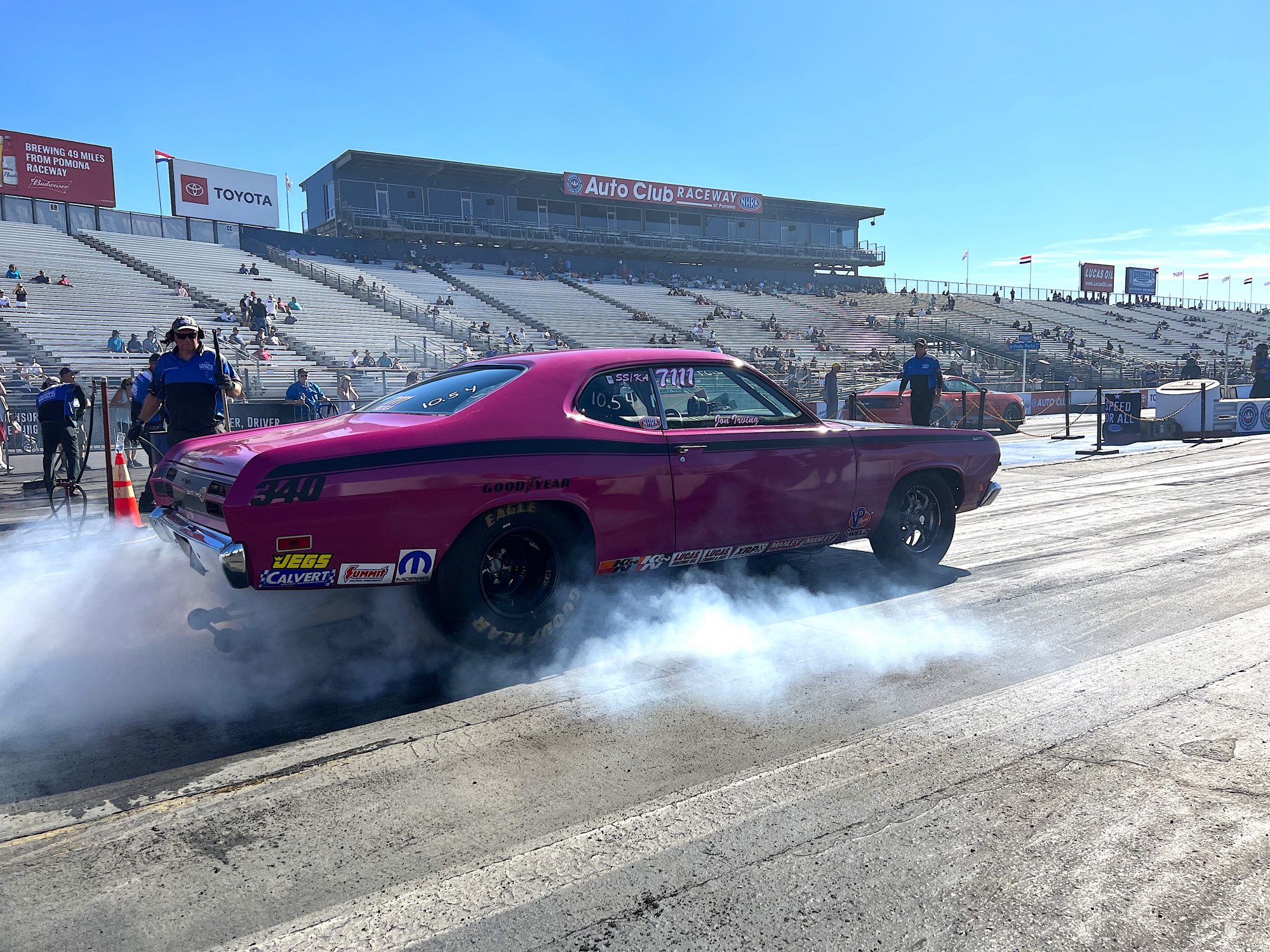 Jon's family is about to double as his wife is having twins later this year and we're sure they're going to follow in their father's footsteps. We believe Jon's going to need a bigger trailer soon!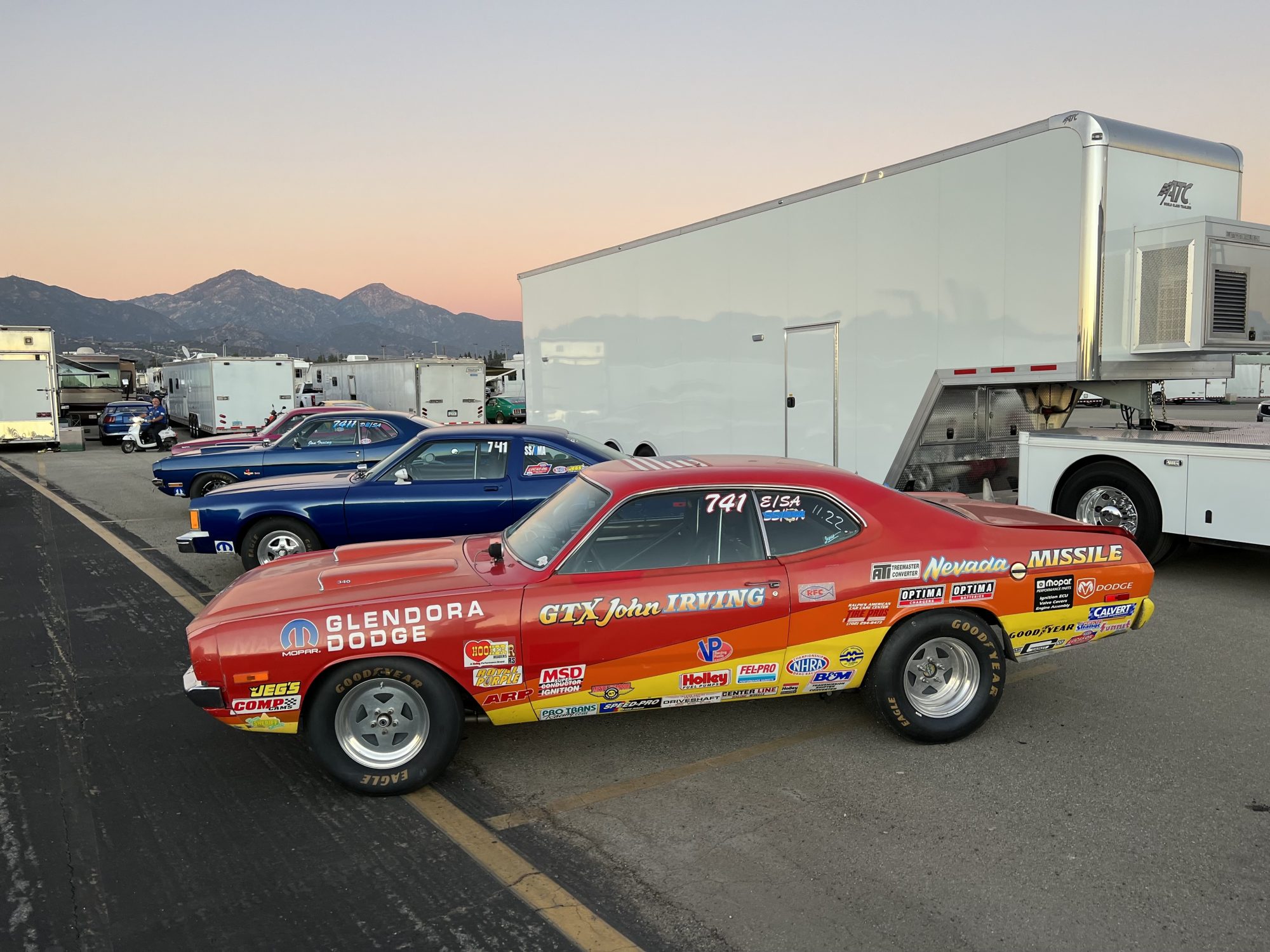 Here are more images of Jon Irving and his mean and angry Demon 340!
Comments
Comments