Laiserin Family Values
8 months ago Gallery Owners + Clubs
MOPAR® OR NO CAR… The phrase is embedded in our vocabulary. Fans of the brands in the Mopar family use it as a universal greeting or as punctuation at the end of a conversation.
For the Laiserin family, "MOPAR OR NO CAR" has been passed down for generations and is illustrated in the pictures below. Traveling back to 1984, we see Michael Laiserin standing over a big block V8 being lowered into his fourteen-year-old Charger. Fast forward to 2021 and the same scenario is unfolding. This time it's Michael's daughter Cayla closely inspecting the HEMI® dropping into the engine bay of her fourteen-year-old Charger. This is too perfect to be entirely coincidence.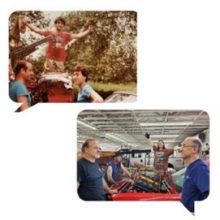 Michael (The Father) and Cayla (The Daughter) Laiserin are carrying on their love of all things Dodge through the restoration of Cayla's 2008 Charger SRT8. The end result of this restoration is a carefully crafted tribute to Cayla's first 16 years on the planet. The love for Dodge, SRT®, and the traditions of each brand show through in Cayla's choices during the build. We want to make sure this point is made – this is Cayla's Charger through and through. She was intimately involved in the build from day one.
There were plenty of cars to choose from as Michael has a reputation for finding neglected and slightly bruised Mopar vehicles and returning them to perfect health. Cayla hit the road first in the 2007 Plum Crazy Dodge Charger you see below, but that car was sold not long after she started driving. Not to worry. She took the keys to Dad's 2008 Dodge Magnum SRT8 for a bit. We know, we know. It's not like she was suffering while restoring her Charger.
What makes a car yours? Details, details, and then… even more details! Cayla hasn't just grown up in a shop surrounded by all manner of Dodge lore. She has truly paid attention to what makes the brand special. Her choices in this restoration pay tribute to the cars she grew up with. Little things like bringing the old-school Dodge Charger fuel filler mounted on top of the quarter panel on her 2008 highlight her attention to detail and growing skill set as a designer/fabricator.
Cayla isn't afraid to get her hands dirty, and we love the results! When it came time to paint her car, she wanted a 69-70 vintage look and feel but had a little trouble finding something she felt was "Just Right." It took a while, but finally, inspiration struck in the form of the Fratzog!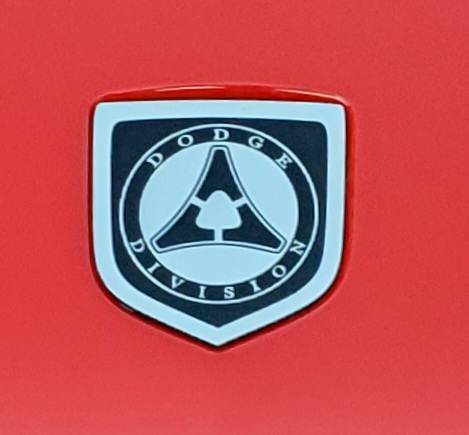 We are seeing the Fratzog make a comeback, and combining it with the graphics on the side of the Charger is exactly what Cayla was looking for. Vintage cool meets Dodge/SRT in other subtle ways on this Charger. Turn your eyes toward the interior, and you will see some "SE" in the seat backs, 70's style pleats replacing the worn-out SRT material. A single body-colored stripe was added to the pleats to tie vintage styling into the modern era. This Charger oozes taste and style everywhere you look.
How do you put the finishing touch on a car you have poured 16 years of passion into? For Cayla, it meant going back 11ish years. The picture you see here connects this story meaningfully to her and her family. It also has quite a bit of meaning for me as the author of this piece. This was when I met Cayla, Michael, and the rest of the Laiserin clan during a stop at Michael's Collision shop during the 2012 SRT Tour. We saw first-hand how much Dodge and everything Mopar means to this family and their friends during the stop. And… we were introduced to a young lady who wanted nothing more than to pop the hood and get to work. It is only fitting that Cayla topped off her 2008 Dodge Charger with a license plate reading… KaaChow!
Author: Sean Yoder
Comments
Comments