Project of the Week: Mark Foster '71 Challenger
5 years ago Heritage
Here at Dodge Garage, we love your stories. The cars you own, what you're working on … if it drives you, it drives us. So, we are starting a brand-new feature: the Dodge Garage Project of the Week! If you or someone you know is working on a project, let us know about it by dropping us a note at content@DodgeGarage.com.
This is the story of a project that's NOT finished. In fact, it's been ongoing for years. You may find it feels familiar, or it may inspire you to take on a project of your own, even if you think it can't be done. Mark Foster is showing us that you can build your dream car while still having a career, family and life.
Mark grew up in Toledo, Ohio, and like many of us, he was influenced by the cars of his childhood. Luckily for him, his dad, Mike, was an enthusiast and pointed Mark in the right direction. Mike's pride and joy back then was the 1972 Plymouth Roadrunner he bought brand new. Ready for this? He still owns it! With less than 12,000 original miles, it's a perfect example of a survivor (the original tires on original wheels are cherished and come out for special events). Mark tells me that growing up, his dad had a rule that everyone followed in that car: "Shoes ONLY on the floor mats!" We'll get back to that car in a minute…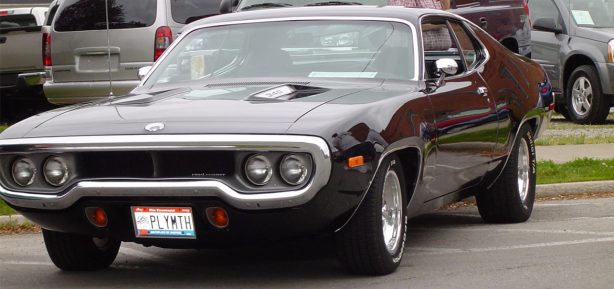 So life moves on, and like all of us, Mark has a string of poor choices: a '78 Pinto (yeah!) and an '83 Buick Regal (he says "It was like driving a couch!"). Then, Mark got married and found himself at a bit of a crossroads: Cicily and he discussed the want for either a boat or a muscle car. "I get motion sickness," Cicily points out. "So, no boat. It was going to be a car." Mark found a 1968 Chevelle in decent shape. "It was my 'Practice Car' because when I first got it, I barely knew how to change the oil." He did a few common bolt-ons and kept it for a handful of years. But he really wanted something like that Roadrunner of his youth: a Mopar®.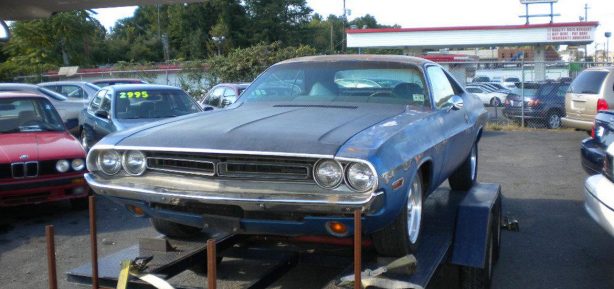 Moving to North Carolina gave him a selection of cars not beat up by salt and potholes. Mark found a one-family-owned 1971 Challenger, 318 / automatic car that also came with an old 440 engine from a motorhome. The car was solid, but not perfect. To get it where it needed to be, he sold the 440. He called in help from friends, but he has also taught himself a lot about restoration. One of the best decisions was to get a rotisserie. After stripping the car down and mounting the shell on it, he could work from any and all angles, getting into the guts of the car easily. A great part of Mark's plan: he's going to sell the rotisserie when he's done with it, so if you need one, he'll make you a deal (you know it fits an E Body!). He built his own sand blasting cabinet. He's learned how to weld. He's added metal fabrication skills to make panels and brackets. And air tools. And paint prep. He's even got a stretcher and shrinker. He's come a long way from that "Practice Car." Mark's Challenger is an excellent candidate for life somewhere between a resto-mod and a pro-touring car. He's got a Hotchkiss suspension, spindles, subframe connectors, disc brake conversion and more ready to go. "I don't know what drivetrain to go with just yet," he says, "but, in a dream world, I'd love to do a 340 with Slap Stik (a tribute to Dad's car) or maybe a 426. Realistically, I'll probably go with a 5.7 HEMI® for easy power and reliability."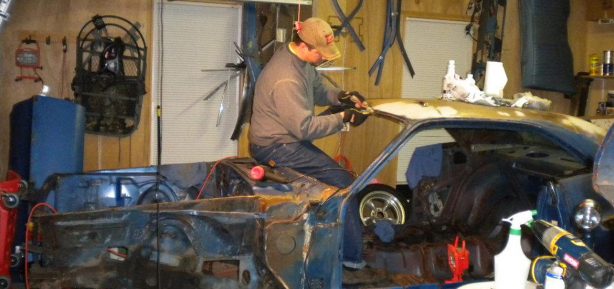 No good plan moves ahead without troubles and Mark has certainly had setbacks. The family home needed a new air conditioner. There were termites. Emergency C-sections for each of their two children. But, he's persevered. "I didn't want to be the stereotypical guy who buys a car, starts the project, then lets it sit there for years while he makes excuses." So right now, today, the car is still on the rotisserie, but the bodywork is almost finished and ready for paint. "Then, it's just a matter of putting it back together."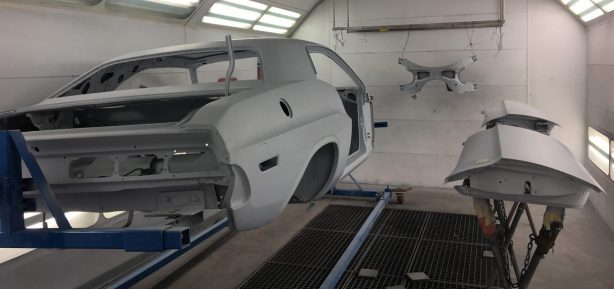 What about advice for anyone thinking of taking on such a big project? "It's not for everyone," Mark says. "Sometimes you have to put it on the backburner." Finding a few minutes here and an hour or so there really keeps the project moving forward. "I've done more in the last 6 months than I have in the previous 5 years. Definitely get the best car you can afford as a starting point."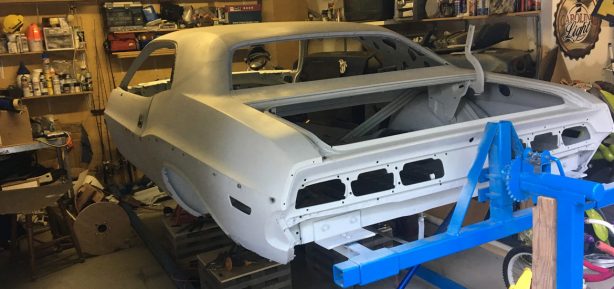 Remember that Roadrunner his dad owns? Mark tells the story, "One of my favorite memories was when Dad and I left a car show and took the long way home so we'd be in the car together when it rolled over 10,000 miles!" Here's hoping this Challenger will bring those same types of memories for his family for years to come.
Are you working on an interesting project? Perhaps a unique mod, restoring a car you've always dreamed of, working on little changes to your modern car or revamping your garage? If it's something you'd like to share, drop us a note and you could be next here on the Dodge Garage Project of the Week!
Comments
Comments