Manifold Mystery Tour – Dodge Exhaust Manifolds on Trial – Max Wedge
4 years ago Heritage
The Majestic Max Wedge
Only 9 Horsepower Behind Modern Headers, Max Wedge Exhaust Manifolds are Very Efficient
In this installment of the Manifold Mystery Tour, let's take a look at one of Dodge's most iconic factory-issued exhaust manifolds of all time, the 1962-64 Ramcharger 413 and 426. Commonly known as the Max Wedge or even the "orange monster" (in one memorable Plymouth magazine ad from 1964), this factory Super Stock engine marked the pinnacle of big block wedge-head engine development before Dodge revisited the hemispherical combustion chamber for 1964 and beyond.
Max Wedge-equipped Dodges (and Plymouths) were generally sold to drag racers, though a segment of them competed in NASCAR super speedway and road course race events. Because the sanctioning bodies governing drag racing and circuit racing (the NHRA, AHRA, Nascar, USAC, etc.) insisted on "factory stock" equipment, aftermarket speed shop goodies – like traditional steel tube exhaust headers – were off limits.
All was not lost. While basic Dodge passenger cars were built with log-style cast iron exhaust manifolds, high-performance models beginning with the D500 and D501 of the mid-Fifties were issued specialized iron manifolds with enlarged internal passages and outlets for increased flow potential. The same strategy was also employed on top-tier Chrysler 300 letter cars, DeSoto Adventurers and Plymouth Furies of the same 1955-64 time frame (the last DeSotos were made in 1961).
For the all-new 1962 Max Wedge, Dodge performance engineers, led by legendary Project Coordinator, Tom Hoover (who was also in charge of the Hyper-Pak Slant Six, 426 HEMI®, the up-content E58 360 small block used in the 1978-79 Dodge Little Red Express pickup truck, and lots more), went even further. Instead of simply hogging out the internal passages of the existing 413 exhaust manifolds, Hoover's team let function take precedent over form and came up with a set of huge castings that resemble "ears" sprouting from each side of the massive big block engine. The exaggerated size was a result of efforts to separate exhaust impulses that might collide and cause restriction if allowed to mingle in a less-defined space.
Since the mid-size B-body Dodge 330, 440, Polara, Polara 500 (and Plymouth Savoy, Belvedere, Fury and Sport Fury) engine bay had to remain unmodified to control costs and allow installation on the normal passenger car assembly line, the option of extending the primary runners horizontally outward was off the menu. Instead, the designers went up, giving the runners a graceful up-swept trajectory that met the tuning goal. Thanks to judicious use of material, the resulting exhaust manifolds aren't as heavy as they look. The driver side casting weighs 32 pounds and the passenger side unit weighs 27.5 pounds. That's just the stuff you see immediately when you open the hood of any Max Wedge-equipped Dodge.
But underneath is even more! Every Max Wedge car was equipped with factory-installed exhaust cut-out caps that bypassed the flow restriction of the mufflers and added another 15 horsepower. By simply reaching under the car and removing four bolts, the twin metal caps came off in under five minutes. And because it was factory-installed, it was all 100-percent legal in the eyes of the sanctioning bodies.
In this test, we built a budget-oriented Max Wedge clone engine and compared the horsepower and torque produced with the factory Max Wedge exhaust manifolds to a set of typical aftermarket 1-7/8-inch under-car headers. Based on a 1977 Dodge motor-home block with lightly polished motor home heads (452 casting number), stock-size Milodon 2.08 / 1.74 valves, refurbished cast iron crank, 9.75:1 KB Silvolite pistons and an Isky Mega 292 hydraulic camshaft with 0.505-inch lift. Though pretty hum-drum up to this point, the addition of modern reproduction Max Wedge intake and exhaust manifolds transformed everything.
Thanks to the ready availability of reproduction Max Wedge cross ram intake manifolds, air cleaners, fuel lines, linkage kits, plus exhaust manifolds and complete under-car exhaust systems from Mopar® Performance, A&A Transmission, Bob Mazzolini Racing, Kramer Automotive Specialties, Mancini Racing and others, it is now possible to build a brand-new Max Wedge!
While the original 413 and 426 Max Wedge was (under) rated at 415 or 425 horsepower and had higher compression, solid lifters and specific cylinder heads with larger port openings, ports and valves, our 440-based test rabbit is somewhat detuned for street use. That said, it made 436.9 horsepower at 5,500 rpm and 491.2 lb.-ft. of torque at 4,100 rpm exhaling through a set of reproduction Maxie exhaust manifolds. Twenty minutes later, after the swap to under-chassis headers with 1-7/8-inch primary tubes, it gained 9.1 horsepower (446 hp at 5,500 rpm) and 4 lb.-ft. of torque (495.2 lb.-ft. at 3,100 rpm).
Hmmm. Nine horsepower and 4 foot pounds, that's not much of a gain. It is clear the Max Wedge design team really did its homework on those eye-catching exhaust manifolds. The irony is that right about the time the Max Wedge hit the scene, the NHRA, NASCAR and other governing bodies began accepting aftermarket headers in competition. This quickly slashed about 30 pounds and lots of factory Max Wedge manifolds ended up under the work bench.
Today, just about every 1962-64 Max Wedge restoration and clone is fitted with original or reproduction Max Wedge exhaust manifolds. Sure, thin-wall steel tube headers might weigh less, but without those massive, eye-catching manifolds, a huge chunk of the Max Wedge's personality is lost with headers in place. And as our test proves, those iron manifolds aren't all that bad from a performance standpoint!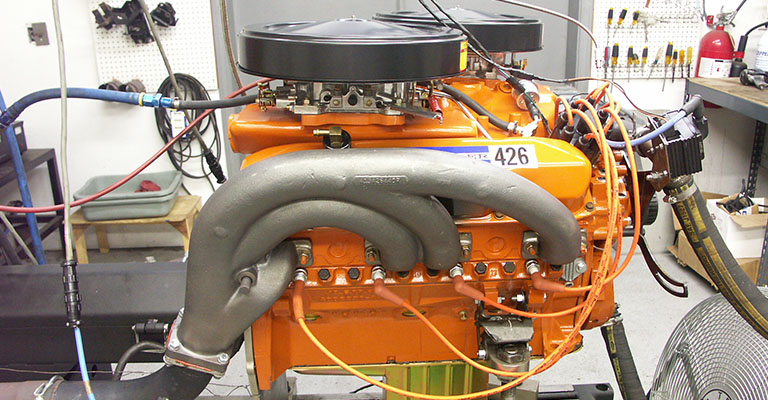 The Max Wedge manifolds are designed to separate exhaust pulses and with extra length to enhance evacuation of spent gasses (scavenging). On the passenger side, the runners fed by cylinders 2, 4 and 6 (from right to left) merge into a common 3-inch outlet. The runner for the number 8 cylinder (leftmost) empties separately to avoid competing with exhaust gas outflow from cylinder number 6. In this form, the 440-based Max Wedge clone made 436.9 horsepower at 5,500 rpm and 491.2 lb.-ft. of torque at 4,100 rpm.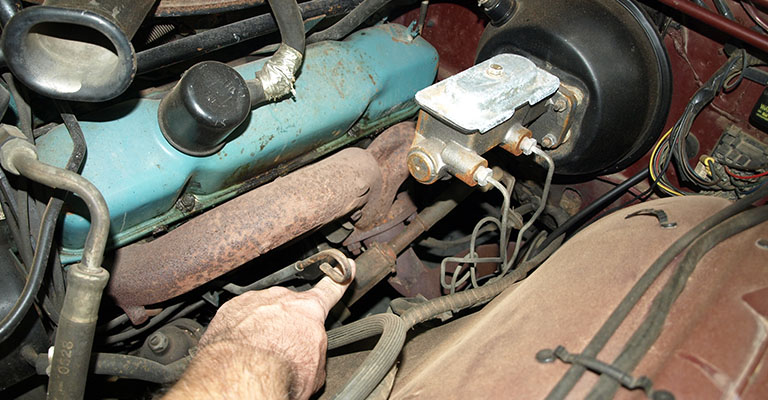 By contrast, the exhaust manifolds fitted to regular passenger car engines like this 1968 440 are much more compact and lack the scavenging effect. The finger points out the steering column, a classic pinch point that prevents the use of horizontal space for larger exhaust manifold designs.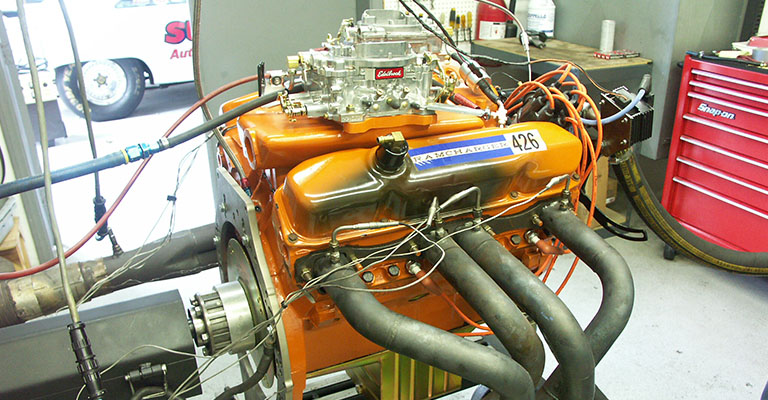 Replacing the Max Wedge castings with a set of long-runner, under-car 1-7/8 diameter headers bumped output by 9 horsepower and 4 foot pounds (446 hp and 495.2 lb.-ft.). Worthy of note is that peak torque came on at 3,100 rpm, a full 1,000 rpm lower than with the manifolds. Though seemingly insignificant on paper, this would move the car from point A to point B a little bit quicker, perhaps a half-car length.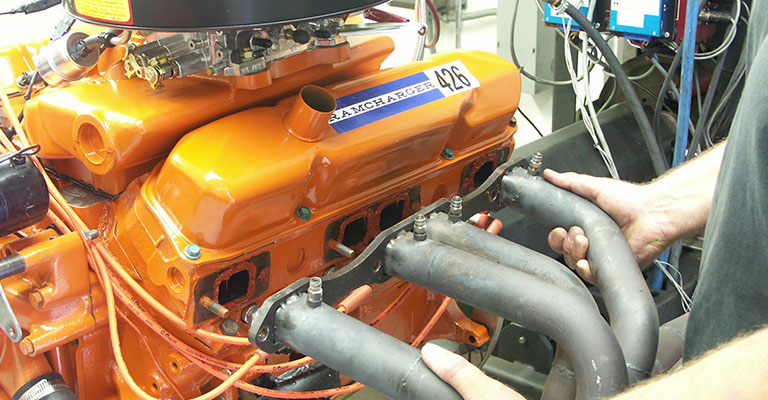 Notice how the headers exit the exhaust ports horizontally before curving down and rearward under the body of the car. Header designers have to make sure their products fit and do not come into contact with things like the steering column, brake master cylinder, suspension members, etc. Some aftermarket headers require partial engine removal during installation.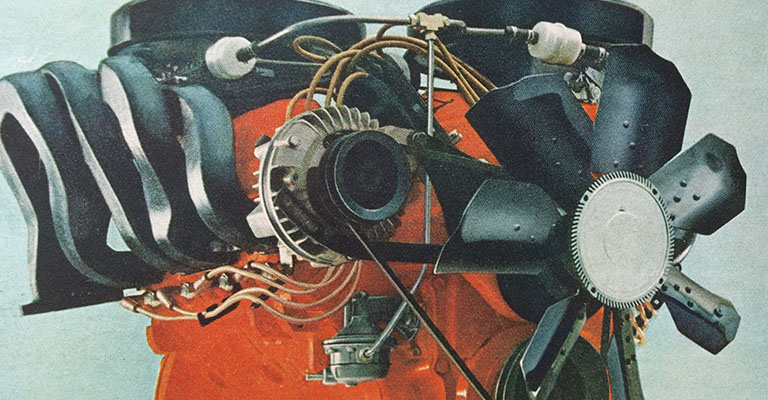 As good as the initial Max Wedge exhaust manifolds were a second variety was designed for use on 1964 Stage III Max Wedges. Still made of cast iron, note how Tom Hoover's team employed a "tri-Y" configuration to totally separate each cylinder's exhaust pulse for as long as possible. To some eyes, this is a beautiful piece of sculpture.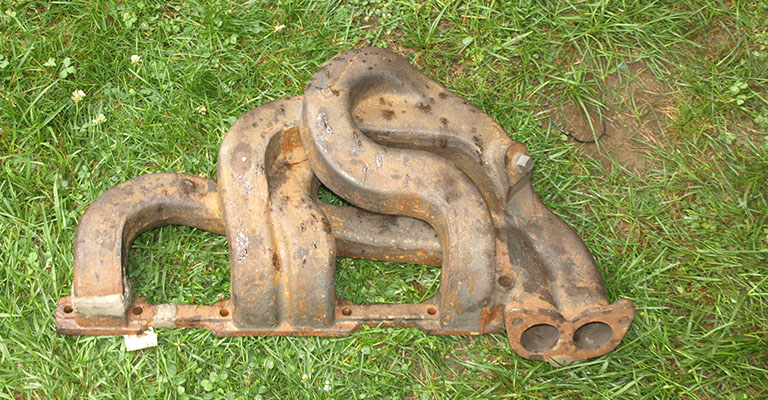 The early 1964 arrival of the 426 HEMI engine puts an end to all Max Wedge race development. It is thought that no more than 50 sets of these amazing Stage III exhaust manifolds were produced. This one (driver side) was spotted at the 2013 Chryslers of Carlisle show. Period photos show these manifolds in use on Cotton Owens' 1964 Dodge NASCAR stock cars before HEMI engines replaced the Max Wedges in January of 1964 and beyond.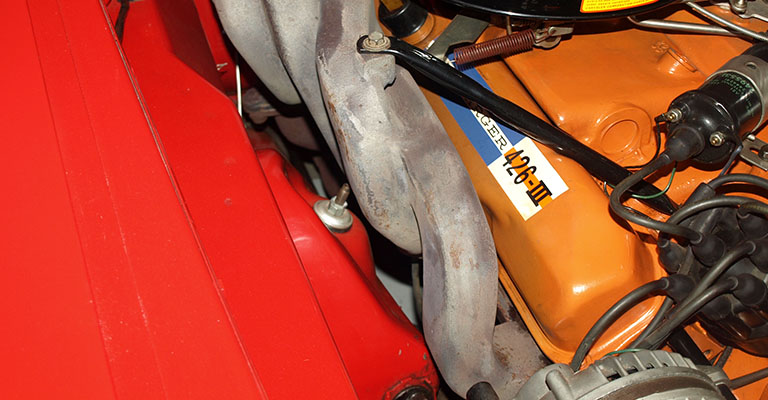 Also spotted at the 2013 Chryslers of Carlisle event, here's a complete Stage III 426 Max Wedge aboard a 1964 Dodge. Note the tubular steel support bracket running to the intake manifold and how the inner fender panel is flattened to provide clearance. Plastic model car builders were also treated to a 1/25 scale rendering of these exotic manifolds by Jo-Han back in the day.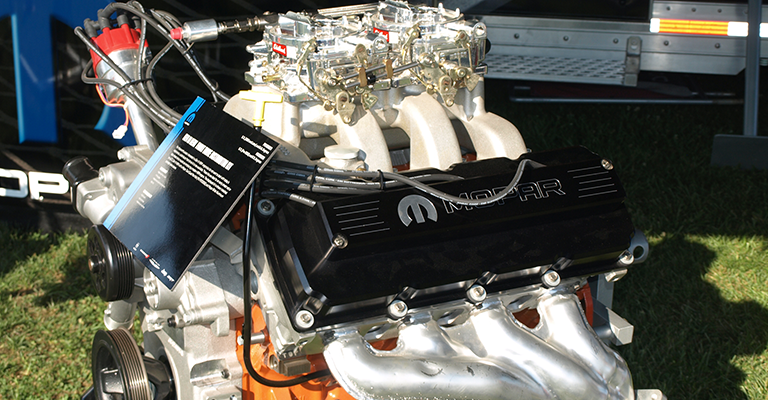 The lessons of efficient packaging, pulse scavenging and overall efficiency learned during the Max Wedge and Race HEMI engine development programs have not been forgotten. The streamlined cast iron exhaust manifolds seen on today's Dodge 6.4-liter HEMI engine have been proven to flow to within 2-percent of aftermarket headers. The shiny covering is a shroud made of 439 stainless steel. They serve as thermal barriers to minimize radiation of heat into the engine bay.
Comments
Comments