Color Uncommon-Tary
4 years ago Heritage
How the factory paint colors got their names
Psychology tells us that moods and behaviors can be shaped by color. For instance, the color red fills us with passion and energy. It's associated with urgency and daring. Red is aggressive and dangerous. Just the kind of color you'd expect to be part of the Dodge color spectrum.
Fact is, every vehicle FCA US LLC makes has its own spectrum of factory paint to which customers have to adhere. Model year after model year, that spectrum changes, in an effort to keep up with market trends and customer desires. That's when it's put upon the design and style teams (with the help of engineers and other visionaries) to not only develop the new color palettes but also name the colors within that palette.

THE COLORS OF MUSCLE
During the muscle car era of the late 1960s to early 1970s, factory engineers and designers at FCA and Mopar® set out to develop a unique array of names for the colors they had determined would appropriately fit the powerful HEMI® engine-driven beasts they had created. The result was some of the most unique color palettes, which ended up having mass appeal thanks, in part, to the quirky names.
Who would've thought a shade of orange called "Go Mango" would reverberate with muscle car fans? Who could have predicted that a purple paint called "Plum Crazy" would become so popular? The Chrysler designers had a lot of fun giving monikers to the colors. And a whole generation of muscle car aficionados came to expect future paint schemes to follow suit.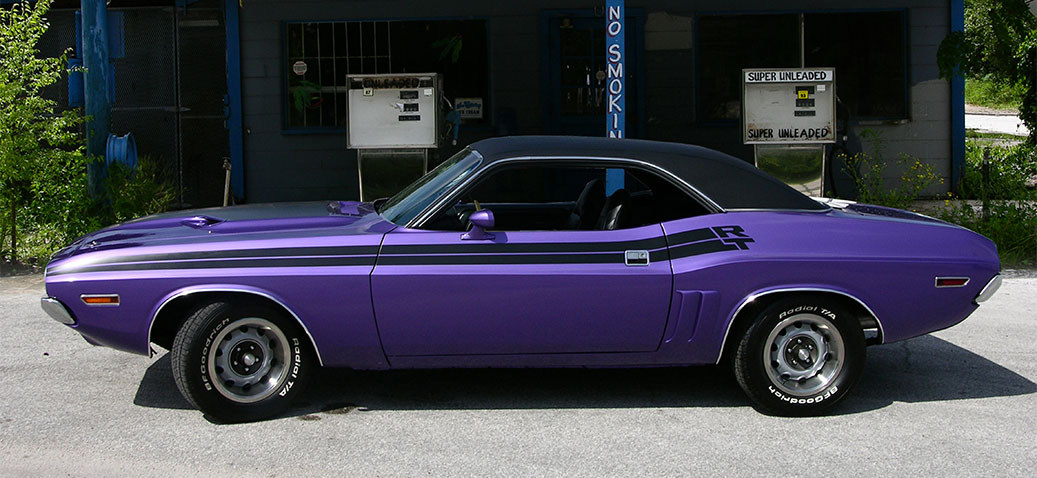 When Dodge Charger and Challenger were reimagined and reborn in the new millennium, they both nodded to the heritage of the brand big time. And color options for each car stayed true to their formidable forefathers as well. The brand brought back the aforementioned Plum Crazy and Go Mango. The vehicles were soon available in TorRed, Sublime and Top Banana as well.
"Our Dodge heritage colors really resonate with our customers," says Mark Trostle, Head of Performance, Passenger Car and Utility Vehicle Design, FCA – North America. "Our cars are evolving, and we're looking to create the next generation of heritage colors." But, the Dodge muscle car palette doesn't stop at the heritage colors. Black, silver and white all remain popular choices for these vehicles as well. The key is to provide the consumer with choices that appeal to them, based on their individual desires, while also keeping it fresh.
"We try to introduce new colors model year to model year if possible," said FCA Chief for Advanced Color Materials in the design office, La Shirl Turner. "We look at how many we introduced the previous year and try to decide if the vehicle needs a new color space. We try to rotate our special package colors in and out when there is an opportunity. The goal is to always keep our heritage colors for Challenger/Charger rolling for that lineup.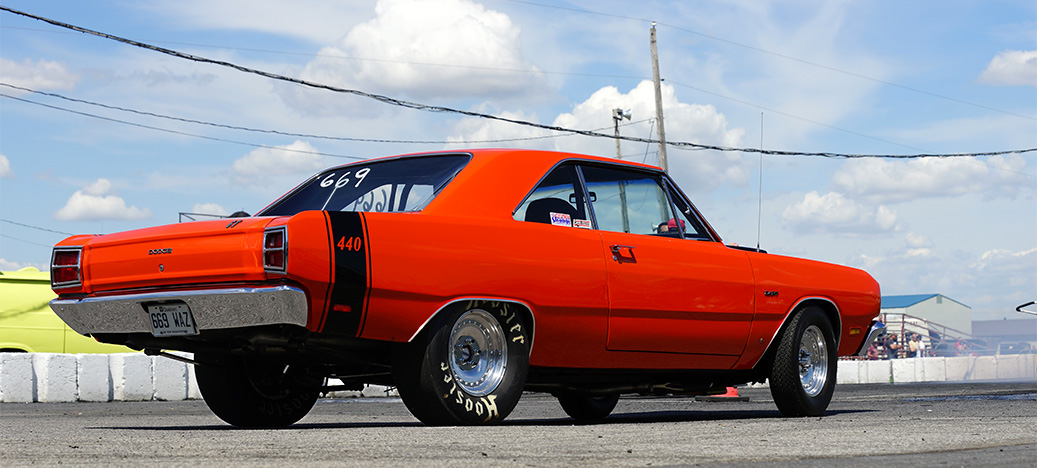 The FCA Product Design Office feeds off the passion of Dodge fandom and often relies on public opinion to discover what could resonate with buyers. Recently, they even brought 16 new color candidates to Spring Fest 13 in Pomona, California, where they asked the fans to vote for their favorites.
The color choices were displayed on scaled down replica car bodies (called speed forms) and fans determined their favorites. "We had over 1,800 people vote on their favorite color space," said Turner. "It was raining and people still flooded our area to vote on names. We received true customer feedback about what the real customer wanted on their vehicle."
SHADES OF CAPABILITY
The Jeep® Brand is also rife with heritage when it comes to available colors. While white and black continue to be top sellers for Wrangler specifically (and cars, in general), Jeep has been able to provide buyers with multiple choices in a color palette that stays true to the current brand essence, applies to the Jeep vehicles of the past and provides a splash of something special that personifies the versatility of the vehicle.
"There's an obvious difference between the Jeep color names and the Dodge names," says Turner. "But each one of our exterior studios and brands likes to be engaged with the color naming."
With vehicles like Jeep Wrangler, Renegade and Compass in their lineup, part of the intention is to appeal to a potential buyer. The available colors – and their subsequent names – can only help in making the brand stay relevant and more appealing to those potential consumers.
Rugged traditional colors named for earth tones (Desert Sand on 1999-2000 models and Gobi on 2018 come to mind) have had great success. As have names related to animals like Rock Lobster Red (available on '13 model), Gecko Green ('12, '13 models only) and, more currently, Rhino (on '18 models).
Wrangler owners have shown that they are open to more unusual offerings, and FCA has not disappointed. In fact, in recent model years, Wrangler has offered special packages with limited edition colors that turn heads. One example is the new 2018 Wrangler available in "Nacho" – a bright yellow color that's anything but cheesy.
"Our Exterior Director, Mark Allen, loves naming paint colors," said Turner. "We just asked him, 'what does it look like and remind you of?' And he said, 'Nacho Cheese!' And we said, 'that's perfect!'"
While each color may only apply to a specific audience, the idea is to create options that are visually attention-grabbing both on road and off. The trick for the brand is to stay true to the roots while giving the people what they want.
"We look at the color and try to make it special for the brand," said Turner. "We go through a lot of names. Sometimes, the first names out there stick when we all agree on it. Then we run it by brands and, of course, Ralph Gilles (FCA Head of Design). Sometimes, we throw some names out there and people are like, 'Are you guys serious?'"
One sole person doesn't make the decisions in regard to those color offerings. It requires a lot of input and study by many.
Comments
Comments