The Ultimate Big Cube Engine in Small Car Offering
4 years ago Heritage
The 1969 440 Dart GTS
Dodge's sixth drag race-specific Package Car was the hairy 1969 Dart GTS 440. With plenty of 1968 LO23 HEMI® Darts and 1967 WO23 Street HEMI Coronet lightweights making weekly headlines in the upper classes of Stock and Super Stock competition, Dodge focused the 440 Darts on the middle and lower classes. And to help drivers make the most of the 375-horsepower 440 Magnum, 4-speed models were not offered. Even the best stick jockies had a hard time keeping pace with Chrysler's sure-shifting 727 TorqueFlite automatic.
And beyond that, power shifting a car with the GTS's 60/40 (front/rear) weight distribution and 111-inch wheelbase on skinny street tires was a recipe for tail-wagging spin-outs. The 1968 HEMI Darts were equally hazardous/fun, but they were sold to "racers" who presumably would mount drag slicks and keep off public roads. Remember, all of this was a half century before the advent of modern electronic traction and vehicle stability controls. Without them, modern SRT® Hellcats and SRT Demons would be equally tail happy.
And so, each of the 640 440 Darts (plus about 360 Plymouth 'Cuda 440s) were automatic-only, shifted via an attractive wood-grained console-mounted lever. It was a first for any Dodge Package Car. This fleet of 1,000 440-motivated Dodge and Plymouth A-bodies carried a 3,200-pound advertised shipping weight and trickled down into classes like SS/FA where they were solid mid-eleven second performers.
Today, we don't know if Dodge was fully aware in 1969 that all big block engine options would disappear from the A-body catalog for 1970 and beyond. That's right, from 1970 on, the hottest V8 offered in any Dart was the 275-horsepower 340 small block. Maybe somebody decided to go out with a bang and the 440 Dart was the result. Though these special torque-laden cars don't carry the hallowed "O" (for Super Stock) in the second spot of their VINs, there is a special code that must be present for verification.
It goes like this, in the fifth spot of the VIN, the letter M must appear. This was Dodge's identifier for a "special order V8". Then, on the fender wall-mounted trim tag, code A13 must be present on all but a handful of early production examples. The A13 code identifies the 1969 440 engine conversion package, which included 14×5.5-inch steel wheels, E70x14 red line tires, heavy-duty suspension, a 3.55:1 geared 8-3/4 rear axle and specific "440 Four Barrel" hood blister inserts.
Priced at $3,650, the 440 Dart GTS wasn't openly marketed as a drag race vehicle, but many ended up on the strip. Inside, the plush bucket seats and center console of the Dart GT were retained and there was no effort to eliminate weight through deleting items like heaters, radios or carpeting. But with 375 horsepower and 480 lb.-ft. of torque in its 3,200-pound platform, the 440 Dart GTS had a better power to weight ratio than most 426 Street HEMIs and could run easy mid-thirteens with slicks and decent traction.
And about that 440 engine, it was the same unit used in larger Dodge Charger R/T and Coronet R/T applications with no alterations except for specific exhaust manifolds to suit the narrow A-body engine bay. Full-length dual exhaust systems with high flow mufflers and chromed exhaust tips lacked the "dump caps" of the Max Wedge and Race HEMI Package Cars, but were still fairly efficient.
Those seeking maximum potential scrapped the factory exhaust system and installed so-called "fender wall" headers from aftermarket vendors like Hooker, Hedman and Cyclone. Unfortunately, due to space limitations below the engine, these headers exited the exhaust ports horizontally and required removal of large patches of the inner fender walls to pass outboard of the engine bay before swinging down behind the front tires then out under the floorboards.
Another Dart 440 GTS detail is the retention of the compact A-body's "small bolt" 5-on-4-inch wheel lug pattern. A throwback to the Dart's evolution from the 1961 Lancer compact economy car, the wheel fastener pattern was a half-inch smaller than the 5-on-4.5-inch lug pattern used on larger B-body Dodge muscle cars. Additionally, smaller 7/16-inch studs were used, compared to the ½-inch studs on the big bolt configuration. This meant 440 GTS owners seeking snazzy aftermarket chromed wheels had to shop wisely. Fortunately, companies like Cragar and Keystone tooled up to meet this rather limited demand with special "small bolt" versions of their S/S and Keystone Kustom wheel types. The factory-issued 14×5.5 steel rims were equipped with the same 7-inch diameter hub caps as Slant Six Darts, so the factory rolling stock was usually replaced within the first week of ownership.
Today, roughly a third of the 640 Dart GTS 440s built still exist, the rest having been flogged to death as racecars and late night street racing terrors. Those that remain are often scarred by patched inner fender walls, the residue of header installations past. With 440 cubic inches (7.2 liters), the 1969 Dart GTS stands as the most extreme example of the "big-displacement-engine-in-small-car" recipe, even surpassing the 1968 HEMI Dart's 426-cube infusion. Modern collectors are ready to spend upwards of $60,000 for the privilege of ownership, a figure that is sure to escalate with each passing year.
Visit past Packaged Performance Installments:
Future Packaged Performance Installments:
Comments
Comments
Previous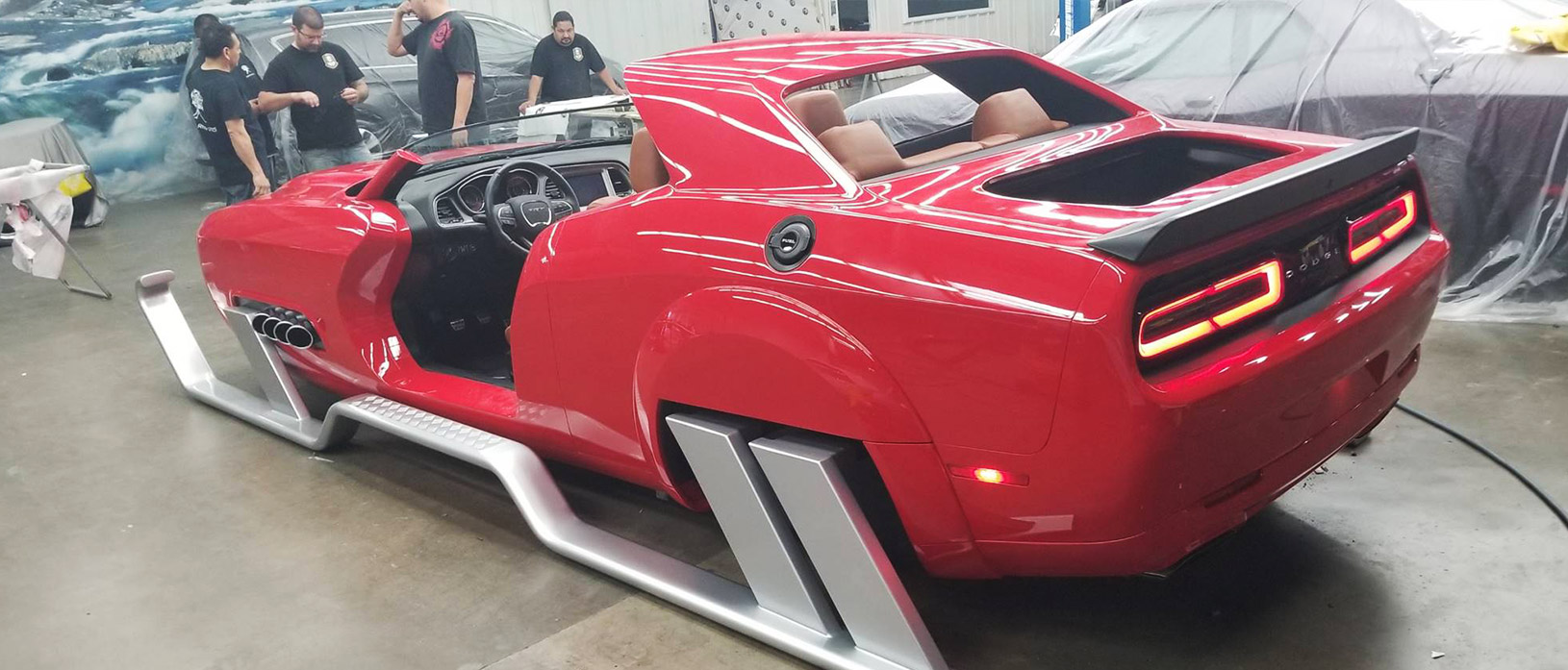 Next