50 Years and 0 Signs of Showing Their Age
3 years ago Heritage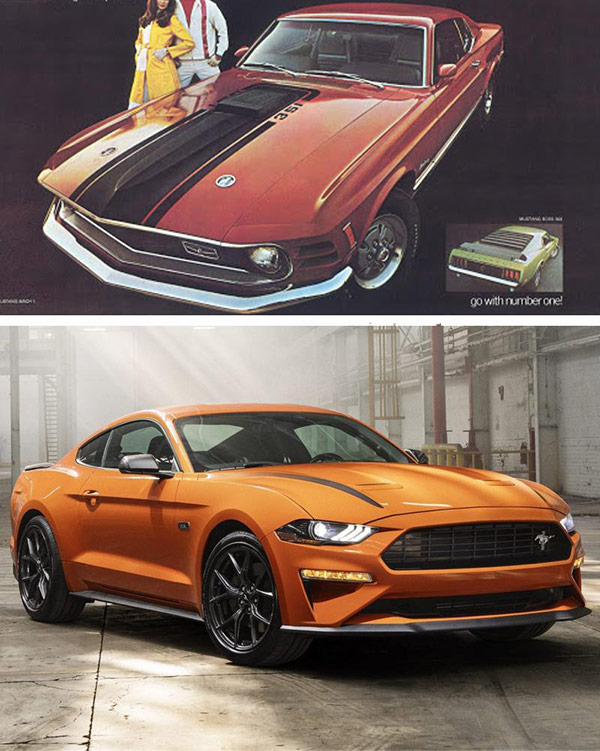 Line up a Dodge vehicle from 1970 with its GM or Ford competitors and then pair them each with their contemporary counterparts. It doesn't take 20/20 vision to clearly see the high value the Dodge Brand places in our heritage and original styling. With the passing of 50 years, the Dodge Brand has climbed from baby brother of the big three to undeniable leader of the latest muscle car movement.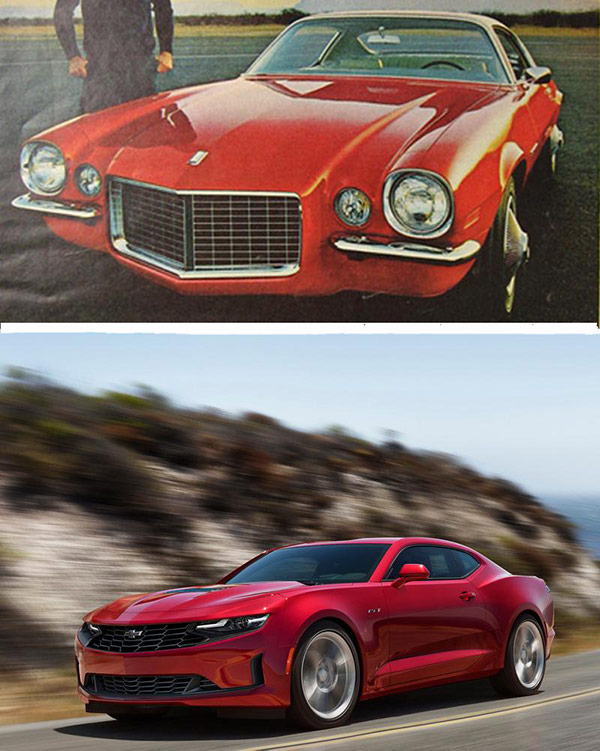 While much of this success can likely be attributed to conquering ¼-mile ETs and superior performance, I believe much of it is due to the way that Dodge carries out their original legacy with design that is both classic and contemporary. Unlike much of the competition, Dodge's throwback models pay a true homage to the legacy of their predecessors by capturing the essence of the original models, while still applying the function of modern day. Check out Dodge's three muscle car models and how they compare to their 1970 predecessors of 50 years ago.
The Challenger

When I see the side-by-side of a 1970 Challenger next to a 2020 model, I feel an overwhelming sense of pride; I imagine this is sort of how regular people feel when they look back on their kid's kindergarten pictures. Much like the development of a child, the Dodge Challenger has grown with leaps and bounds, rising to the top of its market appealing to Mopar® enthusiasts of all ages. The original model made its debut in 1970 as the newly refined rival to Ford's Mustang on an all-new E-body platform. Lighter than the powerful Mopar B-bodies but with all the same performance goodies, the Dodge Challenger earned its notoriety through its beauty, its brawn and, let's be honest, the cult classic film Vanishing Point might have had something to do with it.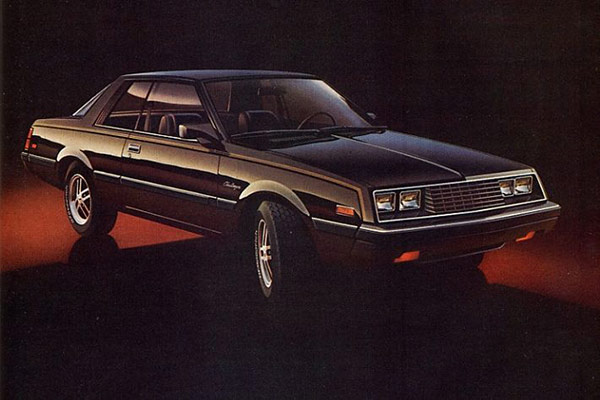 Unfortunately, America's lust for performance dwindled shortly after the model's introduction due to costly insurance and gasoline prices. The Challenger was cut from Dodge's lineup just four short years after its birth in 1970. There was a period of time in the early 1980s that Dodge did bring back the Challenger nameplate, but I think we can agree we would rather pretend that never happened. Truly, the model didn't make a real comeback until 2008 when the old-school icon was introduced to the 21st century. With dramatized features, bolder body lines and more power than ever before, it's safe to say after 50 years that Dodge has perfected their recipe and cultivated the ultimate mic-drop muscle car. I gotta say, it doesn't look a day over 25.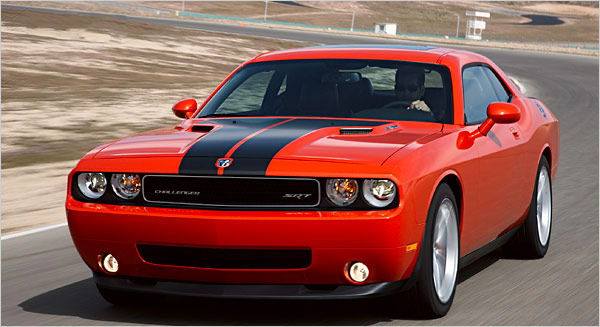 While "Brand X" has to rely on badging and emblems to tell you what their late model pony cars are supposed to be, Dodge's obvious appreciation for their roots and heritage-based styling allow the car to speak for itself. Any angle, any color, any badge, any day; the car's shape alone will tell you it's a Challenger. The tires may be wider, the features more refined, and power more potent than ever, but in 50 years, Dodge built this car from infant to icon, retaining its originality to this day. Seems to me that's a challenge Brand X just couldn't compete with.
The Charger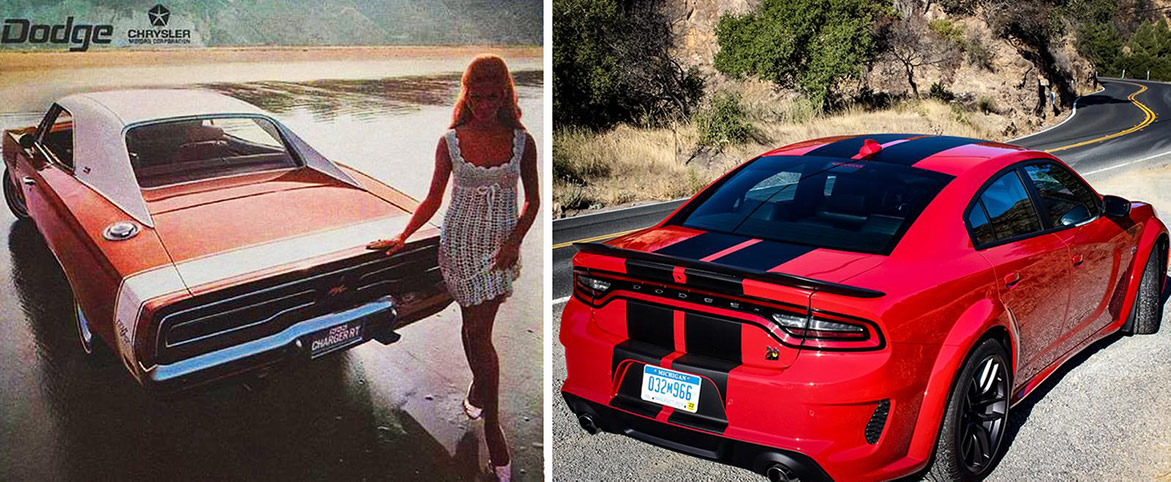 Coke bottle body lines, swooping sail panels and a booty so fine our competition doesn't even mind being second place. 50 years ago, the 1970 model year, the Dodge Charger was nearing the end of its second-generation body style and preparing for decades of future facelifts, none of which I feel honor the car's original legacy like the latest 2020 Widebody edition featuring more muscle than ever before. Over the years, the Dodge Charger went through many personas: muscle car, luxury car, sporty car, econobox and everything in between. Despite circling various markets for decades, the model wound up right back in the world it began – your everyman's muscle car.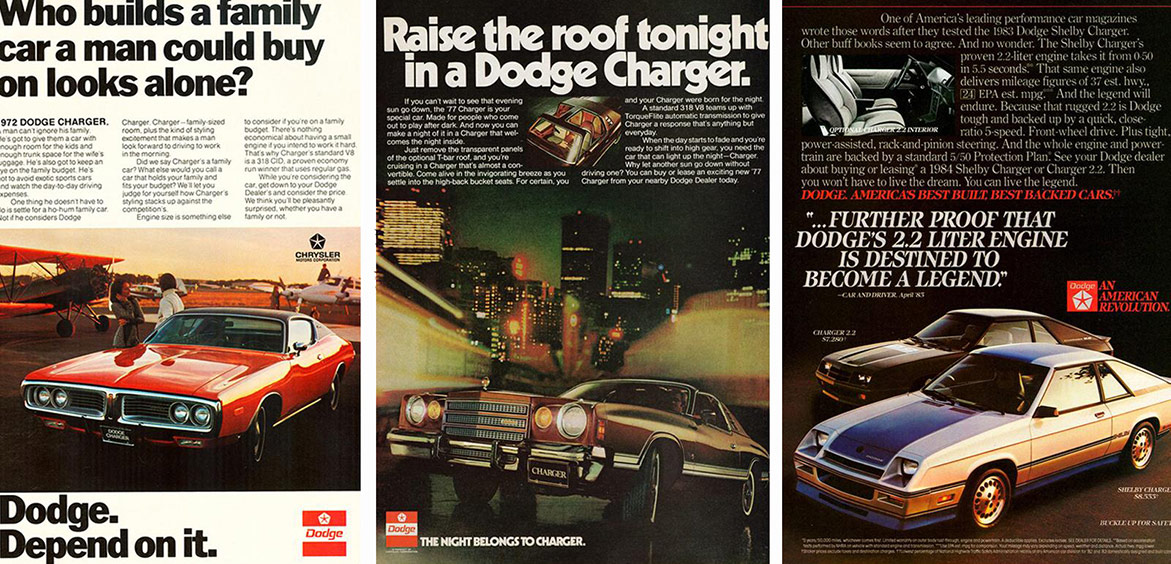 With engine options ranging from adequate to aggressive and color options from mild to wild, the new 2020 Dodge Charger shares the same customizable attitude, the same attraction and truly the same soul as its 50-year-old predecessor. I know what many of my readers are probably thinking right now, and yes, I'll address the elephant in the room (and I'm not talking about the HEMI® engine): after 50 years, the Charger grew a set of doors (don't act like age hasn't affected your curb weight either, okay). As a full-size sedan, the Dodge Charger provides the form and function to fit into an everyday 21st century lifestyle while still being crowned the fastest sedan of all time and achieving power output second to none in its class. Sporting all the iconic second-gen body styling cues on an all-new modern Mopar, it's obvious you can teach an old dog new tricks.
The Durango

I'll admit, it's not often you see Dodge's Durango SRT® being compared to the old-school C-body Monaco, so allow me to elaborate. 50 years ago, Dodge offered a vehicle with big-block power, hauling abilities and 7-passenger seating (assuming you're fine squeezing the kids into the rear rumble seat, that is). Basically, it could haul your people, haul your workload, and haul ass all at the same time; it was the most versatile family vehicle available in its era.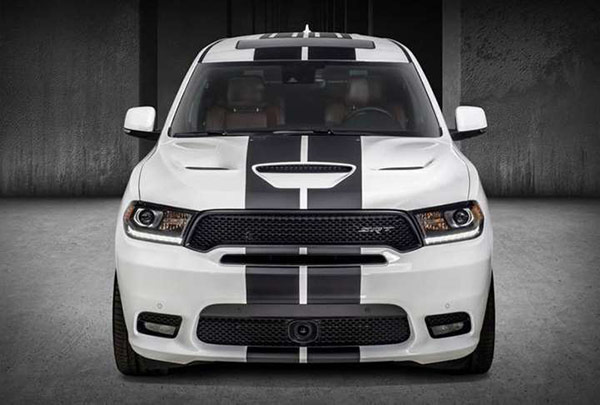 Flash forward five decades and while our modern Monaco doesn't share the same nameplate, it does share the same style, the same attitude and the same function. Some won't admit a 7-passenger family vehicle can be considered a muscle car, but with one stomp on the throttle in either of these mean-mugging Mopars, there is no doubt in my mind that the 1970 440 Dodge Monaco wagon and the Dodge Durango SRT share a bloodline and have both earned the label of Mopar muscle.

Always willing to challenge societal norms and play the counterculture role, Dodge has proved themselves the only true modern muscle car manufacturer by building cars that can provide the 21st century function with the classic styling and over-the-top power that many thought was left behind in the '70s. With the brand successfully revitalizing their most iconic of roles, one question remains: which 1970 Dodge model do you want to see make a comeback next?
Also check out:
50 Years and 0 Signs of Growing Up
50 Years and 0 Signs of Slowing Down
Comments
Comments