Table Top Match Racer
3 years ago Heritage
Moebius Models and The Model King Create First Ever 1965 Plymouth Altered Wheelbase Model Kit!
Moebius Models and The Model King have done Mopar® fans a huge service with the recent introduction of an ultra-detailed 1/25 scale plastic model kit of the 1965 Golden Commandos altered wheelbase Plymouth Belvedere. Never before has an altered wheelbase Mopar Funny Car been rendered in polystyrene as a complete kit.
Before, Dodge boys and girls wanting an altered wheelbase 1964-65 Mopar had to scrounge up a 1960s vintage Ramchargers 1964 Dodge 440 or Richard Petty Plymouth Belvedere hardtop by JoHan, or the ultra-rare 1965 Dodge Coronet 500 hardtop kit by AMT.
After finding one of these expensive kits – which have not been reissued for decades – the process of altering the wheelbase to achieve the Funny Car effect was left up to the builder. That's right, these kits represented standard wheelbase cars. Moving the wheels around was extra credit.
An alternative was offered, off and on, by the low-volume resin cast cottage industry, which did a few pretty decent altered wheelbase Plymouth and Dodge conversion kits. But being resin, they usually suffered from pin holes, blobby details and skittish availability.
Well, thanks to Moebius Models and The Model King, those days are over with the recent (2019) release of the Golden Commandos kit. Let's explore this amazing kit's many features and details, and show one built up without paint, all the better to see what it's made of.
With so many of us cooped up indoors thanks to COVID-19, maybe it's time to grab a plastic model kit and get to work!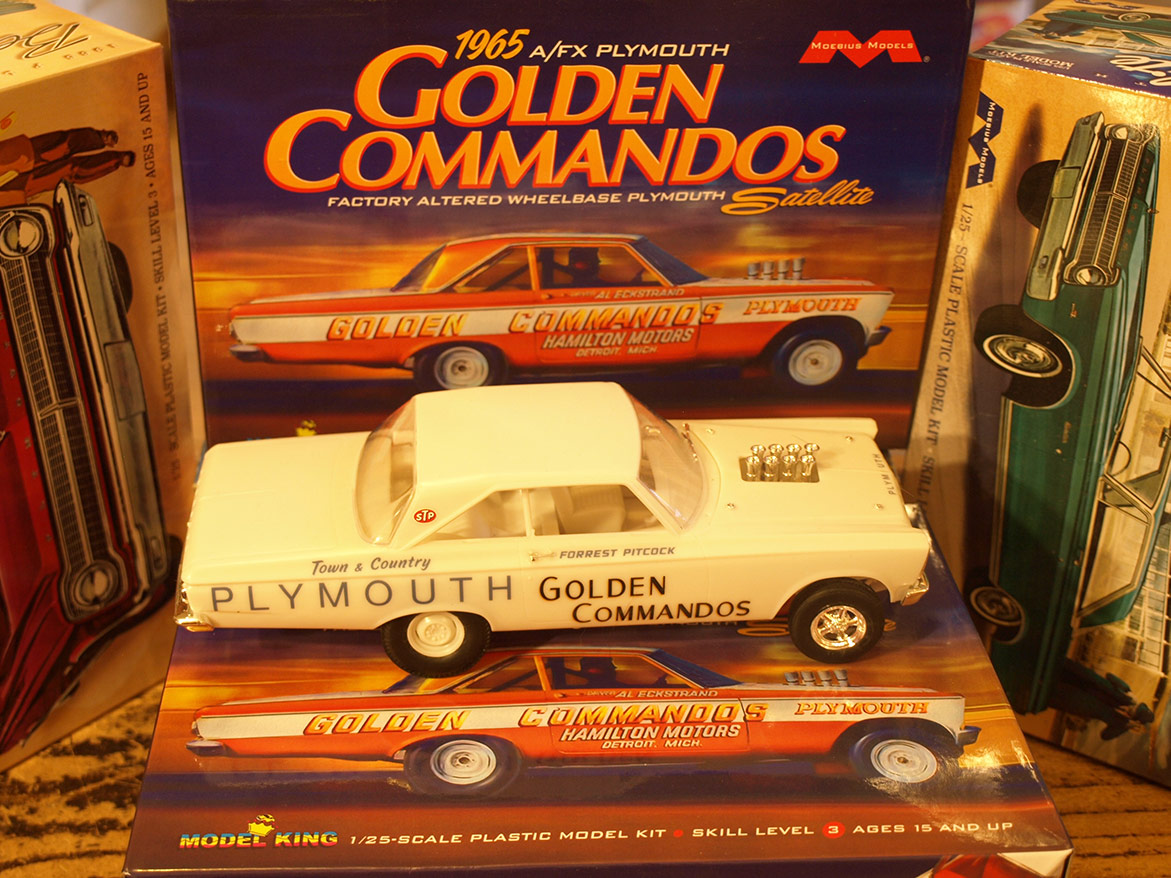 The Golden Commandos kit includes over 125 parts, most of which are molded in pure white for easy painting. Because Moebius offers other 1965 Plymouth kits (see photo 14), some of the parts trees contain items that are not used in this particular build. No sweat, these goodies are welcome additions to the parts bin and easily fit on other 1/25 scale models. One observation, the box art incorrectly calls the kit a "Satellite", which is not accurate. In fact, the altered wheelbase Plymouths were based on Belvedere II hardtop bodies (the Belvedere I was a formal roof sedan). 'Tis a minor thing…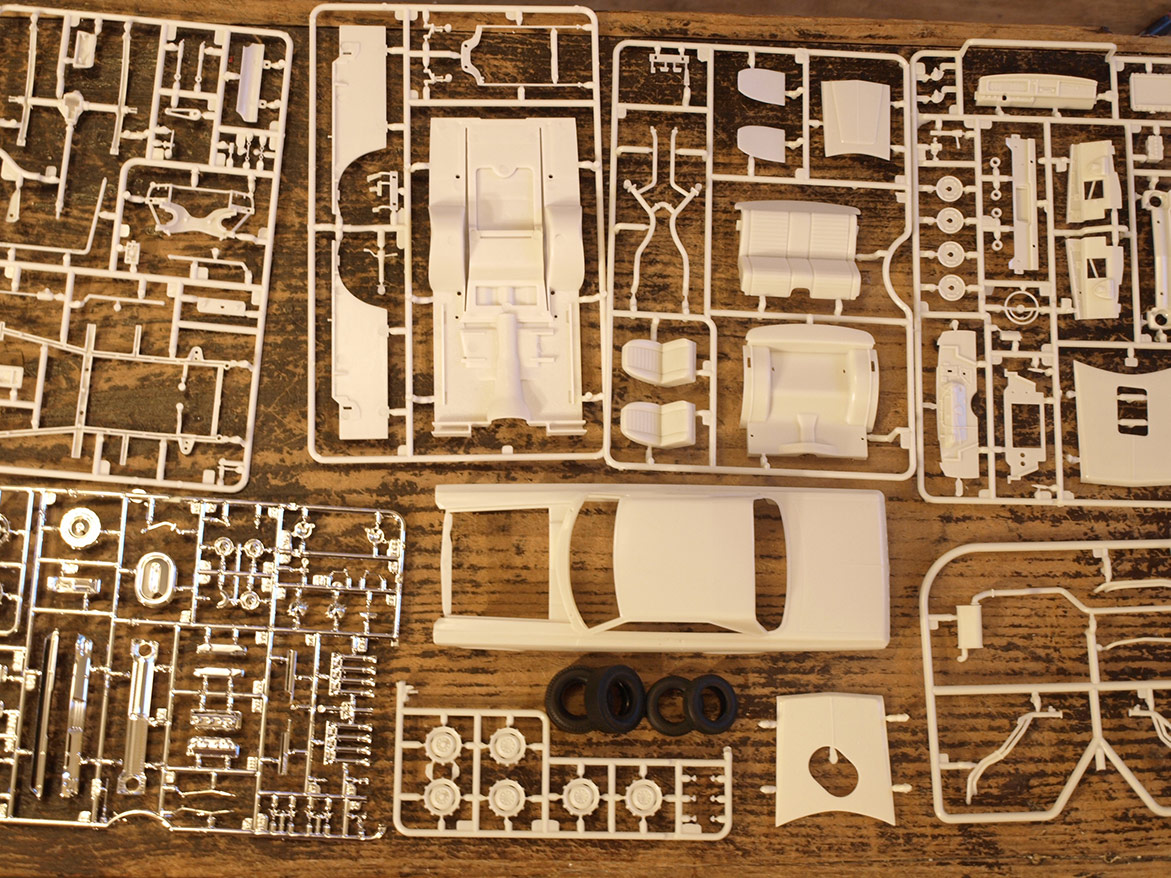 The 426 Race HEMI® engine can be assembled with the crossram intake manifold with dual Holley four-barrel carburetors or a Hilborn mechanical fuel injection unit with the choice of long or short ram tubes (to be cut to length). Extra parts include full-length Max Wedge and A990 Race HEMI single-exhaust tracts and a center sump oil pan from other versions of the Moebius 1965 Plymouth kit. The miniature headers are faithful reproductions of the S&S headers (designed by Frank Sanders) used on the real cars in 1965.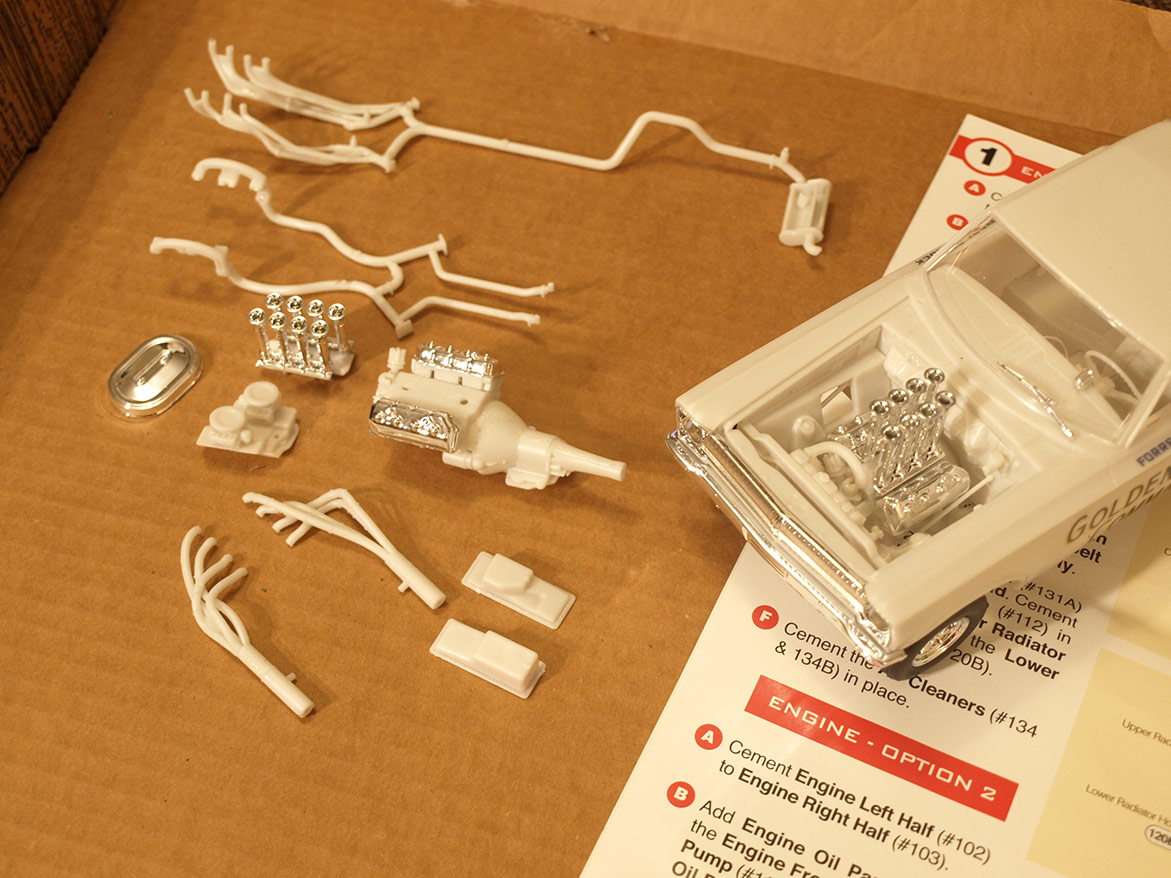 The highly detailed chassis and floor pan include separate torsion bar front suspension and semi-correct Dana 60 rear axle. Though the six Dodges and six Plymouths built by Chrysler for the 1965 factory A/FX teams were all delivered with Chrysler 8-3/4 rear axles, 4-speed racers like Sox & Martin and Butch Leal's California Flash soon appeared with stronger Dana 60 rear axles (see photo 17). The rectangular openings in the front inner fenders are surgery scars left when the upper control arm brackets and shock absorber shells were moved forward 10 inches by Chrysler employees working inside the former Amblewagon ambulance conversion facility in Detroit.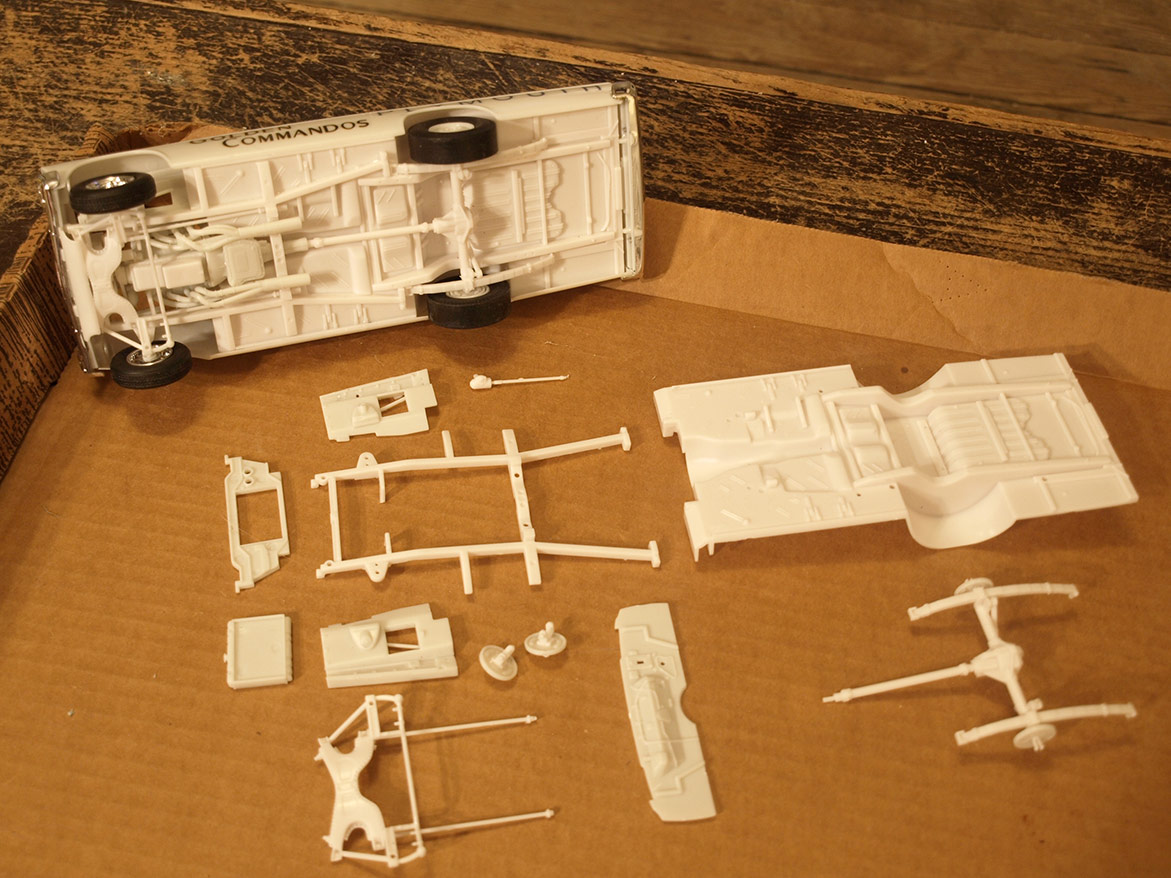 A thoroughly modern model kit maker, Moebius Models breaks away from the age-old one-piece interior tub with a multi-piece assembly consisting of an individual floor, side panels, dash, rear seat delete panel, four-point roll bar and more. The correct Bostrum Thin Line bucket seats and column-shifted TorqueFlite are faithfully rendered, along with the simplified square-pleat A990 Super Stock door and side panels. The only boo-boo is the inclusion of a radio (knife points). The real Golden Commandos FX'er initially had a lightweight steel A990 dashboard with a radio delete plate before being replaced with a one-piece fiberglass dash board with a sealed radio hole and glove box (see photo 16).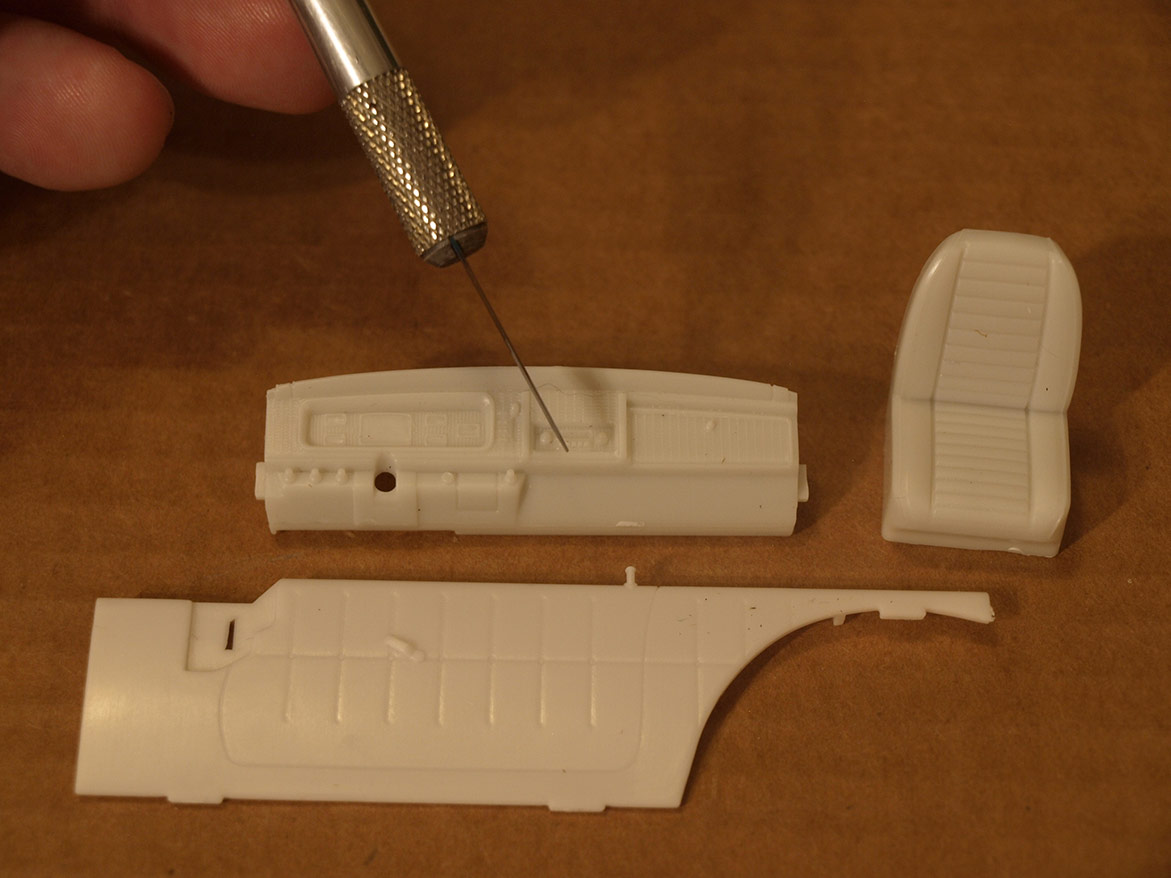 First seen in Moebius Models' Melrose Missile 1965 Plymouth Belvedere I HEMI Super Stock Sedan kit from 2015, the Golden Commandos altered wheelbase kit also includes the choice of stock steel or American Racing Torq-Thrust mag wheels. Though their outside diameters are studded with odd plastic ribs, once pressed into the tires, they look fantastic. The mags, that is. As for the steel wheels, they suffer from a general lack of accuracy and appear somewhat generic. JoHan did a much better job of rendering Chrysler steel wheels back in 1964. Speaking of generic, the skinny front tires and pre-wrinkle wall "pie crust" drag slicks lack manufacturer markings but are excellent.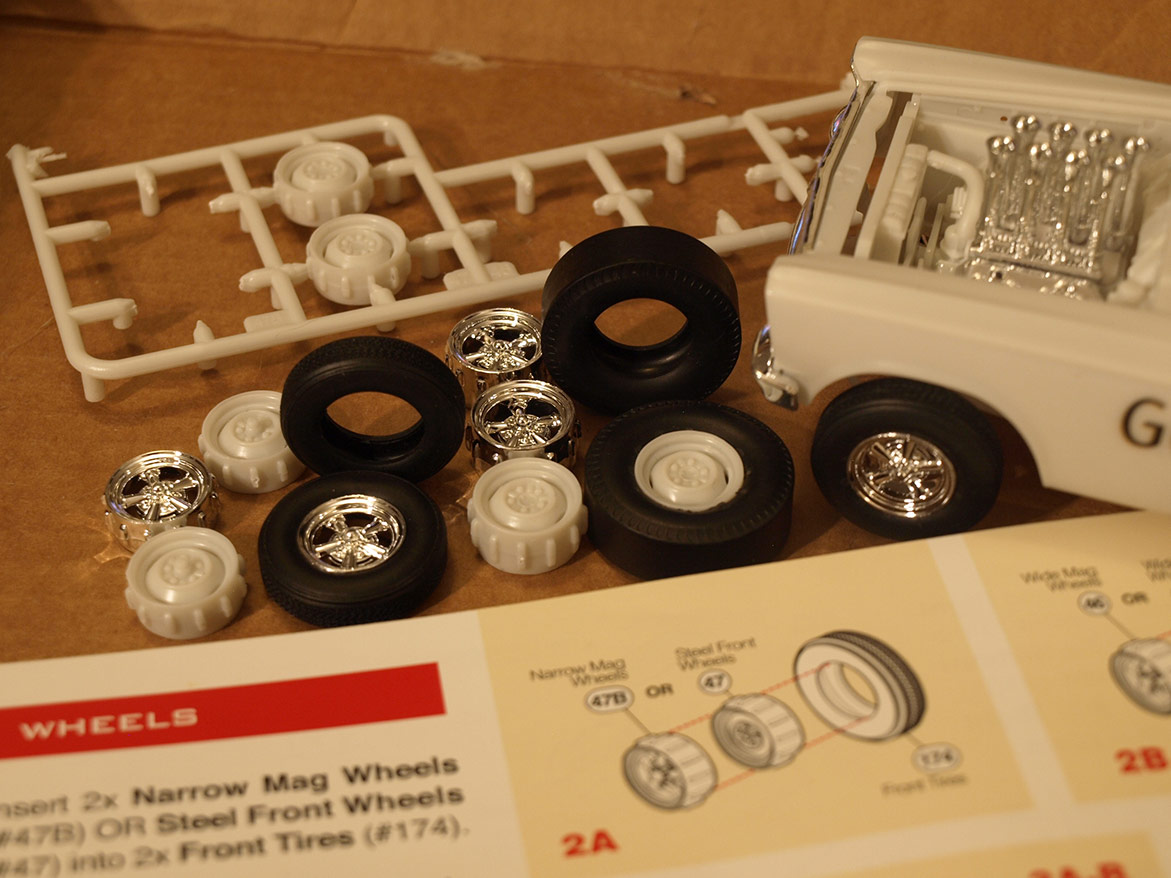 Thankfully, Moebius Models and The Model King struck a licensing deal with the Golden Commandos, allowing for an exceptional decal sheet. Two graphics treatments are possible, the minimalist effect that was quickly applied to the car for its January 29-31, 1965, debut at the AHRA Winter Championships at Beeline Dragway in Phoenix, Arizona, and the later two-tone white and gold effect applied soon after. The styrene body, bumpers and grille are perfectly sized and proportioned. Bravo, Moebius!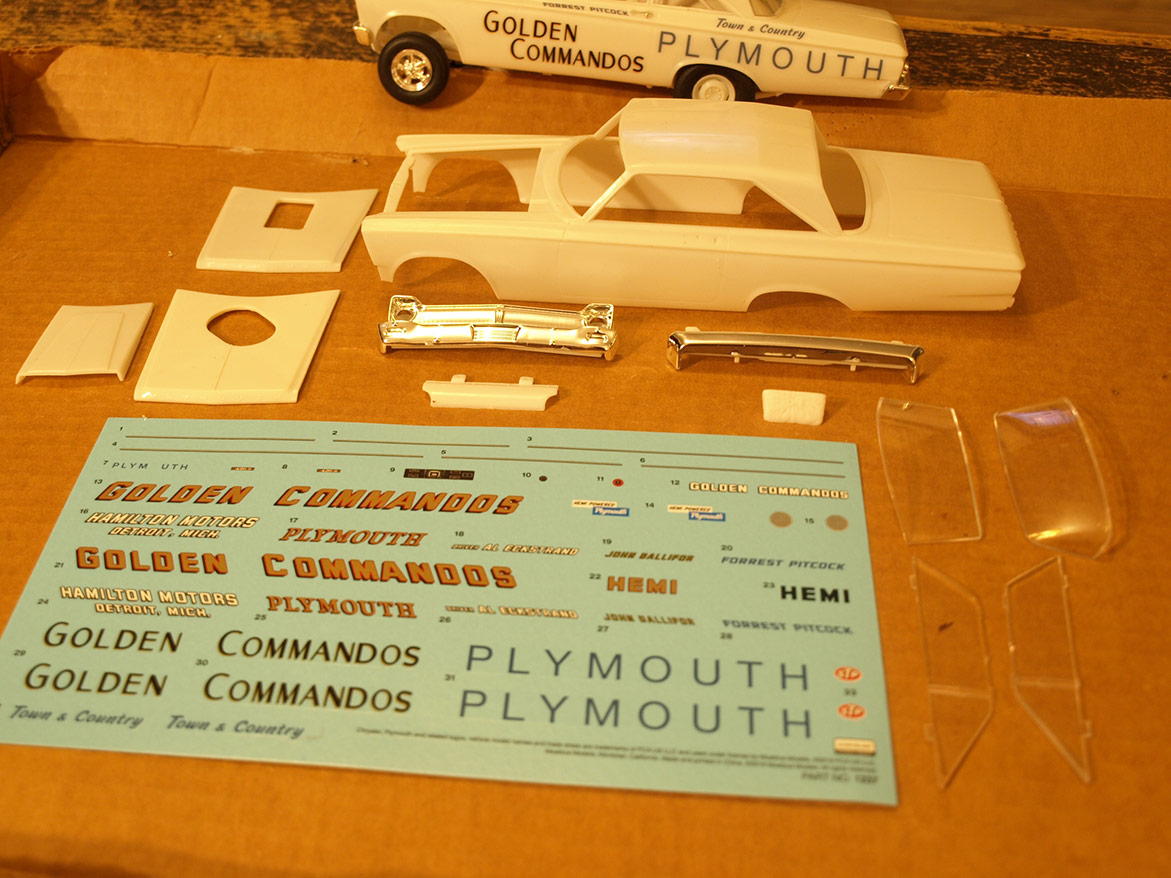 Moebius teased public reaction to an altered wheelbase Mopar kit with this assembled "test shot" back in 2016. At the time, the non-altered (standard wheelbase) Melrose Missile Super Stock Belvedere kit had been on the market for one year and was a wish come true for altered wheelbase fans who quickly got busy with X-Acto knives and body putty. It's now four years later and the wait was fully justified. With specific decals and minor tweaks, the Golden Commandos kit could easily spin off replicas of the '65 Plymouths raced by Sox & Martin, Lee Smith, Butch Leal (California Flash), Tommy Grove (Melrose Missile), not to mention dozens of independent 1965 Plymouth Funny Cars. As for the six-car 1965 Dodge altered wheelbase fleet, so far Moebius hasn't released a Dodge Coronet version of this kit. That said, it wouldn't require much more than a new body and a few interior tweaks. Then we could have little replicas of Funny Cars raced by the Ramchargers, Dick Landy, Color Me Gone, Yankee Peddler, Dave Strickler, Bud Faubel, Shirl Greer and others.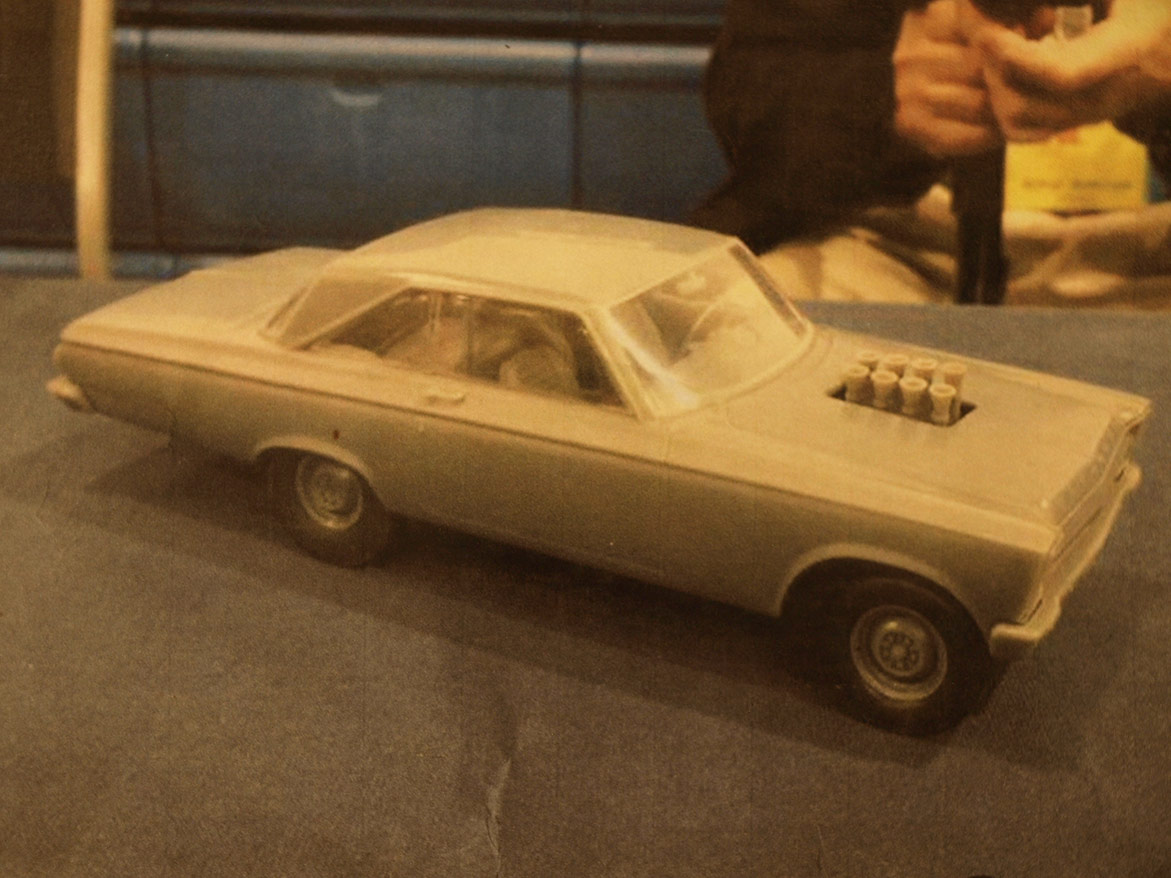 Speaking of 1965 Dodge model kits, here's the granddaddy of them all; the AMT HEMI-Charger Dodge Coronet. Released way back in 1965 with mouthwatering Ramchargers box art, these kits are worth hundreds today. Though the body is excellent, it depicts a standard wheelbase Coronet hardtop, so surgery is required to render an altered wheelbase replica. Beyond the body, Moebius' under car, engine bay and suspension detailing is light years ahead of this ancient AMT offering.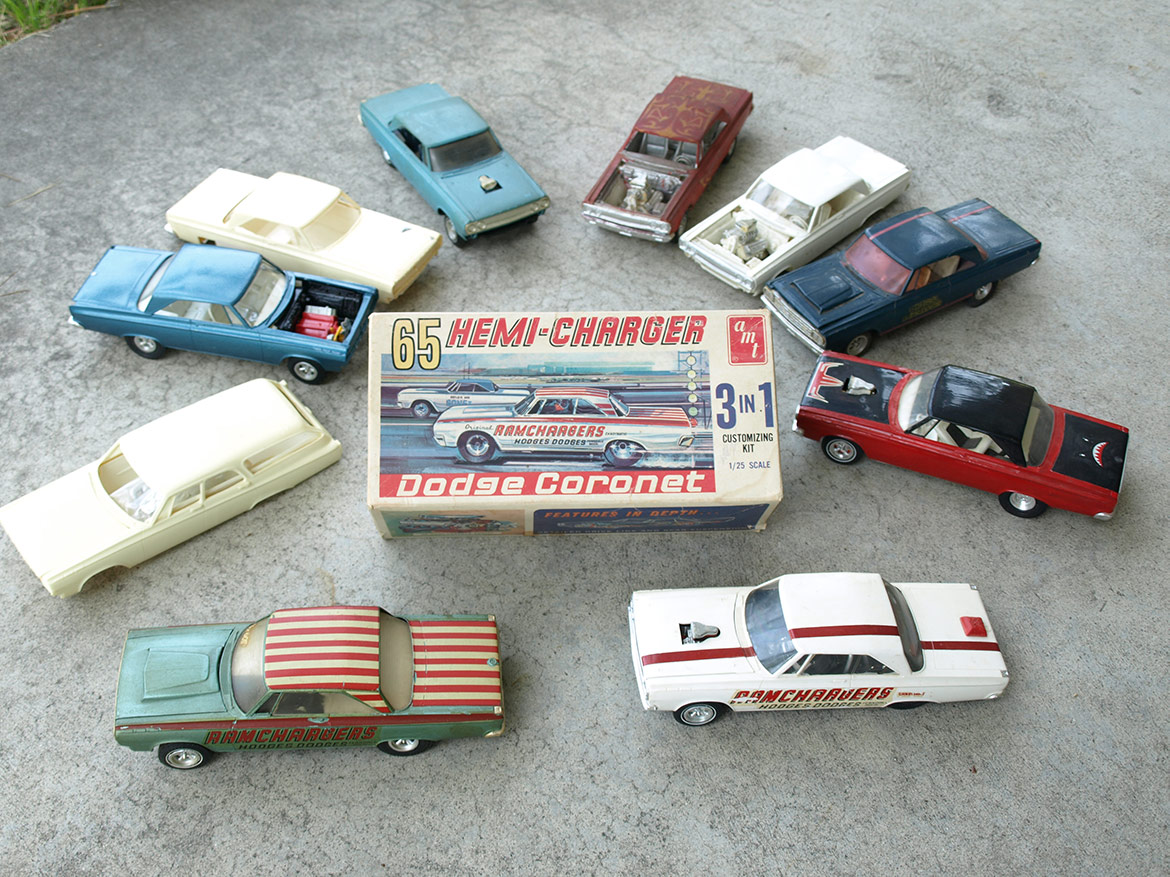 Before the Moebius/The Model King Golden Commandos Plymouth kit shook up the Mopar B-body world, here's a roundup of what mid-sixties altered wheelbase seekers had to work with. JoHan's 1964 Dodge hardtop (back row) was offered in a few forms, including a Ramchargers Super Stocker, Cotton Owens NASCAR stock car and generic Re-Charged HEMI Super Stock. Aside from a single 330 sedan built by Dick Landy (and lovingly restored by HEMI fanatic Pete Haldiman in the 1990s), no factory-supported altered wheelbase machines were based on the 1964 Dodge platform. In the middle row, we see the aforementioned AMT Coronet 500 (left) and something exciting from 2006, the Polar Lights 1965 Dodge Coronet 500. Available in hardtop and convertible form, this kit was the equal of the vintage AMT offering and finally gave altered wheelbase builders another 1965 Dodge to work with. In the front row is a resin cast altered wheelbase 1965 Plymouth hardtop.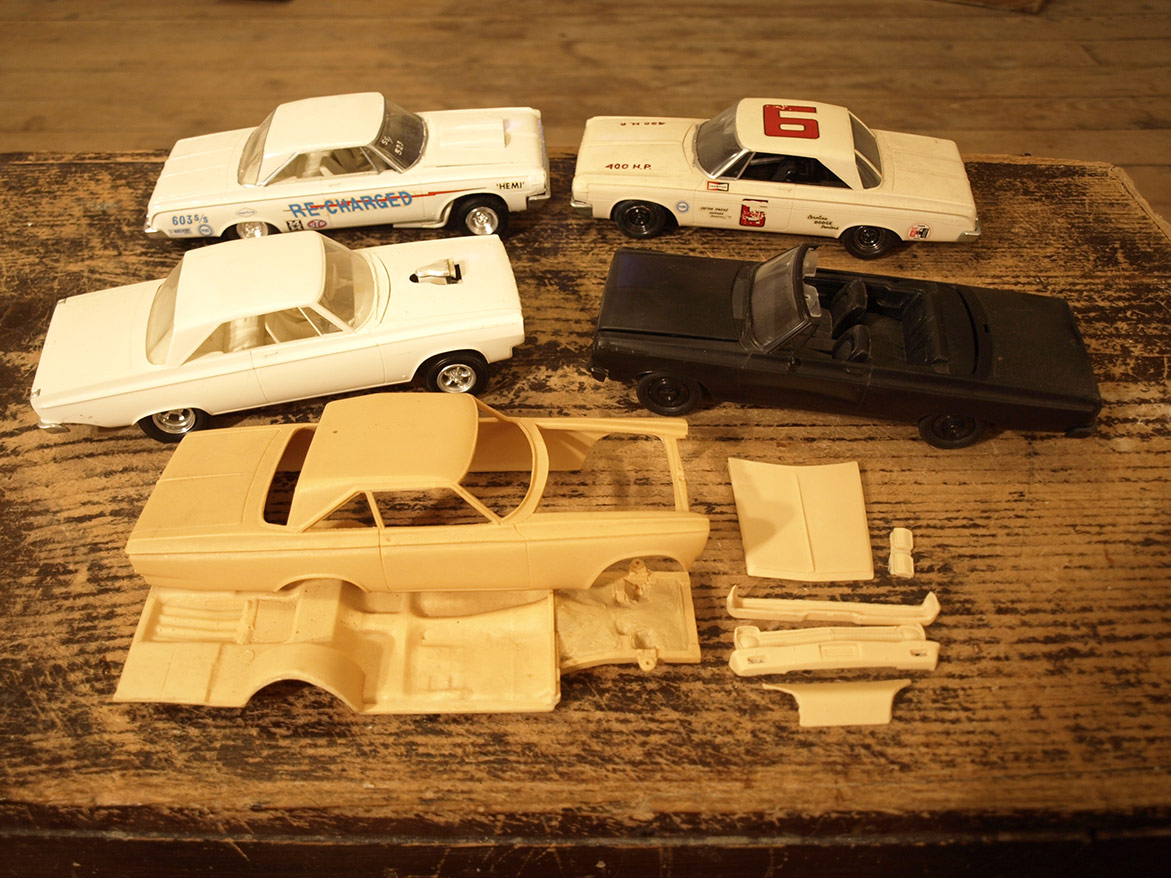 Back in 1978, your author transformed a JoHan 1964 Dodge 440 hardtop (near camera) into a very loose interpretation of a Ramchargers team car. Testors putty was used to cover the surgery scars and masking tape and spray paint were used to create the candy stripe graphics. Lacking Ramchargers decals, then-14-year-old me cut logos out of magazine ads for the Ramchargers speed shop and glued them on with Testors cement. Two decades later, in 1996, Lindberg took another stab at a 1964 Dodge 330 sedan model kit, which include the full-color decal sheet I would have been happy to have in 1978!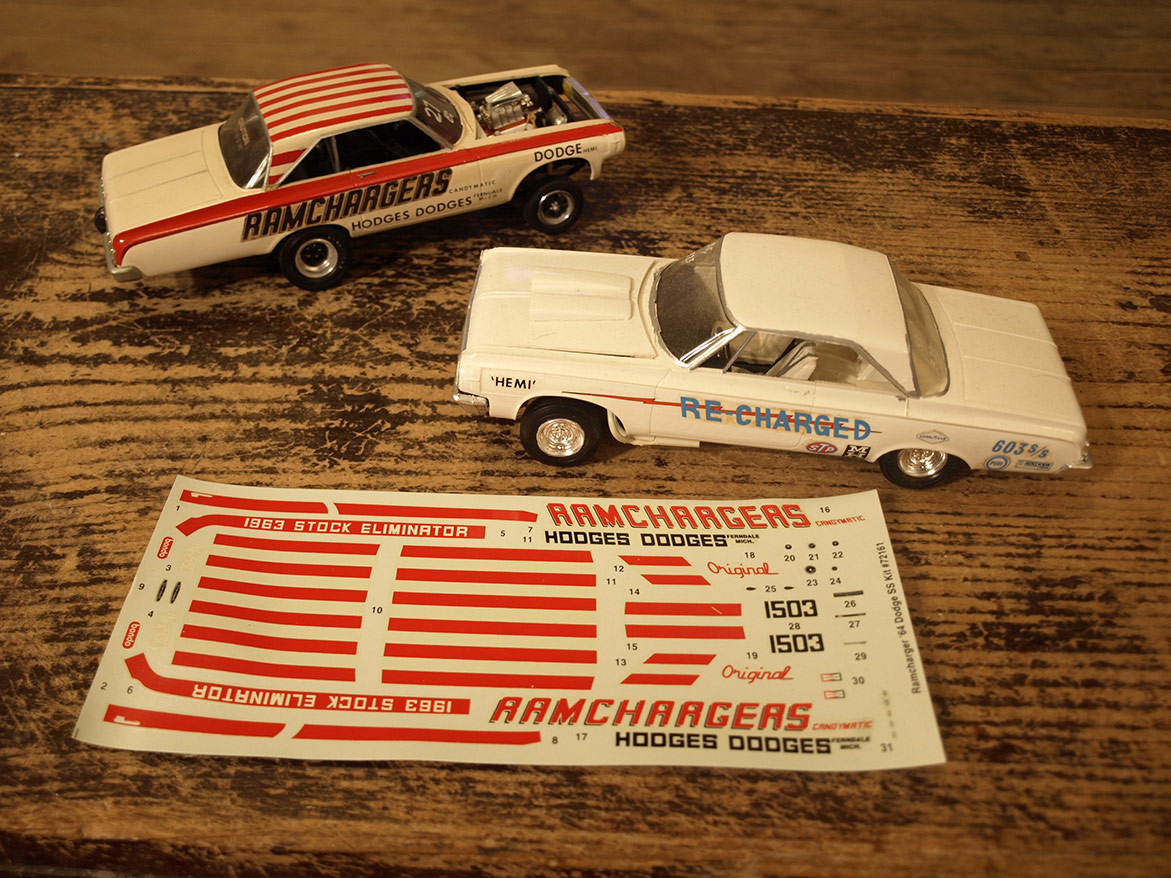 In the late 1980s, a large cottage industry sprang up to provide 1/25 scale replicas of obscure subjects the mainstream model manufacturers ignored. This altered wheelbase 1965 Plymouth Belvedere trans-kit is by Model Car World Resin Replicas of Burlington, North Carolina. It required the Lindberg 1964 Dodge for items like the 426 HEMI, suspension, wheels and tires. Resin differs from styrene in that it is hand poured and can suffer from pin holes, warping, excess thickness, trapped bubbles and chemical rejection of certain paints unless properly sealed. Still, these limited-release trans-kits serve a much-needed role in the hobby.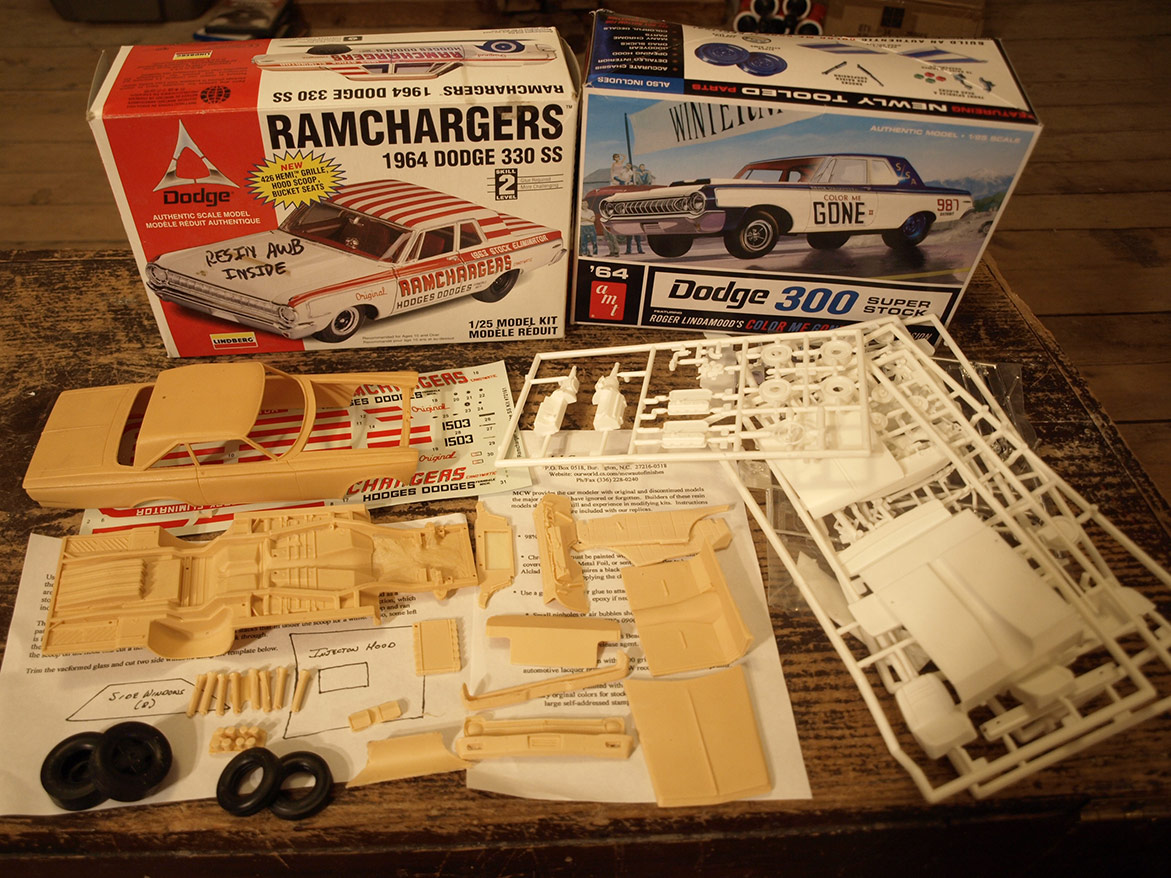 After buying up Lindberg and AMT, a progressive company called Round 2 (reviver of Johnny Lightning die cast toys and the force behind the Polar Lights model kit line of the 1990s) put the 1996-vintage Lindberg 1964 Dodge sedan into a box marked AMT. With new Roger Lindamood / Color Me Gone box art and graphics, the welcomed kit is back in circulation. Note the box art boo-boo. The "300" should read "330" – oops, it's still a great kit.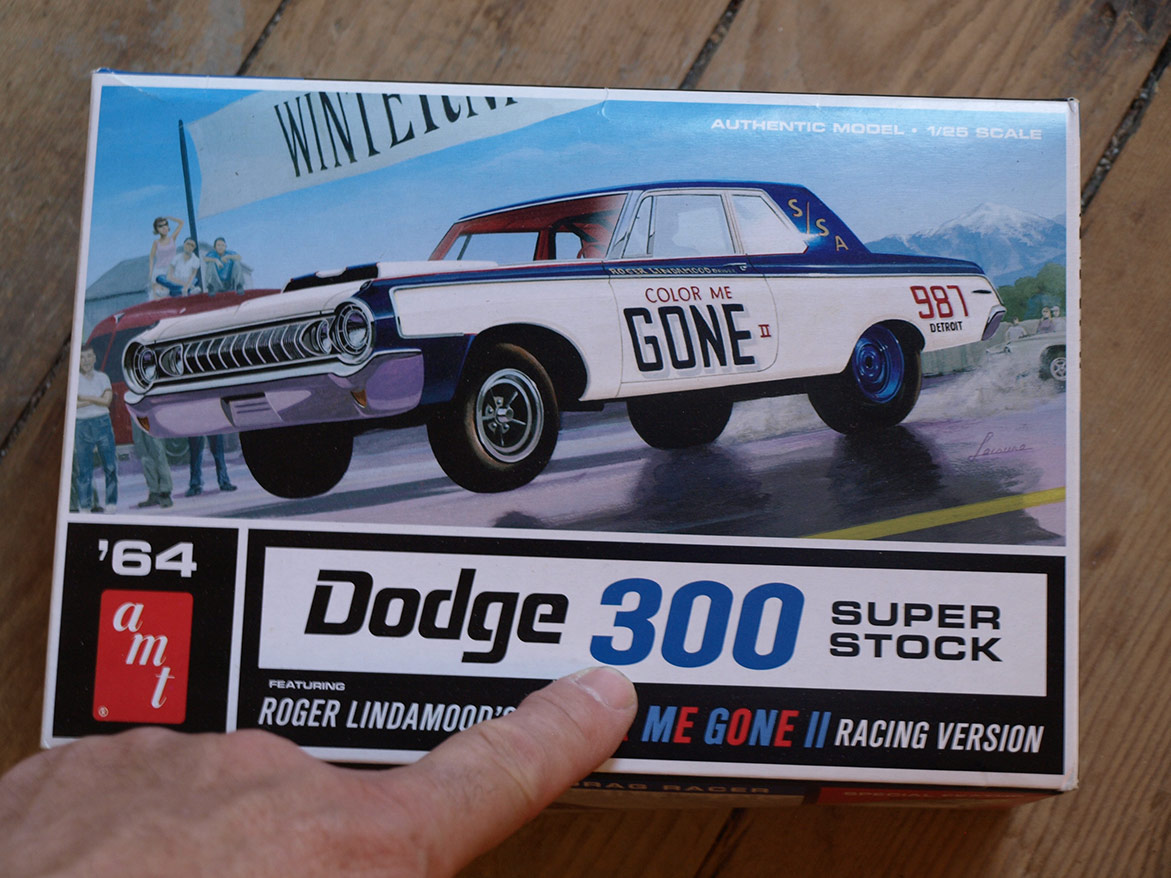 The Golden Commandos altered wheelbase replica isn't the only 1965 Plymouth offered by Moebius. The Melrose Missile HEMI Super Stock hardtop and 426 Street Wedge Satellite hardtop (bottom row) came first in 2015, followed in 2016 by a much-needed Belvedere I sedan (top left). With its thick-pillar roof line, this is the first 1962-65 Mopar B-body sedan ever offered in mainstream plastic kit form. Many Mopar model builders have their fingers crossed for versions of this kit depicting an A990 Race HEMI or 225 Slant Six-powered fleet car, perhaps a Fire Chief or urban police machine. It wouldn't take much to pull them off. Please, please, double please?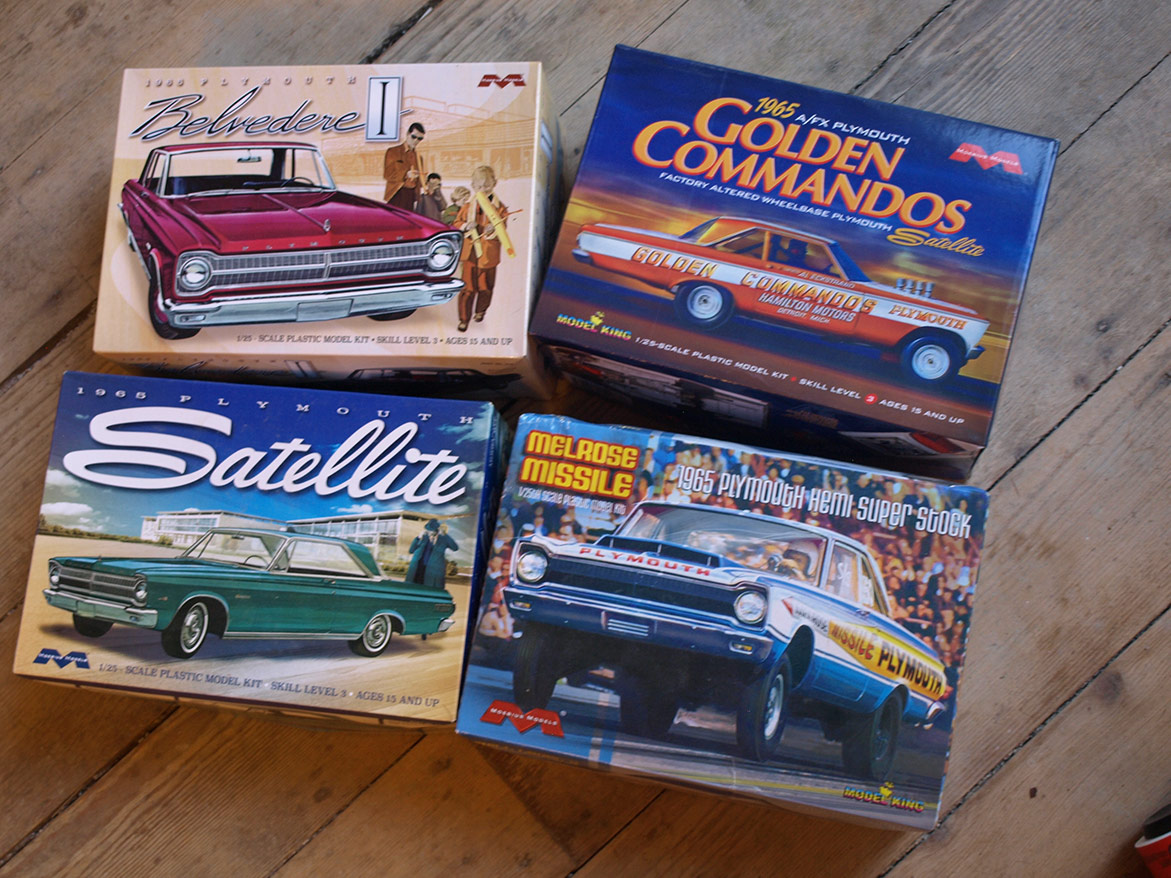 The restored Golden Commandos Belvedere II match racer was displayed at the 2014 Chryslers at Carlisle show. At the time, I was part of the Dodge Performance Showcase, meeting and greeting Dodge fans in the hot July sun. I also had the honor to conduct live interview sessions with members of the Golden Commandos and Ramchargers during the weekend-long event.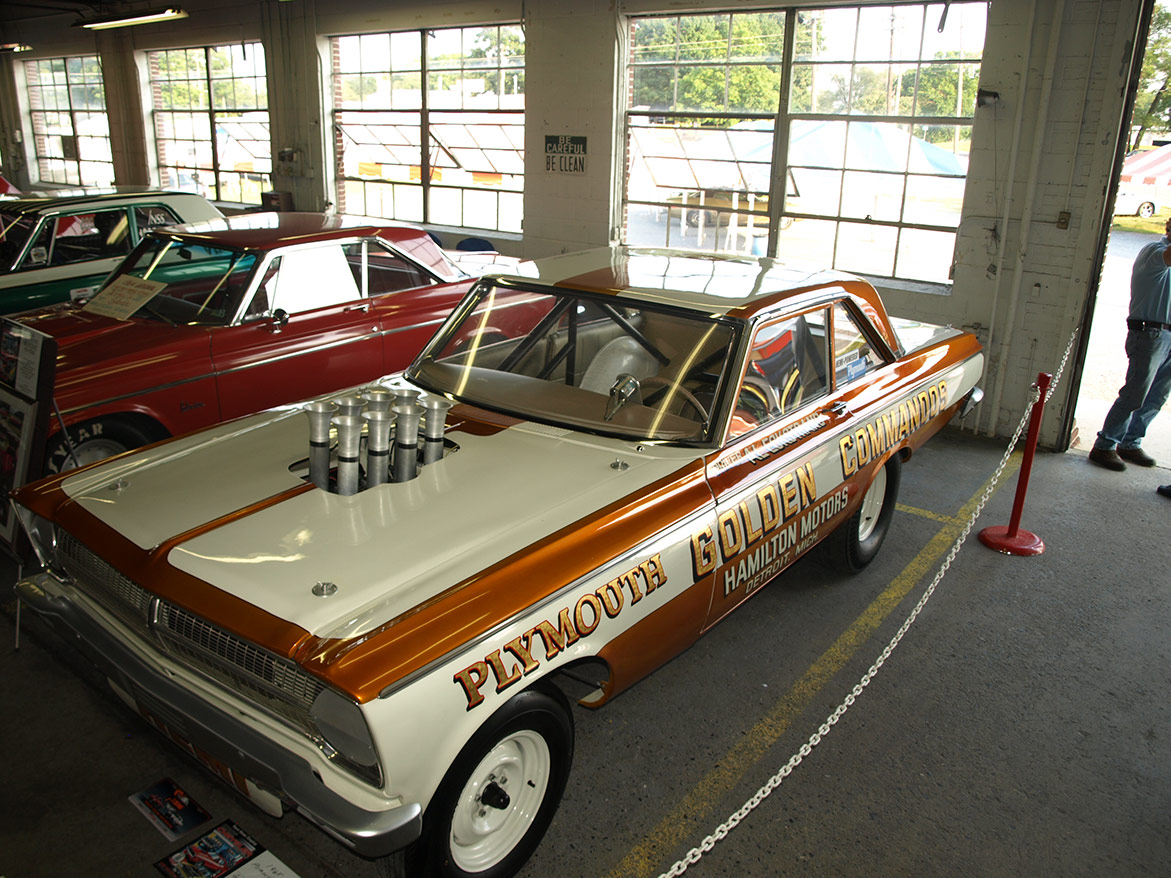 Stripped for the match race circuit, the passenger side Bostrom seat, steering wheel horn ring and center cap have been removed for an improved power-to-weight ratio. The stock instrument cluster fits inside a one-piece fiberglass dashboard. Note how the radio delete area and glove box surfaces are sealed closed. Little upgrades like this took place with every passing week.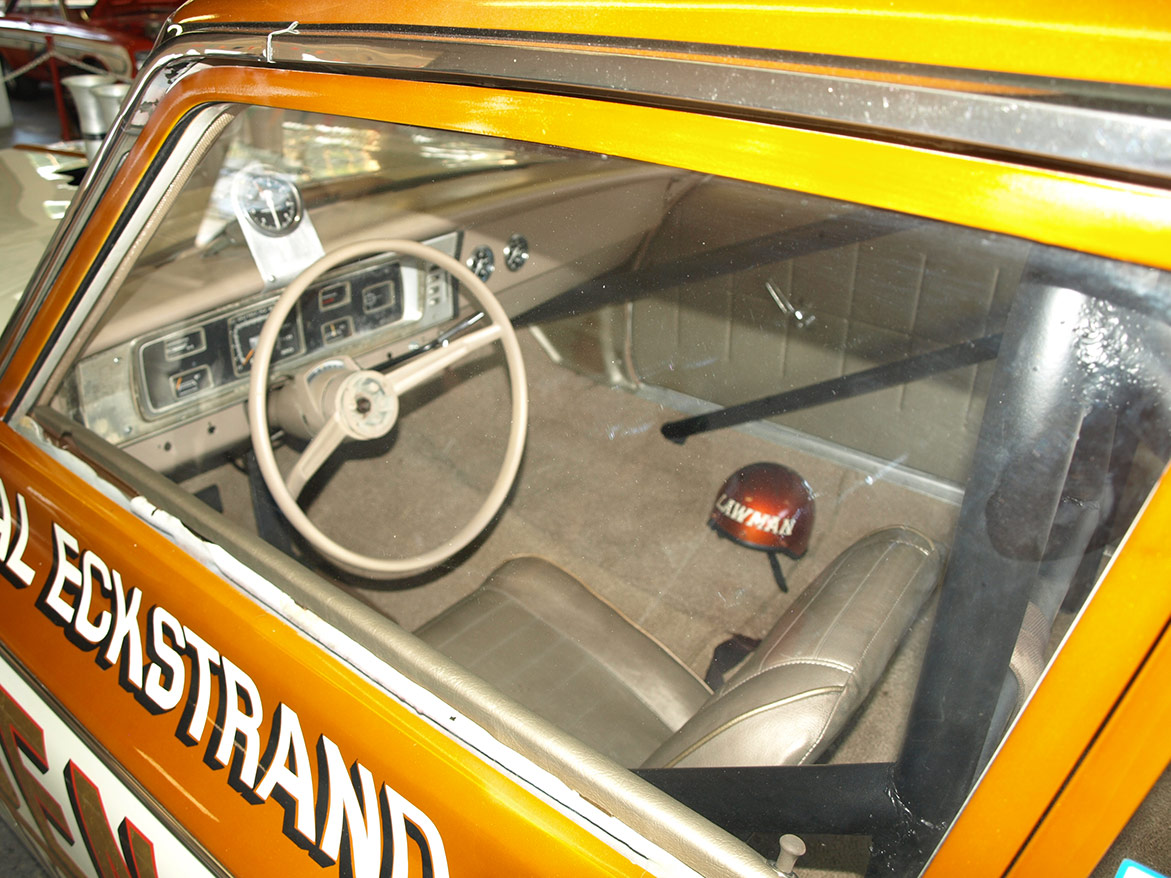 Look close and you can see frame rail extensions and lower quarter panel seam work from where the rear axle was moved forward 15 inches. The kit's Dana 60 rear axle is inaccurate. The Golden Commandos used a 727 TorqueFlite, which cushioned the smaller Chrysler 8-3/4 from the brutal shock loads encountered in 4-speed cars like the Sox & Martin machine. The standard issue 18-gallon fuel tank is not depicted in the Moebius kit (see photo 4). But that's acceptable because the team only used it when extra traction was needed. And there was no guarantee it held gasoline. Water was used as ballast from time to time. Now it can be told…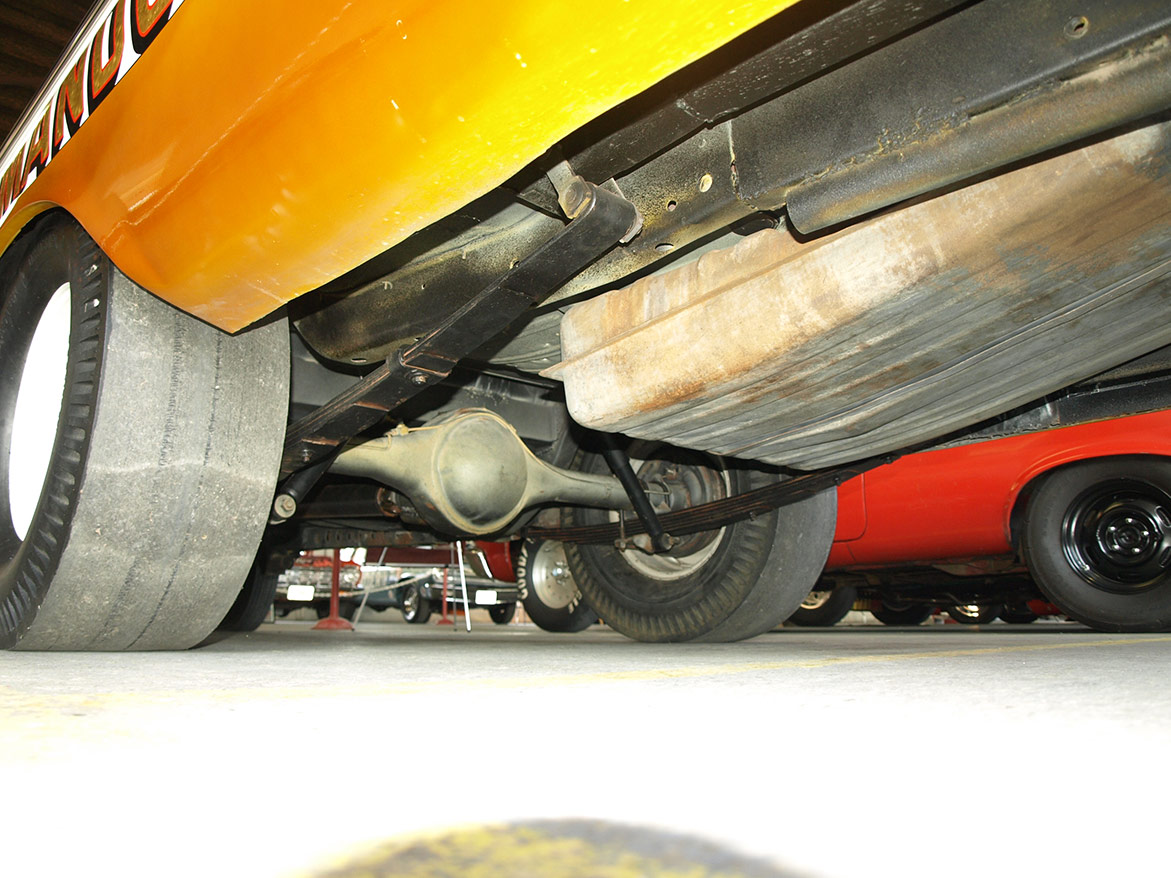 Have you been working on a model car? Tell us about it in the comments!
SOURCES:
Moebius Models: Montclair, CA; moebiusmodels.com
The Model King: 1032 Englemere Blvd., Toms River, NJ 08757; 732-240-3987; modelking.com
Model Car World Resin Replicas: P.O. Box 0518, Burlington, NC 27216-0518; 336-228-0240
Round 2 Models: 4073 Meghan Beeler Court, South Bend, IN 46628; round2.com
Comments
Comments
Previous