Something Fishy Lurks in the Background: 1978 Dodge Magnum GT
2 years ago Heritage
Take a close look at this 1978 magazine ad for the then-new Dodge Magnum GT. Though the factory-fresh Magnum was highlighted, notice the Plymouth AAR 'Cuda in the background! Though Chrysler Corporation put Plymouth to rest in 2001, in 1978 Plymouth was still kicking and was ranked seventh among Detroit automakers, one step ahead of Dodge's eighth place U.S. ranking that same year.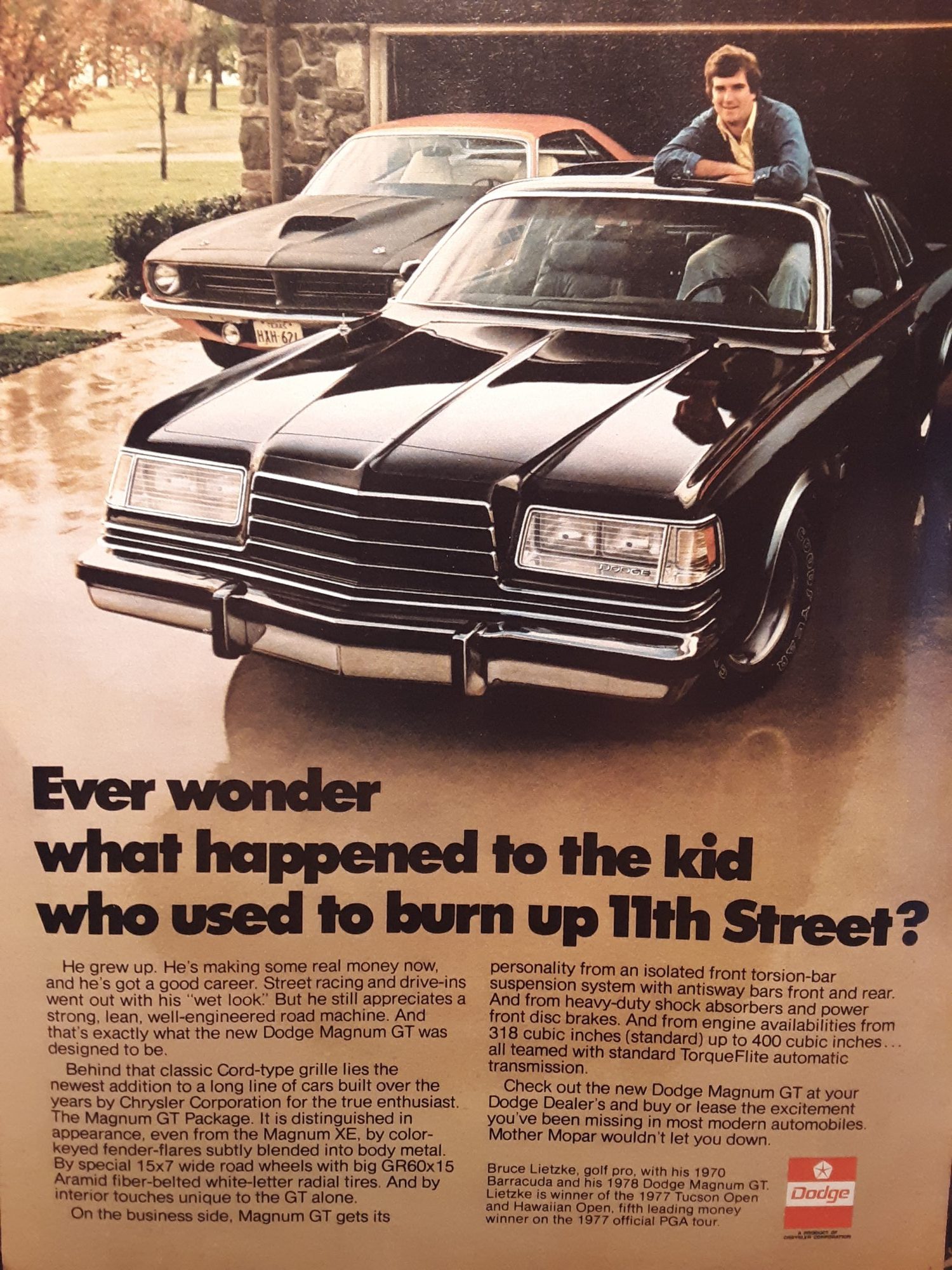 So why on earth didn't the advertising executives behind this 1978 ad find a Dodge Challenger T/A – the AAR 'Cuda's SCCA Trans Am homologation twin to use in this ad? Were they clueless to the difference between a Dodge and a Plymouth? While we could understand a boo-boo like this happening today as half-century-old memories of what-was-what back in the day fade, this ad was made when the AAR 'Cuda was only eight years old. Back then, nobody was going to confuse a 'Cuda and a Challenger.
The answer lies with the hunky dude resting atop the Magnum's $643 optional T-top windshield frame. That's Bruce Lietzke, a then-27-year-old professional golfer who won the 1977 Tuscon and Hawaiian Open events, making him the fifth leading money winner on the 1977 official PGA tour – and a Dodge spokesperson.
Using Lietzke made sense. Being born in 1951 (died 2018), he was a classic example of the "baby boom" kids who grew up in the sixties and bought brand-new 1968 Super Bees and Road Runners. By 1978, these kids were growing up and ready to move into more mature cars, cars like the Dodge Magnum GT. The ad copy reinforces the message: Ever wonder what happened to the kid who used to burn up 11th Street? He grew up. He's making some real money now, and he's got a good career. Street racing and drive-ins went out with his "wet look". Still, today it's interesting that Dodge used a real muscle car as a foil for the watered-down Magnum GT.
But why a Plymouth? As it turns out, Lietzke actually owned the HEMI® Orange AAR 'Cuda in the background, probably buying it new soon after graduating from Beaumont, Texas' Forest Park High School in 1969. It is likely the Dodge advertising team behind this ad secretly wished Lietzke bought a Challenger T/A instead but settled for the overriding affinity message of the golf pro and his new Magnum GT. It must have worked, Dodge sold 47,827 Magnums in 1978.
The Magnum, new for 1978, replaced the 1976-77 Charger Daytona as Dodge's meanest mid-size performance image machine and was based on the B-body platform with rear leaf springs and parallel torsion bars up front. Base power came from the 318 small block V8, the Slant Six was not offered. And while all Magnums featured the slick transparent headlamp covers (which lifted when the lights were switched on), the GT got exclusive fender flares that further accentuated the Magnum's bulging wheel arches – and you thought today's Challenger and Charger "Wide Bodies" were a new idea!
Other A75 GT-only items included color-keyed polyurethane fender flares, heavy-duty shock absorbers, GR60-15 raised white letter radial tires, 15×7 inch slotted steel rims with chromed lug nuts, trim rings and bright center caps, engine-turned instrument panel face, two-spoke leather-wrapped steering wheel and firm feel power steering. Externally, seven colors were offered on the GT: Classic Cream, Eggshell White, Bright Canyon Red, Starlight Blue Sunfire, Tapestry Red Sunfire, Metallic Pewter Gray and Black. In each case, the quartet of polyurethane fender flares were color matched to the rest of the body.
Under the hood, as the magazine ad states, "…engine availabilities from 318 cubic inches (standard) up to 400 cubic inches…all teamed with the standard TorqueFlite automatic transmission." This meant the days of Pistol Grip four-speed manual transmissions – as well as base three-speed manual gearboxes – were over. As for the 318, its meager 140 horsepower and 245 ft.-lbs. of torque were hard pressed to motivate the 3,800-pound Magnum GT like a true muscle car. An optional 360 ($109) with 175 horsepower and 270 ft.-lbs. helped a bit, but 0-60 sprints still took nearly 10 seconds.
At the top of the heap was the 400 big block for $330. Despite being a big block V8, its 190 horsepower and 305 ft.-lbs. were a far cry from the 335 horsepower and 425 ft.-lbs. of the mighty 383 Magnum of 1968-71. Quarter-mile dragstrip acceleration took 17 seconds with the 400 and over 18 seconds with the 318. But Dodge was not singing the horsepower blues alone. The entire auto industry struggled to meet the new emissions and fuel economy standards put in place by the government. The 1978 Magnum GT was a great example of how Detroit pivoted to meet market realities. Instead of selling the steak, they focused on the sizzle. Sales records show that only 1.8 percent of the 47,827 Magnums built in 1978 got the A75 GT option. That's about 382 cars. By comparison, Plymouth sold seven times as many AAR 'Cudas (2,724) in 1970. Don't you wish you had a time machine?
Comments
Comments