Not a Beeper: 1967 Dodge Coronet R/T
2 years ago Heritage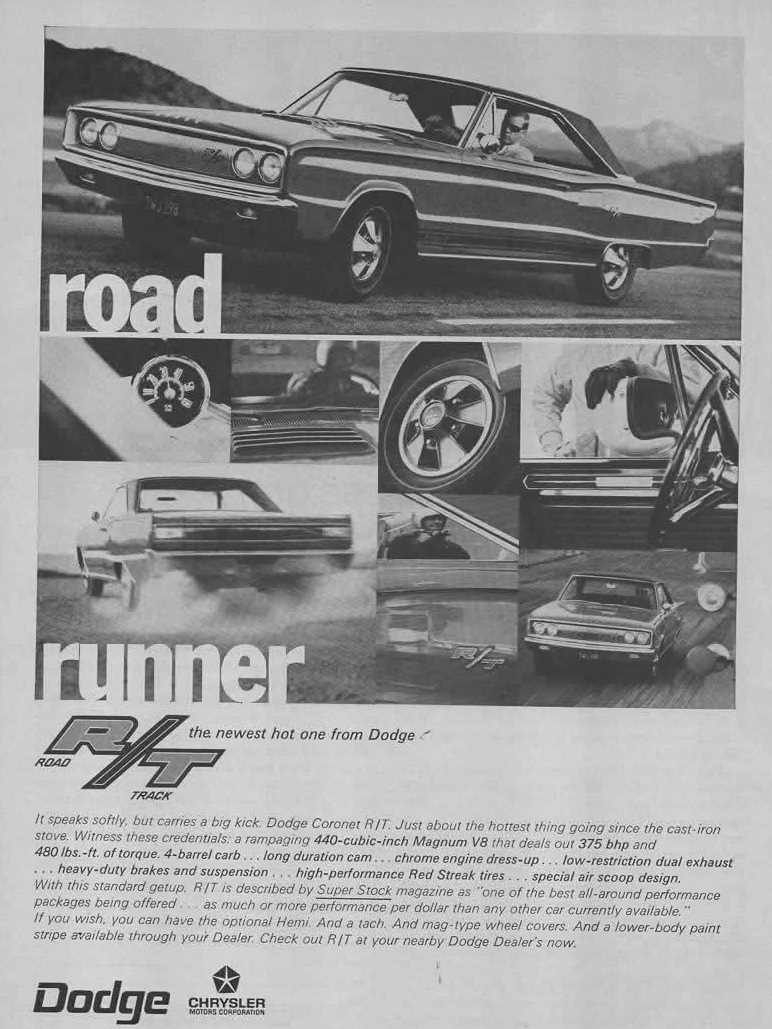 This vintage magazine ad is truly a puzzler. Everybody knows Plymouth introduced the Road Runner in 1968, right? So why, oh why does this ad for the 1967 Dodge Coronet R/T have the word "road runner" plastered atop the picture boxes? If we had a time machine, we'd simply place a call to Dodge's advertising agency at the time – Batten, Barton, Durstine & Osborn (BBD&O) – and ask to speak with the creative director.
We'd ask: "Haven't you heard? The people over at Young & Rubicam (Plymouth's advertising agency) are talking with Warner Brothers about using the Road Runner theme on an upcoming Plymouth model?" Then we'd listen…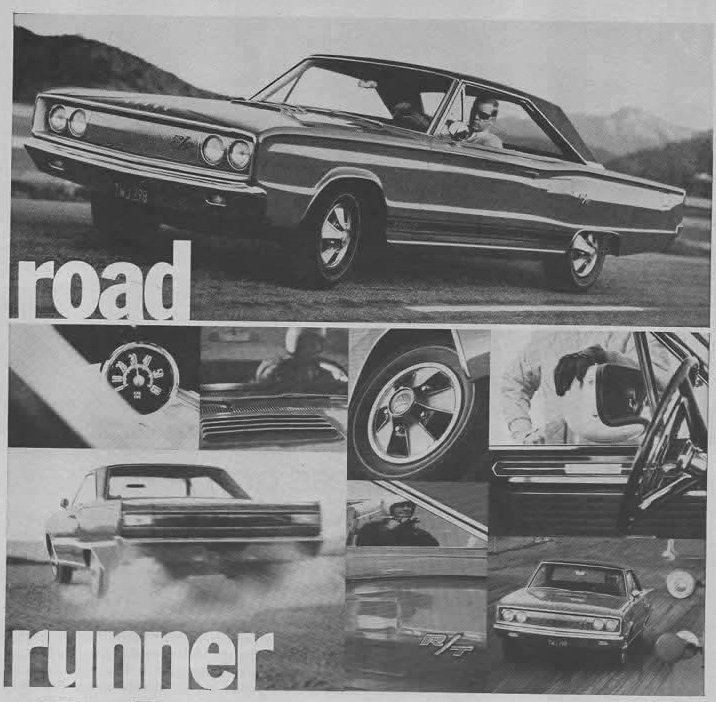 But we don't have a time machine, so we can only assume that the Dodge ad team assumed the word "road runner" was part of the popular vocabulary and innocently stuck it into this ad. But here's the rub. As far as we can determine, this is the single, solitary time the phrase "road runner" appeared in any Dodge advertising material. There was no further effort to utilize or expand on the phrase in subsequent Coronet R/T or Dodge vehicle publicity of any other kind.
So months later, when Plymouth sought a name for their innovative budget muscle car, it came up with an association with the energetic Saturday morning cartoon bird; and the rest is history. The story of how Plymouth licensed the Road Runner name from entertainment icon Warner Brothers is well known. For the record, it has been reported that another name under consideration was La Mancha. Can you imagine a world of HEMI® La Manchas or Six Pack La Manchas? We can't.

Another curious phrase on this advertisement appears just under the picture box and reads; "the newest hot one from Dodge". Again, students of automotive advertising – and astute consumers alike – would likely have recalled when – just 11 years earlier – a certain American automaker associated with bow-shaped neckties ran an ad in 1956 claiming; "The Hot One is even hotter." At the time, that specific carmaker was awakening to the fact that high performance helped sell new cars, and heartily embraced boasting about horsepower.
Again, because the time machine is broken, we can only wonder why the BBD&O copywriters used a phrase so blatantly associated with a chief competitor. Perhaps the creative team was young – like maybe 22- or 23-year-olds. If so, then they'd have been only 11 or 12 when the original 1956 Hot One magazine ad ran, and probably had no idea of its existence in 1967. Or maybe they did know, and wisely chose not to use capital letters ("hot one" instead of "Hot One") to dodge (pun intended) a legal shout from the folks in Warren, Michigan, to find another name – pronto.
We may never know. What we do know is the 1967 Coronet R/T was Dodge's first true answer to the 1964 Pontiac GTO. Launched in 1964 to much fanfare, the 335-horsepower GTO is generally said to be the industry's first muscle car. Though Dodge offered much more potent machinery starting with the 1962 410-horsepower 413 Ramcharger (also remembered as the Max Wedge), the GTO stood apart for its self-aware image and added "plumage". While the 413 and 426 Ramchargers were incredibly fast – and mechanically far more outrageous than the GTO (which was little more than a mid-size car with a full-size station wagon V8), the GTO's savvy use of flashy "mag wheels and racing stripes" attracted buyers in huge quantities.
By contrast, Dodge's hottest offerings (1962-64 Ramchargers, 1964-65 Race HEMI sedans) were usually stripped down for reduced weight with zero external plumage to visually separate them from Grandpa's Slant Six economy model. But to Dodge's credit, you got steak, not sizzle – reverse of the GTO's game plan.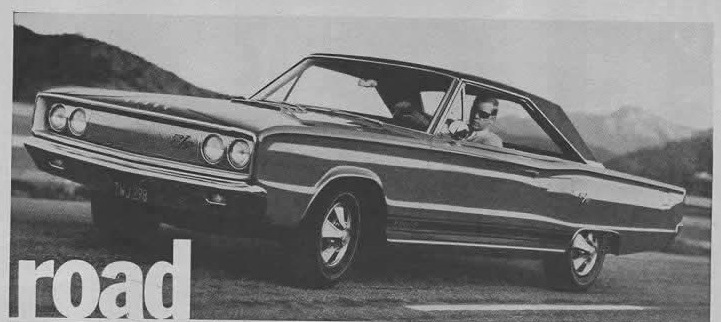 The '67 Coronet R/T fixed all that. Sure, some may say Dodge played a little "follow the leader" by adding items like the R/T's non-functional hood louver plate and the horizontal rocker panel stripes shown in this ad (more on this in a moment). But in the spirit of the 1962-65 factory Max Wedge and Race HEMI package cars, Dodge over-delivered with the mechanical aspects of the R/T.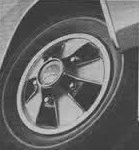 First off, unlike the GTO's microscopic 9.5-inch diameter drum brakes (the same brakes used on base six-cylinder Tempests) and 3-speed manual transmission (in 1967, you paid $188 extra for a 4-speed or $226 for an automatic in GTO), Dodge equipped every R/T with huge 11-inch drum brakes, extra heavy-duty police car suspension, specially calibrated high-upshift 727 Torqueflite® automatic transmission (the 18-spline A833 HEMI 4-speed was a no-cost alternative – which included the massive Dana 60 rear axle), special die-cast metal R/T nameplates on the grille, trunk panel, interior door panels and glove box and, most importantly, the largest muscle car engine of the sixties, the 440 Magnum with 375 horsepower and 480 ft/lb of torque. And if that wasn't enough, the 426 Street HEMI was on tap.
The Coronet R/T was a reasonable success, selling 10,181 units in its first year. What's more, it launched the fabled R/T muscle car sub-series, later used famously on Chargers and Challengers (but curiously never on Darts or full-size models). Getting back to the horizontal rocker panel stripe seen on this magazine show pony, the written copy says the lower-body paint stripe is "available through your Dealer." This tells us that Dodge had no interest in applying these rather finicky stripes in the fast-paced maelstrom of the regular assembly line. And again, note that the stripe is described as being "paint", not an adhesive-backed vinyl applique.
Like any special paint-on graphic treatment, application requires precision masking to avoid rough edges, overspray and other unsightly blemishes that would trigger a second attempt – or customer complaints if it got past the factory's quality control inspector. While there undoubtedly exists a dealer bulletin describing the availability of this optional paint stripe, in our four decades of visiting Mopar shows across the country, we cannot remember seeing a single example of this optional stripe treatment. And that's a good thing. To our eyes, the stripe adds an unnecessary "boy racer" aspect to the otherwise sinister and very grown up '67 Coronet R/T.
But was Dodge finished with stripes? No way. The next year, the Coronet (and Charger) line got a complete restyle – and ushered in the glorious Scat Pack era. While the dealer-added 1967 horizontal rocker stripe is best forgotten, Dodge stylists hit a home run by relocating the stripe element to the rear of the body, and rotating it into a vertical orientation. The Bumble Bee Stripe was born! And it was applied right on the assembly line thanks to a switch from paint to more forgiving vinyl.
As for the stylish "mag-type wheel covers", sold as option code 583 for $38.95, if they look familiar to owners of Chevelles, 4-4-2's, Shelby Mustangs and Jeep® Super Wagoneers of the mid-sixties, that's because they were supplied to these carmakers by Garwood Industries, a popular auto industry sub-contractor. But they weren't identical. Subtle changes were made to the shapes of the spokes and the trim rings to avoid excessive familiarity.
A similar scenario played out with the optional 14-inch x 5.5-inch chrome plated Road Wheels, a $97.30 upgrade. These beautiful wheels – with their glistening chrome hoops, five spokes and matte black highlights – were manufactured by Motor Wheel, a Lansing, Michigan-based maker of – you guessed it – wheels. But like the aforementioned wheel covers, Motor Wheel also supplied these rims to numerous other carmakers, again with subtle variations to contours and specific bolt patterns. Incidentally, 1967 was the first year for these all-chrome Road Wheels on mid- and full-size Dodge models, adding another "muscle car" goodie to the option sheet.
With its mechanically identical corporate cousin, the Plymouth GTX (whose name implied it was a GTO-exterminator), the 1967 Dodge Coronet R/T gave Chrysler Corporation its first generation of weapons to fight the muscle car image battle. But we still have to wonder at this somewhat confused magazine advertisement. Anybody got a time machine we can borrow?
Comments
Comments
Previous