Pages From The Past: Selleck Sells Charger
2 years ago Heritage
In the 107 years since John and Horace Dodge launched our favorite brand, Dodge has relied upon numerous celebrities to help spur showroom sales – including the recent campaign starring Tyler Bryan (as John Dodge) and Joe Coffey (as Horace Dodge), faithfully playing the reincarnated Dodge brothers as the fun-loving and sometimes hard-living young millionaires the real-life Dodge brothers are known to have been.
Along the way, other celebrities who have helped attract attention include Richard "Gas Monkey" Rawlings, known for his hit Fast 'N Loud TV show, and Tom Selleck, known for his work as TV detective Magnum P.I.
While Rawlings is fortunate to have signed up during a period of retro revival – with HEMI® engines, Shaker hoods, Challengers and Chargers all making their hugely successful comebacks, Selleck got the job of promoting the 1976 Dodge Charger – a close copy of Chrysler's Cordoba – both of which sold well (Chrysler sold 120,462 Cordobas, Dodge sold 65,900 Chargers) despite lacking the horsepower of earlier muscle-era Chargers.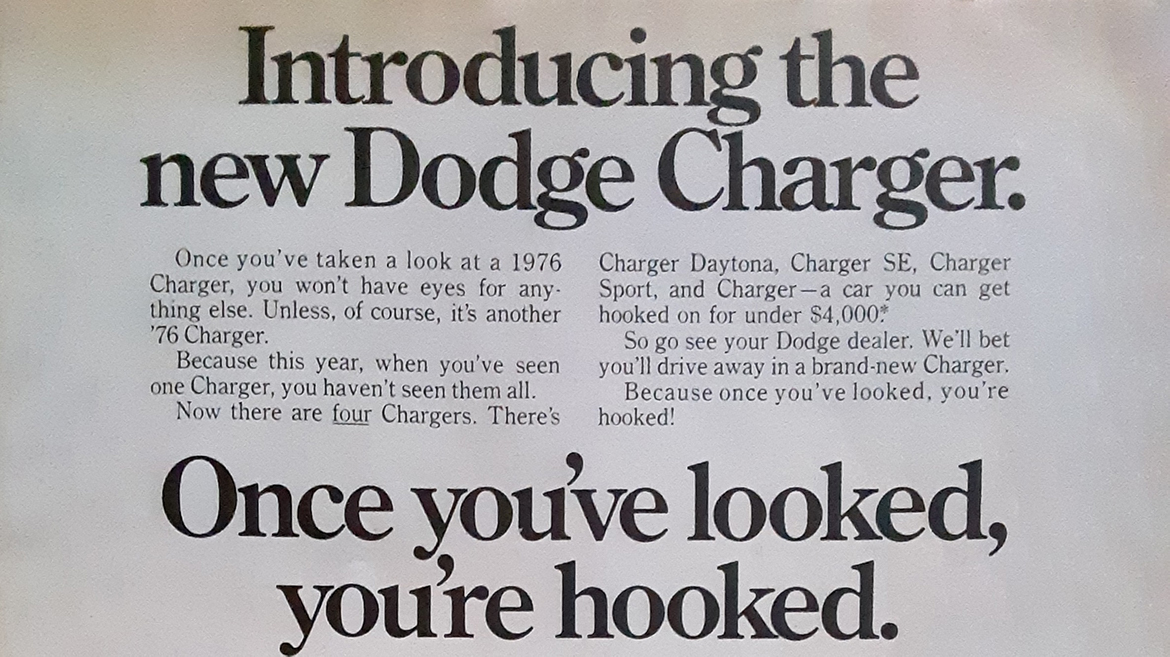 In this Page From The Past, Selleck poses next to a new 1976 Charger Daytona, the ad copy touting "Once you've looked, you're hooked." Interestingly, this same year, Dodge borrowed NASCAR racing legend Richard Petty for another Charger magazine ad with a similar message which read "Look who's hooked on the Charger Daytona", depicting The King standing next to a bronze Charger Daytona – at Daytona.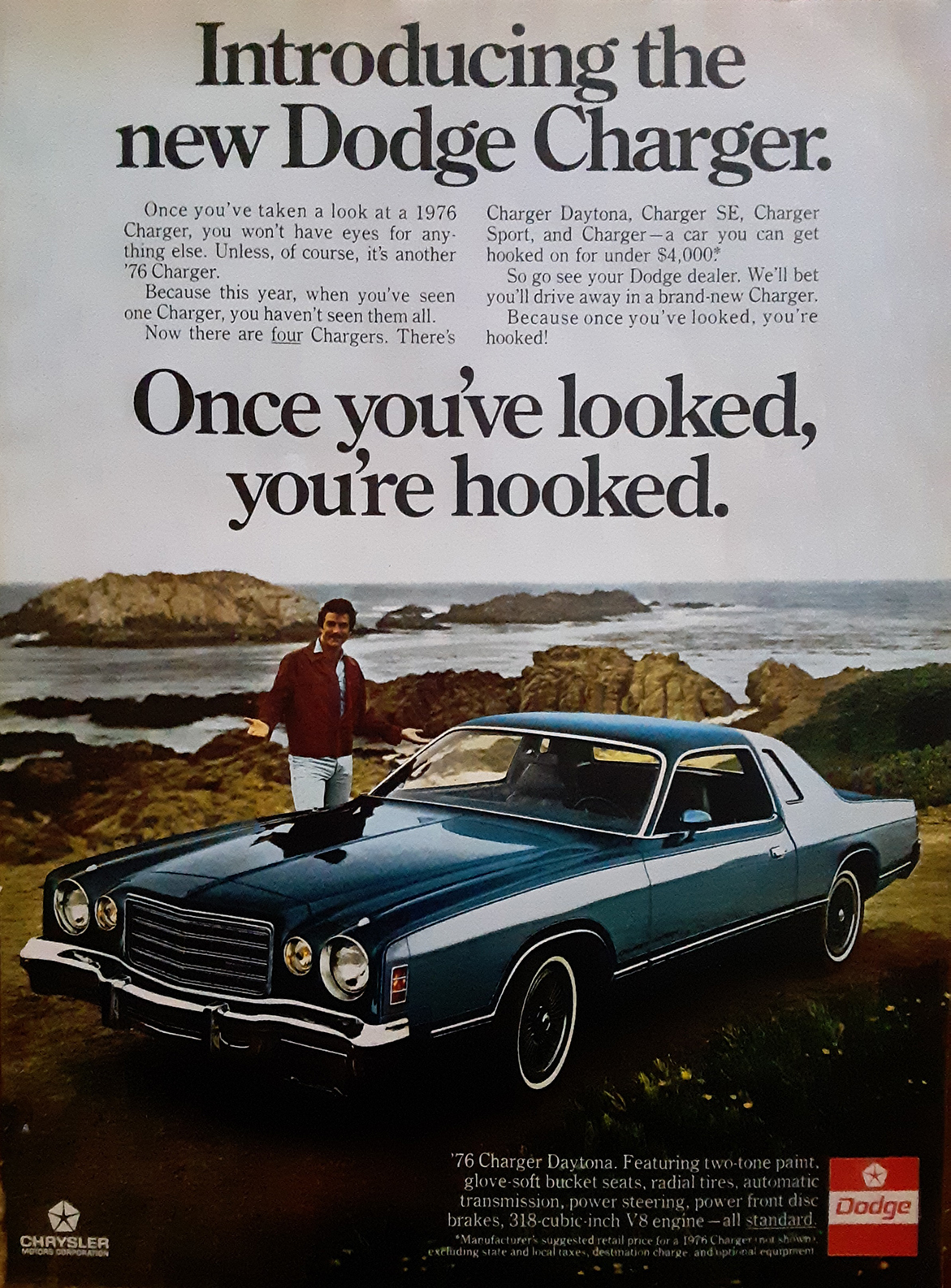 Though Petty was "a name" in 1976, the same cannot be said of Selleck. Born in Detroit in 1945, his family moved to sunny Sherman Oaks, California, in 1948. Selleck gravitated to Hollywood and acting at an early age, appearing on The Dating Game in 1965 at age 20, but secured work with small parts in films and TV and as a model in commercials for soft drinks, cologne, toothpaste – and 1976 Dodge Chargers – before his breakout role in 1980 as the star of Magnum P.I., playing a Viet Nam veteran turned private investigator.
We wish we could say Selleck's character Thomas Magnum drove a sleek Charger during his weekly escapades. But the truth is he drove a bright red Ferrari 308 GTS. After all, by Magnum P.I.'s 1980 network debut, Dodge had discontinued the Charger nameplate (it would reappear aboard the front-wheel-drive K-car-based Charger 2.2 in 1982), so it's all wishful thinking.
But there's a twist, though Magnum P.I. lasted eight seasons (1980-1988), when Dodge redesigned the mid-size B-body platform (upon which the Charger had been based since its 1966 inception) in 1978, the replacement was named … Magnum! Could it be that Dodge's refreshed Charger/Magnum somehow – subliminally or otherwise – spurred the NBC/Universal show creators to use the name too? We don't know, but kinda doubt it.
What we do know is the Magnum brand name had been a popular Dodge property since it first appeared in 1967 on the high-performance version of the 440-cubic-inch Wedge V8 that powered the first Coronet R/T. To apply it to the Charger's successor must have seemed a natural move.
As for the reborn 1975-77 Charger Daytona, though the miserly Slant Six was thankfully not available, base power came from the nearly-as-mild 318 small block with the 360 small block and 400-cube big blocks offered at additional cost. But unlike the original 440 Magnum or 426 Street HEMI engine-powered 1969 Charger Daytona – which featured such radical aerodynamic body modifications it had to be built off-campus at Creative Industries in Eastpointe, Michigan – the revived models were built on Dodge's regular assembly line in Hamtramck, Michigan.
Though essentially a paint and graphics package added to a Charger SE equipped with heavy-duty suspension and upgraded interior bits, the 1975-77 Charger Daytona (option code A57) added some much-needed excitement to the Dodge lineup at a time when it was needed most. Just 200 were built in 1975 (the official launch date was March 4, 1975), plus 7,295 in 1976 and 5,225 in 1977 for a total of 12,720 of these two-tone, bucket-seat-equipped personalized fun machines.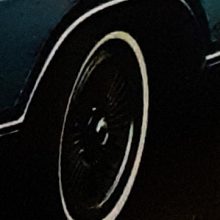 One detail they all shared was the special W24 finned wheels seen on Selleck's show pony. Though they looked like cast aluminum rims, the 36 "spokes" were actually part of a flexible urethane face bonded to the 15 x 6.5-inch steel hoop. Pinching the spokes caused them to deform – then return back to their original shape. A similar urethane technology was used on General Motors' P05 "Polycast" wheels found on 1973-77 Monte Carlos and 1971-76 Pontiacs, though the GM material was much stiffer. These W24 wheels were offered on non-Daytona Chargers for an extra $120.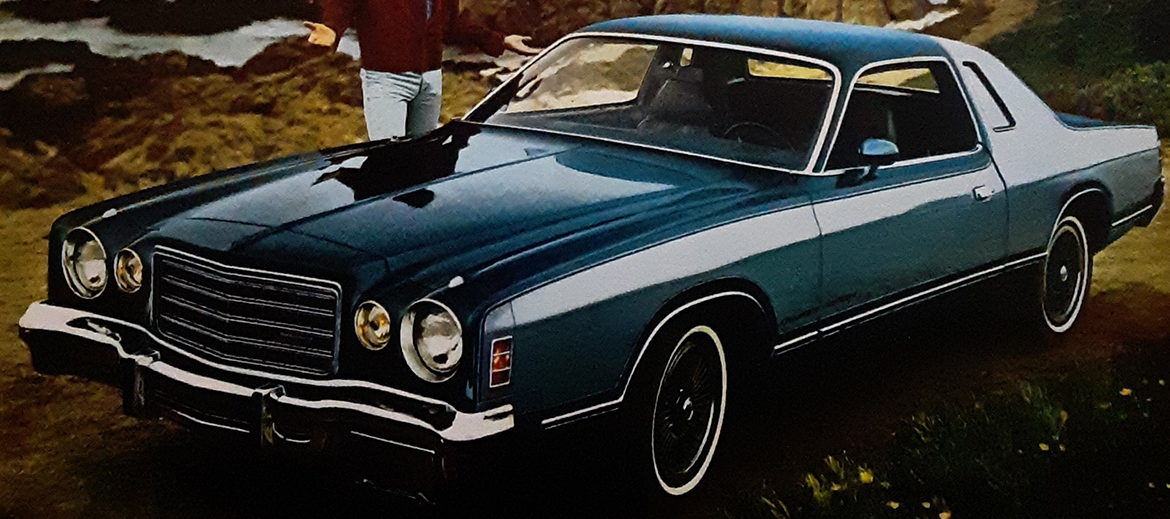 One detail that never appeared on any of the nearly 13,000 A57 Charger Daytonas – but is seen on this pre-production prototype – is how the lighter shade of the two-tone graphic sweeps up and over the roof's B-pillar to separate the roof panel. Though it must have looked great to the product planners, the actual execution in the paint booth was deemed too complicated to pull off in a mass production setting.
The production models featured a simplified motif wherein the darker panels are applied over the front and rear wheel humps but not the B-pillars. Another non-production item is how the Charger Daytona logo is positioned lower on the front fender and door than it would appear in production.
So that's the story of how Tom Selleck helped sell Dodge vehicles. Or is it the other way around? Did Dodge put the Magnum in Magnum P.I.? – Steve "Not Magnum" Magnante
Comments
Comments