Pages from the Past: Peddling the Only Sedan Funny Car
2 years ago Heritage
Leave it to the forward thinkers at Dodge to create a magazine advertisement pitching altered wheelbase funny cars like this example from early 1965. But could you actually go to your local Dodge dealership and buy one of these things? Yes and no.
While the raw material for a nine-second match racer was offered in the form of the WO21 Coronet Race HEMI® engine-powered sedan, unless you were one of the dozen "anointed" (i.e., factory sponsored) drag racers who had their altered wheelbase funny cars built for them, it was up to each individual racer to move the wheels in search of optimized traction. The results were known as "independent" funny cars (as opposed to "factory" funny cars).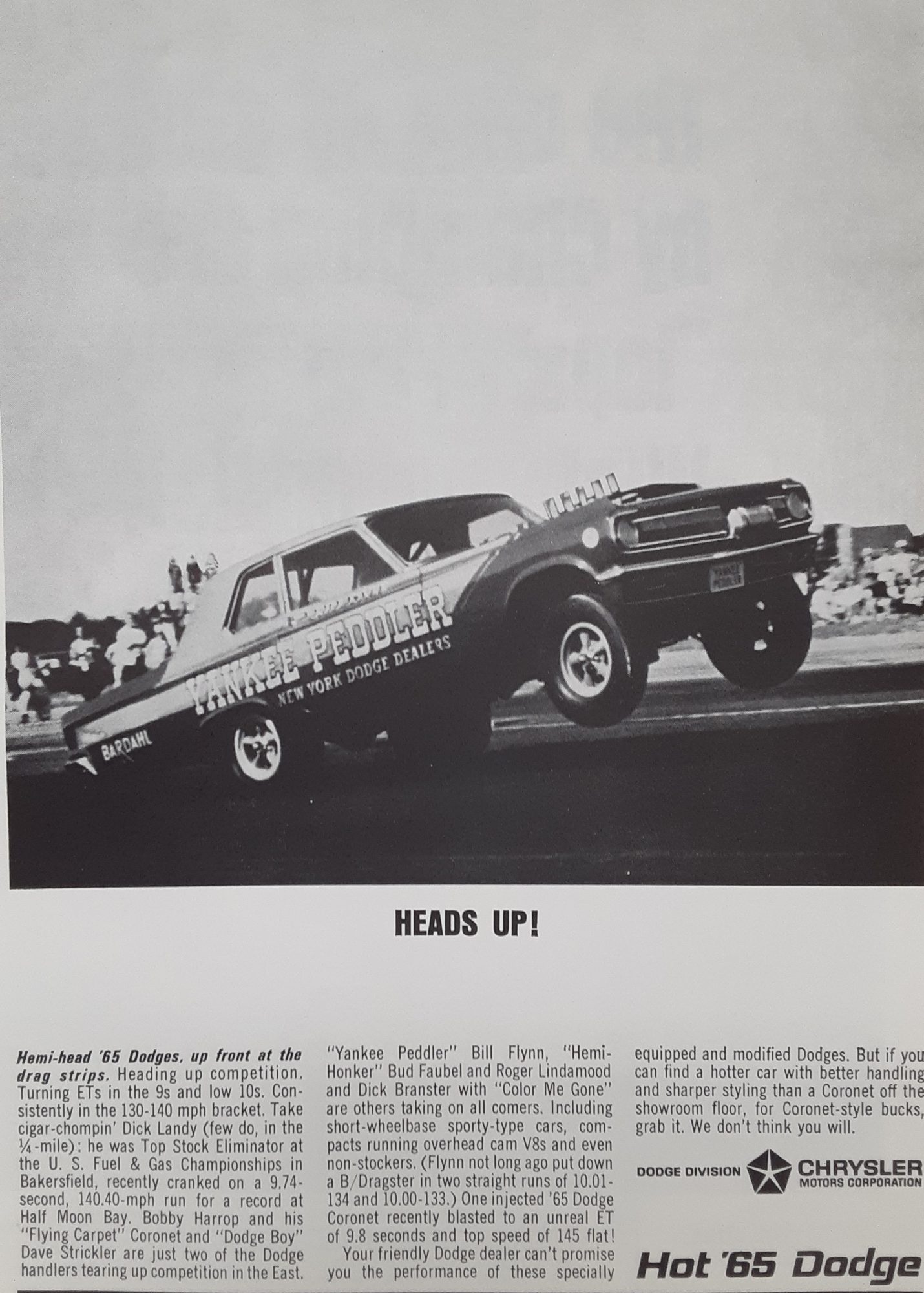 The car depicted in this ad was owned and raced by Connecticut's Bill Flynn, an ex-Army paratrooper with the 101st division "Screaming Eagles" who started racing in 1962 aboard a "not-so-fine" Chevy 409. Seeking more wins, Flynn secured a 1963 Plymouth 426 Super Stock, then a 1964 Dodge Max Wedge hardtop, which gradually morphed into a straight-axle-equipped Race HEMI threat in the NHRA's Modified Production category.
An upset victory over Pontiac legend Arnie "The Farmer" Beswick at the 1964 NHRA Indy Nationals impressed Dodge race program managers so much they selected Flynn to receive one of the six radical altered wheelbase Dodges for use in Factory Experimental (A/FX). Another six Plymouths were also constructed for non-Dodge Chrysler racers.
This fleet of a dozen altered wheelbase cars were built by stripping the drive lines and certain exotic components from factory-fresh 1965 Race HEMI engine-powered sedans and transferring them onto specially modified hardtop-style recipients. Though the donor sedans were from the 202-car run (101 Dodges and 101 Plymouths) of assembly-line-built Dodge WO21 and Plymouth RO21 Race HEMI engine-powered vehicles, the conversion work was performed off-campus at a former ambulance conversion factory called AmbleWagon in a Detroit suburb.
But Flynn took a close look at the slender hardtop roof pillars used on the fleet of 12 altered wheelbase Dodges and Plymouths and made a request to have his car based on the sturdier sedan body style.
And so while his six factory-backed Dodge stablemates – Dick Landy (Landy's Dodge), Roger Lindamood (Color Me Gone), Bud Faubel (HEMI Honker), Dave Strickler, The Ramchargers and Bobby Harrop (Flying Carpet) – each received altered wheelbase racecars based on the hardtop body style, Flynn noted how the acid-dipping performed to shave every last pound caused their roof panels to warp and their rear quarter panels to become wavy after only a few races.
To avoid a sagging racecar, Flynn was assigned a standard production WO21 Dodge Coronet with the A990 Race HEMI engine-powered vehicle which he raced a few times in its standard configuration before shipping the car to Detroit in March of 1965 where it got the altered wheelbase treatment. But this time, the work wasn't performed by AmbleWagon. Rather, the car was sent to a racer and Chrysler associate named Dick Branstner who was also involved in the construction of the original 426 HEMI engine-powered Little Red Wagon Dodge A100 wheel-standing pickup truck and Roger Lindamood's Color Me Gone altered wheelbase Dodge.
Emerging from Branstner's shop with the front and rear axles pushed forward 10 and 15 inches respectively, the reborn Yankee Peddler emerged as one of the most popular – and photographed – funny cars on the match race circuit with its front tires hovering high above the strip as the slicks gripped hard. So when we look at this vintage Dodge magazine ad and read the "Heads Up!" headline, Dodge wasn't joking.
Other interesting details in this ad include descriptions of how Dodge HEMI engine-powered vehicles beat "short-wheelbase sporty-type cars and compacts running overhead cam V8s", a reference to the Ford S.O.H.C. 427 "Cammer" powered Mustang and Falcon match racers campaigned by Gas Ronda and Phil Bonner. The ad even manages to misspell Branstner's surname as "Branster".
So was Flynn right in choosing the heavier sedan body instead of the lighter hardtop for his funny car? Well, today, of the 13 altered wheelbase cars built with Chrysler support in 1965, Flynn's Yankee Peddler is one of a handful that still exist. Restored to near-perfect condition, the Yankee Peddler stands as the only one of the factory FX fleet built with the sedan body. Heads Up!
Comments
Comments