Pages From the Past: More Four On the Floor
2 years ago Heritage
Dodge Uses the Ramchargers to Plug the A833 Four-Speed Transmission
Sell the stick shift! That was the mandate behind this surprising magazine ad that appeared in the November 1963 issue of Motor Trend magazine for Dodge's all-new A833 four-speed manual transmission. While four-speed transmissions, popularly known as "four on the floor", have long been known as an identifier of the hottest muscle machinery – regardless of vehicle make – this is where it all began for Dodge (and Plymouth).
Let's soak in the ad copy for a moment … "Winning on the strip with Dodge has been as easy as pushing a button and putting your foot down". The "button" reference is all about the fast shifting 727 TorqueFlite® automatic that made the scene in 1962 and helped make the 413 Max Wedge (also new for '62) an overnight sensation. It was Detroit's first heavy-duty, high-performance automatic transmission. But it wasn't a "stick".
Like now, sanctioned NHRA (and AHRA) Super Stock drag racing was separated into classes for manual transmissions and automatic transmissions. Trouble was, Dodge's main Super Stock competition came in the form of Chevy 409s, Pontiac Super Duty 421 and Ford 427s, none of which were offered with an automatic transmission. They were all four-speeds with clutch pedals and stick shifts poking through the floor.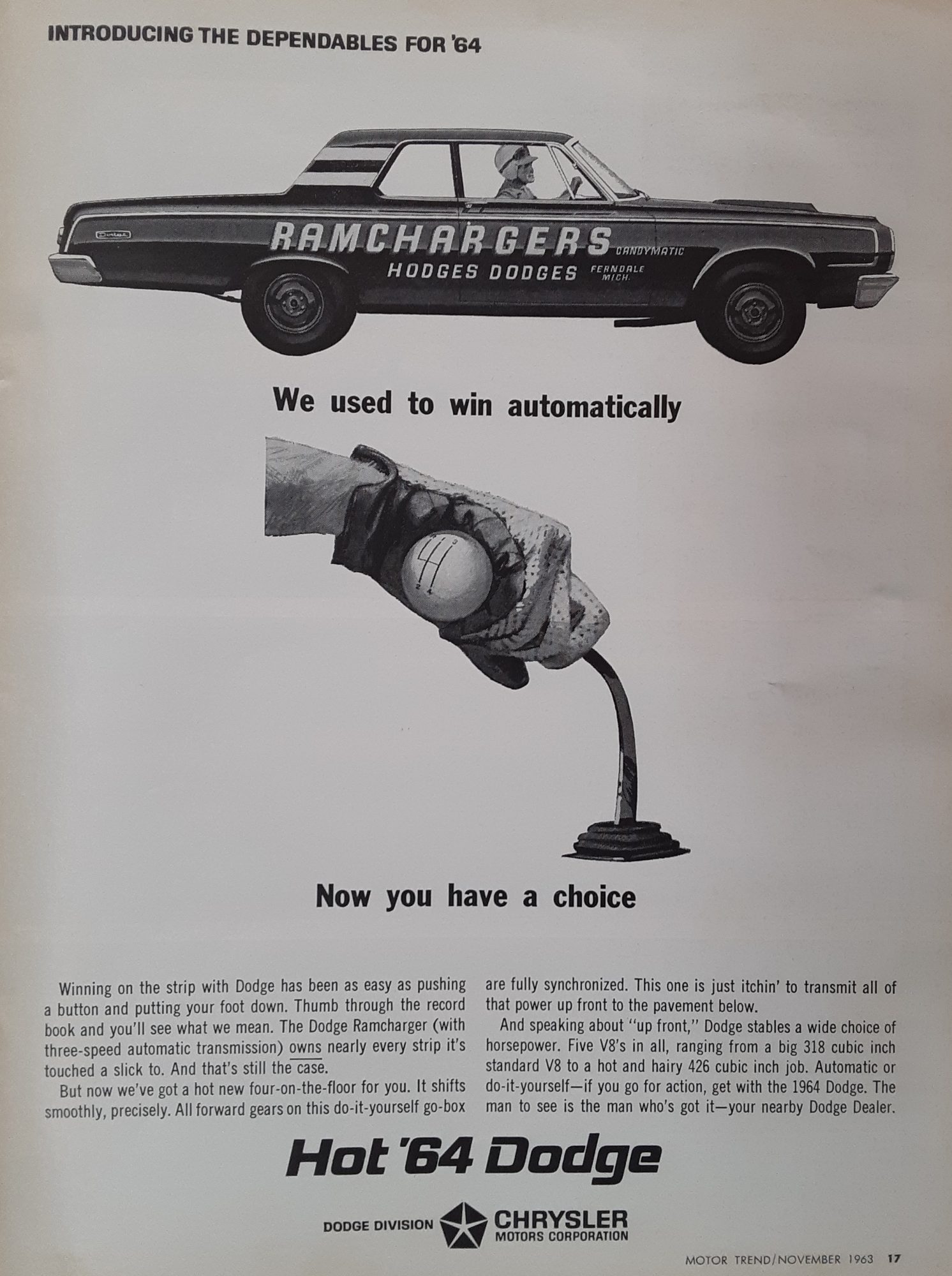 So without a four-speed of its own, Dodge wasn't able to face the competition in these important Super Stock stick shift classes. Oh sure, most drag events freely allowed mixing of racers in their "eliminator" and grudge races, but the bragging rights, quickest e.t. records and magazine ads touting "winning on Sunday and selling on Monday" didn't apply to the prestigious manual transmission classes.
Dodge (and the Chrysler Corporation as a whole) was fully aware of this shortcoming. Stop-gap measures were taken in the form of the Borg Warner T83 manual transmission option for the 1962 and '63 Max Wedge cars – but the T85 was just a three-speed. Unlike the Borg Warner T10 four-speed embraced by Chevrolet, Pontiac and Ford in 1962-63, which kept engine speed up in the 3,000 to 5,000 rpm power-producing range, the Borg Warner T85 three-speed forced much larger rpm drops when shifting from First to Second, and then Second to Third – exactly where the 409, 421 or 427 in the next lane pulled out in front.
And speaking of the Borg Warner T10, Dodge did offer this four-speed gearbox in 1963. So that should have been the fix, right? Not so fast. Let's remember that Borg Warner introduced the four-speed T10 in 1957 as a late-year addition to the option sheet for $188.30 over the base three-speed Corvette transmission. But arriving in April of 1957, just 664 of the 6,339 Corvettes made benefitted from the exciting four-speed, like just one-in-ten.
But word spread and by 1959, nearly half of all Corvette buyers chose the four-speed (4,175 out of 9,670 cars). And the Borg Warner T10 wasn't restricted to two-seat sports cars. Starting in 1959, full-size Chevy and Pontiac passenger cars could be had with sporty factory-installed "four on the floor" manual transmissions behind their 348- and 389-cubic-inch big block V8 engines. And this is where the T10's limitations were exposed. Originally designed to handle the Corvette's 283-cubic-inch small block – which only made 290 horsepower and 285 foot-pounds of torque – things didn't improve with the 1959 Chevy 348's 355 foot-pounds of torque. So while Dodge (and Plymouth) did offer the four-speed Borg Warner T10 in 1963, it was restricted to the smaller 383, 361 and 318 V8s. The 426 Max Wedge would have shattered it under the duress of drag racing.
Which brings us back to this fascinating Page From the Past touting Dodge's all-new four-speed manual transmission. Under development since 1961, this new home-brewed four-speed arrived for use in 1964 models and carried the internal engineering designation A833, a name that has become synonymous with brute strength ever since.
Though nearly as compact as the Borg warner T10 four-speed manual transmission, the Chrysler A833 employed wider and taller gears, which made it nearly twice as strong. Amazingly, this same brutally strong four-speed was also offered with the 225 Slant Six, though with optimized gear ratios for the job. The Slant Six ratios were 3.09, 1.92, 1.40 and 1.0:1; while the V8 ratios were 2.66, 1.91, 1.39 and 1.0:1. The 3.09:1 First gear ratio offered a bit more torque multiplication to crutch the Slant Six's modest low end torque for quicker stop light getaways – and improved clutch life.
The A833 four-speed was officially launched in 1964 and was available in everything from the aforementioned Slant Six Dart to the Chrysler 300K "letter car", as well as the final-year Stage III 426 Max Wedge and all new 426 Race HEMI® engine. One caveat: Optional air conditioning and cruise control were prohibited with the four-speed. But these luxury items were generally of little concern to muscle car buyers.
This magazine ad appeared in the November 1963 issue of Motor Trend magazine and is interesting for another detail, its portrayal of the Ramchargers 1964 "Candymatic" Dodge 330 sedan wearing a decidedly dark color scheme. We all know the Ramchargers team cars were always painted white with candy apple red stripes and logo. So why, oh why is this illustration rendered so incorrectly?
It is known that the Ramchargers never built a car that looked like this illustration – not even for a one-time car show appearance. What we have here is a bit of artistic license. No doubt the decision-makers at Dodge's ad agency felt that the factual white body color would fade into the white background of the magazine page and so approved the deviation. It's understandable, though it has probably triggered many false assumptions the Ramchargers had a "long lost" black car!
Also, it's interesting how the graphic artist responsible for rendering the gloved hand grabbing the shift handle situated the fingers and palm in a very unrealistic way. Totally avoiding the useful white shift ball, the hand grasps the chrome steel lever instead. Again, artistic license prevails in the interest of clarity. After all, if the hand were to be portrayed in a more realistic way, with the shift ball in palm and fingers grabbing the lever, the all-important four-speed "H-pattern" would be obscured from view. Unthinkable!
So here it is, Dodge's first homebrewed (not sourced from Borg Warner) four-speed manual transmission, the A833. In subsequent years, magazine ads for the Dodge Charger, Super Bee, Challenger and others would occasionally include a small picture depicting a four on the floor, especially during the 1970-74 Hurst Pistol Grip era. But never again would the A833 four-speed be the feature of a full-page send-off like this.
Comments
Comments
Next