The Great Texas Mopar® Auction – That's a Wrap: Part II
1 year ago Heritage
The Most Expensive Mopar® Vehicles From the Great Texas Mopar Auction
Last time, we began the process of reviewing the recently completed online-only Great Texas Mopar® Auction Event with a look at five vintage Mopar vehicles that sold for less than a thousand dollars. Yes, less than a grand.
This week, let's look at the opposite end of the scale and examine the top five sellers. Here, the caliber – and completeness – of the cars ratcheted up several notches and sale prices ranged from a low of $8,050 for a 1959 Plymouth Belvedere to a high of $28,750 for a 1958 Chrysler 300D. More on these cars – and the ones in between – in a moment.
The happy upshot of the Great Texas Mopar Hoard Auction Event is the fact that 280 vintage collector cars got a new lease on life. It almost didn't happen. In the early days after the passing of John Haynie, commercial scrapping outfits circled overhead like birds of prey.
At a flat rate of just under $200 per car, the Haynie estate stood to collect a tidy $36,000 for the collection had an on-site car crusher been allowed to move in to transform the collection into scrap metal. Instead, the Haynie estate did right by John's memory and contacted a proper classic car auction business. In this case, Spanky Assiter's Freedom Car Auctions was contracted. It was a smart move. The 280 vehicles sold for $730,606.60 and the parts and tools sold for another $80,127 for a grand total of $810,127.60 – over twenty-two times the scrap value.
The lesson here is that old cars are not junk cars. If you or someone you know has a collection of vintage or special interest vehicles in need of new homes, contact a professional auctioneer to help liquidate them properly. Let's starve the crusher!
1959 Plymouth Belvedere: Lot #65 SOLD – $8,050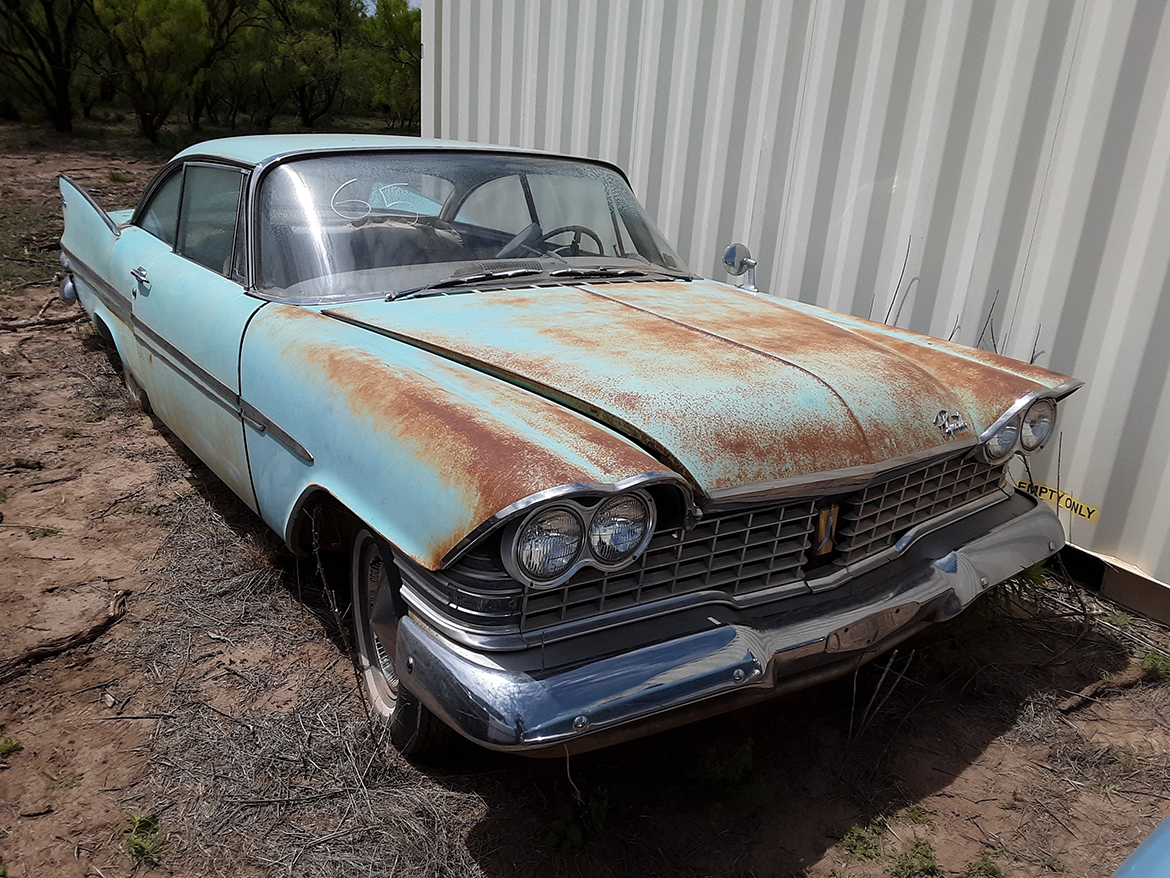 The passage of nearly six decades has broadened the appetite of the collector car world. Where Bel Airs and Fairlane 500s used to be the beginning – and end – of the discussion, Chrysler's ground-breaking "Forward Look" designs of the 1957-1960 timeframe have really arrived with modern buyers.
That explains why this clean 1959 Belvedere brought a proper $8,050. Very probably wearing its original Powder Blue paint and in amazingly original, unmolested condition, it's two-door configuration, graceful fastback roof, wraparound windshield and hooded quad headlamps make Ford's slab-sided '59s look like construction equipment.
The amazing thing is that its sleek, swoopy body was teamed at the factory with Plymouth's mildest engine, the 230-cubic-inch flathead six, an engine first seen in 1936! On top of that, the two-speed Powerflite automatic transmission takes any edge off the sleepy six, so we can assume the new owner is likely to swap in something hotter, maybe a 383 wedge? Maybe a Mopar Performance Gen III HEMI® crate engine? The possibilities are endless.
One final noteworthy detail found inside is a factory radio delete panel on the instrument panel. The frugal original buyer who specified the little six-cylinder engine also elected not to pay $59 for the push-button AM radio. To cover the void in the dash panel, Plymouth specified a nifty extra-long trim panel, again this is found only in radio delete equipped 1959 Belvederes. Happily, the new owner of this Forward Look Plymouth can "look forward" to enjoying the process of giving it the makeover it deserves.
1965 Chrysler 300L: Lot #25 SOLD – $11,040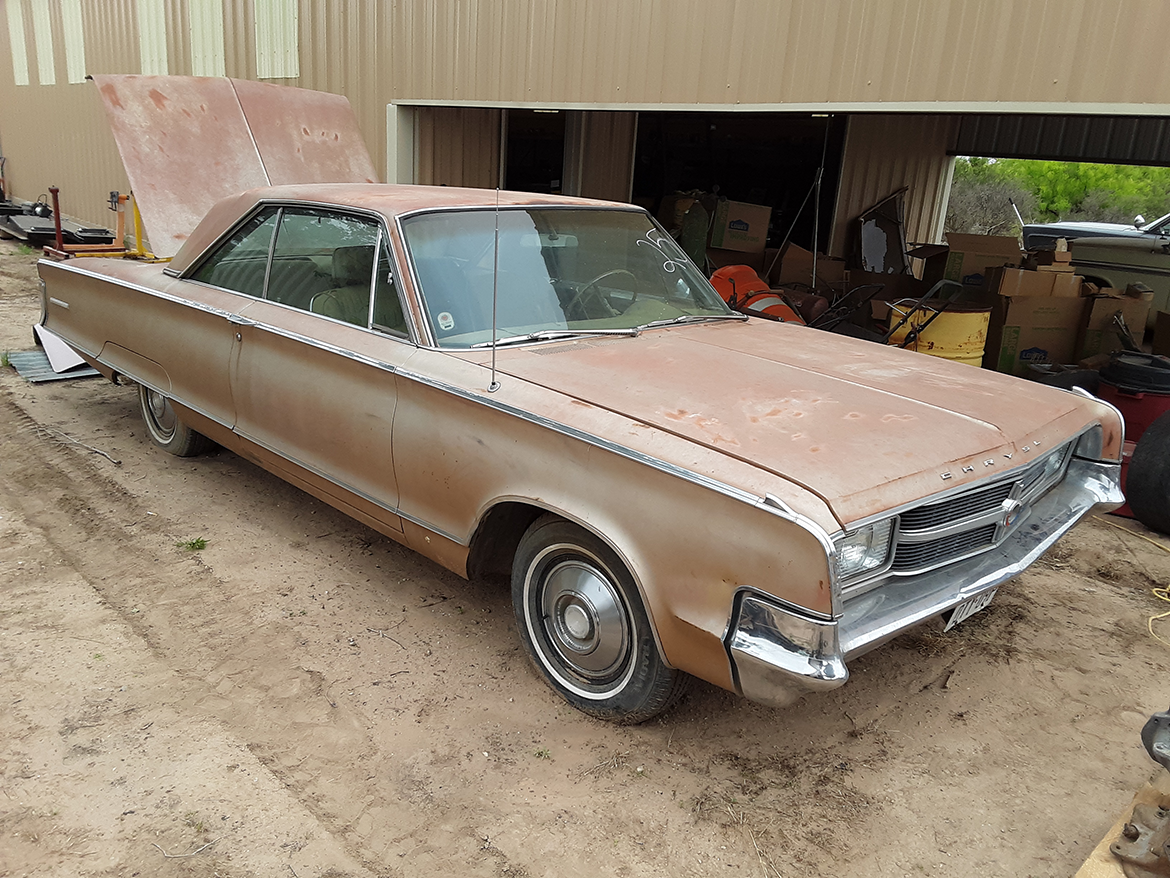 The Chrysler 300 letter car dynasty ended here, in 1965, with the 300L, of which 2,845 were built. Happily, the online bidders recognized the rarity of this example, the winner paying $11,040 for the title and privilege of ownership. Each of these final-edition 300L's featured a standard issue 413 big block, 360-horsepower, complete dual exhaust, single four-barrel induction, heavy-duty brakes and suspension, and that nifty illuminated 300L grille emblem.
This solid, rust-free Texas beauty is in amazingly original condition right down to the wheel covers, tempered glass headlamp shields and bucket seat interior with sporty console-mounted automatic transmission shift lever. If the Haynie family hadn't reached out to Spanky Assiter and Freedom Car Auctions, it might have been lost to the crusher. It's a tragic fact that scrap agents target large outdoor vehicle collections, offer a flat rate of a couple hundred dollars per car, then bring in mobile crushers to "beautify the countryside." Not here, thank goodness!
1963 Chrysler 300J: Lot #405 SOLD – $12,075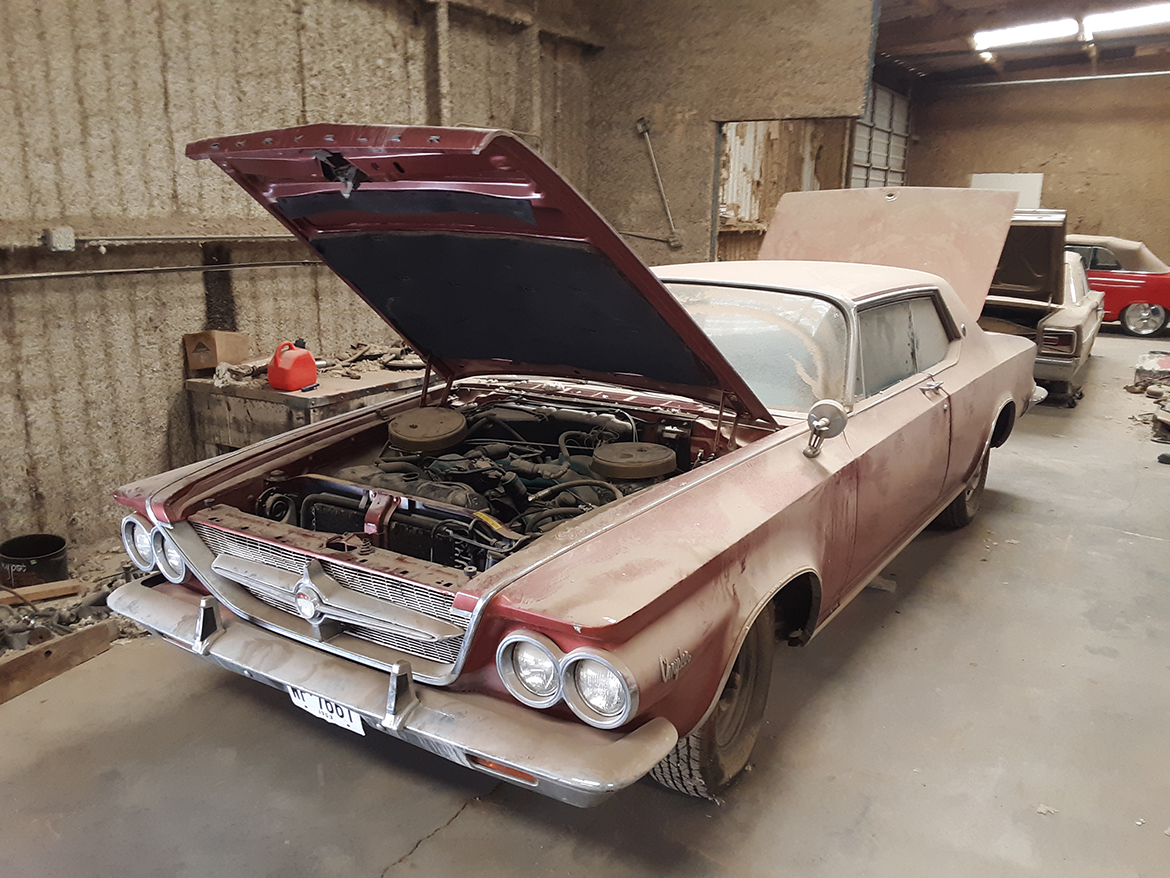 The sale of this 1963 300J was a shock. The $12,075 hammer price was solid but about half of what was predicted. Not to be confused with a 300 Sport (Chrysler's 1962-up watered down cousin to the 300 Letter Series), this 300-J came right from the factory with exotic long ram induction. While 24,665 300 Sport models were built in 1963, just 400 "J's" were built, each and every one of them packing 390 horsepower.
Think of it, for the same dollar amount as a used, well-equipped late model minivan, the buyer received a legitimate piece of automotive history that's certain to appreciate with every passing year. Best of all, rare items like the twin air cleaners, dual point distributor and Carter AFB carburetors hadn't been cherry picked. All the rare parts were still present. No doubt the new owner will restore this legendary Letter Car to its full glory. Then again, initial appearances suggest it may only require a minor detailing and mechanical check-out before hitting the road again. Either way, this ram inducted beauty was a great buy.
1956 Dodge Custom Royal Lancer Texan Edition: Lot #154 SOLD – $15,525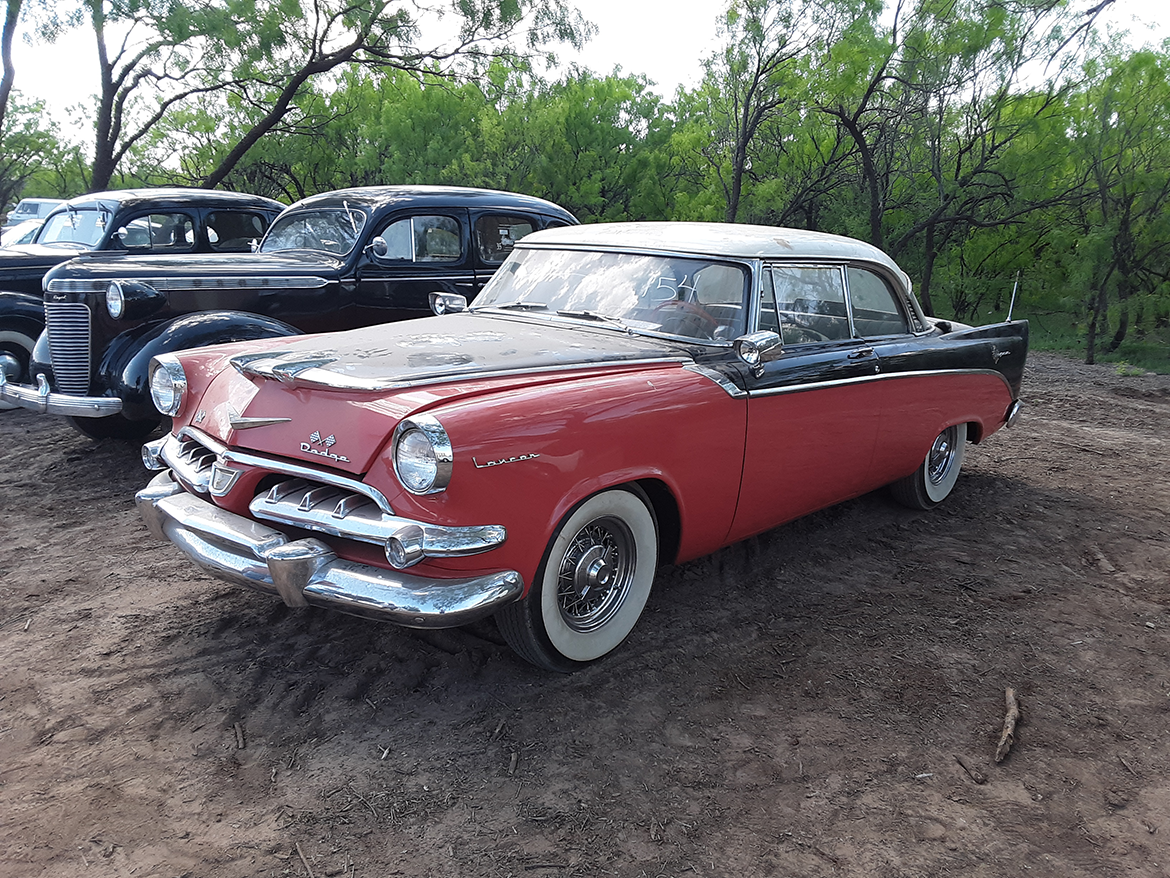 "Built for the highways, but home on the range", that's how Dodge magazine ads for the Custom Royal Texan read back in the day. Records are fuzzy but supposedly less than 300 Texans were built, and no less than three of them were in the John Haynie collection. Two were four-doors but this was the only two-door – and the only one with a recent restoration. Sold for a very reasonable $15,525; and after a quick cleanup and mechanical check out, this beauty should be ready for the show and road.
If you didn't know, the Texan was a special cosmetic package for the Texas dealer zone, and thus sold only by Texas-based Dodge dealers. The Texan consisting of special die-cast metal emblems, a push-button automatic transmission and the 315-cube Super Red Ram V8 with polyspherical heads, a two-barrel carburetor and 218 horsepower. The same Super Red Ram 315 was offered with a four-barrel carburetor and 230 horsepower, but when better flowing hemispherical heads and a four-barrel were added to the 315, you got the D-500 with 260 horsepower, or with dual four-barrel carburetors, the D-500-1 delivered 295 horsepower – but only with a three-speed manual transmission (no automatics with the D-500-1).
And how about that three-color paint job! We all remember that the Fifties brought us two-tone paint schemes. GM and Ford offered plenty of two-tone paint treatments, but Chrysler Corporation was a pioneer with the notion of applying THREE colors, called "tri-tone". Here, black, white and salmon work together with the chromed borders and natural body shapes to create an effect that's elegant and sporty. The cherry on top are the chromed wire spoke wheels and wide whitewall tires, proof that rolling stock (i.e., wheel and tire selection) can make – or break – the look of any vehicle.
As for the other two 1956 Dodge Texans in the auction, one four-door with the 315 Super Red Ram two-barrel V8, push-button automatic transmission, factory air conditioning and radio delete (Lot Number 58) sold for $2,300 to a Pennsylvania buyer. The third was also a four-door sedan (Lot 264) that retained all of its rare Texan emblems but was otherwise not as complete. It went for a mere $172.50. The extremely low selling price initially triggered fears that a local Texas scrap dealer bought the car for the unthinkable purpose of crushing it on site.
Those fears vanished when the buyer turned out to be located in Kansas. No Kansas scrap dealer is going to take on the expense of interstate shipping on a car he plans to crush. So here we have it, this trio of limited-edition Dodge Texans have been saved from oblivion. Their new owners are sure to have fun spreading the story of the Dodge that was "built for the highways, but home on the range."
1958 Chrysler 300D: Lot #402 SOLD – $28,750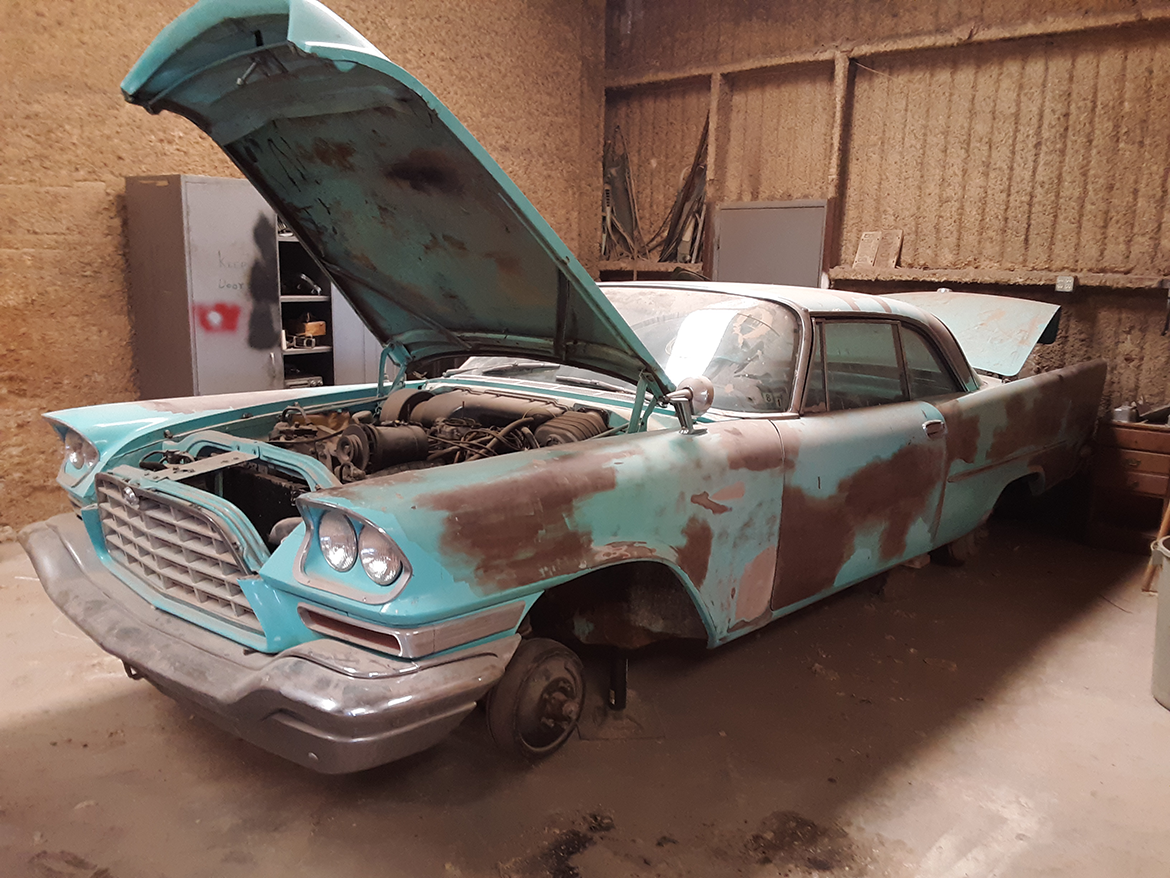 At $28,750, this 1958 Chrysler 300D was the most expensive Chrysler product of the entire auction. Like today's mighty Chrysler 300, this 300D packs a potent HEMI engine and offers full-size comfort with muscle car performance. This 300D is the fourth edition of Chrysler's original "letter car" series, which began with the C-300 of 1955 and progressed alphabetically with each passing year to the end in 1965 with the 300L (see Lot 25 in this story).
Close eyes will note that there was no 300I. Following the 300H of 1962, Chrysler apparently feared the public might confuse the letter "I" with the number "1" and so for 1963 skipped directly to the 300J (see lot 405 in this story). Regardless, this 1958 300D marks the end of the First Gen Firepower HEMI dynasty as the 413 wedge replaced it in 1959 aboard the 300E.
This 300D is an extremely solid, rust-free example of the breed. Just 809 of these 392 HEMI engine- powered "beautiful brutes" were built in '58, all of them packing dual four-barrel induction and a $5,173 price tag that made these letter cars the most expensive models on the Chrysler lot. These high-performance 300Ds were also the only 392 HEMI engine-powered vehicles with solid lifter camshafts and adjustable rocker arms. Because the ends of these special rocker arms were fitted with threaded screws and lock nuts, they require a specific set of valve covers with clearance humps pressed into the surface of the metal. All very rare stuff that's frequently lost over time, this example still has it all.
The original Aztec Turquoise color can be seen atop the under layer of red oxide primer. The random swipes and wipes were made by John Haynie with a razor blade as he toiled to remove the paint as part of his restoration plans. Though extremely time consuming, paint removal via razor blade is the safest way to avoid the possibility of metal panel heat distortion that can be caused by a careless sand blast operator. And it's not nearly as messy.
Though Mr. Haynie didn't get to complete the restoration, the total completeness of this example (virtually every loose part is safely stored in the massive trunk) will allow its new owner to fulfill John's vision. Collectors regularly pay $50,000 for less complete, rusty 300D project cars. Even though this was the most expensive Mopar vehicle of the sale, it was a solid value.
That's all for this week's review of the Great Texas Mopar Hoard Auction Event, but we'll be back with more next time as we examine the selling prices of the more notable vehicles.
Comments
Comments