Pages From the Past: Zero to Fifty?
1 year ago Heritage
Did you know that today's Dodge Charger is the only American V8 sedan priced well below $40,000? In fact, the base sticker price on the 2022 Dodge Charger SXT is just $32,945? You can also get the Charger GT with all-wheel drive if you want the utmost in poor weather ability. And with the HEMI® engine-powered Charger R/T, Charger Scat Pack or Charger SRT® Hellcat, you can out-accelerate, out-brake, out-corner and generally out-perform any 1966-1971 Dodge Charger from the so-called "supercar era"!
Even the 426 HEMI engine-powered Charger Daytona from 1969 – which was advertised at 425 horsepower but really made about 470 according to legitimate dyno testing – seems tepid compared to the latest 797-horsepower Charger SRT Hellcat Redeye. It's simple mathematics. But what about later Dodge Chargers, like the 1982 Charger 2.2? To really appreciate how astonishing things are today, it's good to take a look into the past. In this month's DodgeGarage Pages From The Past, let's go back to the year 1982 when this two-page spread for the sporty new Charger 2.2 appeared in car enthusiast magazines from coast to coast.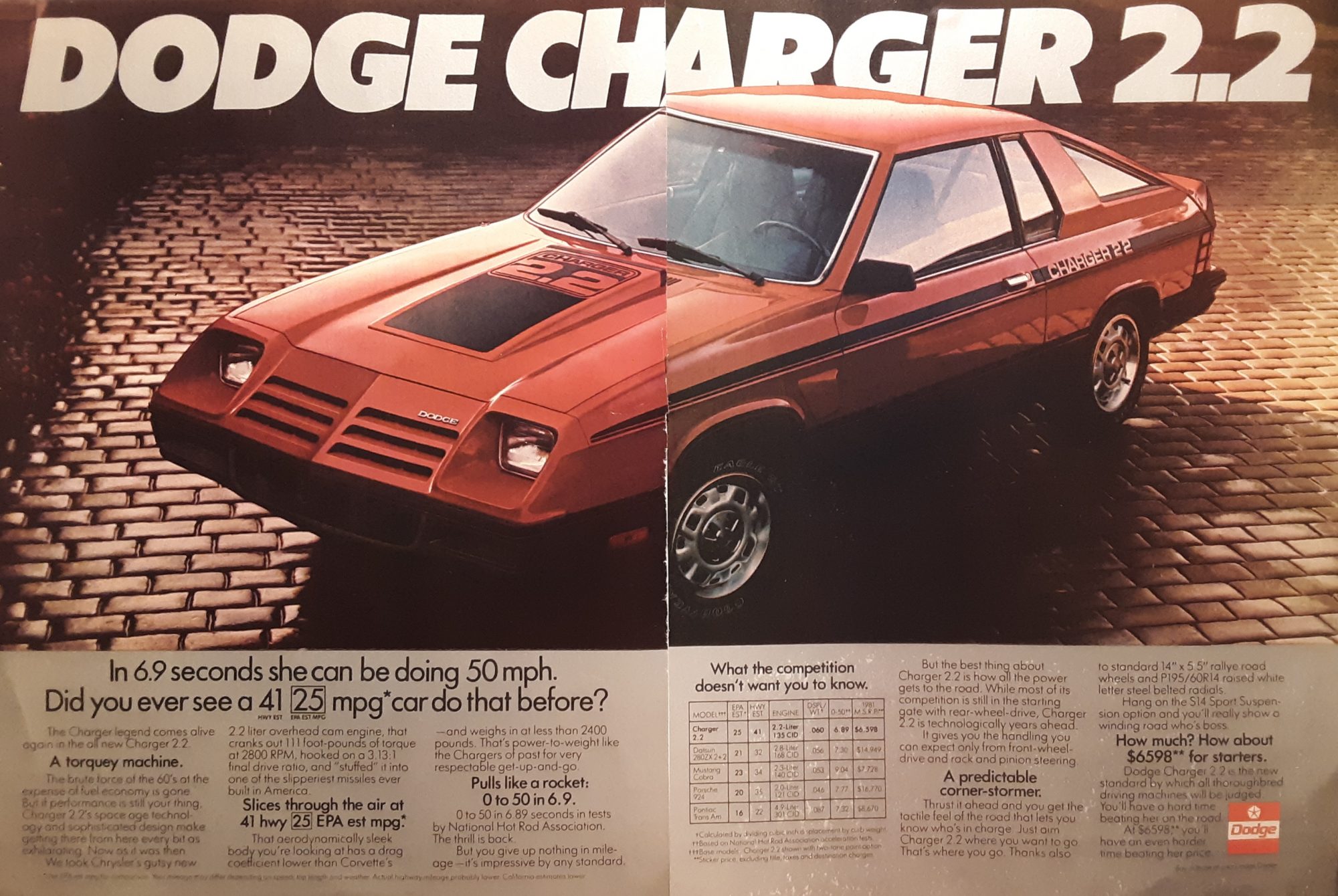 Before exploring this ad in detail, let's remember that beginning in 1978, the "New Chrysler Corporation" (as it was called in those immediate post-bankruptcy/government bailout loan days), was committed to building much smaller, highly fuel-efficient Chrysler, Plymouth and Dodge passenger cars as the world rocked in the wake of a series of OPEC oil supply emergencies.
The first of the New Chrysler Corporation's breed of tiny front-wheel-drive offerings arrived as the boxy Dodge Omni and Plymouth Horizon in 1978. Only offered as a four-door hatchback, the Omni/Horizon twins were similar in theme to the ground-breaking 1975 Volkswagen Rabbit (a.k.a. Golf) and even used VW-supplied engine blocks for a short while.
For 1979, the four-door Omni's 99.2-inch wheelbase was reduced to 96.7 inches to create a sportier two-door fastback – also with a huge hatchback roof. Initially sold as the Dodge Omni O24 (and Plymouth Horizon TC3) in 1979-1981, as this magazine ad illustrates, a high-performance variant of the Dodge Omni O24 was unveiled wearing the Charger 2.2 name in 1982. As with the legendary Challenger series (which was out of production in 1975-1977), Dodge retired the Charger nameplate in 1979 and 1981.
When it returned for 1982, the Charger nameplate was revived only to designate the high-performance version of the Omni O24 (from 1983 onward, all two-door Omnis carried the Charger nameplate, even those base models with 1.7-liter power). As the Charger 2.2's name indicates, this mini-muscle car was powered by a larger 2.2-liter version of the Omni /Omni O24's 1.7-liter SOHC Trans-4 (a knowing nod to the legendary Slant-6 engine of earlier times).
Though the jump from 1.7 to 2.2 liters might not seem all that impressive, when expressed in the old-school cubic inch format, the Charger 2.2's 135 cubes was a full 31 cubic inches larger than the Omni O24's 104 cubic inches. That's a 30-percent jump, and a larger proportional gain than the 57-cubic-inch divide separating a 1968 Charger's 383- and 440-cubic-inch V8s. Adding 30 percent to a 383 would have delivered over 490 cubic inches!
The Charger 2.2 delivered 84 horses and 111 ft-lbs of twist versus the Omni O24's 63 horses and 83 lb-ft of torque. In a small car weighing just 2,315 pounds, the "big little engine" perked things up a lot. Of course, today we LAUGH at numbers like these. How could a car with only 84 horsepower even move? Quite well, actually, but don't expect brisk acceleration.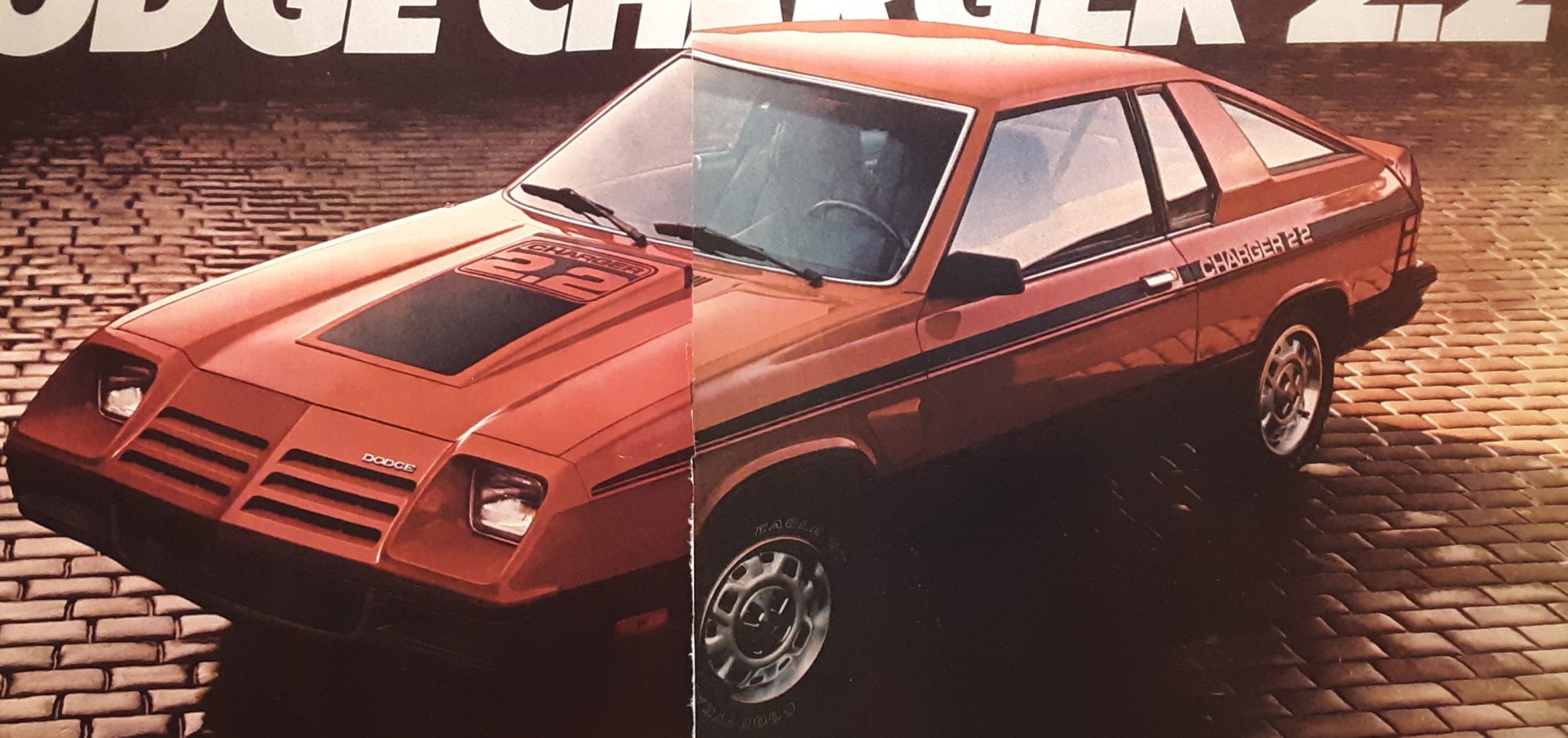 Getting back to this 1982 Charger 2.2 ad, we can agree that Dodge made the most of a less-than-ideal situation. Despite the Omni O24's humble econo-box origins, the new Charger 2.2's matte black stripes and lower body kit, slightly lower stance, 14×5.5-inch styled steel wheels shod with beefy Goodyear Eagle GT P195/60R14 raised white letter tires and sexy (but strictly non-functional) reverse-facing hood scoop and front fender air extractors gave it plenty of muscle car attitude and better performance than any Omni O24, with the 0-50 mph spring covered in just 6.9 seconds.
Wow, 6.9 seconds, that seemed much quicker than the Charger 2.2's V8-powered competition. In its May 1982 issue, Motor Trend magazine tested a new Ford Mustang GT that went 0-60 in 7.78 seconds, while a factory-fresh Camaro Z28 did it in 8.56 seconds. But we need to stop and take a closer look at the fine print. Dodge measured the Charger 2.2's acceleration from zero to fifty mph, not the more conventional zero to sixty mph sprint used for decades – and still in use.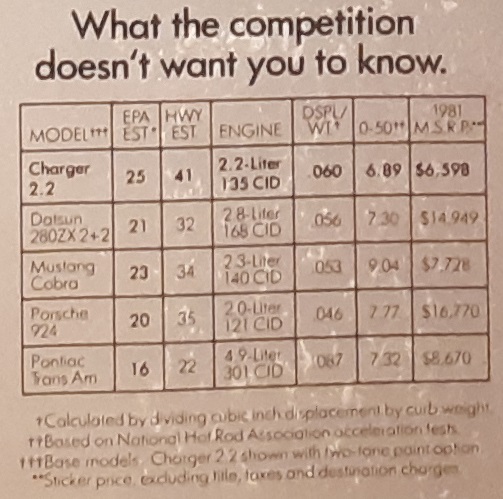 But it was shrewd marketing. There was/is no law saying the playing field can't be leveled a bit to give the underdog the appearance of parity. By reducing the sprint from 60 mph to 50 mph, Charger 2.2 looked like a champ. Going back to that same May 1982 Motor Trend magazine Mustang GT/Camaro Z28 road test, we see their best zero to fifty acceleration times were 5.74 seconds (Mustang GT) and 6.06 seconds (Camaro Z28). Both are quicker than Charger 2.2's 6.9-second sprint, but only to those who bothered to take a closer look at the fine print. Then again, the competition's V8s were nearly two-thirds larger than Charger's 135-inch four banger.

Reading more, it's clear this ad was written by true "car people" within Dodge and/or the advertising agency in charge of creating this ad. By saying the 2.2-liter inline four was "stuffed" into "one of the slipperiest missiles ever built in America", a mental image of hot rodders swapping big engines into small cars is quickly conjured. The fact remains, the 1.7-liter and 2.2-liter engines are both so small in size, they "swim" within the Omni/Charger's wide engine bay. But still, the image remains strong, as does the notion Charger 2.2 "pulls like a rocket."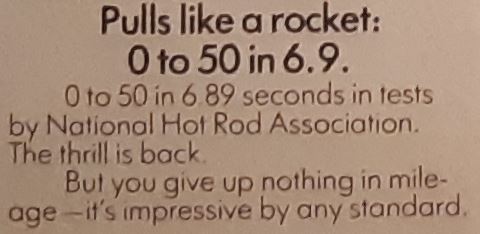 Another noteworthy detail is the fact Dodge engaged the NHRA to lend third-party credibility to the performance figures quoted in the ad. And not just for the Charger 2.2, but also for Charger 2.2's closest market competitors, the Datsun 280ZX 2+2, Ford Mustang Cobra, Porsche 924 and Pontiac Trans Am. According to the footnote at the bottom of the comparison box, Dodge must have spent a day at an NHRA drag strip with the aforementioned cars testing their zero to (again) fifty performance abilities.

It is interesting to notice how the Ford Mustang Cobra was powered by the naturally aspirated 2.3 SOHC, 88-horsepower four-cylinder engine and not the quicker 5.0-liter V8 (Mustang's turbo 2.3 four cylinder was not offered in 1981-1982). Likewise, the specifications box says the Pontiac Trans Am tested for the Charger 2.2 advertisement was powered by the "4.9 liter / 301 CID" engine and not optional turbocharged LU8 301 Pontiac V8 with 200 horsepower. And if we're being unflinching, note that the Datsun 280ZX model chosen was the 2+2, the four-seat version riding on a heavier extended 99.2-inch wheelbase – 7.9 inches longer than the traditional 280ZX. As for the Porsche 924, as a non-Turbo, it had a mere 110 horsepower. Good thing the NHRA didn't use the 170-horsepower Porsche 924 Turbo!
All of this said, there's no doubt the marketing mavens behind this interesting ad leveled the playing field to suit the uphill battle of giving the Charger 2.2 a performance reputation. But it worked. Despite the loud cries of old-school fans who claimed the world was coming to an end as Dodge replaced traditional rear-wheel drive with front-wheel drive nearly across the board, these cars – and the more utilitarian models below them – were absolutely the right cars for the times.
Based on the compact, front-wheel-drive K-Car platform and its derivatives (which also carried the multi-million selling Dodge Aries, 400, 600, Lancer, Daytona, Shadow, Dynasty and Spirit … not to mention the hugely successful Caravan minivan empire), these front-wheel-drive offerings were absolutely the right cars for the situation at hand. Within a decade, the New Chrysler Corporation went from bankruptcy to record profits.
And proving that a performance image sells cars, in its first year, the 1982 Charger 2.2 sold an encouraging 14,420 units, plus another 10,448 in 1983, when Shelby-modified Shelby Charger variants arrived mid-year and became the top-tier Charger performance offerings from then on. By 1985, Shelby Chargers came with standard turbochargers and 146 horsepower. Acceleration was so strong, there was no longer any need to play "0-50 games" and magazine ad test numbers reverted to the classic 0-60 mph industry standard.
When compared to the modern Dodge Charger of 2022 – which comes with no less than 300 horsepower and can be had with as much as 797 horsepower – and has returned to classic rear-wheel drive that accelerates from zero to sixty in a mere 3.6 seconds, those who were around in the 1980s have a tendency to pinch themselves as if this is all a dream. It's no dream, any Dodge dealer can set you up with a thoroughly modern Charger SXT. And get this, the Charger SXT is the entry-level offering yet its standard issue 3.6-liter Pentastar V6 takes a mere 6.4 seconds to run the 0-60 sprint. Note, that's zero to sixty not fifty mph. And all of this in a roomy five-seat family sedan that looks just as great on the Friday night cruise circuit as it does while loading groceries in its cavernous trunk at the local supermarket. So as this vintage magazine ad shows, we've come a long, long way since the days when testers had to resort to tricks like zero to fifty tests to make the best of a lame situation. Don't pinch yourself, today's Dodge Charger has never been better. Go see your local Dodge dealer and "put a Dodge in your garage!"
Comments
Comments