The Great Texas Mopar® Auction – That's a Wrap: The Sixties Represented
2 years ago Heritage
It's been a long, exciting haul since the first story on the Great Texas Mopar® Auction Event hit DodgeGarage back in June of 2021. All summer long, the stories continued every week until the October 13th and 14th auction date arrived.
Long story short, the auction generated over three quarters of a million dollars for the estate of the late John Haynie, the Texas Mopar enthusiast who gathered these 280 cars together.
We've now come to the final story in this saga. Here, let's take a post-sale look at some of the more mainstream Mopar offerings from the John Haynie estate. Though John Haynie focused on 1955 through 1962 Chrysler products, he also appreciated the more accessible models from the later sixties.
1963 Dodge Dart Convertible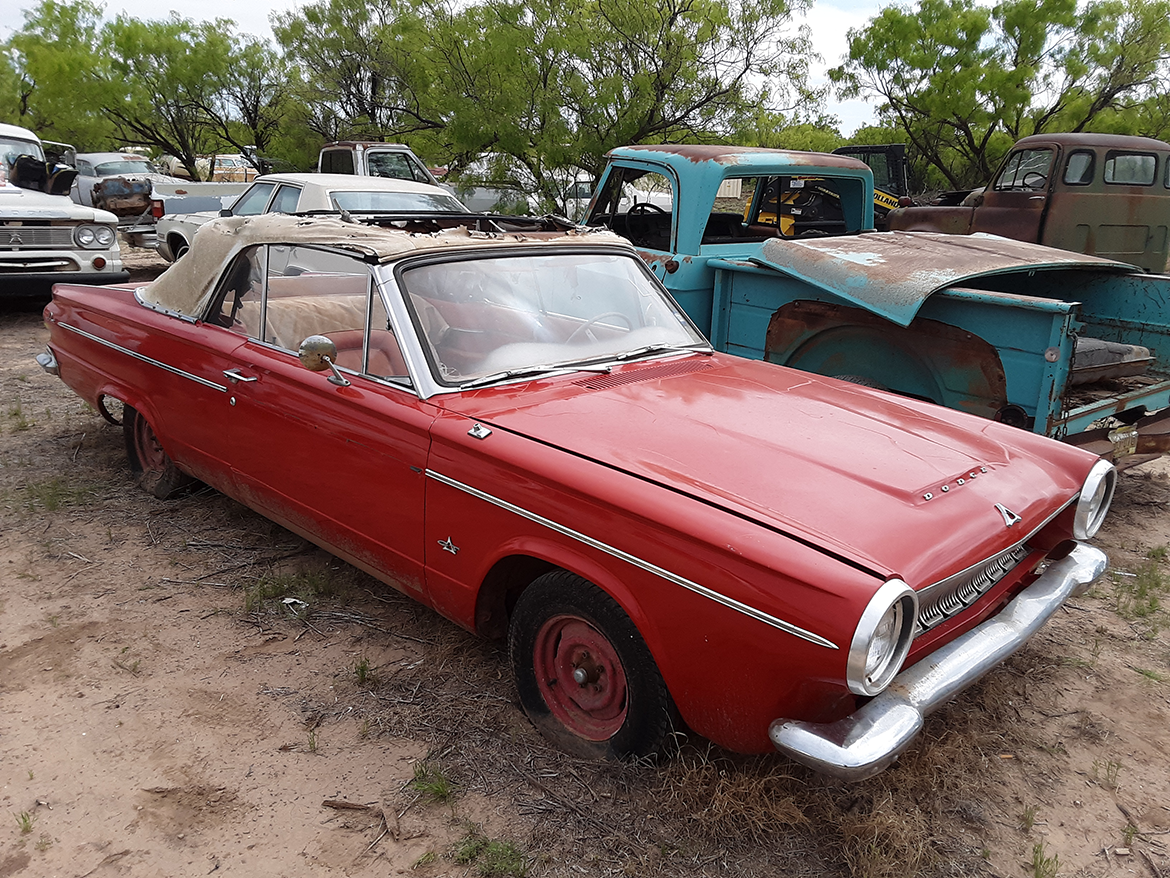 This spiffy red 1963 Dodge Dart GT convertible sold for just $2,990, roughly $228 more than it cost new 59 years ago. Back in '63, the base sticker price for a Dart GT convertible was $2,512. This one has the push-button TorqueFlite® automatic transmission ($192) and Music Master AM radio ($58), bringing the total to $2,762.
Records show that Dodge built 34,227 Dart GTs in 1963 – convertible output isn't known but is likely less than 25 percent of the total. The GT got front bucket seats and flashy trim – but no hot rod engine upgrades. That's because the 273 small block V8 wasn't introduced until 1964 (as a $108 upgrade).
So even though this flashy little redhead has the 225 Slant Six, it'll be a great cruiser for its new owner. An additional perk is the fact the buyer is from Liberty Hill, Texas, a mere 43 miles from the Big Spring, Texas, location of the late John Haynie's Great Texas Mopar Hoard.
1965 Dodge Dart GT
This 1965 Dodge Dart GT hardtop sold for a shockingly modest $402.50 to an incredibly lucky Midland, Texas, buyer. Though the original 225 Slant Six and transmission are missing, the rolling shell is in excellent condition except for some localized areas of rust along the quarter panels.
One of 40,700 Dart GTs built, its original buyer wanted some sporty flair with the 225 Slant Six's economy and paid $152 for the optional four-speed manual transmission. And yes, the all-important clutch pedal assembly, shift hump and center console are still in place.
Despite the front bumper's "Elvis lip snarl", the grille and other bright trim are all in excellent condition. There is no doubt this solid little two-door hardtop will be reborn soon – most probably with a V8 swap. But you can bet that floor shift will remain along for the ride!
1964 Plymouth Barracuda
The eye-blistering "bug juice green" paint on this 1964 Plymouth Barracuda reminds us of the electric blue paint seen on Richard Petty's HEMI® engine-powered drag race match racer of 1965. What's more, this little Plymouth fish was Lot Number 43. As NASCAR fans will know, "King Richard" raced with a big 43 on his racecars from 1964 through his retirement decades later.
Selling for a mere $3,220, this extremely solid fastback is ready for restoration or maybe even as a tribute to Petty's "43JR" HEMI enigne-powered match racer. Petty's "43JR" was featured in many car magazines back in the day that could be used as an instruction manual.
Speaking of manuals, this Barracuda was built with the optional 273 small block V8, and while Chrysler's four-speed manual transmission was all new for 1964 (and a $180 option), this one has the standard column shifted three-speed manual transmission, an odd combination found on just a small percentage of the 23,443 Barracudas built in 1964.
Many folks forget Plymouth launched the Barracuda on April 1, 1964, a full two weeks before Ford's Mustang arrived on the scene. What's more, Barracuda was a fastback from day one. Ford's Mustang debuted as a box-roof sedan or convertible – the Mustang's fastback "2+2" body option wasn't available until sixteen weeks later, in September of 1964. Hmmm, interesting stuff.
1967 Plymouth Barracuda Fastback
As popular as the first-generation 1964-1966 Barracudas were, 1967 was the year Barracuda joined the major league with optional convertible and hardtop bodies and a 383 big block offering to take on Camaro's 396 and Mustang's 390 muscle motors. This 1967 Barracuda (Lot Number 258) has the desirable fastback body and sold for a respectable $4,715 to a buyer from Little Elm, Texas.
Though this car's original buyer had a choice of the 145-horsepower 225 Slant Six, 273 Commando four-barrel with 235 horsepower or 290-horsepower 383 four-barrel, it's got the basic two-barrel 273 small block with 180 horsepower. That's backed up with a column shifted TorqueFlite automatic transmission ($181 extra).
Other options seen here include the factory air conditioner ($319) and push-button AM radio ($57). Whether these items remain in place with the new owner is debatable. In our opinion, a strictly showroom stock restoration would be to waste much of this fastback's excitement.
We can see either a retro-themed Hurst HEMI engine-powered Barracuda tribute or a modern Pro Touring machine with a Mopar Performance 6.4 HEMI crate engine and TorqueFlite 8 overdrive. Regardless of the next chapter in its life, we can all be thankful it escaped the crusher.
1967 Plymouth Barracuda Hardtop
To the uninitiated, this 1967 Barracuda hardtop may seem to be only half a car, but as the rest of us know, the missing front clip (fenders, hood, grille, bumper, etc.) is easily replicable. What's most important it that the shell of this car is in excellent condition with no structural rust.
It sold for a very affordable $460 to a lucky buyer in San Angelo, Texas, who undoubtedly saw past the missing extremities. A nifty bonus is the floor shifted three-speed manual transmission – still in place with the original oval rubber boot and chrome shifter rising from the floor.
Originally built with the 225 Slant Six, as the base three-speed manual transmission shows, this Barracuda hardtop was a low option car. It even lacks the typical front bucket seats and center console which were extra cost, so there's a bench front seat inside.
Sure, there's a lot missing here but having the clean, solid basic shell is more important than having the missing parts – but no vehicle to put them on – right? It's far better to have a fish with no tail than a tail with no fish.
The third-generation Barracuda family ran from 1967 through 1969 when the larger E-body replaced it in 1970. Of the 58,734 Barracudas built in 1967, 28,196 were hardtops like this (30,110 were fastbacks and 4,228 were convertibles). No doubt the streets of San Angelo, Texas, will soon host this revived Barracuda.
1966 Dodge Coronet 500
In its fifth year of production, Dodge's mid-sized B-body platform was totally redesigned for 1966. Beyond the exterior skin, the floors, trunk compartment, firewall, front inner fenders, sub frames and radiator wall were totally new and non-interchangeable with 1962-1965 B-bodies.
This 1966 Dodge Coronet 500 is an example of the top trim level and stands above the (in descending order) Coronet 440, Coronet Deluxe and base Coronet. Selling for a very fair $4,715, this "500" has standard issue front bucket seats and a center console with a floor mounted shift handle.
Dodge – and the rest of Chrysler Corporation – did us all a huge favor in 1966 by incorporating the engine size in the fifth spot of the VIN tag. Before 1966, the VIN only told us if a car was a six or a V8, not which six or V8. But in this 1966 Coronet 500's VIN, we see the letter G, telling us it was originally built with a 383 two-barrel big block V8. Engine code H was used to denote the mighty 426 Street HEMI engine which was in its first year of production for 1966. But no such luck.
Regardless, somewhere along the line, the 383 was modified with a set of steel tubing exhaust headers, aluminum Mickey Thompson rocker covers and a bright orange coating. And that's just what we can see from the surface. Chances are good there's a hotter camshaft in place and perhaps the missing cylinder head and intake system are in the trunk (we couldn't open it). Still in very nice condition and wearing a set of attractive 1969-up 14×6-inch road wheels, the Amarillo, Texas, buyer got a heck of a deal for $4,715.
1969 Dodge Coronet 500
Another Dodge Coronet 500 (Lot Number 221), this 1969 sold for a comparatively hefty $7,015 to a buyer in Santa Fe, New Mexico. But we can see the logic as these lesser Coronets and Coronet 500s make excellent Super Bee and Coronet R/T clones, which can sell for multiples of this particular hammer price.
With only a small amount of visible body rust along the lower quarter panel extensions, this F-code 318 two-barrel example was also originally equipped with a TorqueFlite automatic transmission, power steering, air conditioning and an AM/FM radio with the unique thumb wheel controls only used for a few years.
Oddly, the drum brakes are manual (no power booster to complicate the engine bay). Most likely, it's got the standard 10-inch drum brakes but the presence of an add-on trailer hitch below the rear bumper suggests the possibility an extra $23 may have been spent on the heavy-duty suspension – which has 11-inch drum brakes and stiffer springs and torsion bars.
That's all water under the bridge as – most likely – this Coronet 500 is on its way to a new life as Super Bee or Coronet R/T tribute. At least that's what this author would do with it. How about you?
Well, that's the end of this series of articles about the Great Texas Mopar Auction Event. Since the first article was published in early June of 2021, a total of 23 weekly stories led us all up to the October 13th and 14th online auction – and for the past four stories – the summary of how things went.
Thanks again for following this series on DodgeGarage and rest assured, we'll keep you updated as vehicles are rejuvenated and returned to the road! And remember, never assume any vintage vehicle is just scrap metal.
Comments
Comments