The Mystery of Radford
7 months ago Heritage
In 2021, DodgeGarage.com readers and performance automotive fans were broadly introduced to the Radford name when it was designated for use at Dodge//SRT®'s High Performance Driving School in Chandler, Arizona. The Radford name was also purchased for use and launched in Los Angeles by four business partners for a limited-edition vehicle project one year prior. So, the obvious question that many have since wondered is, who is Radford and what is the backstory?
At the time of the Radford name purchase and the initiation of the brand revival, the new owners had only a vague understanding of the company's history. They knew that the Radford heritage was rooted in custom coachbuilding projects in the U.K., and there were mentions of collaborations with Rolls-Royce, Mini, Lotus and Ford, among others. Ant Anstead, one of the new founding partners, took it upon himself to uncover the full picture and connected with British-based automotive historian John Lakee in the process. The duo embarked on a deep dive into the various projects that were stewarded by Harold Radford, which led to the creation of the Harold Radford Wikipedia page.
Their announcement of the Radford projects and research inspired others to share their stories of the legendary man. Hagerty Insurance U.K. published an interview one of their writer's conducted with Harold Radford back in the '80s. Mason & Sons, a British automotive lifestyle brand and automotive interior customizer, revealed an iconic British collaboration project in the '60s between Radford, Mason & Sons, and The Beatles on custom Mini vehicle builds for all four band members. In addition, they also illustrate a second collaboration on a Lotus vehicle build for a James Bond movie.
The stories mentioned above all seem to have a common thread revealing the types of products Harold Radford created, but the depth and details of who he really was and how the company developed remain murky. Thus, the new ownership group is continuing to utilize a variety of historical resources to further understand the man and his company.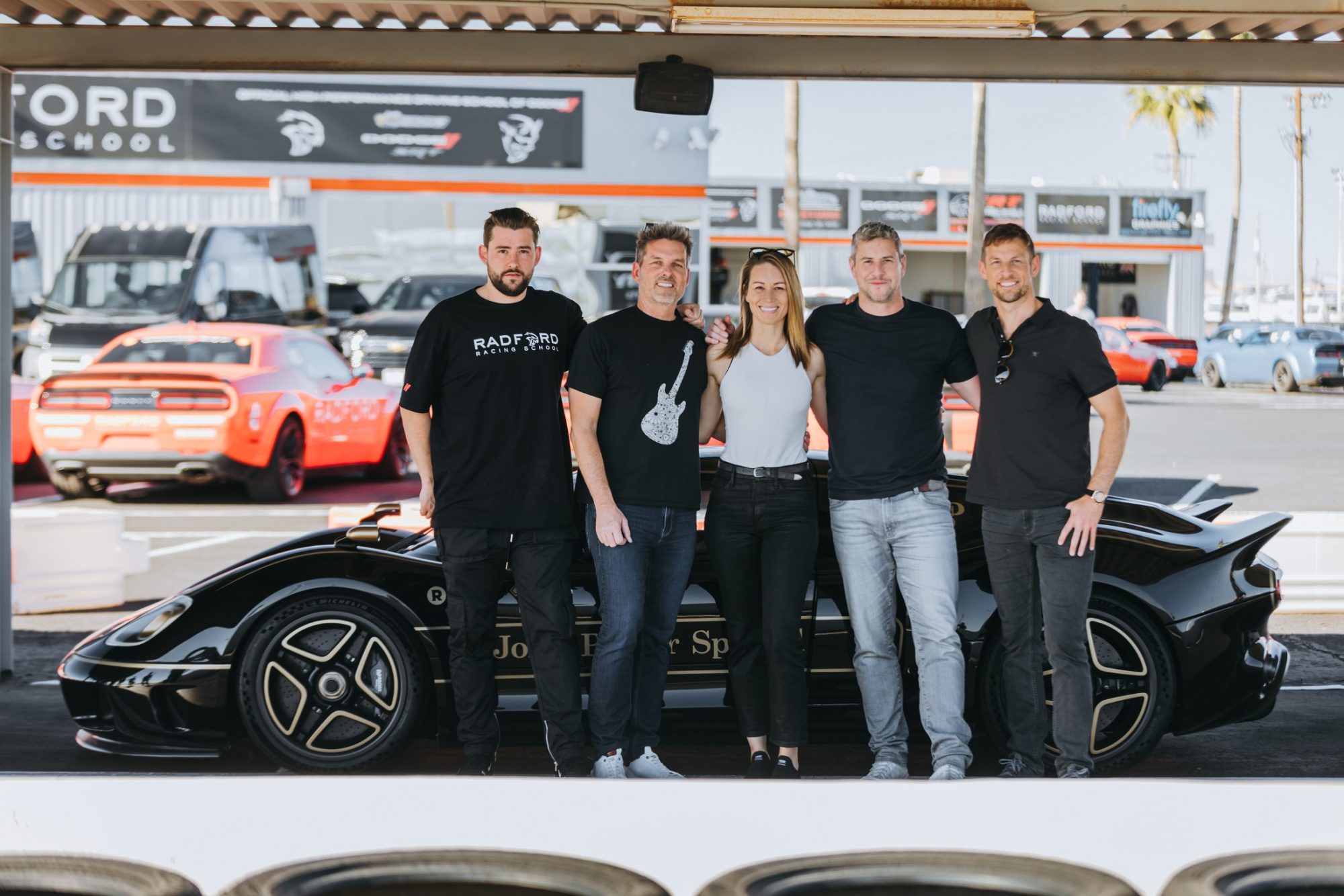 The last few years for Radford have been a whirlwind of activity – the largest element being the new vehicle build project. The owners were inspired to share the process with the public and have invested in documenting every step of the way. The film Radford Returns debuted on January 22 on Discovery+ and there are plans to drop 10 more episodes throughout the year.
We were recently offered the opportunity to interview Ant Anstead to catch up on all things Radford.
DodgeGarage: Tell us your thoughts on what you have learned about Harold Radford and the Radford company since you have embarked on this journey?
Ant Anstead: It's kind of surreal to be here driving at the Radford Racing School here in Arizona and we are talking about something that happened in 1948! Harold Radford was this maverick entrepreneur, somebody who recognized there was a marketplace for coach-built cars. So, in 1948, he launched with a new coach-built Radford bodied Rolls-Royce. What that basically means is that in the 1930s, when you walked into Rolls-Royce, you couldn't actually buy a finished car. You could buy a chassis with an engine from Rolls-Royce and then they would then point you in the direction of one of their favorite coach builders, whether it was Hooper, or Malena, or Park Ward, and then they would finish the car based on your needs. That's why all those early Rolls-Royces looked different. What that meant is you had all of these artisan coach builders, these craftsmen, that drew and built these beautiful bodies that worked in synergy with the engineering. So typically, you found a manufacturer that could do the driving bit: the stop steer start. And then they went and partnered with a coach builder who made it look sensational. And for me, the best period of coach building was probably the '50s and '60s. You had these iconic brands, particularly Italian and European like Zagato and Pininfarina who are still running today. But Radford was a coach-building business launched by Harold Radford at the Earls Court Motor Show in 1948. As I said, it was a coach-built Rolls-Royce. And then since that first car Radford worked with some of the big names of the industry. One of my favorite coach-built Radford's was the Aston Martin DB5 Shooting Brake. It's basically an Aston Martin DB5, so James Bond's car with a rear end extended so you could get loads of luggage in it. In fact, if James Bond was to be a dad, which undoubtedly he probably is multiple times over(!), this would be Bond's family car. And the story says that David Brown, the owner of Aston Martin, hence why they're all called DB, sometimes loved to go shooting with his gun dogs and he wanted a car that would accommodate all of his equipment. So, he burst into a board meeting and said make me a car I can fit my dogs and guns in. Aston Martin themselves couldn't do it, so they tasked Harold Radford to do it. And Radford made some other cool cars. For example, every member of The Beatles had a Radford-based Cooper Mini. The first-ever Ford GT40 was partly done by Radford. So Radford has this kind of iconic history. They patented the hatchback; they patented the reverse facing seat. And then Radford went dormant for a couple of decades. So, in the hands of me and a few of my friends, we brought Radford back!
DG: What has fascinated you most about the Radford story?
AA: That's such a wide, wide question. Because, you know, I'm an ex-police officer. So, I'm fascinated by evidence, you know how things are working. And I'm also an engineer. When we delved into the history books of Radford, we started to learn about the cars he built, what was Harold the man like, how the company transitioned. You know the last custodian of Radford was H.R. Owen, a car sales business in the U.K. that we just partnered with again, so it's gone a bit full circle. But for me, it's got to be an interesting two things: the celebrity link – Radford managed to achieve this really cool celebrity clientele, Peter Sellers, Stirling Moss, Britt Eckland, every member of The Beatles. You know, we've got video of John Lennon driving his Radford Mini. And then, of course, GT40. I love that movie Ford v Ferrari, and because of that movie the public at large has a better understanding of the impact of the story and the car. And when you consider that the very first GT40 prototype, Radford worked on it. And you know, we've got this really cool color footage of the Radford team assembling and building the first GT40 prototype. And then Radford assembled all of the interiors for every single road-going GT40 ever since. It's kind of cool to think."
DG: What are you hoping to continue to learn or uncover about Harold and the company's heritage? OR what questions or curiosities do you still have about Harold and the company's heritage?
AA: As I said, I'm an ex-police officer, and when I left the police field, I still carried with me a love of true crime. I started to think about who was Harold Radford? Who's Harold Radford's grandchild, great-grandchild? Who are these people? How did he get into the business? Where did he live? Where did he go to school? What I wanted to do is start diving into and answer the question 'Who was Harold Radford definitively?' I thought about who do I know that could help? Paul Dunckley, ex-assistant constable, you know a high, high ranking police officer retired, he became a private investigator. So, I phoned up Paul and said listen, I want to find Harold Radford. I want to know everything I can about this enigma. And he took the job straight away. And he's currently pulling out all this information. In fact, he's revealing the first phase of his investigation next week.
DG: Tell us about the process of building the first two cars.
AA: Let's be honest, the supercar sector is fraught with danger. Statistically, 99% of all companies in that business fail. Loads of people try to enter this sector and it's a very, very difficult job. We entered it in partnership with Lotus. So we had this overwhelming amount of pressure. The last time Lotus collaborated like this was 33 years ago. I was nine years old. So, when you consider in the 73-year history of Lotus, they have only done it three times, it's been a very public relaunch with some really big partners. It's an overwhelming amount of pressure. And let's face it, Lotus has this reputation of building driver's cars. We took a Lotus Exige platform and totally ripped up the rule book. We made it longer, wider, lower. We changed the brakes, the steering, the suspension, the hubs, the uprights. It's a totally bespoke coach-built car. And then, of course, the rest of the car is made entirely of carbon fiber. And when you consider that when we weighed it and dry it is sub-1,000 kg. It's the only sub-1,000 kg supercar in the world.
DG: Do you have event appearances planned for the Radford vehicles?
AA: We have a ton of Radford events that will be announced for 2022.
DG: What plans do you have for Radford for early 2022?
AA: It's not a one-hit wonder with Lotus. We already have a second car with a very large OEM. And it's not a company that freely gives up their data or IP. So, when we launch that, I think the world will sit up and take notice that the Lotus was not a one-hit. Also, the second car is incredibly beautiful. It's not a sports car, which I think will surprise a lot of people. I think we'll announce that car in the middle of next year. Also, we've documented the rebirth of Radford and the build of the Lotus 62-2, which goes out on Discovery on January 22nd. I'm excited to share the journey we've troughed for the last months with the viewer.
DG: Radford Racing School has been busy and successful in 2021, and 2022 is anticipated to be an even busier year. Will you be using the school for vehicle testing or content projects?
AA: 100 percent! In fact, when you watch the TV show, my business partner Jensen Button and I come to the Radford Racing School, we drive the car as I called it as a naked chassis to shake it down. This is OUR Radford test facility. We have big plans in 2022 to have race days with our customers. Race days with Jensen. Race days with me. Preferably more with Jensen than me, haha! We want to have an engaging relationship with our customers. You know, there's only going to be 62 customers of the Lotus. We want to give a bespoke experience. Because again, we are a coach builder. We look at our cars the same way a custom tailor designs a bespoke suit for his or her customer. Radford Racing School is a big part of our plans going forward. And all of the corporate Radford stuff aside, I just love coming here. You know, we've been here at the school enjoying it. I've got to know the track really well, the people who work here. The instructors are absolutely world class. And look at the place, it's just fantastically run. The track's been resurfaced. There's been a multimillion-dollar facility investment. The crew and the staff are amazing! My kids recently took the entry training class driving the Dodge SRT Hellcats. And I know that my kids are going to be safer and better drivers as a result of this day.
The story of Harold Radford, the products he created and the man he was is slowly being revealed to a whole new audience and the stories coming out of the research from the new owners is absolutely fascinating. You won't want to miss a second, so keep an eye out as we uncover the mystery of the Radford name.
Comments
Comments