GEN III HEMI® Engine Quick Reference Guide Part IV
3 years ago How-To
MORE CUBES AND MORE POWER: 2011 – 2021 6.4L/392 HEMI® V8 ENGINE
So far in this series, we have covered the beginning of the great HEMI® engine, the 5.7L V8 years 2003-2008. Next, we moved onto the refined recipe of the 5.7L V8 that included 2009-current year. In part III, we moved away from the 5.7L V8 and introduced the bigger and badder 2005-2010 6.1L V8. In this installment of the GEN III HEMI Engine Quick Reference Guide, we are going to talk about the highly coveted 6.4L/392 HEMI V8 engine.
The 6.4L/392 HEMI V8 engine was first introduced in 2011 in the passenger car line as a replacement for the 6.1L HEMI engine. With its increased size, this new engine was even more of a powerhouse over its replacement on SRT8 vehicles. Even though 6.4 liters translates into 392 cubic inches, it bears no resemblance to its great HEMI ancestor of the late 1950s that had the same displacement. This next iteration of the modern big-inch HEMI engine was first used in the 2011 Challenger SRT8 and eventually Charger SRT8 models before being an option on the Jeep® Grand Cherokee SRT® and Dodge Durango SRT SUVs. Since its debut, the marketing of the engine's displacement size on the front fender emblems and on the engine coil pack covers can say either "6.4L" or "392" depending on year, brand and nameplate.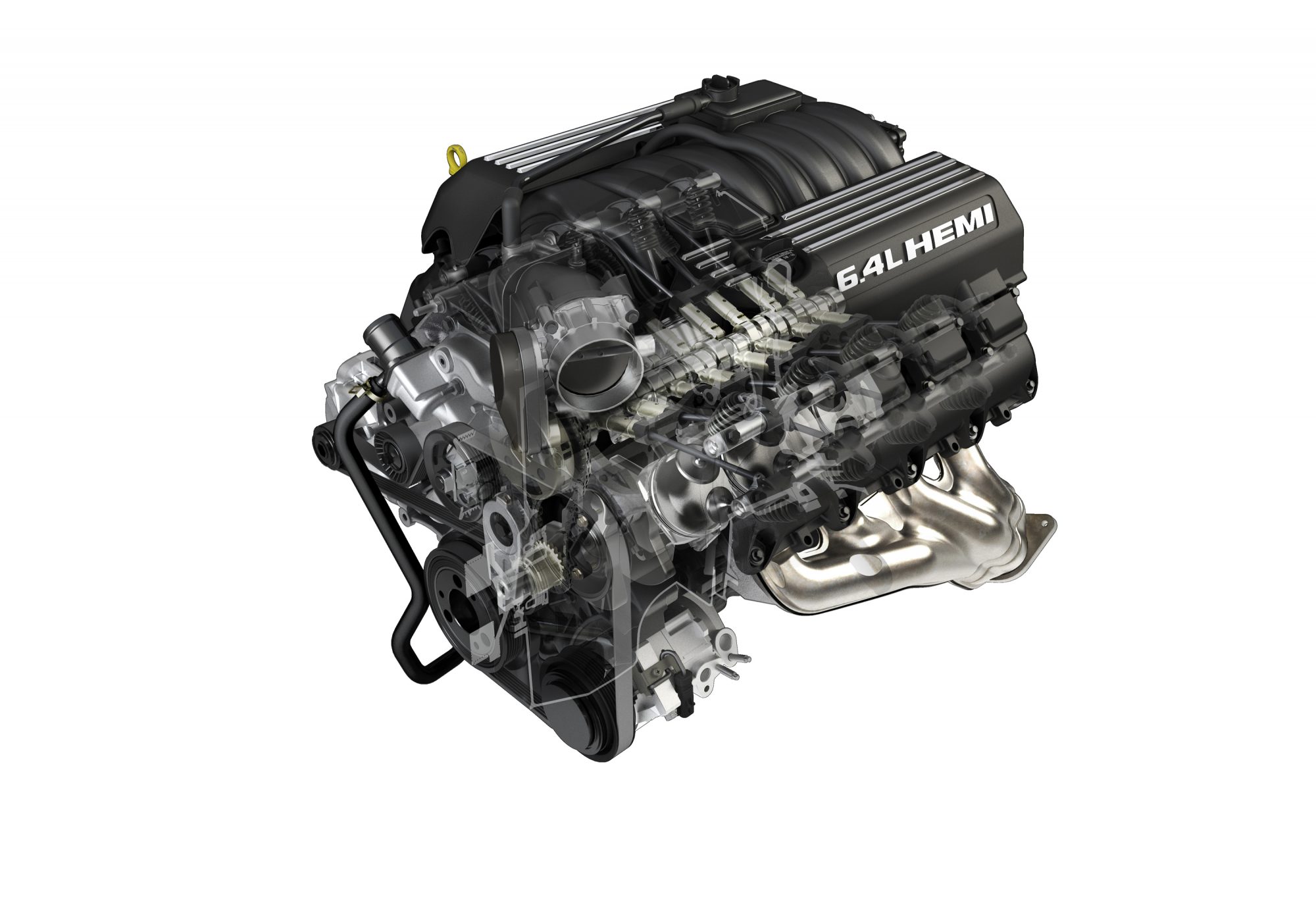 Despite the confusion this might cause among enthusiasts, the 6.4L/392 HEMI engine has basically the same internal parts regardless of if the engine came out of a Challenger/Charger or Durango/Grand Cherokee SRT. The factory horsepower and torque ratings on the 2011 to 2014 engines was 470 hp @ 6,000 rpm and 470 lb.-ft. @ 4,200 rpm. In 2015, the 6.4L/392 HEMI engine got a bump in horsepower to 485 hp @ 6,100 rpm, while torque was increased to 475 lb.-ft. @ 4,200 rpm, due to a revised intake manifold and tuning. The Jeep Grand Cherokee SRT and Durango SRT models have to settle for 475 hp @ 6,000 rpm and 470 lb.-ft. @ 4,300 rpm because of a more restrictive exhaust manifold design for engine packaging to accommodate the SUV's AWD drivetrain.
The changes include oil pan and exhaust manifolds between these two platforms. The 6.4L HEMI engine has also been available in the Ram 2500/3500 HD trucks since 2015-2016, but we'll get into that later in this feature. When Dodge introduced the Scat Pack Challenger and Charger models beginning in 2015, they came standard with a 392 HEMI V8 engine. With robust sales of the Scat Pack, there's plenty of good used 392 HEMI engines out there in salvage yards and swap meets. But before you head out on your HEMI engine hunting adventure, here's what to look for if you're on a mission to score a 6.4L/392 HEMI V8 engine for your Mopar® retsomod project.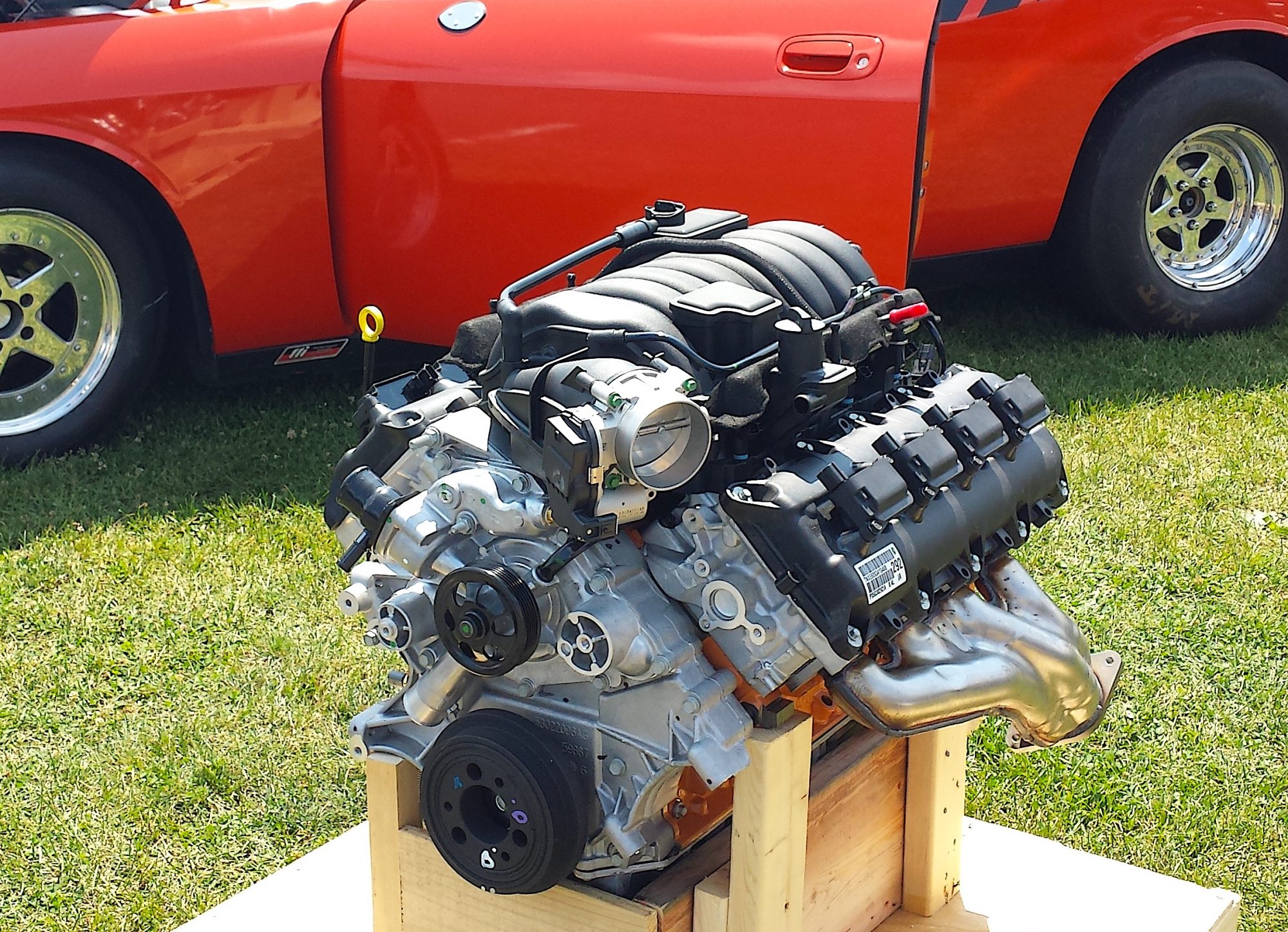 Before we do a deep dive into identifying late-model HEMI engines, this handy bar code label decal can be found on the valve cover of virtually any GEN III HEMI engines. It indicates engine displacement size, build date, part and serial number. Here's an actual label from a 6.4L/392 HEMI engine and how you can decipher the bar code label's numbering system.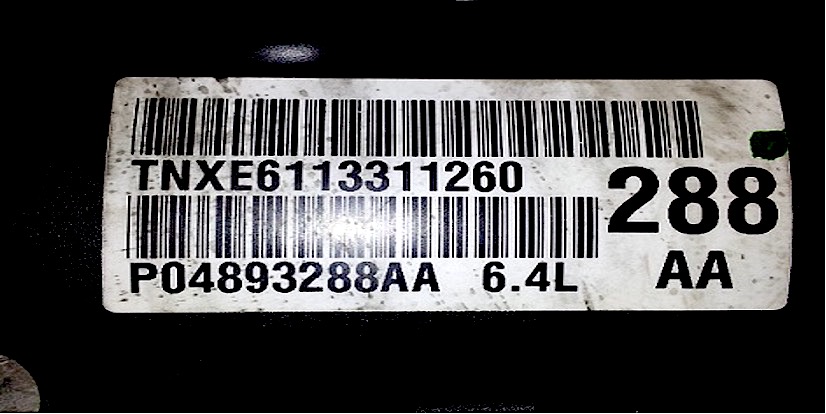 For example, on this particular bar code label, you see the number TNXE6 1133 1 1260 and here's what it means:
TOP LINE:
TNXE6 1133 1 1260
TNXE6: Engine Assembly Plant, this is the code for Saltillo Engine Plant (SEP)
1133: Is the Julian Date Code 1133 which is the 113th day of 2013 (April 23, 2013)
1: Shift number
1260: Engine serial number
BOTTOM LINE:
P04893288AA 6.4L AA
P04893288AA: Engine part number
288: Last 3 numeric digits of the part number
6.4L: Engine displacement
AA: Part number revision level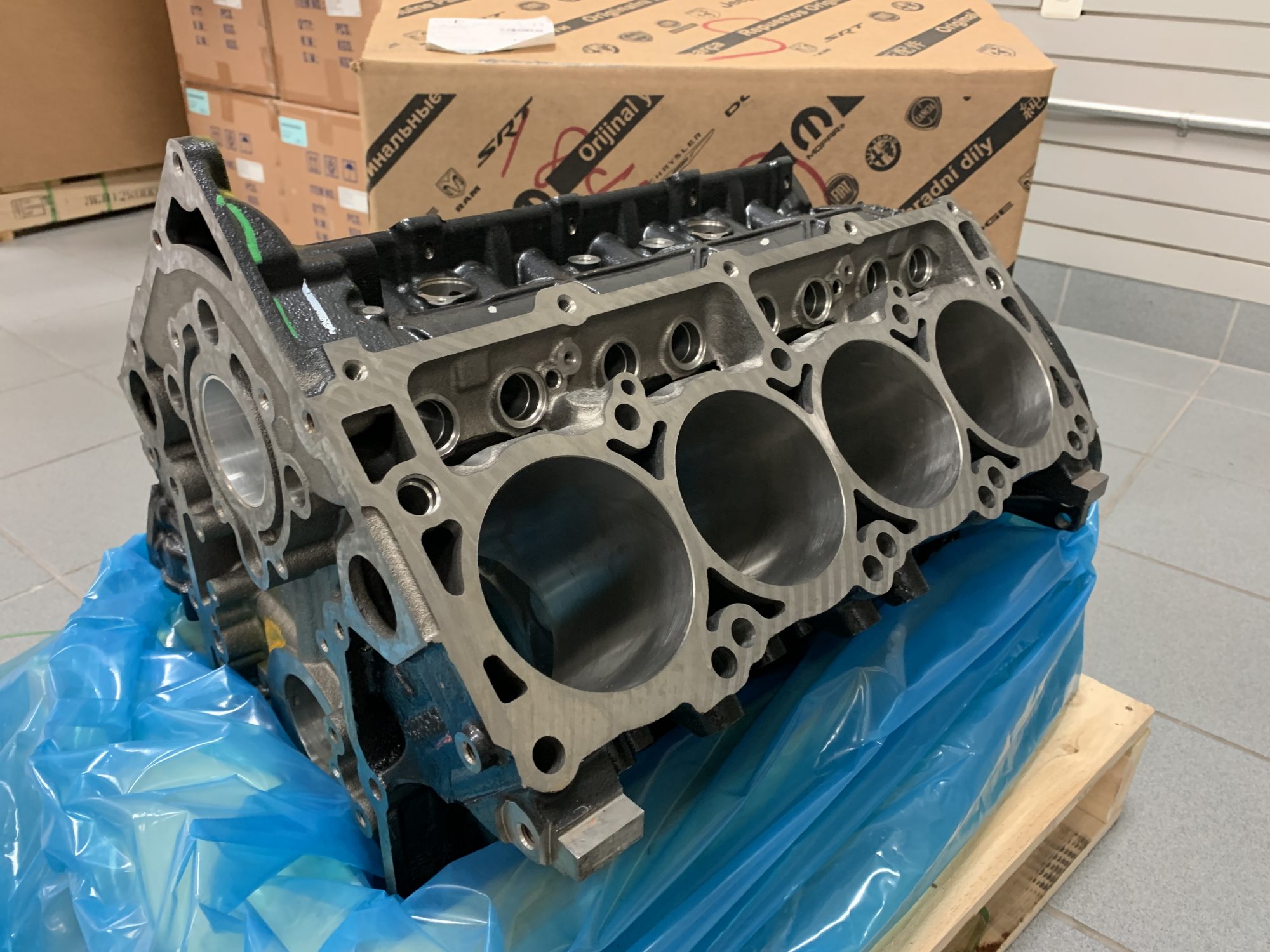 ENGINE BLOCK/ROTATING ASSEMBLY
The 6.2L/392 HEMI blocks can be identified with casting number 5037473BE or 5037473BG and has "6.4L" cast above the oil pan rail. Like the 6.1L HEMI engine it replaced, the 6.4L/392 HEMI blocks come painted orange and are machined and assembled at FCA's Saltillo Engine Plant. Note – some 6.4L/392 HEMI blocks can also be painted black if they're a Mopar service replacement block or are out of a 2015-2020 Ram 2500/3500 HD truck. Like all GEN III HEMI engines, the 6.4L/392 version uses cross-bolted main bearing caps and aluminum twin-plug HEMI heads. With the advent of the 6.4L HEMI truck engines, a thicker block was cast and used across the entire engine platform (that included 392 HEMI engine-powered cars and SUVs around 2017-2018). These blocks are known as "Big Gas Engine" or BGE for short. Both "BG" and/or "BGE" will be cast on the side and/or on the back of the block. These blocks might be hard to come by if you're looking for a used 6.4L/392 HEMI engine, but their high nickel content, superior casting and slightly shorter water jacket (which provides increased cylinder wall rigidness/strength) are a huge bonus for serious horsepower engine builds.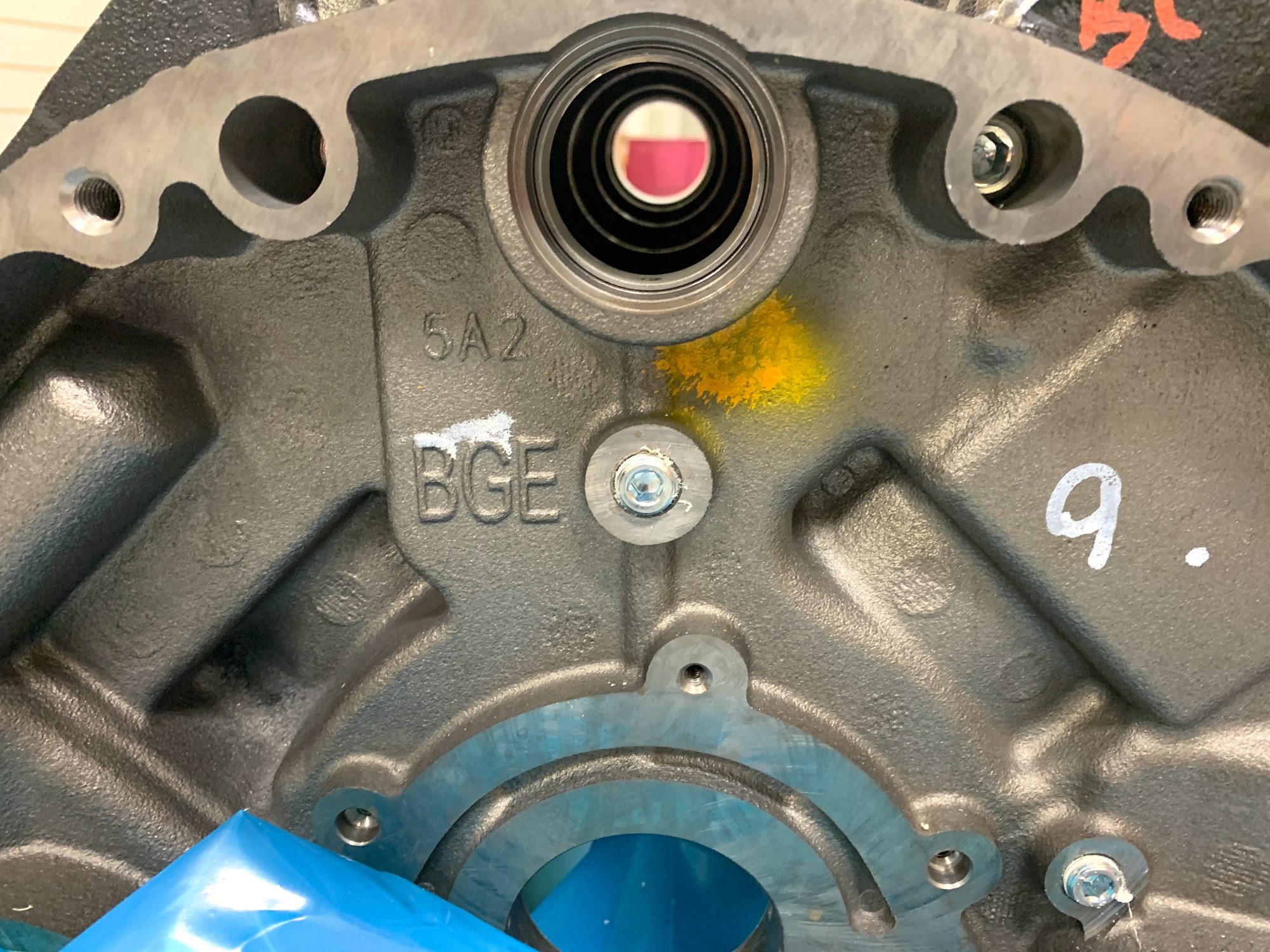 The bore and stroke are 4.09 inches and 3.72 inches on all 6.4L/392 HEMI engines. They also come stock with a forged-steel crankshaft that can take a lot of punishment. The factory compression ratio is a healthy 10.9:1 and the engine redline is 6,400 rpm. Like the 6.1L HEMI engine, the newer 6.4L/392 HEMI engine requires premium fuel for best performance. Like the 6.1L HEMI engine, the 6.4L/392 HEMI V8 engine uses Hypereutectic pistons (with oil squirters to reduce heat) and a floating pin. It's attached to a powdered metal I-beam connecting rod with a cracked cap design (eliminates the possibility of reversing or interchanging the rod caps). The length of the rod is 6.200 inches center-to-center (same as SRT Demon, SRT Hellcat and SRT Hellcat Redeye 6.2L HEMI engines).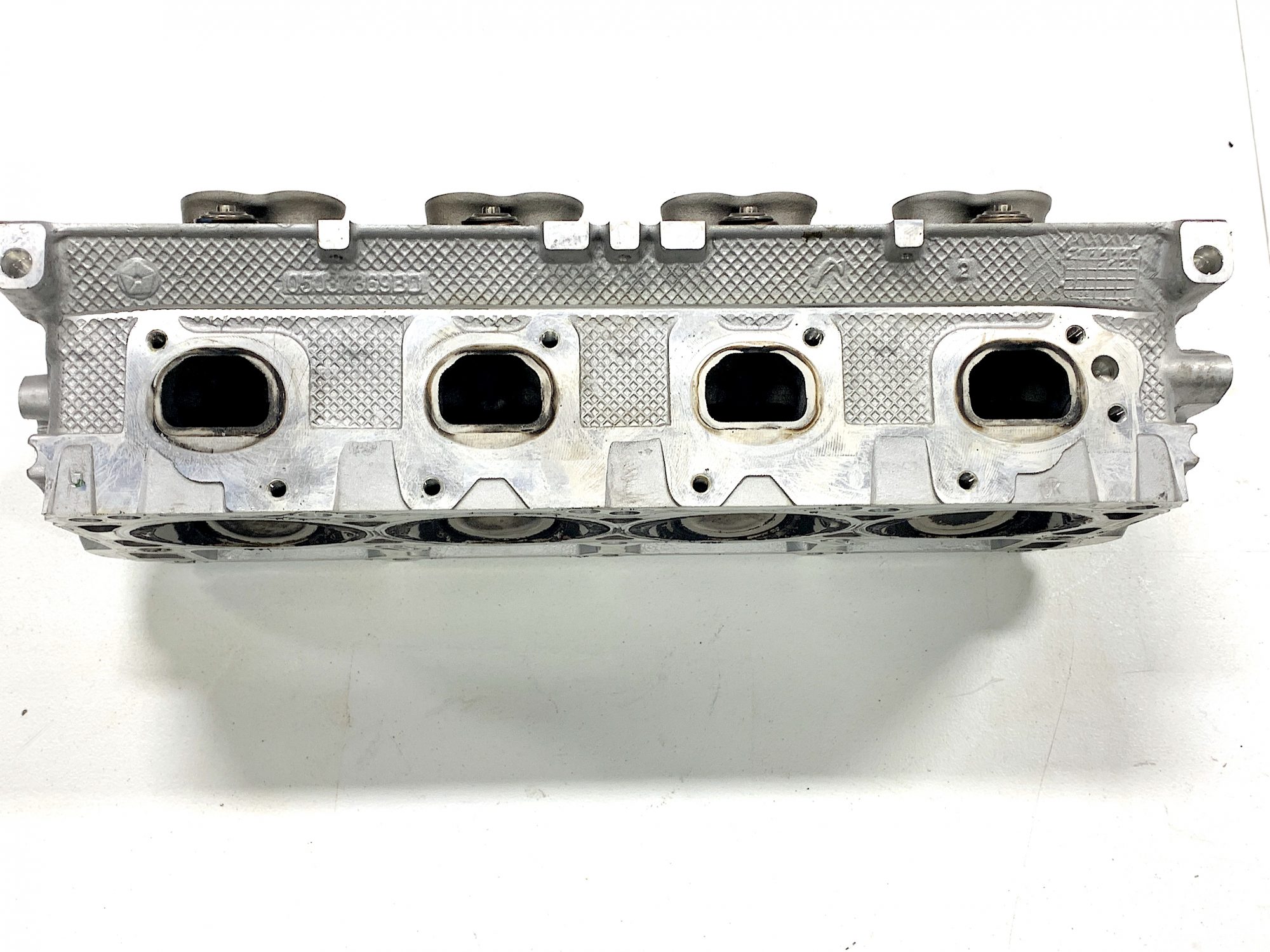 CYLINDER HEADS/CAMSHAFT
As with all GEN III HEMI V8 engines, the 6.4L/392 HEMI engine uses an aluminum twin-plug cylinder head with an improved port and chamber design and larger valve sizes than the 6.1L HEMI engine it replaced. The passenger car/SUV 6.4L/392 HEMI cylinder head can be identified by casting numbers 5037369BD or 68166435AA-A02 depending on the year. Regardless, the intake valve diameter measures 2.14 inches and the exhaust comes in at 1.65 inches. The valve lengths and valve spring heights are increased on the 6.4L/392 HEMI engine over the 6.1 HEMI engine to accommodate the revised port design and improved hydraulic roller camshaft. Speaking of production camshafts, you'll be pleased to know the 6.4L/392 HEMI engine has 286 degrees of intake and 288 degrees of exhaust duration, while the intake lift is .571 inches and .536 inches on the exhaust.
While the automatic transmission-equipped 6.4L/392 HEMI V8 engines use a Multi-Displacement System (MDS), manual transmission versions of this engine do not have MDS (similar to the 2009 to current 5.7L HEMI V8 engines). If you're swapping an MDS-equipped 6.4L/392 HEMI engine into an older Mopar vehicle, there are components available to eliminate the MDS system to simplify tuning. One thing you should know, all 6.4L/392 HEMI engines (including Ram 2500/3500/4500/5500 trucks) use variable cam timing (VCT) and can be retained if you're doing a modern HEMI engine swap into your vintage vehicle. The aftermarket has tuners available to accommodate this feature, but if you prefer, there are also numerous non-VCT GEN III HEMI performance camshafts available.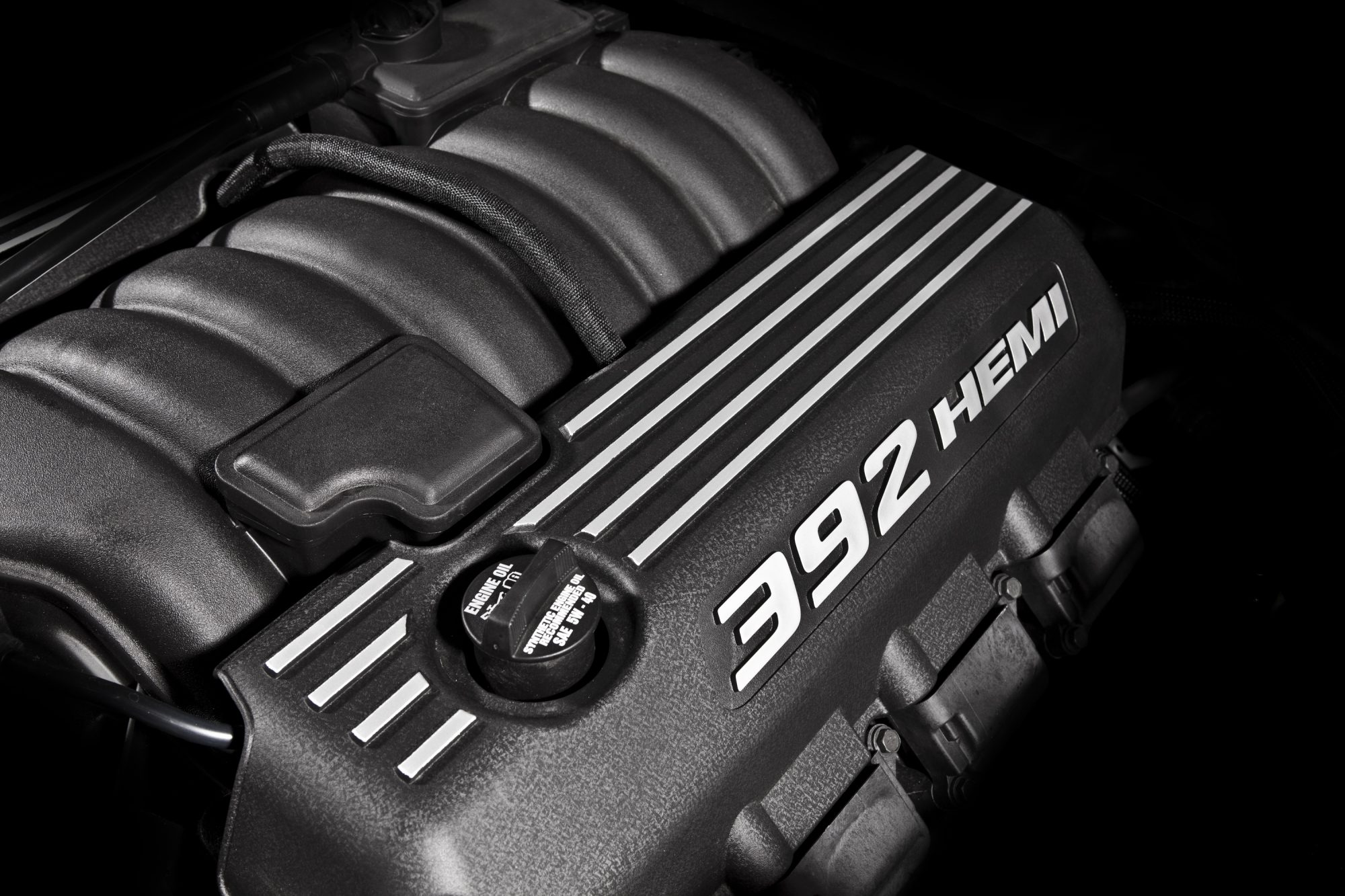 INTAKE/EXHAUST MANIFOLDS
Unlike the 6.1L HEMI engine it replaced, the 6.4L/392 HEMI engine did not have an aluminum long-runner intake manifold. Instead, the 6.4L/392 used an "active" intake manifold constructed from black composite plastic. It has a front feed, 45-degree side-mounted throttle body that's 80 mm in diameter. There's also an "active runner" feature that electronically varies the intake manifold's runner length for optimal horsepower and torque. This 6.4L/392 HEMI intake manifold may not look as sexy as the cast aluminum intake manifold found on the 6.1L HEMI engines, but they work very well for many race and street applications. When it comes to getting rid of the spent exhaust gases, the 6.4L/392 HEMI engine uses a tubular free-flowing exhaust manifold on passenger car applications and is great to use other non-factory applications like on older Mopar vehicles. These tubular exhaust manifolds almost look and act like "shorty headers" and are basically the same as found on the 2005-2010 6.1L HEMI V8 engines. These exhaust manifolds can also be used on other non-factory applications when dropping a GEN III HEMI engine into an older Mopar car or truck. If you're doing a swap using a 6.4L/392 HEMI engine from an SUV, the cast exhaust manifolds may not be the best choice.
QUICK REFERENCE CHART – 6.4L/392 HEMI V8 PASSENGER CAR/SUV ENGINES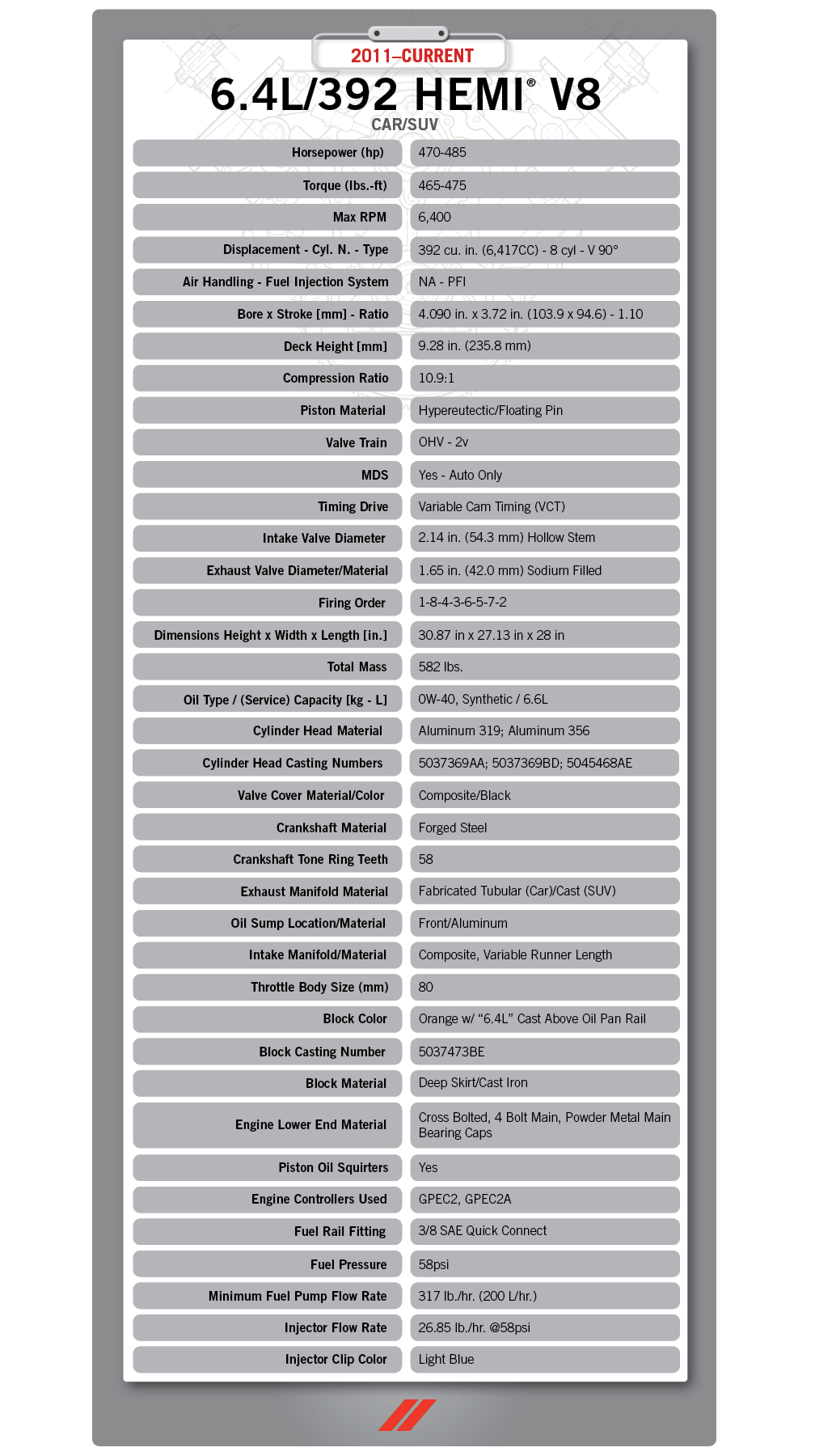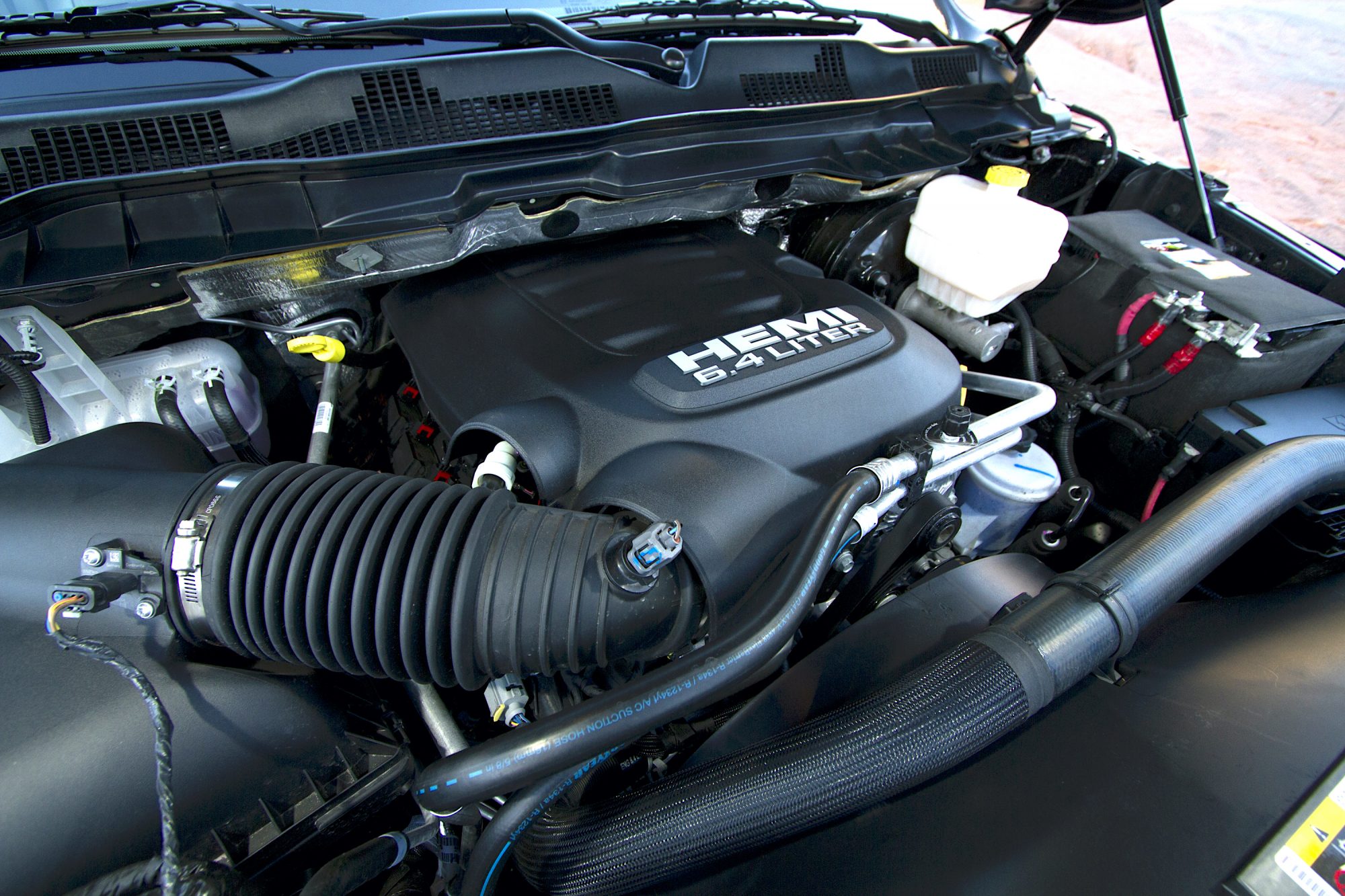 RAM MD AND HD 6.4L HEMI V8 – KNOW THE DIFFERENCES
As we mentioned earlier in this feature, the 6.4L HEMI V8 engine was also used in Ram 2500/3500/4500/5500 in Medium Duty (MD) and Heavy Duty (HD) truck applications going back to around 2015. While the block cylinder heads and rotating assembly offer a great foundation for building a GEN III performance project engine, the truck engine is designed more for low-end torque and heavy load applications. There are some major differences between the HD truck 6.4L HEMI V8 and passenger car/SUV 6.4L/392 HEMI V8 engines you need to be aware of. If one of these pops up at a cheap price, just know what you're buying. The first difference is that the intake manifold has a top-feed mounted throttle body, and this design has a runner length that's designed to make max power from 3600 rpm to 5000 rpm. The compression ratio is also lowered to 10.0:1 because of a piston change from the passenger car/SUV 6.4L/392 HEMI V8 engines.
The truck engine still uses a Hypereutectic piston w/oil squirters to reduce heat and a floating pin design that's attached to a powdered metal I-beam connecting rod. The twin-plug aluminum cylinder head on the truck engines still retain the massive 2.14-inch intake valve and 1.65-inch exhaust valve found on the SRT and Scat Pack vehicles. The cylinder heads are also cast from high-grade T356 aluminum material to withstand any detonation and high-temps under severe towing conditions.
They have a unique casting number of 05045468AE and 68166435AA, AB, AC and AD. This head casting was also used on the 2015 Mopar Challenger Drag Pak engines. The exhaust manifolds on the 6.4L HEMI truck engines are a cast iron design that are more restrictive than the tubular style found on the passenger car/SUV applications. Most folks will probably discard the factory cast iron exhaust manifolds in favor for aftermarket headers during their engine swap project. The camshaft on the HD truck engines is also designed for low-speed torque and not higher rpm horsepower. The net result is a horsepower rating between 366 to 410 @ 5,600 rpm and torque coming at 429 lb.-ft. @ 4,000 rpm. When it comes to out-of-the-box modern performance engines, the stock HD truck 6.4L HEMI engine is not a strip blazer, but with its BGE casting block, 356 aluminum heads, and steel crankshaft, you'll have a great foundation to build a high-performance engine combo with strong bones to withstand close to 1,000 horsepower.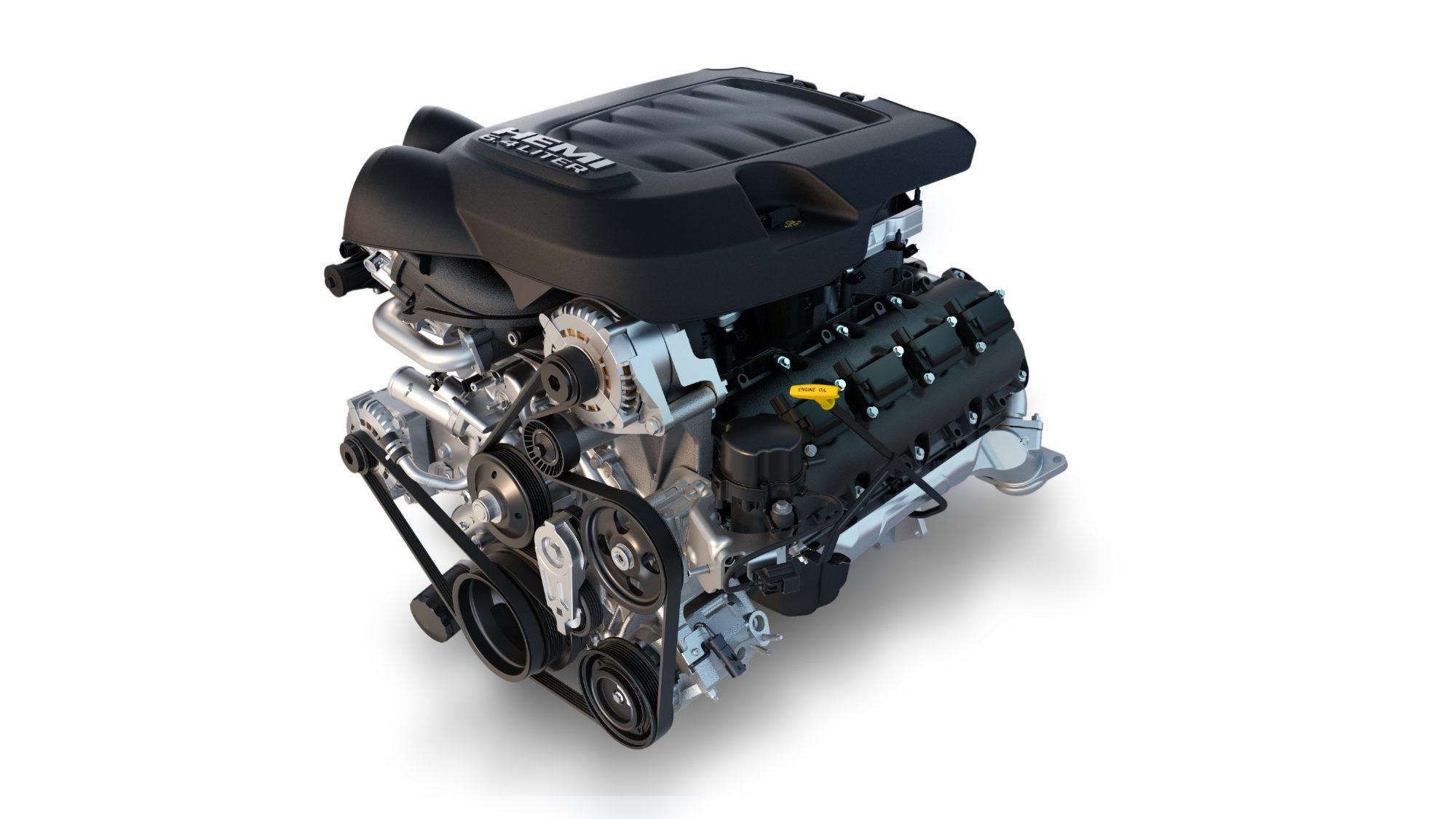 QUICK REFERENCE CHART – 6.4L HEMI V8 RAM MD AND HD ENGINES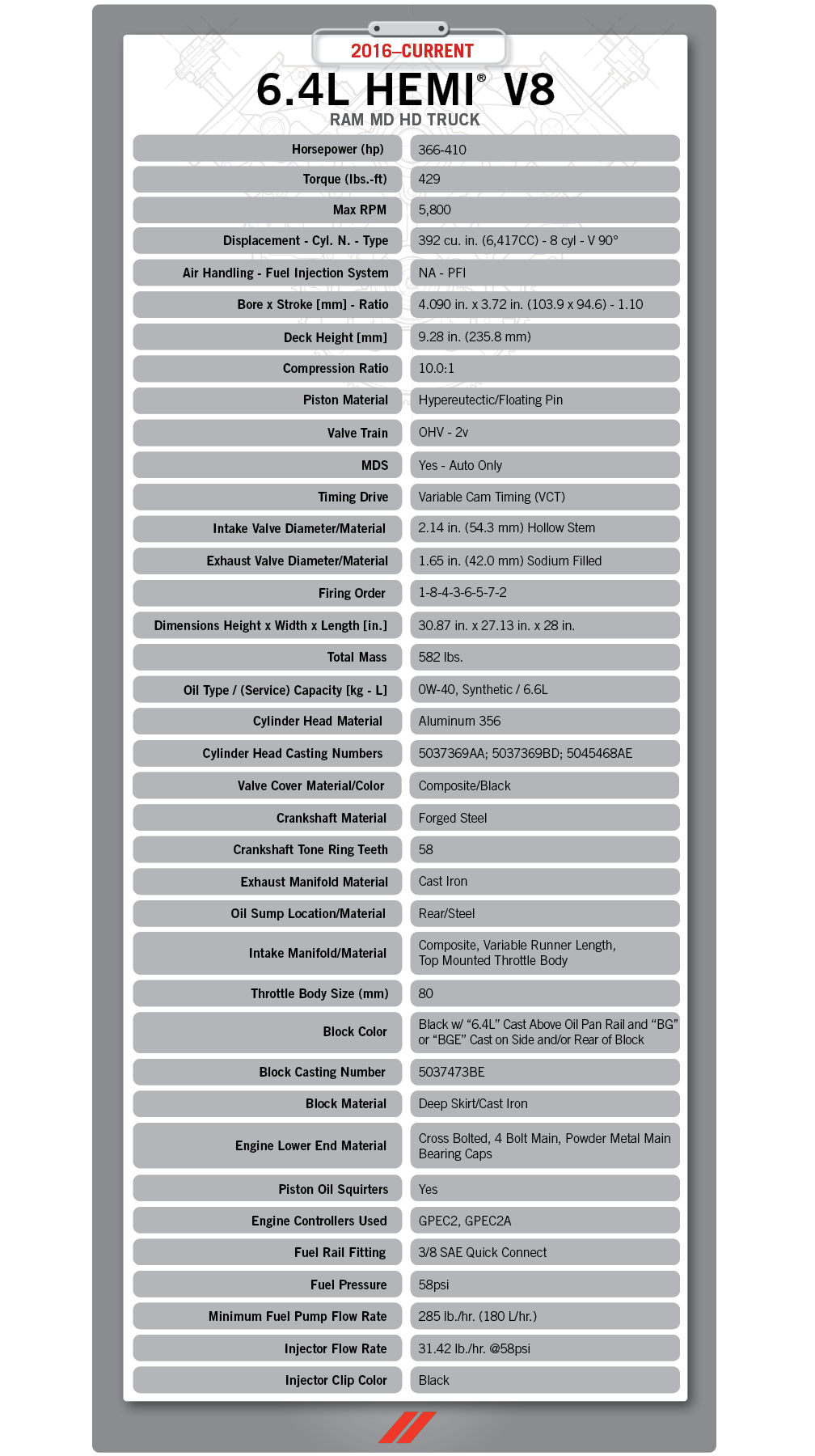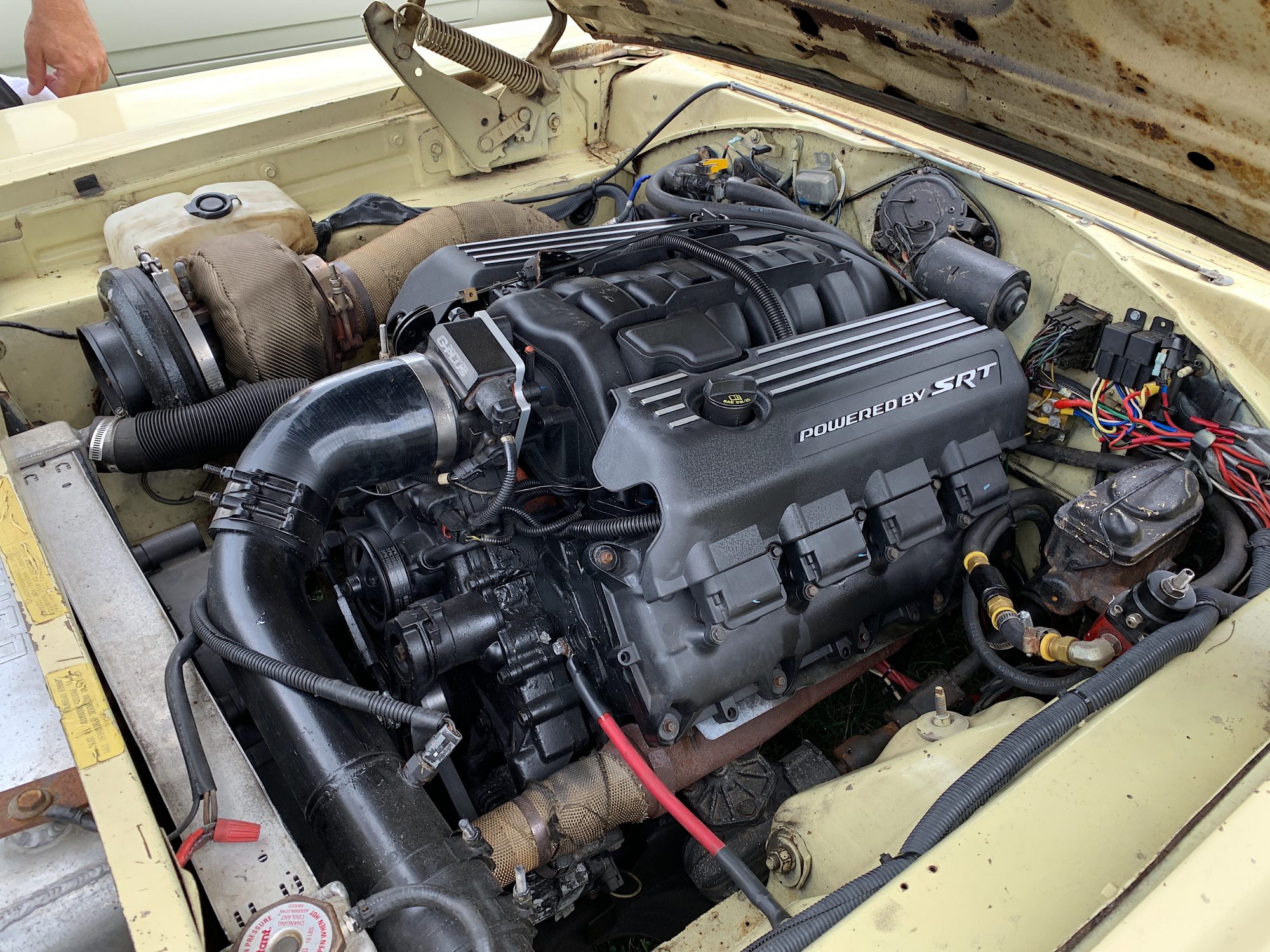 With over 100,000 6.4L/392 HEMI V8 engines produced for almost a decade, they're turning up in salvage yards and swap meets at a relatively low cost. It might be an old cliché but it's true, there is no replacement for displacement and the 6.4L/392 modern HEMI engine is a great foundation to build upon. If you're looking for some help in parts and advice, these great companies can help you out!
Mopar.com; Holley.com; Edelbrock.com; RosevilleMoparts.com; ManciniRacing.com; ShopHEMI.com; MMX Modern Muscle Xtreme; Cleveland Power and Performance
Next week, we discuss the record-setting and ground-breaking SRT Demon, SRT Hellcat and SRT Hellcat Redeye supercharged 6.2L HEMI V8 engines!
All GENIII HEMI Engine Quick Reference Guides:
Part I
Part II
Part III
Part V
Comments
Comments