One-Second Situations
5 years ago Owners + Clubs
Chris Kommer is a tinkerer. The way things go together appeals to him. "My grandfather was an engineer," said Chris. "Dad is a tool and die maker." So parts and pieces grab his attention like Lego bricks to a child. "That's why I'm drawn to motorsports as a whole; the engineering involved and how technical it really is."
His whole life, Chris has found himself riding quads and motorcycles, water skiing, competing in sports and driving behind the wheel of fast cars. In an odd, unintended kind of way, he was destined to do what he does these days.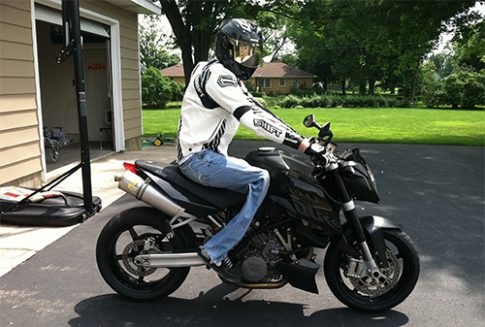 When we were talking, he was hiding out in his man cave, the shop at his home where he's got all the tools a tinkerer wants. "Cars, motorcycles…anything with an engine, there's a subculture. When I get boat parts, there's an old guy in Wisconsin who hand writes notes and schematics on how to wire things together. I love that!" Like I said, he's a tinkerer, and that is how he got to his current spot in life. When Chris was nine, he was in a boating accident and lost his leg as a result. "Life is about one-second situations," he tells me, "It's not about dwelling on those situations, it's what you are going to do about it to move forward."
He's good at moving forward!
His family bought him a wheelchair from a small company in Texas, but he was in his late teens: "I'm a destructive being," he said with a big laugh. "I have a high standard for what equipment should be. Long story short, we did a lot of improvements to that chair so it would hold up to what I was putting it through. When I had the chance to meet the guy from the company I told him, 'look, your chair is good, but see what I did to make it better. Not bad for a 17-year-old kid, huh?'" And from there, that relationship grew. These days, he's the CFO of Per4Max Wheelchairs, and they make world-class products for Wheelchair Athletes…and Chris has gone on to be a top-level wheelchair basketball player, competing all across the globe.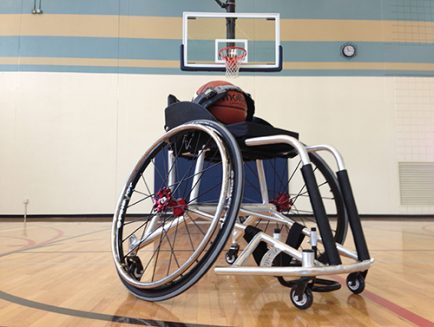 As a die-hard car guy, Chris talks about his wheelchairs the same way any of us discuss motorsports: "We have a really good team with 12 full-time guys, 3 full-time fabricators, a machinist, final assembly, a seamstress. We're still a real small company, but we're shipping our products globally and we're the leading manufacturer in wheelchair basketball." In fact, at the Paralympic games in Rio, the US Men's and Women's teams took gold and nearly all of those athletes were in Per4Max chairs.
Chris says, "When I go into a gym, I know I have a mechanical advantage over my opponents and I love that! If we're talking about racing, I like to know that I'm the fastest! We talk about what tires are quickest, even what upholstery is going to react best for us."
The comparisons continue between vehicles and chairs: "Someone might want a custom-colored hub and rim on their wheelchair. Carbon fiber. Laser-etched logos. We let them put their personal stamp on it, it's huge, like how people do custom motorcycles. We work with all the different branches of military; for SOCOM, we did metallic grey with white wheels to match their unit. Marines, we did matte ruby red wheels and white spokes…it becomes their uniform."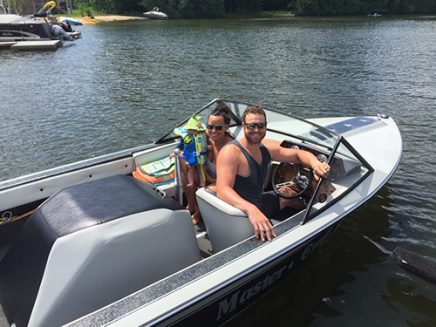 Remember that boating accident that took his leg? Would you believe, a decade later, he found that actual boat and now owns it! "That's what keeps me on my wrench game nowadays!" he said. "I could upgrade it, but there's a nostalgia factor here in keeping it 100% original."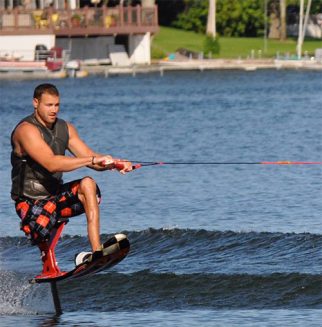 As Chris said, "Life is about one-second situations," and he's clearly made the most out of each one of them that's presented itself. Here's hoping his story motivates you as well.
Chris and Per4Max exemplify what it means to #LiveForward. If you'd like details on Per4Max Wheelchairs, check them out at www.Per4Max.com.
Comments
Comments