Serendipity – Part 2
5 years ago Owners + Clubs
Growing up, I had a limited understanding of the popular saying "No Regrets." Skaters got it tattooed on their skin, rappers used it in their verses and a kid down the street had the T-shirt. I thought it was dumb, because, obviously, everyone had done something stupid or had a situation happen to them that wasn't good that they'd like to take back. As I aged and gained more life experiences, my brain finally figured it out. Everything you do, the stuff you see, friends you hang out with, places you go, bad trips you endure, they all shape who you are right now. And if you love what you do, the people around you and who you've become, part of that is owed to the struggles you went through to get there.
In the first part of my interview with Dodge and SRT® head of design Mark Trostle, we touched on his first semester academic probation at the College for Creative Studies. I mentioned that it was "all he needed" to get into gear and really take his studies more seriously. But there was a more serious life event that also narrowed his focus and gave him perspective.
Close Call
Mark's first car was a '79 Mercury Capri (basically a Merc-branded Mustang). It had been in the family since he was 9, when his dad bought it for his mom, then it was gifted to Mark when he turned 16. In high school, he stripped the car down to bare metal, upfitted it with junkyard 1985 Capri exterior parts, painted it black and added "giant" 16-inch 5-spoke wheels. The foxbody already had a 5.0, but Mark swapped out the 2-barrel carb for a 4-barrel and opened up the exhaust a bit.
"That car was kind of the start of it," says Mark. "I made [it] a little different and had fun with it."
Fun, right up until he was carjacked in Detroit. "19 years old, gun stuck in my stomach on Woodward, the guy told me he was gonna blast me, so give me the keys.'
"When I had the gun pulled on me, it changed me in that I became more aware of what living in the city means, for sure. I also think it helped me focus more on studying and my artwork after it. I think it aged me!"
It's easy to look at his life now and think "man, Mark Trostle has it MADE." He has an awesome family with his wife, Debbie, twin boys, Ethan and Gavin, and his parents with whom he is very close. He owns a killer house north of Detroit with a big garage and the infamous barn (we will get to that later), and a fleet of vehicles that aren't just cool, but that came from the design studio where he's in charge! A new Durango R/T, widebody Hellcat Challenger, a Dodge Challenger SRT Demon and the first 2017 Viper built. Quite a stable. But that kind of success doesn't just happen. There were years of studying, of working long hours and enduring some of the darkest days the auto industry, Chrysler in particular, has ever see.
So let's step back.
Finishing School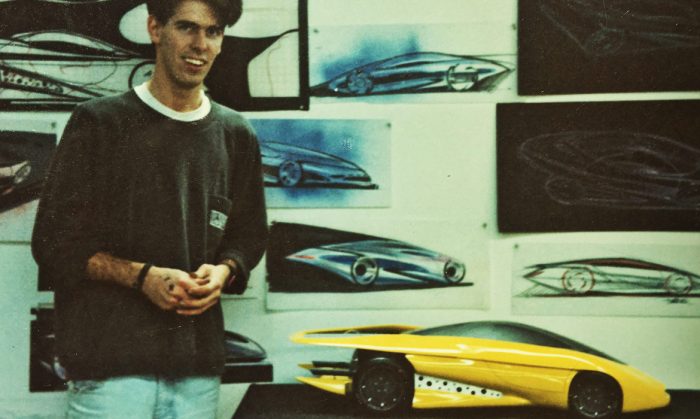 A big part of the CCS experience is the summer internships. After spending his first summer at ASC, Mark made it through a nerve-filled interview with GM's executive director of design, and overall second in command, Jerry Palmer. He passed muster to land a full-time internship in the GM design studio between his sophomore and junior years, which was a "pretty big deal" for a second year student. There, he worked for Tom Peters, with whom he still has a friendship. At that time, Tom held the same position at General Motors as Mark now holds at Dodge. There was a lot to glean that summer from being in an environment around professional sculptors and engineers. Even just the competition from another intern out of Pasadena's ArtCenter College of Design imprinted on him the importance of keeping an edge.
The next summer's internship would prove to be ground zero for Mark's professional career.
The project he worked on was for the American Iron and Steel Institute, and it was sponsored by Chrysler.
"That's when I started falling in love with Chrysler," Mark recalls. "Just like those people John Herlitz and Tom Gale, they were a different breed of person, you know? They were car guys, just to the bone."
Upon graduating in 1992, he was heading out into a cold job market. The United States was recovering from a recession and many companies issued a hiring freeze. GM was among them, yet they still offered Mark a job at their Opel brand.
Then, in 1989, the Dodge Viper concept debuted; and in 1992, it was going into production. That car, and his experiences with guys like Gale, left an impression on Mark.
"I thought, this is the place to be!" says Mark. "What do I have to do to get there?"
As fate would have it, Mark wasn't the only CCS class of '92 graduate who felt this way. That was the year when both he and classmate Ralph Gilles, current FCA Global Head of Design, started their journey at Chrysler. It has been an ongoing, epic adventure that has seen many peaks and valleys over the past 25+ years.
Roller Coaster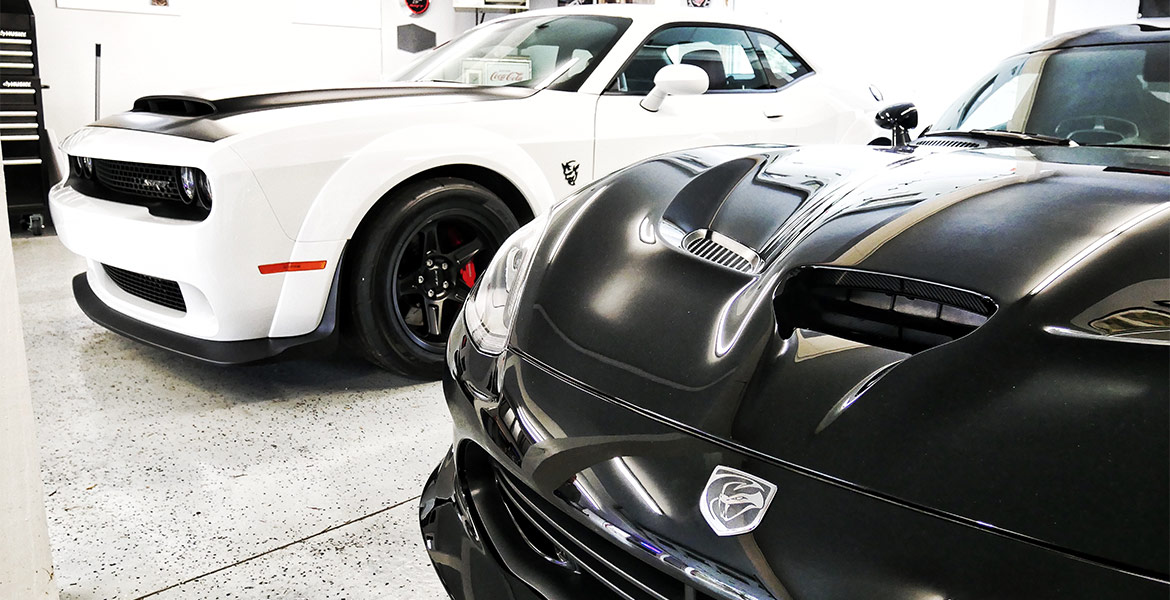 They've had the very uncommon opportunity to be key parts of a number of transcendent vehicles, ones that would keep the company alive during the bad times and create a foundation for success in the good times.
"I've ridden so many roller coaster rides at Chrysler, and arguably right now is the best I ever experienced," says Mark. "With Daimler and then Cerberus, it was low, but right now these are the best, best days and it's because of the people, the right mix of people doing things.
"We've always been the underdog, you know, we've always been the scrappy ones, we're always lean, we're always efficient…"
He's speaking, of course, of having to do more with less. After the "merger" with Daimler, they just weren't given the resources that most other large car manufacturers were afforded. Despite that, there was a Chrysler sedan introduced at the time which would revolutionize automotive styling.
"I remember seeing the 300 sitting in Ralph's studio and thinking, whoa this thing is crazy!" Mark recalls. "Then, I had the chance to drive it for the first time and thought, this is awesome! The beltline was so cool and kind of recessed into the body side versus this thing that was just kind of clunked on there. The DLO, the side glass is a little smaller…"
The giant wheels were the first thing that came to my mind when Mark reminisced about seeing the 300 for the first time. If you remember, at this time, 17-inch wheels were considered kind of big. Then Chrysler took things up a notch and made 20s available, right from the factory, on something that was drawn to look right wearing them. The entire feel of the car – the stance, the grill, the profile – it resonated with both enthusiasts and the guys and girls on the street who just wanted something that turned heads. Pretty soon, the 300 was everywhere, from movies to rap videos, becoming the surprise bellwether for American sedans.
"It just had this attitude," Mark continued, "and the car was a huge success."
He mentioned execs like Tom Gale, Trevor Creed and Francois Castaing, who were involved in bringing the 300 to light. In the same breath, he brought up Bob Lutz, who had long since left the company by that time, but was likewise instrumental in "setting in motion" the people who made everything click.
"They understood the importance of the business, but also that it was a car" in the sense that it needed its own personality.
"To me, it's one of those things that have always made Chrysler special," Mark continues. "I mean, they came up with the minivan; it was this groundbreaking thing and we still rock at it! Even the Magnum was groundbreaking, although I think the Magnum was ahead of its time. The Challenger came out in 2008, and it's still evolving, still capturing people's imagination. I think that says a lot about the importance of timeless design, if you get it right and you evolve it. Porsche with the 911 and Jeep® with the Wrangler are perfect examples; they stay relevant, and I think maybe the Challenger kind of falls into that.
"Cars that have a soul, you can't just will a car to have a soul; to me, it has to be there from the inception all the way through.
"The Charger is another one, it's a 4-door car that goes over 200 mph or you can get it in a V6, there's this whole spectrum, and the car looks like nothing else on the road. I think people like it for that."
Form and Function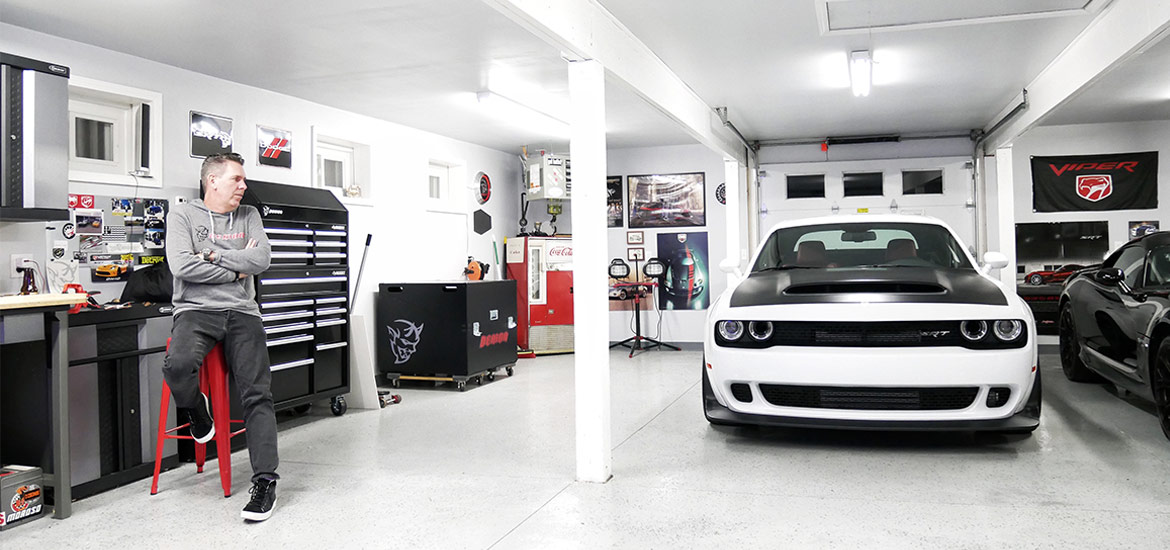 Too often in the modern world, we see ultra-specialization and compartmentalization within the industry, but crossing over between design and engineering is something ingrained in the culture at FCA. Mark referred back to when he first hired in and watching execs like Gale and Herlitz move back and forth, each feeding off the other to build things that would shine in both form and function. This kind of paradigm would play a gigantic role in shaping how Mark and his associates look at product development. It's a practice that, in my opinion, is the bedrock of what FCA is today.
In so many large car companies, the relationship between engineering and design runs the risk of becoming antagonistic, even to the point where one side is trying to "get one over" on the other. That doesn't seem to be the case here. Mark rattled off a list of his buddies at SRT on both sides of the coin.
"They're my friends. They're not adversarial, it's not like 'oh, those engineering guys, I can't stand them!' I respect them and I think they respect what I'm trying to do as well, and I think that's what gives us the ability to make things like the ACR that are not only functional but they look cool. I'd be a horrible engineer, right, because I'd make everything just have form, but it's the balance of the form and function, and that mutual respect.
"I look forward to that part of my job," says Mark. "I look forward to trying to find time to go to the wind tunnel and see what's going on; those are some of the coolest times! When I'm there late at night trying to solve something by moving different things mere millimeters, trying to get the right downforce between the front and the rear.
"It's that science, and I like that piece of it, on top of making it look cool."
Making it look cool takes on different shapes depending on the designer and the studio. As the lead at Dodge and SRT, Mark's look is very distinctive.
"From a brand standpoint, I think it's my job to make it very clear what brand imagery is and each design head has their own design philosophy. It's important to have a very strong design formula.
"Ralph likes to tell me 'every car that comes out of your studio is angry.'"
Angry in muscle car design is a good thing. Like the mad SRT Demon's gigantic hood scoop, which Mark likes to say is a middle finger to the competition.
"All of my designers, like Ren (Stone) and Nicho (Vardis) have some of that in them, too. We're probably all alike a little bit.
"If I think about it – each designer has a style. Some people are very tight, everything is thought out perfect. It's still a beautiful piece of art, but it's like 'OK, yeah, it's all there.' But then I think back to my sketches, my sketch work was very empathic, it was emotional, it was the gesture, like I wanted to look at it and be like 'oh, that's cool.' You can probably read into it a little bit, but you don't solve everything, you leave a little bit to the imagination." Then, pointing to his SRT Demon and Viper, Mark continues, "And I think that emotion goes into both of those cars, right? The emotion is still there, even though both cars are very defined now.
"My goal is to design cars that when you get out of them to walk away, you look back at them. It's that emotional connection to a car that is so important to me.
"I don't go home and turn it off. I live it and that, I believe, is what comes through in our products. And I think that's so important when creating something for the future; that I believe in it because I live it, and I do it, and I dream about it. That versus 'I'm gonna create a product that I think people will like based on my research.'
"You can research something and people will say they like this thing or that thing, then you erase one part or another based on that. But design falls apart when you start pulling elements off of it. It comes back to truly having a connection to a creation and sticking to it; it makes it pure. And we don't just go out and research everything we do, we go a lot off of our gut."
As an artist or a designer, it's not necessarily your job to predict what people will like. It's also influencing, or even creating what the big thing is. Having confidence in what you do is a huge part of that, and that confidence comes from who you are, what you've become through both your successes and your failures. In Mark's case, who he is affects millions.
"You have to have conviction to know that 'this is what I truly believe" because we work in the future," says Mark. "This is what people are going to be excited about, and I believe it."
Stay tuned to DodgeGarage.com for the final installation of "Serendipity" coming soon!
Comments
Comments
Previous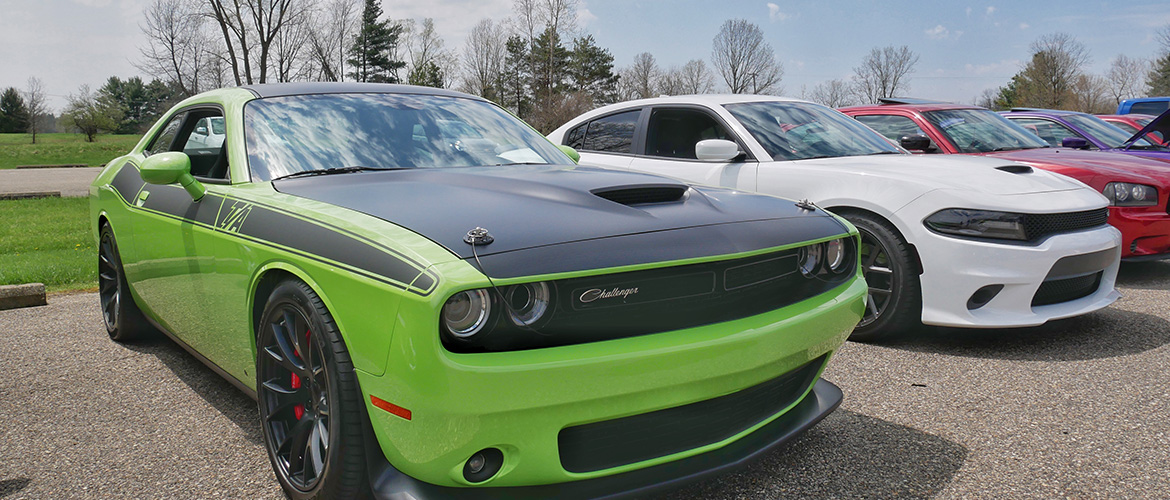 Next