Catapulting Creativity – Part 2
5 years ago Owners + Clubs
While early on Jeff Gale kinda figured that his life would probably revolve around art in one way or another, in high school and college, he challenged the idea that a career in automotive design was a forgone conclusion. He wasn't going to go into that specific field just because that's what his dad did, or because he was a designer from Detroit. Jeff was going to find his passion. His parents stood behind him, and even while in college with some instructors who sort of tried to steer car projects into his wheelhouse, Jeff kept an open mind about the future. In the first piece, we were just working up through his first internships while at the University of Cincinnati, including a rad stint making toys at Kenner!
The thing about exploring all your options is it feels that much more certain when you finally make your choice. Building little penguins with rocket launchers to fight Batman was fun, but eventually, the siren song of the automotive world was just too enticing to fight.
"So the next internship I had was in the automotive field at what was then called Prince Corporation, which is now JCI over in Holland, Michigan," Jeff said.
JCI is a supplier that, at the time, had projects with General Motors and Chrysler. While their focus was on interiors, their Advanced Studio worked on exterior jobs, too.
"I worked in the Advanced Studio there for a guy named Dale. I learned an immense amount from him. He had little tree stumps for fingers and a super firm handshake; he was a great guy, very supportive of whatever avenue I wanted to take, and a great guy to work for. He taught me a lot about rendering skills, a lot about automotive and car design, and that's when it really bit me. Every project in school from that point forward I would somehow twist, turn, bend into a car project," Jeff recalled.
"Every internship after that was in automotive."
One of those internships was for a company that might sound familiar if you read my last series on Dodge and SRT® head of design Mark Trostle.
"I landed at American Sunroof Corporation down in Southgate (MI)," Jeff said. "Mark Trostle, Sr. ran the office there and a guy named Chris Ito was the working manager there."
Many of the weekends during that time were spent hanging out with 20-something interns and designers from the Big 3.
"I had another friend of mine from school who was up here (in Detroit) interning at Chrysler and that would have been the time I met Mark Trostle, Jr. So I got to know some of the guys from Chrysler, which was really cool. Automotive design is a fairly tight-knit community, especially with a lot of designers being in Detroit.
"That was a lot of fun.
"The next quarter after that – this was big time – I landed an internship with Chrysler. They had us (the interns) in an office down on Stephenson Highway around 12 Mile. At the time, they didn't have interns within the Tech Center. The Tech Center was newly opened; it was a security thing and they didn't allow us in the building."
Soooo . . . you're a young college kid working a killer design internship with Chrysler. But you can't get into the building where, ya know, the cars are designed? Turns out it wasn't a half bad situation.
"We had a group of 7 of us along with a Chrysler designer, Julie Gendleman Dorn (who has since passed away in a tragic accident), who was with us the whole time and taught us all kinds of things. She was super sweet and her husband was a designer at GM. She was a great person and a great mentor for a college kid trying to figure out car design, even just down to how to put out sketches in the right views that will help sell your idea. She was very patient with us, because you had 7 college-age car designers all in a small room with one person who's an actual employee. We had a great time, had a lot of fun together!"
Getting to know the players in the game, so you yourself can get into the game, is often as important as the skills learned through these college/work programs. One of the things that struck me in our conversation is the impact certain industry veterans, like Dale or Julie, had on Jeff. Heck, some of them still impact his life. During this time period, in 1993, Jeff even interns with Mark Allen, who today is Jeep®'s head of design.
As his University of Cincy days were quickly coming to a close, Jeff had a diverse enough catalogue of work to where he had two separate portfolios. And there was another cool non-car project in store for him before he graduated.
"That winter, I went out to Los Angeles for my last internship with Design Works USA, where the BMW advanced design studio is," Jeff said. "I hired in with the expectation that I would be in the automotive studio. But I wound up doing product design while I was there.
"At that time – I'm not exactly sure how they operate now – they had two separate studios – the industrial design studio and the BMW advanced studio. They were separate. Each had designers, modelers, engineering staff, so they both had the whole team. They were basically a consultant design company which happened to house BMW advanced design studio there, too."
I remember the first time I saw my wife, Darla, and it was before we'd actually met. It was late 1996, and being a country boy, I was stunned to see a girl walking around with a mobile phone! Up until then, I figured cell phones were used exclusively by coke dealers and business moguls. I give you this otherwise unrelated story for context, as a couple years earlier, Jeff was already working on the future.
"I remember having projects there (at Design Works USA) on Nokia as they were developing cellular phones. I was doing little models of cellular phones." When Jeff says that last line, all I can imagine are squirrels running around with tiny mobile phones. I digress.
"As a designer, you put up as many possibilities and concepts that you can think of, you narrow it down through the process, you put it up on a wall or lay a whole bunch of sketches out on a desk, then maybe pick a couple to refine. I think the design process is fairly similar just about anywhere you go. Start broad, narrow it down and then, ultimately, you show those ideas to someone who makes a choice, and that's what you proceed with in the final development.
"Being an automotive guy at University of Cincinnati wasn't something that was very common, and I think if you asked many of the professors there, it was somewhat frowned upon. If you wanted to be a car designer, you would go to Center for Creative Studies or Art Center. So I had my projects there that were product design related and then there were always the car internships, and I was always trying to twist and turn my problem statements into something else. That drove a couple of professors crazy, but I got through it fairly well, I think. Loved the school down there and learned an immense amount and wouldn't trade it for anything."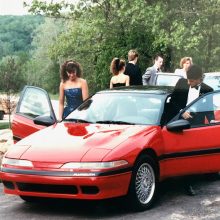 Now let's back up a couple of years to Jeff's high school days and his first car. Personally, as a 40-year-old dude, it's bonkers to think a new car from my childhood could now be considered a classic, but that's what a 2.5L turbo Dodge Daytona with a 5-speed is. 30 years ago, that car was cutting edge! I remember lusting after a used one a friend bought in high school in '94, but Jeff had a brand-new one years before that. "Having a Chrysler exec for a dad, I was spoiled," he said.
"Dad was pretty angry, however, that I burned all 4 tires 'til they were pretty much bald by 9,000 miles. I think he got over it eventually, but he was mad he had to replace tires before turning in the company lease.
"Having that as your first car, especially with the manual, kind of spoils you. Dodge was in my blood from an early age."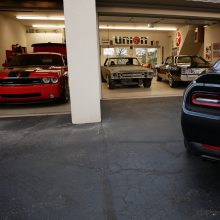 Our conversation is happening in one of his garages among a trio of Mopar® monsters: a 6-speed 2008 SRT8® Dodge Challenger, a work-in-progress widebody restomod '67 Dodge Dart GT and a 1970 Plymouth Roadrunner. My iPhone is propped up on the back of the scuffed-up Dart to record the talk.
Driving is one thing, but wrenching and fabricating are something else. While at UC, Jeff's dad and brother went to Wisconsin to buy a yellow 1970 'Cuda AAR. "I was excited about it, but it wasn't a thing where I had to go home to see it.
"I've become, as you can see looking around here, a huge car nut. I wasn't a huge car nut growing up, although I was into RC cars and Matchboxes like I think many teenage kids were. The idea of how they worked was fascinating; I was even modifying my RC cars. Different electric motors, different tires, I even built a chassis for one of them. So that bug of modifying, building and doing something different to a "stock" thing had been there early on, but I had no idea what it would turn into.
"The reason I started to wrench on cars was because I wanted to see how they work. As you go through design school, there are some general engineering courses, materials and processes classes that you take as a student. But they aren't super in-depth, there's nothing that goes deep into engineering for a design student. Maybe there is now – but when I was at UC, that wasn't there."
At one of his jobs before Chrysler, Jeff overheard a conversation that kind of set him off. He was running late and as he was arriving, a couple of engineers were talking a little bit too loudly, unaware he was there.
"Who are we waiting for?" one engineer asked.
"A guy from the design office," the other replied.
"Alright," the first engineer said, "we'll hear him out and get along with the process."
The vibe was that they couldn't care less about what Jeff and the designers were bringing to the table, they were gonna plow ahead in whatever direction they were already going anyhow. Jeff walked in and it was obvious he'd caught them off guard. Not only was this not a place he wanted to continue his career at, but he wanted to know why they didn't care about anything other than what was in their engineering bubble.
"It kind of left a mark," Jeff said. "People who don't understand design and what it can do . . ."
Jeff didn't want to be "that guy" on the other side of things.
"That simple statement left me wanting to learn more (about engineering and the mechanical nature of vehicles) from that point forward. I thought 'alright, I'm gonna do this.' I went out and bought a toolbox, a tool set, grabbed a jack, and started wrenching on my winter beater, a Honda CRX. I replaced the exhaust, then found the aftermarket world! Modding a car is like a drug, and I was hooked!"
I laughed, "Yeah, the exhaust and cold air intake are always the gateway drugs."
I wondered out loud if falling into the busted-knuckle garage life is an occupational hazard. Jeff says not necessarily.
"The path to 'how' is a different one for most people," he told me. "I don't think it's common throughout the design industry, I think it's just about being an enthusiast. The vehicle offers freedom, you can tinker on them, talk to other people about them. Now, I still enjoy wrenching, the gratification of doing something myself. It's therapeutic in a way."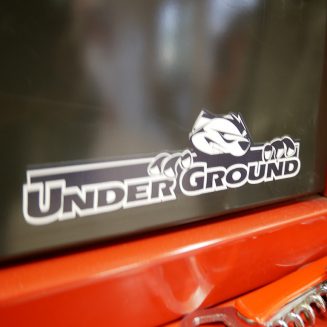 Getting his hands dirty ended up helping Jeff out in other ways, too. Some of the dopest work he's done at Chrysler has been through the Mopar Underground "skunkworks" type program designing one-off customs and concepts for events ranging from the SEMA Show to Targa Newfoundland, and that started during his time at GM when he was put on one of their SEMA builds. As a car designer, or engineer, who is a car geek as well, these types of projects are what keep that fire in your soul burning hot.
While he enjoyed his time at General Motors and got to work with some cool people on some cool projects (he was also on the Corvette program at one point), a few years into his professional career, Jeff came to a realization: "Being a designer at a large car company, at least at that company at the time, design wasn't exactly something that was at the forefront of the production process, or selling a vehicle, or the whole length of what it takes to develop a vehicle. Design is at the beginning stages of that." And it was sort of left there.
Detroit wasn't exactly churning out the most exciting designs for production in the mid '90s, nor was much of the industry interested in melding form and function the way it is today. Designers were left looking back fondly at their first few sexy sketches while wondering what could have been had bean counters not gotten in the way. In all honesty, there just wasn't the focus on design from the general public in those days, either.
"The idea of automotive design – Chrysler was paving a pretty big path at the time with all the concept cars being developed and how they were changing the look of their vehicles after the K cars," Jeff said.
This, the idea that design is as important at the finish line as it was in the staging lanes, was one of the things that attracted Jeff to Chrysler in 2000.
The pull of racecars, muscle cars, family and the last 2 decades at FCA, next time!
Comments
Comments