Viper Obsession
5 years ago Owners + Clubs
The Dodge Viper is the car that made me a Mopar® man. Before I dive into this car, a little backstory on me and my fascination with the Viper. I was a young buck, still in school when the car was launched back in 1991. When the GTS model dropped a few years later, I thought that it was the most insane car I'd ever seen.
Here in Minnesota – with the freshly built largest mall in the United States, aptly named Mall of America – Chrysler Corp wanted in on that insane foot traffic this "mega mall" was producing. They opened a store called Great Cars Great Trucks (which was also the corporate tagline for a few years). The store was run by Chrysler's marketing firm and had 8-10 new cars, plus a concept car. The concept car was placed right at the entrance of the store, to draw you in. You could get as close as about five feet from the cars, which for me wasn't enough. After asking a million questions to the manager (didn't know he was the manager at the time) and showing that I knew quite a bit about most of the cars that were there, he asked if I wanted to work there.
For a few years in high school and in college, I was a young Mopar guru. I would take all the same training as sales and passed with flying colors. For taking the training, we were awarded little pins to wear on our work shirts. I couldn't fit all of mine on my shirt, and looking back, that was so damn dorky, so I'm very happy no photographs have surfaced. One of the highlights of the job was working the Viper station. Being the doorman to let people climb into the car to see what this crazy car was all about was the highlight of this amazing job. Being this close to the Viper day in and day out, you'd think I would have grown tired of it but no, it only further flamed my passion for the car.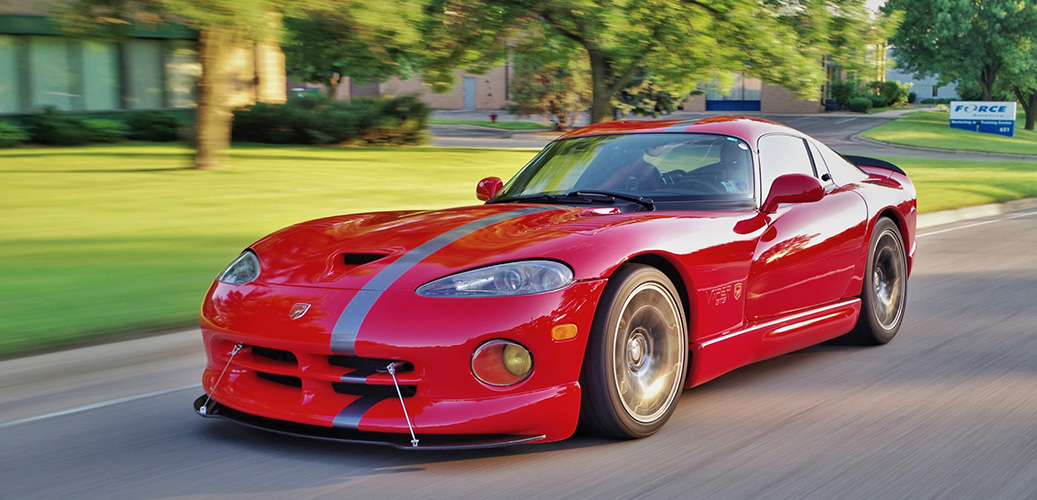 Fast-forward 21 years, and this Viper still looks as amazing and beautiful as they day I first got up close with one. Jeff, a friend of mine, purchased this 1997 Dodge Viper GTS five years ago and has slowly been making it his.
He has transformed the exterior of this hot 21-year-old with the help of hyper-black Sidewinder II wheels from a GenV Viper, front splitter and spoiler from Autoform, a diffuser from King Snake and the offset graphite stripe. Really, the only hint of the true age of this American exotic are the lights. Even the interior got a refresh, thanks to Top Stitch Auto Upholstery which upped the comfort and look of the seats themselves.
You see, this is no garage queen; this car is driven like all Vipers should be. In the five years of ownership, Jeff has racked up 22,000 miles, just passing the 70,000-mile mark. As a member of the Minnesota Viper Owners Association, Jeff has taken the car on cruises of all lengths, and even some private track rental events like the recently held Viper Rendezvous IX at Motorsport Park Hastings in Hastings, Nebraska. The event is 2.5 days of pure track fun. Next year, I may need to drive down there and check it out in person.
Since Jeff recently installed the aero parts on his car, I felt it was only fitting to get a proper photoshoot in. I called up Jeff and we picked a meeting spot atop a parking ramp – a location I've shot at before and really dig as it's the highest structure around, giving you some very nice views and a pretty clean background for photos.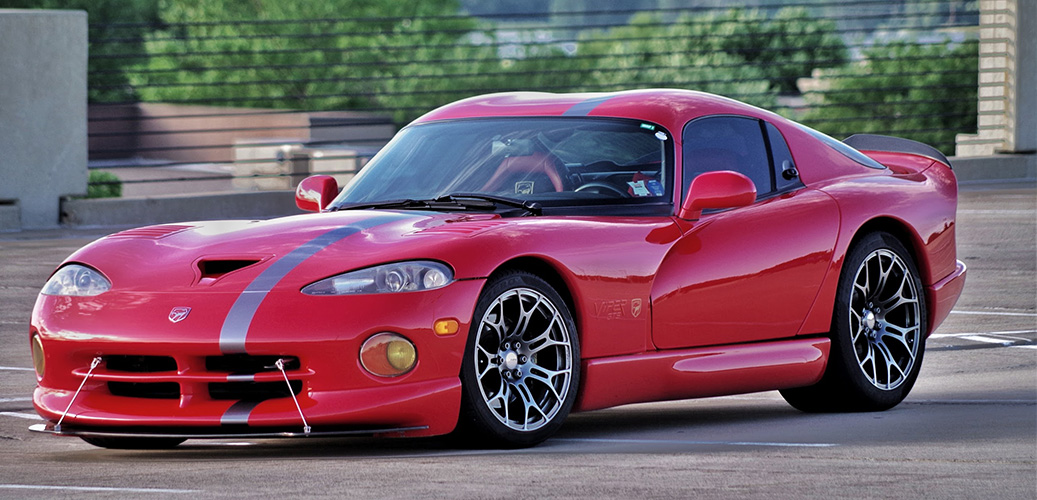 As Jeff rolled up to the roof, he proved that he was no stranger to the power of that rumbling V10, and quickly showed how he could back into a spot using a 180° turn with a blip of the throttle. 😉 Did I capture this with my camera? Of course not!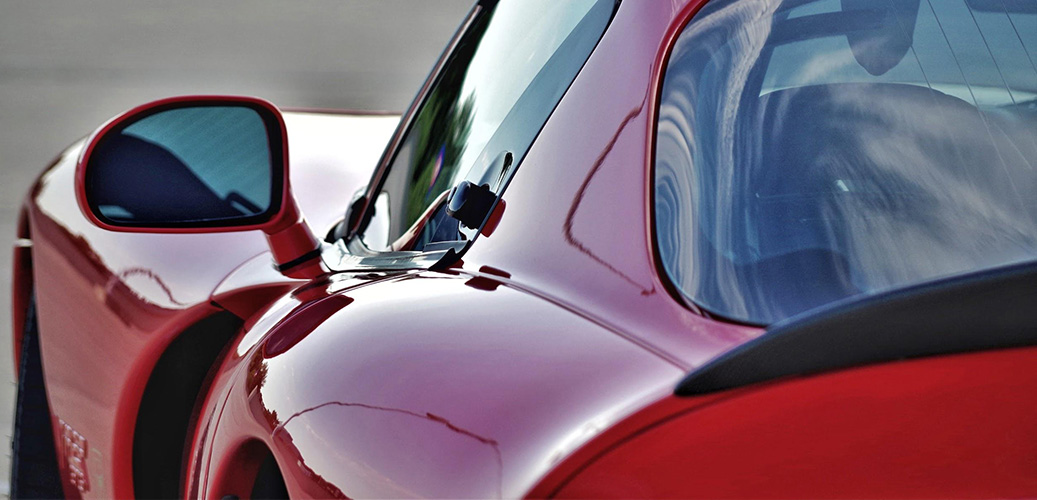 We moved on to get some rollers before we completely lost the sun, then stopped by an asphalt plant, because what's the point of doing photos without some grit to them? Like most of the photoshoots I do, it wouldn't be complete without someone telling us to get lost. Although this time, I didn't get any pics from the location. I was just doing a quick scout (making sure the road was safe for the Viper) when we were told to take a hike.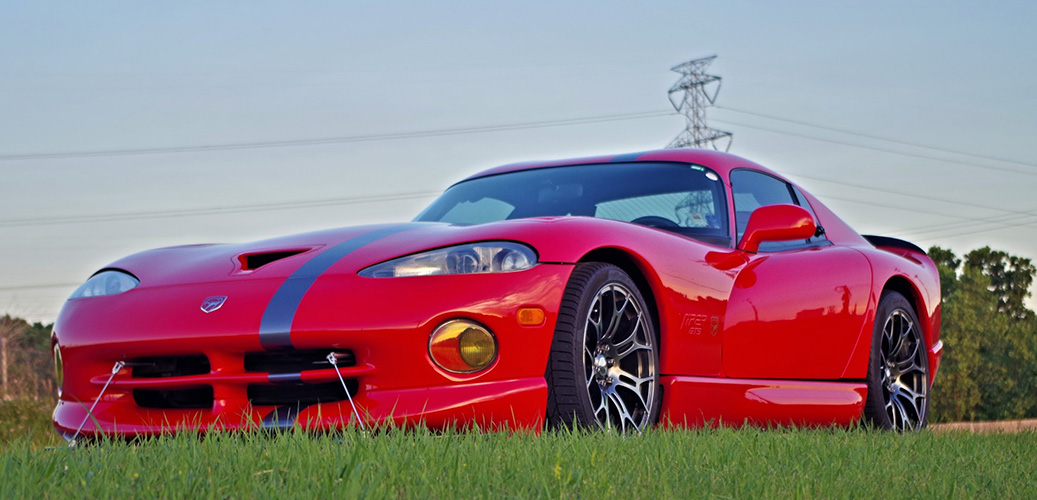 Taking photos of any Viper never gets old and only fuels my desire to own one some day. This car takes me back to a fun time in my life when I got to introduce the public to this crazy car.
Comments
Comments