Catapulting Creativity – Part 3
5 years ago Owners + Clubs
One of the qualities of an "enthusiast's car" is authenticity. From hard core track bits like the Viper ACR's brake ducts and X-wing to the hollowed-out Air-Catcher headlamp that sucks air into the air intake of the SRT® Hellcat, the Dodge Challenger SRT Demon and the 1320, when engineers and designers can tag team a problem to come up with a functional, elegant solution, it almost always stems from their own experiences on the track. So much of that car's authenticity is directly correlated with the authenticity of the men and women building it.

With the type of work Jeff Gale has put in on performance vehicles, both one-off concepts and production cars, it's not exactly a shocker that he has a background in racing. It started innocently enough, as do most addictions. A little taste, a simple autocross, was all it took. Long story short, the track events became more involved, the cars became quicker, and, well…
"So racing started to consume your life?" I asked.
"Oh god yeah, totally!" Jeff replied. "So it was what can you do to modify a past or save enough money to buy a suspension or coilovers or an exhaust or a cam or something, you know, to make the car go faster?"
He was working at GM at the time while auto-crossing his winter beater, a red 1990 Honda CR-X Si. As fate would have it, one of Jeff's autocross buddies introduced him to his roommate, none other than Ralph Gilles. Ralph told them about all the track events coming up and soon the sickness had spread to include road racing.
"Autocross is fun. It teaches you how to be smooth, how to get on and off power. But a road course, that's the ultimate. You can go as fast as you want and really learn about your abilities and car control."
A 5-speed 2.4L 1997 Chevy Cavalier Z24 was his daily driver, canvas and racecar. "Don't laugh!", he tells me, as I laugh. Jeff had done enough to it, though, that people often would ask him what kind of car it was! Not many folks were modding Cavs with springs, big wheels and exhaust, and de-badging kept it clean.
After a season of tracking the Z24, Jeff bought a dedicated track car. Much to his dad's chagrin, Jeff's weapon of choice was another imported Honda, but those old Civics made for relatively cheap thrills on the track.

"I really got into the track events pretty enthusiastically and wound up building a car for it. I bought a 1994 Civic hatchback. I knew I was going to swap the motor over to a twin cam motor, and in the end, wound up with a car that had everything to a fully adjustable suspension. Adjustable tow, camber, front and rear; I was able to set the ride height via the lightweight coilovers, they were valved for track use."
Add that to race tires on lightweight wheels and bigger brakes and everything on the car made it either "handle better, go faster, or stop more quickly."
As Frank the Tank so aptly put in the classic movie Old School, "She wasn't exactly street legal."
"I drove it on the street, 'cause it was a lot of fun; it was noisy, loud and caused kind of a ruckus and whatnot. In the end, I had a chromoly roll cage in the car, a couple of red Sparco race seats and some harness belts in it."
The racecar was all business, but "pretty stealthy." It was built to corner, yet remain capable in a straight line, putting down mid-12-second passes in the ¼ mile! That was doing something in the late '90s.
"It was bigger than just that car; it was about me as a designer learning how stuff works! How does a car work, what does a suspension do, what can you do to a suspension to make it handle one way versus another, or go faster? It was a huge learning tool for me, albeit very expensive, but just doing that 'wrenching on the car' thing to me was fun and maybe at some points a stress relief."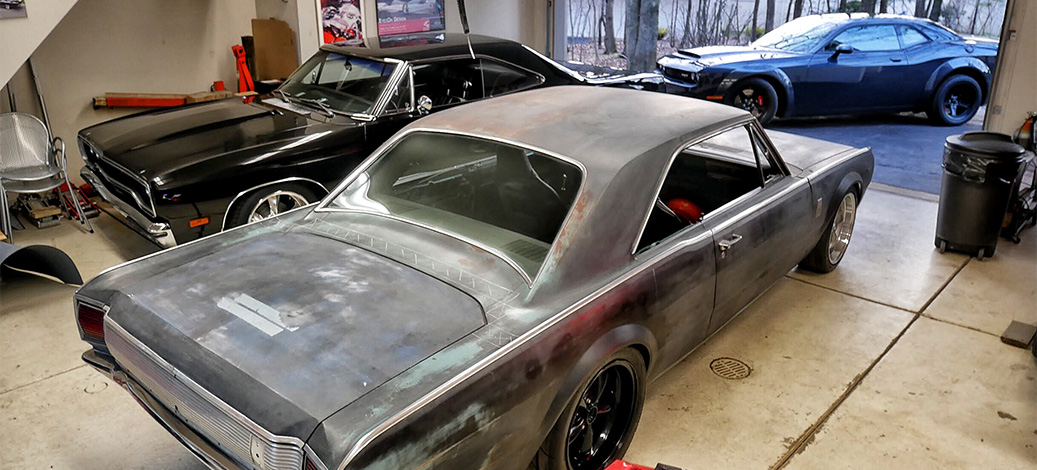 He nods to his shop space and the work in progress Dart, "So here I am in this garage now."
Jeff might still be wrenching and building, but his racing days came to an abrupt end, because family always comes first.
Jeff met his wife Riva on a blind date in the late '90s. They clicked right away and got married in 2002.
Currently, Jeff is Chief Designer for Dodge and SRT Interior Design, and his wife's experience has been very helpful in him becoming comfortable in the new role:
"Riva was driven and had her own career," Jeff says, referring to before they were married. "She graduated from Wayne State with a fashion design degree, but wound up working in automotive, being in Detroit, as a harmony in craftsmanship engineer. So being in interiors right now, this is good for me."
Going back in time again to when they started a family, Jeff found himself faced with the question of mortality asked by, of all people, his dad.
"Riva was pregnant with Sophia when I gave my dad a ride around the racetrack, and he was pretty dumbfounded at how fast I could go around the track. So here I am talking about going faster and getting wider tires and he seemed a little nervous about that. He said, 'What about that wall at the end there, what happens if you get hurt? What happens to Riva and the baby?' So that was like the nail in the coffin."
My reaction was one of laughter: "That's hilarious coming from the guy (Tom Gale) who designed the car that everyone calls a killer on the track, the Viper, and it being such a wild car, saying, 'you probably shouldn't race anymore.' Kind of ironic!"
Jeff stopped racing, but has zero regrets. "Racing was expensive. I was able to save more money for the kids, and we wound up with 3 beautiful girls now (in addition to the oldest, Sophia, Riva and Jeff have twin girls: Lily and Lauren). I'm blessed in that I've done well enough in my career to do the things I do, I guess I'm really lucky in that way."
Back to that career. In the year 2000, Jeff received a call from Mark Allen, who was a design manager for Jeep® at the time (Mark has been the head of design for Jeep now since 2009).
"You kinda gotta know Mark. He's a straight-to-the-point kind of guy," Jeff says.
Mark: "Hey. How ya doin'?"
Jeff: "Pretty good."
Mark: "What are you up to?"
Jeff: "Just finishing up this project."
Mark: "Oh, that's cool. Wanna come work for us?"
"I ended up having an interview that weekend and started working there in a couple of weeks," Jeff recalls.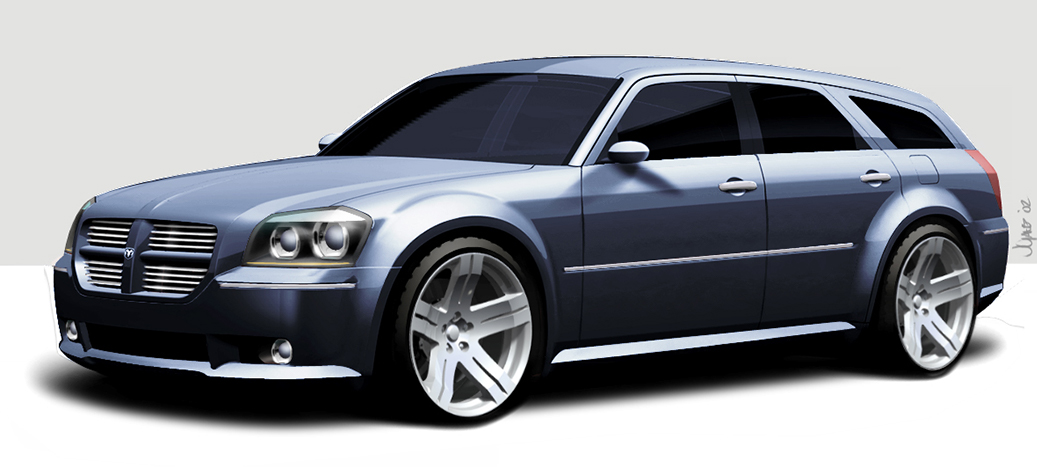 Since then, Jeff has been involved with a bunch of crazy, cool and influential vehicles. He worked exterior design on the first Charger and Magnum built on the LX platform and all 3 of the first SRT8® cars. He was an exterior designer and manager on one of my favorite concepts, the 2009 Challenger 1320, which obviously has spawned not only the 2018 Dodge Challenger SRT Demon, but also the '19 R/T Scat Pack 1320 Challenger just unveiled. Those are just a few of the many projects Jeff had a hand in shaping.
In light of that, I asked Jeff what was the wildest car he has designed. The historical context AND the story to go with it are definitely bonkers.
"The Magnum was a lot of fun, being able to do that and the SRT8 concept idea for it was really cool and that's where the whole SRT thing kind of gelled," Jeff said. "They wanted to do this concept vehicle, just to get the public's reaction and get an idea of who might be looking for this type of car. Despite being relatively new to Chrysler, they let me do this concept. What was really cool was that I proposed, you know, doing flares and wider wheels and tires and getting the stance right and lowering it down on the big wheels. It was the way I would have built it. I threw it on the wall and that's what we built!"
That SRT8 Magnum was basically the precursor to today's widebody Challengers. All the aggressive details Jeff put into that car, like the flares, the meaty tires, the lowered suspension and big wheels, are what give the SRT Demon and the widebody SRT Hellcats and Scat Pack such a mean look.
That Magnum concept, however, nearly never made it to Detroit.
"The concept vehicle was built at Metalcrafters out in California, which, at the time, was who had built many of our concept vehicles. They do a wonderful job and they knew how to do it, they knew our process, and it gelled. We flew back and forth a couple of times to check the progress on the vehicle and to make sure everything was going along, and then we did the final primer buy off. And that's when it got really exciting, they were gonna paint the vehicle and sent us pictures. It was so awesome!
"They actually built two models. So there was a running prototype and then there was another one that was a non-running prototype that didn't have too much of an interior, we call those a 'deck model'. You can kind of see through it, through tinted windows, but there's not anything there, but like a deck just below the beltline, kind of like a model car, the interior is kind of fake, but you can see outlines of the headrests and steering wheel. That one stayed in California and was gonna be on the stand at Los Angeles and one was gonna be at NAIAS, that's when the two auto shows were on top of each other.
"So the running prototype was to come to Detroit, we were gonna unveil it there. And I remember hearing the morning they were gonna do the unveiling that the car wasn't there. The car didn't make it. What had happened was the truck driver, and his wife who was with him, had been in an accident on the way to Detroit. And they wound up dying; it was a big deal and it was really sad. You don't really think about those things very often. I was really excited to see the car there, have it roll on stage, and was just shocked that something like that happened. You switch your hat from being a designer disappointed that your car's not there, to thinking about that couple while realizing that those people are gonna be missed. It was really unfortunate and one of those things you won't forget."
Sitting in the garage, leaning up against the Dodge Dart, I was curious as to how Jeff would round out his collection, and maybe if he'll answer the call of the track as his girls get older.
"So you've got the '70 Roadrunner and the '09 Challenger SRT8 (which I incorrectly called an '08 in the 2nd part of the series), and now the widebody '67 Dart project. Would you build a car for road racing again at this point, or are you pretty much done with that?" I asked.
"This car, the Dart, might be that car." Jeff replied. "There is always the idea out there someday I might have a Viper. Would love to have a Viper, but I keep putting money into these old cars. I don't know, I'm torn, maybe someday, I'll be back at track events every now and then, but would I take a Viper on the track? Not so sure. I toyed around with the idea that this car will be set up in such a way that I think it might be able to go around a race track OK. The suspension will be strong enough, there's a triangulated four-link in the back. I'll probably end up with a roll bar in it just because I think it will fit the car.
"My Dart was very much inspired by the old cars in Trans-Am racing back in the late '60s. I know it wants to be of that era. More or less, it will be a street car, who knows if I'll ever track it."
I brought up the similarities, idea-wise, to last year's SEMA concept car, Shakedown, and how it was kind of a fun exercise into what an early '70s Challenger might look like if it came from today's design studio.
"What's really cool about those projects is that it gives the designers an idea of 'what would you do with that car?'" Jeff said. "If that was your Challenger, you have this new crate motor you could put in it, you know there's a brake that you might want to use, wheels off of a [SRT] Hellcat (all things available through Mopar®). . .what would you do with that car? It gives us that creative outlet, and as enthusiasts, it's like man, I got free reign on this? Awesome!
"I don't want to put out the idea that doing these cars is better than doing our main projects at work, but they are a different avenue, and what's awesome about it is that it shows that we have the passion within our building to do just about anything."
Passion for design, passion for performance and passion for the enthusiast community. Jeff is possessed by The Holy Trinity of Cool Car Creation, and we're all better for it.
Comments
Comments