A Demon for the People
4 years ago Owners + Clubs
Rumors of what eventually was labeled the 2018 Dodge Challenger SRT® Demon circulated for months among the Mopar® community through various social outlets and message boards. At the first official hint from Dodge that something big was on the horizon, Dustin Stewart immediately linked up with his local dealership to make sure he wouldn't be left behind. Little did he know at the time that he would put his currently unnamed future car through more paces than anyone else ever would with theirs.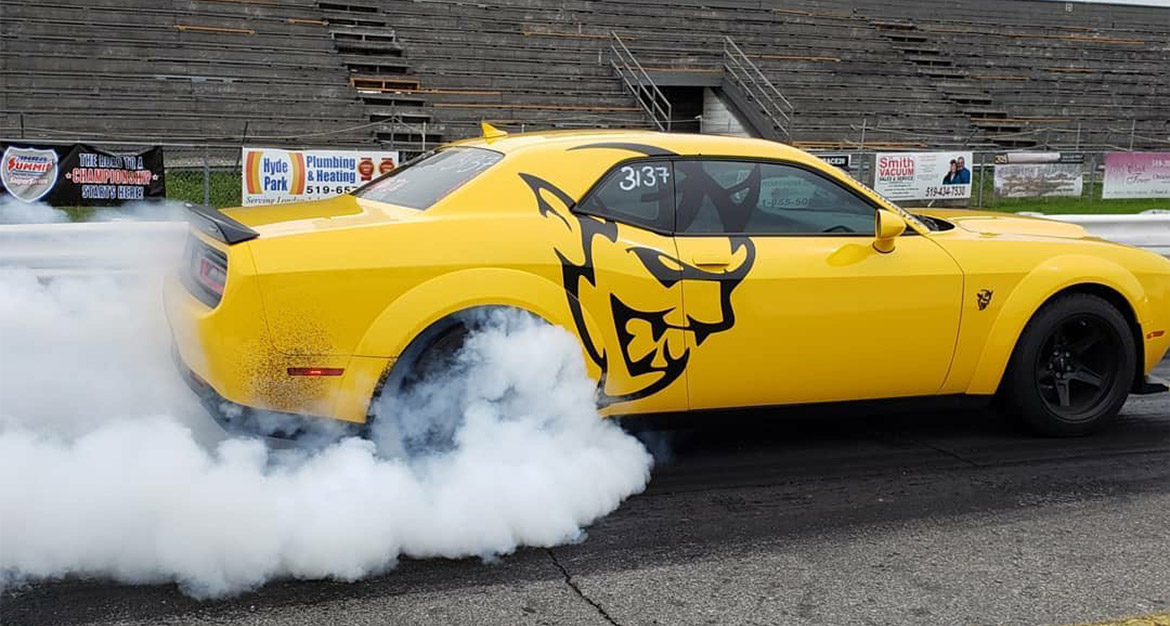 January 16, 2017, was the date Stewart signed up to get his hands on this latest monster from the labs in the basement of the SRT facility. Residing in Waterloo, Ontario, Canada, getting his hands on one of these would prove to be rather difficult. For those who are unaware, only 300 Dodge SRT Demons were produced for sale in the Canadian market. January 16, 2017, was the start of a 17-month wait. I think anyone who owns an SRT Demon can relate to the agony of waiting for something of this caliber to make it to their doorstep. The good news is, Stewart owned a Dodge Challenger SRT Hellcat to fulfill his need for speed while he waited. Like everyone else, Stewart placed his order for his SRT Demon the day order banks opened. Those who knew, "knew" that the car was worth waiting for. Stewart ordered his car with no real intentions of any specific plans for the car other than to just enjoy it as much as humanly possible. He definitely made sure that plan was executed.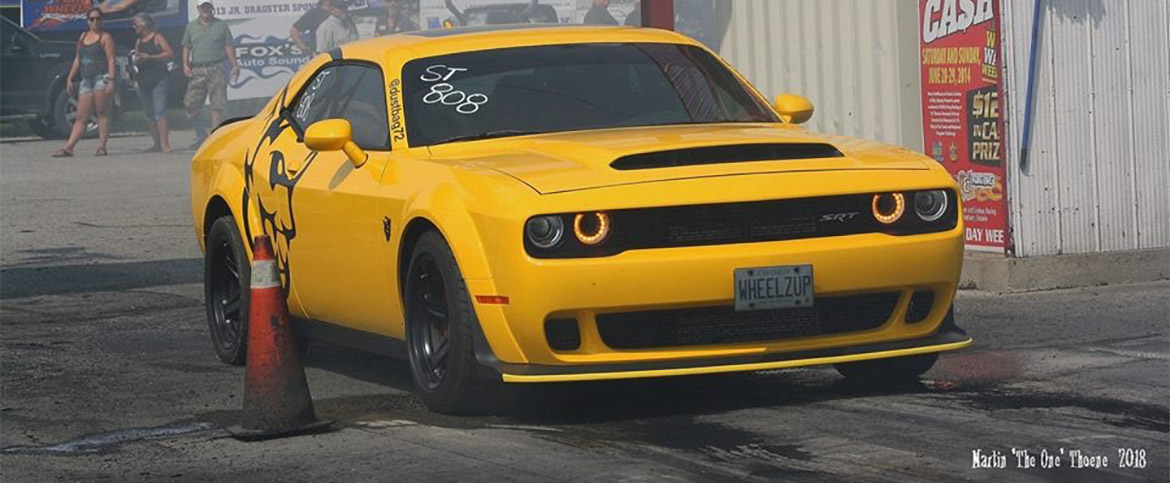 In April 2018, Stewart's car was finally delivered to his dealership in the Great White North of Canada (it's really only a short drive from Buffalo New York, I'm exaggerating a bit). By this time, the hype of the SRT Demon was boiling over in the car community, fueled largely in part from the Mopar community and grassroots infatuation with the car. Everyone knew that some portion of the cars purchased would be tucked away in a garage with no hope of ever seeing a mile put on them. The guy that would buy the car to hold on to it for years, with no use, to have the ultimate collectors car later on down the road. This was never the plan for Stewart's car, but seeing the car in person for the first time, he realized what his mission truly was for this car. This car needed to be seen and experienced by as many people as possible.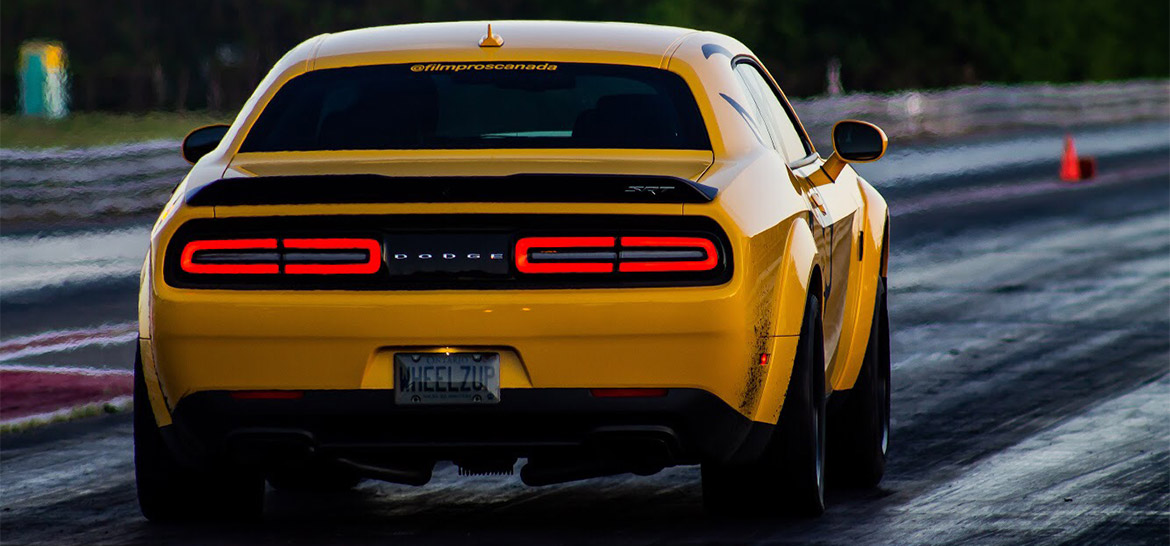 Stewart owned his Dodge SRT Demon for a short seven months. But what he did with it during those seven months is much more than most people. Remember, folks, 3,300 cars built in total, ever, and only 300 for Canada. "I wanted to race the car as much as possible; sometimes I was at the track 3 or 4 times a week," says Stewart. He isn't kidding either. He logged over 450 passes on the drag strip. Ok, not a big deal. Right? That equates to about 112 full miles. Well, there is the fact that when Stewart traded in the car, it had over 12,000 miles on the odometer. TWELVE THOUSAND! That is about average for your typical daily driver in a year. But we are talking about a 1 of 300, limited production, 840 hp street and strip monster. To put it in perspective, his car was 1 of 8 painted in Yellow Jacket sold in Canada. Some owners refuse to put a single mile on their SRT Demon. Some owners refuse to eat or drink in their SRT Demon. Not only did Stewart trade the car in with over 12,000 miles and over 450 passes down the strip, but close to 80 of those runs were with passengers and dozens more with OTHER people driving. He was not afraid to hand the keys over to trusted friends and fellow racers to take the monster down the track themselves. He wanted them to really experience the car firsthand and help spread the SRT Demon love. Knowing that lots of people will never see an SRT Demon in their neck of the woods, Stewart wanted to make sure that any fan of the car that was brave enough to go for a ride down the strip was granted that wish. Hey, isn't it every Mopar owner's birthright to experience the Dodge SRT Demon? I think it is.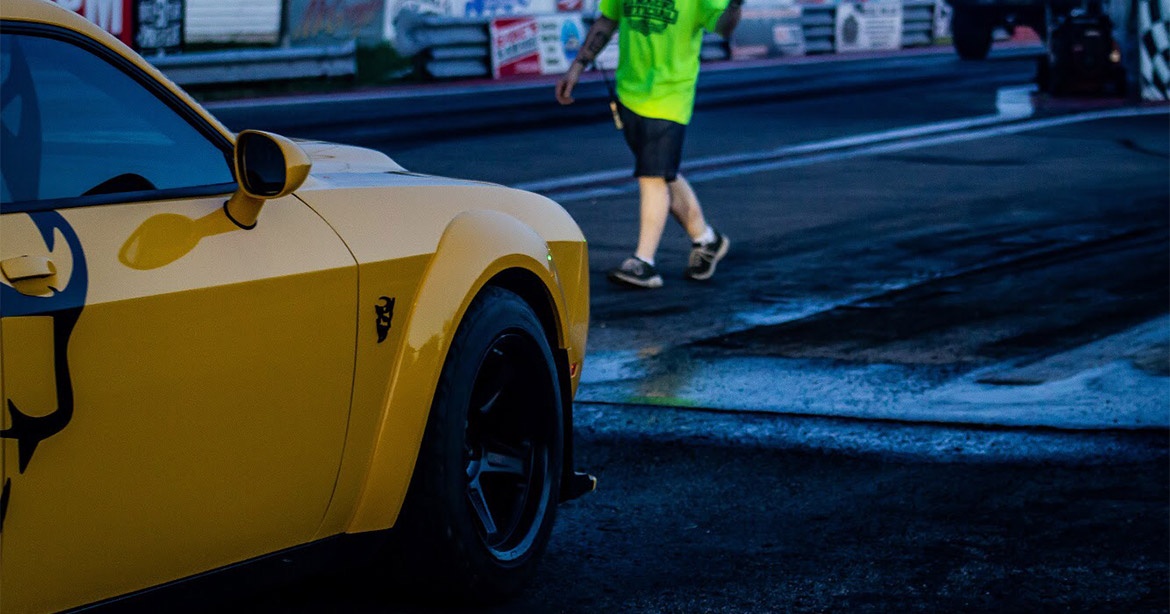 The SRT Demon is much more than a king at the drag strip. Stewart did something a bit controversial with his SRT Demon, as being different from everyone else seems to be his "thing". He handed the keys over to the hosts of an automotive series to take it on a road course to compete against a 2019 BMW M5 AWD head-to-head. Many SRT Hellcat and SRT Demon owners already know that these cars are much more than a one-trick pony on the drag strip, but plenty of naysayers attempt to downplay the platform by saying it can't perform in the curves. No one had yet to publicly test this theory. Stewart, being 100% confident in his love for the car, had no problem tossing them the keys and putting the car to the test. While he had yet to receive his SRT Demon Crate, which contains the power control module to bump the power to 840 with the use of race gas, the car performed exceptionally well and got much praise from the hosts. The episode has over 1 million views on YouTube. I certainly say that's a healthy dose of Mopar gospel being spread!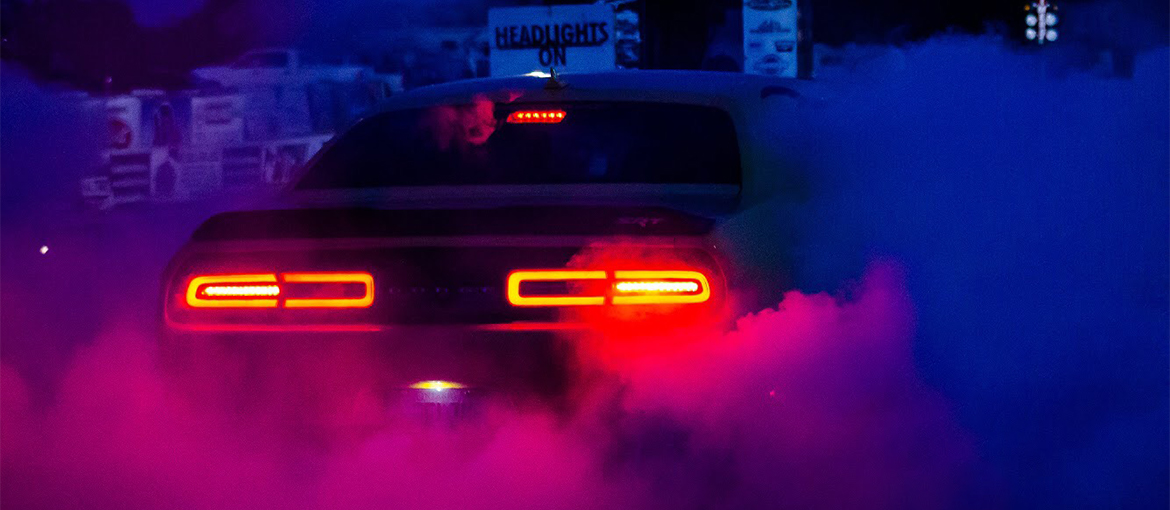 Aside from the as-expected track visits, Stewart participated in dozens of burnout contests. Between street use, drag strip use and burnout contests, 19 pairs of rear tires were harmed during the short seven months of ownership. I don't think I have gone through that many pairs of tires in seven years! Sometimes, the best way to show off how amazing of a car the Dodge SRT Demon is would be to simply roll up to the local car meets, cruise-ins and car shows and just let it sit there. Stweart was also adamant about attending as many of these as possible. "One of the more incredible things about the SRT Demon and the buzz behind it, and an attribute to how special the car is, was how many people were sincerely anxious to see the car in person," says Stewart. "I remember pulling up to a major car show over the summer, and I parked next to a $750k Lamborghini Aventador. As people started arriving to the car show, a crowd of dozens of people started to gather, none to look at the nearly million-dollar exotic super-car, but to have a chance to see the Dodge SRT Demon. I almost felt bad for the Lamborghini owner". Not only did Stewart answer every question from every person, he propped the driver door open and gave every person who wanted the chance to sit in the car an opportunity to do so. From kids to adults, everyone wanted to find out more about the car.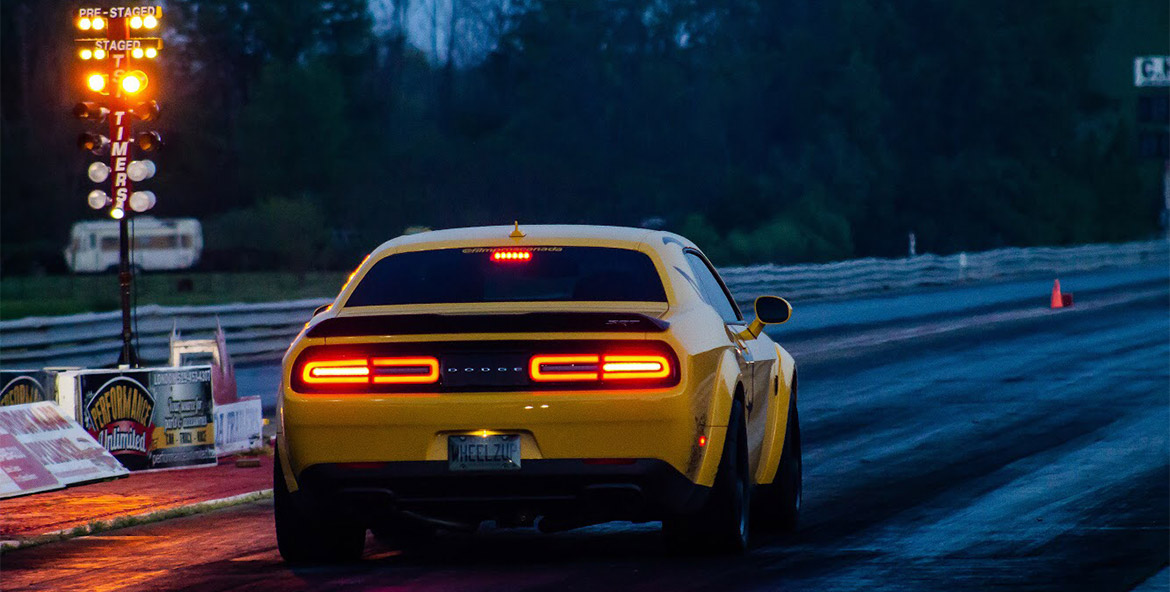 "My expectations for the SRT Demon were big, and I'm sure everyone had big expectations." says Stewart. He isn't lying, either, the hype machine pumped the SRT Demon up so much before it came out, fans had high expectations that the car would perform as promised. On the other hand, the naysayers had expectations that the car would not perform so that they could sleep a little better at night with a little less jealousy in their hearts. Sorry to let the haters down. "The SRT Hellcat was already an amazing performance machine, but I was really impressed with just how much faster, smooth and stable the SRT Demon was. It felt much more stable on the track and was absolutely mind-melting fast." That's what roughly 1.8 G's of force will do to you on launch. "If the platform and chassis ends up getting replaced in the future, I think I might be kinda bummed. This platform is so stable in its current configuration. It feels much more stable and usable than a Ford Mustang or Chevy Camaro. I abused the car for 12,000 hard miles and never had a single problem whatsoever. NONE. I don't think you can abuse a car much more than I did with mine. On top of that, I could kick butt on the track as the car was then driven home with A/C running in comfortable cooled seats, power steering, and got almost 400 miles to a tank of gas!" Needless to say, Stewart had not a single complaint about the SRT Demon, how it performed or any of his ownership experience (except the painful wait for the car to be delivered). This seems to ring true with any SRT Demon owner I've spoken with. "A lot of times, you have a special trim level of a car that only automotive enthusiasts would be able to spot. For example, the SRT Demon is, after all, a Dodge Challenger. Enthusiasts can likely tell the difference between an SXT, RT, SCAT PACK, SRT and Hellcat, but to the average person, they may only be able to tell that it's a Dodge Challenger. The SRT Demon, though, seemed to have such a presence. Anyone, from a young middle school kid to the lady in her mid-60s, instantly knew what the SRT Demon was and what it was about. The legend surrounding the car was really something amazing to experience".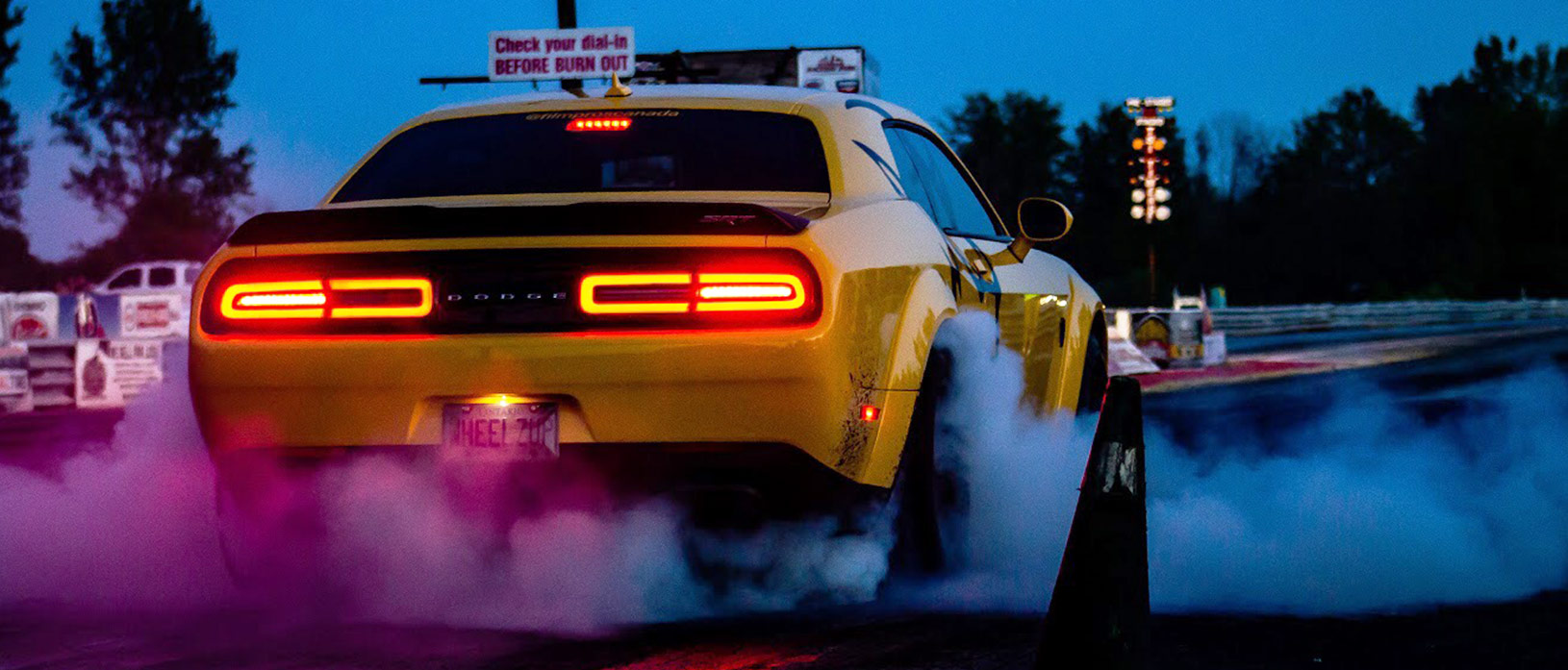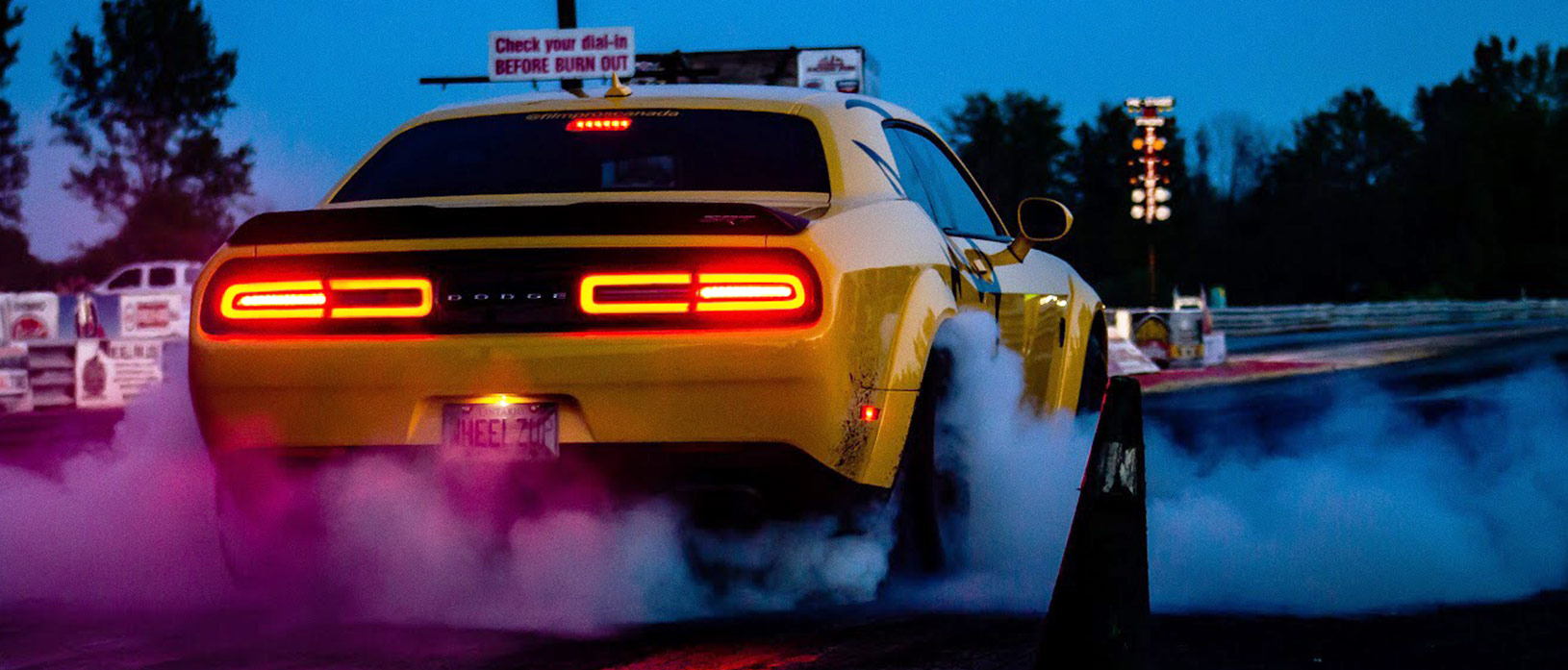 Well, wait, did he break into the magical 9-second range in the SRT Demon? As it turns out, on his final day at the track and his final pass on the drag strip in his SRT Demon, Stewart did indeed finally break the 10-second barrier and pulled off a 9.9 pass. His ownership experience was now complete. In October of 2018, Stewart made the painful decision to sell the car so that he would free up some money needed for a new adventure. "I miss it, I miss it so much," says Stewart. "I REALLY wish I could get it back. The dealer sold the car rather quick, and I don't know where it lives now, but I do hope to find another yellow SRT Demon." The story doesn't end here for Stewart; his Mopar flame will rage on. Stewart is in the process of building an 8-second Challenger that's heavily modified and stripped down as light as possible. It will be strictly for drag use and non-street legal. Although those of us who know Stewart were certainly sad to see his SRT Demon go, we are all definitely excited about his next Mopar project and cannot wait to see what he does. Dustin Stewart definitely embodies the spirit of what I think Dodge had in mind when they started stirring the witches' cauldron at Dodge and SRT headquarters.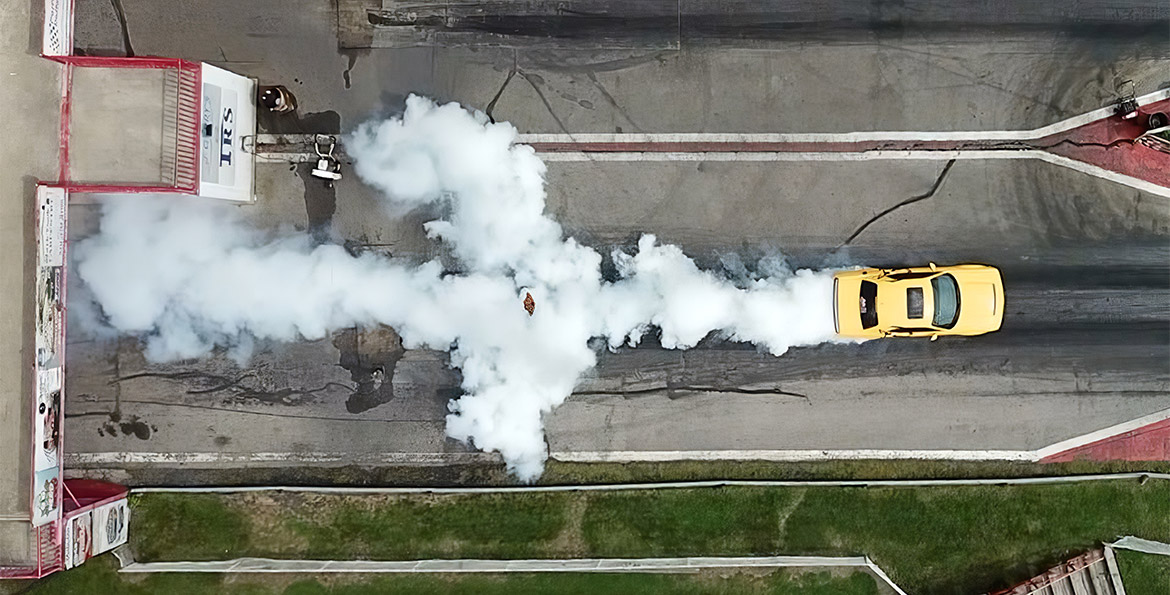 Comments
Comments