Flying With a Car? Sort Of!
4 years ago Owners + Clubs
It was the second Saturday of January; Lansing, Michigan. I think it was 1998. A 32-degree, sunny day and we had just finished our car club's monthly meeting. I was president, my buddy Claus was VP … he looked at me and asked, "Wanna go up?"
"Today? Now? Right after the meeting?" I replied.
"It's a perfect day to fly!" he said and we were off to the airport.
With respect to actual airports, Claus kept his Citabria in a small hangar at a grass airfield north of Michigan State University's campus.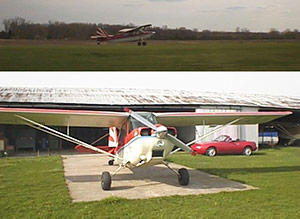 When we got there, the plane wouldn't start. "Whew, I'm off the hook," I thought.
Then Claus said those fateful words: "Pull the car up, I've got cables!"
Now, I'm a pretty daring guy, but the idea of jump-starting the very airplane we are going to go fly in … I was more than a bit nervous! Amazingly, the airplane fired right up with the jump, we taxied out, throttled up, took off and buzzed over campus. We must have been up for an hour or so and had a great time. I got to take the controls for a while and actually flew an airplane! (Note: I let him handle the landing.)
To this day, that's a favorite story and it never would have happened if I hadn't joined a car club.
Last month, I wrote a story about New Year's Resolutions for Car Enthusiasts and I wanted to expand on the very first resolution I gave you: joining a car club or getting more involved with the one you already belong to.
Why Join a Car Club?

The easy answer is to meet like-minded people; folks who understand your passion. When I talked with Rob David from Space City LX Modern Mopar® Club for the last article, he talked over and over about relationships. And he's spot on; we are social beings so hanging out with people similar to us is fun. If a car brings us together, that breaks the ice, but we ultimately stay for the people. On top of that, those friendships and relationships often segue into business opportunities. If you've got a plumber in your club, odds are good that's the guy you'll call when your kid clogs the pipes! I'll admit, my landscaper is a Mopar guy! We met through the hobby.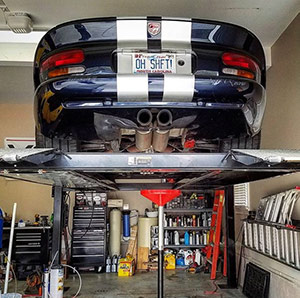 Another big reason to join a club is tech support. While the forums and Facebook pages may be full of information (be careful, lots of misinformation too!), there's nothing like getting together with a bunch of car club buddies and turning wrenches. One of my favorite memories in recent years was a garage day we had with the Viper Owners Association; one of our club members has a lift, so we went to his place. We had a bunch of us there changing fluids and spark plugs and filters … and just chewing the fat. It was brilliant good fun!
Which Club to Join?
Like people, clubs have their own personalities and you should choose a club based on what you want to get out of it. Some clubs are heavy into motorsports, others do more "drive to eat" events. Some are small and tightly knit. Others have grown into huge regional groups. Ask around and see what others say. Follow the clubs on social media. You'll quickly get a feeling for what they do and which fits you best.
You're In. Now What?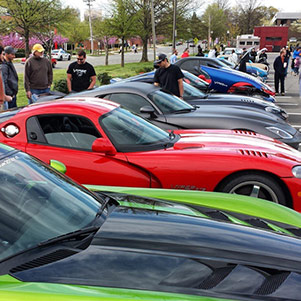 You've made the jump and joined the club, so what's next? Get involved! As a past president of a car club (and a board member of a bunch of others), I can tell you that success of a club is reliant upon the members' participation. The club will be what you make of it, so get out there and do something. Lead a drive. Go to the meetings. Vote in the elections. Run for a volunteer office. One of the clubs I used to belong to got a bad rap for being a bunch of old men, but truthfully, they were the ones who actually did something. Some of my friends and I were in our early 30s at the time and by getting involved, we helped bring new life to the group. You can do that too.
I checked in with my friend Stephanie Trull, the secretary of one of the clubs I belong to (I also ride motorcycles with the club she and her husband belong to). "I love my car club because, among other common interests, we love our cars," she said. "We are like parents bragging on their children. The camaraderie it creates is a never-ending bond. We are always welcoming new members. We have business cards that we leave on windshields to visit our website, inviting people to come to an event and meet us. I've made friends as far away as Japan and closer members have become like blood relatives. And while there's sometimes drama, it's just part of life."
What If You're Already in a Club?
The same advice that Stephanie gives to newcomers, she gives to seasoned veterans: "Become more active. Get involved. Don't be shy."
As Claus and I came in for a landing, he said, "We've got to buzz the strip first."
"Why?" I asked.
"To scare the deer away!"
I still chuckle every time I think of that day; what an adventure! I have made lifelong friends, made amazing memories and I've even flown an airplane because of my car club. Where will yours take you?
Comments
Comments