All In The Family
3 years ago Owners + Clubs
Sometimes we inherit certain features from our fathers. Things like temperament, personality traits, physical characteristics, culture and most important, your last name. For brothers Michael, Erik, and Dave, they carry more than the family name, these lads also picked up their father's love of Dodge and Plymouth muscle cars. The Belcarz boys were raised in a house with a lot of love and a dad that had a passion for cool Mopar® vehicles. Their dad Steve Belcarz, who recently retired at the age of 67, is not slowing down anytime soon and he's still playing with cool cars. Would you expect anything less from a lifelong Mopar enthusiast whose first car was a 1965 Plymouth Satellite powered by 383 cubic-inch V8 connected to a four-speed transmission? Unfortunately it was stolen and burned, but Steve replaced it with a 1965 Plymouth Belvedere II and later a 1968 Plymouth Belvedere. Steve eventually bought a 1969 Dodge Coronet R/T in 1972 and like most young folks during that era, he liked to test its limits on the street.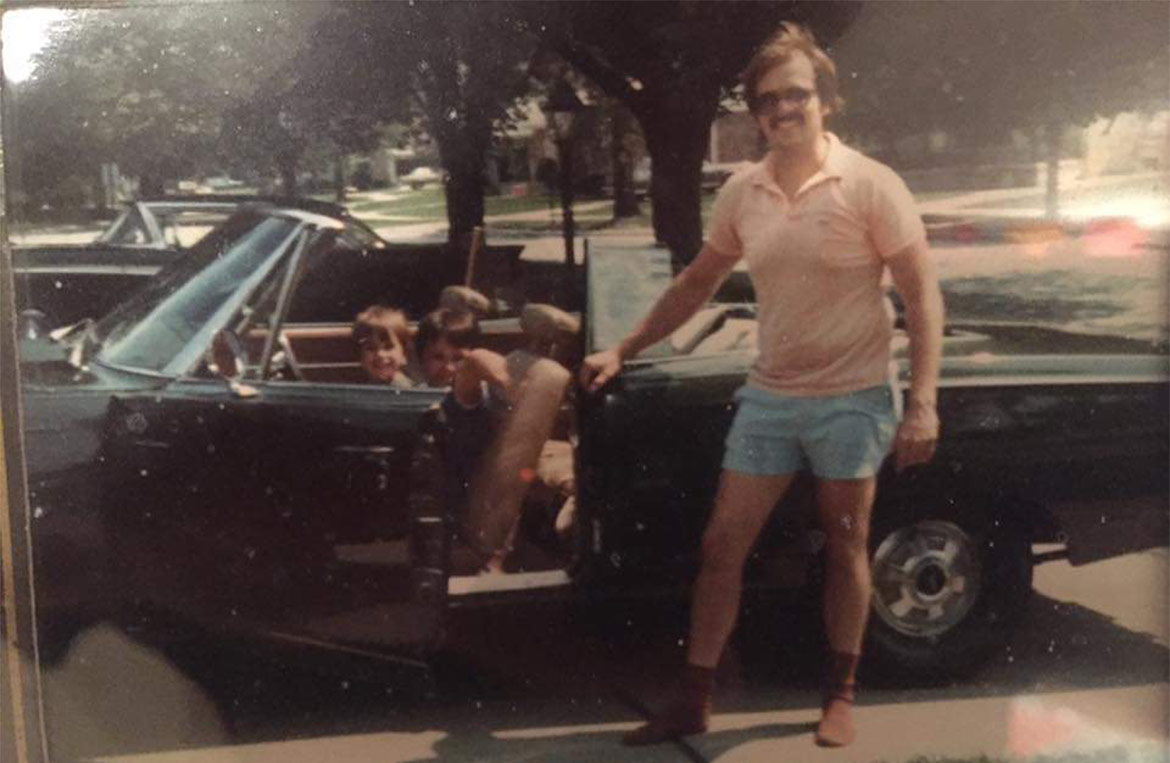 When Steve's first son Michael was born, he slowed down a bit because after all, he was a father now. But his interests for cool cars never went away while raising his family. Steve was always working on them in the garage showing Michael and eventually, when his younger brothers Erik and Dave came along, the garage was their hangout as their dad showed them the inner workings of a 383 cubic-inch big-block V8. When the boys entered their teenage years, they'd ride shotgun in one of their dad's cool cars that included an F8 Green 1969 Plymouth Road Runner convertible purchased for paltry sum of $950 in the early 1980s from an ad in the Detroit News. There was also an F5 Green 1969 Dodge Super Bee and an R5 Red Coronet convertible stuffed in the garage.
"Some of earliest memories of my dad working on his Mopar vehicles was when I was four years old. I remember watching him and my mom's cousin bench press a Chrysler A833 four-speed transmission back into the bellhousing of his 1969 Road Runner convertible after replacing the original clutch that had over 100,000 miles of use. I remember him saying it was not fun," said Michael.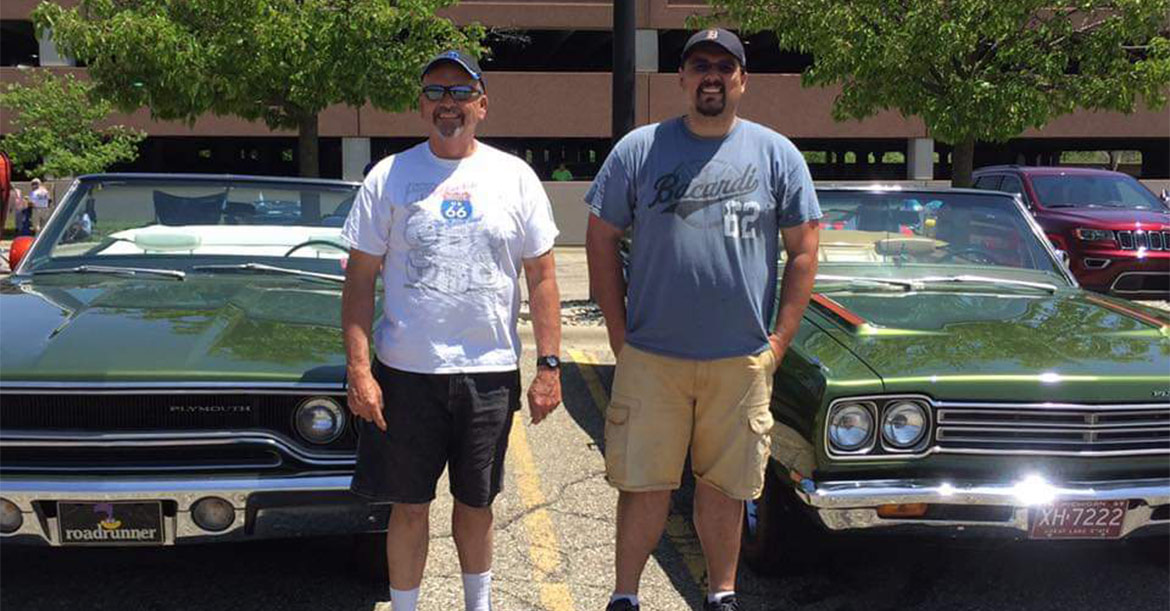 Steve Belcarz was also a huge influence on his sons during their formative teenage years. As Michael puts it, "he was the hardest working man I knew. He had was an excellent father, a hard working husband to my mother and a great friend to many. He was always there to talk to us as young boys and he set the bar extremely high for all three of his sons."
When the boys became old enough to drive, their dad didn't just throw them the keys to his prized Road Runner, he encouraged them to have the car they wanted, but also could afford. These included the less-than desirable nameplates like a 1980 Dodge Mirada or 1982 Chrysler Cordoba LS. Not performance cars by any stretch of the imagination, but great entry vehicles into the Mopar community with a lot of potential. All three of the boys drove them but the pursuit of owning a muscle car never eluded the boys and as they got older, they began to amass some really cool and rare Dodge and Plymouth muscle cars. The boys even found their dad's 1969 Plymouth Road Runner he sold in 1984 and bought it back 27 years later. To say the "Beeper" is a "Keeper" is an understatement and the family ended up becoming long lasting friends with the gentleman they bought it from and together they've become quite the Mopar enthusiasts.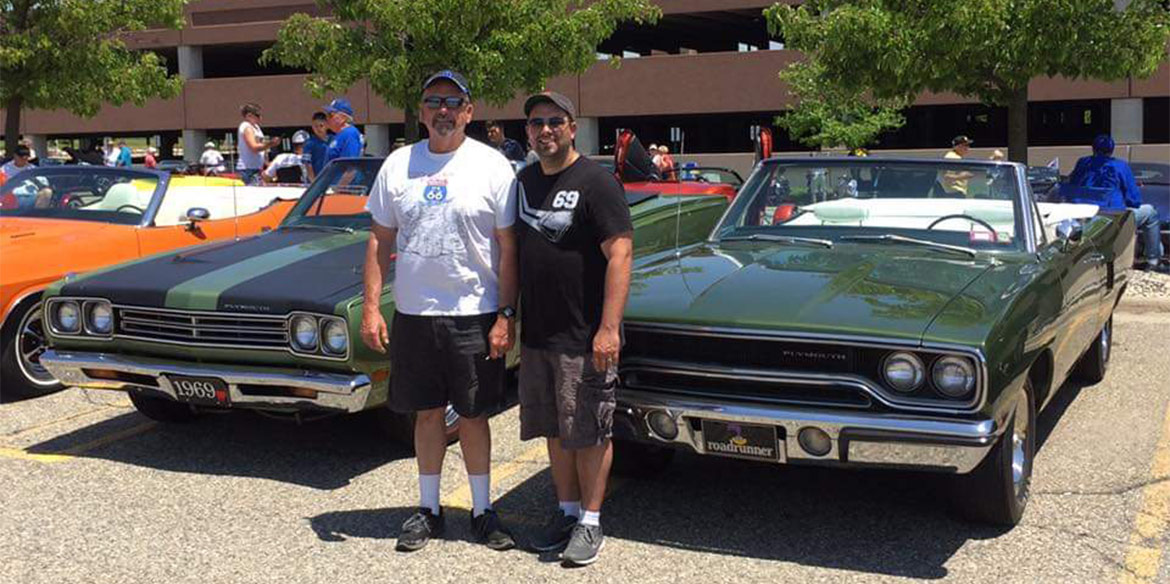 Now with all the Mopar muscle in the household, you'd think there'd be some sibling rivalry but strangely, it never surfaced among the boys. "We never really had that in our household. I am the oldest and usually had the faster cars first. But as time rolled on my youngest brother Dave had the faster cars with his stroked 360 Magnum Dakota and his 1969 Coronet R/T Factory stock racer and the aforementioned 340 1980 Mirada which he still owns. My middle brother Erik was not into cars as much, but the apple does not fall far from the tree. He owns a 2008 HEMI® Orange Charger Daytona R/T and one day hopes to own a new Challenger," said Michael.
There was an unauthorized joyride that Michael reflected on involving one of his father's cars. "I took my dad's 1968 Plymouth GTX convertible for a ride without permission through the neighborhood. We still call that the ride that did not happen!" But despite this, the boys basically behaved themselves growing up around their father's collection of rare and fast Mopar vehicles.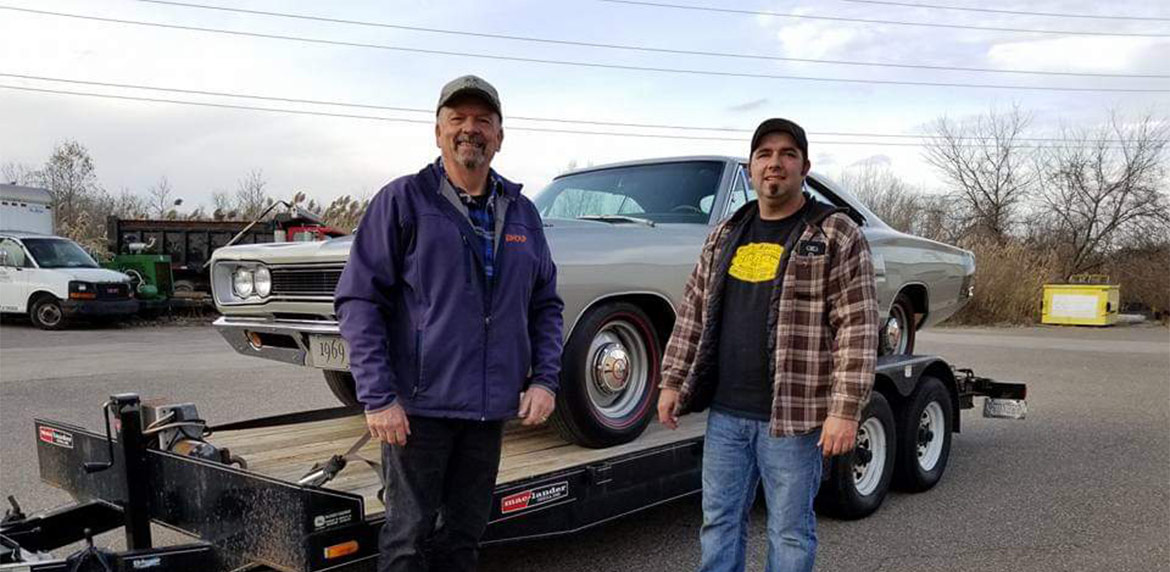 Now the three sons are grown adults and are fathers themselves. They look back with fondness of the things their dad did for them. As Michael puts it, and speaks for his brothers when says, "our dad is a good listener and one that will bend over backwards to help his three sons and family. He has made us who we are as fathers and continues to show us the best way to handle this thing we call life. Our dad is the best role model."
Growing up in an high-octane household can be challenging, but for Steve Belcarz, he was dialed-in when it came to raising his three son's.
Happy Father's Day!
Comments
Comments