Deception Plan
3 years ago Owners + Clubs
Never judge a book by its cover, and never, ever, a muscle car by the badges glued on the front fenders. Things may not be what they appear on the outside, so never assume the machine you're lined up against at the drags is what you think it is. This was probably the intent of Mopar® lover Maryanne Papa from Lindenhurst, New York, when she set out to make her 2015 Dodge Challenger SRT® 392 one fast ride. During the day, she's an administrative assistant for an engineering firm on Long Island. At night, she's out in her HEMI® engine-powered Challenger tearing up the neighborhood. Instead of the already potent 392 HEMI pushing out 485 horses under that long scooped hood, Maryanne, along with some friends, stepped up her Challenger SRT 392 up a notch or two. Actually, these folks took Maryanne's TorRed machine to number 11 on the dial. But more on that later.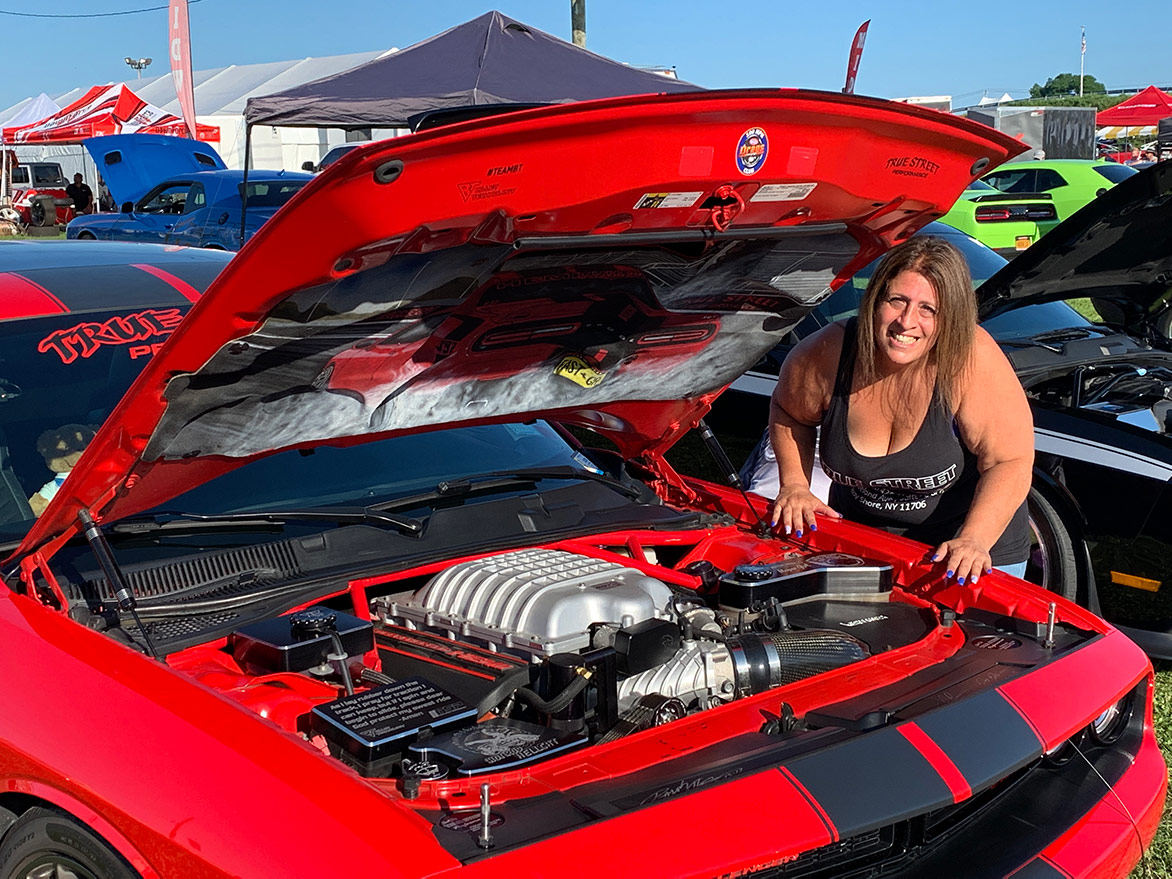 How Maryanne got into Mopar vehicles is a familiar story that is shared by many generations of enthusiasts and gearheads. "I've loved muscle cars since my high school days. I loved all makes/models, but especially Mopars. There's something about them, the look, the sound. My first muscle car was a 1992 Anniversary Edition Heritage Package Camaro. From there, I bought my first Mopar vehicle and it's been love ever since. I can't imagine having a passion for any other car. My first Mopar was a white 2007 Dodge Charger R/T. I traded that in for a 2009 Dodge Challenger R/T painted Inferno Red. Finally, I traded that in for my current 2015 SRT Challenger 392 that is TorRed. I also have a 2007 Sublime Daytona Charger which I use as my daily driver," exclaimed Maryanne.
How Mayanne ended up with her Challenger is an interesting tale of helping a friend with a ride. "What made me purchase this Challenger was I took a trip with my friend to pick up his new Charger from Central Jeep® Chrysler Dodge Ram of Raynham, New York. I walked in the dealership only to find the Challenger SRT 392 sitting in the floor, I instantly fell in love and had to buy it," smiled Maryanne.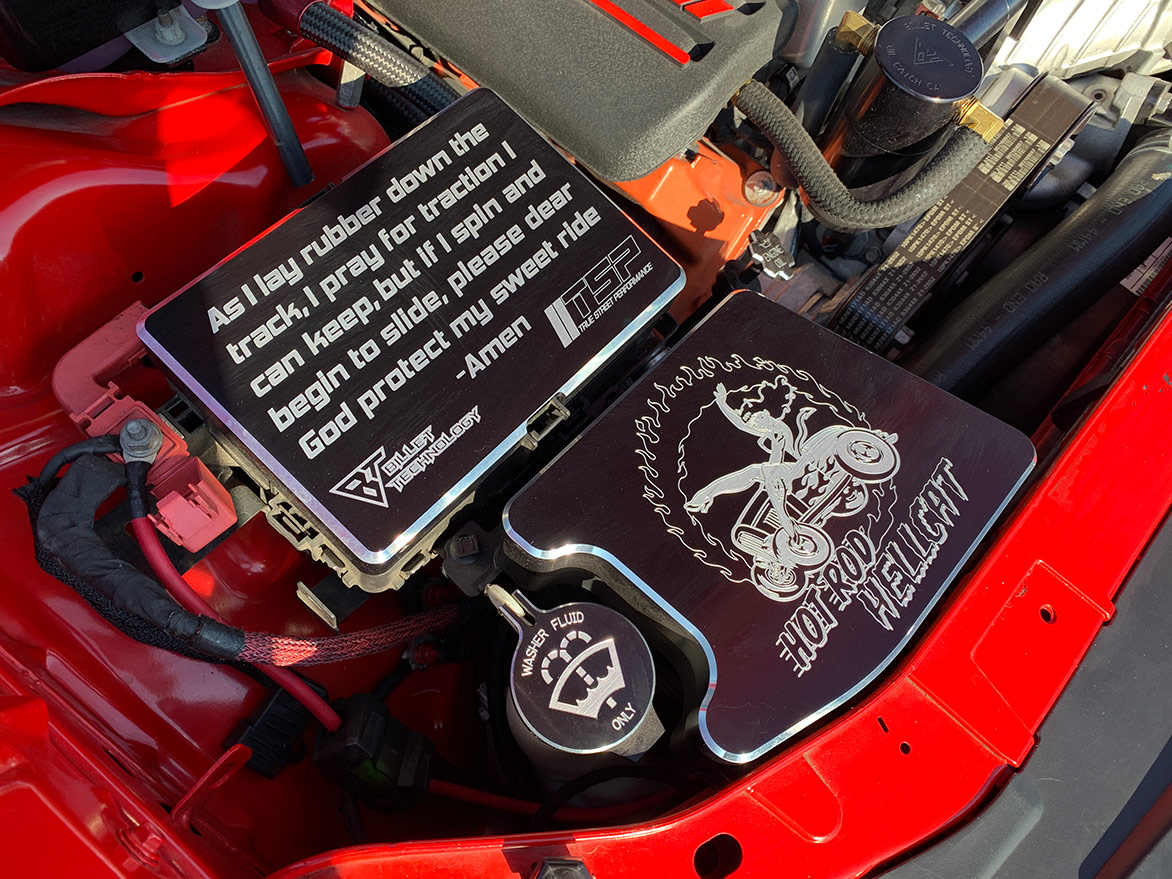 When it came time to make her Challenger SRT 392 really rock, Maryanne laid out a game plan that would take her machine from the 12-second ET bracket, way down into the 10-second zone. "After about 8 months owning it, I wanted to do some performance mods, so I sat down with Jimmy Koutsoubis, owner of True Street Performance, and A.J. Berge, owner of Hemituner Performance, located in Bay Shore, New York. These two know their stuff and have done work on my others cars, so I know them well and we talked over various options. We started off with long tube headers and a custom Crower grind cam. I loved it, but wanted more. Both Jim and AJ then came to me with the idea of the SRT Hellcat swap. I loved that idea of having a unique build," commented Maryanne.
And what a unique build it was. You're more likely to see 6.2-liter SRT Hellcat HEMI engines transplanted into vintage cars and turned into a "RestoMod" street machine than being swapped into modern-day Challengers and Chargers that were born with a 5.7-liter or 392 cubic-inch HEMI engine between the fenders. To make the Hellcat engine recognize the electrical harness and other items of Maryanne's Challenger 392, additional mods needed to be made. These included a Legmaker Hellcat Air Intake, Twin Walbro 450 LPH Fuel Pumps, Custom PCM Calibration, Custom TCM Calibration, Recognizable "Red Key", Nylon Braided Heat Exchanger Lines, SRT Hellcat Heat Exchanger, and other essential items to keep the cat under the hood well fed with high-octane premium unleaded and nice and cool when the heat goes up. Maryanne also wanted to add some custom touches to her already showstopping Challenger that included custom decals and wrapped interior done by SpeedWorld Graphix, a complete customized engine bay dress-up kit by Billet Technology and a custom hood liner by JB Custom Airbrushing. Despite all this, Maryanne made sure to keep the stock "392 HEMI" front fender badges on to mess with people's minds.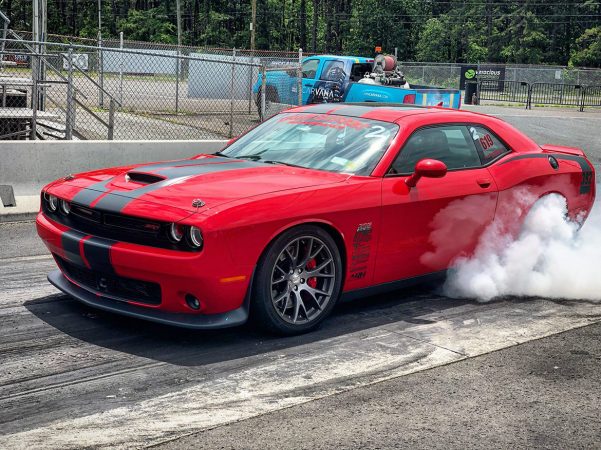 With everything bolted in place and after a few shakedown runs to make sure everything under the hood was happy and the electronics were talking to each other, it came time to head to the drag strip. After some warm-up passes, Maryanne was ready to go wide-open-throttle and when she did, the scoreboards at the top end of Maryland International Raceway lit up with a 10.38 ET and 132 mph, she was ecstatic. For Maryanne, she was hooked even more on drag racing her Challenger and began participating in the Modern Street HEMI Shootout events up and down the East Coast. She'll also get with her fellow racing friends to attend test and tune sessions between her racing events.
Maryanne also likes to hit car shows when she's not burning rubber. "I'm the First Lady of Long Island Muscle Cars. We attend car shows, swap meets and charity events. We also throw a car show every year the last weekend of April at Hooters in Farmingdale, New York, for a charity called Michael's Cause for children who have Duchenne Muscular Dystrophy. We love to give back to our communities and support great causes," said Maryanne. When asked which things influence Maryanne, she was quick to admit it was her love of all things Mopar. She also confessed that one of her most memorable experiences was meeting Mr. Ralph Gilles, Head of Design for FCA.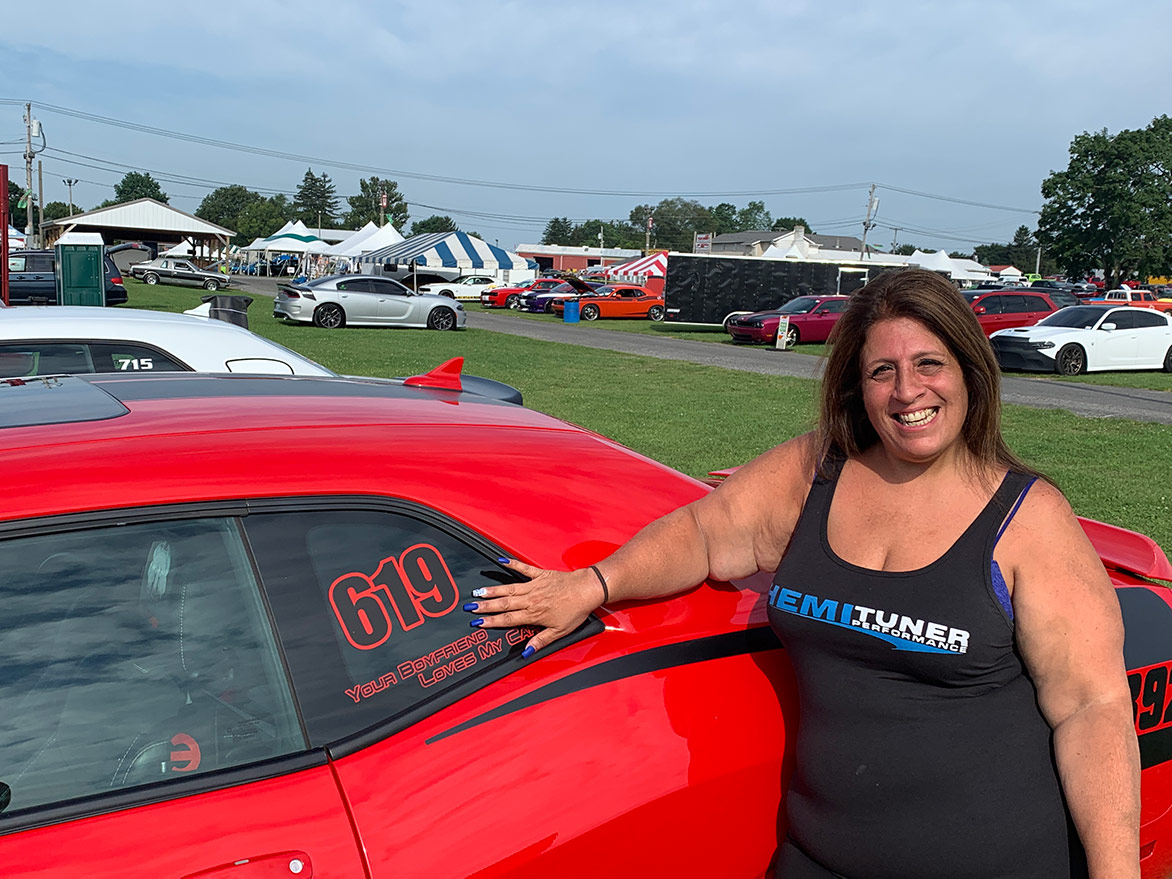 During the recent Carlisle Chrysler Nationals, Maryanne's Challenger placed second in the 2008-2019 Challenger SRT Modified class. But she's also looking down the road and is contemplating a new Durango SRT, or maybe doing some more mods to her Daytona Charger. Whatever path she chooses, just be prepared if Maryanne pulls up next you at the drag strip in one of her fast Dodge vehicles, things are not what they appear.
Comments
Comments