Twin Terrors: Nth Moto Part 1
3 years ago Owners + Clubs
There's that old saying that goes "just because you can, doesn't mean you should." You know, like just because you can drink six cans of Monster a day, doesn't mean you should. Just because you can take a selfie with a water buffalo, doesn't mean you should. Just because you can build a replica of the Lombardi Trophy out of popsicle sticks, doesn't mean you should. The examples are practically limitless.
Then, there are the things that you do and are worth doing only because only you can do them. This is a shorter list. Talking to fish, would be one. Parachuting out of a space balloon and landing on earth, another. Walking a tightrope between two skyscrapers, that counts too. If you can do these things, you do them purely to show others that mankind's potential has yet to be reached.
Building a 2,000 whp, twin turbo Dodge Viper ACR-e that hits 220+ mph in half of a mile that also goes on cross country road trips and enjoys long walks on the beach would fall into that second category. It exists because it can exist. It is because Nth Moto deemed it to be.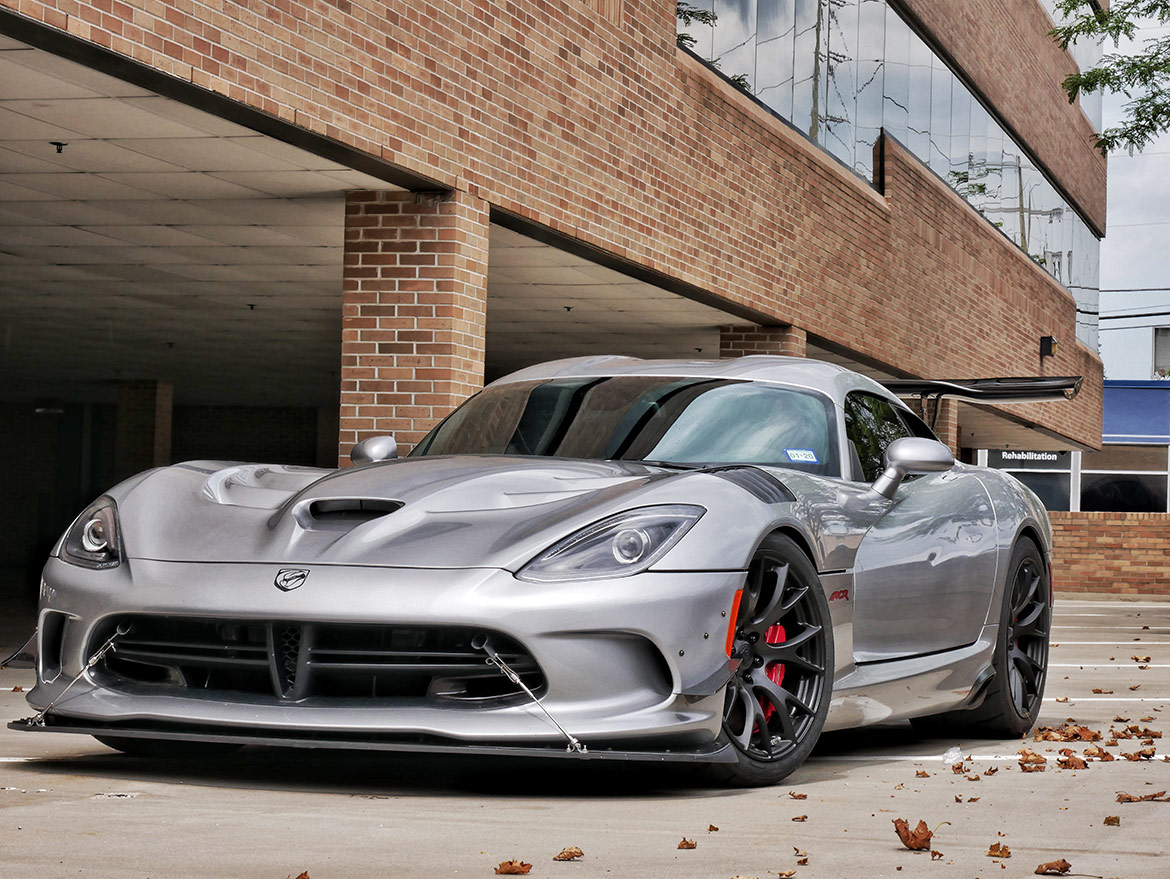 As does a 1,700 whp twin turbo Dodge Viper TA. That makes two cars that were each originally 540whp-ish of twisty track attack fun becoming a nearly 4,000 whp dynamic duo of daily-driven street machines. A lot of shops can hit a number on a dyno. Not many can hit 1,700+ whp and maintain everyday drivability. To prove their road warrior status, Will Dugas, with his silver ACR, and Philip King, Jr. with his white TA, tagged up with Aaron Miller of Nth Moto and drove from their shop in Minnesota all the way to Detroit for the Woodward Dream Cruise.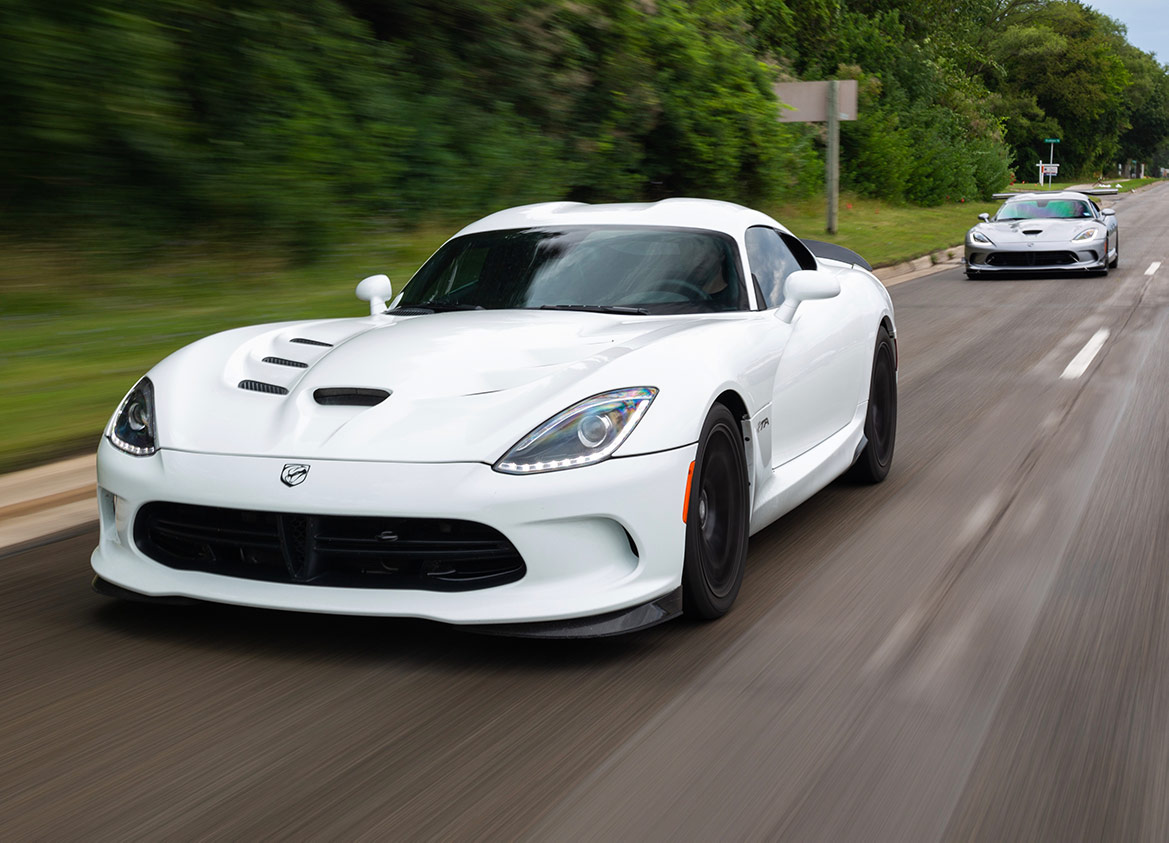 In 2014, Dodge unveiled a Dodge Viper ACR "concept car" in Las Vegas at the SEMA show. I'm not sure how many people outside of FCA knew that this was the precursor to a legend, but Will recognized that as soon as he saw it: "I went nuts, I knew it, I just had to have one. But they wouldn't let me buy that one!"
Despite his persistent efforts, Dodge wasn't gonna sell him their concept ACR. Will was, however, able to order the production 2016 Dodge Viper ACR Extreme Aero, then holder of 13 track records, as soon as it was available for public consumption. He flew to Detroit and picked it up at Conner Assembly, then proceeded to put 3k miles on it in nine days driving it home, in a roundabout way, to Texas.
"My first-ever brand-new car!" said Will. "I ordered exactly what I wanted with no compromises. I knew what I wanted to do before I even received the car. I wanted it to go to Nth Moto and get the ultimate driver/turbo treatment."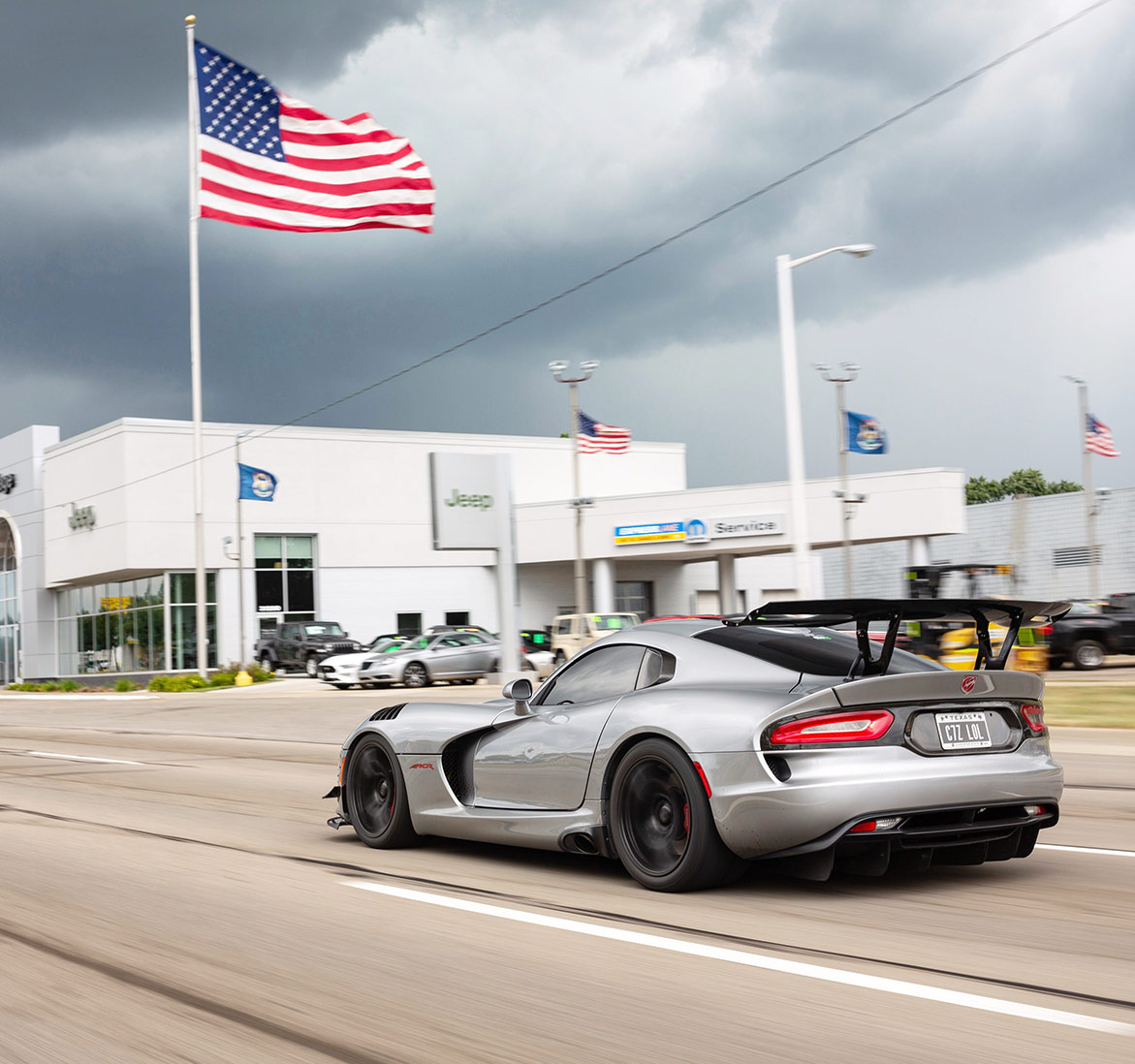 The Nth Moto treatment. Will wanted something that doesn't make sense to anyone with a firm grasp of physics, built from a car already engineered to destroy every road course it touched. He'd met the Nth Moto crew while running a 1,500-hp Supra at the Texas Invitational half-mile event 7 or 8 years back. Their blue 3rd gen Viper and Will's Supra met each other deep into the competition. Will had been scouting the Viper and knew he'd have to make a perfect run with the boost turned up to have a shot. The Supra spun at launch and never recovered, but Will was ecstatic because he'd witnessed something profound. The car that smoked his hardcore Supra could be driven every day.
"It was the happiest I've ever been losing," said Will. "I lost, but it was against a camp of guys that deserved the win. After the race, I pretty much went running over there to give them congrats. I remember walking back to my camp after that and telling my buddy 'someday I'm going to have those guys build me a car.'"
Now, with less than 5k miles on his new Viper ACR-e, Will made good on his promise and shipped it north to the mad professor Aaron and Nth Moto. When the car returned south a few weeks later, it was a 1,300-whp turbocharged flex fuel bat out of hell. He ran that setup for 10,000 miles before it just wasn't enough. In the back of his mind, he'd always figured that when (not if) he'd break the stock motor, he'd upgrade; it just never failed! He still has the completely healthy V10 set aside.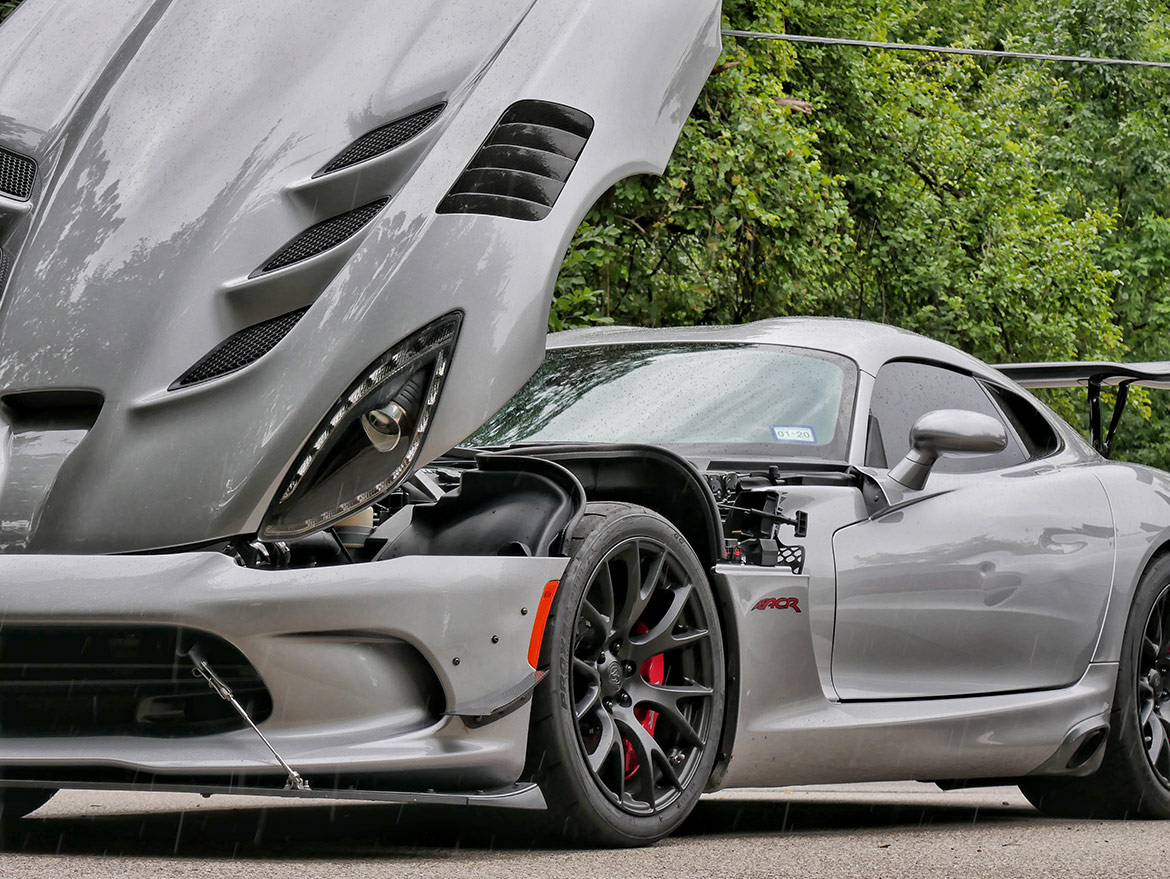 If 1,300 whp isn't enough, then what is? Whatever it takes. Will had numbers in mind: 9 seconds in the ¼-mile, 200+ mph in the half. And, of course, he still wanted to daily it.
Right around the same time, Philip was toying with the idea of making his rare 2014 Viper TA faster as well. He'd bought the car used with 9,400 miles on it, and in the next 12 months, ran the odometer up to 31k. Seeking more speed, Philip found his answer.
"I heard about Nth Moto through Will and began talking with Aaron about possible naturally aspirated setups. It was then, talking with him, I realized they were more than just a parts swapping shop; they actually understood and took into account all of the engineering and physics that comes with making a unique, customer-specific combination."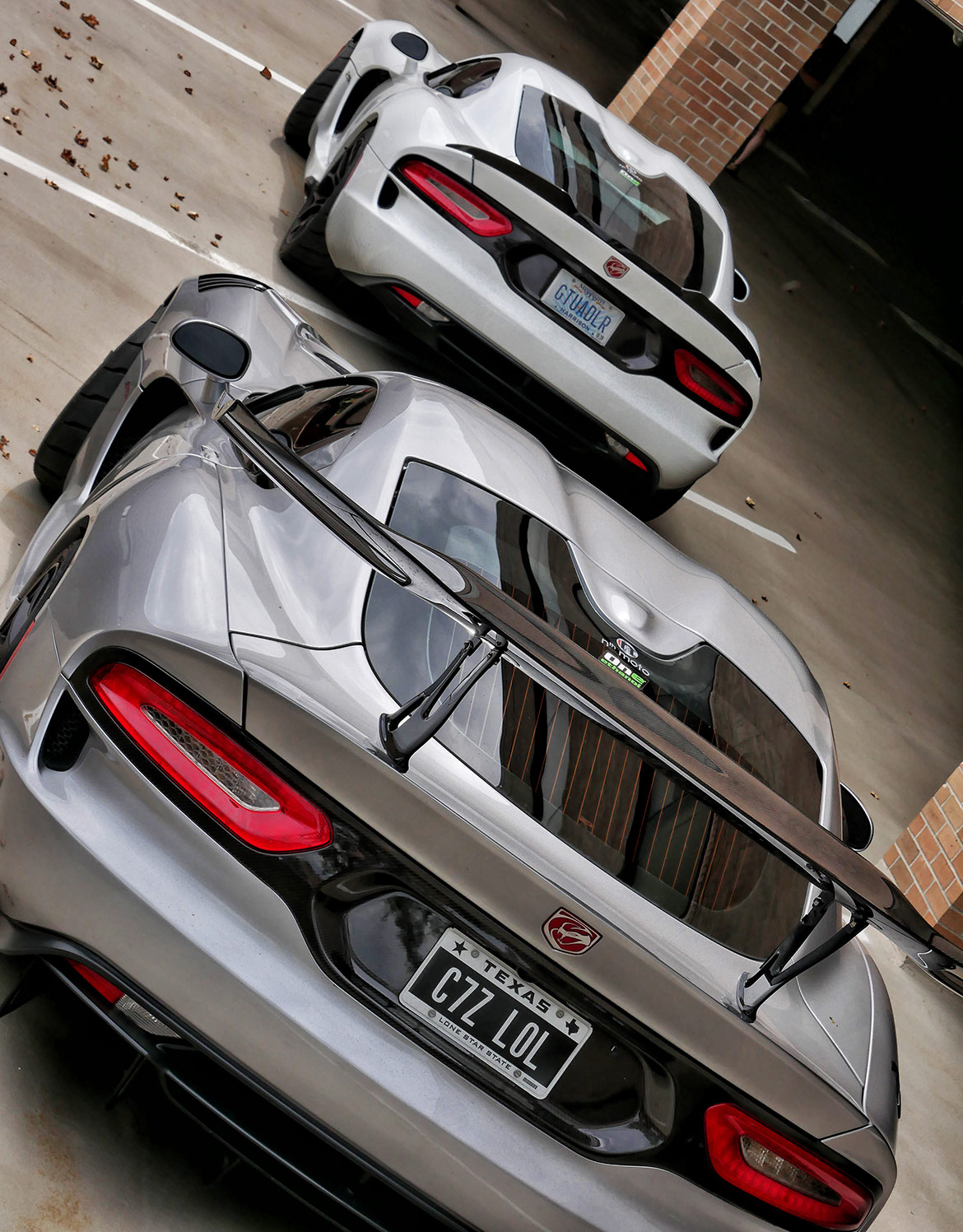 Future installments:
Twin Terrors: Nth Moto Part 2
Twin Terrors: Nth Moto Part 3
Comments
Comments
Previous